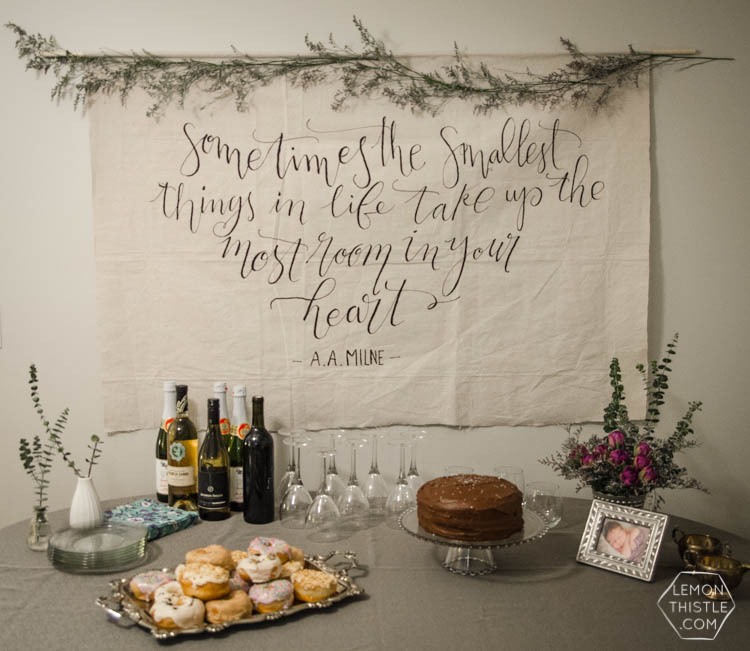 A few months ago, I had a run of parties (such a socialite). But really, it was a run of baby showers- because that's the stage of life we're in! I was excited to make some special decor for the parties, and it's high time I shared this one with you. I am in LOVE with the way this giant banner turned out. We used it as party decor with a floral garland, then sent it home with the mama for wall decor in the babe's nursery. I love how simple and understated it is, while still packing a decor punch. Plus, thanks to my fave material- it's cost effective for party decor. It might even be more affordable than the standard decorations you'd go out and buy.
It was a fun exercise in lettering (I did it freehand, which is probably not recommended) and I learned some things that will make it easy for you to do the same thing! You know I love to letter on fabric and pretty much anything possible AND I'm all about the shortcuts. So today I'm over at Dawn Nicole Designs sharing the easiest way I know to hand letter on fabric and all the details on how to make your very own giant DIY banner for home decor or a party backdrop! I hope you'll pop over and read all about it.
Oh and if you're one of my IRL friends (see how I used that lingo there), I'm going through party withdrawal. Can someone have a baby again, please?