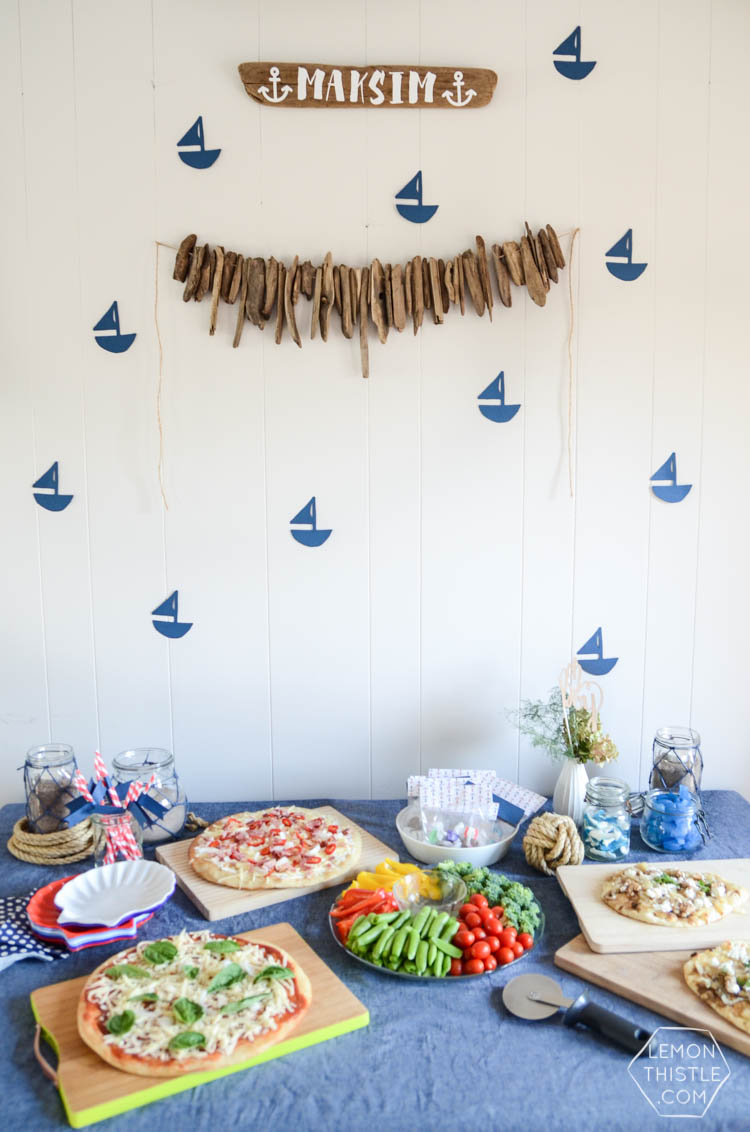 I hope you enjoyed your long weekend! We had a weekend full of slow mornings, outdoor adventure and woodwork (more on that coming soon!). So I'm just now getting around to sharing this simple nautical baby shower that we threw for our new nephew on Friday! That brings us up to eight nieces and nephews- which is a lot! When my sister in law showed the new babe's room to me, I knew I'd carry the nautical theme of his nursery through to his party. I had most of the decor pieces for this classic theme on hand so this shower was such a treat to decorate.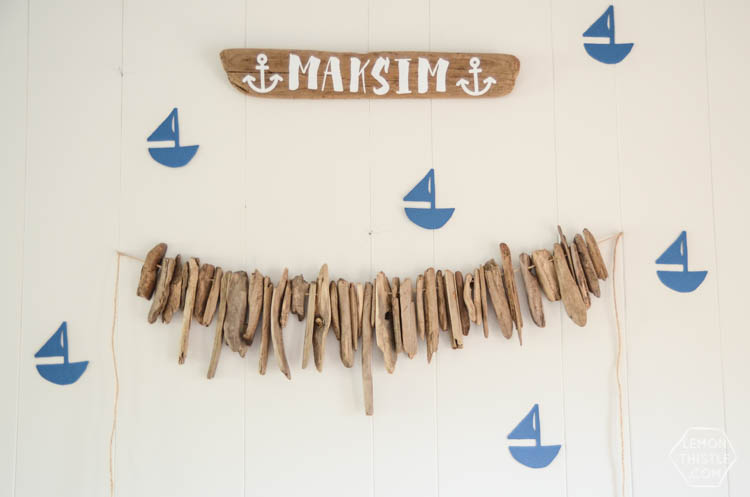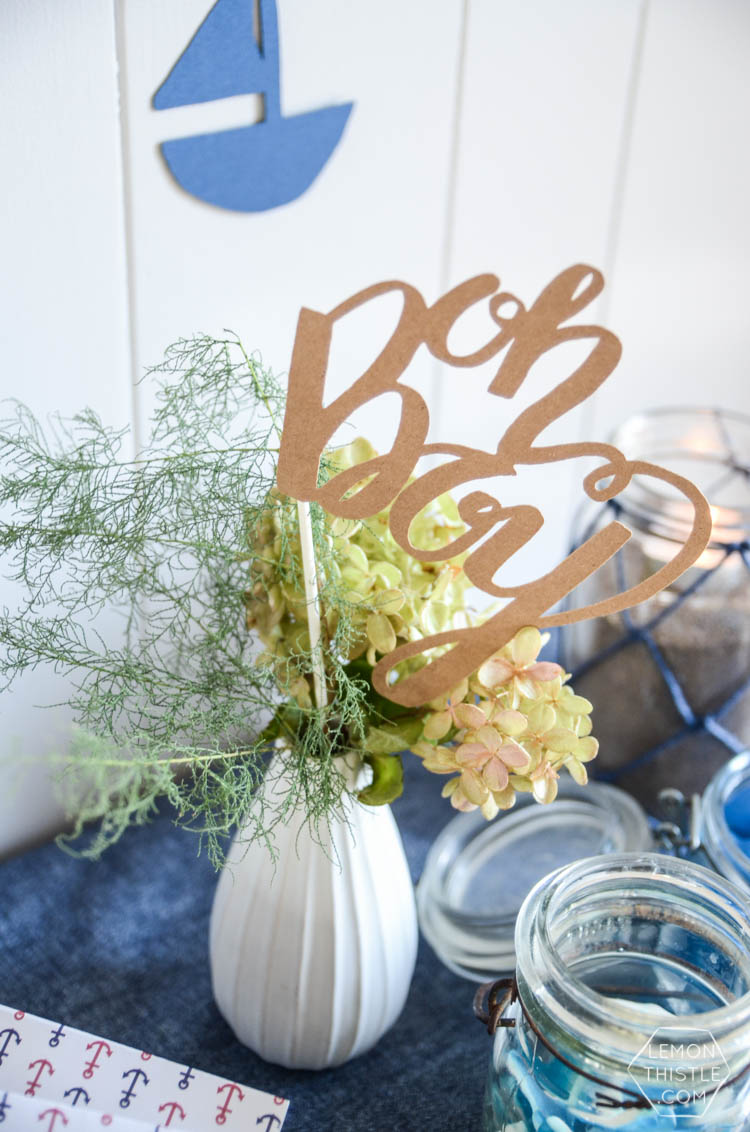 Do you remember that driftwood garland? It hangs in our bedroom most of the time, but I brought it out for the occasion and created a nautical sign out of driftwood to hang as well. I'll be sharing the DIY for that one (and how to get a hand painted look with NO paint) over at Squirrelly Minds later this month. Those little sailboats are cut out of navy shimmer cardstock with my Cricut Explore Air (seriously, I can't get enough of this thing). I actually illustrated them and used my drawing for the cuts. I'll be offering both that template as well as the hand lettered 'oh boy' template (that's hanging out in the flowers!) in another post coming up where I'll share how to load your own art into the Cricut Design Space.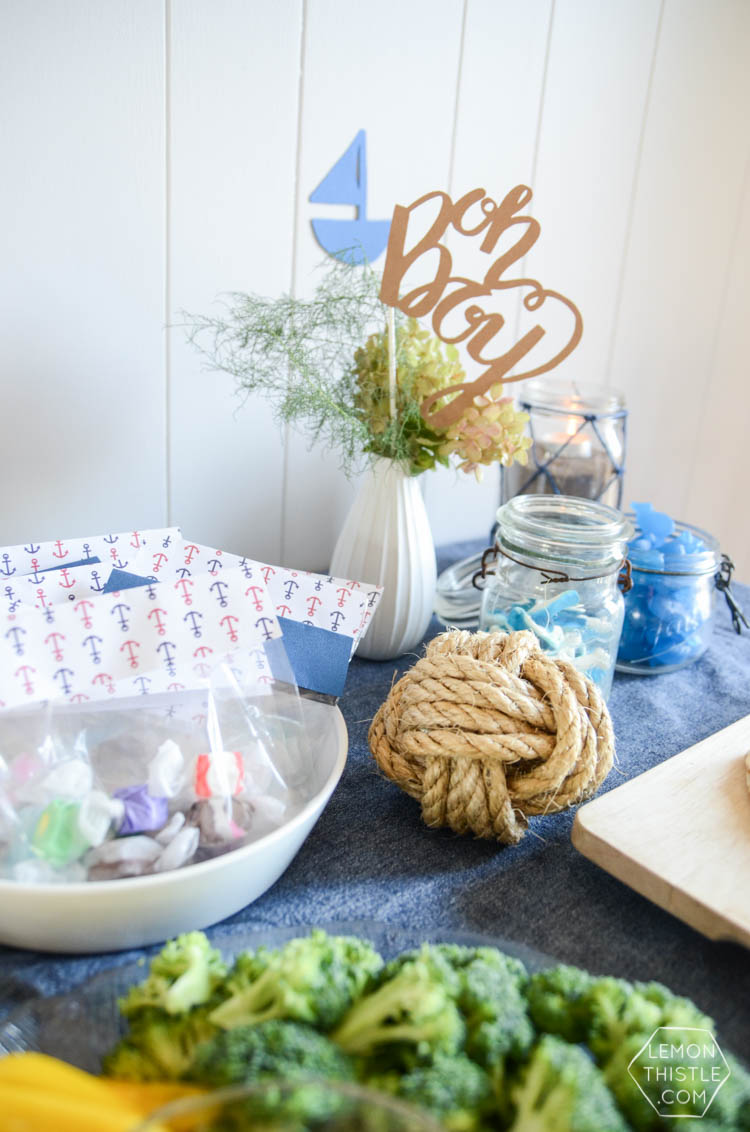 That rope ball and was made with leftover rope from my hanging planters and the mason jars and vases filled with sand and tealights were dressed up with twine netting using this tutorial (SO simple). It was the least finicky shower I've ever thrown.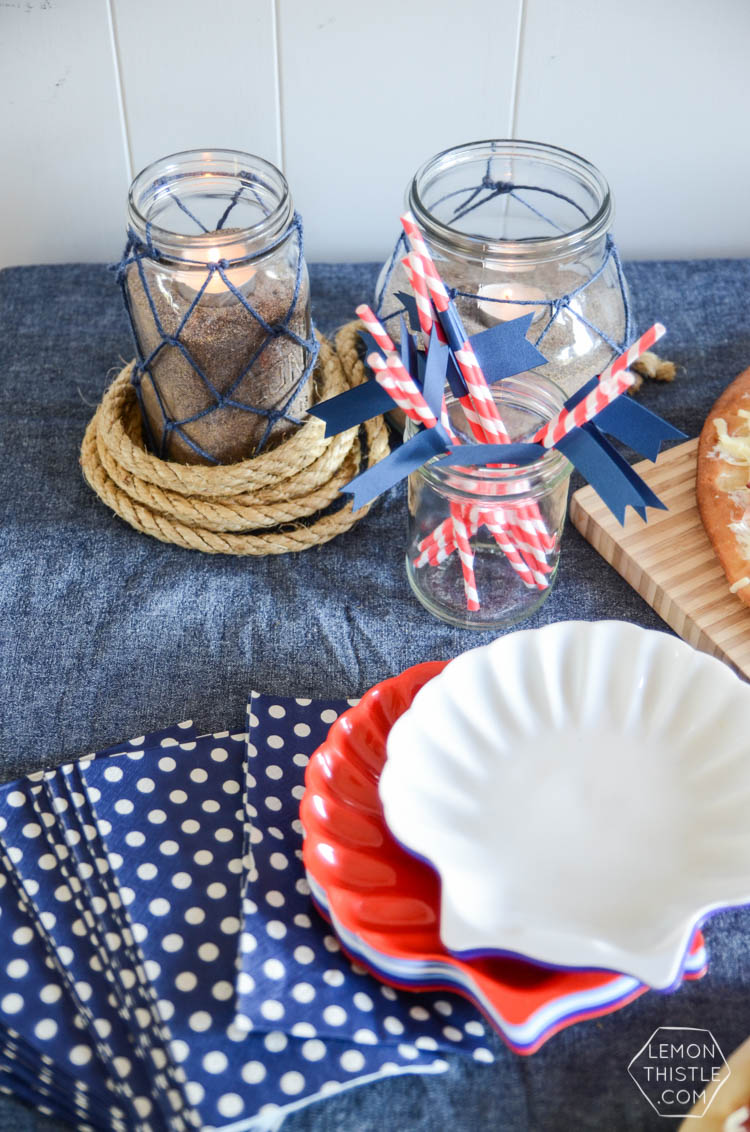 Since this was my sister-in-law's third baby, we decided to skip the shower games and just enjoy a girls' night with appies, good company, and baby snuggles. It was such a relaxing evening for me. I find as a host I am often busy for most of the party preparing snacks and more coffee at the last minute. Can I suggest to anyone who feels this way… PIZZAS! I prepared some of my favourite pizzas and flatbreads ahead of time and just kept popping them in the oven as they were being eaten. They only took 7 minutes in there and all of the prep could be done ahead of time.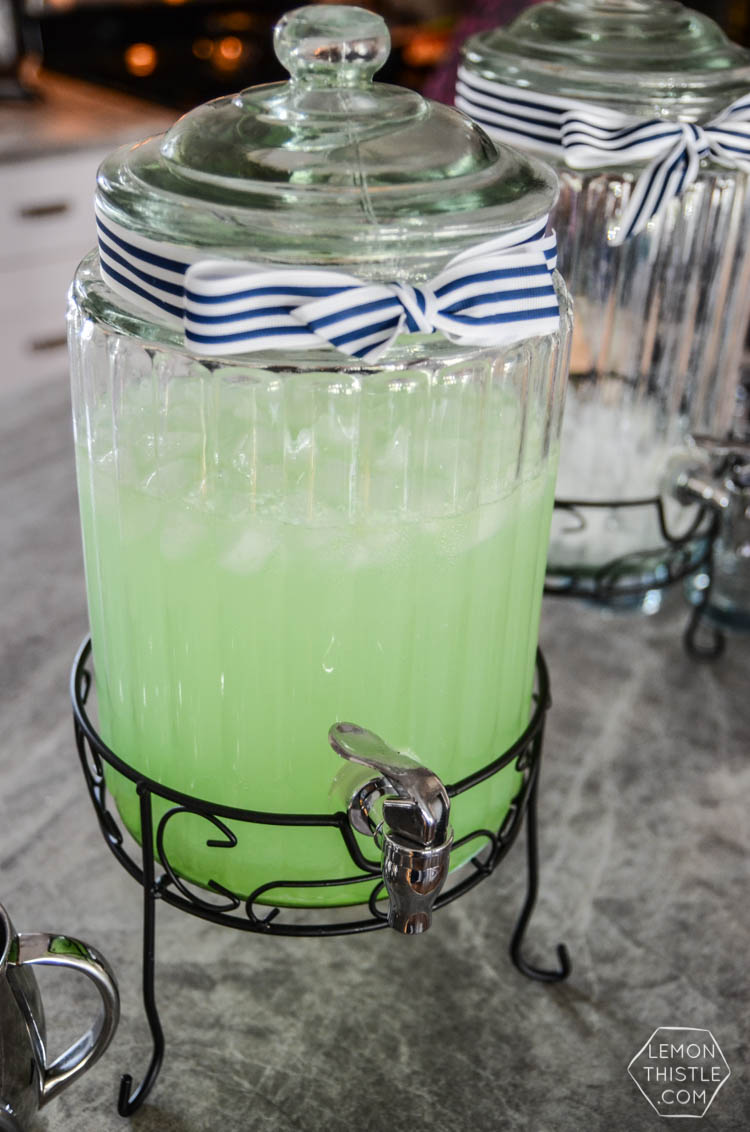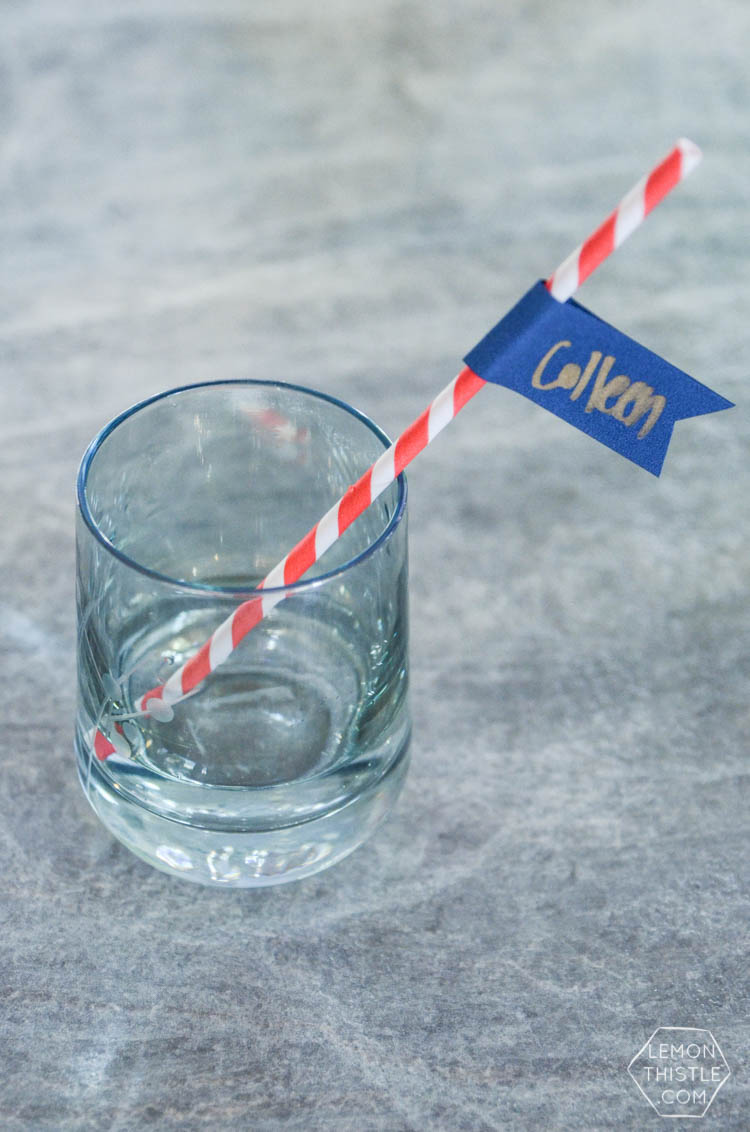 Other than that, we had some of our favourite nautical candies- saltwater taffy in little baggies topped with anchor paper. We also had vintage jars full of blue whales and shark candies- because who can say no to a blue whale? We had limeade, water, and coffee for drinks (along with a few bottles of wine because…well, wine is needed at girls' night!). I didn't even pick up paper cups this time around and used our regular glassware with straws and paper flags to mark guests' names.
By planning the food out with the intention to feed a crowd and simplifying decor and beverages, this shower not only was the least stressful I've thrown in a long time- it was also the least expensive I've thrown in a long time. I can't tell you how much I've been loving those pizzas (they've popped up at a couple girls' nights lately too because they're so darn good) as party food and how nice it was to sit and relax with the guests instead of feeling frazzled. Sometimes a theme can make decorating easy!
If you're wanting a baby shower with games- I hear ya! I think they're awesome too. You can find some of my past baby showers and activities right here: