A big thank you to HomeRight for sponsoring this post. Find my full disclosure and policies here.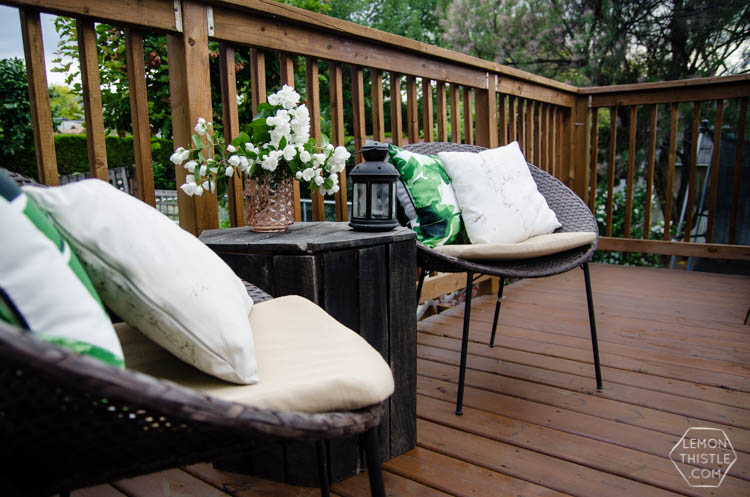 If you caught our deck reveal last week, you know I promised a DIY post sharing all the details on why we chose treated lumber, why we chose an oil based penetrating finish and HOW we refreshed it in an afternoon. So here it is!
We did this deck (and pretty much every other project in our house) on a budget and chose to use pressure treated lumber instead of cedar. This saved us some money and gave us a season before we had to sand/stain. We didn't get the deck built until late summer so this was great timing for us. I honestly didn't know that you could use treated lumber and have it look good after stained- I thought it was a paint only type of situation BUT the summer before we built this, my dad built a terrace using it and it stained so nicely the following year- it was the perfect solution for us.
Last spring rolled around and we chose this penetrating oil wood finish over a typical stain for ease of maintenance. We can just apply a new coat every couple of years without sanding off anything. I would chat with a paint/stain expert in your area to see what will hold up best to your climate. We were totally spoiled and my dad actually told us to take the day off and take the kids out- while we were gone they stained/oiled the whole deck for us. It was the best.
Our deck is in direct sunlight ALL DAY. And we live in a pretty dry/hot climate (we're technically a semi-desert… even though we're in Canada). Because only one coat was done last year, it was ready for another coat already this year. Where the sun hit (not under the railings) it had faded quite a bit. Here's a photo of what it was looking like.Continue Reading…