Sharing 6 Closets organized to maximize space. From DIY closet systems to professional tips- these closets have it all. They're also all small! You don't need a huge closet for great storage.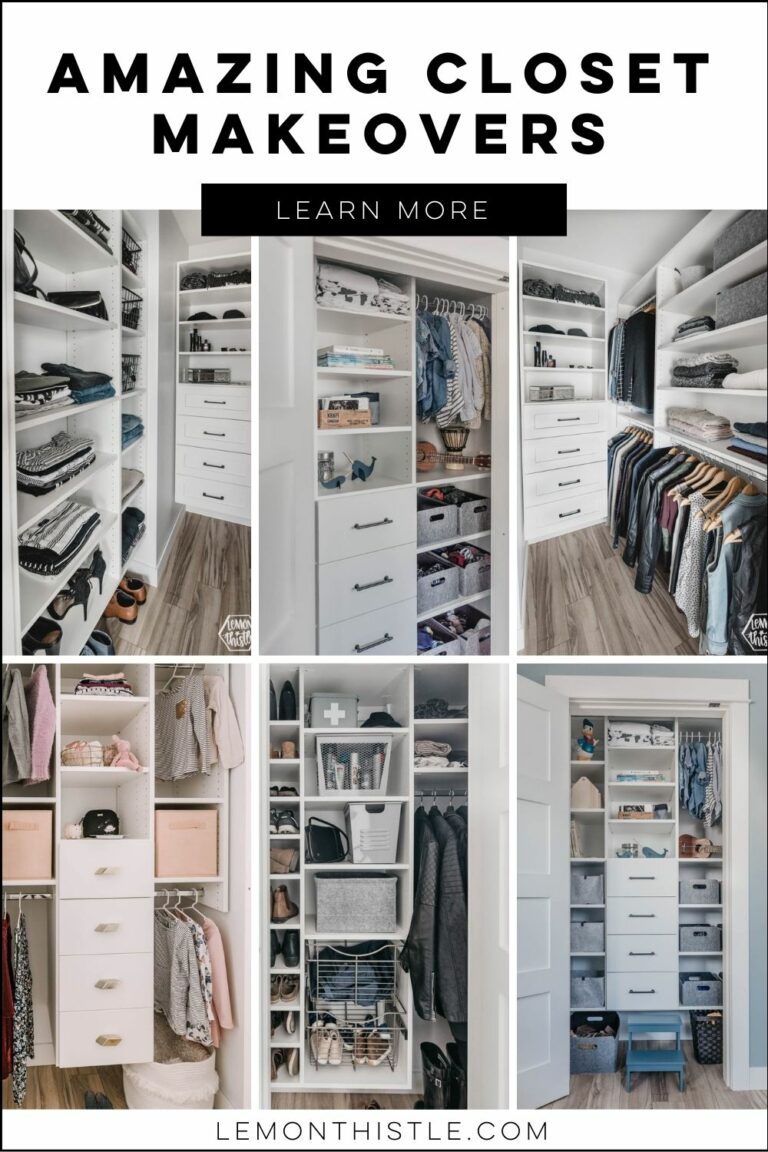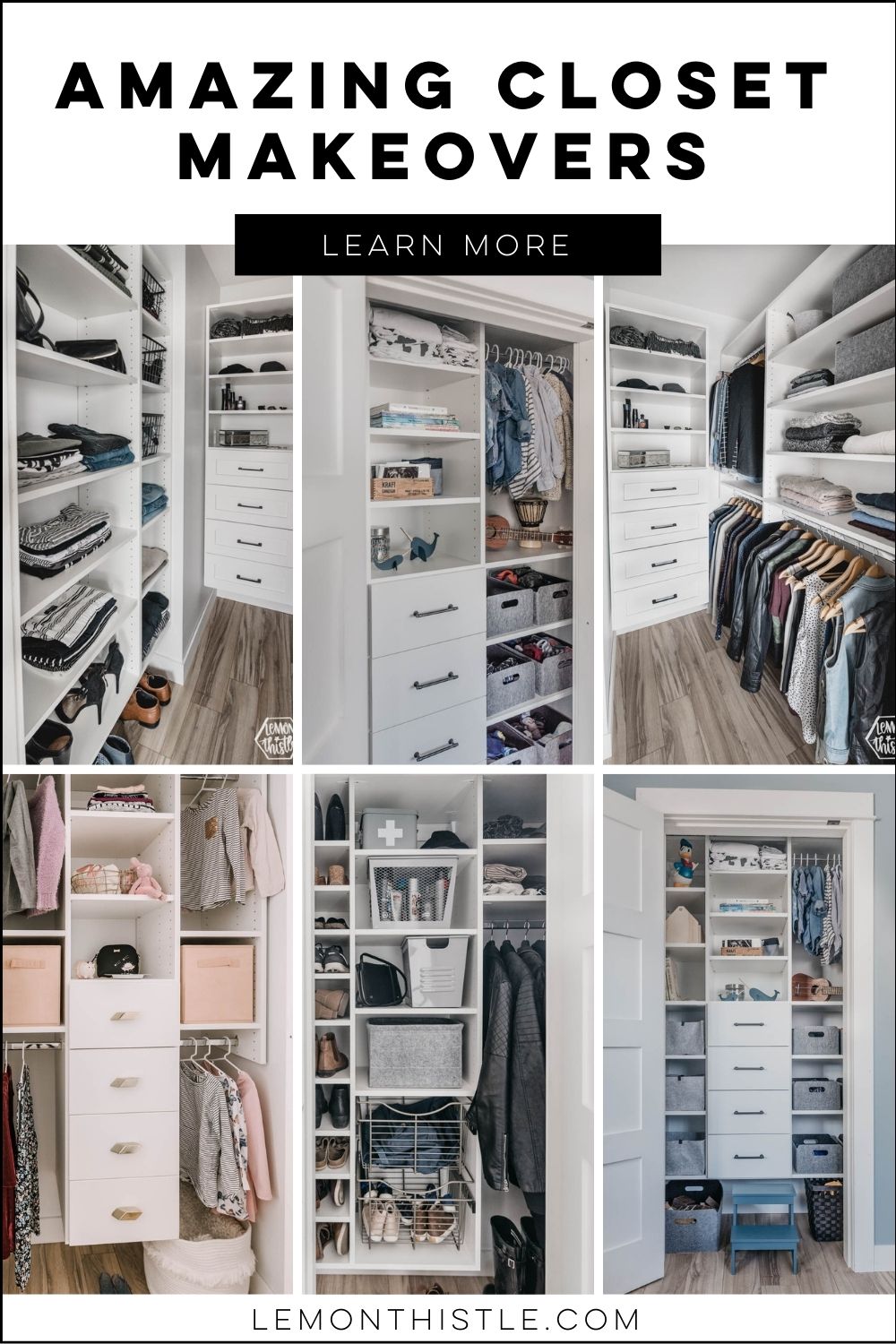 Have I ever mentioned how much I love a closet makeover? It just makes me feel so accomplished and organized to see everything in it's place! Here are some amazing closet makeovers we've shared over the years. Each had unique challenges: the teeny tiny, the shared (3 kids sharing one closet!), and the just plain awkward shape… Here's how we made it work and what we learned along the way!
In this roundup, we have closets I've designed and built on my own and we have closets that I've worked with professionals on. There's such a great range and each of these posts are full of tips.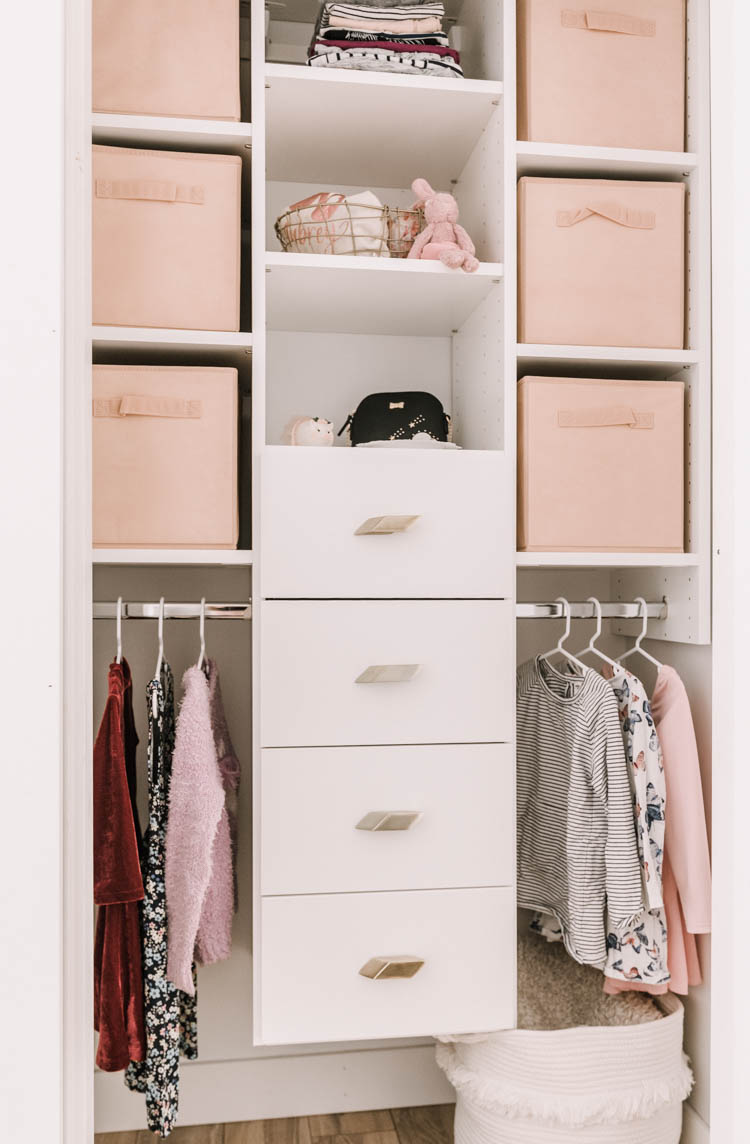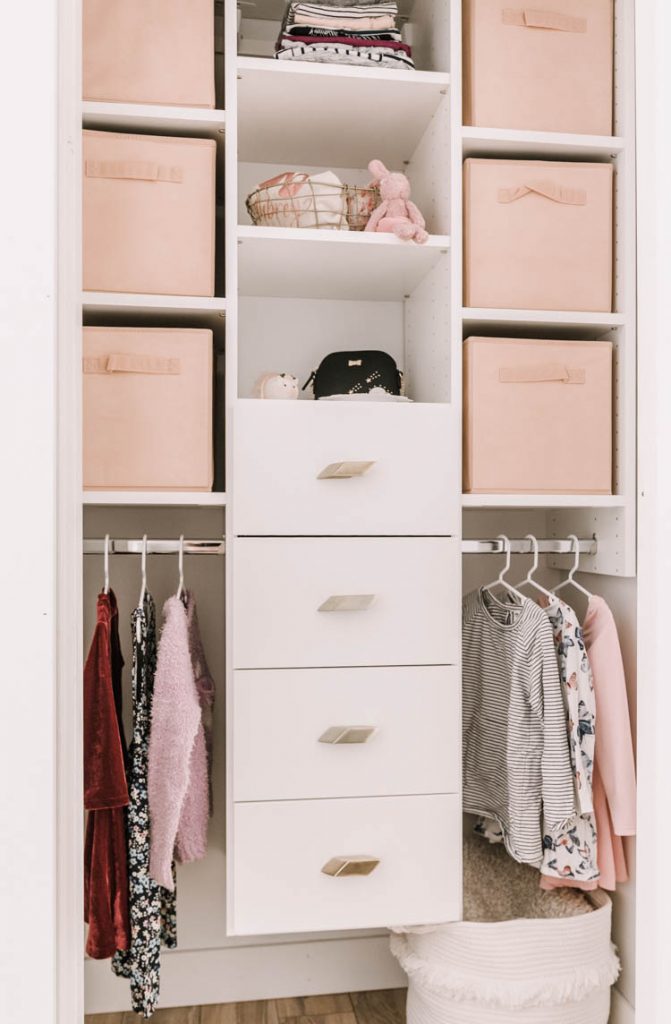 This is the closet that we designed for Aubrey's bedroom makeover! It is a really small closet, but it packs a big punch for storage now. Just by adding this system in, we've eliminated the need for a dresser in her room which makes me so happy! It is also adjustable so as she grows she can change things around to allow for twice as much hanging, full height hanging… whatever she chooses!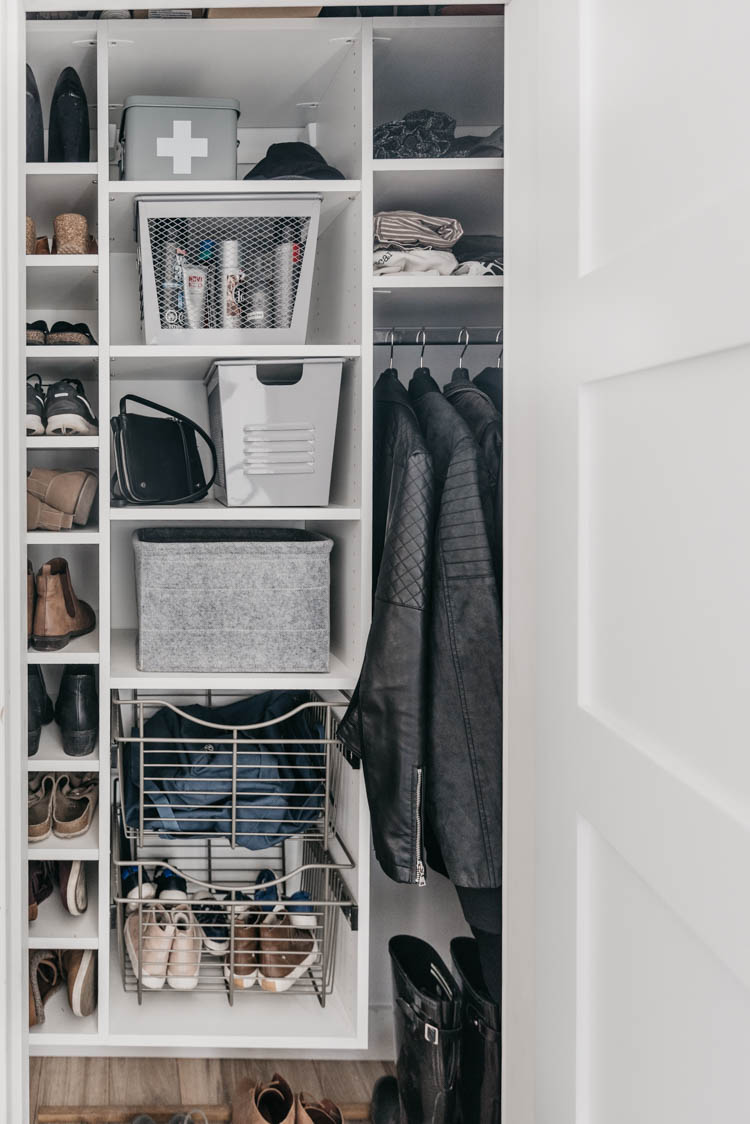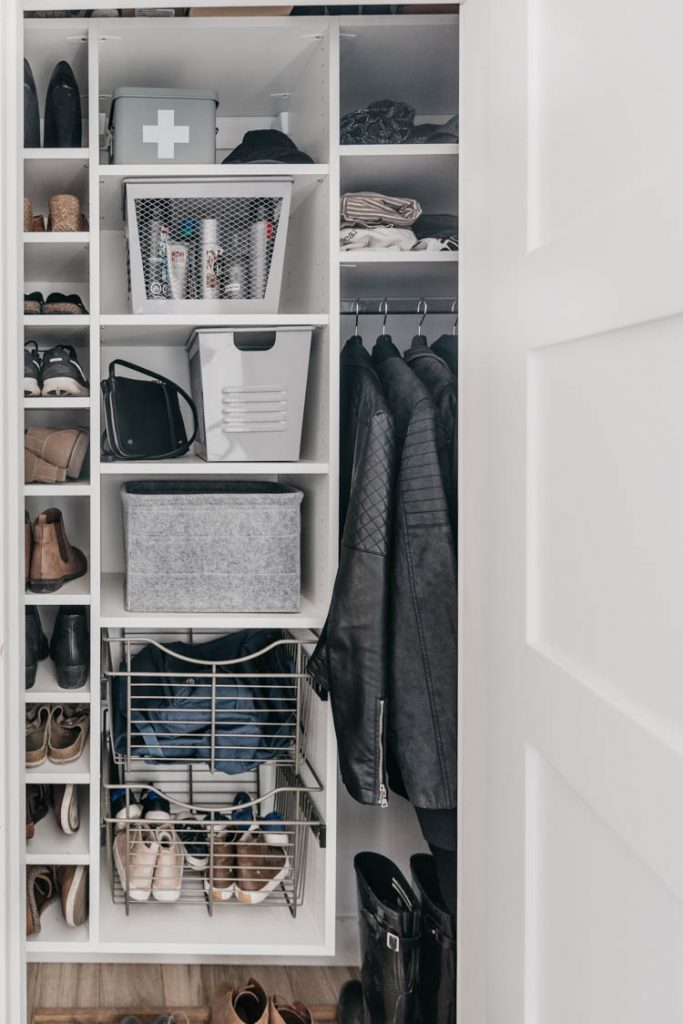 Entry way closets are what we looked for when we were house searching- but then we got one, it was odd shaped and not at all functional. So how did we make it work for a family of 6? Come see the transformation and my amazing tips to organize an entry way closet for a busy family. Hint… those wire baskets are a game changer with kids!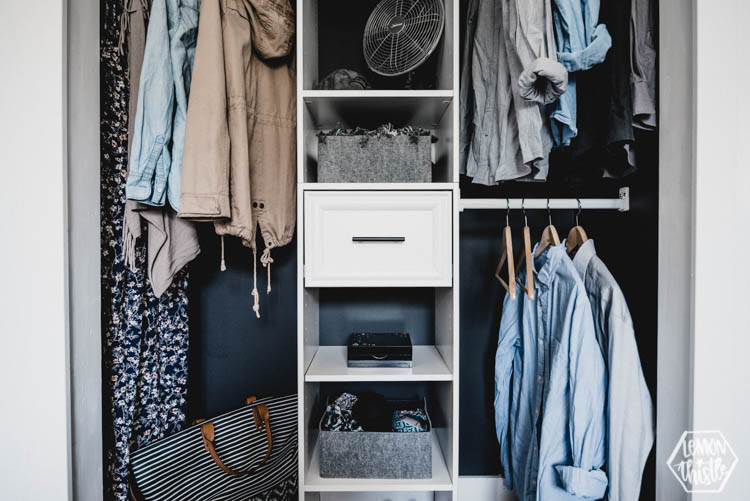 I have done a lot of closet organizers since Shane and I got married and started renovating. We've done wire closet organizers, built our own out of MDF, and pieced together custom ones from cabinetry. I don't think I'd make one for our family without drawers now that I've tried all the options. This time I took on a simple boxed unit and added some fun details (black paint and hardware!). I'm so impressed with how simple it was to install and love how it transformed this reach-in closet into something functional and gorgeous… and it's cost effective!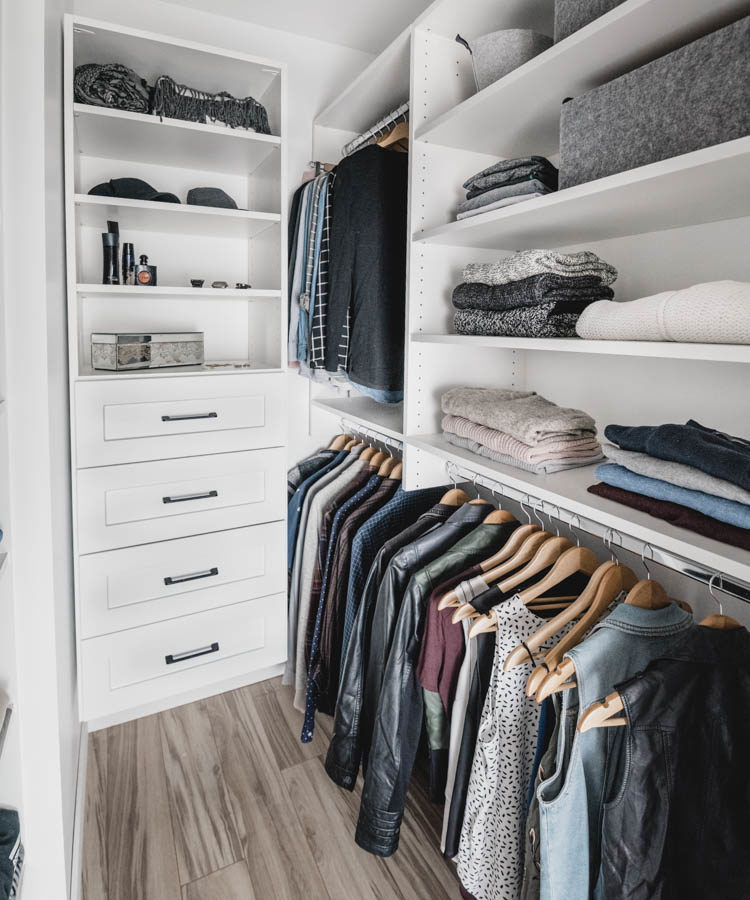 Back when Shane and I bought our first apartment, we had a small walk in closet, we put in a tiny chandelier and wire shelving and it was a dream for me. It's been years since we've had that place, so when we moved into our current house and we got a small walk in closet again, I was so excited. It's a smaller walk in closet, but an awesome organization system allowed us to empty and get rid of our dresser as well. I got some amazing tips from the professional team I worked with that I asked if I could share with all of you. These tips were SO helpful for me to understand what really makes a closet work hard for you! See that all in this post here.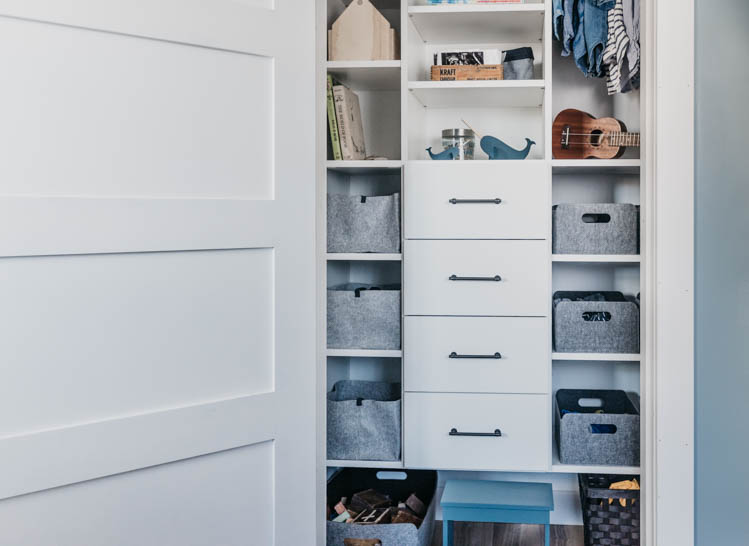 We have 3 boys in one closet! With no dresser! This post shares exactly how we we organize our shared kids closet, from closet organizer to the type of baskets and WHERE we keep all the stuff. As our kids have grown and their closet get bigger, these baskets have gotten fuller, but it's still working really well for the three boys! We've also added baskets on the shelves for socks and soccer gear and pulled the books and decor out. Function, friends!
Shared Closet for young kids (IKEA HACK!)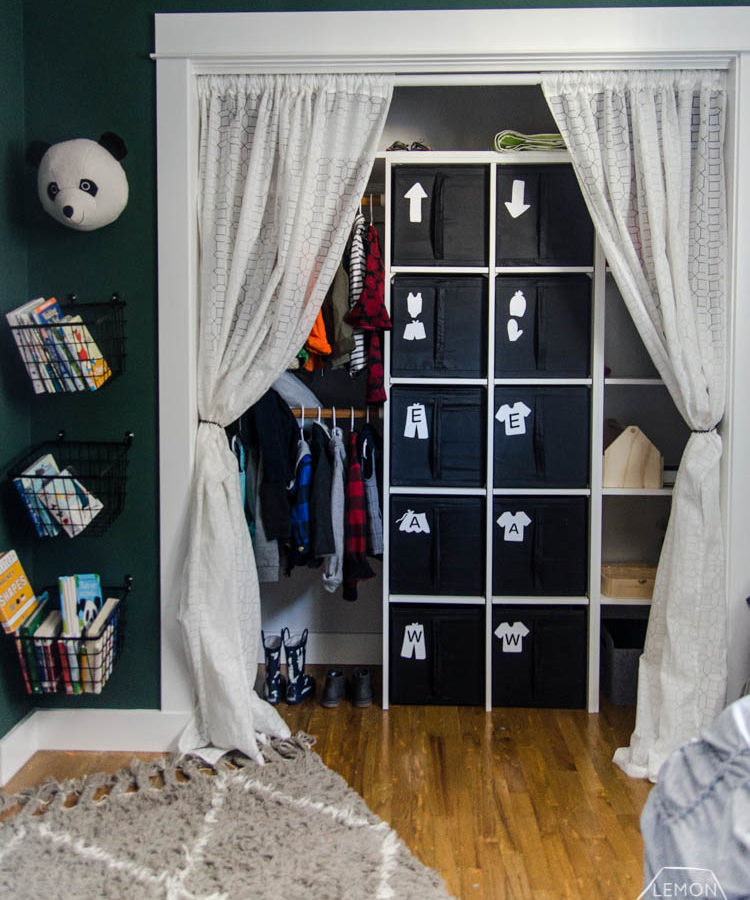 In our last house, we had three kids sharing a room as well. We built this closet system with my Dad's help and used IKEA bins with DIY labels to make it easy for our kids to find their own clothes, even when they were really small. It also helped anyone helping out with childcare! See the whole thing here.
---
My biggest tip for you? Get a system that has OPTIONS to move things around to customize it as kids grow or as your needs change. And if you want to make the most of every. single. inch. of space in that closet? A custom system is your best friend!
Have a closet that you're not using? Here's how we transformed our under stairs closet into an awesome kids space!
Have no closet space? We needed shoe storage in our split level entry at our last place, here's what we did to build in storage to the walls!
H