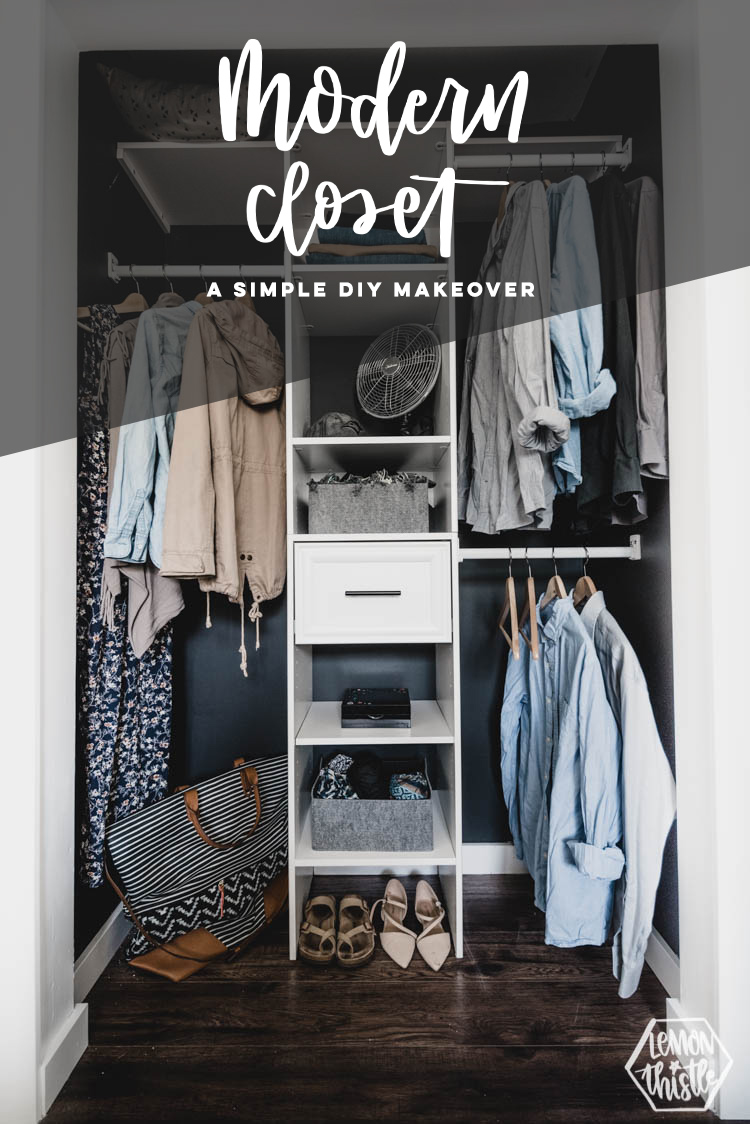 Who doesn't love an organized closet? I've probably pinned too many photos of closets, but I seriously love organizing. I'm not sure you'd know it if you walked into my house right now (you'd probably think the opposite). But there's something about closets being organized that makes me so happy. So today I'm excited to share a closet makeover with you guys. None of my closets look like this. Nope, not even half as organized. This one isn't my closet.
This month, Home Depot Canada challenged us to take on a project for someone else. As they were concluding their annual Orange Door Project (a fundraising campaign to provide funding to organizations that support safe housing options, life-skills development programs and prevention initiatives for at-risk and homeless youth in Canada), they thought that they'd give us the opportunity to give back to some amazing people in our lives too. Isn't that rad?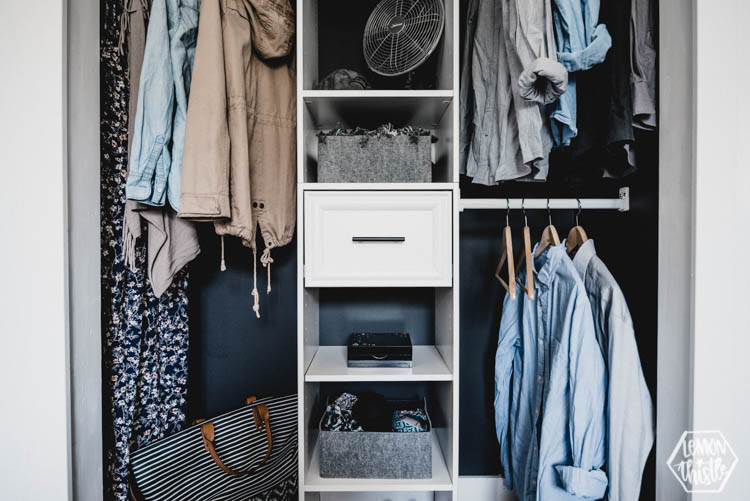 So today I'm excited to share the closet makeover that I did in partnership with Home Depot Canada for some friends of ours that give so darn much to everyone all. the. time. You know the type of people. They bring dinners when you have a baby (or when your babe ends up in the hospital!), they volunteer with the youth groups (or on the board or for kids camps or for ANYTHING that there's a need) and they do all of that with a young babe of their own. And a house that they're working through renovating. So to be able to check this closet off their list is a little something that they'll get to enjoy daily, but something that would have been at the bottom of their list to devote time to. This is what it started like: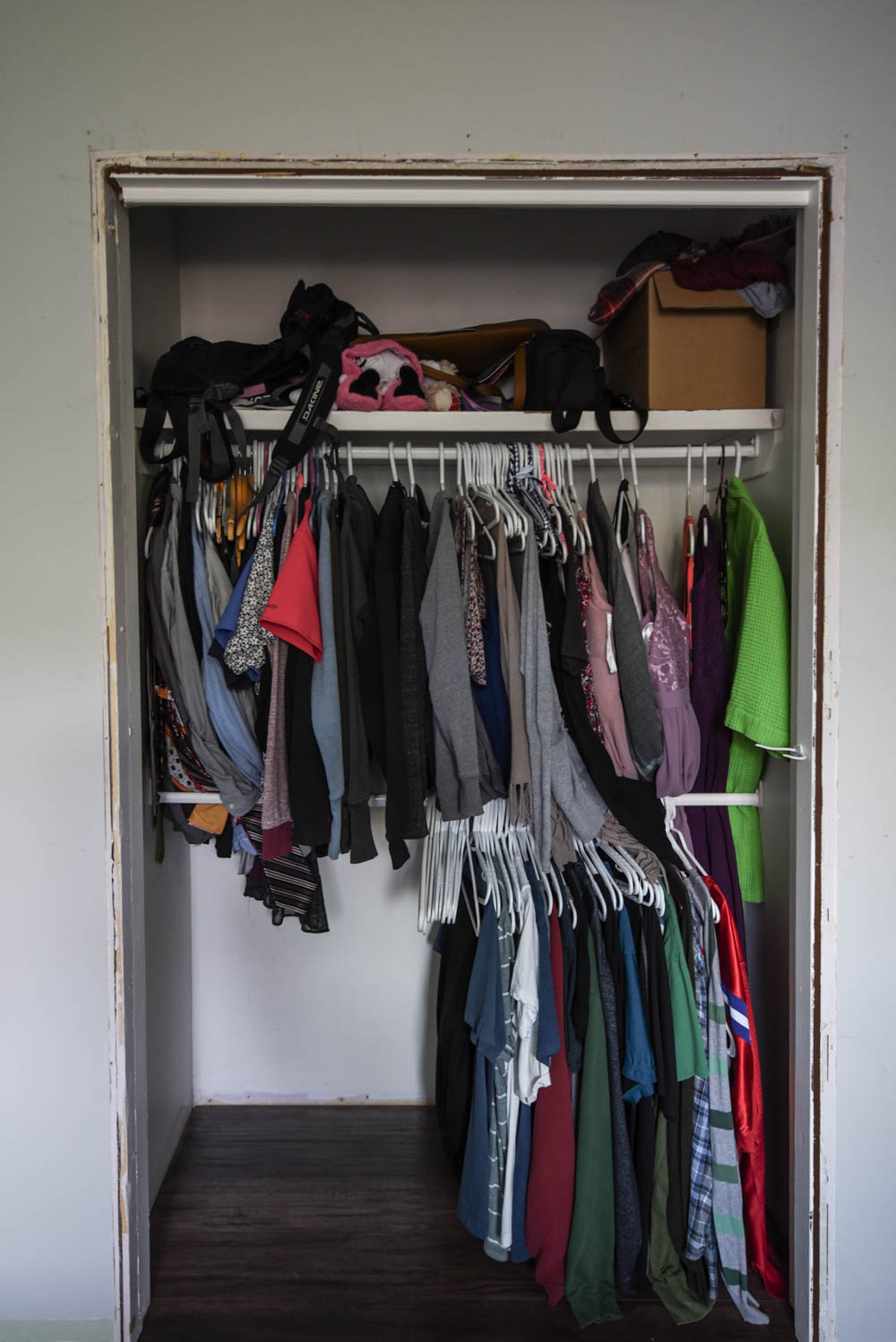 I have done a lot of closet organizers since Shane and I got married and started renovating. We've done wire closet organizers, built our own out of MDF, and pieced together custom ones from cabinetry places (this is the only other one I've shared on the blog). This time I took on a simple boxed unit from ClosetMaid at  Home Depot Canada and added some fun details (black paint and hardware!). I'm so impressed with how simple it was to install and love how it transformed this closet into something functional and gorgeous. You know I took some progress photos… so let's talk about it!
But before I get into that… I have to say that I thought this could be like a one day project. But I have four kids and they have one. And between the five of them being there the whole time… we broke it into three days. Not full days. Like a few hours each time. And I didn't do it all. They did the painting and trim while I wasn't there. So I say that this was super simple, but I didn't have to trim it out or anything ;) So let's call it a DIY but it's kind of a DI(almostby)Y.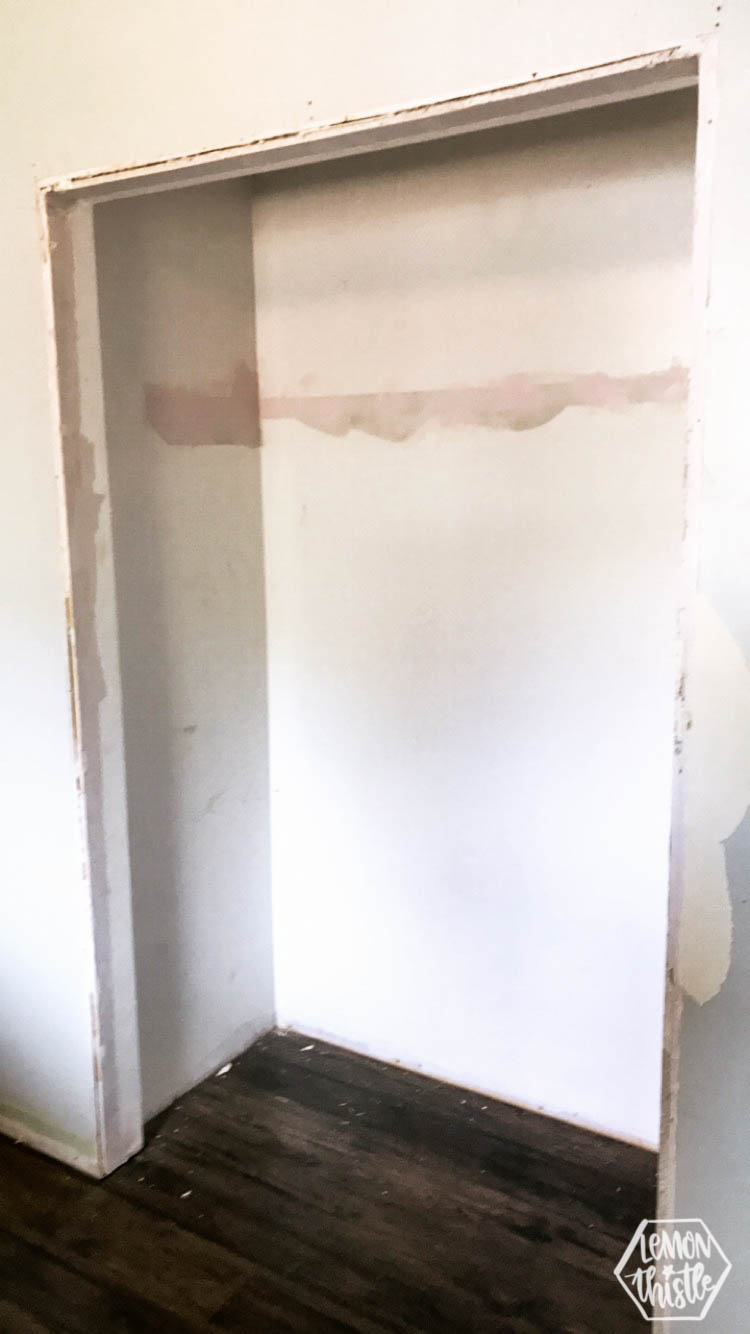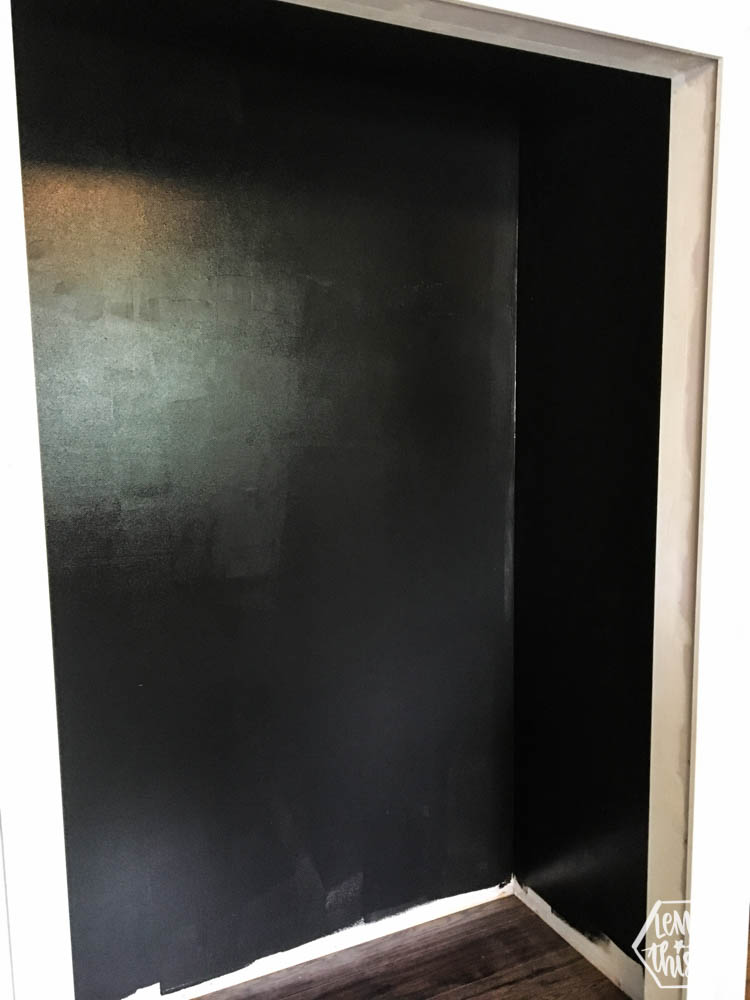 The first thing we had to do was empty it out and get it down to the drywall. I know we've cut this step in some closets and I know lots of friends who have done the same. You can take out the bars and the shelf and it looks OK and you don't have to patch drywall BUT getting it all the way down to the drywall and properly patching those holes is going to make it look SO MUCH BETTER once you paint and get everything in. We won't skip this step in the future. It really makes such a difference. I did the patching and sanding, then they painted it out black. Can you believe they went black!? It makes me so happy! I threw it out there as an option- I thought it would look rad with some black hardware and they ran with it. I'm so glad that they did! When choosing a dark paint colour like this, the matte ones hide the most imperfections. The black paint used here is Deep Onyx from Behr and it's perfect!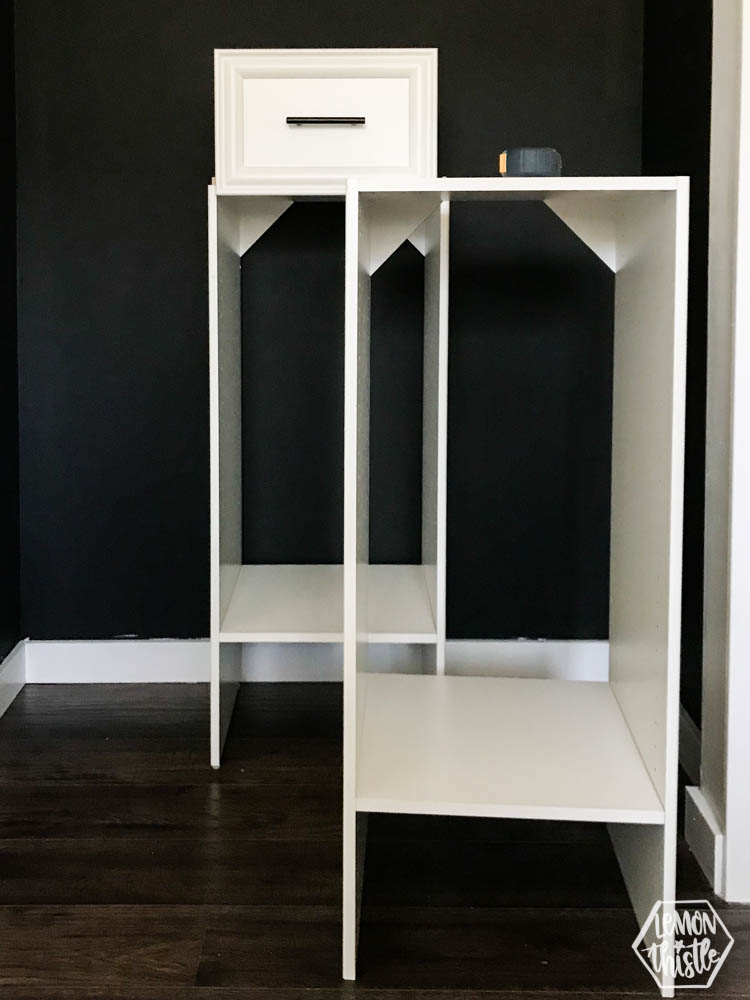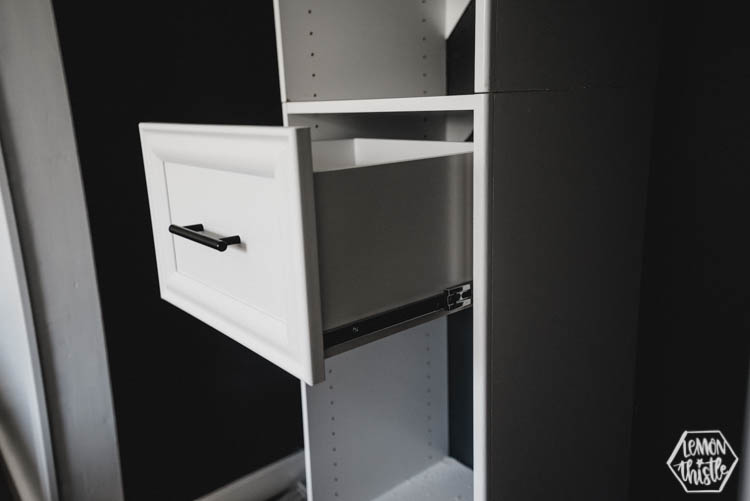 Then, they trimmed it out while I built the organizer. It's such a simple system using cam lock and nuts. You build the two boxes separately, then stack them and secure them to the wall. There are adjustable feet to make sure everything is level. We cut out notches of the bottom back for the baseboard using a jigsaw. We had a bit of extra money in the budget so chose to add a drawer and that's my fave part! We swapped out the standard brushed stainless look handle for a modern black one and that makes this unit look so much more custom. This Richelieu handle was only $5 or so and made all the difference.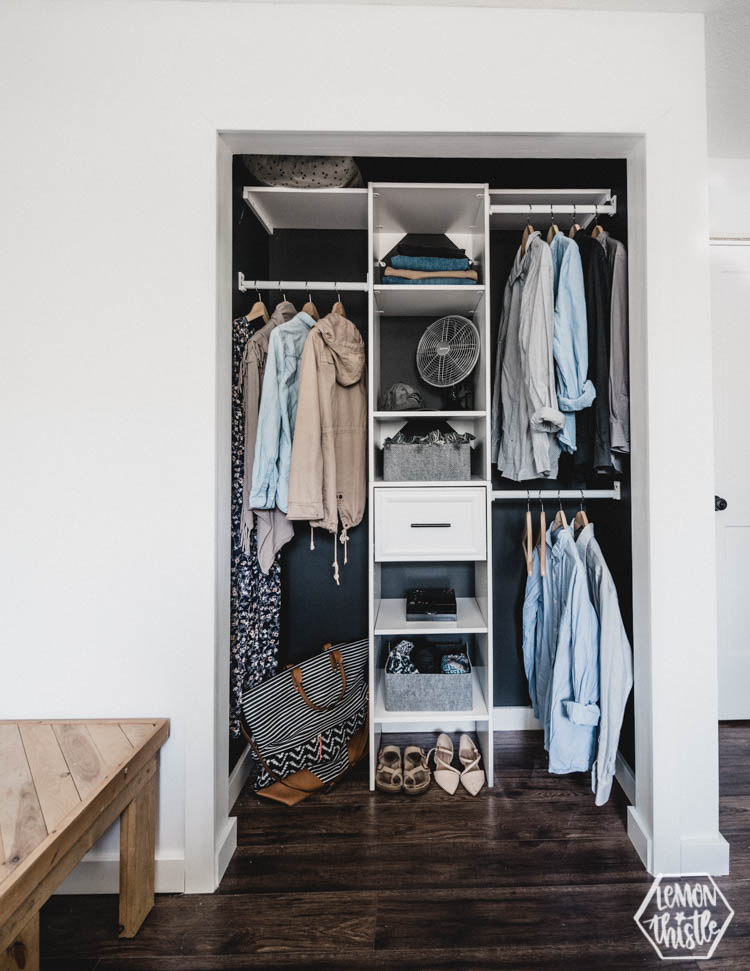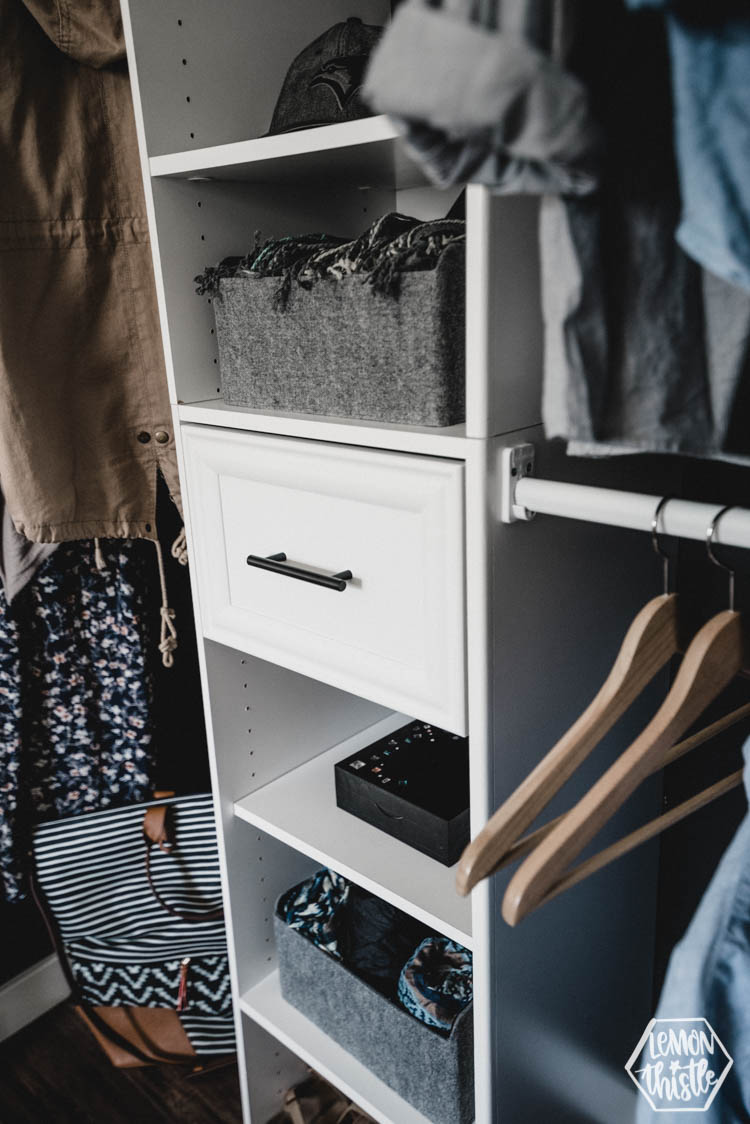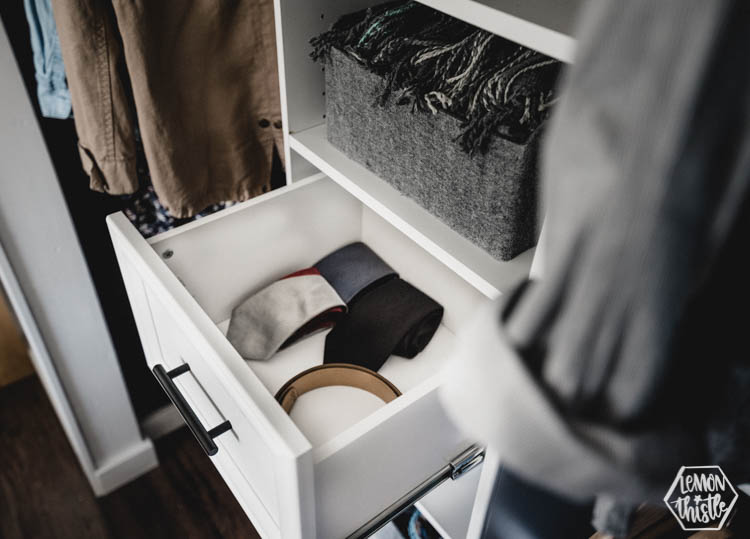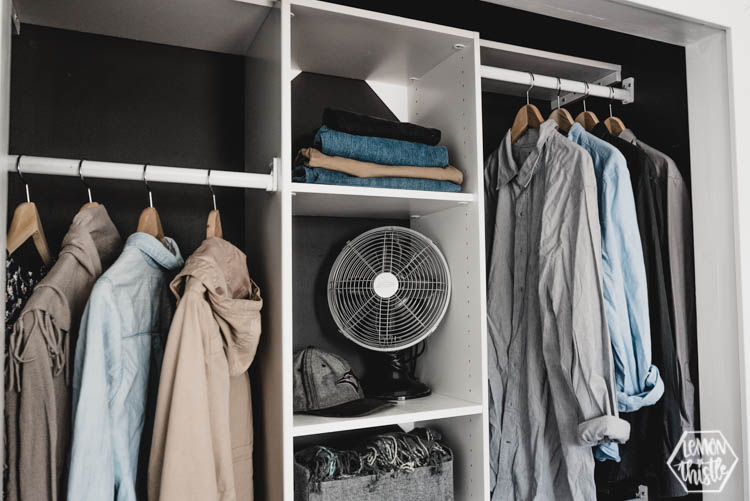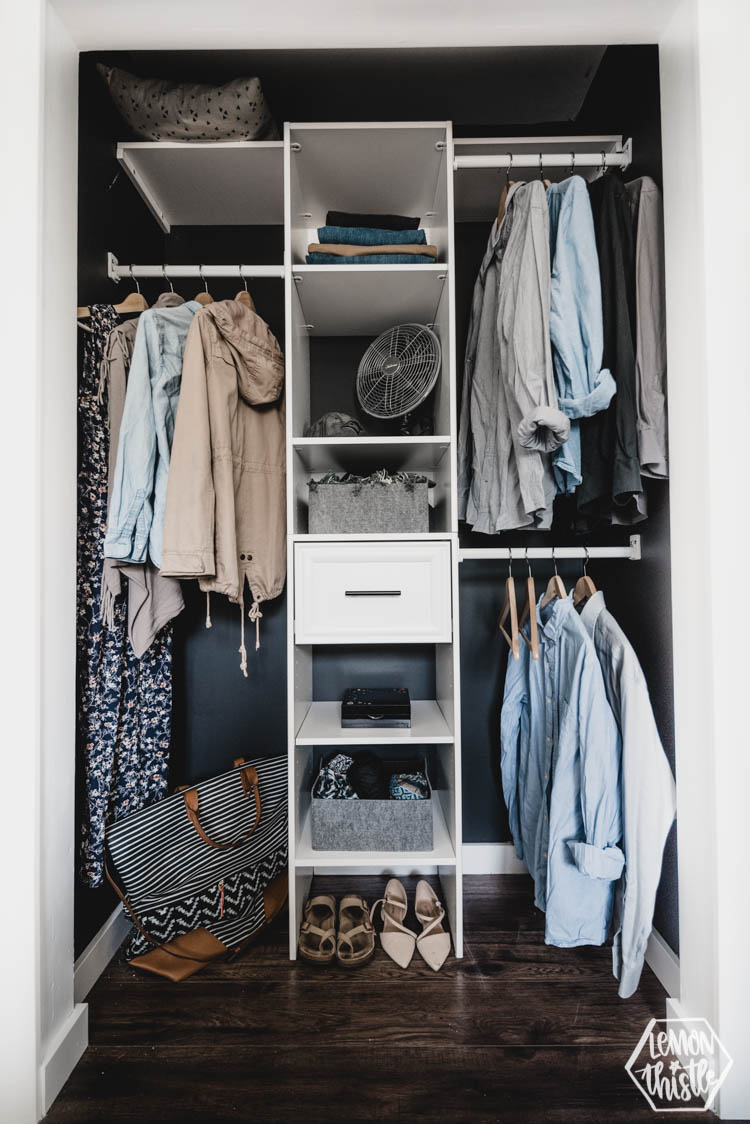 The last thing you do is add on the bars and the top shelf. Then fill 'er back up! Seeing this all put together really makes me want to give our closet a facelift. I can't even tell you guys how much of a pain is right now! Haha, the shelves sway and stuff falls off ALL THE TIME. But we'll get to it in time ;)
I'm so thankful that Home Depot Canada partnered on this project! It's always a great feeling to be able to give something back to someone who's such a giving person themselves. I hope they enjoy this, I know I would!