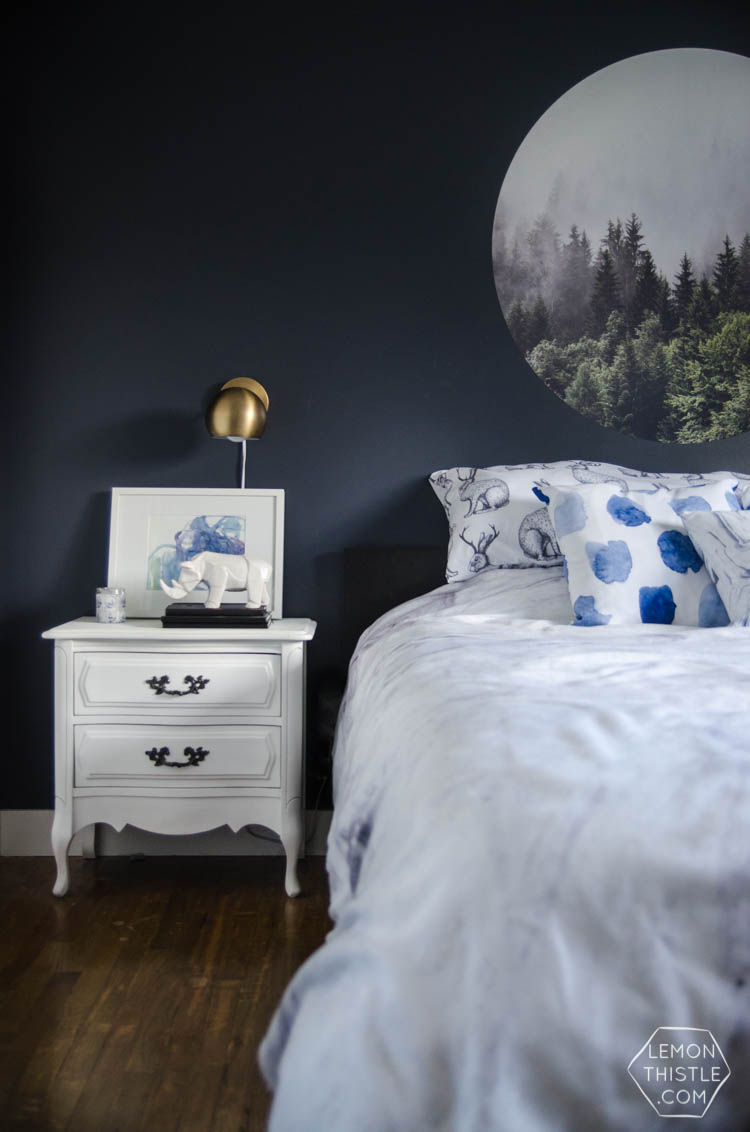 It feels so good to see our house slowly come together- we're finishing rooms one by one and although it feels like it's taking forever, it sure is rewarding photographing a finished room. Then walking into it to enjoy how clean it is compared to the rest of the renovation chaos! I partnered with Walls Need Love to give our bedroom an afternoon room refresh along with two of my other fave bloggers (Pretty Providence and Persia Lou). I decided it would be the perfect opportunity to finish off our bedroom and finally share it with you! Meet our navy master bedroom (refresh!).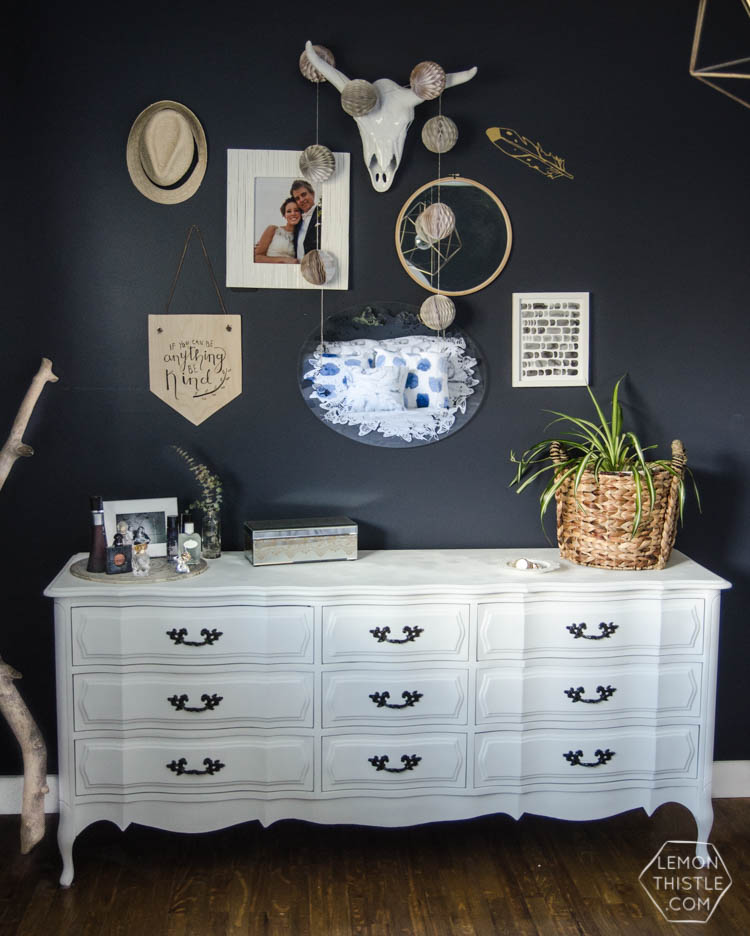 If you've been following along on Lemon Thistle for a while, you might have spotted our master bedroom 'sneak peek' last year. We had painted the room, done the floors, trim, windows, added new lights, and doors… but we hadn't put in a closet door!
When I was deciding which room to tackle for an afternoon room refresh in partnership with Walls Need Love, I really wanted to do our bedroom- if for nothing else than to give myself a deadline to finally get on that closet. I know it's not the most glamorous wall of the room… but check out those doors! Don't you love NOT seeing my overfull closet? Me too! SO much. I can actually sit on my bed, read or do whatever and not feel stressed just looking around my room. Without closet doors, it's so hard to put everything away because it doesn't look clean even when you do! Let's have a peek at that gloriously covered closet…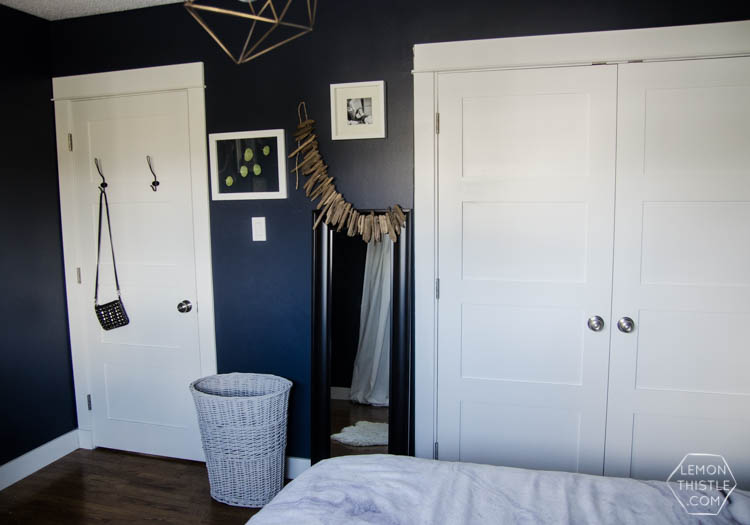 *Sigh*
Since I haven't done an actual reveal of this room since we bought our home (two years ago!), here is the before before (find the whole home before right here):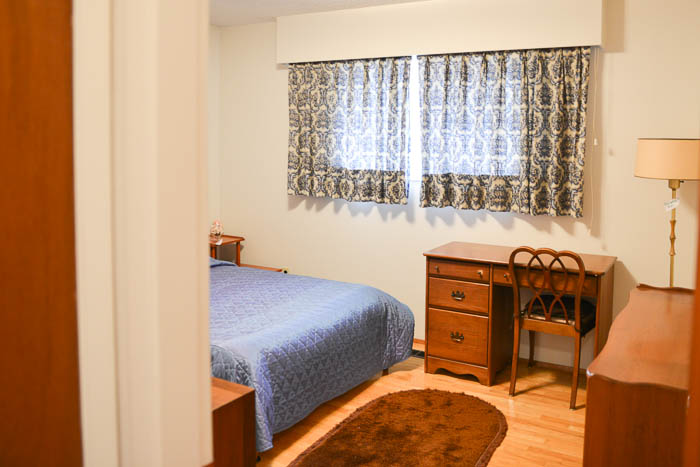 See the floors? Trim? Doors? I'm so happy with the work we've put into this space. And what it looked like at the sneak peak: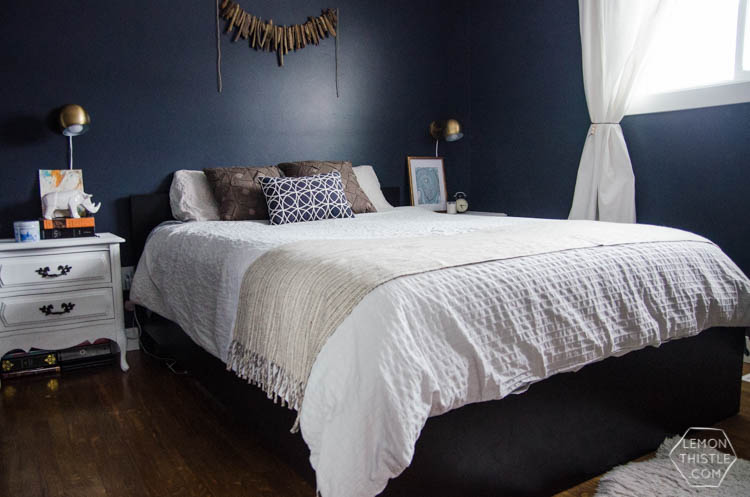 And now?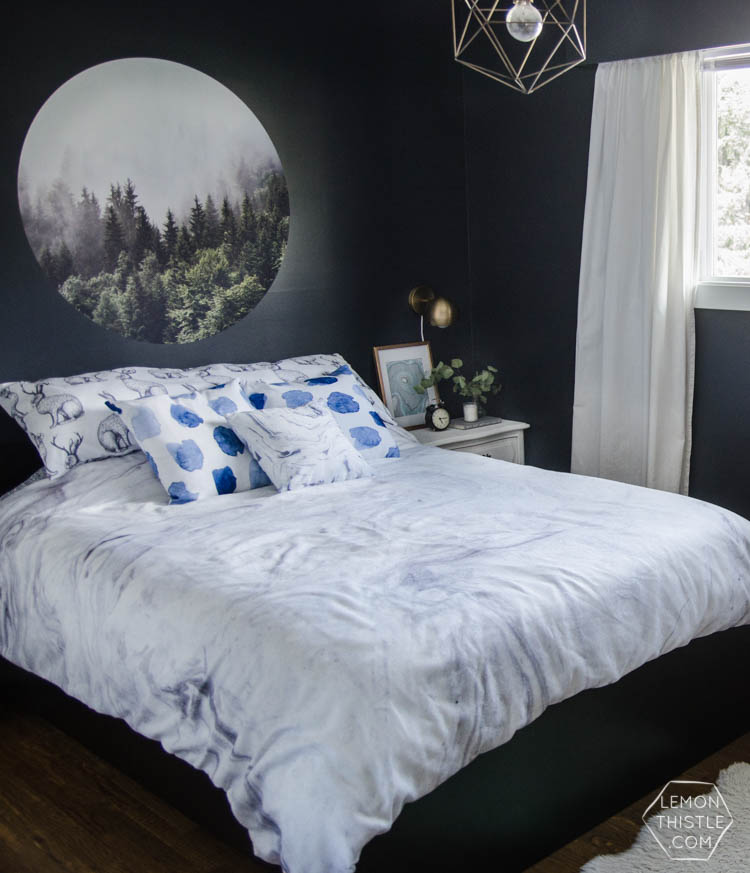 I'm so happy with it! I had planned on creating a large scale DIY art piece for over our bed (I was totally inspired by this black and white piece on the navy master bedroom walls). But when we were looking on Walls Need Love, this Misty Forest Circle Wall Decal stood out immediately. I gathered up a few of my favourite designs and showed them to Shane and in one look he pointed to it and said, 'that one, no contest'.
It just gives me the feels to look at it- I want to cozy up and look at it. It reminds me of the drives when we go visit friends or family- BC gets this look all the time and it's the reason I'd rather road trip on a cloudy day. We ordered the biggest of the circular cutouts (40″) and I'm so glad we went big! I was nervous it would look too giant in the space, but it's so perfect. The finish is nice and matte, a wallpaper type finish- not like a traditional vinyl decal.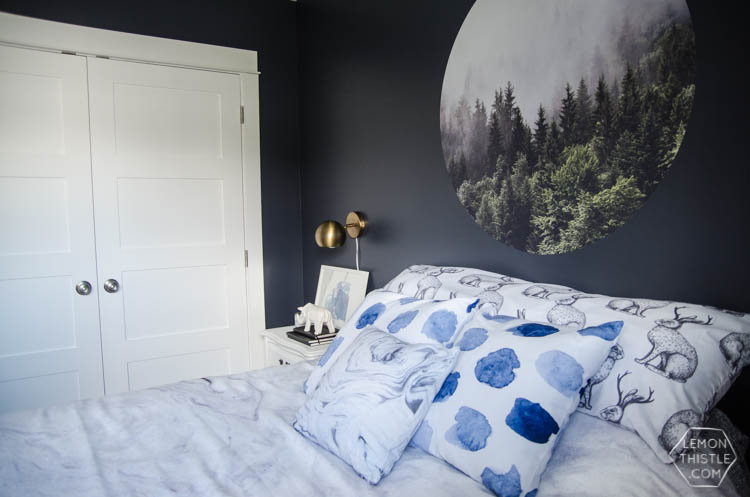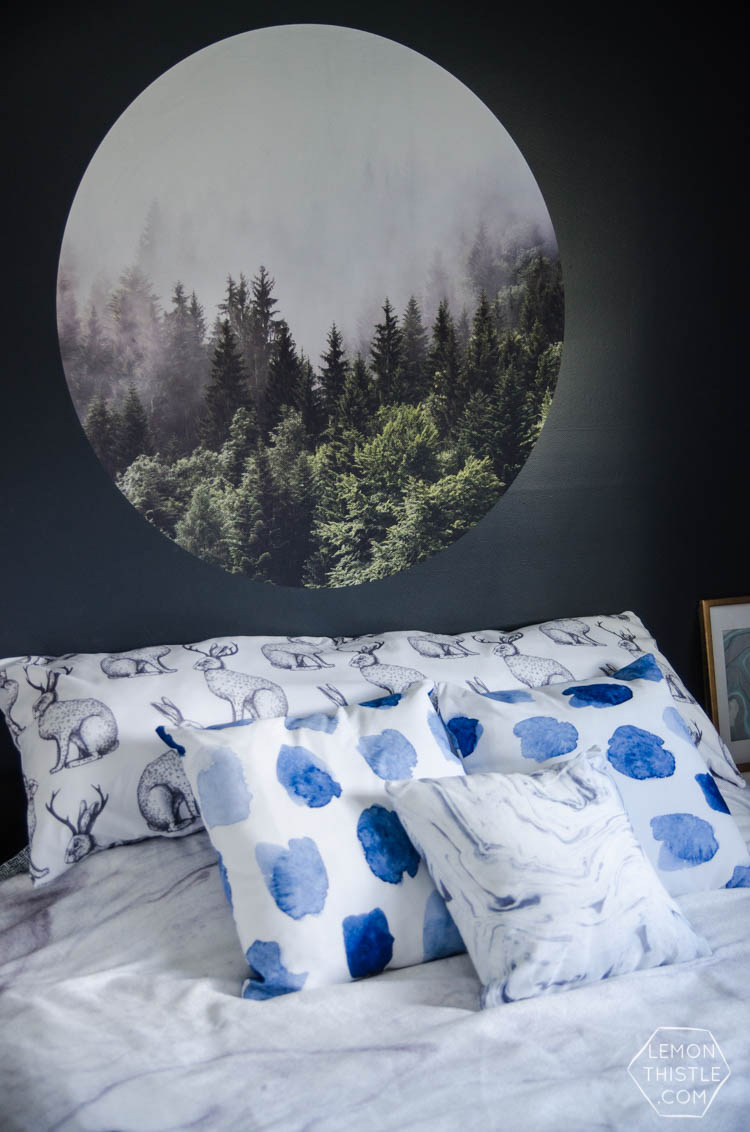 We worked from there and I actually had such a hard time deciding on bedding and throw pillows. I'm usually pretty decisive- I know what I like in home decor, but working within the navy and that forest print made things a bit trickier for me. I really loved the Jackelope print and have been dying to get a body pillow so that was on my list. I wasn't thrilled with the prints I'd mixed and matched, then when I went to put in my order I noticed there was a whole bunch of new prints and they were AMAZING. All of a sudden, I loved the pattern mixing.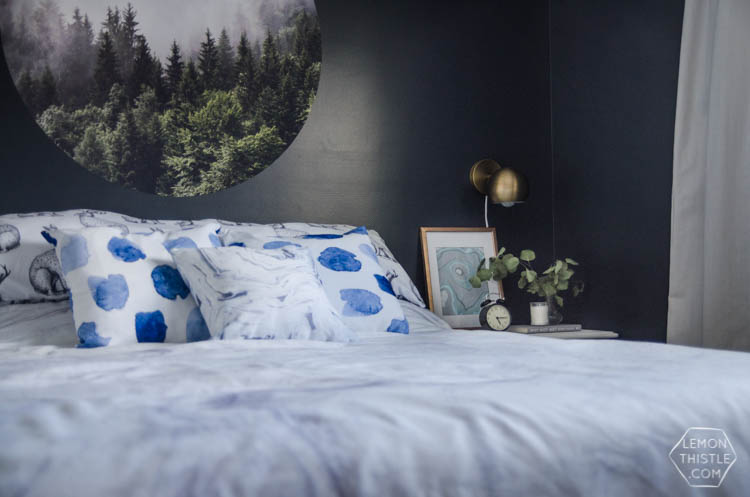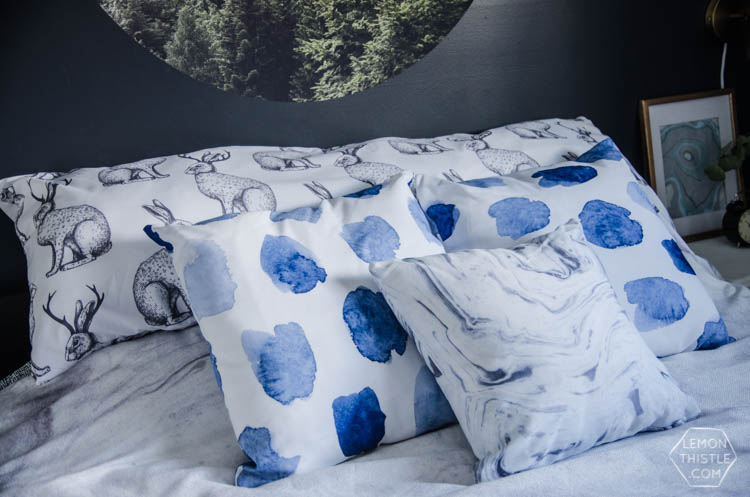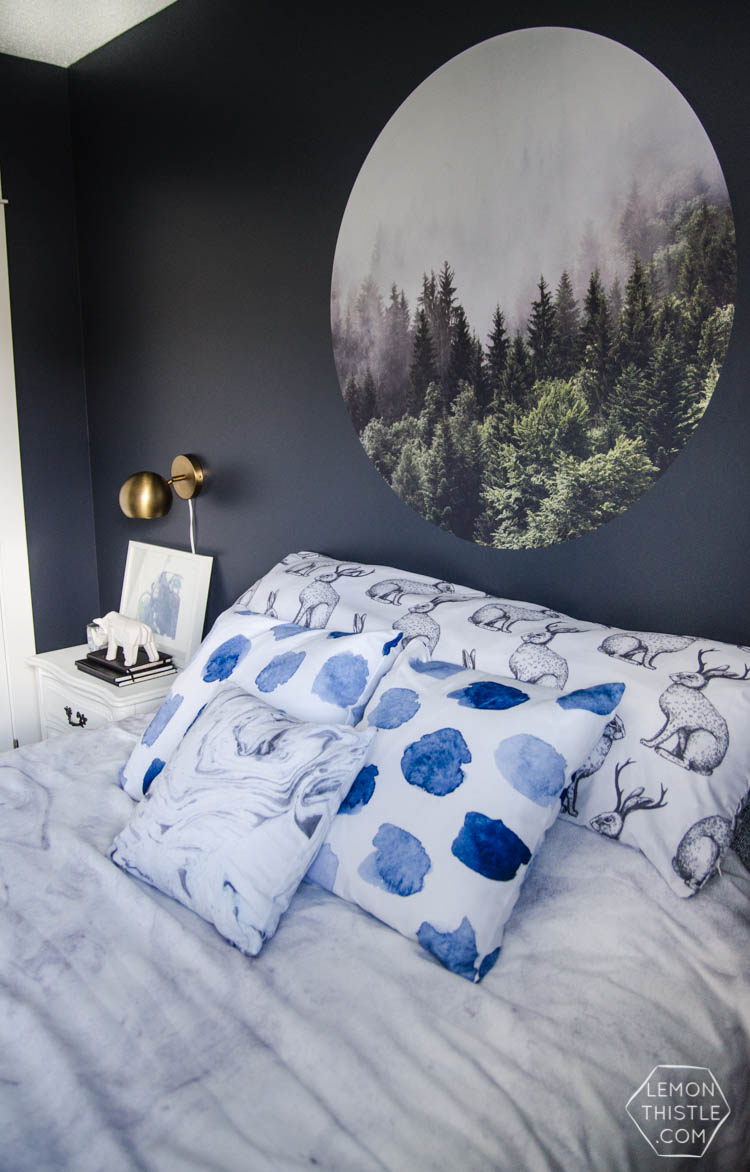 You might have noticed that two of my favourite trends out there are indigo dye and marbled… and they got both. It was meant to be, I'm telling you. I chose the Indigo Dots, classic marble bedspread and grey marble for another toss cushion. I have to be honest… I'm kind of a newbie at pattern mixing. I do a lot of neutral (yes, navy is a neutral in my book!) with white, black, wood, and fresh greens… but I really wanted to do something more fun here. I'm really happy with the prints I chose! One of the really cool things Walls Need Love has done for the girls in this challenge is create collections around our choices (so the pressure was on for me to choose a good combination). If you like this mix, you can hop over and shop my collection right here.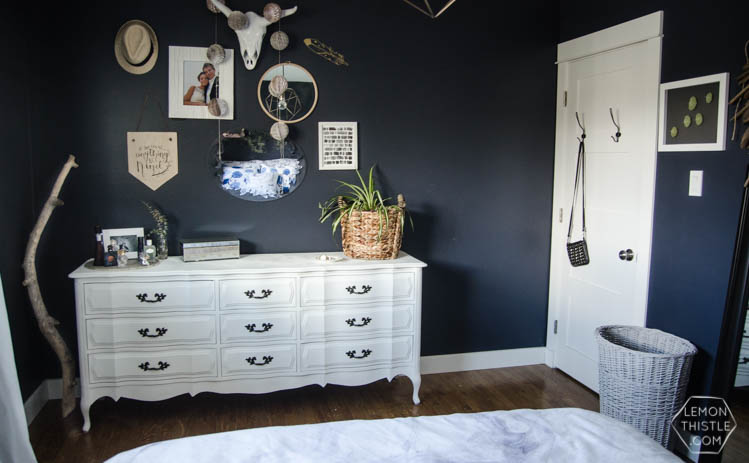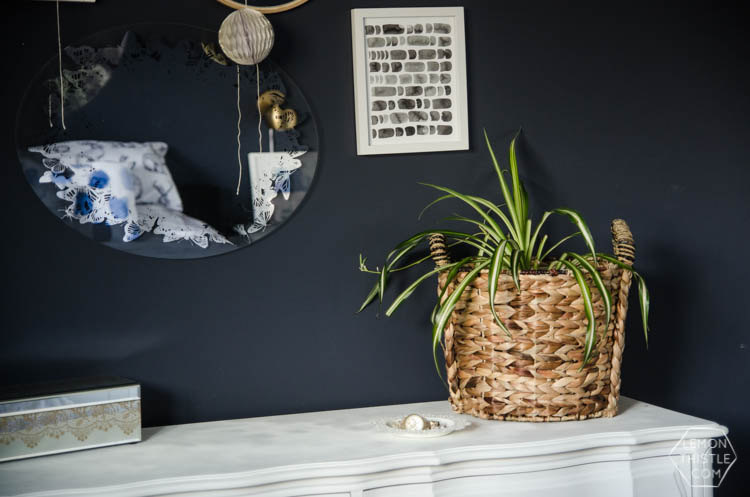 Since I was giving the room a refresh anyways, I got energetic and painted our laundry basket in some flat grey paint (Para Paint "High Speed Film") and I used to hate that thing (I bought it for $12 in highschool) and now I love it again! I had also been holding out to buy a giant mirror for between the closet and door by our laundry hamper, but budget just hasn't allowed it. I gave in and finally hung some things on the wall there, admitting that mirror isn't coming as soon as I'd like (but maybe one day). My sister had sent me a floating frame, so I grabbed some of my dried eucalyptus and displayed some leaves in there in an organic arrangement. I really love how it pops on the dark walls.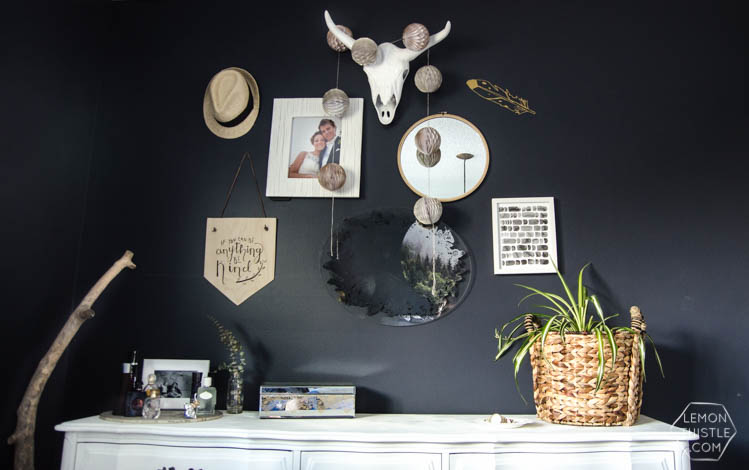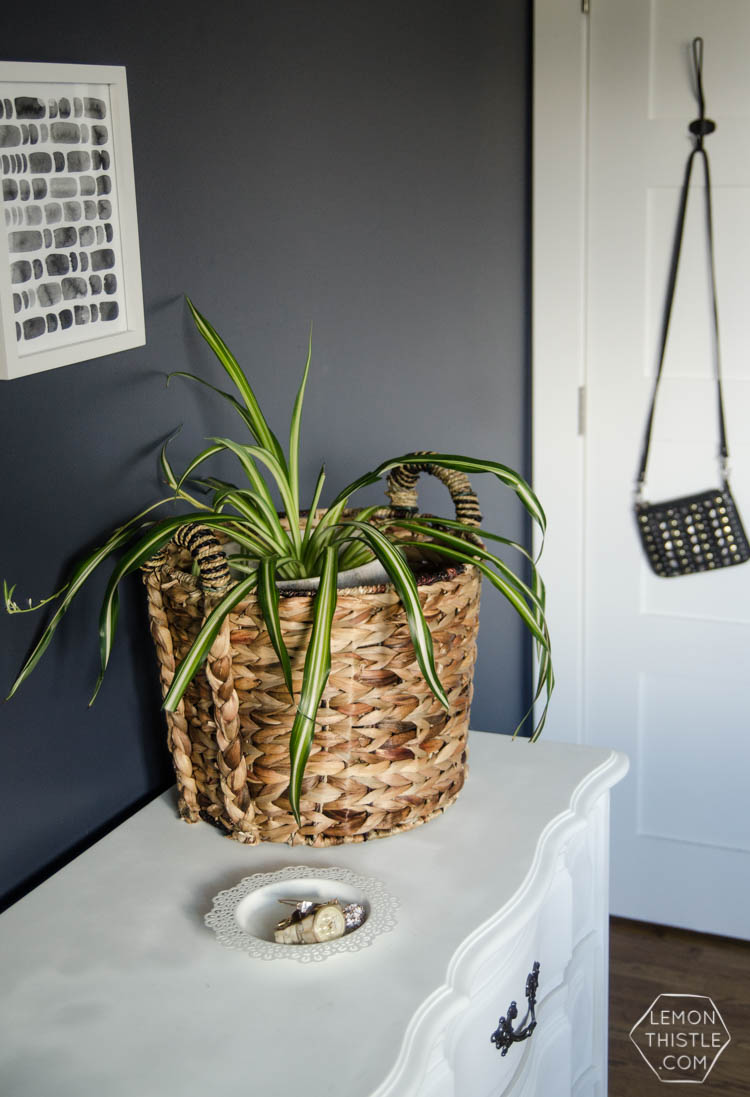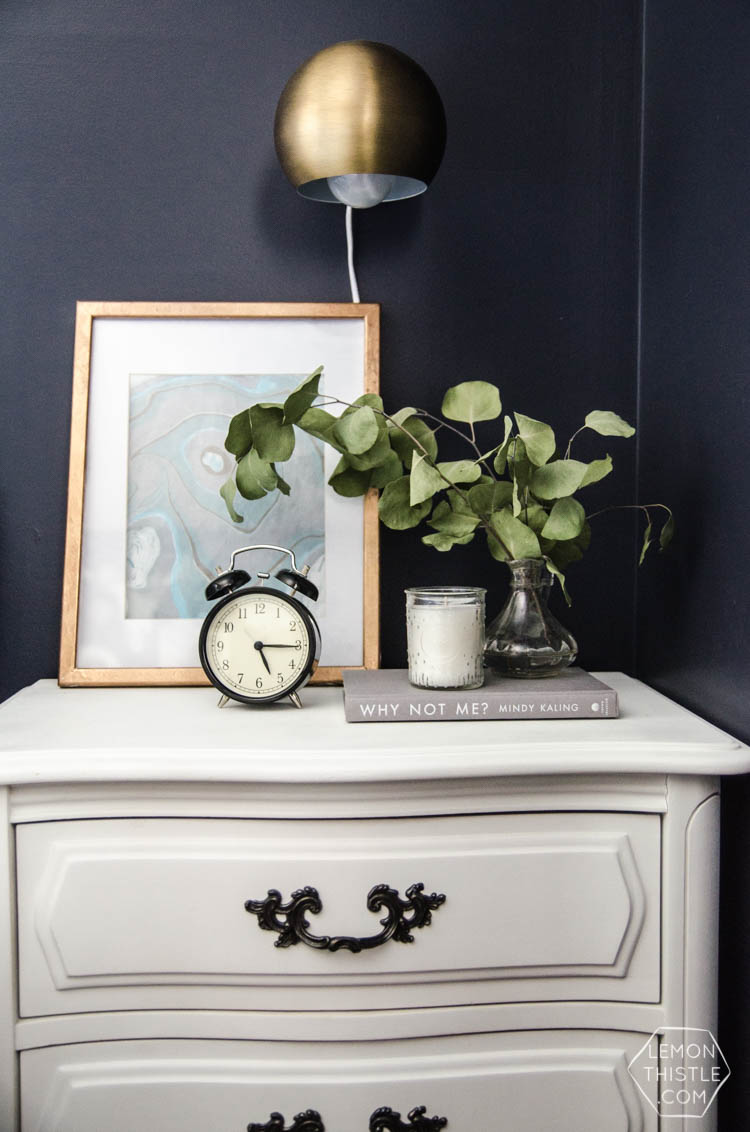 In true DIY blogger fashion, a lot of the pieces in this navy master bedroom are DIY projects. You can find the tutorial for these below:
Painting on Shane's nightstand is by my 2 year old artists ;)
*And those dressers are actually spray painted! Check that out here*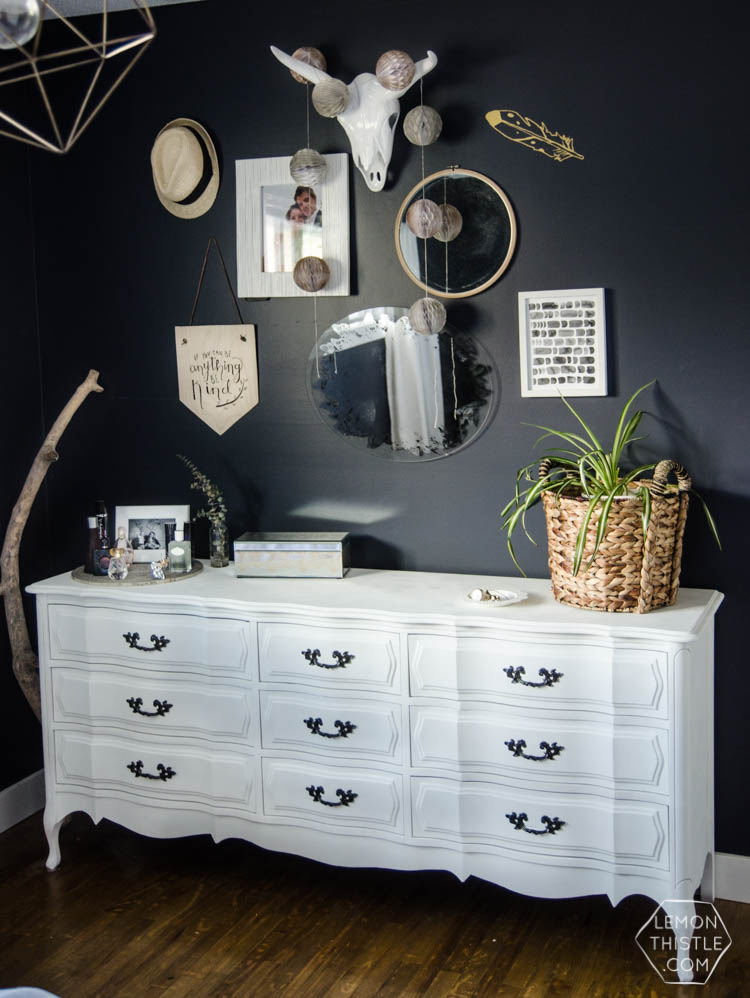 It's so wonderful to have this space done, I'm working hard on keeping it this tidy to be able to enjoy a refuge from the rest of the house. We've banned toys from this room and it's the best decision… ever. And a true sign of victory… I've made my bed every day since we did this little refresh ;)
And for reference- here's the link to my collection again (that sounds so official, doesn't it?).