I'm sharing 4 tips for Modern Patio Design Ideas to bring your patio from traditional to modern and west coast boho and a place you really want to hang out.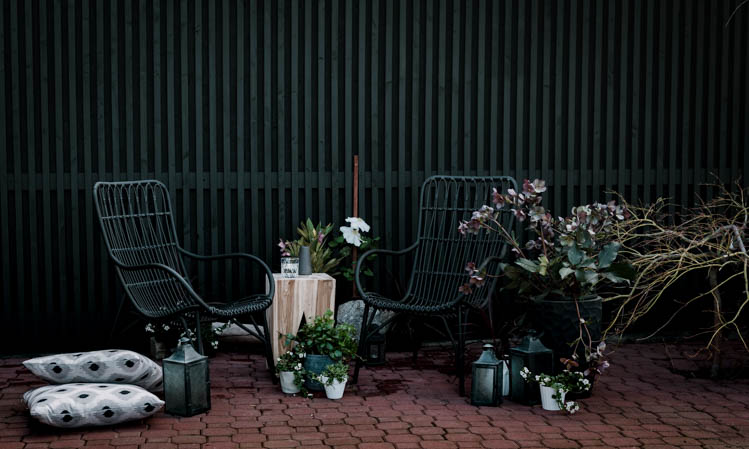 Warmer weather is starting to be more regular and as it warms up, I'm excited to start whipping our exterior and yard into shape! We've been focusing on our main floor remodel since we moved here last summer, the exterior has been patiently waiting it's turn. One of the spaces that I was most excited about to get cleaned up and ready for relaxing was this little brick patio. But the brick patio was backed by a cracked and dirty concrete wall and the paver pattern to traditional for our style. I am loving how this weekend makeover came together and the outdoor furniture we picked out from Article for this space is both modern and timeless and pulls it together so beautifully! Keep reading to see what other modern patio design ideas I have to share with you today.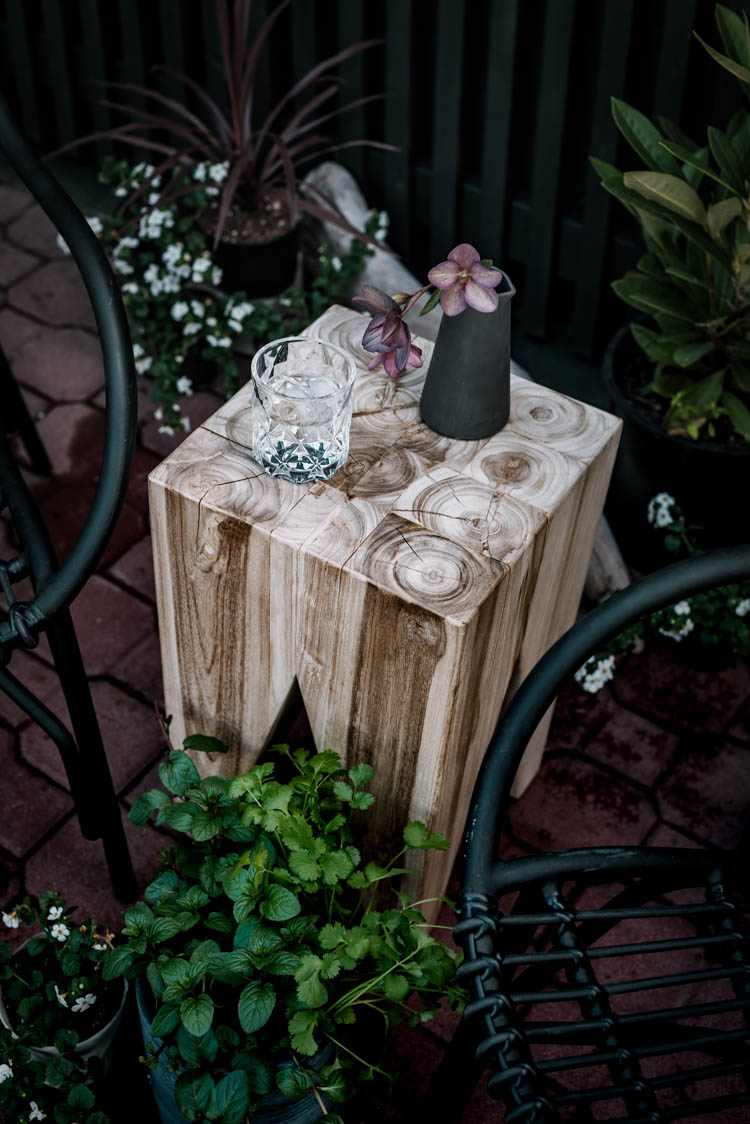 This month, the Modern Handmade Home girls and I were challenged to whip up some summer patio magic in partnership with Article to start the season right. I'm so glad that the weather warmed up the week before we started on this! The biggest change from what I described (see all the before here if you like!) is that there's no longer a grungy concrete wall. I'm going to be sharing a full DIY for this in the next couple of weeks, but I wanted to focus this post on how to mix modern touches into a traditional brick paver patio!
These are the things that I did to add modern style to a classic brick patio. Take what you like and leave what you don't! And make sure to scroll down to the bottom to check out the other beautiful modern patios!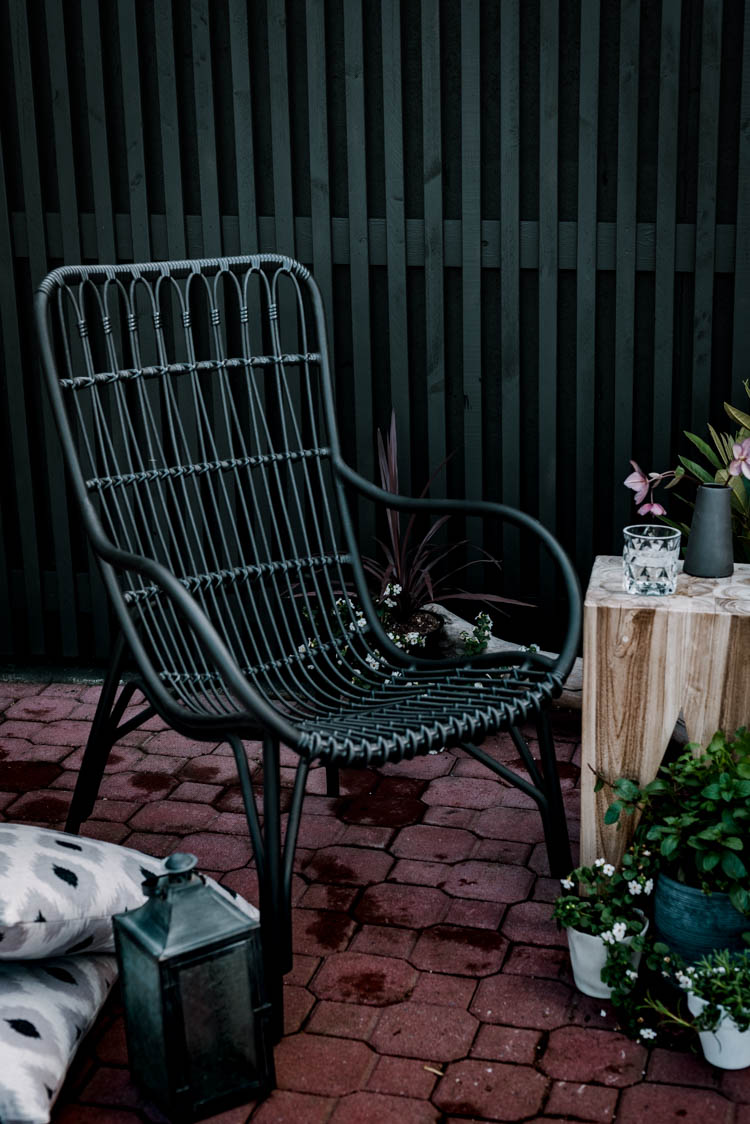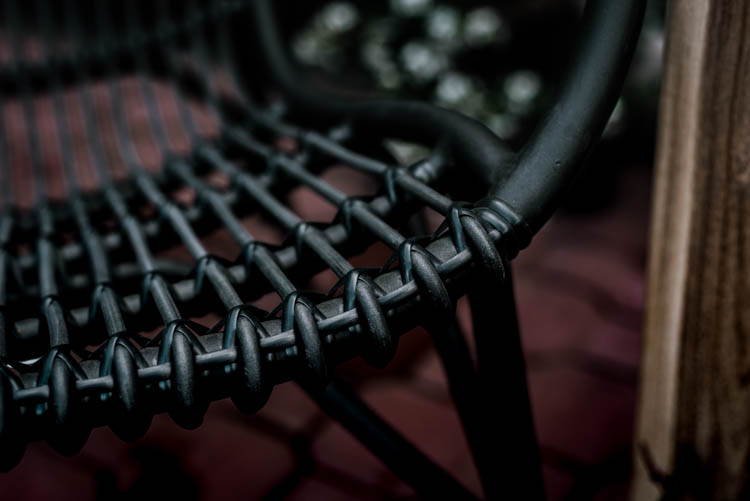 CHOOSING MODERN CLASSIC FURNITURE
The first thing I'd suggest is to pick modern furniture that can play with classic design. I love modern, but mixing straight up modern design with traditional brick pavers could be confusing. I love that these Medan Graphic Lounge Chairs are totally modern with the deep black and the metal frame (and that shape!) but the classic rattan body helps them play with the traditional brick. Plus… they're really, really comfortable. 
Since everything is so dark I wanted to break it up a bit. I love And that Tana Stool has modern end cuts and that beautiful natural wood color that we're all dying for right now but the timelessness of teak (and wood of any tone, really) will always work with brick! This stool is so pretty, I've had it in my living room while we cleaned up the patio and as soon as things cool down this fall, it's coming back inside. It's too pretty to put in storage!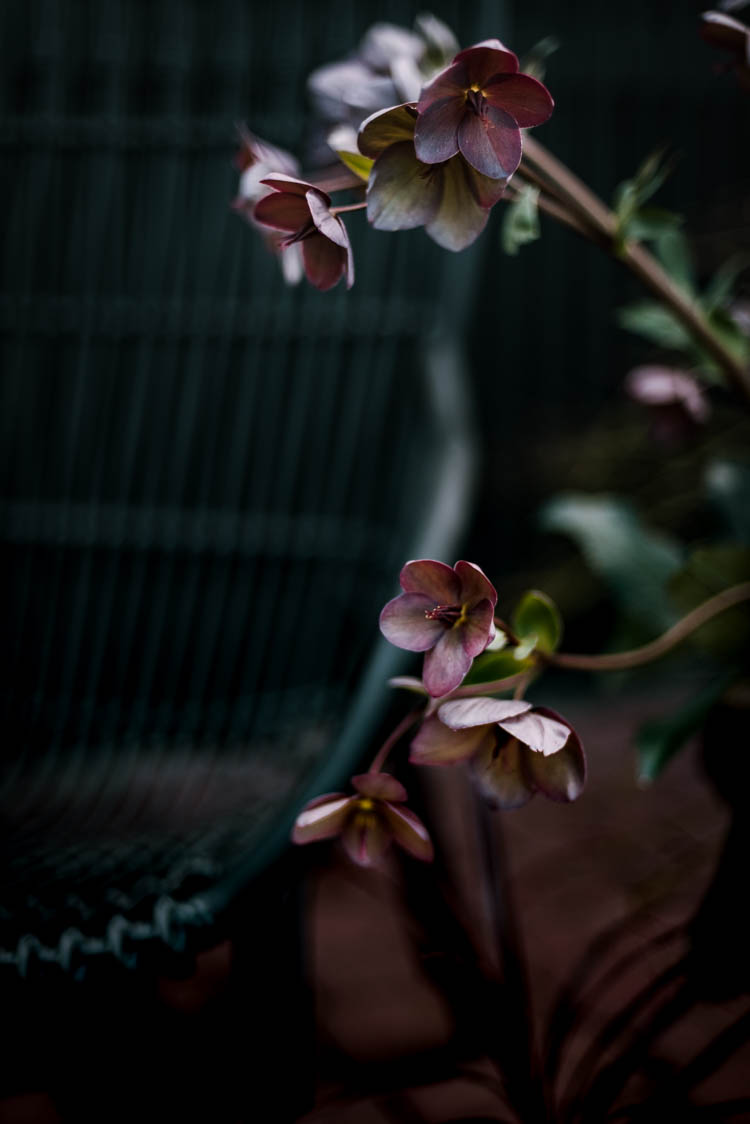 CHOOSE BLOOMS IN A MODERN PALETTE
I'm such a sucker for flowers any time of the year, but shopping for plants this spring was so fun dreaming of how the deep purple/browns of the hellebores and grasses would play with the brick patio and black background. I'm SO in love with them! As I write this, Shane is at the grocery store where I found this guy buying another. The giant white clematis will climb the screen we made for the concrete wall- I'm so excited to see that take over back here. Keeping the palette limited to the modern white and deep colours keeps it more modern.
* I did want to mention that I haven't planed any of the plants yet! Like the clematis… which would normally be in the ground. I'm waiting a couple weeks until we're past the risk of freezing :)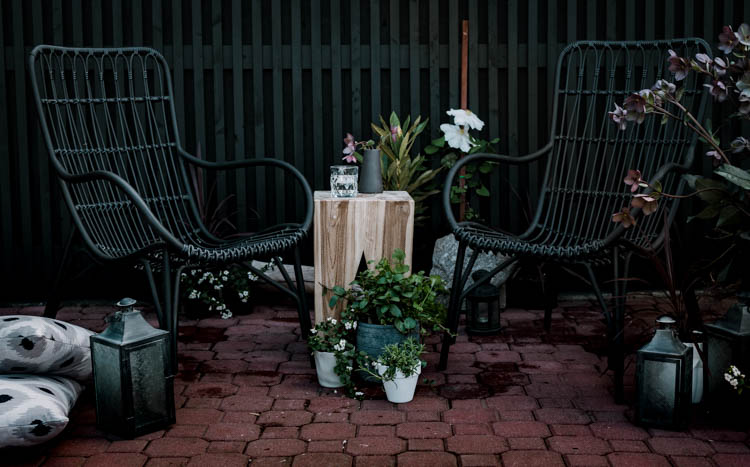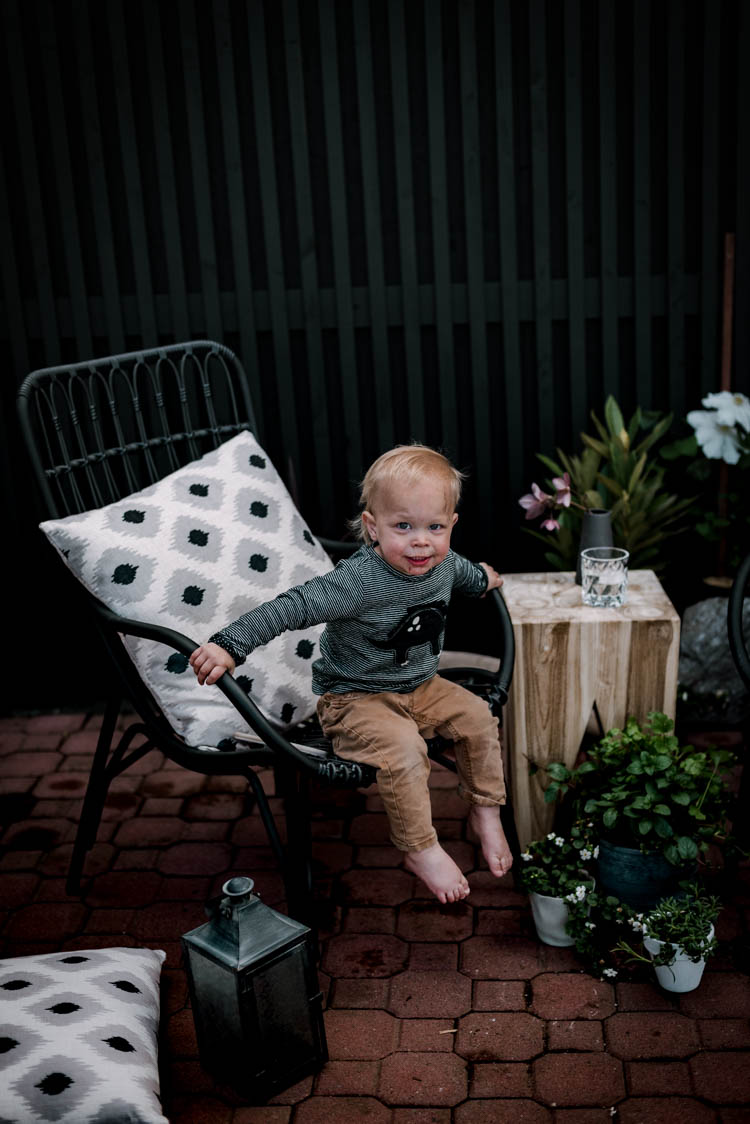 ADD MODERN PATTERNS
I've already talked about the Tana Stool and the modern tree rings pattern on the top. I also added some patterned pillows to the mix… because you can never have too many pillows. These ones are from Article last season but these ones are so rad and available now. I love that adding these patterns in doesn't make it too crazy thanks to the neutral tones.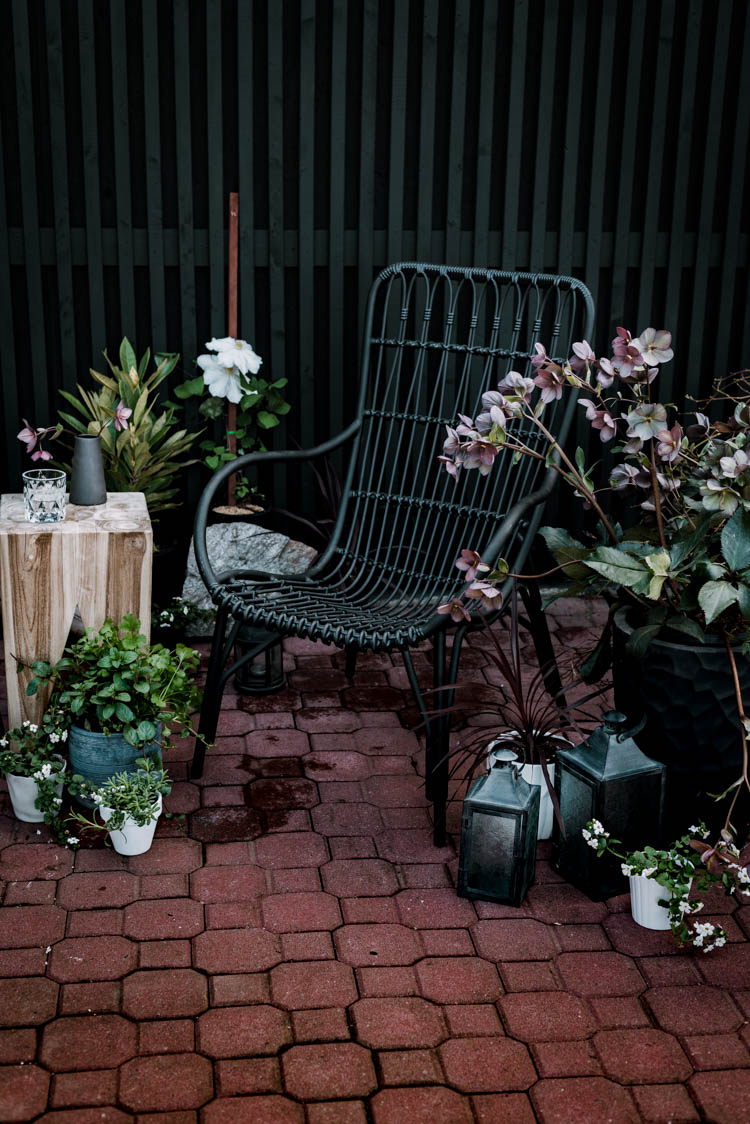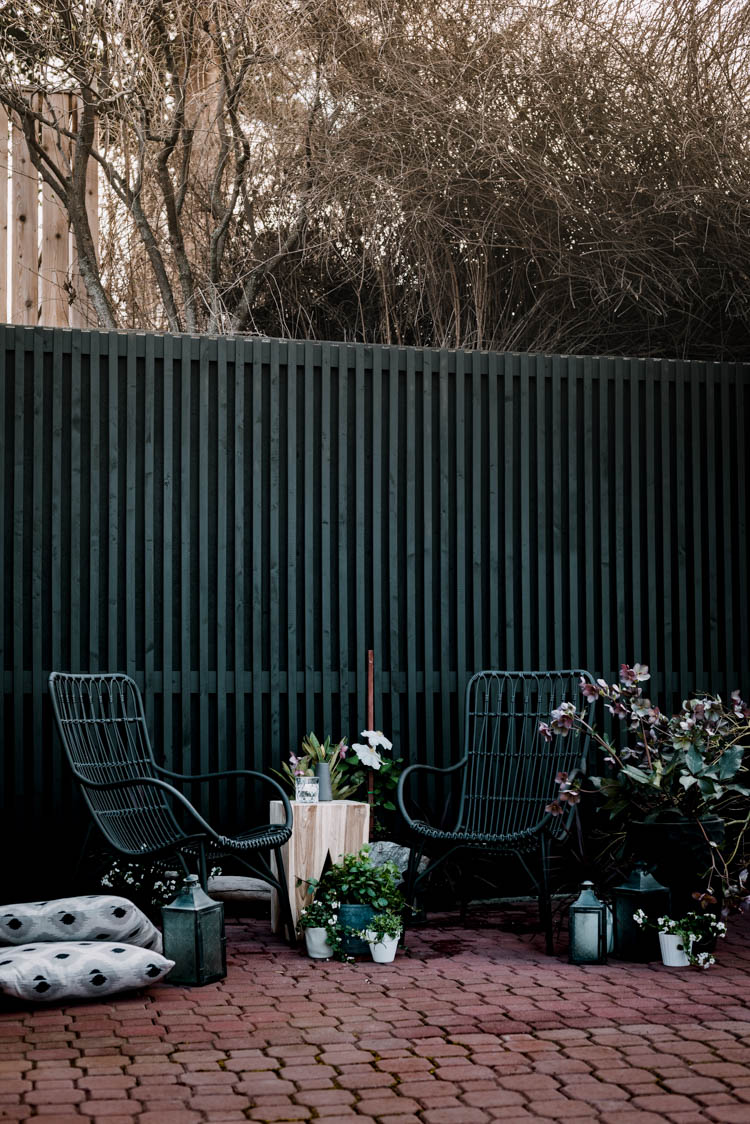 LAYER LIGHTING
This is an area I want to play more in. It's totally transformative for a space! I've set out some of my lanterns to light tea lights in (I used them in my summer tablescape last year too and love how they glow!). I am planning to string some patio lights along the top of the black wood screen for another layer of lighting. It'll be a few more weeks until we're out here when it's dark… but I'm so excited! I'm also thinking of pulling our gas fire pit down here now that it's officially the prettiest space to sit in our yard.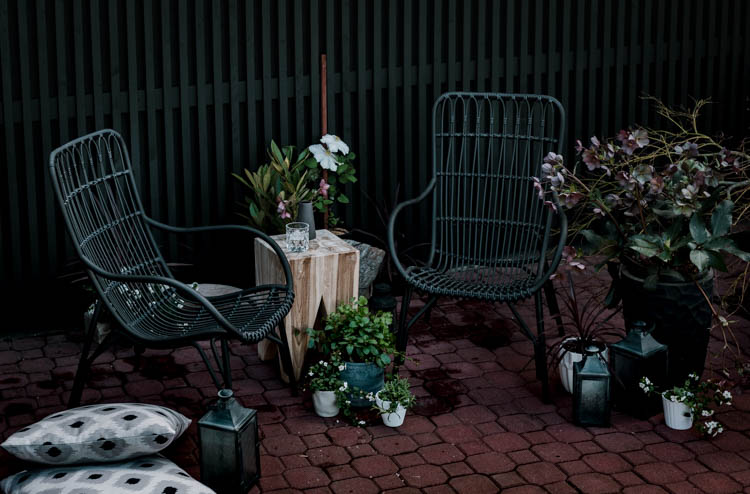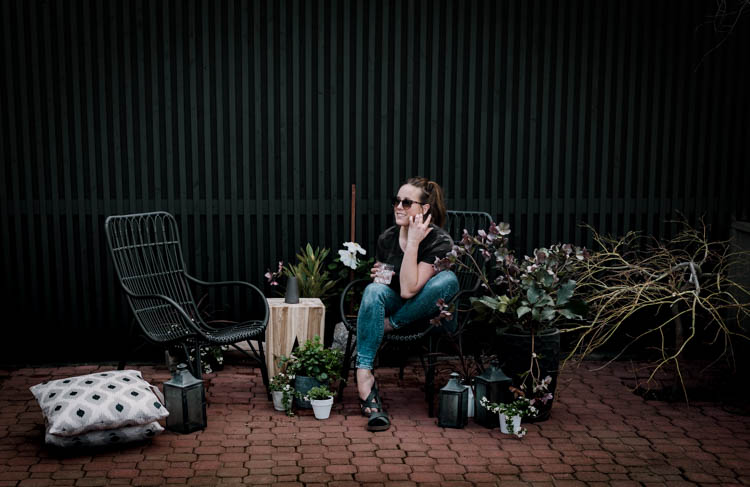 Alright, there you have it, my 4 tips for modern patio design ideas. In case your wondering, I spent the rest of the afternoon sitting right here. In my dirty gardening clothes. Ha, but I was happy because it turned out so pretty! And then Emmitt spent some time decorating the patio with his Lego creations. So now it's *extra* pretty out there ;) 
SOURCES
Graphite Medan Lounge Chairs – Article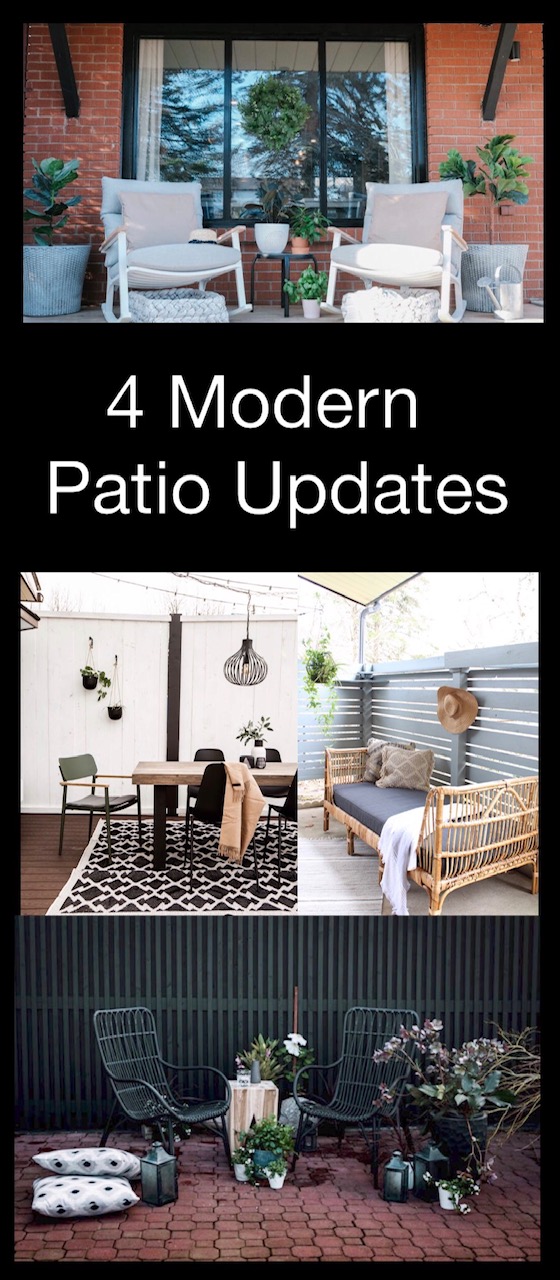 Want to check out more modern patio inspiration? I'm obsessed with the spaces these ladies put together! My outdoor furniture wish list is getting longer ;)
Top to bottom / Left to right
Thalita's Front Porch with Rocking Chairs