So after I ranted about teething, we all ended up getting colds- I'll hold to teething being the worst, but I get all squeemish around snot so this wasn't much fun either. But the most amazing thing came out of it. Shane's wonderful Aunts came to watch the kids so I could get painting done one day, but seeing how sick I was, sent me back to bed. I spent all morning sleeping (heaven!) and then they had tired the babes out so they took a whopping 3 hour nap! So that afternoon I relaxed and spent my time sorting through photos on my computer to get them printed and catching up on all the blogs I read. My bloglovin' feed went from over 200 posts (yikes!) to 6… yeah, it'd been a while since I sat down by myself to enjoy a cup of coffee and some browsing DIYs, parties and renovation how-to's. It was the best. One of the posts I read was from Erin about blowing off your to-do list and just relaxing. I took it to heart and we had leftovers for dinner.
So today I want to share with you (a little late considering we bit the bullet and the room is already painted!) some inspiration for our master bedroom. The rest of the house (other than the nursery-inspiration here) we went with a super light and bright gray, but in the bedroom we went a lovely deep navy. I have to say, I'm in love! It took some convincing to get Shane on board, but now that it's on the walls he keeps telling me how cool it looks. It's a dark colour, but we have a lot of wall space taken up by closet doors (white), windows/linens (white), and the entry door (white). So it's not too overwhelming. Here's the photos that helped me sell the colour to my hubby!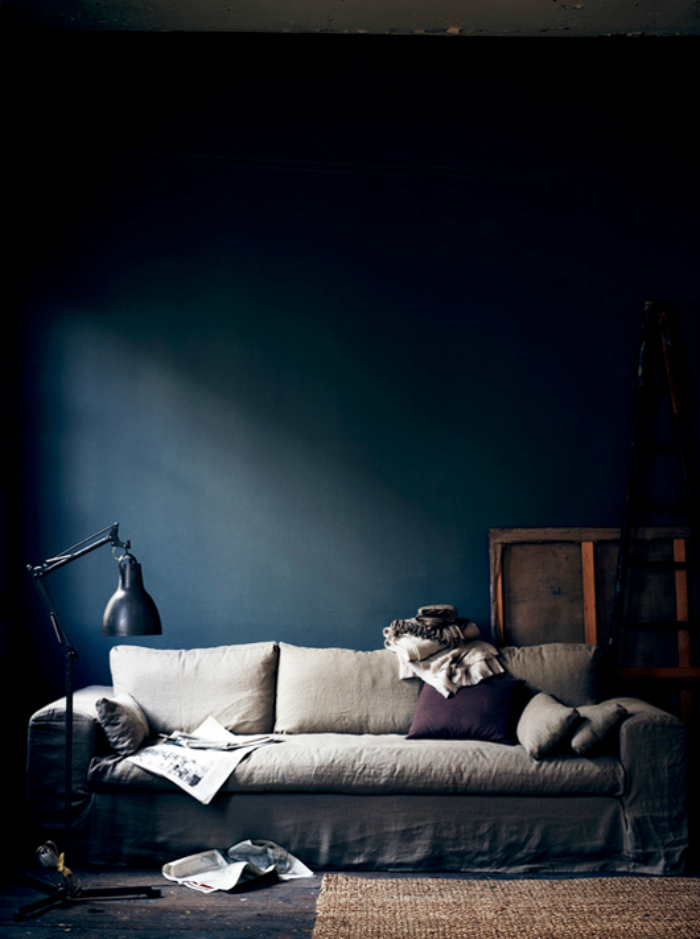 Image via SFGirlByBay styled by Hans Blomquist
This is so beautifully moody, I love how textured this navy looks. It's so simple with no wall hangings. We're flying without anything on our walls until we finish the renovation, but as soon as it's done I'm looking forward to getting some stuff hung (no matter how beautiful this clear wall is).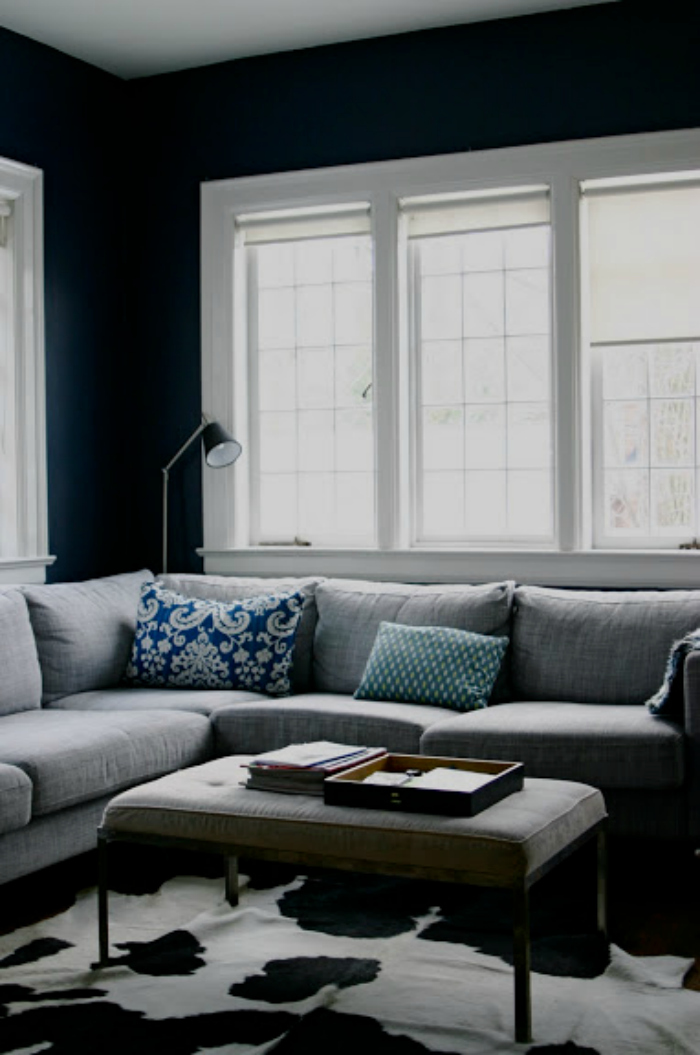 via Chatelaine
This is probably my favourite look. That cowskin rug! I've told hubby that one is coming… eventually. It's such a perfect pairing to the navy. It's casual but chic and for the only non-baby-proofed room in the house, I can't think of a rug more fitting. Our bedroom furniture (no matter how much I would love new stuff) is black. And it will stay black until it breaks because we have other things to spend our dough on- so wouldn't the cowskin tie in perfectly?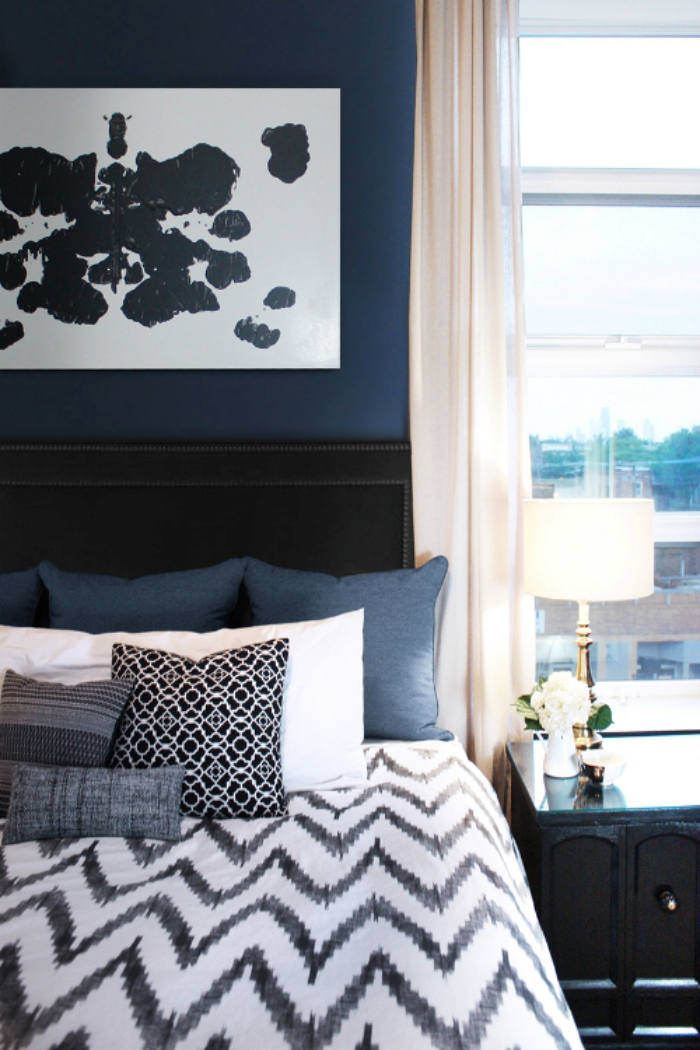 Shaleah Soliven via Design Mom
This painting reminds me of cowskin! I love the simplicity and how it kind of looks like an ink blot test. It's bold and I'm sold. Plus- black furniture, white drapes? See where I'm going with this?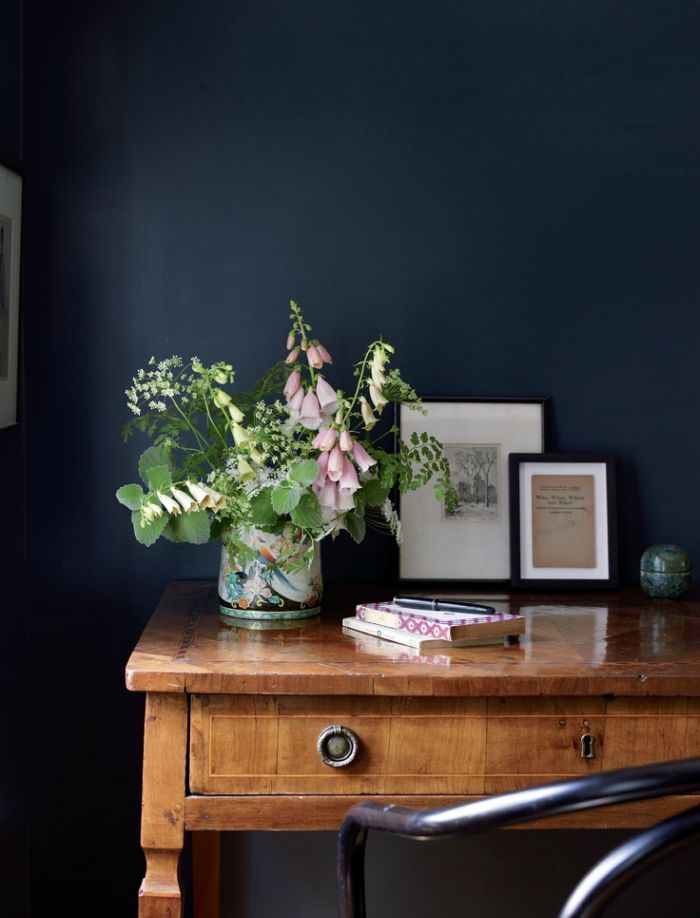 from Bringing Nature Home via Latte Lisa
This wood colour compliments the navy beautifully too. I am thinking I might have to craft myself something for the wall in a wood tone like this.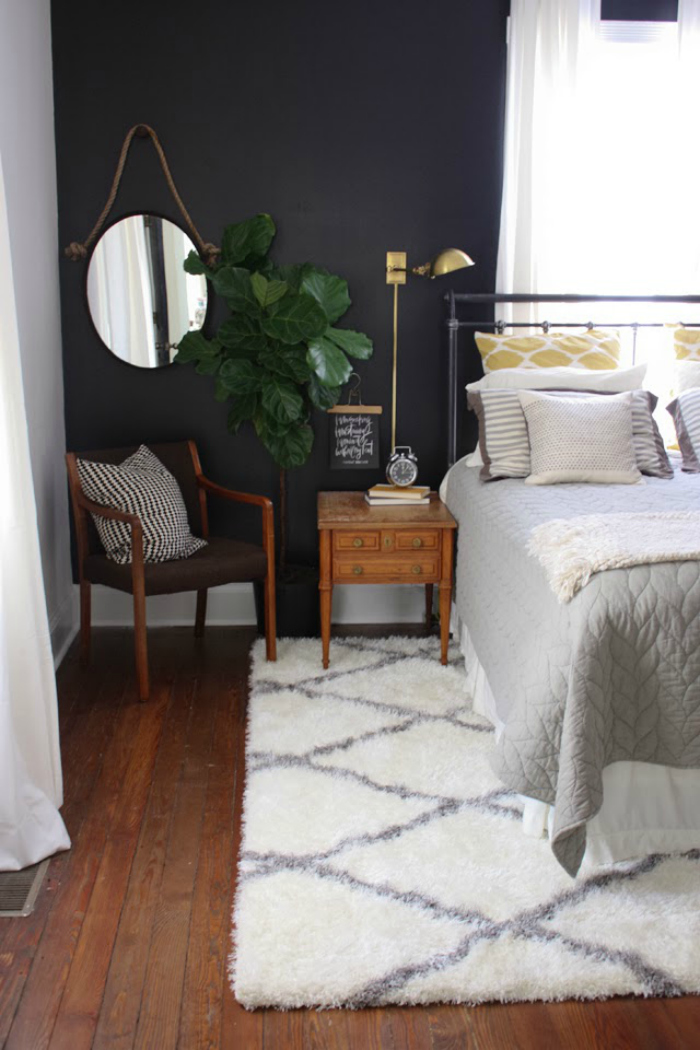 via Lesley Graham
Last but not least- because I love it so much! These floors are very similar to ours… and the bedlinen is similar colouring too. We have brass sconces (spoiler alert) and a rope mirror (I'm not sure if it's going in here though)… I love, love, love this room. The only thing I'd oust is the mustard yellow.
So what do you think of a dark colour like navy? These examples show it doesn't need to make a room look small! Would you put it on your walls?
XO -C