Sharing my DIY brick fireplace makeover with you guys! This weekend renovation before and after includes painting brick fireplace with a paint sprayer, adding a new chunky wood mantel, spray painting our gas fireplace insert, and tiling the hearth with a custom tile edge.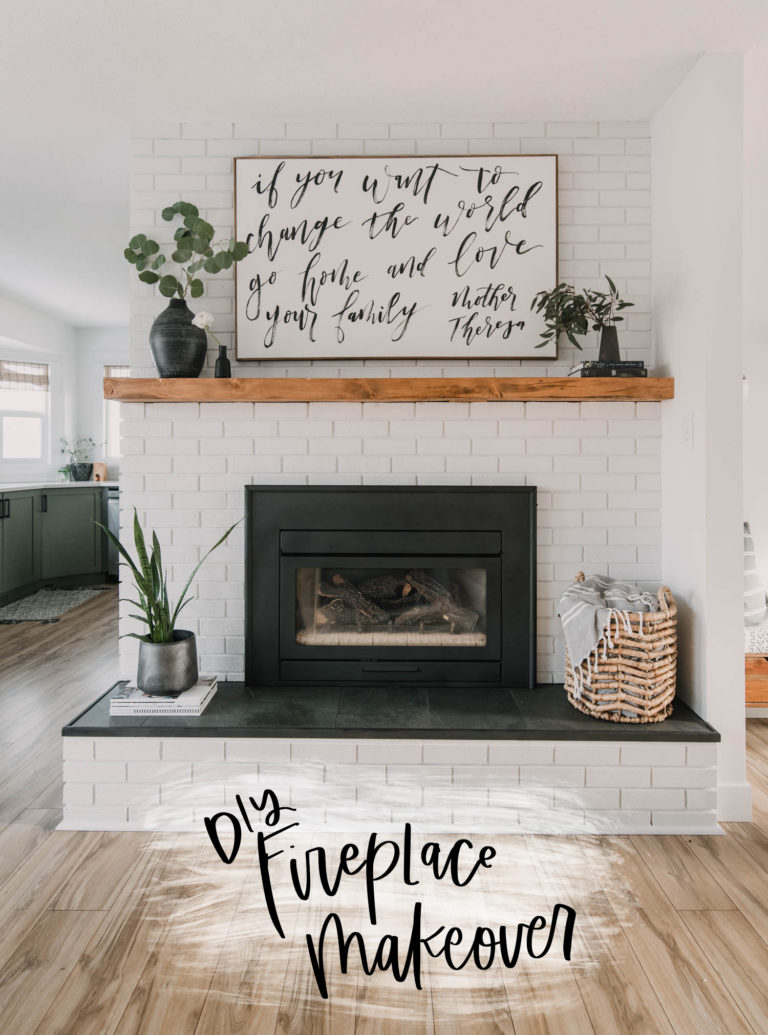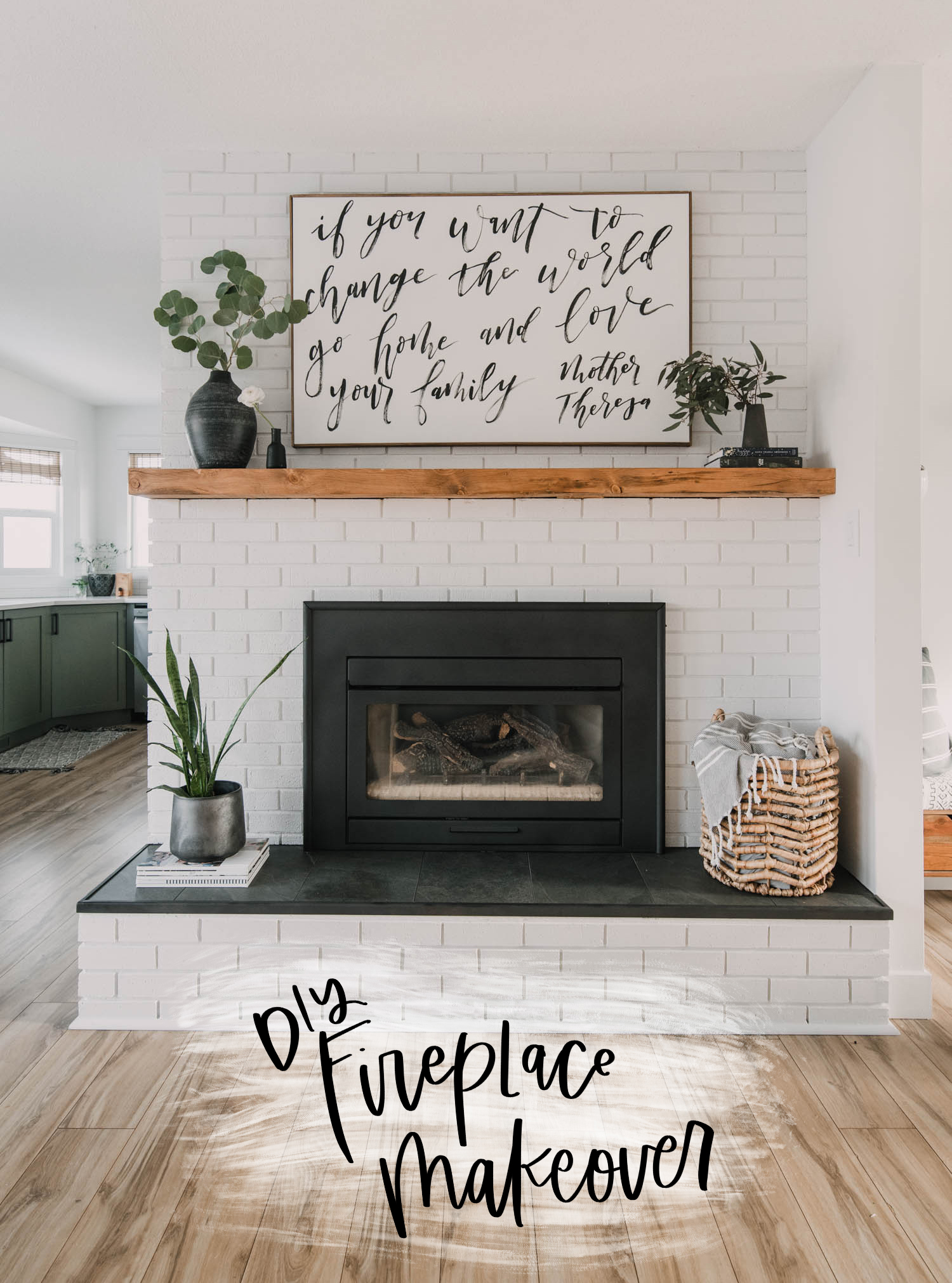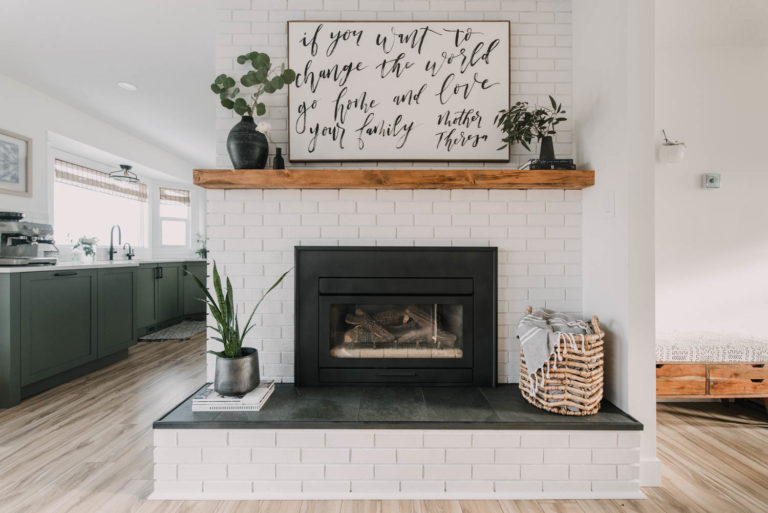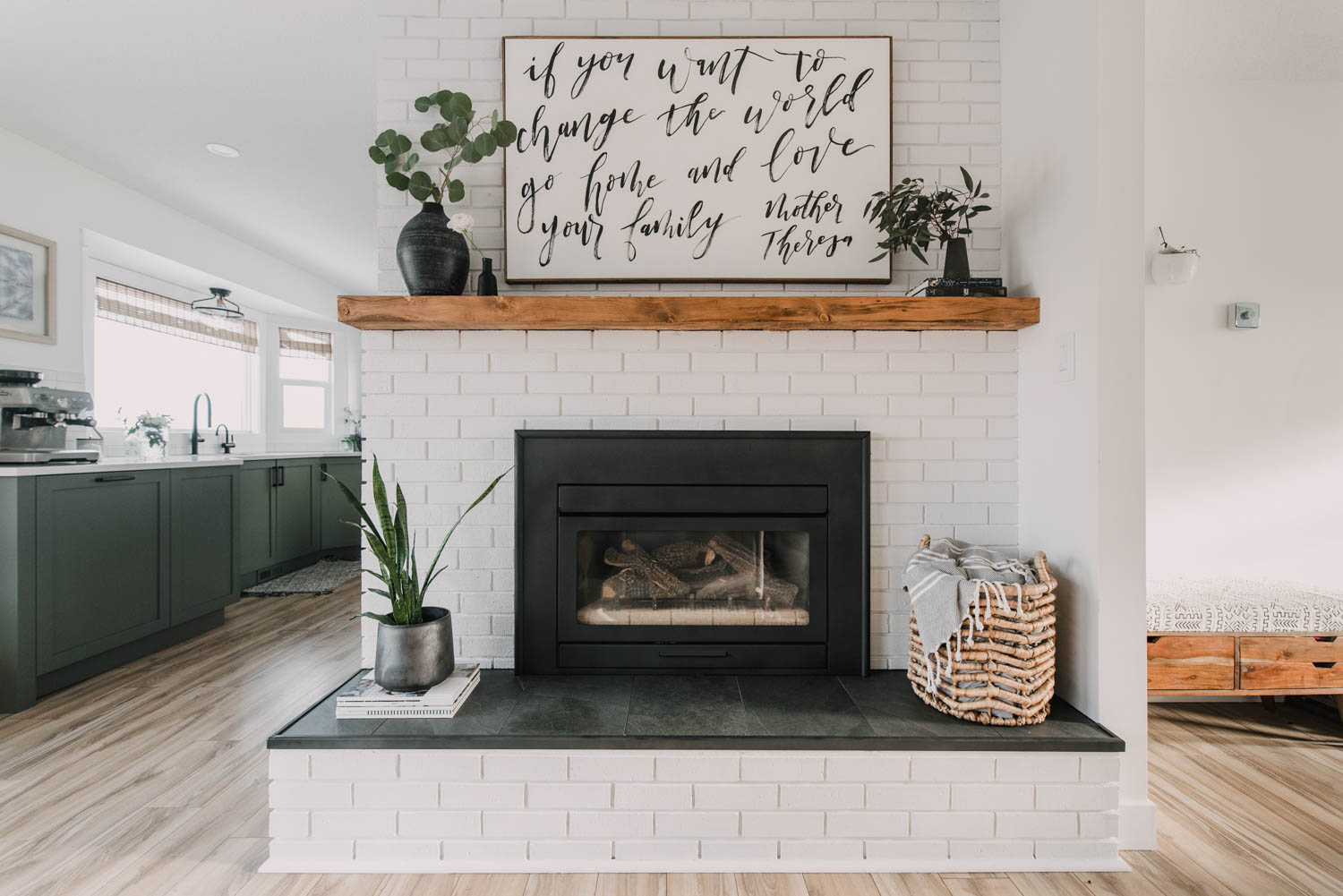 I'm so excited to share our brick fireplace makeover with you today! I stare at this fireplace every day. While I sip my morning coffee, while we're visiting with friends… it's always in view and I have always stared at the weird gap between the brick and the ceiling and how dirty the brick looked next to the fresh white walls. Now? I just admire it, guys. I so love how big of a difference these relatively minor changes make. This is a weekend project at it's finest. SUCH a good return on investment here.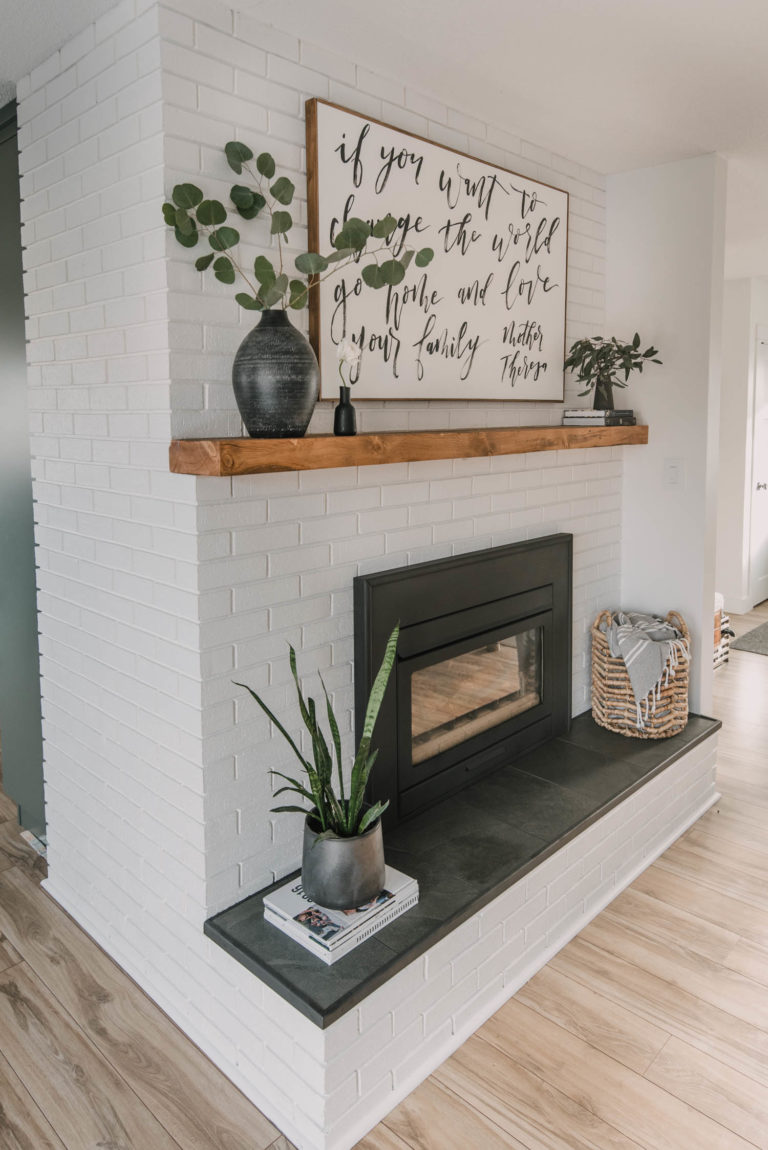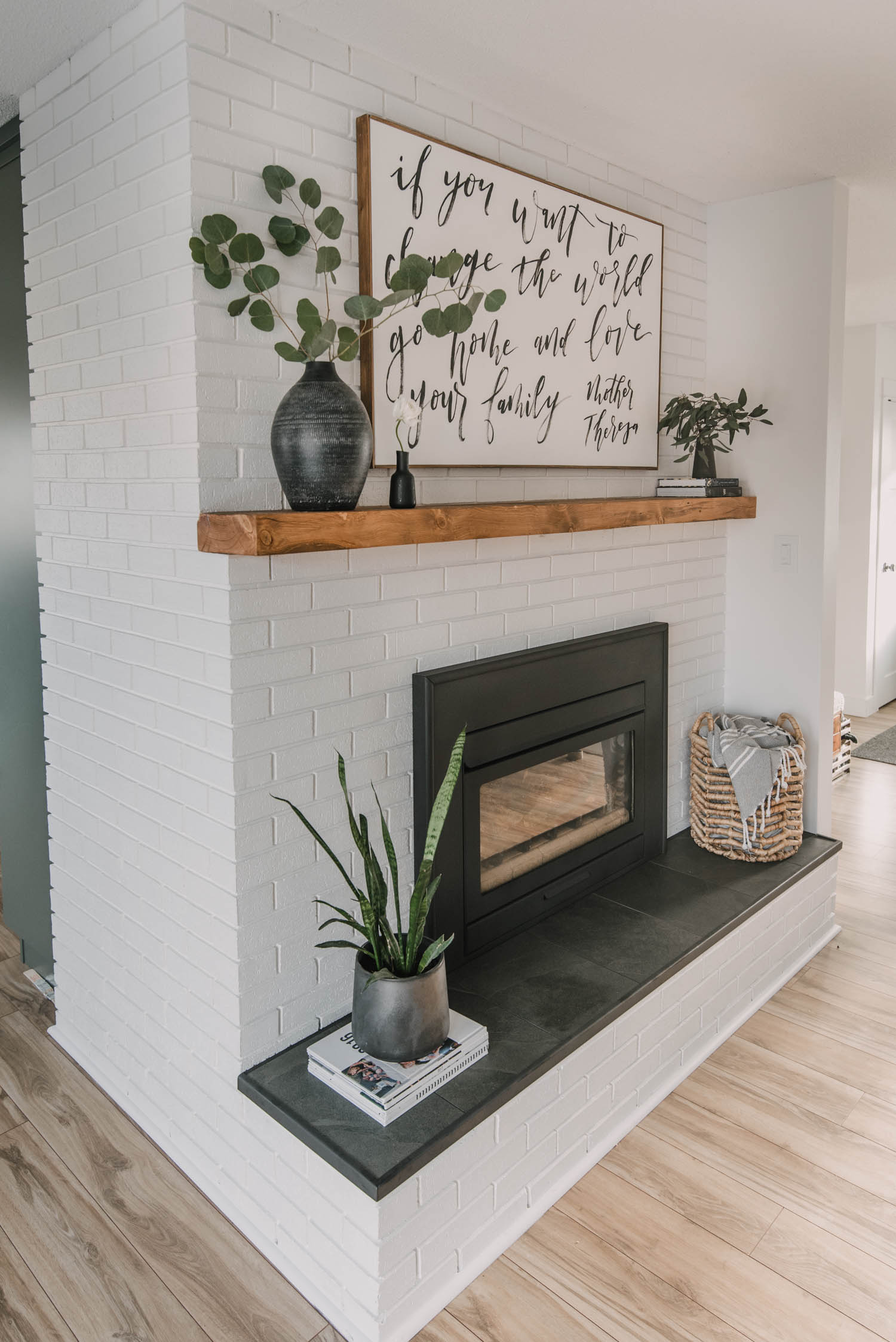 I'm just noticing that Windsor's magic wand aka paint stir stick with foil tape is in this photo… can you spot it?
For this brick fireplace makeover, we kept the same bones, just gave it all a bit of a facelift. We painted, caulked, tiled, painted some more, and added a new mantel. I honestly can't believe we didn't make this happen sooner. Let's take a walk down memory lane and look at how far we've come: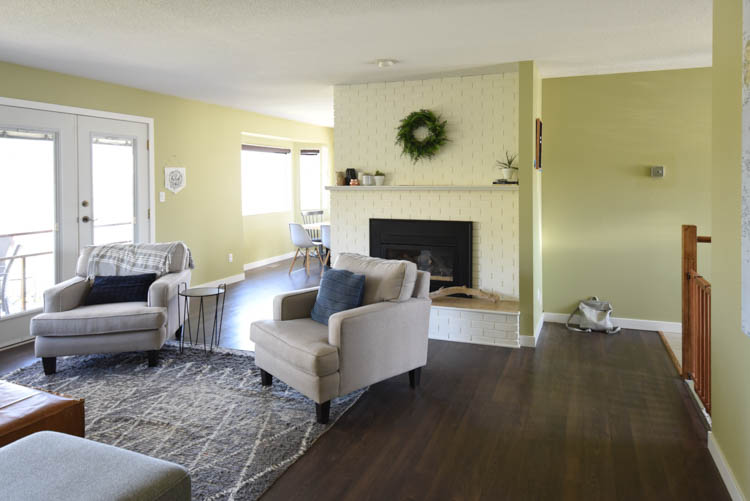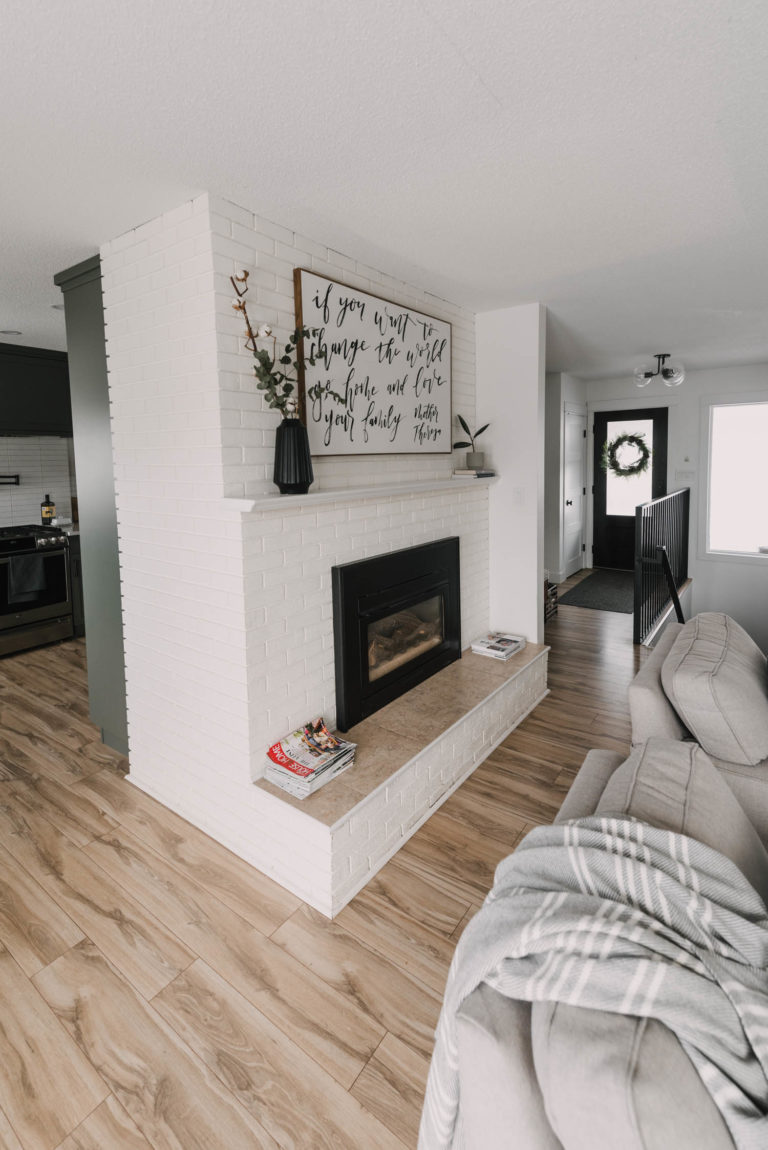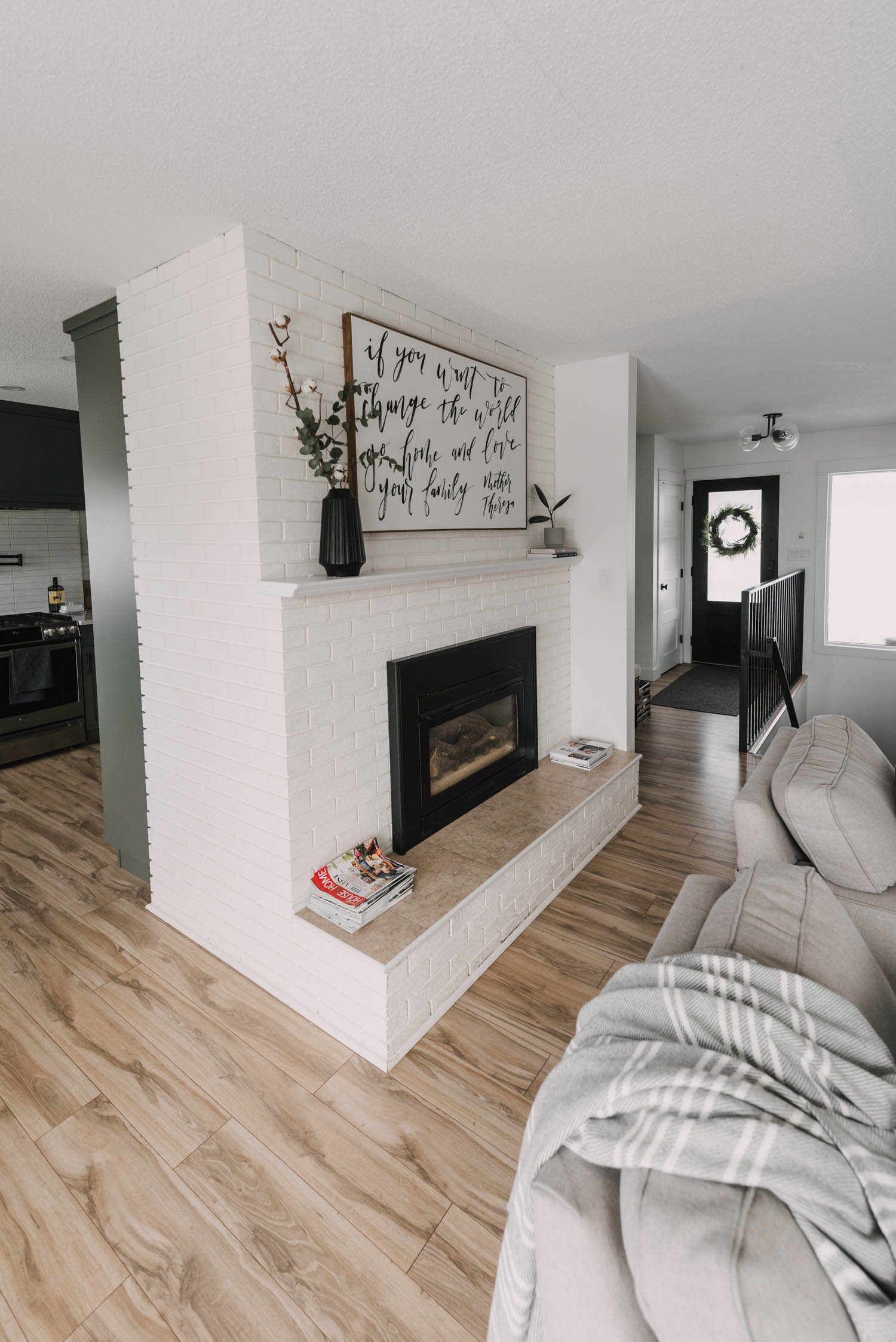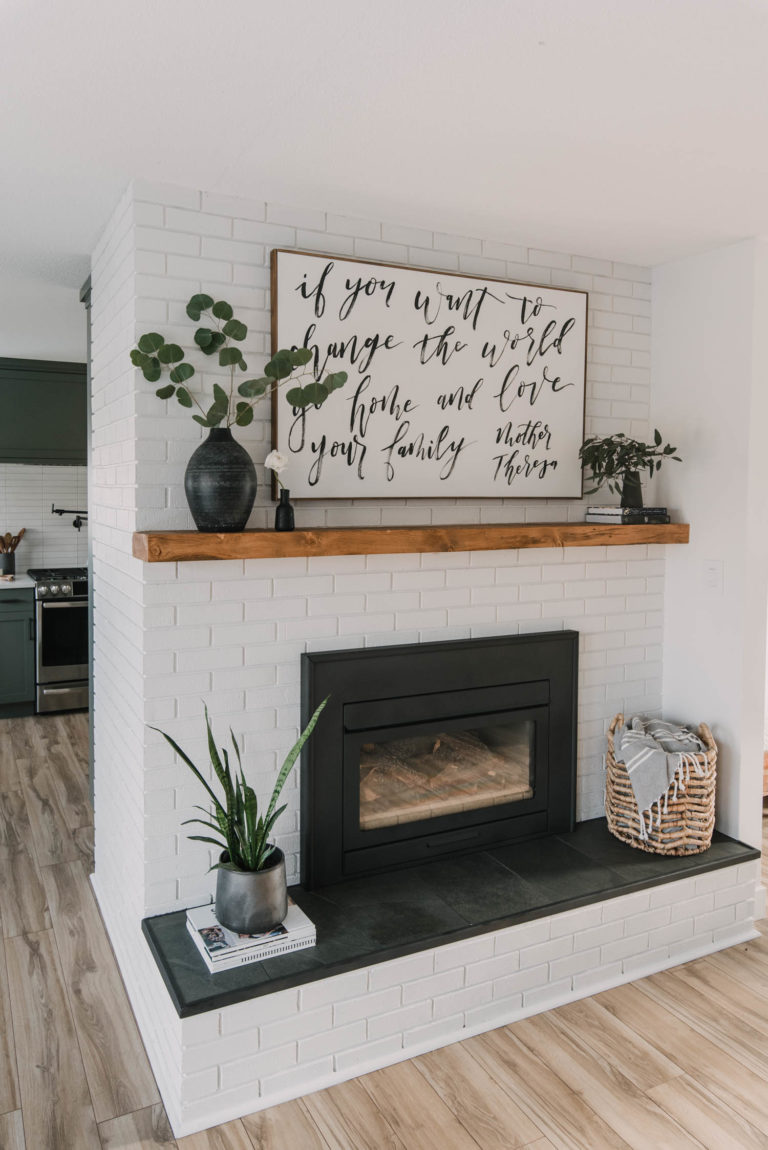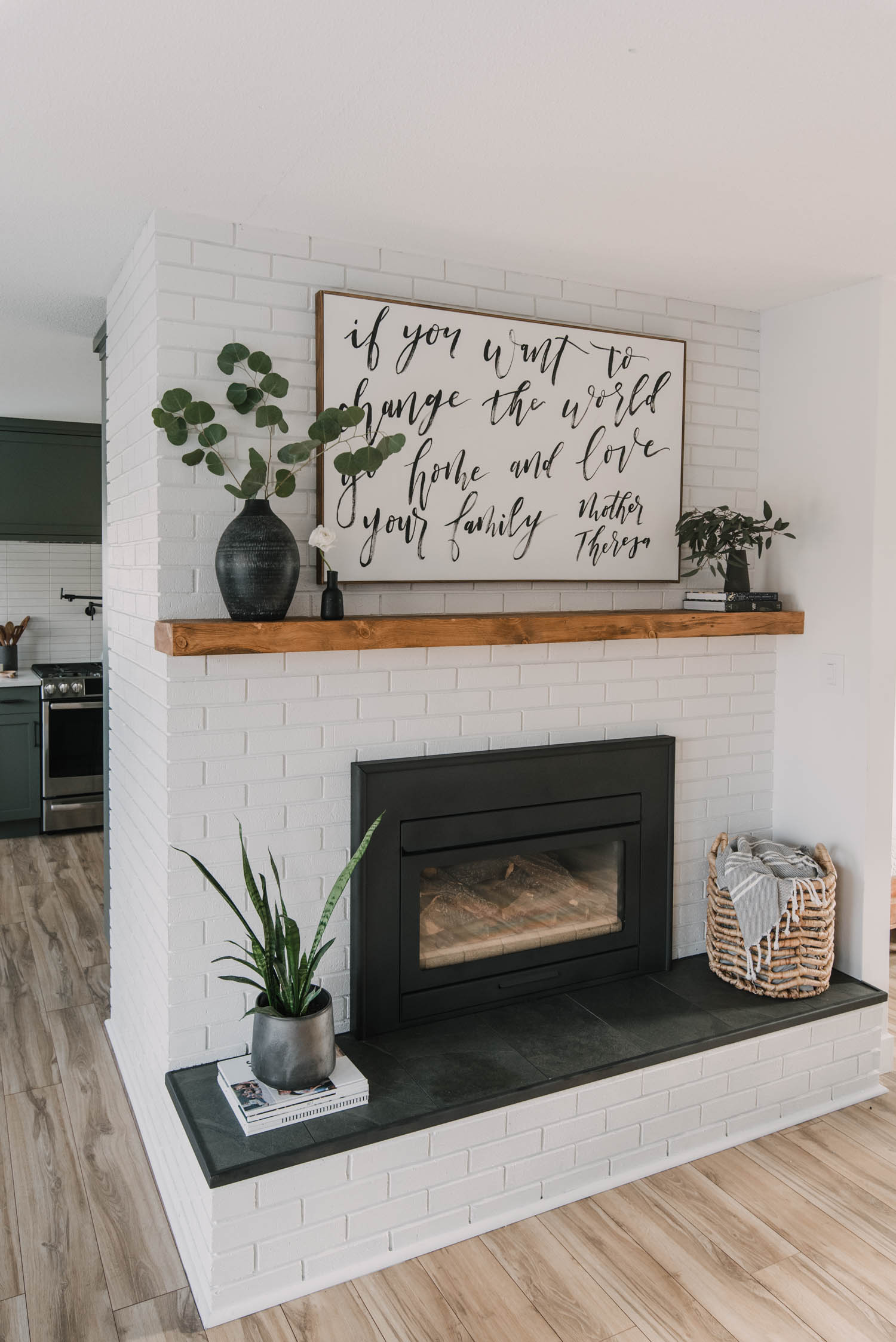 That first photo is the only one I have of it from when we first moved in. We later painted the walls white, which made this brick look dirty (second photo, but I should mentioned that I brightened this photo up to make it look less yellowish creamy when I shot it for my home tour in the fall). It wasn't terrible which is why we didn't rush this one… but now? Ahhh so lovely.
So let's run through the process! I really want to focus on how to paint brick because I had so many questions about it when I shared this process over on Instagram last weekend. We've painted brick before and found it really time consuming, but this time around it went so so smoothly. This post is in partnership with Wagner SprayTech. So I'll be using their FLEXiO 3000 for this project and sharing some tips to get the spray pattern right. I've used this paint sprayer a few times before and it is my favourite I've used by far. You can see our patio doors that we painted with it right here.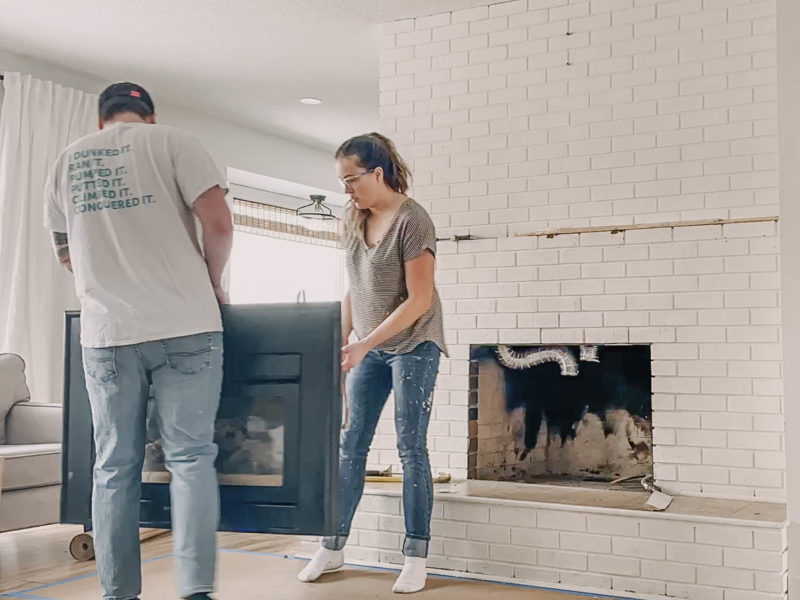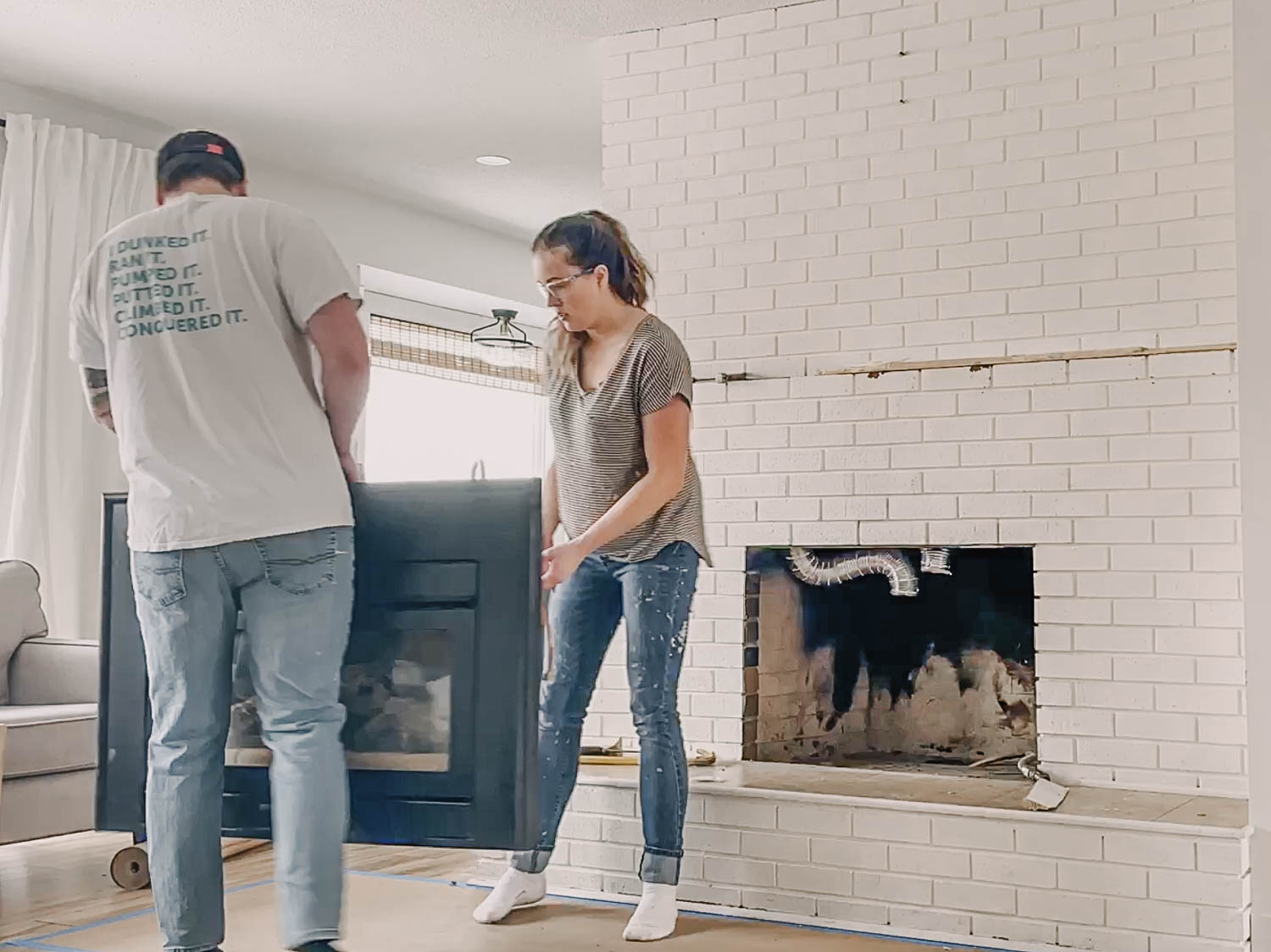 I should also add that the bricks were obviously painted before we moved in. Not that it would have stopped me from painting them had they not be… after all, we did paint a stone fireplace with no regrets in our last house ;)
Okay, the first thing we did is pull it all apart. We pulled off the mantel (which was such an undertaking, that thing came apart in tiny splinters), removed the gas fireplace insert (we had a professional disconnect the gas line- gas stresses me out), and then started removing the tile on the hearth. The tile on the hearth turned out to be vinyl tile glued to green marble. After removing the mantel and finding the brick would break easily just from pulling glue off, we decided to leave the marble instead of risking damaging more bricks and to just tile over it. This gave us a bit of a challenge for a tile edge but I'm so happy with the solution we came up with- I'll chat about that in the tiling section.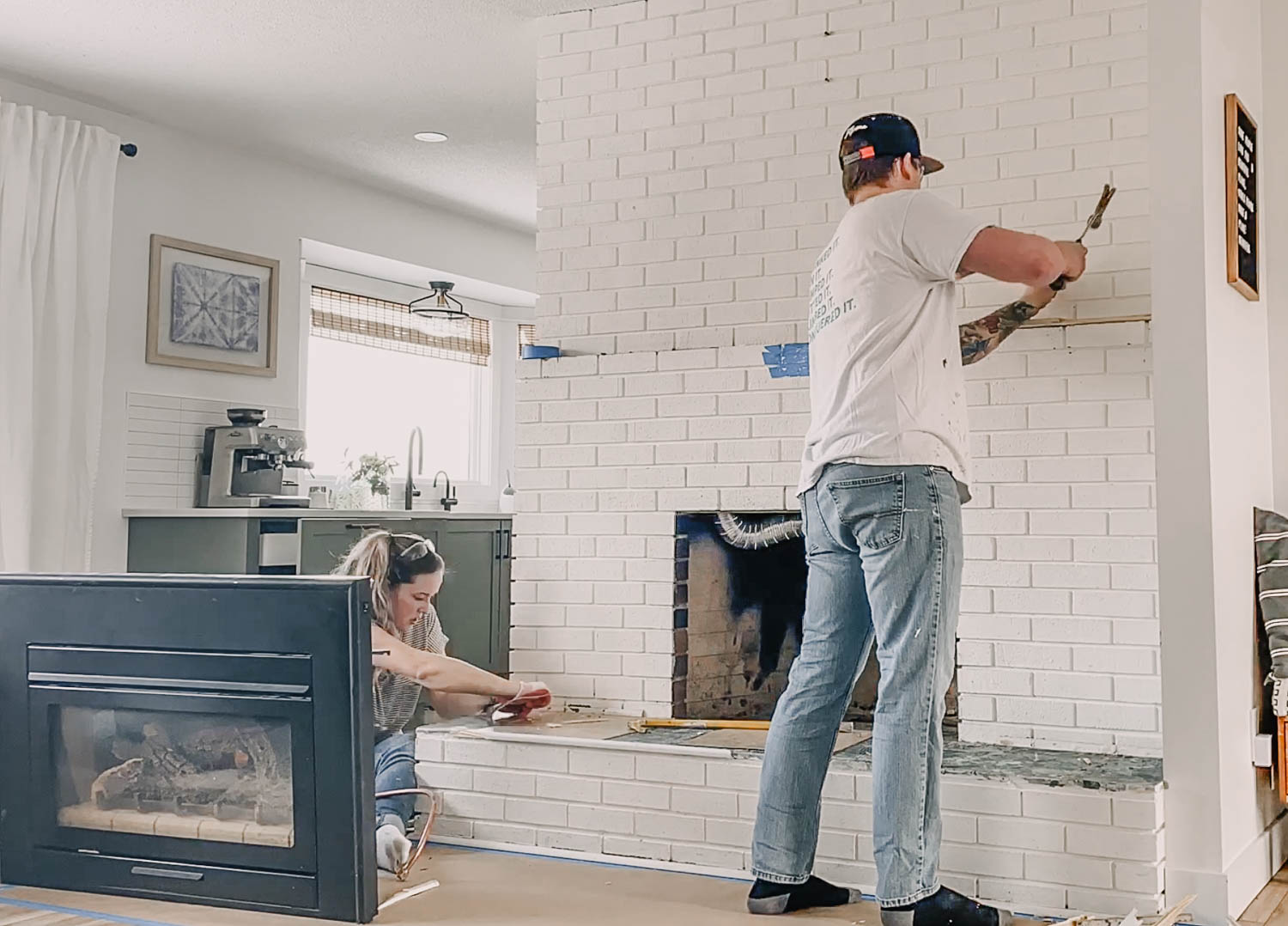 Prepare for Painting Brick
Before painting brick (or anything, really), prep and cleaning is so important. I've found vacuuming the grout lines and bricks first extremely helpful in getting the brick cleaned. I do the same for painting stone if your fireplace is stone instead of brick. You can see how that turned out at our last house here. After vacuuming, I used TSP to clean the brick, then wiped it down with water again. The TSP cleaner is meant to prepare surfaces for painting. By cleaning the brick, you'll also increase the likelihood your paint job will last a long long time.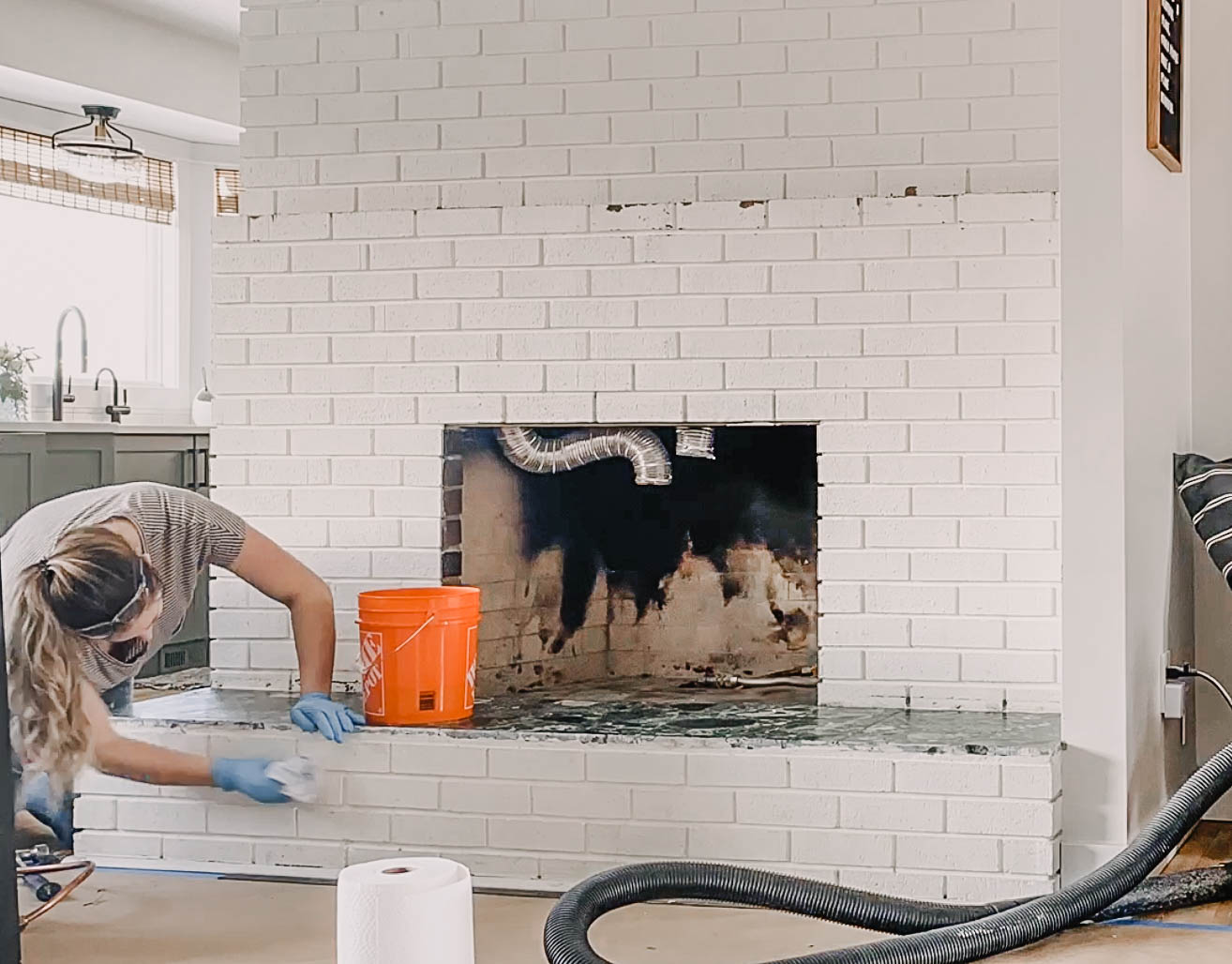 What paint should you use to paint brick?
The type of paint is the same whether you're painting brick by hand or with a paint sprayer. The first type of paint you'll need if your brick or stone has never been painted is a masonry primer. You can get it from most paint stores, but just make sure that it's meant for stone and masonry (brick). This stuff is super stinky and thick but it gets the job done well. Your brick or stone will soak it right up and it will not look amazing after this.
After you prime, you can paint with any paint, really. We used our interior wall paint. Last time, I had painted brick, I had used a door and trim paint. I wanted less of a sheen this time.
How to Paint Brick
You can paint by hand or with a paint sprayer like I did. If you're painting by hand, you'll want to buy a cheap paint brush that you don't mind trashing. Paint the grout lines first, angling your brush to get the top of one brick, then next pass, angling it the opposite way to get the bottom of the bricks. It is more of a dabbing than a traditional painting to get into all of the spots. I would advise against painting brick as your roller won't get into the grooves and the splatter is pretty nasty indoors if you're using a sponge style roller meant for stucco or brick.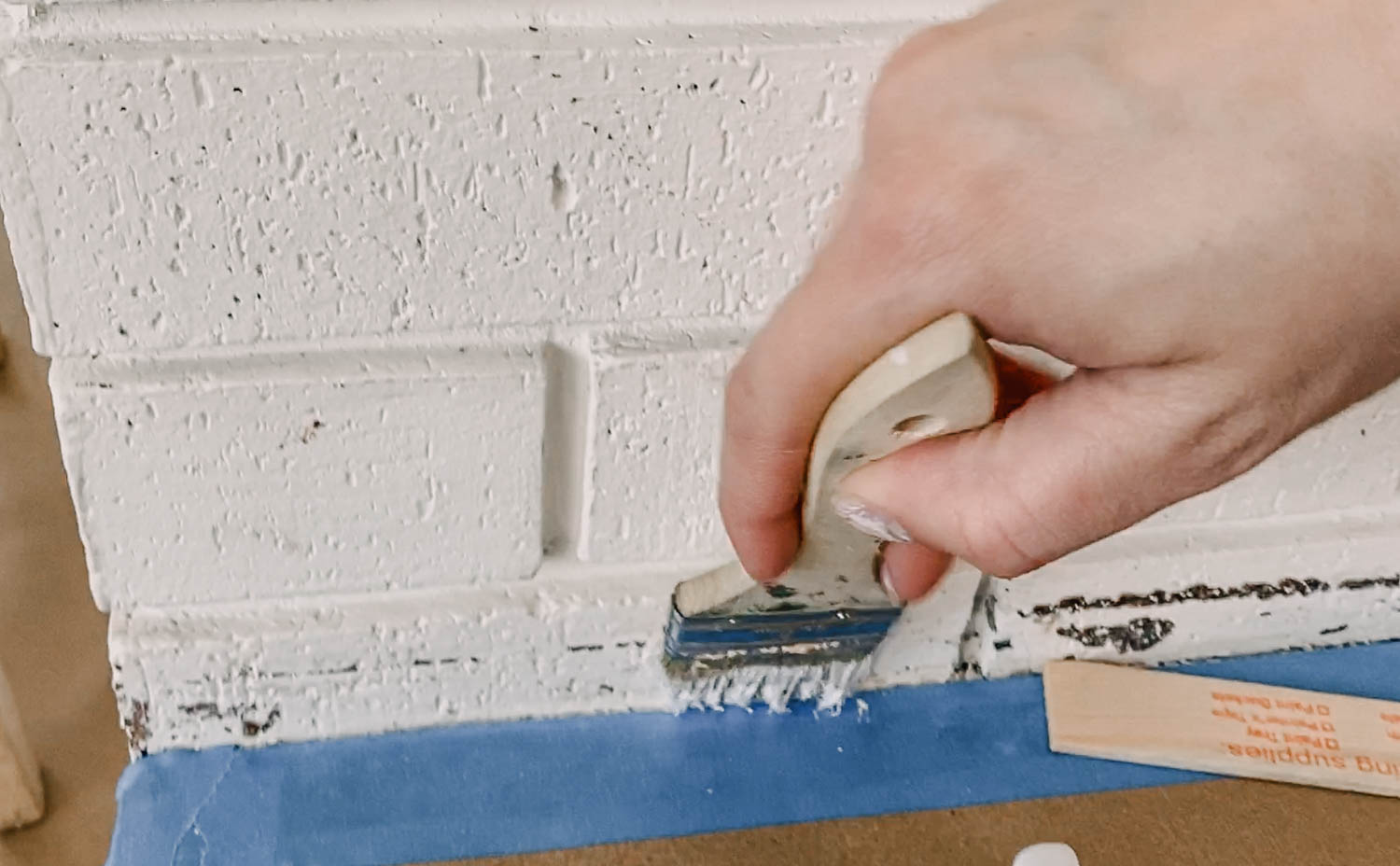 If you're painting with a paint sprayer… you'll probably have a much more enjoyable time! The biggest job here is masking your space. The painting? Goes so so quickly. Before you do that though, if you have damaged areas of brick or where paint has previously chipped off, touch those up with a brush first so you're starting with a relatively even surface.
I also caulked the gaps between the brick and the wall and ceiling. I really pushed it in there so it wouldn't appear too 'clean' or obviously caulked. I just wanted it to look like the ceiling or walls were built around the brick like an old house, not the other way around. Any paintable caulk is fine here. If you're thinking what the heck is caulk, you should probably read this post first :)
Masking to paint brick with a sprayer
We probably went overboard on masking, but honestly I'd rather that. We put contractors paper down on the floor (available in rolls in the painting section at most hardware stores) using painters tape, taking care to tape right up to the edge of the trim we were painting. We also used flooring paper to mask the tile (to save ourselves scraping paint off to make sure the new mortar stuck really well), and mask the fireplace cavity itself. If you do not have a gas insert, you could paint this area with a high heat paint like I did here.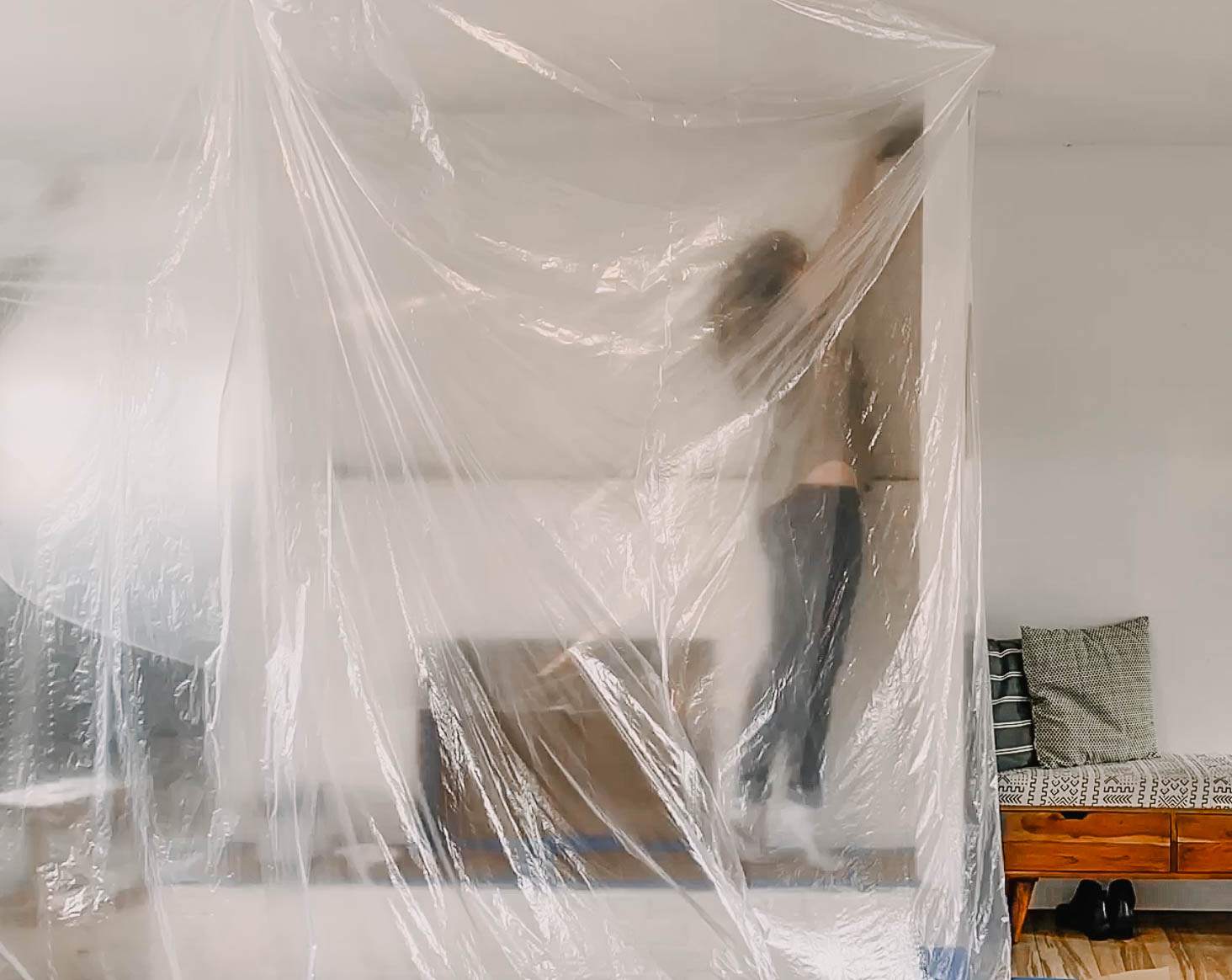 We made almost an interior spray shelter. Using plastic sheeting, we stapled it to the ceiling, then used double sided painters tape down each side. This is also all available in the painting section of hardware stores. When this was done, we went over the ceiling with plastic sheeting and staples again. I also taped the bottom of the plastic sheeting to the contractors paper so that no paint at all snuck out onto our floors or furniture. Seriously… not a speck got on anything. Taping the plastic to the floor also prevents the air from the sprayer from blowing the plastic open.
Paint Sprayer Tips for Painting Brick
Using a paint sprayer is simple just by following the directions on your sprayer, but here's some tips I found helped. I used the FLEXiO 3000 from Wagner SprayTech which comes with two different nozzle. I used the larger one instead of the detail one since it was a large area to cover. I set it up according to the instructions for an interior paint, but adjusted it as I needed to get the spray pattern I preferred. You don't need to thin paint with this model (woohoo!) so just pour it in.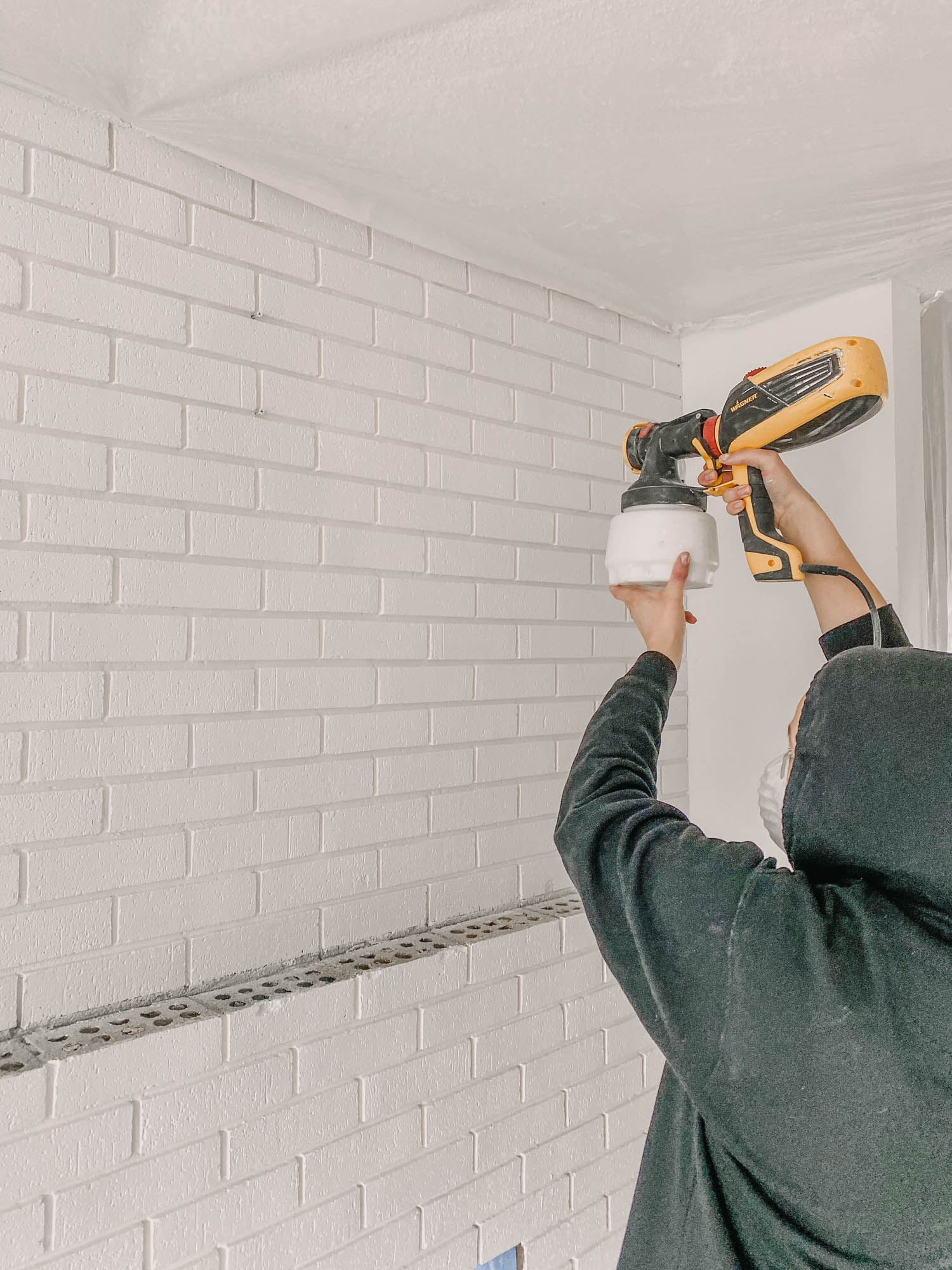 Start spraying OFF your project. Just like spray paint projects, using a paint sprayer can give you a surprise when the motor starts running so get a spray pattern you're happy with (no big droplets, directioned the way you prefer, even coverage) by spraying on a test area first. For me, that was the paper I'd used to mask the fireplace opening. You can see me do this in the video. This will save you SO MUCH TIME if you just take a few minutes and adjust it so it does exactly what you want.
Application with a paint sprayer is different than spray paint in that you need to go SLOW and steady- don't just lightly mist it like spray paint. Move in a methodical way to cover the entire surface and you'll end up doing less coats. I did two coats but probably could have gotten away with just one since it was previously so light!
In between coats, it's a good idea to wash the nozzle, but you can leave the paint in the tank and just cover it with clear plastic wrap. Cleaning the nozzle will make sure no dried bits get in and mess up your spray pattern or damage your paint sprayer.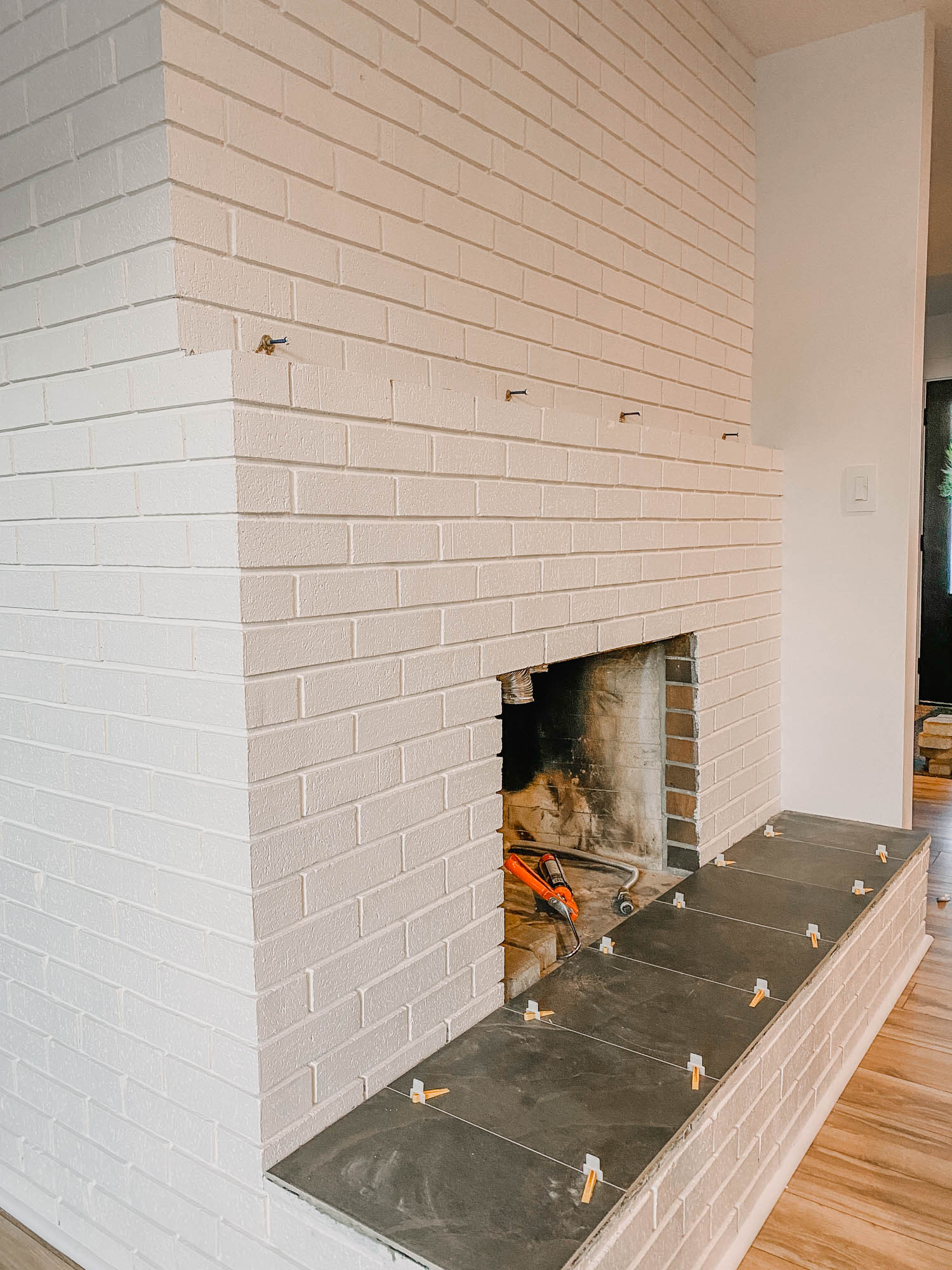 Okay after you're done- peel back that masking and admire it!
DIY Rustic Wooden Mantel
Next up, we got busy replacing our mantel. We replaced the thin white mantel on our fireplace with a chunky wood one that was cut for us by a friend. We love how rugged it looks with the saw marks in the wood still, so did give it a sanding but didn't sand too much so as to keep those. We cut it to length, and dryfit it before gluing only to realize that we weren't confident in it holding with just glue as the ledge to rest it on was only one brick deep.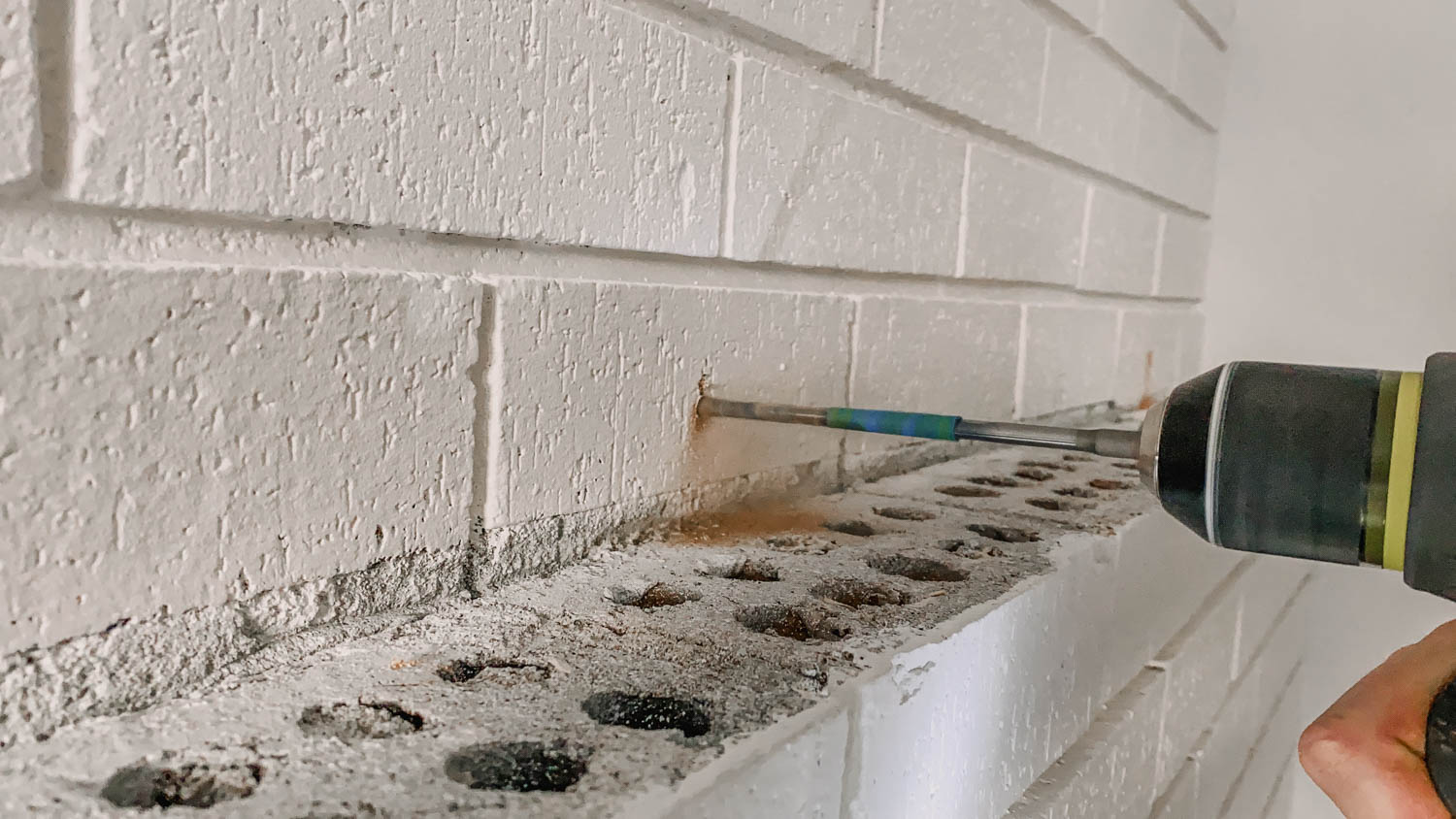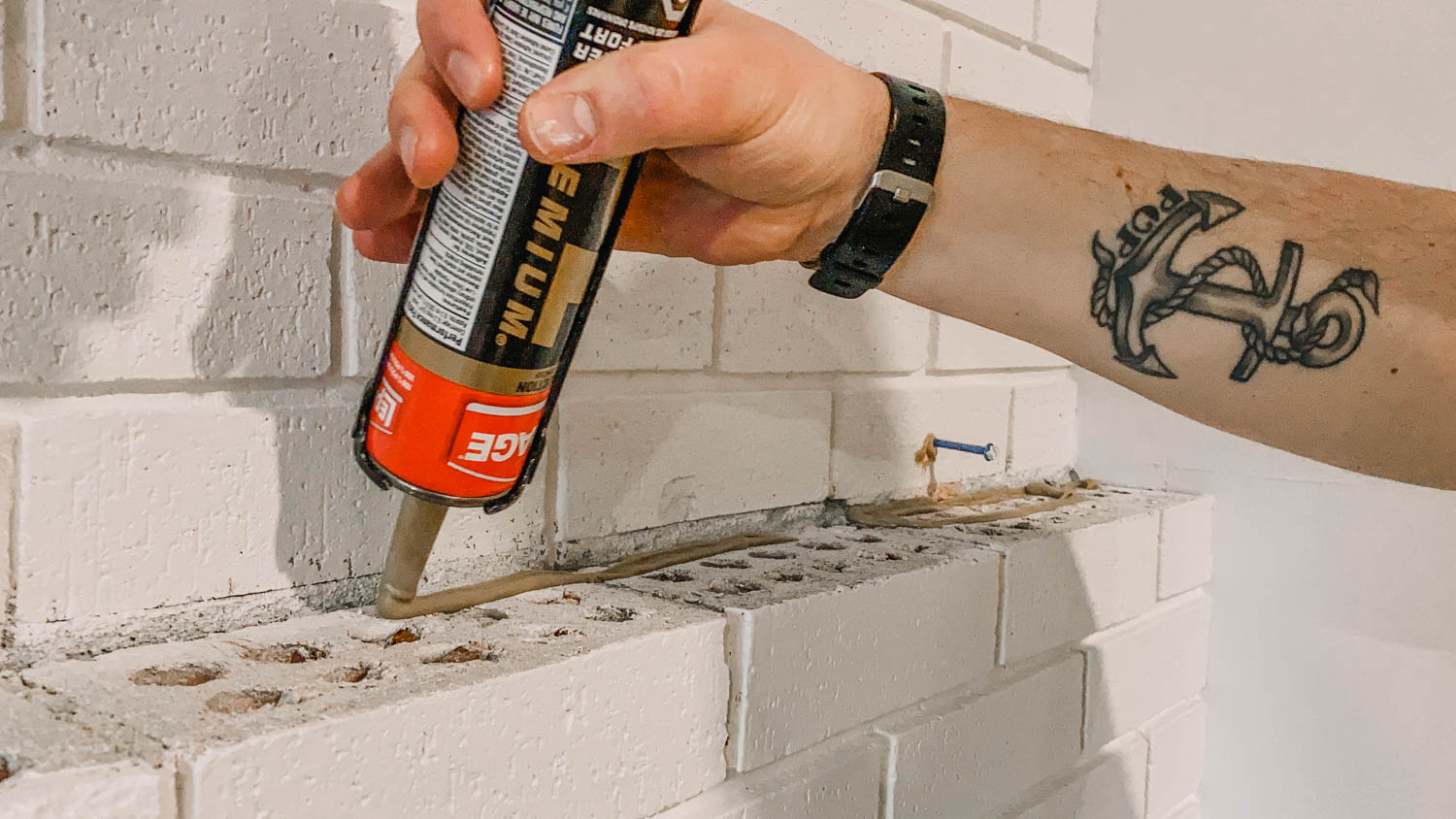 We secured the wood mantel to the brick by drilling concrete screws into the bricks, and holes a bit larger into the wood mantel. We measured to make sure they lined up perfectly. We used construction adhesive in those holes and on the surface of the brick mantel ledge and then slid the mantel on to the screws. We put bricks on top of it for the night while the construction adhesive cured.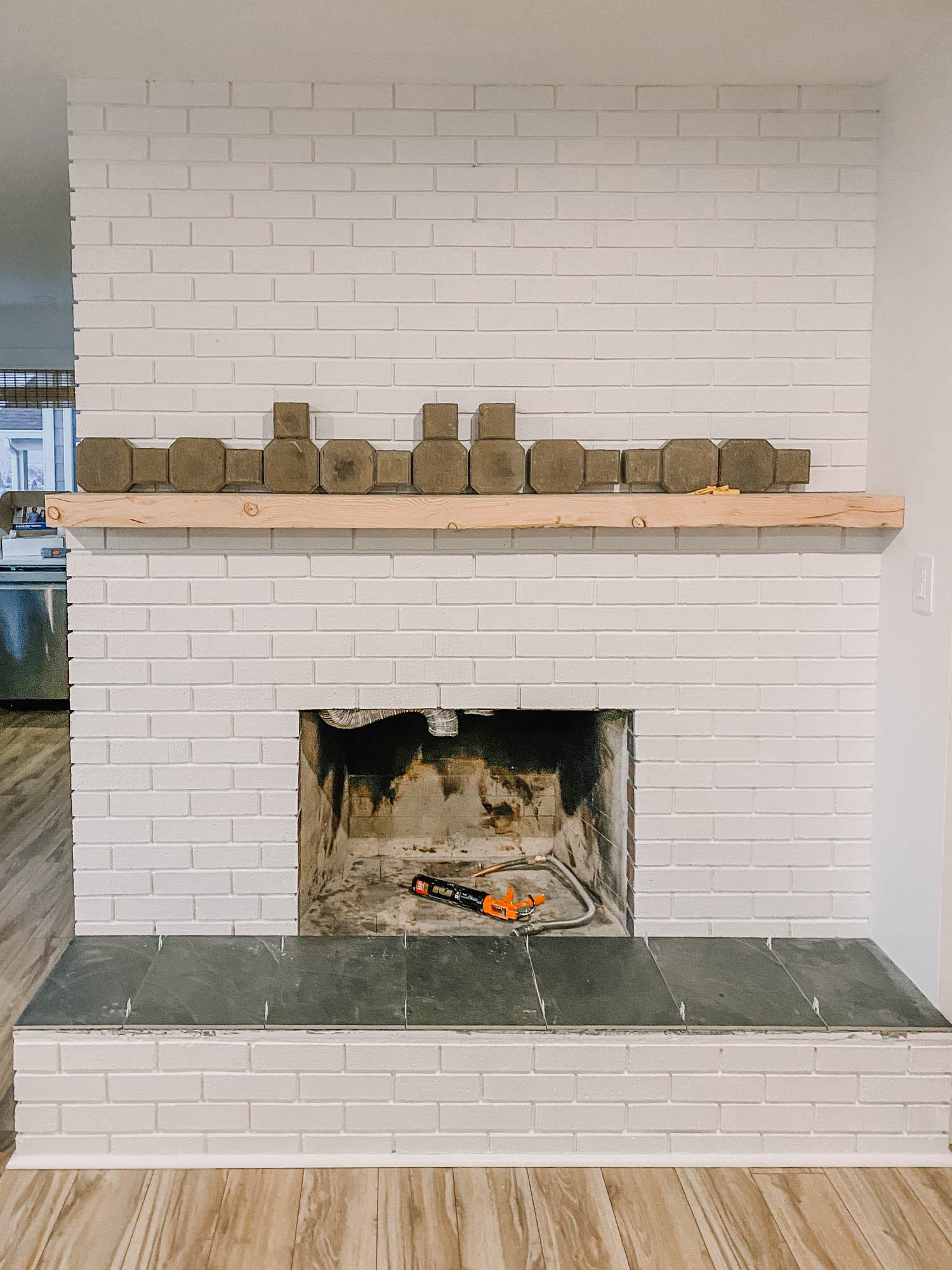 We had planned to leave the mantel natural, but after staring at it for a couple days, decided to stain it a medium brown. I love how this adds contrast and plays with the darker tile… plus it really brings out those saw marks we loved! We used Early American Stain from Minwax.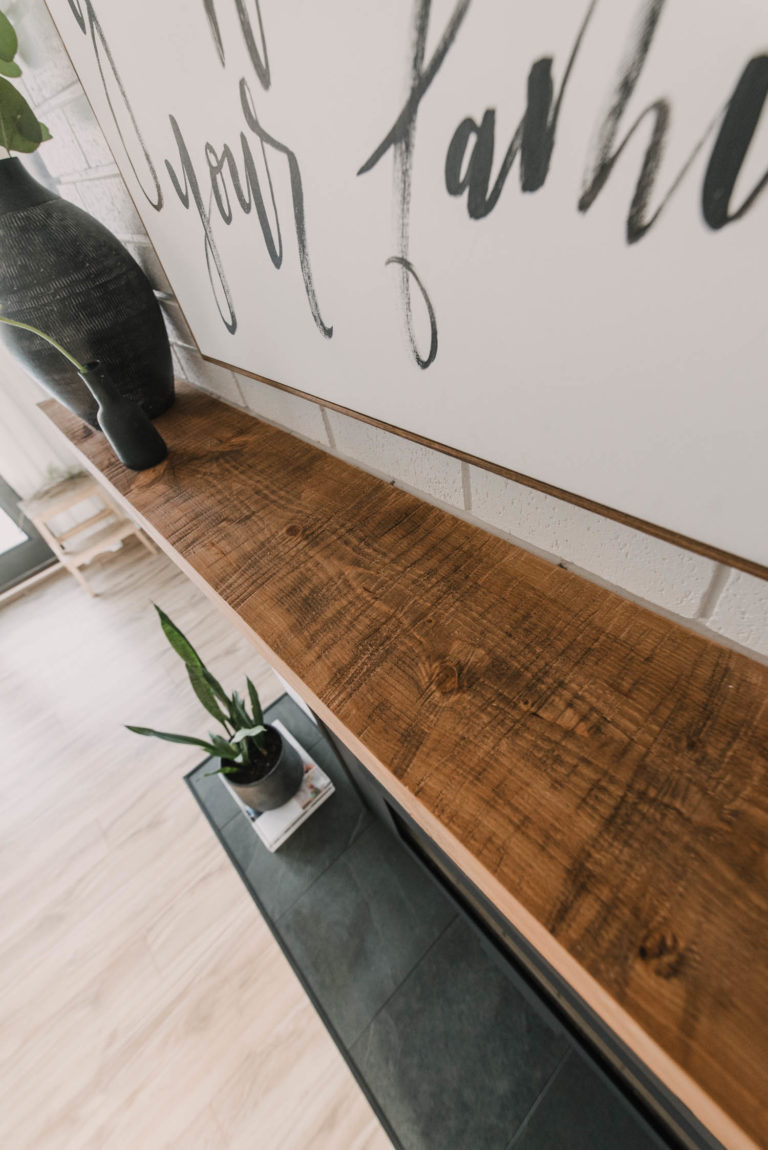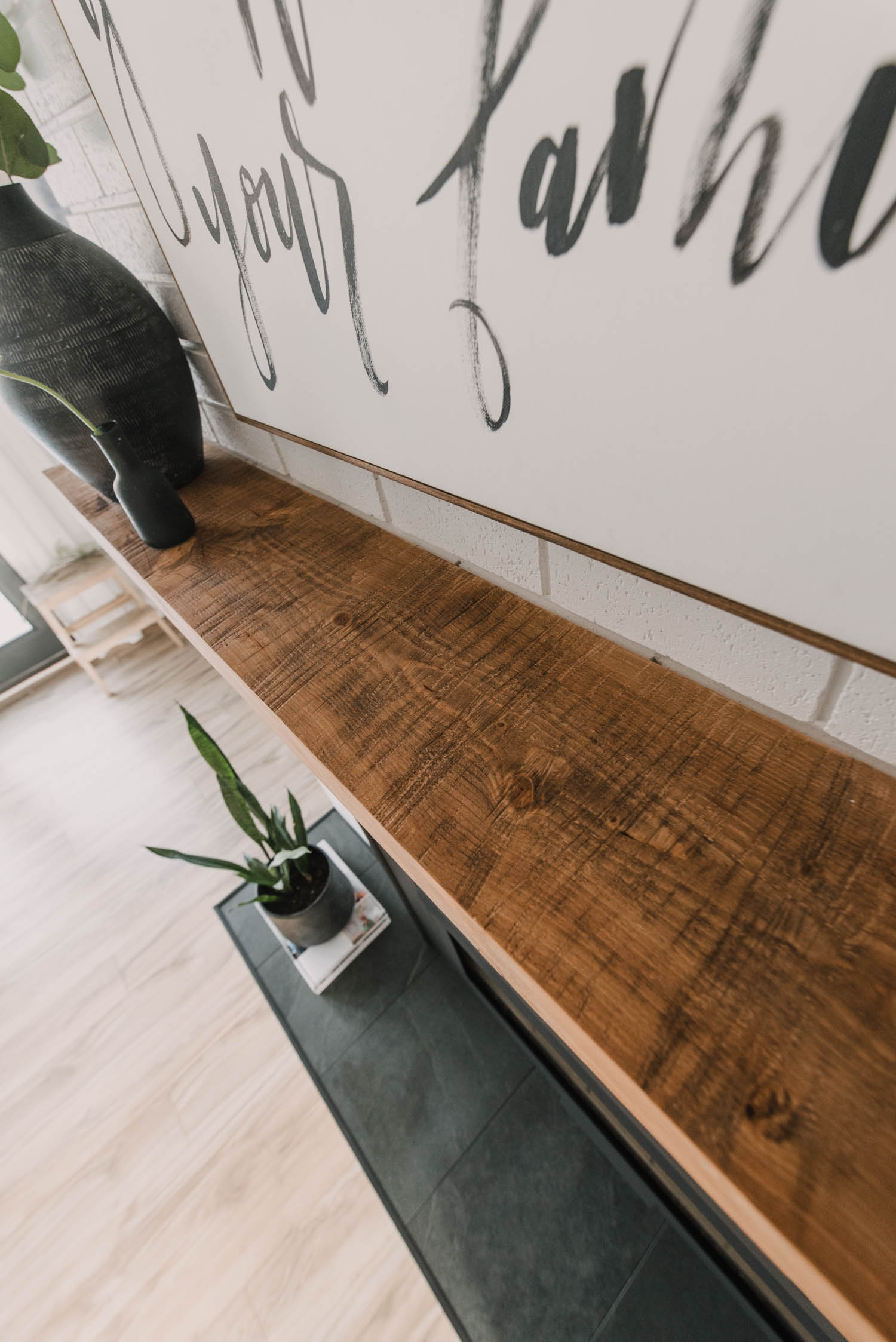 Tiling Over a Marble Hearth
When we peeled back the vinyl tile to reveal a damaged green marble hearth? I was so disappointed. This was not going to give me the look I wanted if I had to cover THAT thick of an edge (the tile plus the mortar plus the marble). I couldn't use the tile edging trim I'd planned to use anymore as it wouldn't cover it all. It also wouldn't be easy to remove and the whole thing was exhausting to me. But Shane came up with such a great idea, I'm so so happy with how it came together!
We tiled directly over the marble. We first cleaned the marble tiles really well. I used Goo Gone with a paint razor blade to remove the flooring adhesive from the vinyl tile, then scrubbed it all with TSP, then again with water. We just used a standard mortar and a trowel for larger tiles.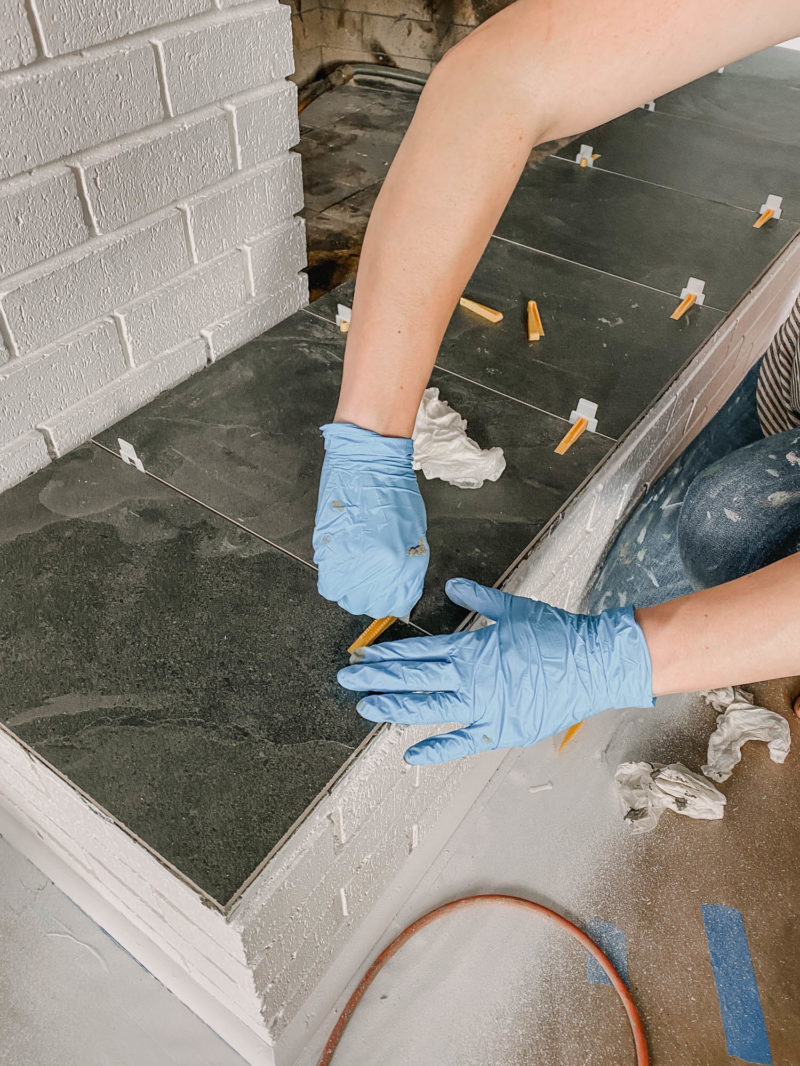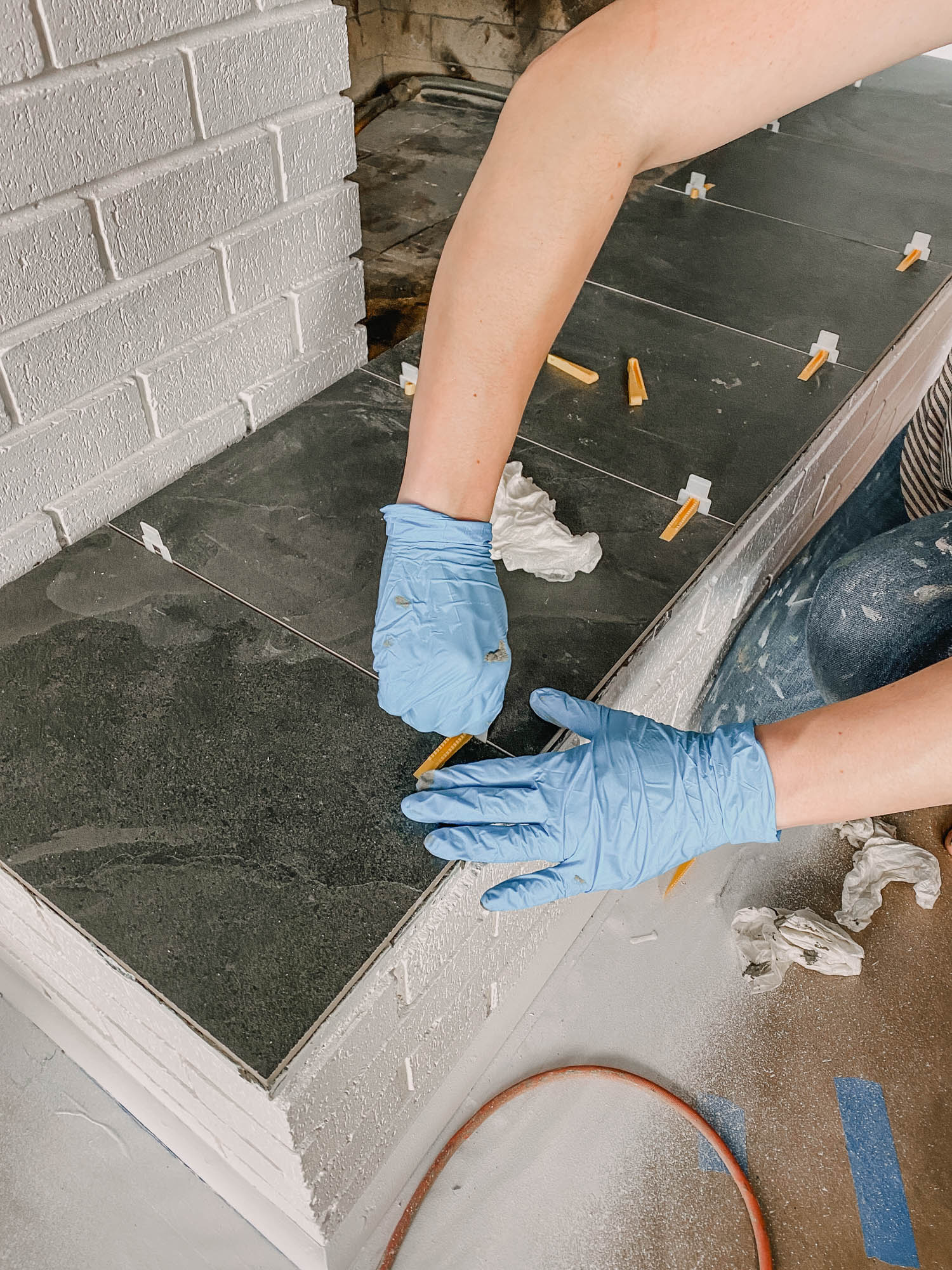 The tiles had to be cut down to size, we did that using a wet tile saw but you could also use a scoring tile cutter. The most important thing here is to start centred. I was up to my elbows in mortar before I realized I hadn't set up my camera so didn't take any progress photo or video of this. Whoops! Lay the center tile first, then work out from there. I wanted a matte finish on the tile and the smallest grout lines possible to modernize the classic look of a slate look tile. I grouted the next day with a charcoal sanded grout.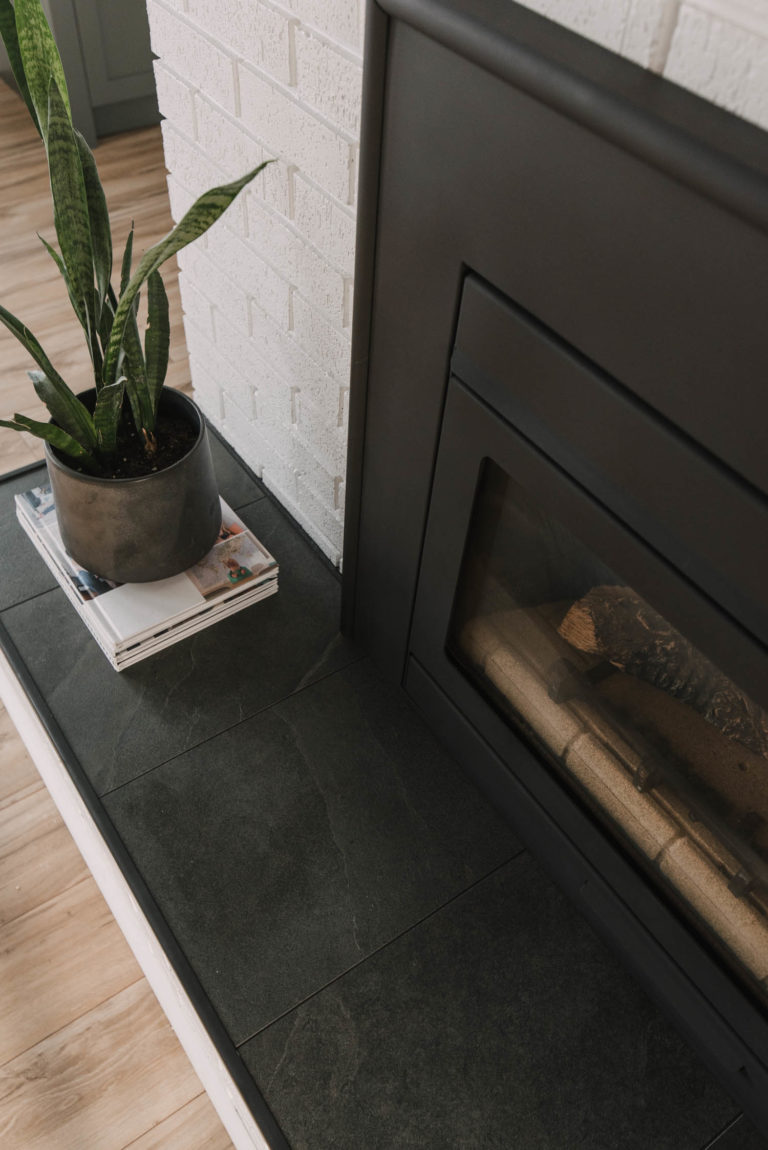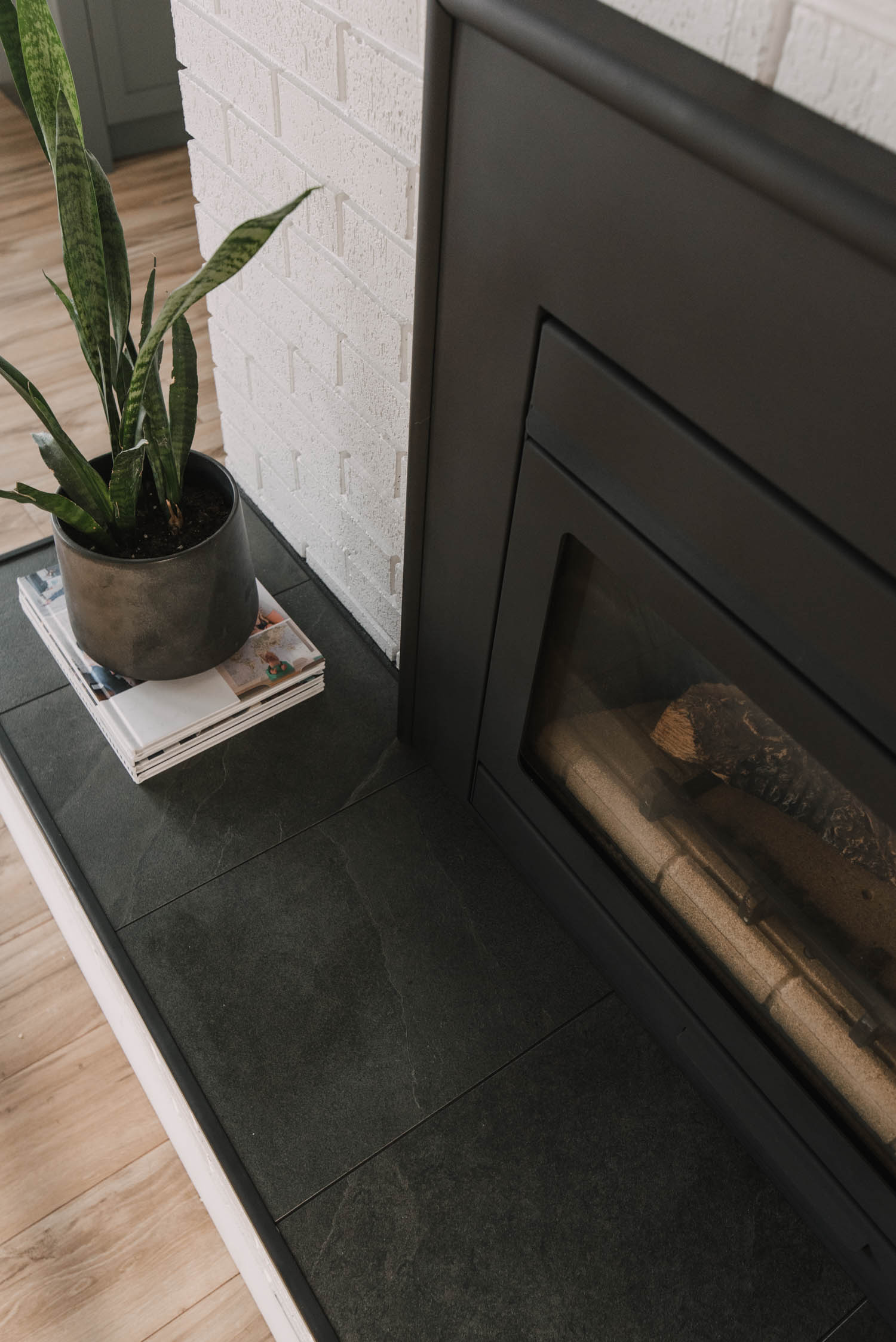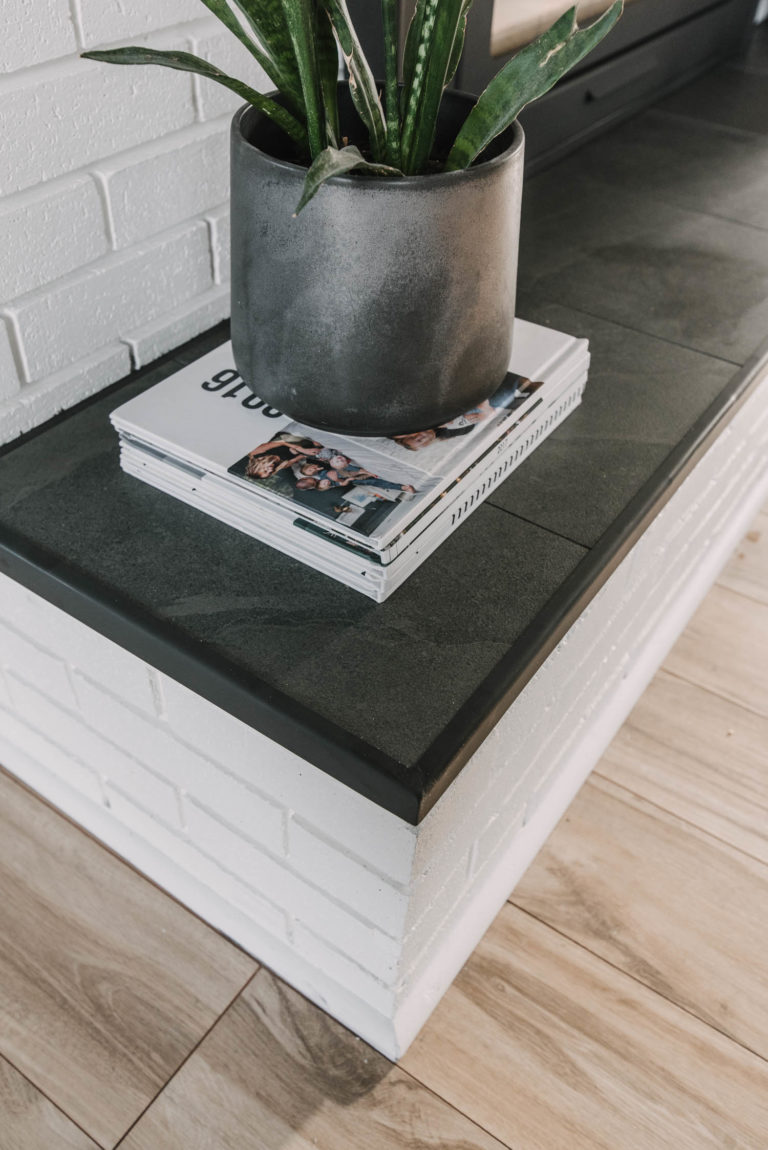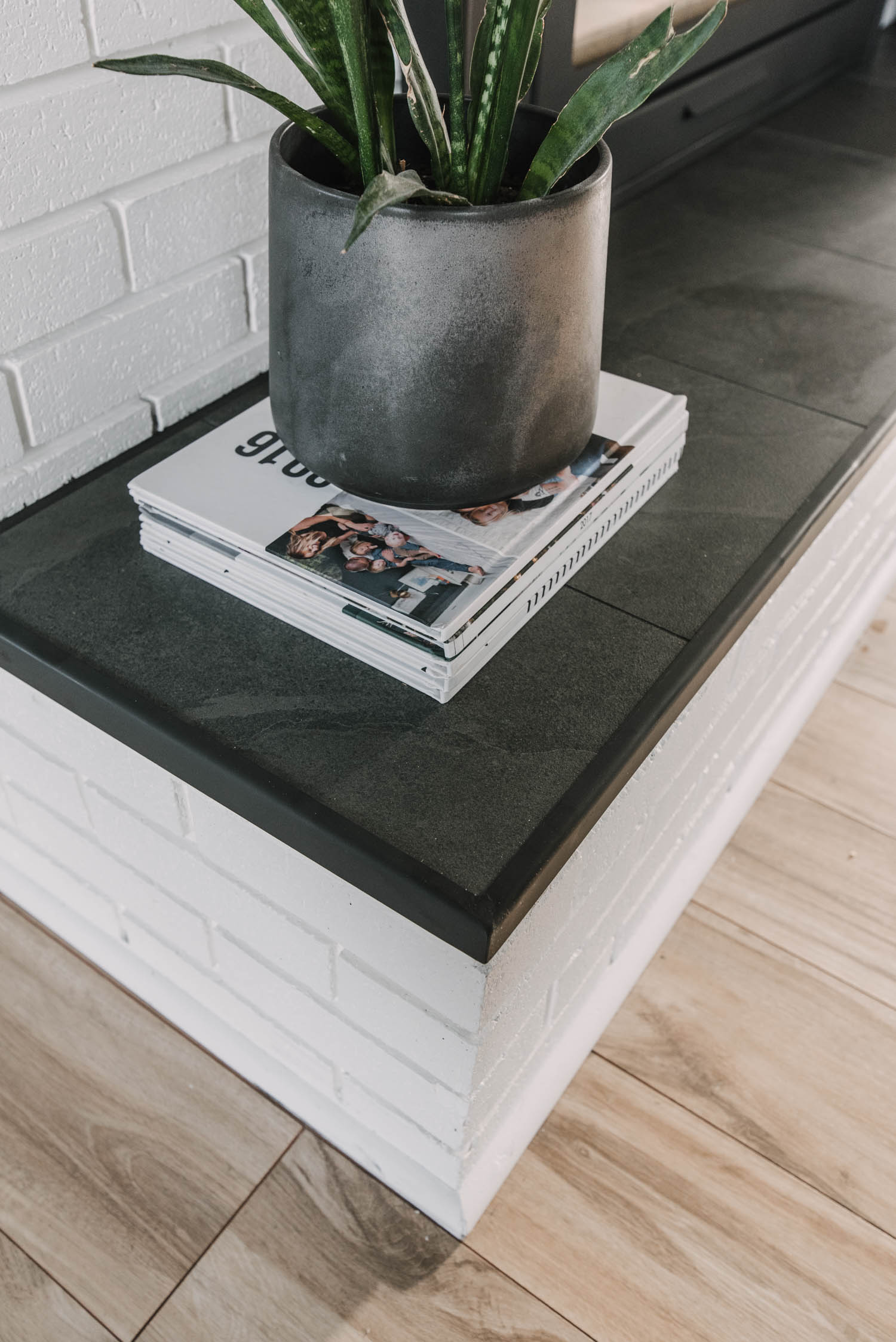 Most tile edgers you would put on before you tile. They go underneath the tile to hold them in place. We had ours custom made with the longer edge to cover the marble for our hearth from a local steelworker.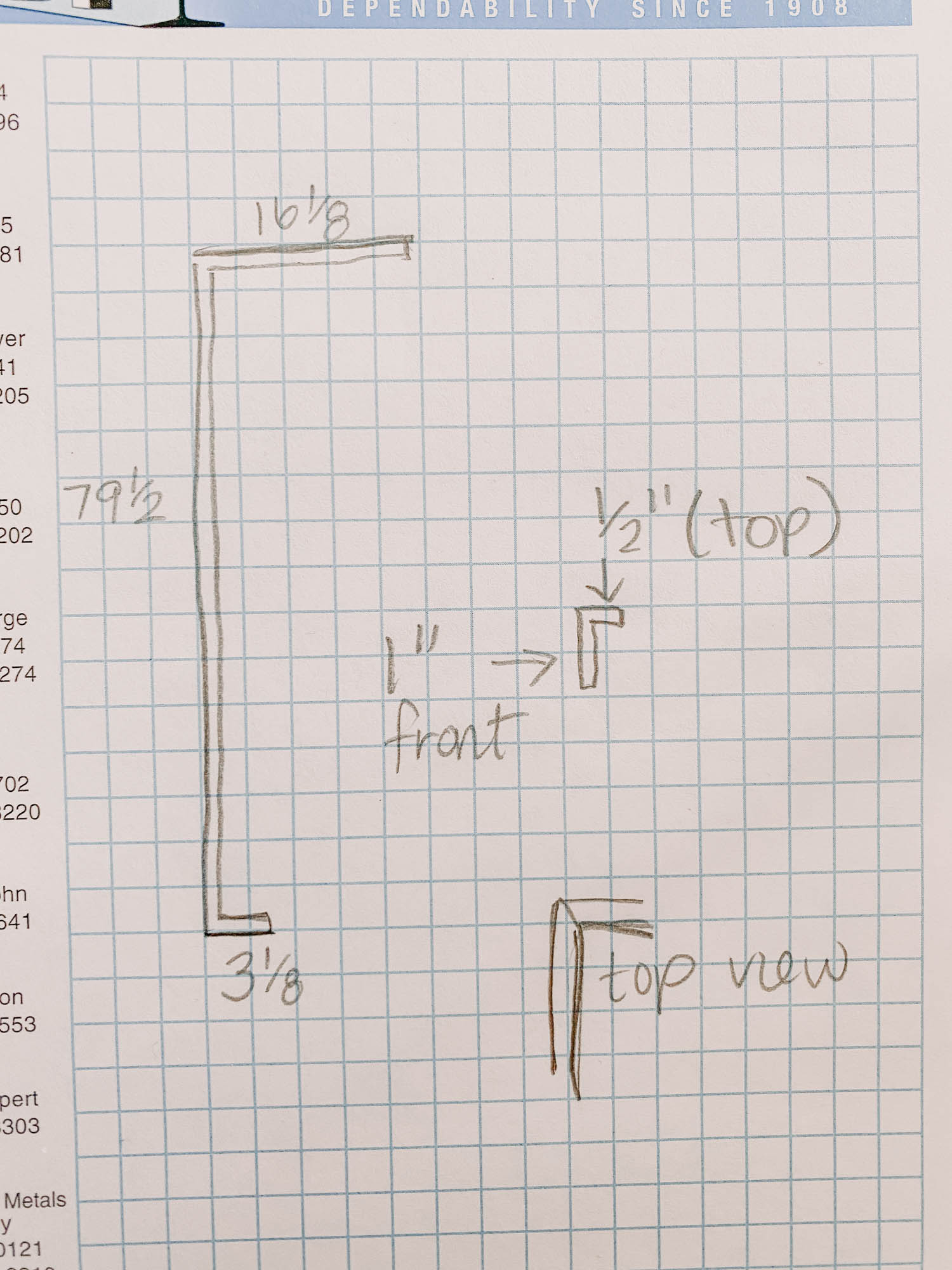 I thought it might be helpful what kind of drawings we give when working with local steel workers- I get so many questions about that too! Here is what we sent over. It is so not fancy, guys.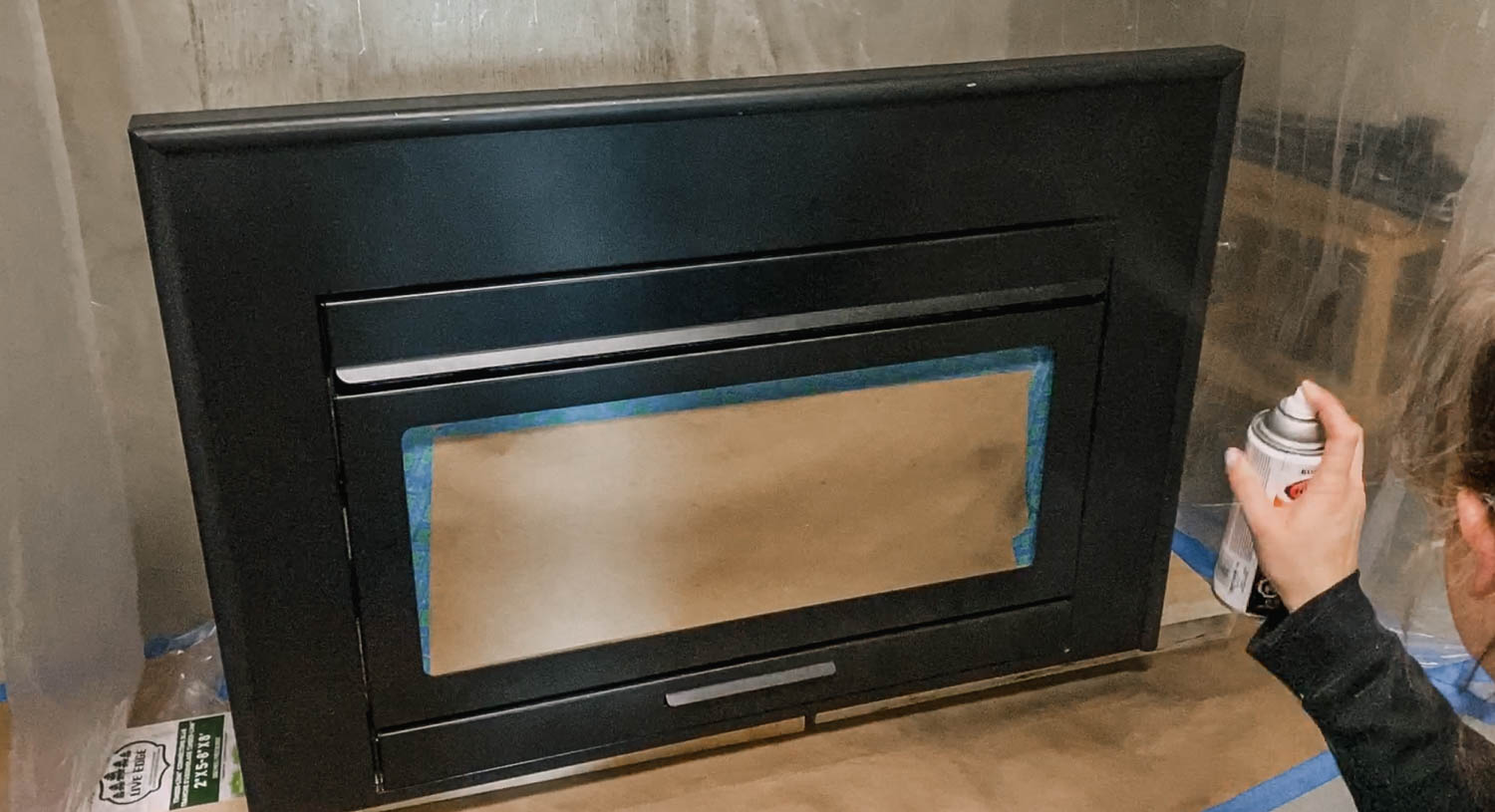 As for painting the edging? We painted it with the same high heat spray paint we used for the fireplace insert. The fireplace insert didn't NEED to be painted but had some scratches down to the original brass so we did it while it was out. It makes all the difference! I love the matte finish now.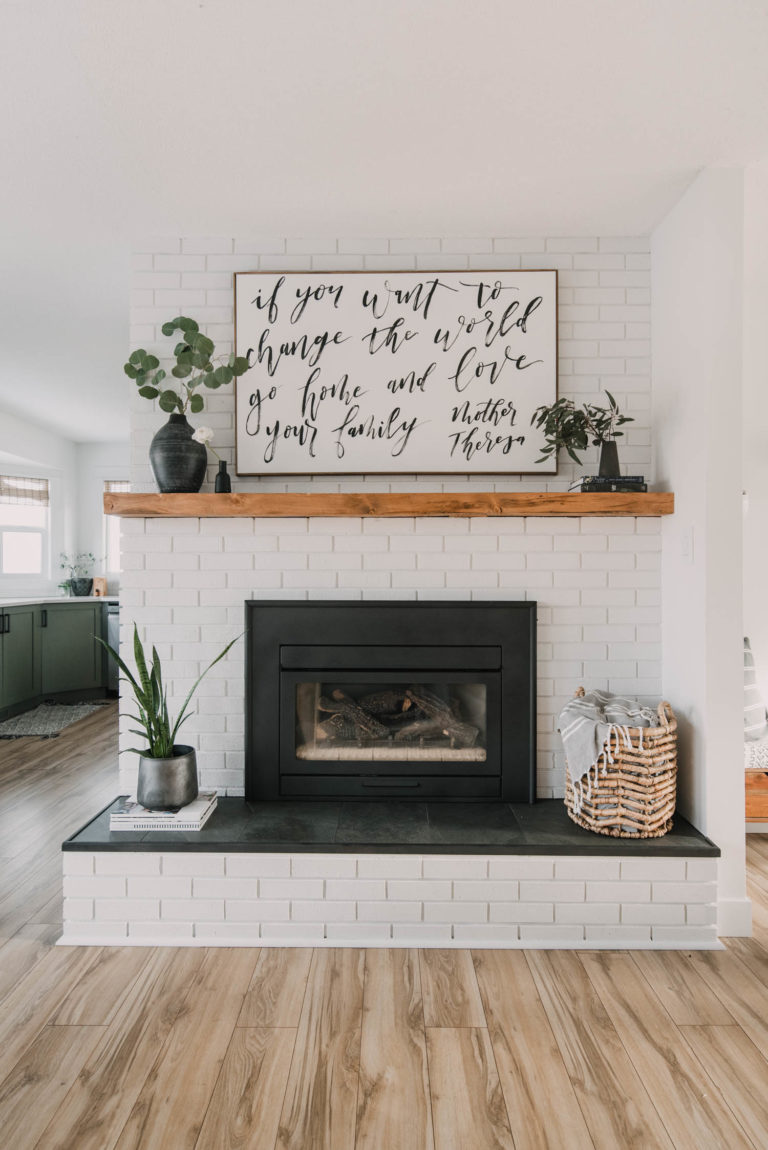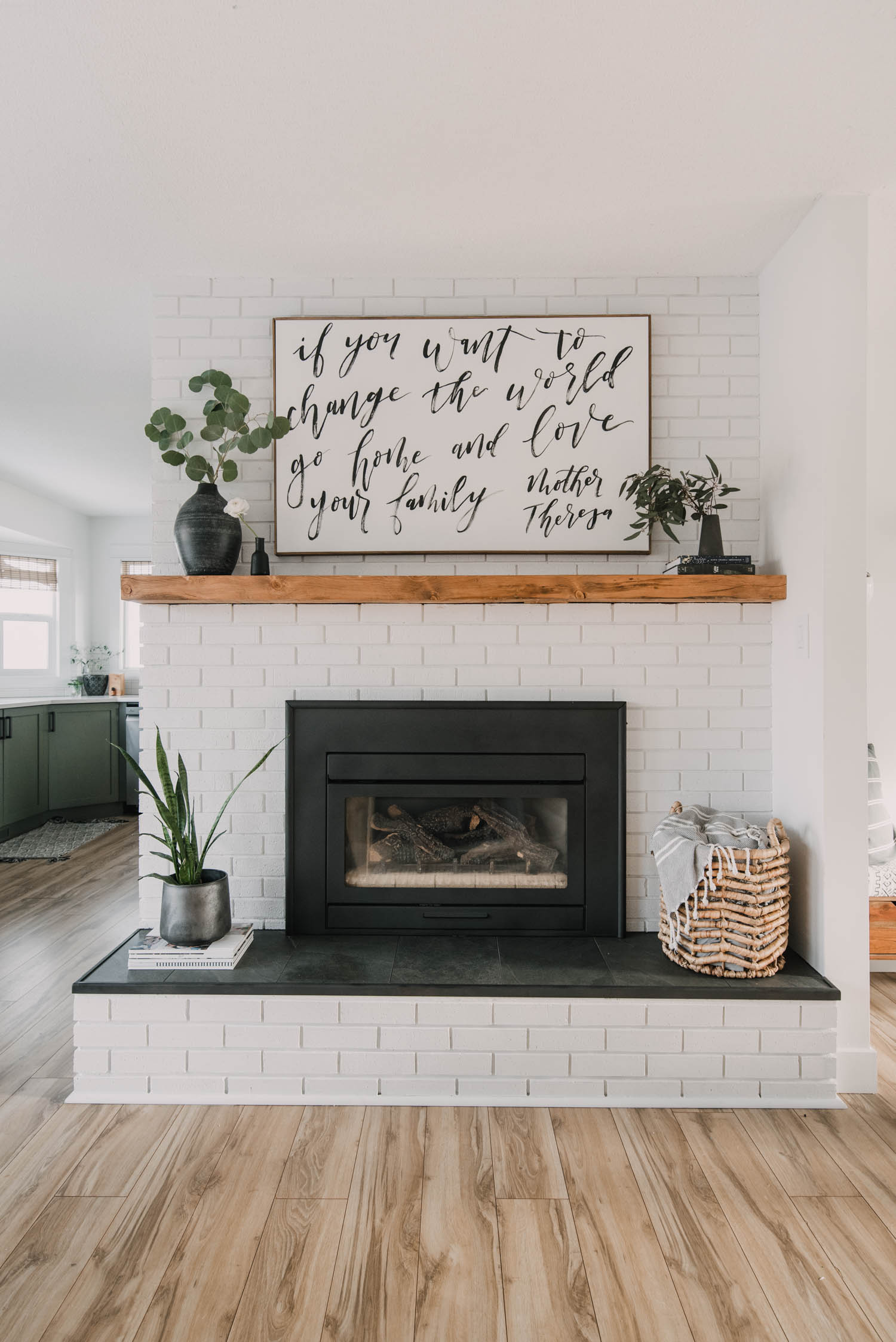 Phew! Long post… but lots of information about this brick fireplace makeover I wanted to include for you! If you are taking on your fireplaces, I'd love to hear how it goes! Or if you're planning to use a paint sprayer indoors for the first time, you can check out this guide right here!
Big thank you again to Wagner SprayTech for sponsoring this brick fireplace makeover! I can't wait to show you what other projects I have in the works using paint sprayers… so many exciting things this year!
Check out more of my paint sprayer projects!
LIKE IT? PIN IT!