This modern LEGO Party looks amazing while still being affordable thanks to DIY party decorations and dollar store hacks for this twin birthday party.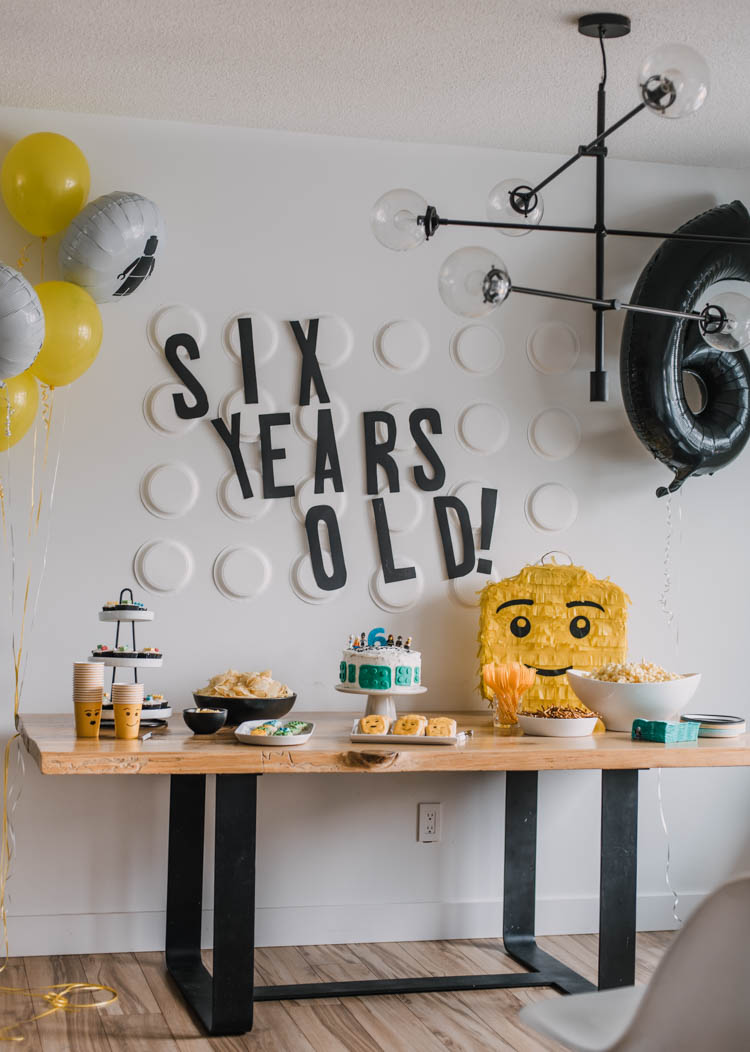 When my boy/girl twins turned 6 this year, all they wanted was a LEGO birthday party. And LEGO sets. But back to the party, when I first looked at LEGO birthday parties online, it was all the colours, you guys. If you've been following Lemon Thistle for a while, you might know that's not my jam. I love taking a kids party theme and modernizing it– it's such a fun challenge to me.
I mean, you could buy your birthday party from Amazon… but I just have so much fun making them from scratch, I love the way they look so much more, and they cost a heck of a lot less with some crafting.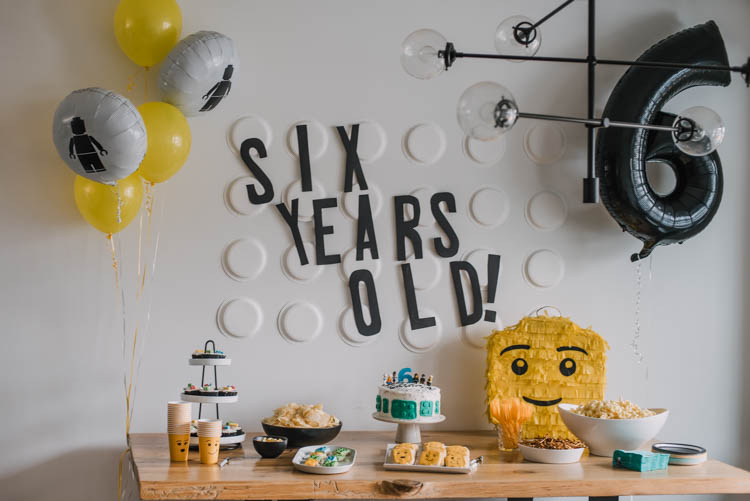 The other thing I love to do? Save my money for things that aren't done in a few hours. So to keep birthday parties affordable, I always hit up the dollar store. For this LEGO birthday party, the two things I relied on to make it beautiful but affordable? The dollar store and my Cricut. If you don't have a Cricut, you could totally cut the LEGO details by hand, but this saved me a lot of time.
CLICK HERE for a video tutorial of this modern LEGO block piñata and 12 more modern DIY Dollar Store Party Decorations that you can make for your next party!
DIY LEGO Party Decorations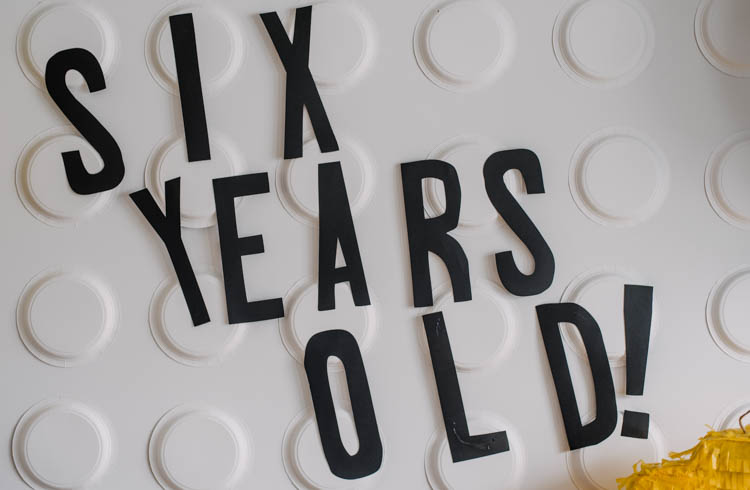 The backdrop was something I spotted on Pinterest- but much more colourful ;P I used dollar store white paper plates taped to the wall in a grid pattern to make a giant LEGO block. Instead of a garland with their names like I've done at past parties, I cut out the letters and used double sided tape to attach 'Six Years Old!' to the plates. I used the font, 'A Frightful Affair' from Cricut Design Space that I have used on so many projects (like this one and this one). You could use cardstock (I had it on hand) or a poster board from the dollar store- one of my favourite party supplies. I use poster boards at every party.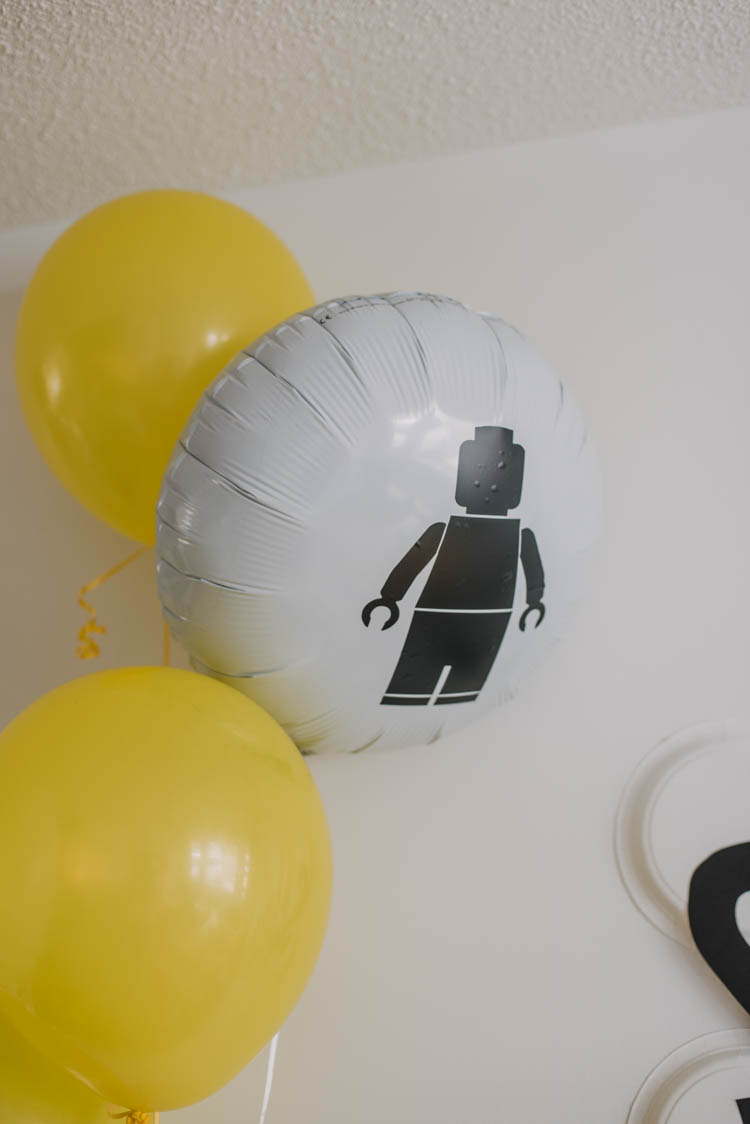 I almost always order balloons for birthday parties from the dollar store unless I want something super specific. I love taking these white matte balloons and decorating them to match a party theme. I have done this here and here. For this one, I used a LEGO man silhouette I got off Etsy for a hocky helmet decal last year and cut it out of vinyl. You can totally cut it out of cardstock (by hand if you're patient!) and us spray adhesive to glue it on. You can see how I have done that in this tutorial.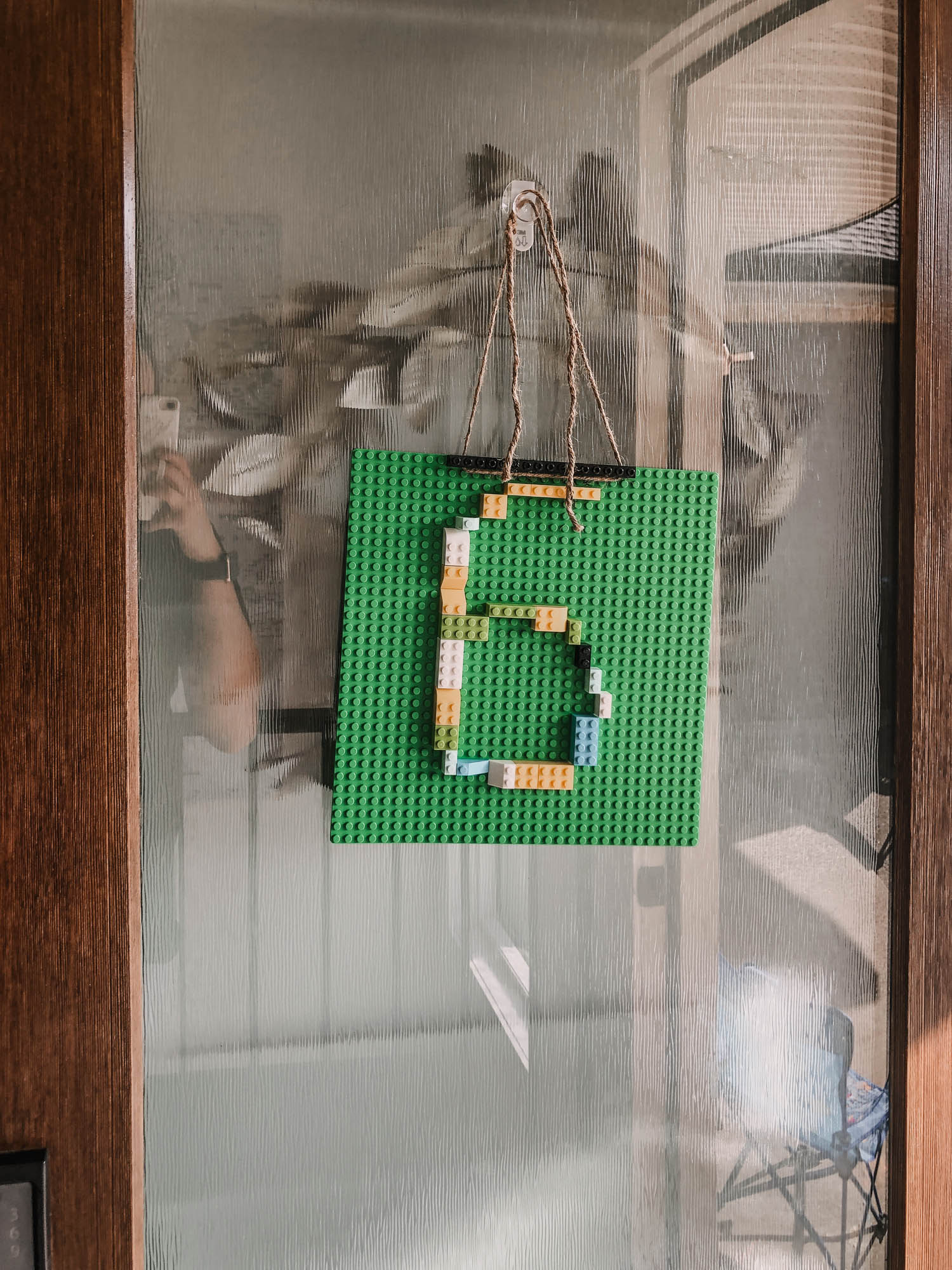 Other than that, the kids were so excited to make their own sign for the front door. They chose some colours that they liked with the yellow we were focusing on and made it themselves, making the number 6. We definitely left this on the door for a couple weeks.
That's really all the decor… I put the piñata on the table as decor until we used it- I made that too.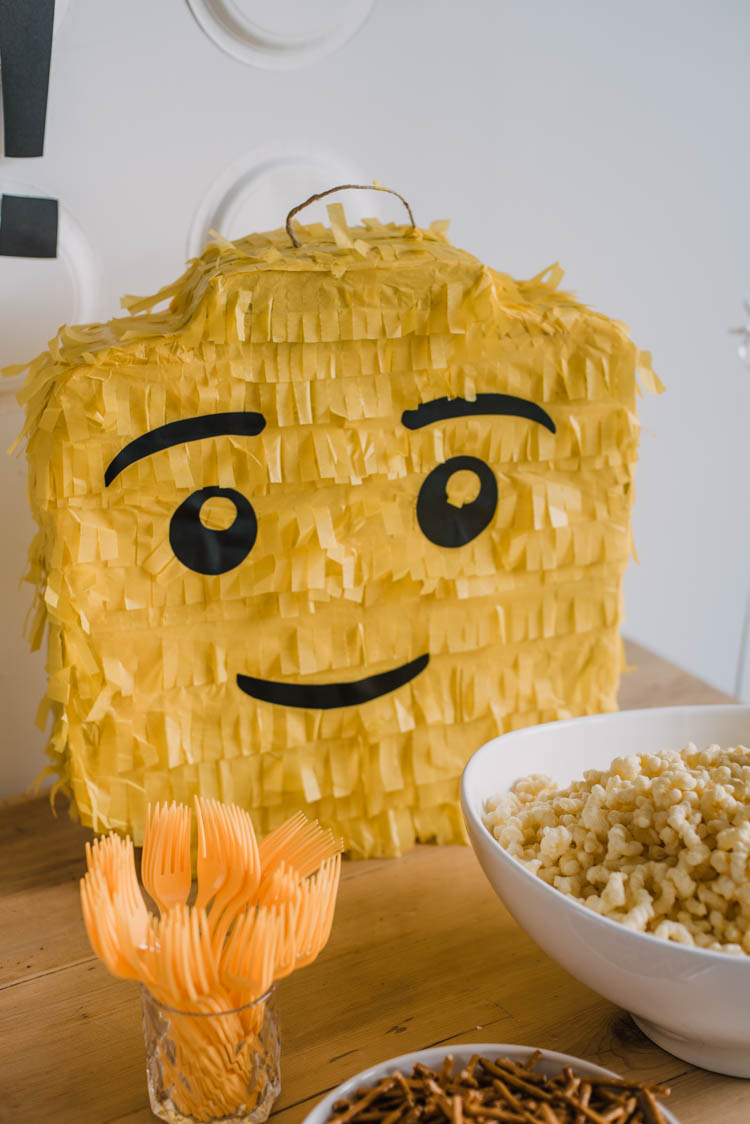 DIY LEGO Head Piñata
I couldn't bring myself to spend $25 on a LEGO block piñata when it was basically a box. My friend Kristin came over and helped me make this one, I took some step by step photos for you!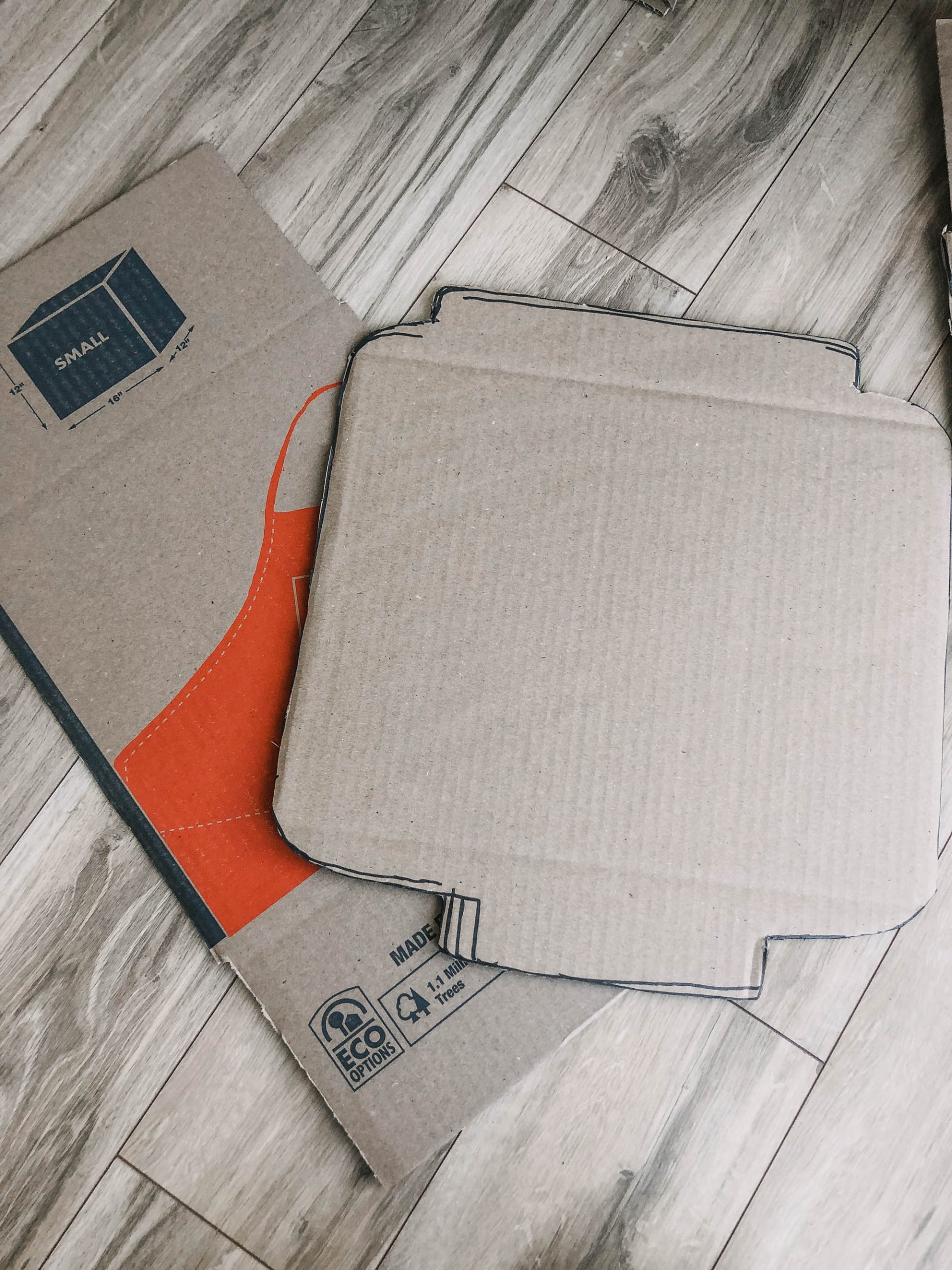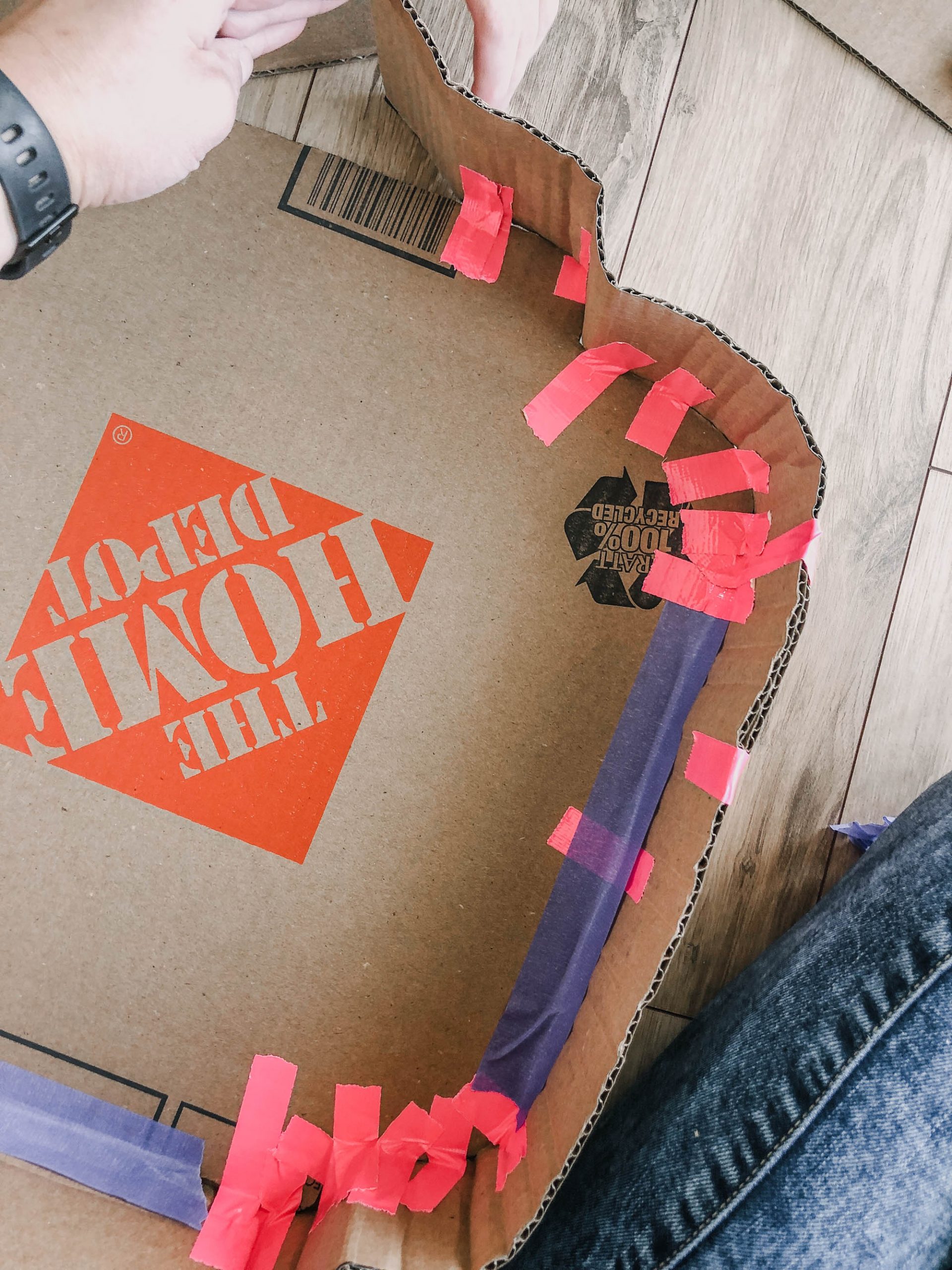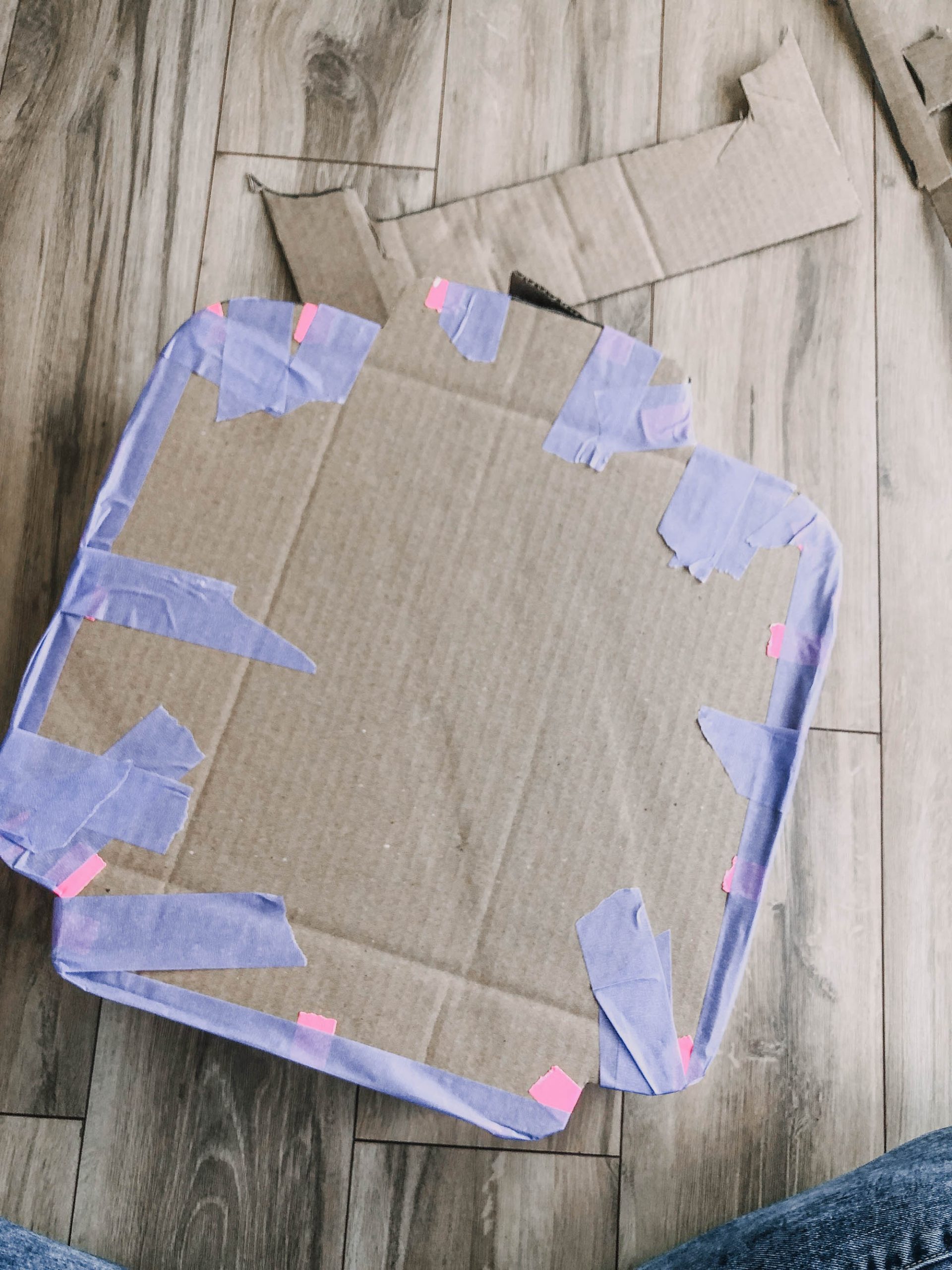 You basically cut out the shape of your LEGO head 2x, then cut a strip as wide as you want your piñata and tape it all the way around to join the two sides. Just leave one flap at the top to fill the piñata. I used a combination of painters tape and duct tape and a moving box from Home Depot. I'd recommend less duct tape or a less secure box… it was pretty hard to bust open, ha! I used twine and duct tape to secure the string to hang it.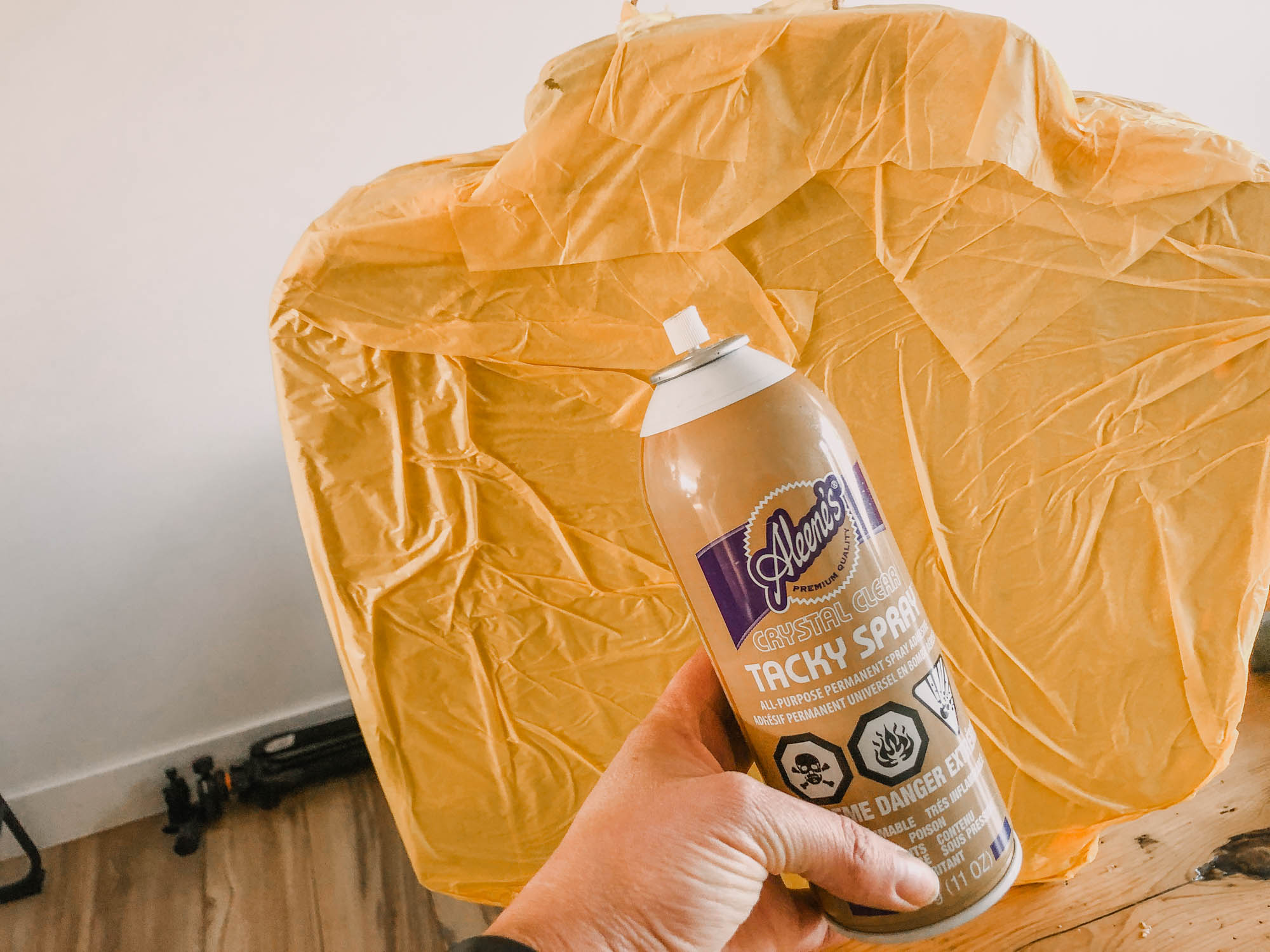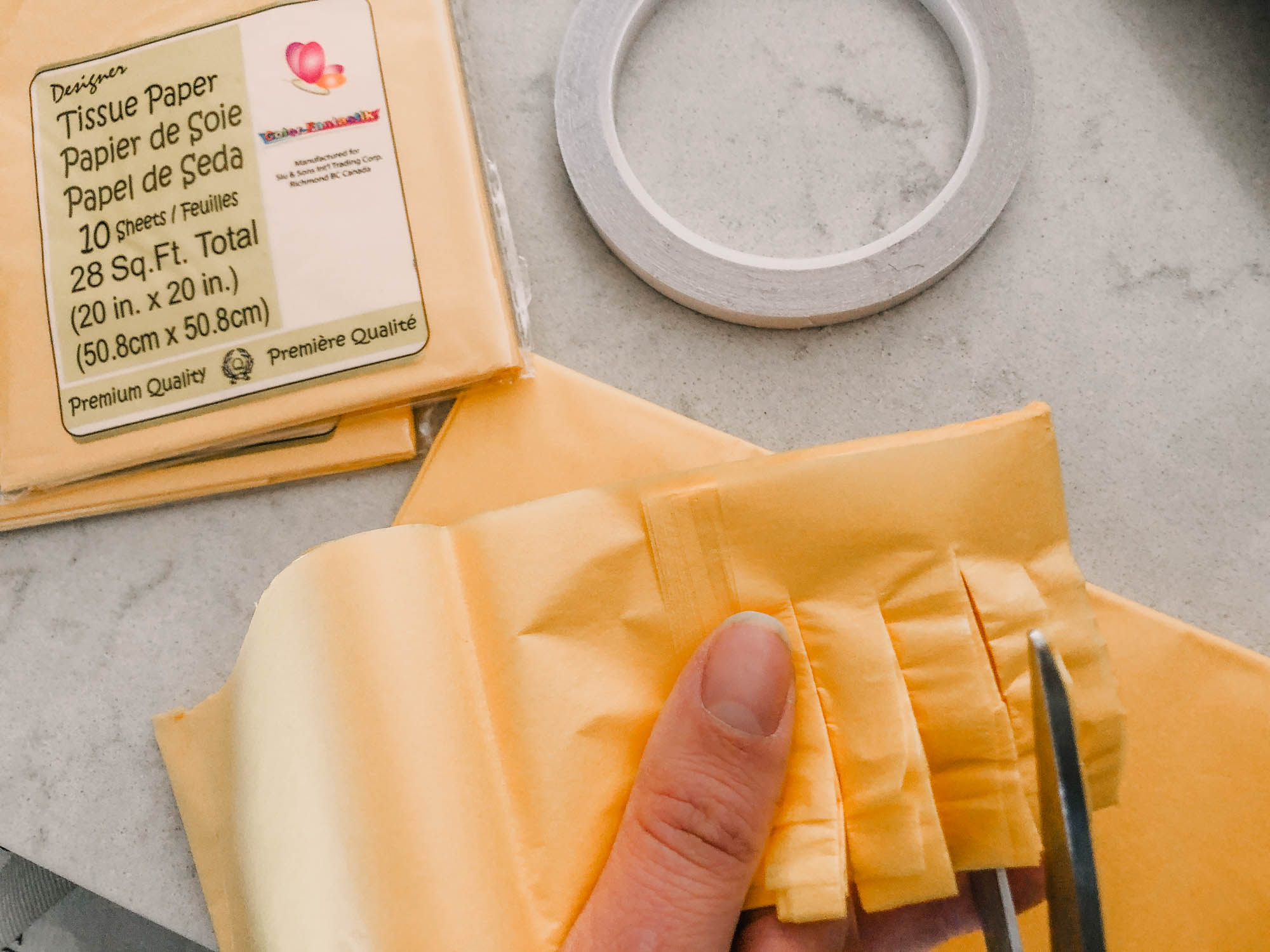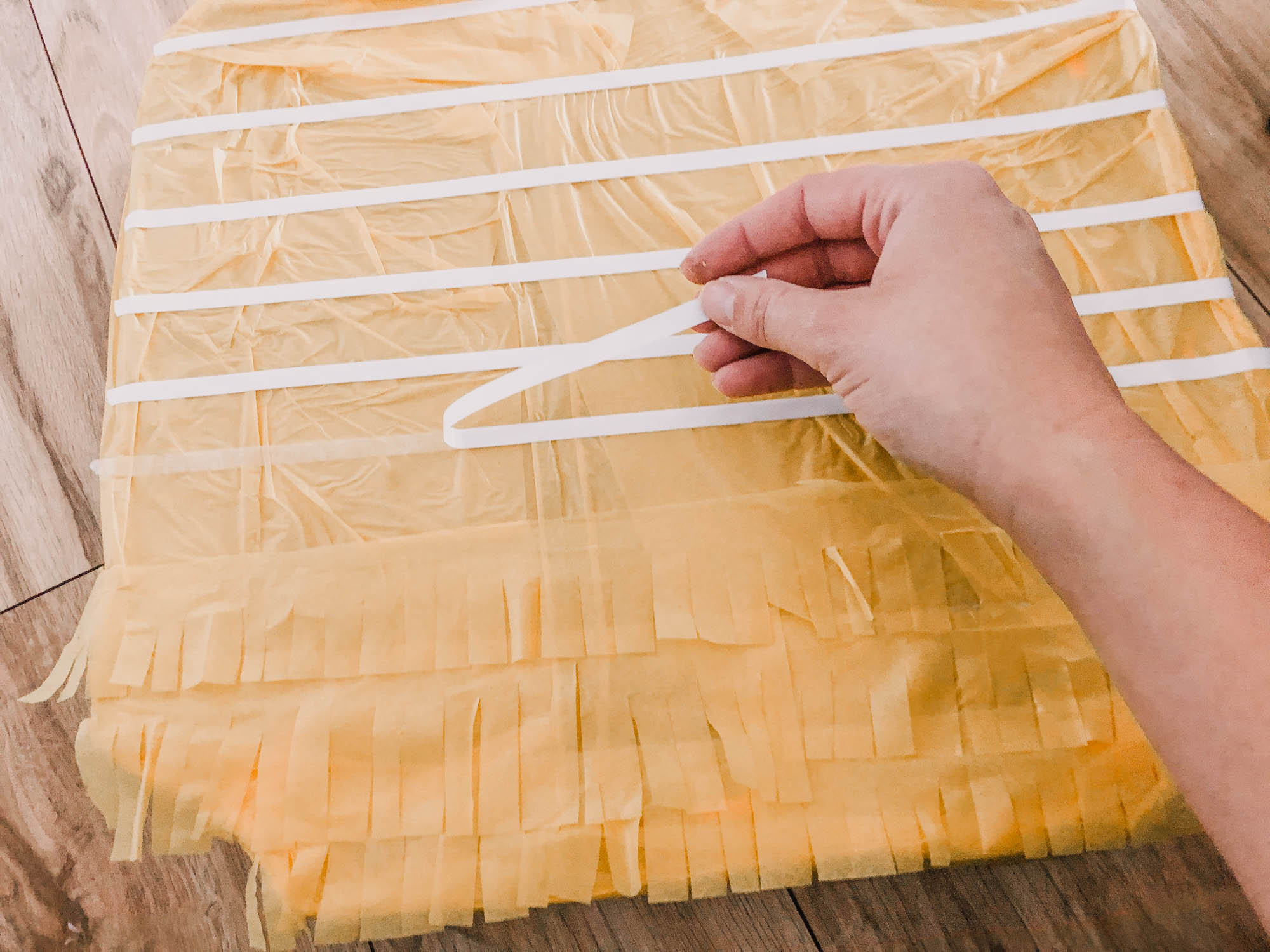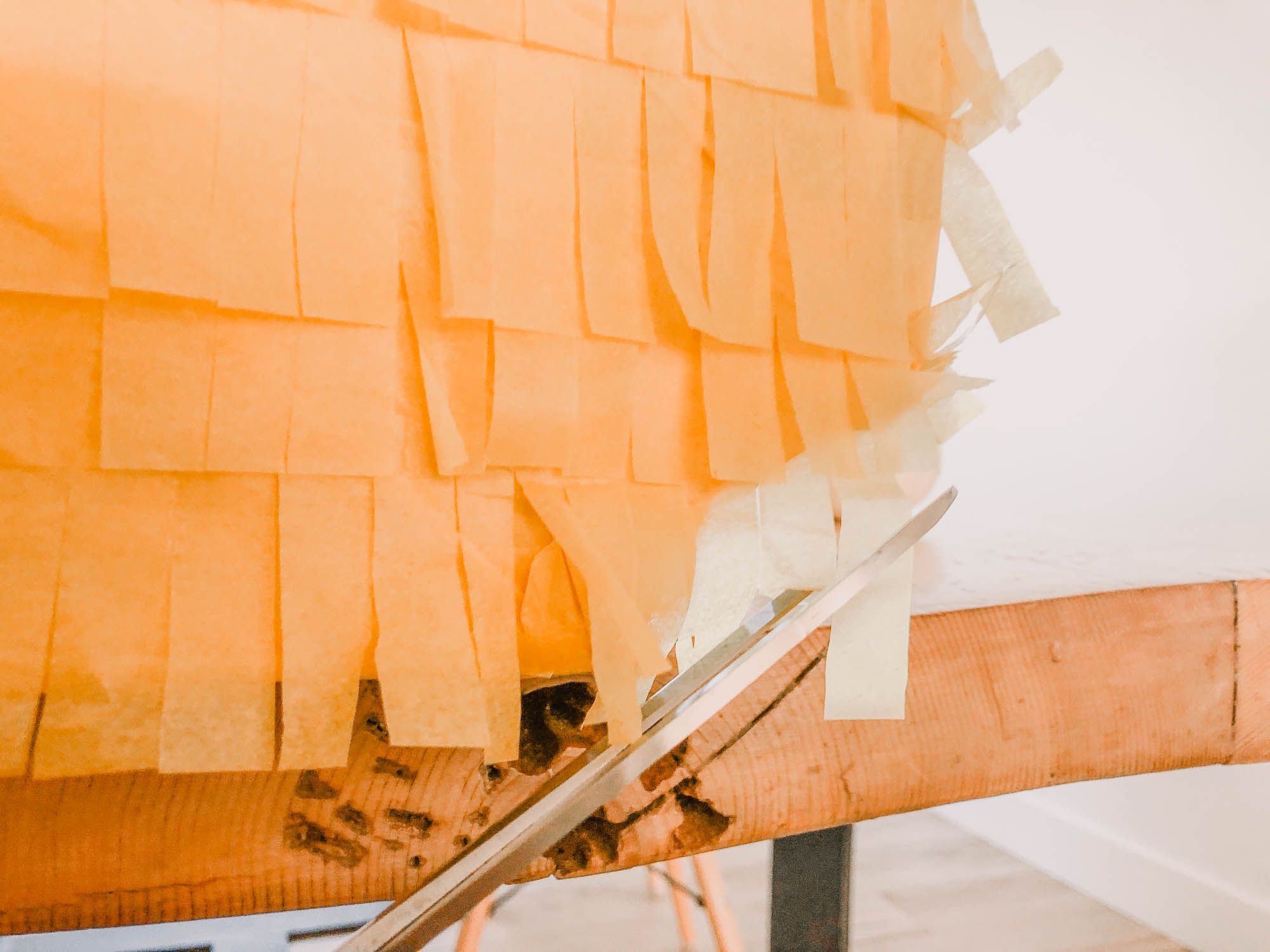 To make the pinata fringe we know and love, I used two packs of tissue paper, again from the dollar store. The first layer of tissue, I used spray adhesive (similar) to cover it but you could use a glue stick too. Then, I cut my tissue paper into strips and cut a fringe in the strips. I used double sided tape to tape this on. You can also find this from the dollar store- I go through it like crazy for crafts and parties. Trim the 'neck' area of the LEGO man to maintain the shape after you add the fringe.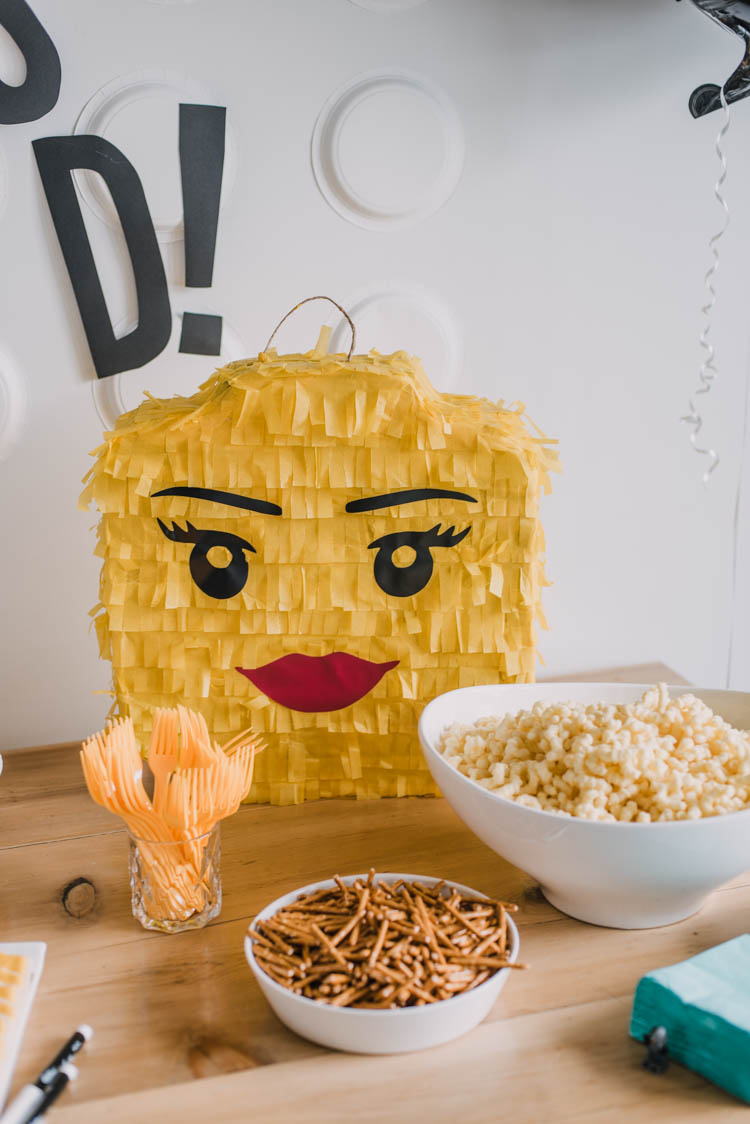 The LEGO man face on the piñata is another Etsy file I purchased, I cut out the classic boy face for the front and the girl face for the back. I used vinyl for this because I had it, but again, you could use paper and glue it! If you do want to use vinyl but don't have a cutting machine, you can totally cut it with scissors or a craft knife too. I used to print my design, trace over it really hard with a pencil (on top of the vinyl) to leave an indent, then cut it out with a craft knife.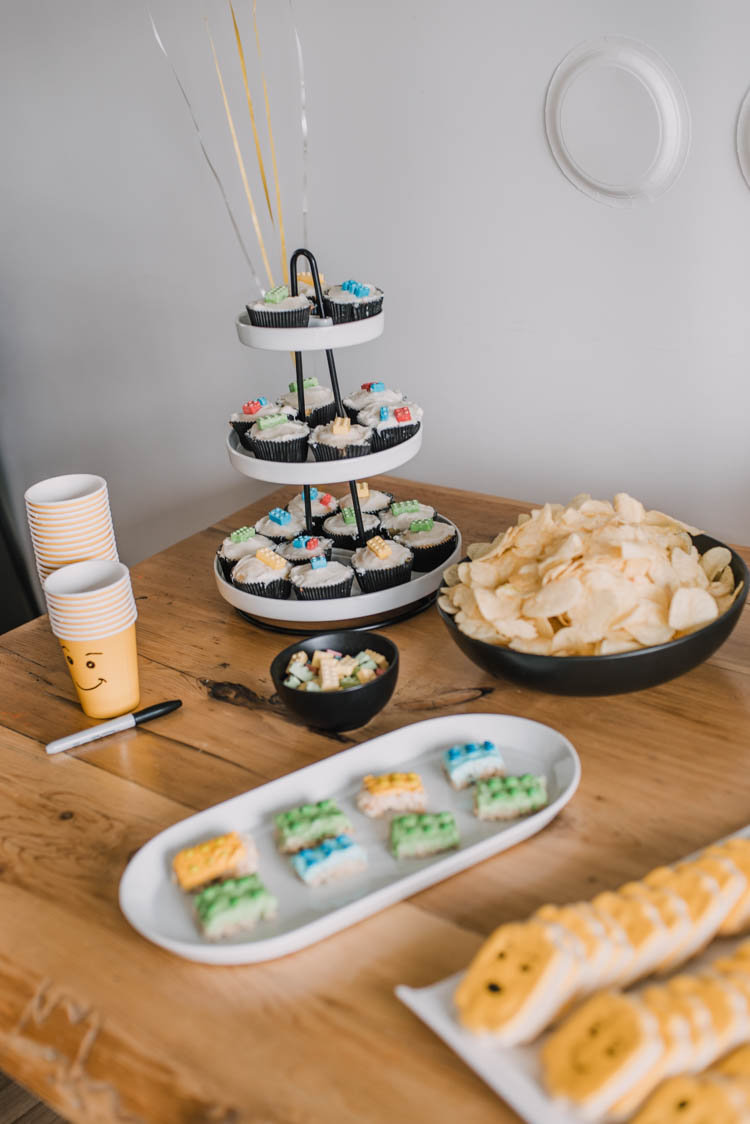 LEGO Party Food
I wanted to stick with the yellow, black and white theme. My kids were all over the idea of making colourful lego bricks though- ha! We had the usual spread of chips and pretzels- I love easy snacks for parties. We also made little LEGO bricks out of rice krispie squares and mini m&ms. We put LEGO brick candies on the cupcakes (just from Bulk Barn).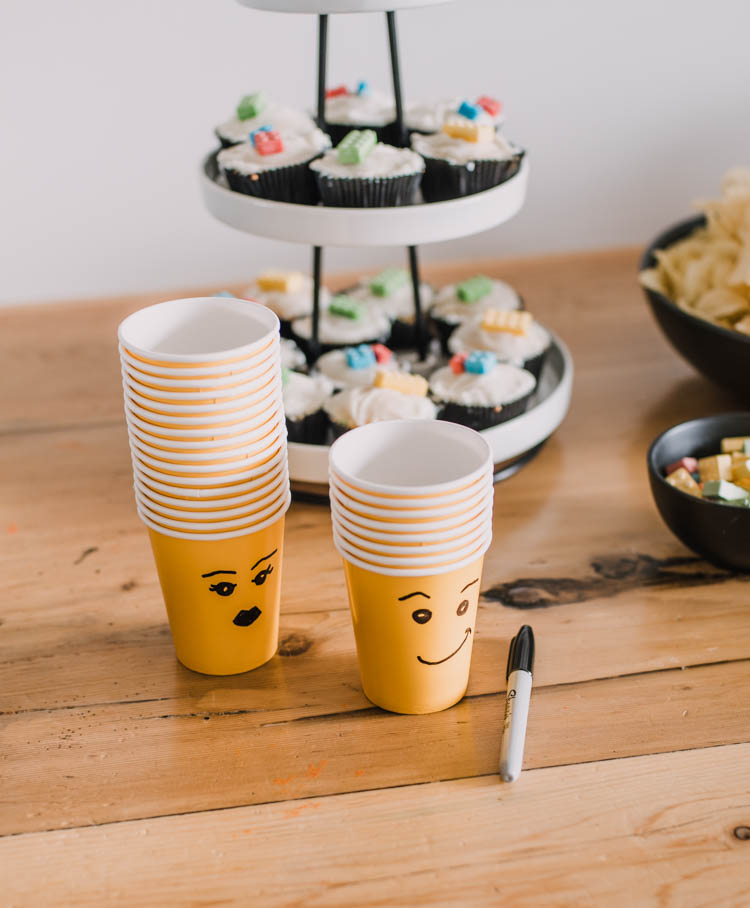 K, it's not food… but kind of? The yellow dollar store cups we used, we let kids draw their own LEGO faces on. We had a sharpie available and I drew a couple examples on the bottom of the stack so they knew what they were for.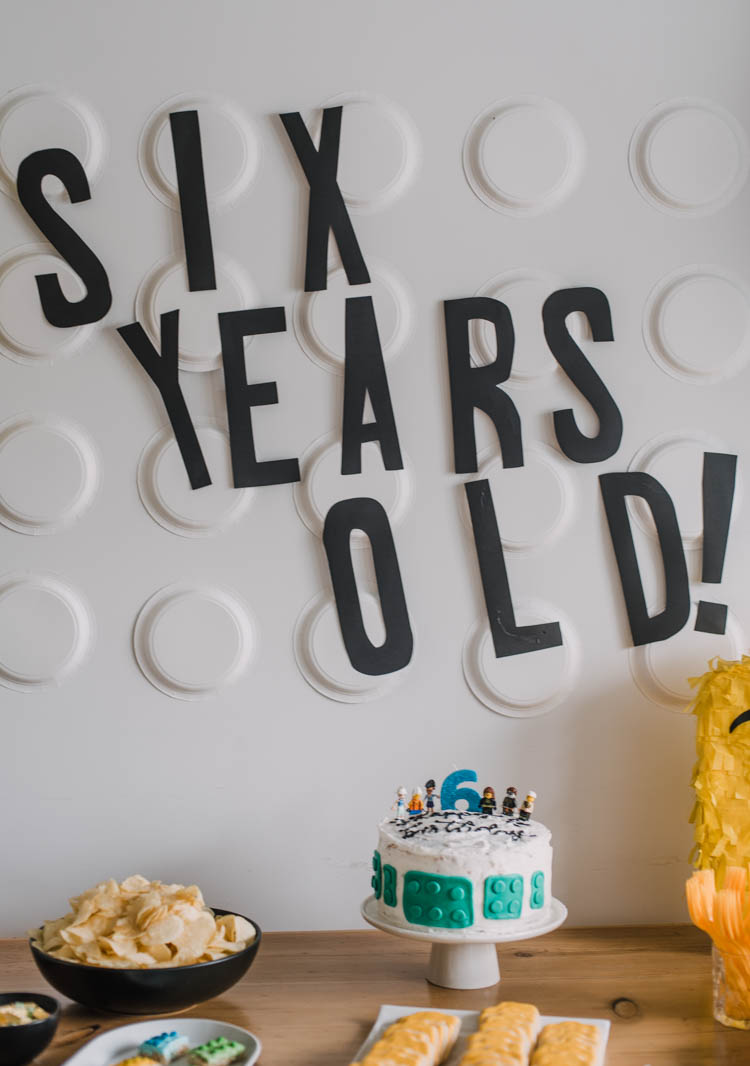 The LEGO cake was so simple too, guys. All my kids wanted was a cake with their LEGO figures and that candle they found at the dollar store on top. I picked up a pack of turquoise fondant from Michaels as well and rolled it flat, then cut it out with a knife into squares and rectangles and used a cookie cutter to cut the circles. I put these along the side.
Now the best part… haha this is the one thing I really wanted to do- I'm not sure my kids cared that much, ha! Sugar cookies are my very favourite and I would have them at every opportunity if I could. We'd bought a tub of sugar cookie dough for my son's fundraiser so these were quicker than usual (yesss for shortcuts!). Pilsbury actually makes sugar cookie dough in tubes now too so even if no one is selling for a fundraiser, shortcuts are out there!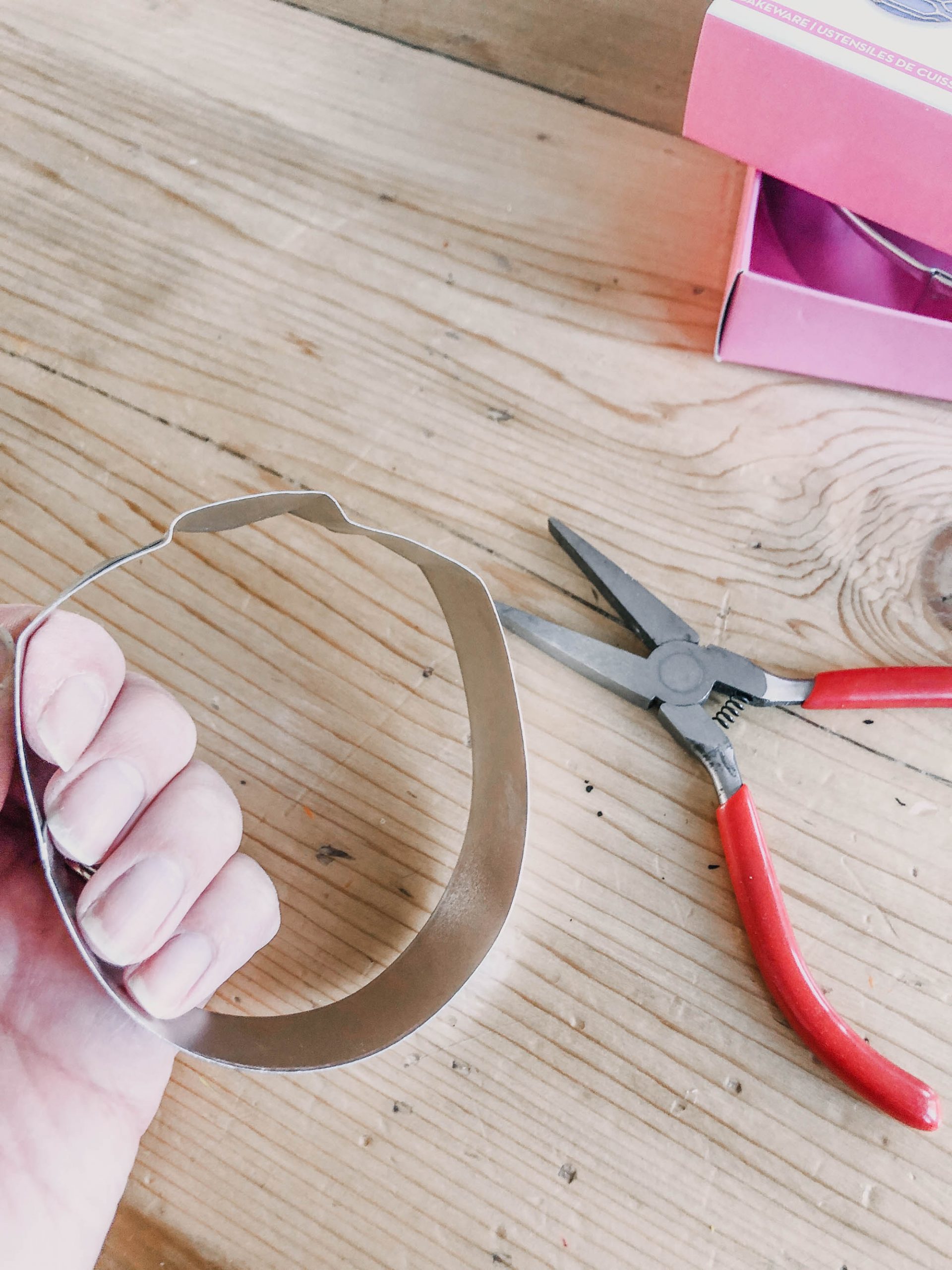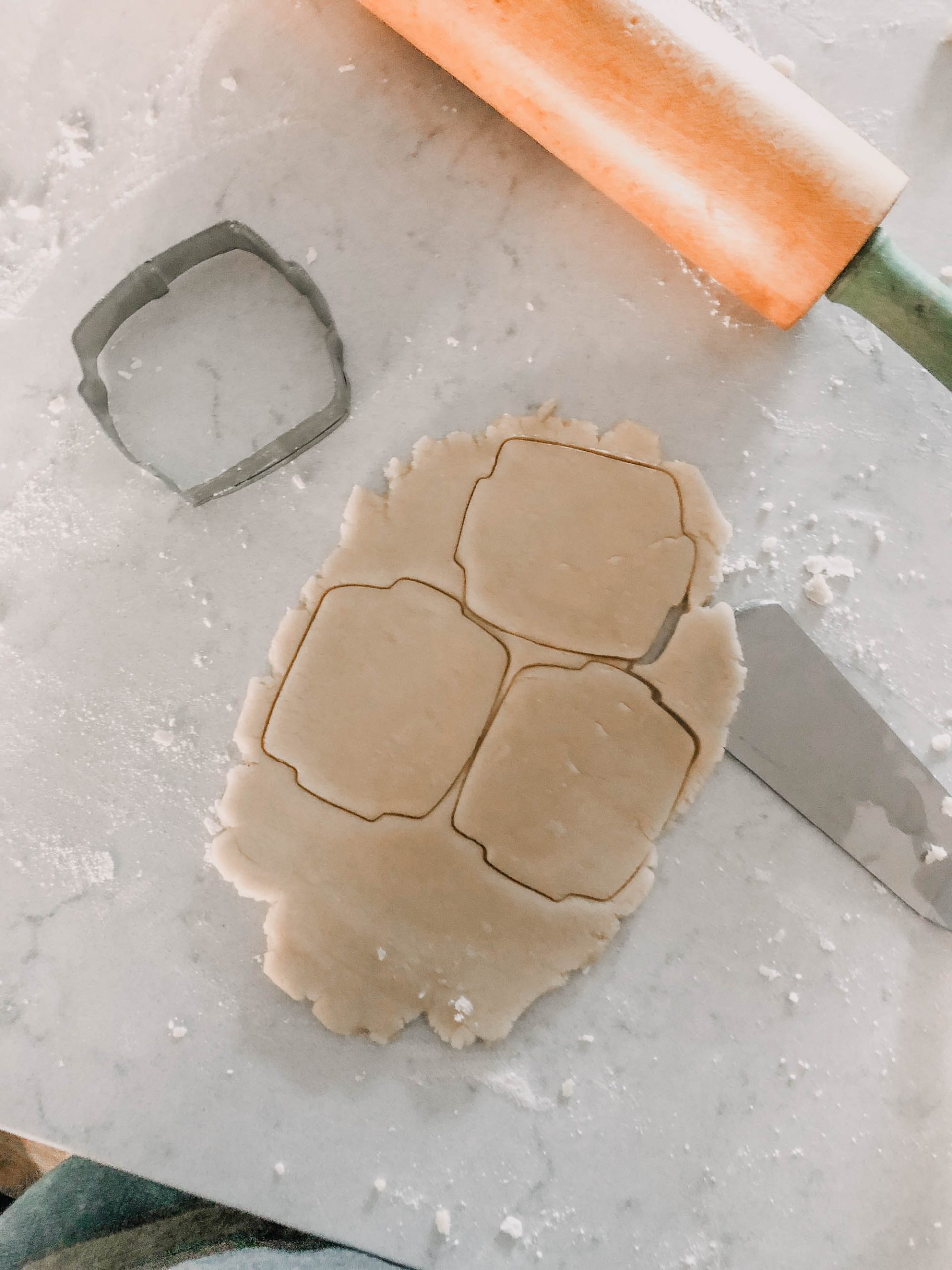 The issue was I couldn't find a lego man cookie cutter that was available locally and cheap. And I wasn't going to spend a lot on something I'd use probably once. I just used a circle cookie cutter and some flat pliers (I used to pretend to make jewelry) to bend the shape. It's really just two right angle bends for each the neck and the head.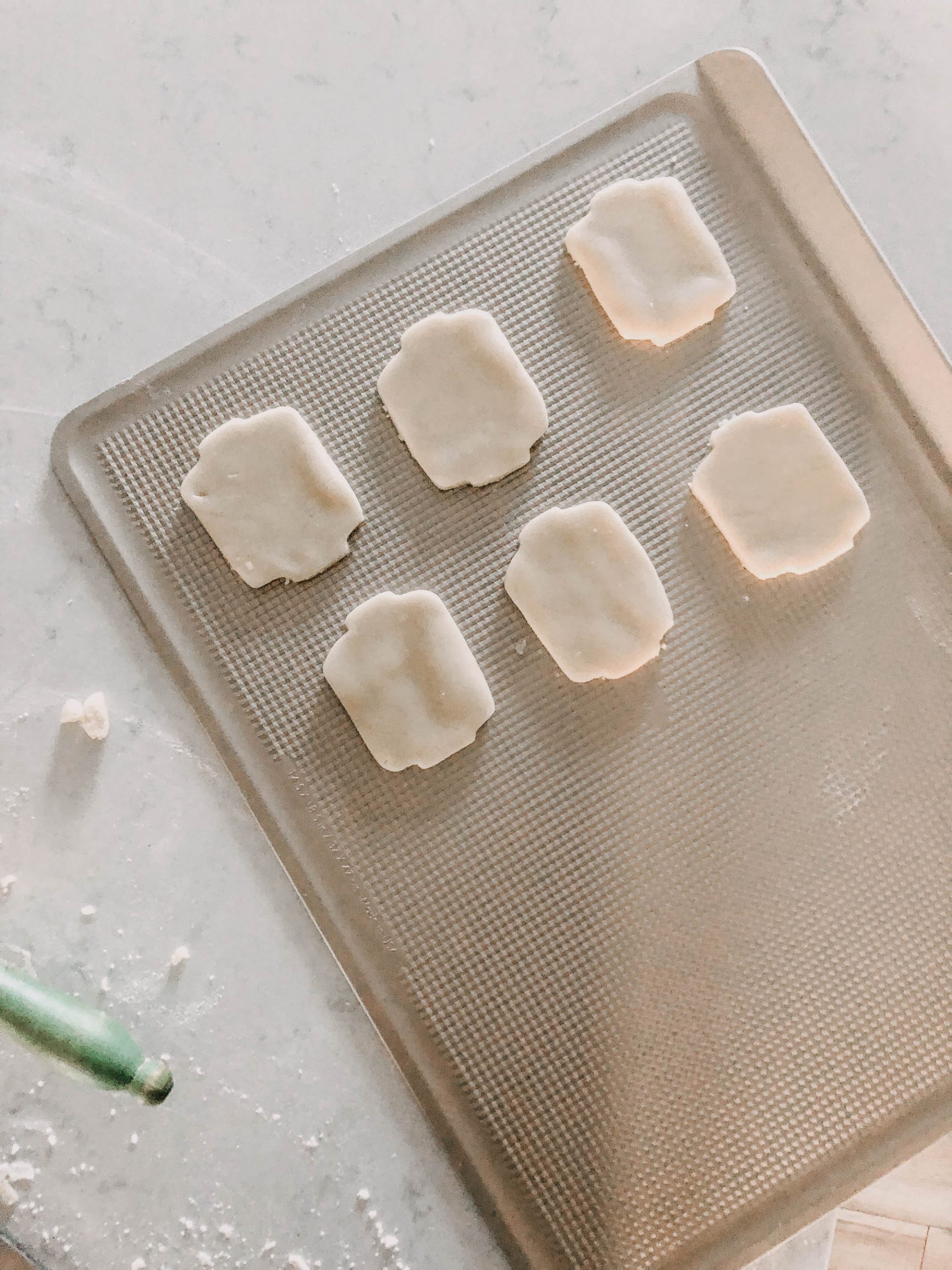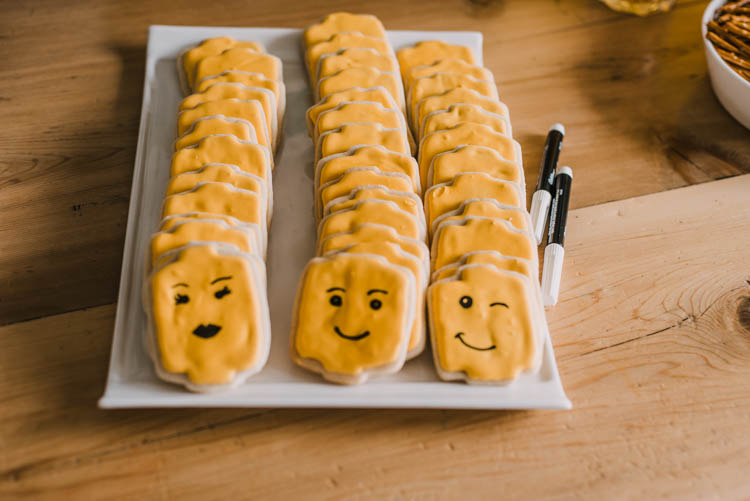 We decorated them with a yellow royal icing and let them harden. We put them on the table with an edible marker and let kids again draw their own LEGO figure faces. I drew the first few so kids had an idea. The yellow food dye, edible marker, and round cookie cutters are all from Michaels.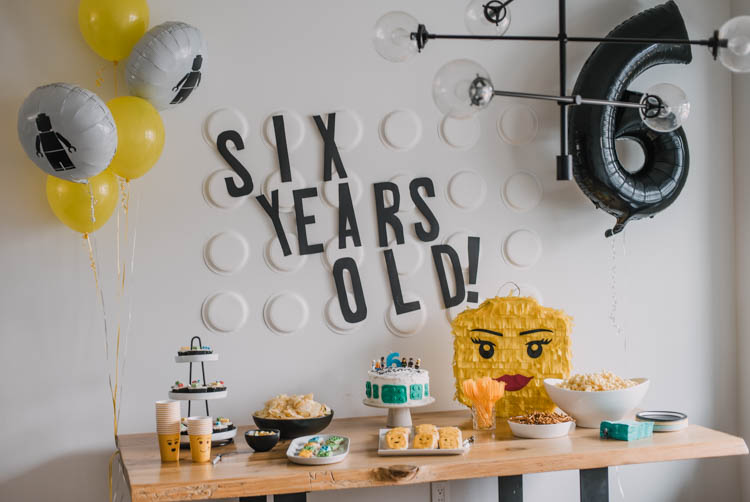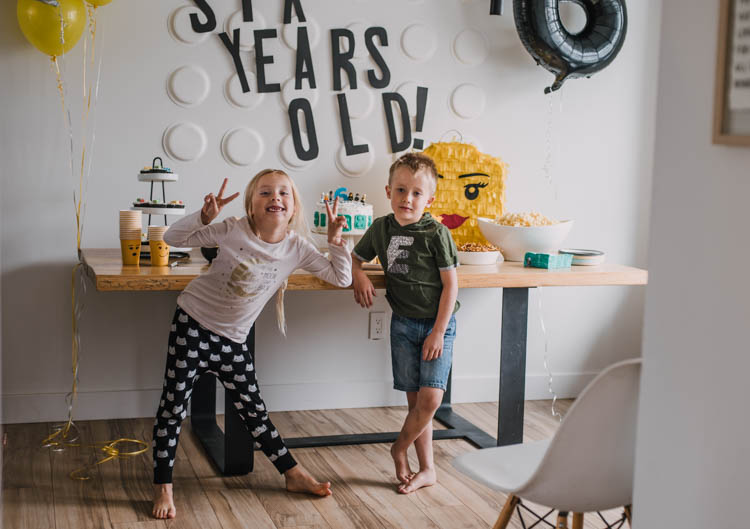 Alright… that's it! That's a lot, who am I kidding. Ha! This was actually such a fun party to put together though, my mom came over and helped me make the party treats the night before, so the day of setup was super quick and simple.
I say this every time, but it feels like I do less and less for each party. Our kids are starting to have more and more requests and specific requirements for their parties- goody bags with XYZ, pinata is necessity, balloons, NO pictures of them… So it's a good thing I'm giving myself a break with the decorating, ha!