*This post contains sponsored or affiliate links- as always, I'd never write about a product I didn't 100% love (full disclosure)*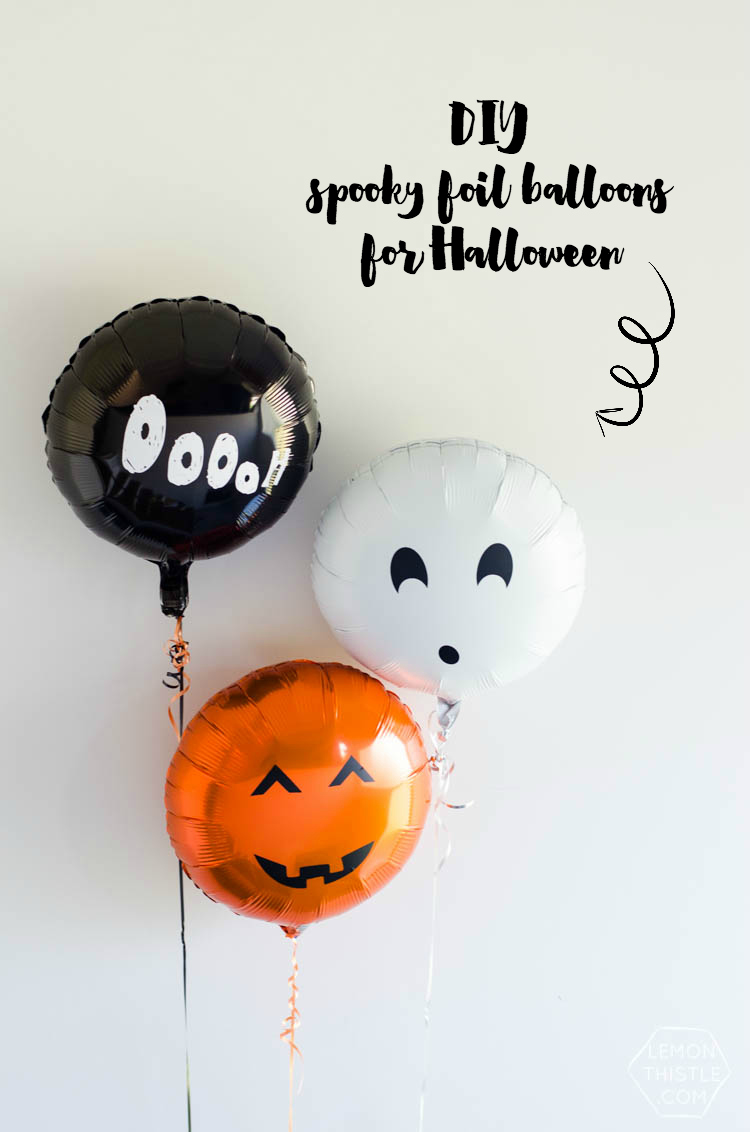 I have a confession to make. I jumped the gun a bit on Halloween decorations. I was just so excited to make these balloons when I got the idea (right after the kiddos birthday when I made their RAWR balloons). So they've lived and died and are no longer floating around for Halloween. Who does that? Halloween in September!? So in an effort to seem less crazy, I've put off publishing the post until a more reasonable time. But I'm spilling my secret anyways, so judge away ;)
These balloons are SO simple to make and I love how fun they are. They're the perfect last minute party decoration and they look like they took more time and effort than they actually do. These solid colour foil balloons are going to be my new go-to for any party I think. Especially the white one- I love that it's a flat white, so unique! I chose to make three different kinds- one with a spooky saying, one as a ghost and one as a pumpkin. My kiddos loved the pumpkin one the most. And as the balloons were dying (and floating half mast) the ghost one gave Shane and I a good scare once or twice when we got up for bottles in the middle of the night and were met face to face with it. I wish I was joking. #spooked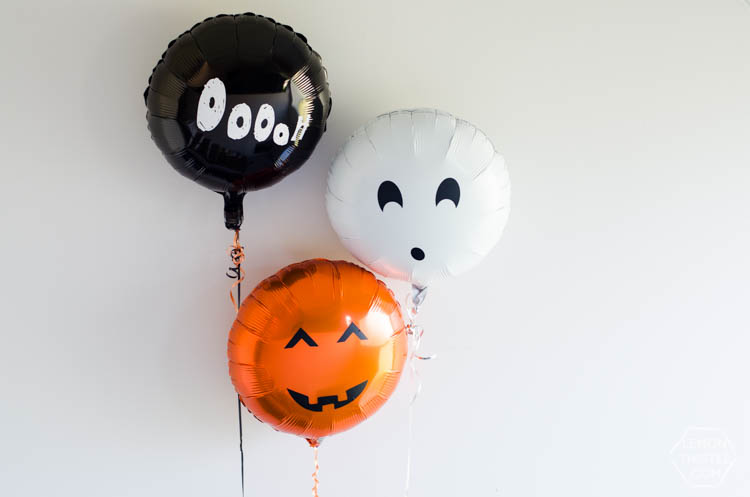 I also tested out a new method for these balloons- paper and spray adhesive. You can't even tell it's plain old printer paper! It looks just as good as the vinyl and cost just a fraction of the price.
Here's what you'll need to make your own:
Spooky designs
Solid colour foil balloons filled with helium (mine were $1 plus $1 for helium at the dollar store)
Cutting machine (I have the Cricut Explore Air™ and loooove it) or patience with a craft knife and cutting mat
Vinyl (I got this stuff from Expressions Vinyl) or paper with spray adhesive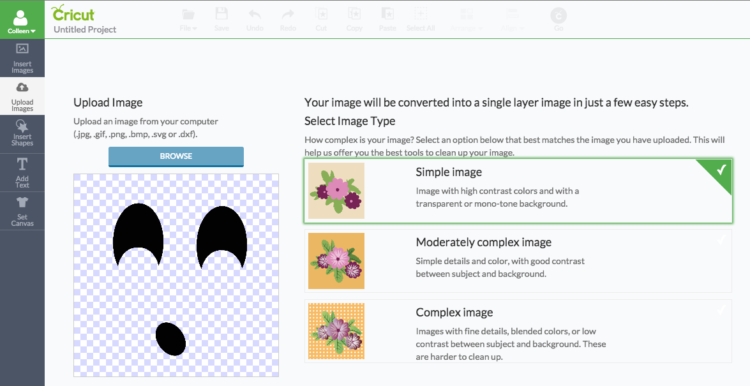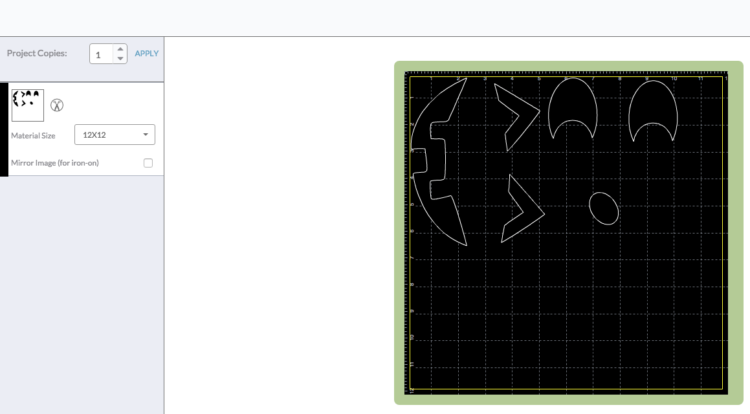 The most time consuming part of this all was choosing the designs. I used all free shapes from the Pic Monkey website. The pumpkin and OOOOH were loaded under their halloween section but the ghost I made myself. You can grab the ghost face here. I just used a transparent canvas in Pic Monkey, stretched the overlay as large as would fit and saved it as a PNG before loading it into my Cricut software. When loading your own image into Cricut, choose simple image. Stretch them out the size that you would like. Since I spread out the individual pieces on my balloons, I was able to cut them two to a 12×12 sheet (and save the bottom half of it!) as you can see above.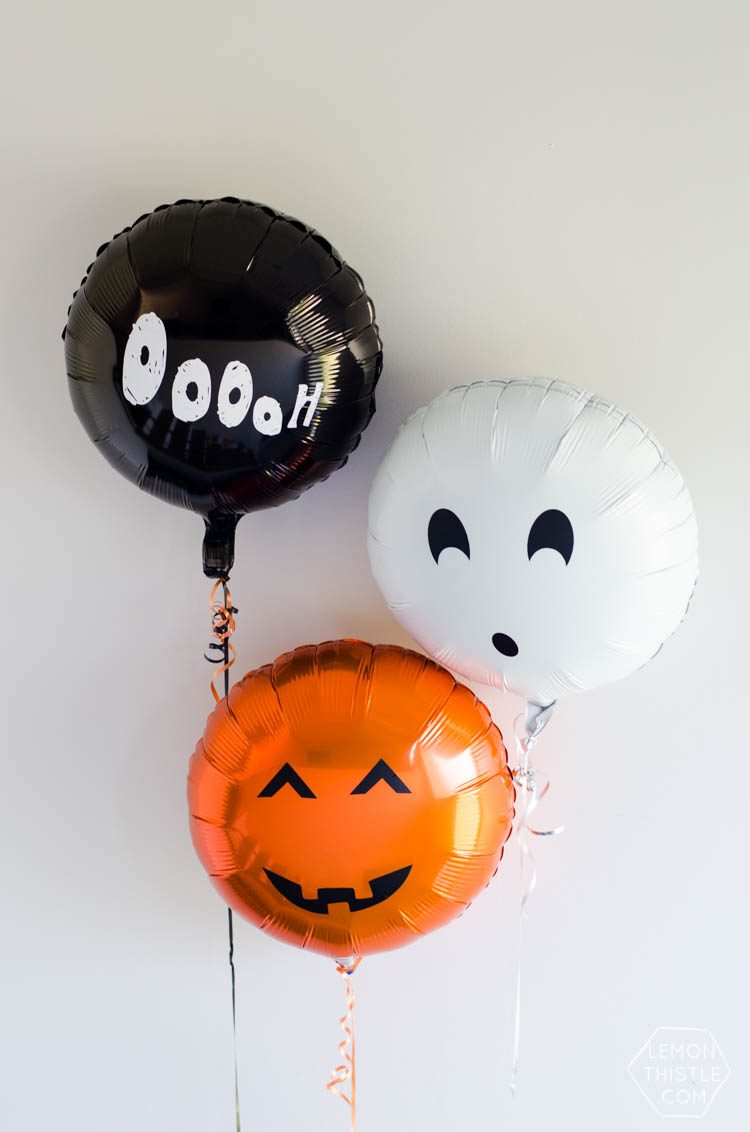 The white paper I cut the exact same way as the vinyl and just sprayed the back sides of the paper to adhere them to the balloon. Vinyl is of course peel and stick. And… well… that's it, friends! I told you it was super simple, didn't I?! We're deciding if we're going to have a Halloween shindig again this year and if we do I might have to make a few more I loved them so much! What one is your favourite? I just get such a kick out of that ghost.