Dive into this Creamy Roasted Red Pepper Soup! With the delicious flavours of roasted red peppers, tomatoes, and made creamy with cashews, this soup is the ultimate cold weather lunch or dinner!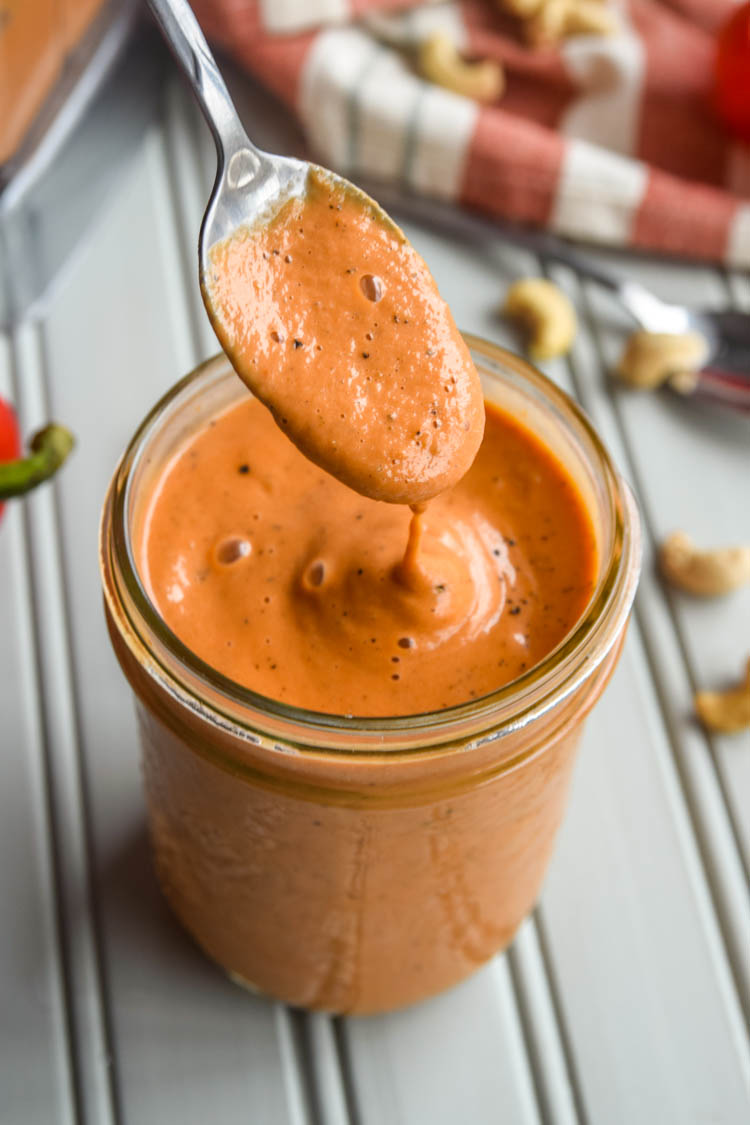 Hi everyone! I'm super excited to be back this month, (along with the cold weather) to be bringing you a warm recipe that is sure to bring comfort with the winter months ahead – Creamy Roasted Red Pepper Soup!
Firstly, when did like the end of October get here? I seriously can't handle how quickly time has been flying. Can I be that girl who mentions that Christmas is just shy of being two months away? Yes, I said the C word and I totally have no shame.
If you've checked out my blog at all and have read beyond the pictures of food and recipes, you'll know I chat about my life quite a bit. It's not always exciting, as it mainly consists of my dog Millie, and me complaining about how adulting is still pretty new to me, including the fun times and challenges that come with being a new home owner. Lately, I've been uber stressing over decorating my house. I spend hours on Pinterest, Etsy, and window shopping at HomeSense and Marshalls for ALL OF THE THINGS – (as well as allllll the DIYs that Colleen whips up. HI, I WANT.) That I totally can't afford might I add.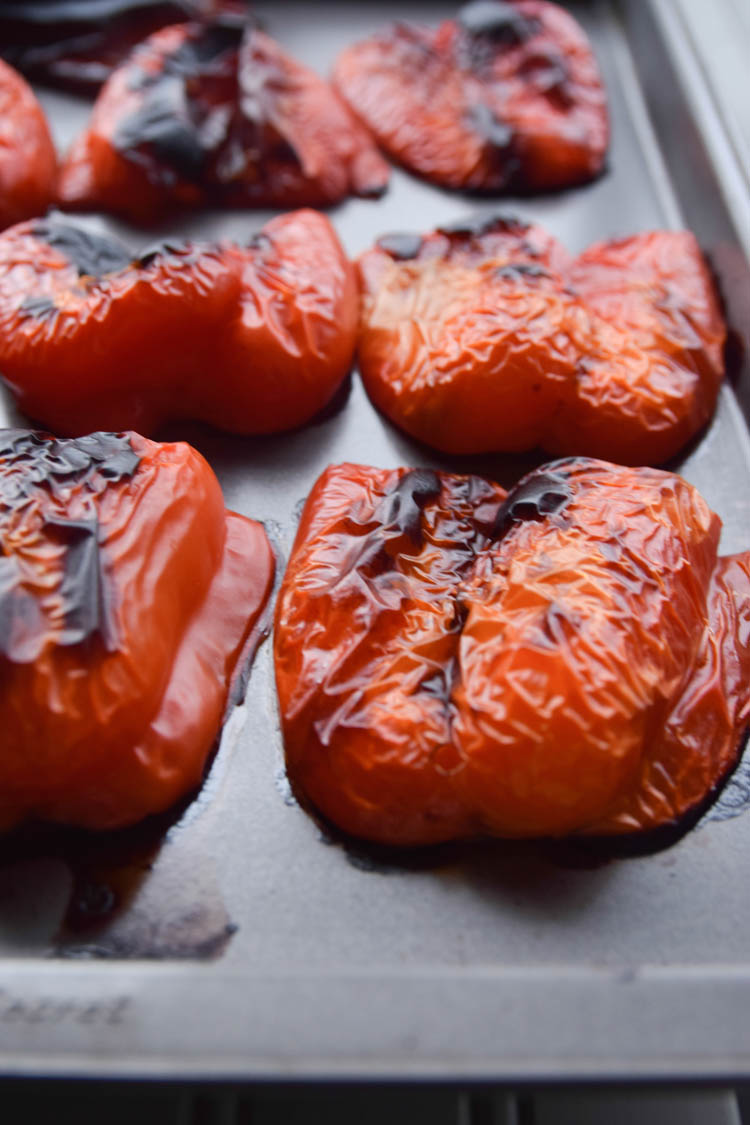 The fact that Fall is here, and Christmas is coming up,  all I want is for my house to look like Martha Stewart decorated it. So not only is my house not decorated day-to-day at the moment, I'm already stressing about my Christmas decorations!
I try and tell myself that my house will come together in due time, and that it's probably a better idea to wait it out instead of buying all of the things. I don't remember where I read it, but one piece of advice I've always tried to keep in mind is to only buy something if I absolutely LOVE it. Which is what I have been doing, slowly but surely.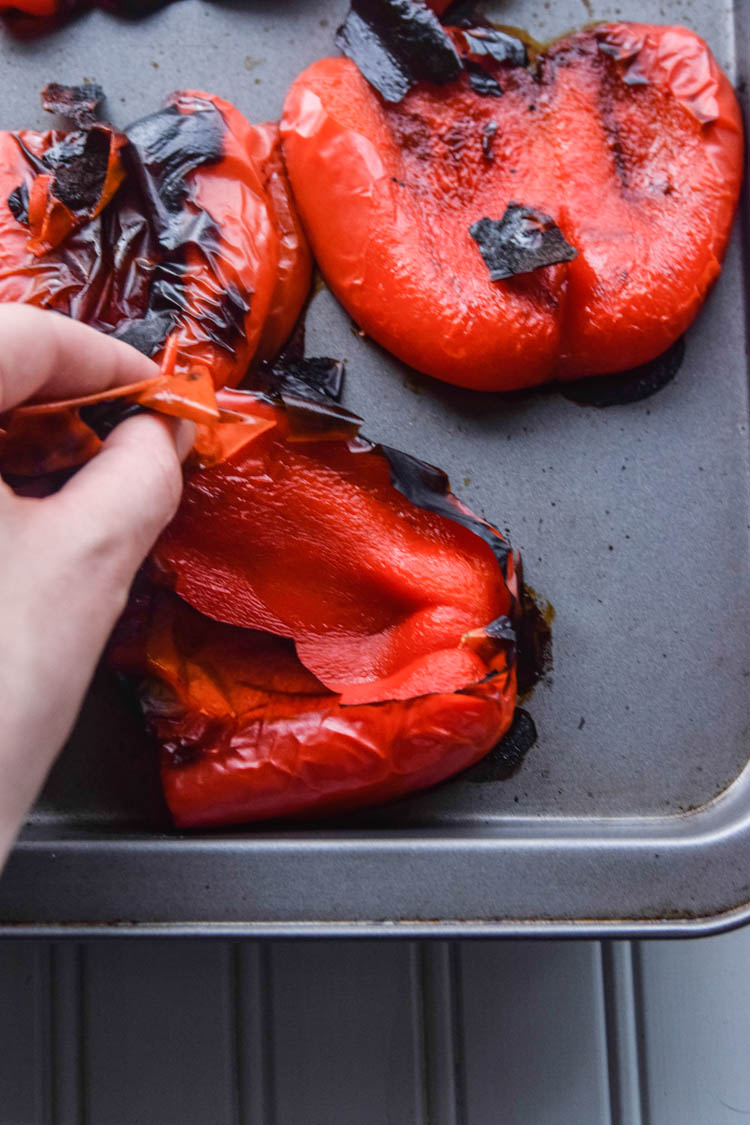 One thing that I definitely don't lack however is food, in my kitchen, at all times. I probably would be able to invest a little more into my home decor if I didn't spend so much on groceries weekly. These last few weeks, my fridge has been loaded with mason jars upon mason jars of SOUP, and today, I'm super excited to share this Creamy Roasted Red Pepper Soup with you guys!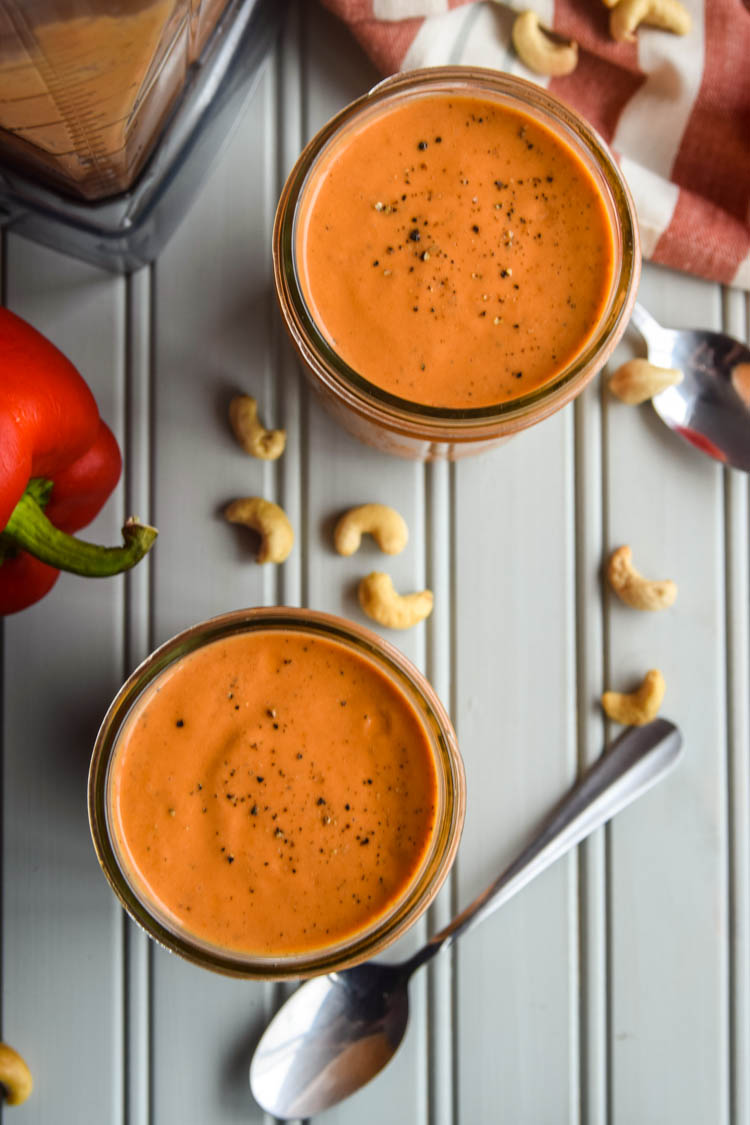 So far, this has been Alex's favourite soup recipe of mine. He's a pretty good taste tester, but I always know when something scored pretty high on his taste scale because he raves about it for days. This soup is made with roasted red peppers (duh), is super creamy and completely dairy-free! BUT HOW? The creaminess in this soup comes from – you guessed it – cashews! You may have experienced my obsession with replacing cashews for the dairy in a lot of recipes if you had the chance to try out my Raw Vegan Key Lime Pie In A Jar. With just a little bit of soak time, cashews become soft and blend-able, making them a great addition to this soup.
Although roasting the peppers may seem daunting, this recipe is super easy to whip up. I love the smell of the peppers roasting, especially when the skin begins to darken, and they add such a great flavour to the soup.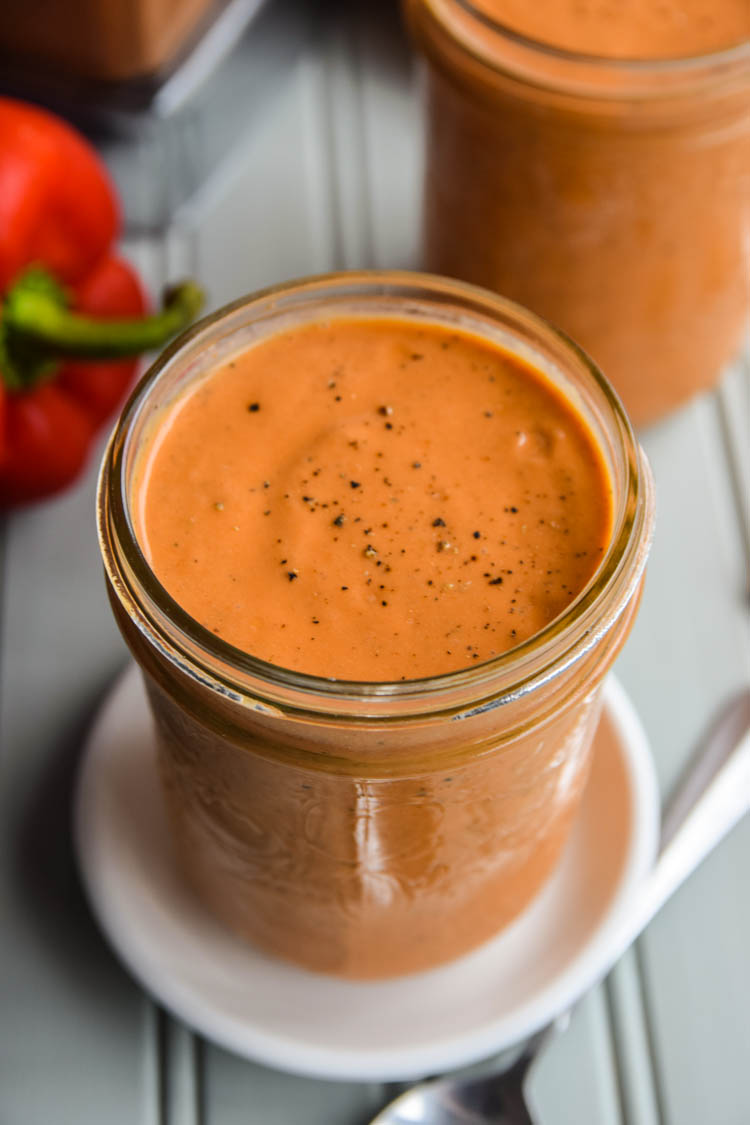 I absolutely love soup in the winter, and sometimes, broth-y soup just doesn't bring the same level of comfort that a thick creamy soup does. Feel free to get creative and top this off with croutons, dip garlic bread into it, or do both, because, comfort food!
I'd LOVE to hear if you tried out this soup! Leave a comment below, or get social with me over on Facebook, Twitter, Pinterest and/or Instagram!
Creamy Roasted Red Pepper Soup
Yields 6 Servings 
Ingredients
1 cup of cashews
6 red bell peppers
1 yellow onion – minced
4 cloves of garlic – minced
1 tablespoon of olive oil
1 teaspoon of thyme
1 1/2 teaspoon of basil
1/2 teaspoon of cumin
1 teaspoon of black pepper
1 teaspoon of salt
1 28-oz can of diced tomatoes
1 cup of vegetable stock
Instructions  
In a small bowl, cover your cashews with water. Soak overnight, or at the very least 1-2 hours. This will allow the cashews to soften.
Preheat your oven to broil on high. Slice your red peppers in half, and remove the seeds and membranes. Line a baking sheet with tin foil, and lay your peppers, skin side up on the baking sheet.
Place the peppers in the oven, and allow for them to roast until the skin begins to blacken.
Remove from the oven, and immediately wrap tin foil over the peppers. Allow for them to steam for 10 minutes. This will cause the skin to soften and be easier to remove. Remove the tin foil and set aside to cool slightly.
In a saucepan over medium heat, heat your olive oil. Add minced onion, and cook for 5 minutes until they begin to become fragrant and translucent. Add in your minced garlic and cook for another 3 minutes.
Add the vegetable stock, diced tomatoes and spices. Stir and let heat for another 10 minutes.
Meanwhile, remove the skin from your steamed peppers. It's okay if not all the skin comes off, just remove as much as you can.
In a high speed blender, combine your vegetable stock mixture, soaked cashews with the water, and roasted red peppers. Slowly bring your blender to high, and blend until smooth.
Alternatively, if you don't have a high speed blender, add your soaked cashews and roasted red peppers to the saucepan, and use an immersion blender to puree.
Feel free to re-heat mixture over the stove if it's not hot enough. Adjust spices as needed.
Store in mason jars in the fridge for up to a week.