Good Morning! I have been wanting to do a post on my inspiration for our new place, and figured room by room is the best way to do that! We have been doing the most work on our kitchen (it's a gut job friends). So at the moment I'm most excited about seeing how it turns out. Before everything that's inspiring me… here's a sneak peak from mine and Shane's Instagram as to what we've done so far. You can see the 'before' here.
UPDATE: IT'S DONE! You can check it out here.

Progress… hey?! Anyways. Onto the goods.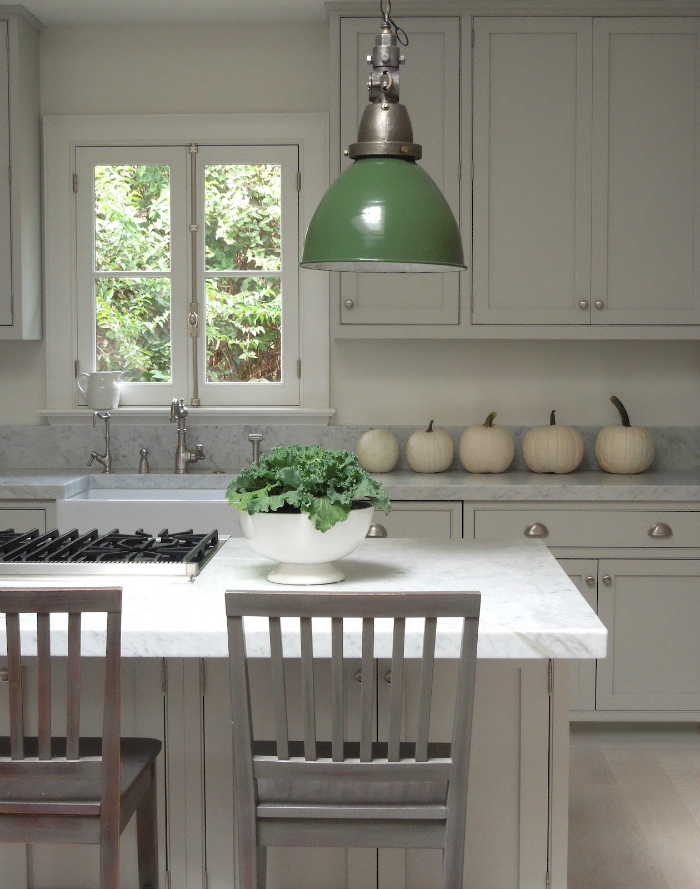 Image from Tone on Tone
I'm loving the bright and white/gray look. Our last kitchen was dark, dark, dark. I'm thinking light and bright from the floors to the ceiling. I love the industrial touches in this kitchen! That green light is stunning, and I love how pops of colour are so easy to introduce to an all white/gray palette.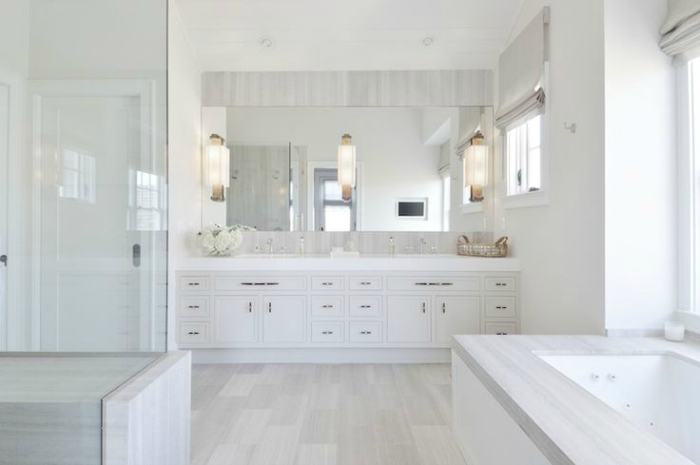 Image from Tamara Magel Interiors via Decor Pad
I know, I know- this is a bathroom. But this is the kind of light I'm loving right now. Plus, see how seamless the floor tile looks? Although that wasn't my first love (see below) the more I look at this, the more I love it.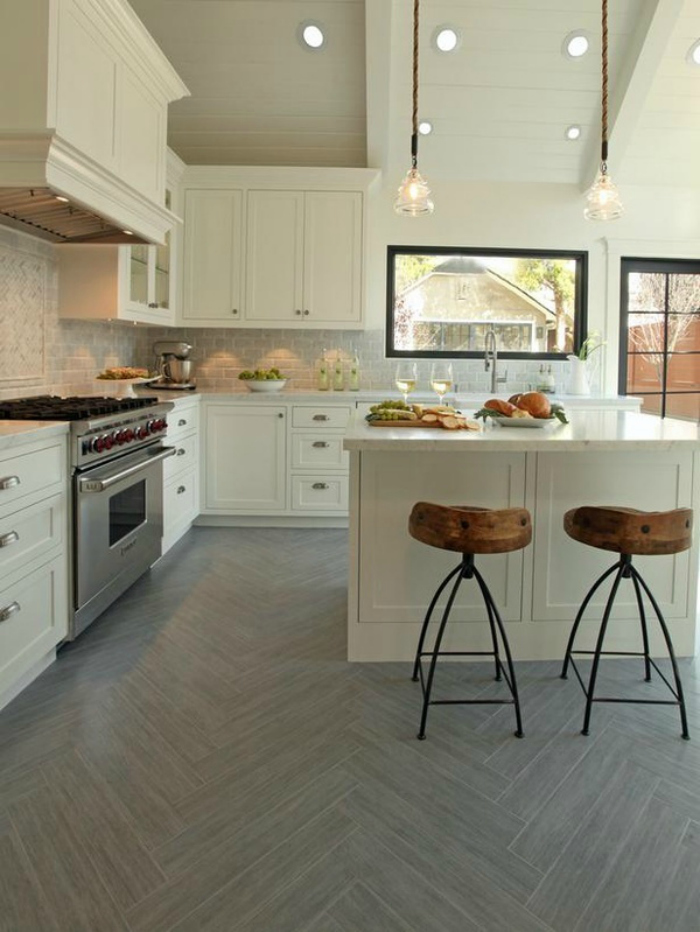 Image from HGTV via A Saltbox Interior Design
Since the palette is so neutral, we were thinking of adding texture to liven it up a bit. Originally we had thought herringbone floors like above, but decided that might be too trendy for the space (considering it transitions to 50 year old hardwood).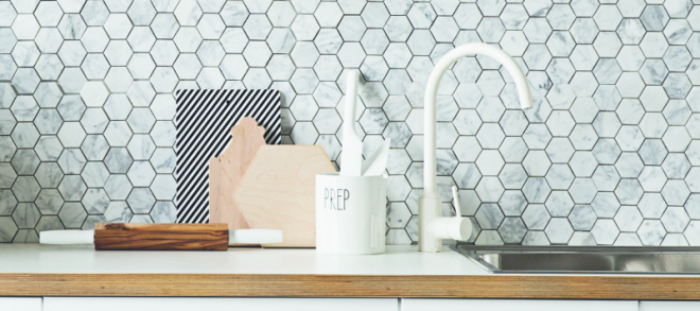 Image via Coco Lapine Design
But then I saw this beauty and fell in love with the shapes of the marble backsplash. We're pretty sold on this at the moment, but backsplash is the last thing we need to worry about right now.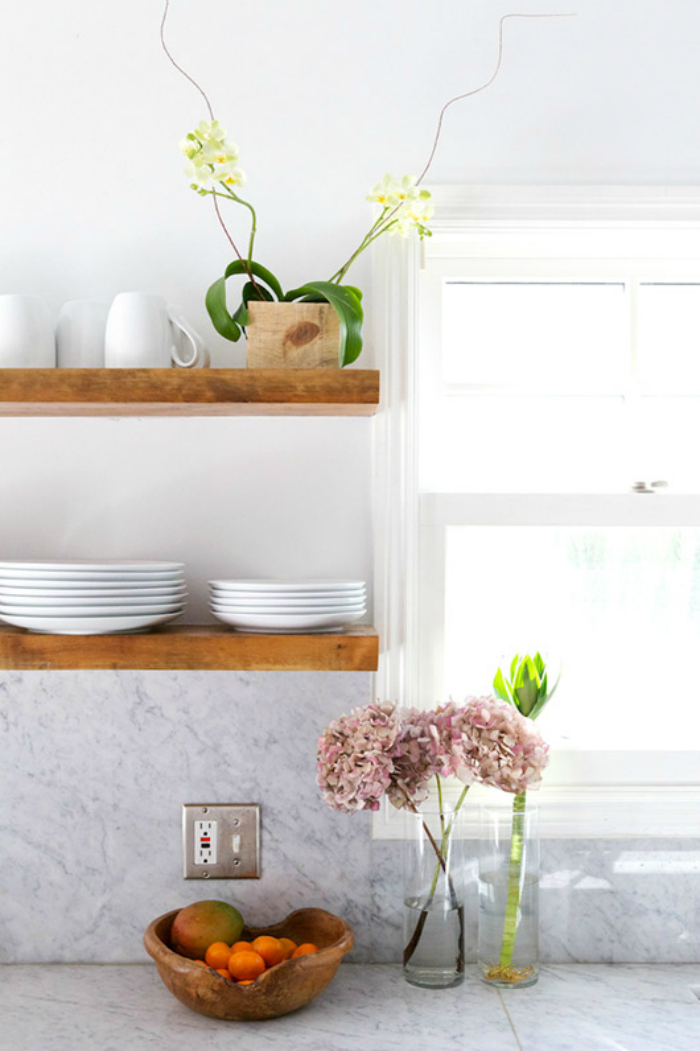 Image from Veneer Designs Via SF Girl By Bay
 Another element I'm loving? Open shelving. If I could have convinced Shane, I would have done all the uppers on the back wall as open shelving. But ultimately, he won the debate with his solid and ever-so-true 'we need more storage' platform.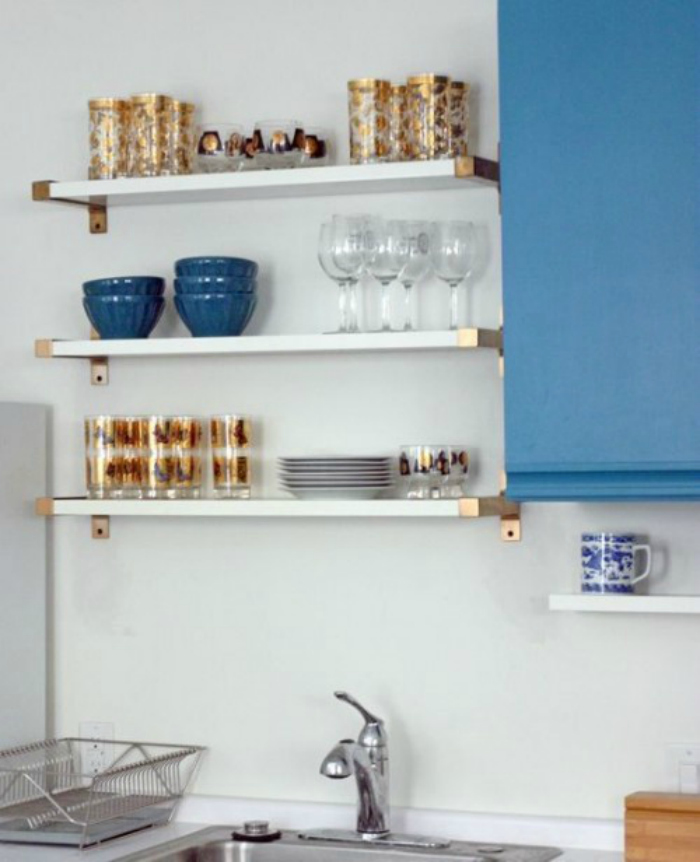 Image from Design Manifest Via The Kitchn Via Design Sponge
I bought these Ikea brackets and am amazed at how lovely they look sprayed gold. But I'm also beyond smitten with living edge shelves. I'm just not sure how to make that happen right now. Maybe I could find a way to combine the two.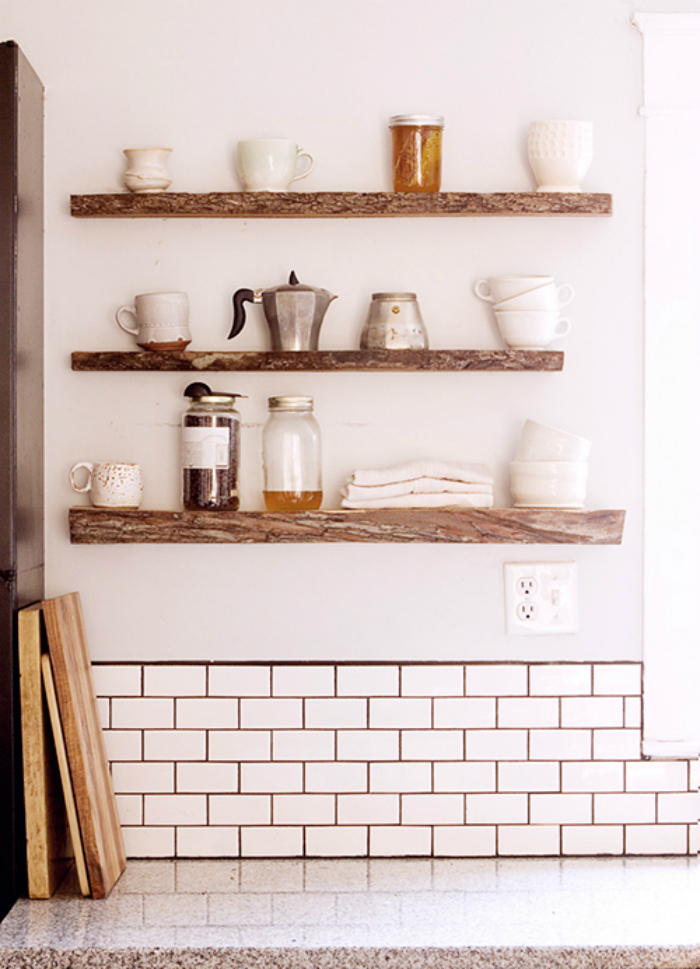 Image from Design Sponge
So that's a bit of what I'm thinking, but for more- you could check out my Pinterest Home board! What kitchens are you drooling over right now? Any ideas for me? I'm in full brainstorm mode guys, so let me hear it :)
XO -C