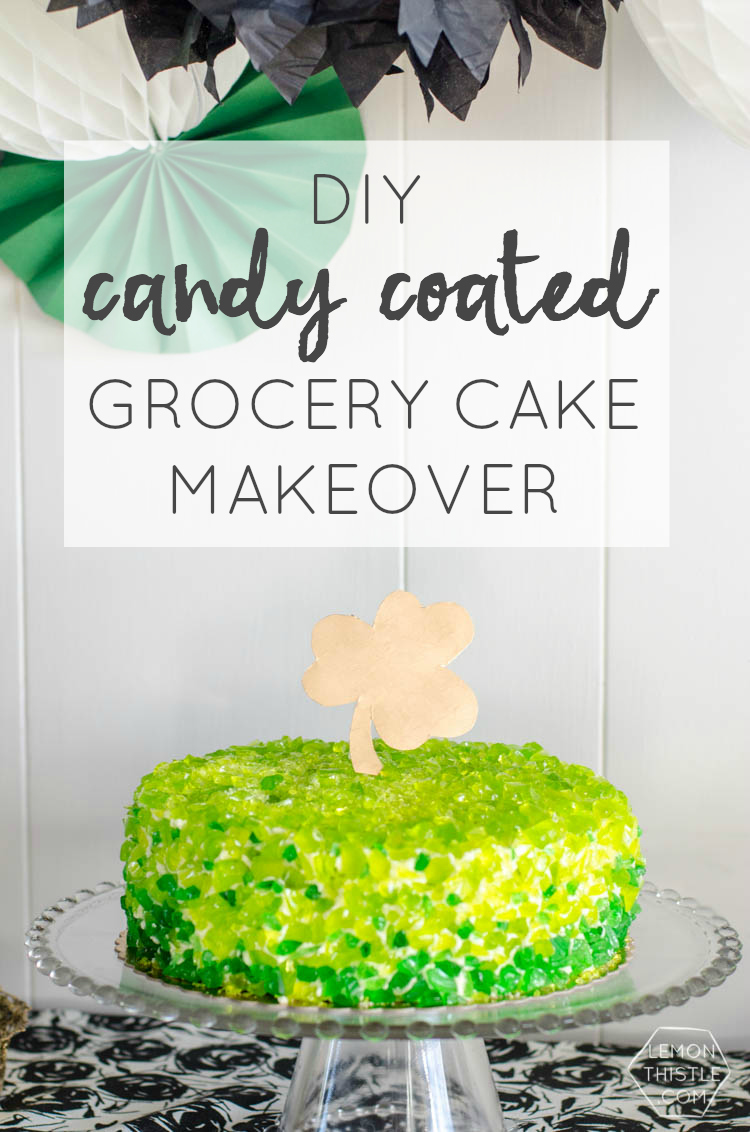 Have you been enjoying all the Saint Patrick's Day inspiration this week? If you missed my post on Monday- This week I've teamed up with seven of my favourite party people on the internet to bring you a DIY (but classy!) Saint Patrick's Day Party. Each day this week, we'll be taking turns sharing DIYs, free printables, recipes and tutorials from this party. We hope that it will inspire you to class up your Saint Patrick's Day Party this year (the DIY way, of course!). You can find all the photos from the party as well as the links to other DIYs, recipes and printables here.  Today I'm sharing this DIY Candy Coated Cake Makeover (from a grocery store cake!).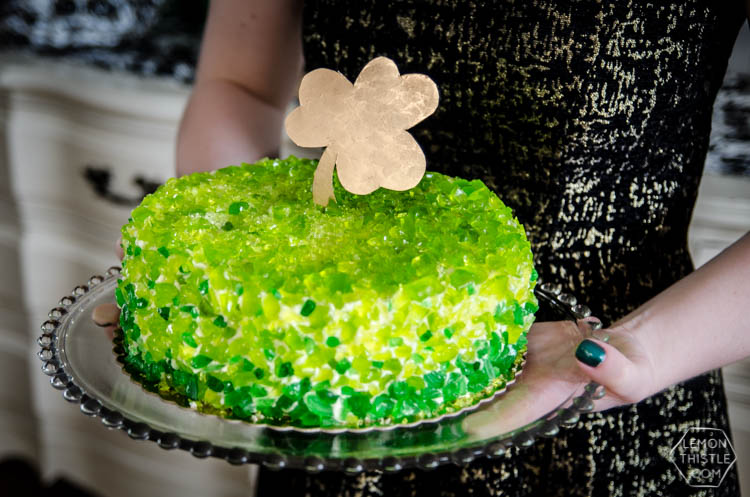 If you were around last October, I posted my first Grocery Store Cake Makeover and spilled my secret that sometimes- I skip the baking and just make it look pretty. Last time, I made a naked cake out of my grocery store cake- today I'm covering it up… with candy! I had spotted a couple rock candy cakes for weddings on Pinterest (I live there, by the way… you should join me!) and thought that the concept would look awesome but with the candy all over… and not on a four tiered cake, because other than at a wedding- no one needs that much cake. My hubby thought I was a bit crazy to try a candy coated cake- but man, I'm so thrilled with how it looks! My only regret is not getting vanilla cake. Apple candy and carrot cake were not a good idea to mix together. But I like carrot cake so I thought I was being smart.
Here's what you'll need to make your own:
For the Cake:
One grocery store cake (not carrot!)
Metal Spatula
Hard Candies
Ziploc Baggy
Meat Mallet, hammer, or rolling pin
For the topper:
Card Stock & Scissors
Clear spray paint or gold
Liquid Gold Leaf & Paint Brush
Tooth Pick & Tape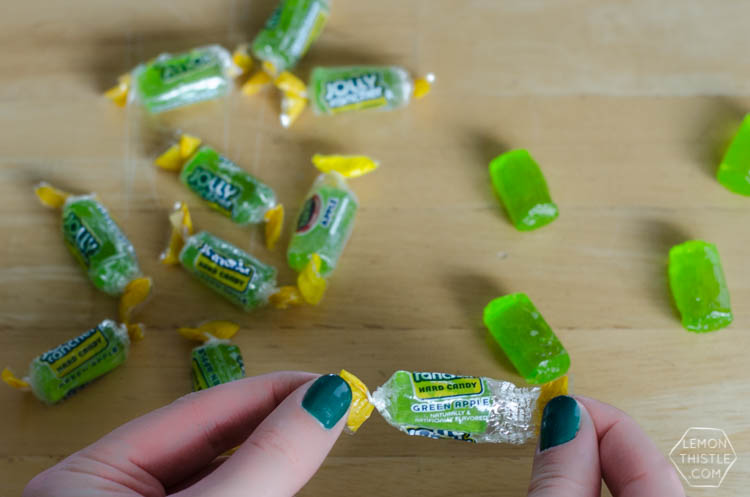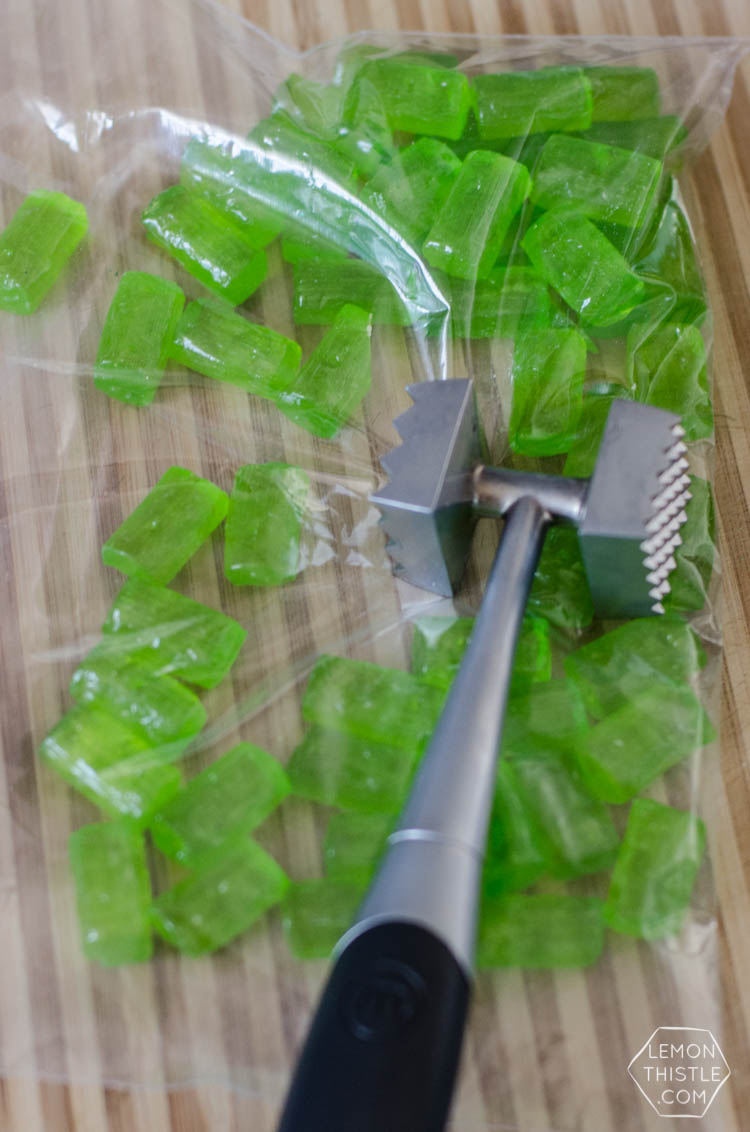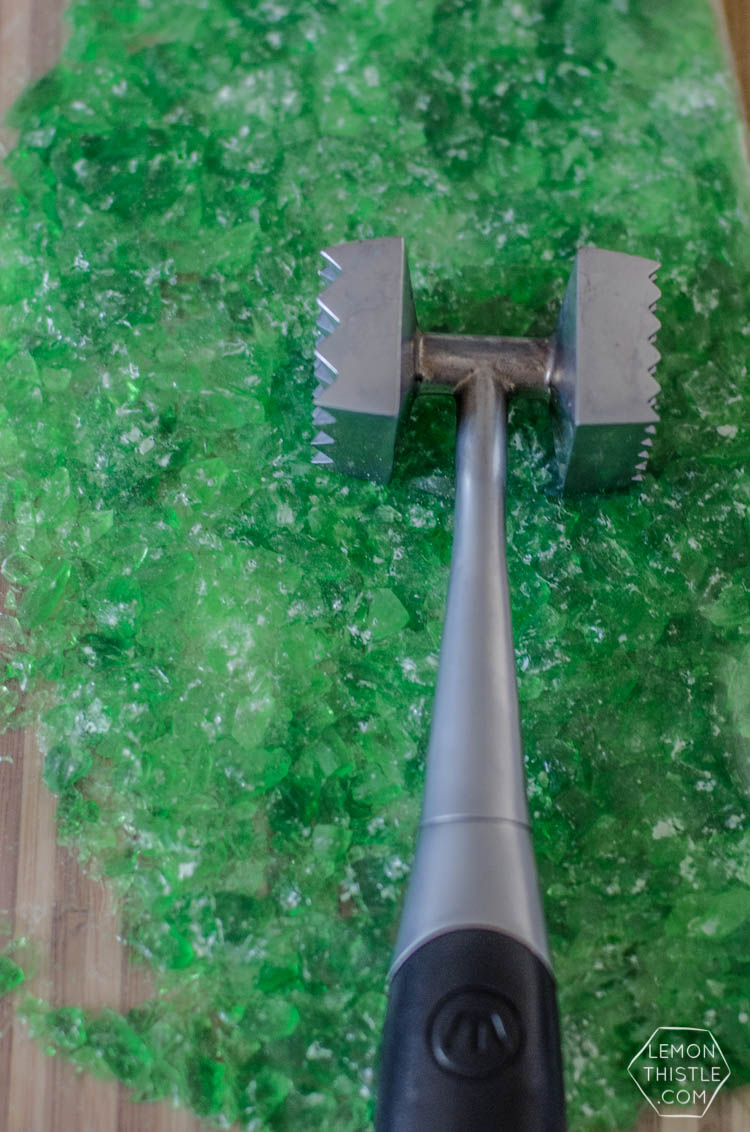 Let's start with our cake, shall we? Start by preparing your candy… think candy crush, but not the Facebook game. Unwrap your candy (I used jolly ranchers and suckers) and place it in a large ziploc bag. Set that bag on top of a hard surface (I used a cutting board) and start smashing! Be careful to break the candy pieces into chunks, not into tiny shards/powder.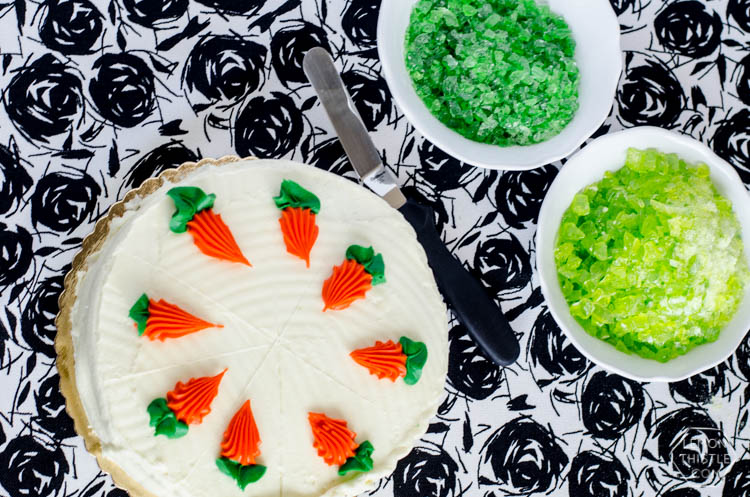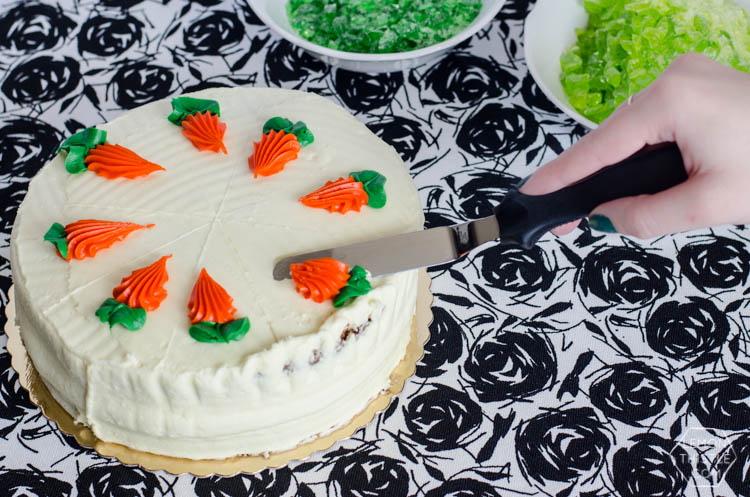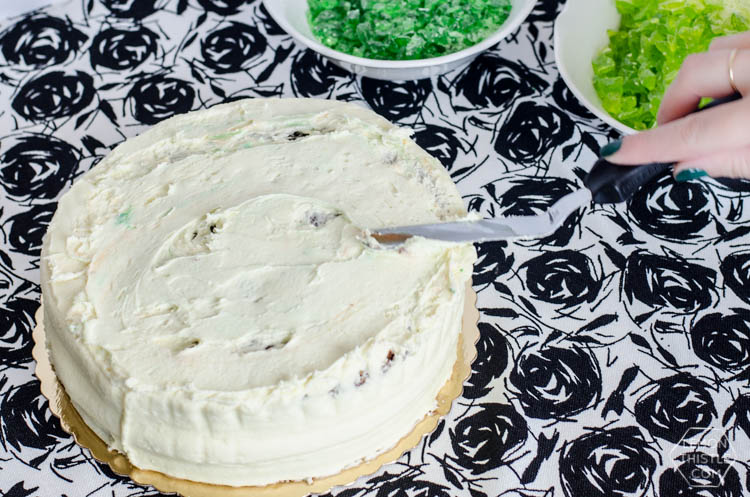 Now, prepare your cake by scraping any decorative icing off of it. You'll need enough icing for the candy to stick to still. If you head to the grocery store when their bakery is open, you can ask for one with just the crumb coat (that's the plain white icing), they'll look at you funny, but they'll do it. If you head there after hours though (like me), you'll have to pick one off the shelf. When you've taken off the decorative bits, you'll want to muss up the rest of the icing. The outer layer of the icing hardens a tiny bit, by using your spatula to work it, you'll get it all sticky again.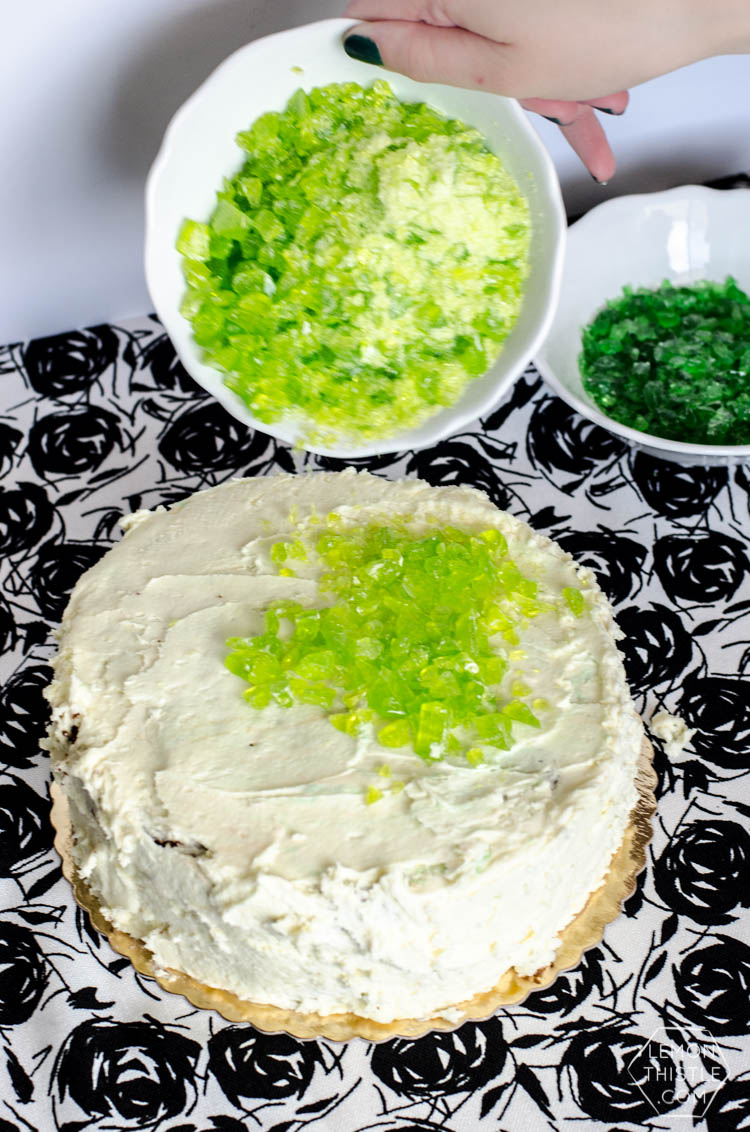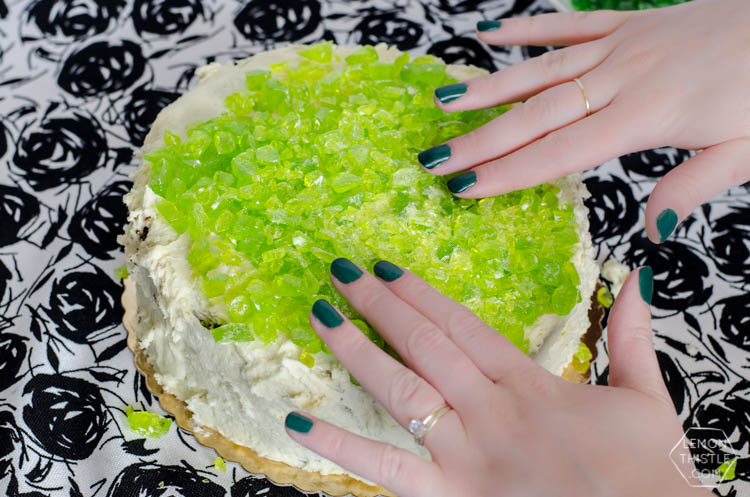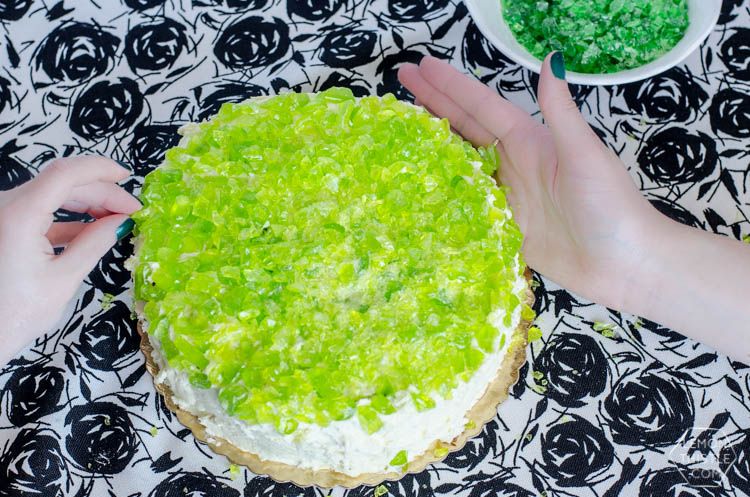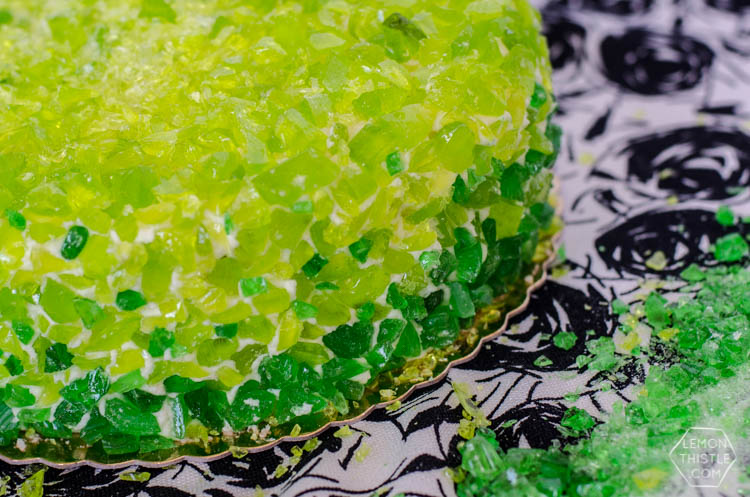 Now it's time for the fun! Well, the candy smashing was fun too- but this part is like kindergarten art. Start sprinkling your candy over the top of your cake, gently pressing it in with your fingers. When the top of your cake is covered, start working on the sides by taking handfuls of the crushed candy and pressing it into the side. Fill in the gaps by placing individual pieces of candy. I chose to create an ombre effect along the bottom of the cake, so added a darker green candy (the suckers) around the bottom and spread a few up the sides of the cake. Keep pushing pieces in until you're happy with it… which, by the way, is the perfect activity to do while catching up on Netflix.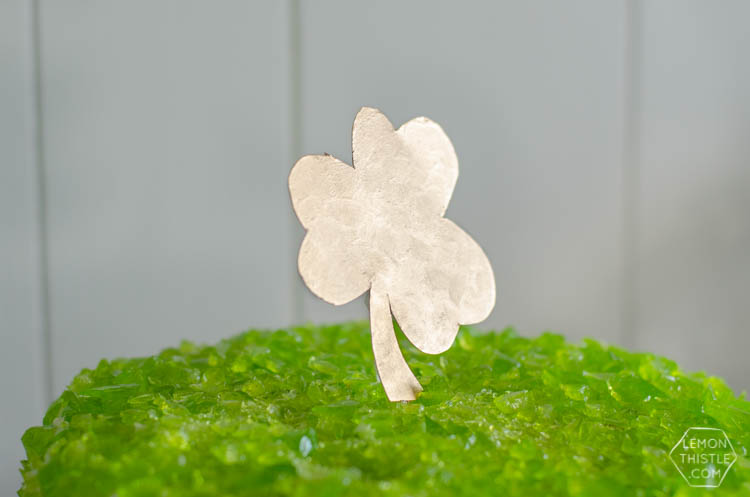 I don't have any photos of how I made the cake topper, I figured I'd direct you to my Saint Patrick's Day Prints (using the same method) post over at Today's Creative Blog for that one. Basically, you cut out a shamrock from your cardstock, then spray paint both sides. Since you're covering the whole paper in gold, you can cheat and use gold spray paint instead of the clear you'd generally use. Then, when it's dry, paint on your liquid gold leaf and let it dry. Tape your toothpick to the back and place it in your cake! It was hard to get a good photo of the topper- that gold leaf reflects like crazy, it glowed in photos!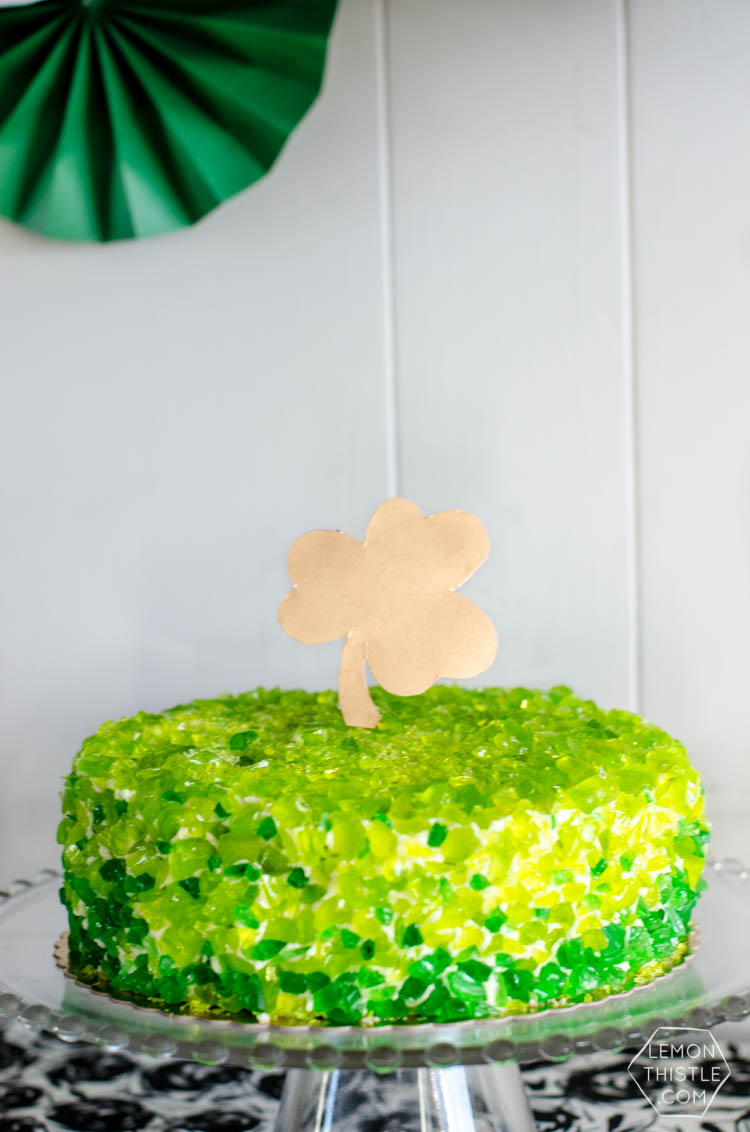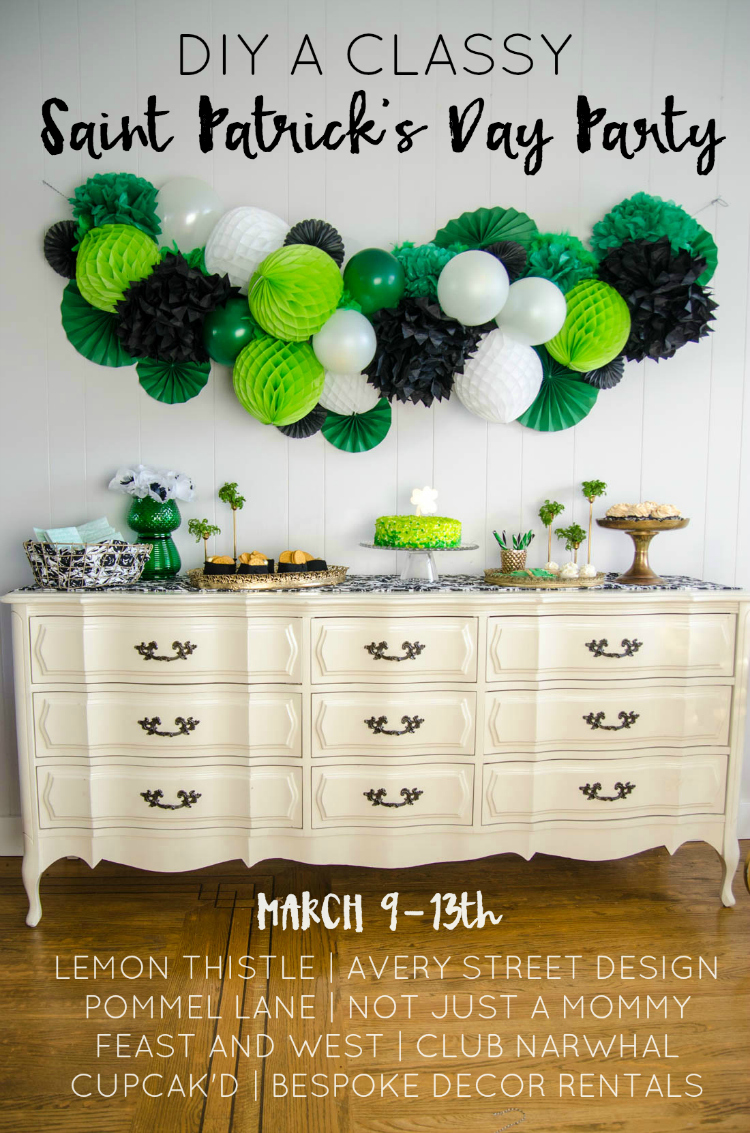 I'm so happy with how it turned out! It brings some bold colour to a dessert table! So, tell me- have you been able to check out any of the other posts in our party series? And how about cake makeovers… would you ever, or do you always make your own cakes?
 Sources: Dresses: Vero Moda | Cupcakes: Cupcak'd | Baby Guinness Irish Coffee Jell-O Shots: Feast & West | Tissue Paper Garland, Candy Coated Cake, Paint Dipped Silverware, Table Cloths, & Dresser: Lemon Thistle | Candy Bag Toppers, Napkin Transfers: Pommel Lane | Chairs, Mirrored Trays, Barcart, Decanters, Trumpet, Dice, Green Vases, Moss Placemats, Wine Glasses, Gold Cake Stand: Bespoke Decor Rentals | Felt Cauldrons with Gold Cookies, Gold Glitter Champagne Bottles: Not Just a Mommy | Paper Poppies: Avery Street Design | Shamrock Sugar Cookies: Club Narwhal | All Photography by Lemon Thistle