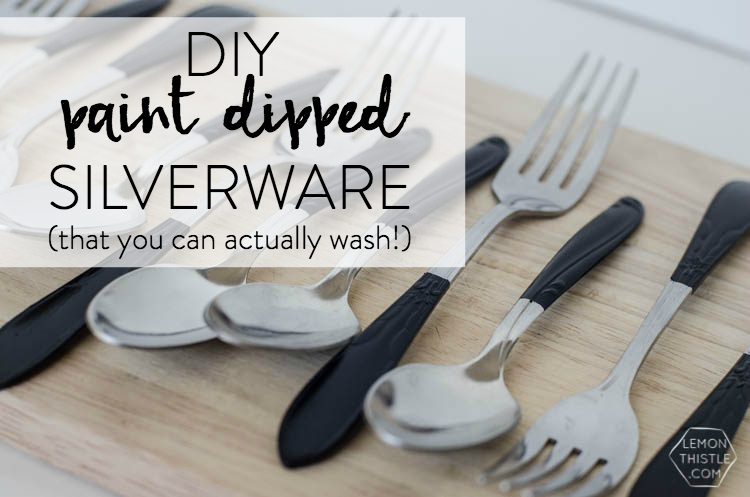 Guys! Before I start talking about this DIY, I want to thank you all so much for your massive support last week on our DIY Saint Patrick's Day Party. It was so much fun to put together for you, and I'm still pretty giddy at how awesome it turned out. I definitely want to do another DIY party in the future- so if you have any ideas or requests, please let me know! If you missed any of the fun, you can check out the whole party along with links to the DIYs from the party right here. You may have noticed the fun silverware we used for the party. Today I wanted to share how to DIY your own paint dipped silverware!
If you remember, a while back I shared how to paint disposable silverware with bright colours to match your party. I have actually washed up and held onto those because I love them so much. This concept is pretty much the same- but on real silverware. My Grandma gave me a bag of cutlery she had used in her camping trailer. I couldn't resist trying the process out on something that wasn't plastic and I'm so happy I did! We have washed these babies a few times and other than a few knicks and scratches (our kids use these things, y'know), they are holding up SO WELL.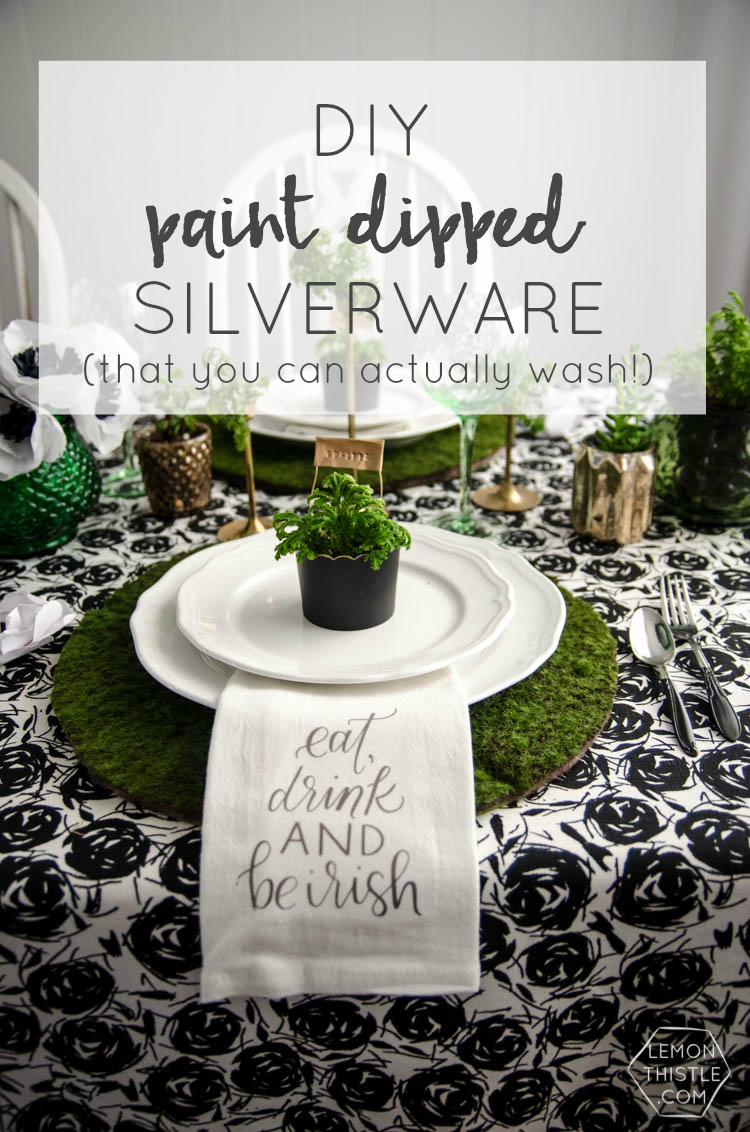 See… look how cute they look on the table there! Anyways, the reason they're okay to wash is because of the type of paint. Multi-surface craft paint (the kind you would use on ceramics) is supposed to be dishwasher safe on ceramics after 21 days. I haven't put these in the dishwasher because they're not ceramic, they're metal… but if you were willing to re-paint them should it not work, go right ahead and try that out (and tell us how it worked!). The hardest part was letting these sit without touching them for 21 days. UGH, I'm not a very patient crafter.
Here's What You'll Need to Make Your Own:
Multi-Surface Craft Paint
Painters Tape
Paint Brush
Silverware
Craft Knife
Patience (JK, I'm sure you already have that)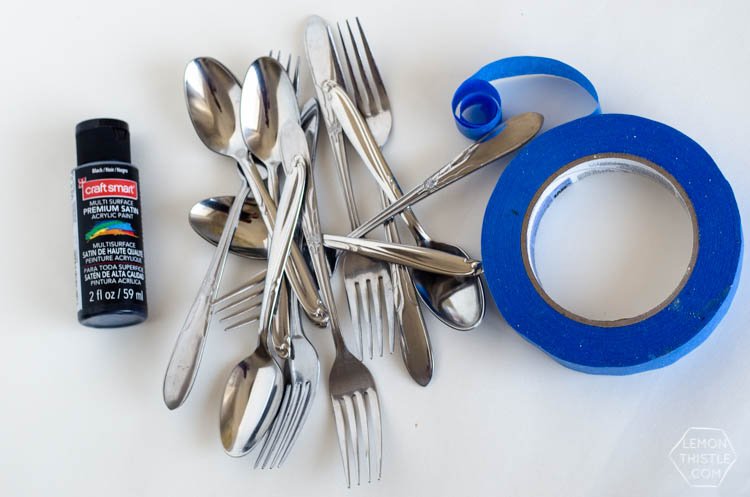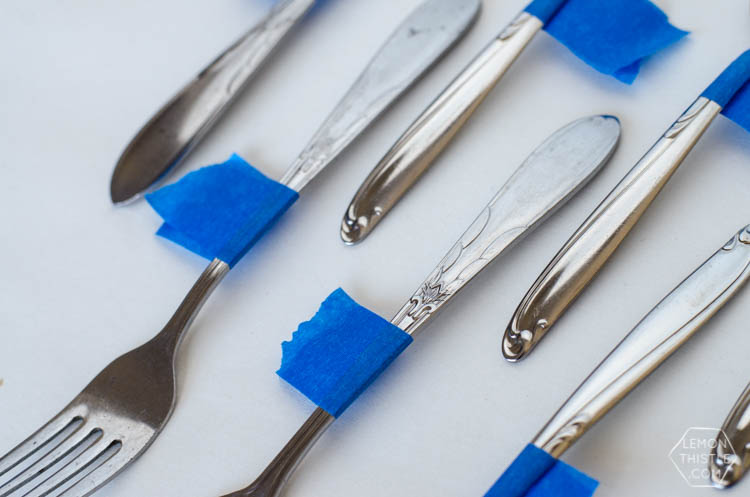 Start by cleaning your cutlery until it shines. Use a cotton swab with rubbing alcohol to prepare them for the paint, then go ahead and tape them off. Make sure to press the tape firmly into all the grooves to prevent any bleeding. I chose to tape off right below any designs on the silverware.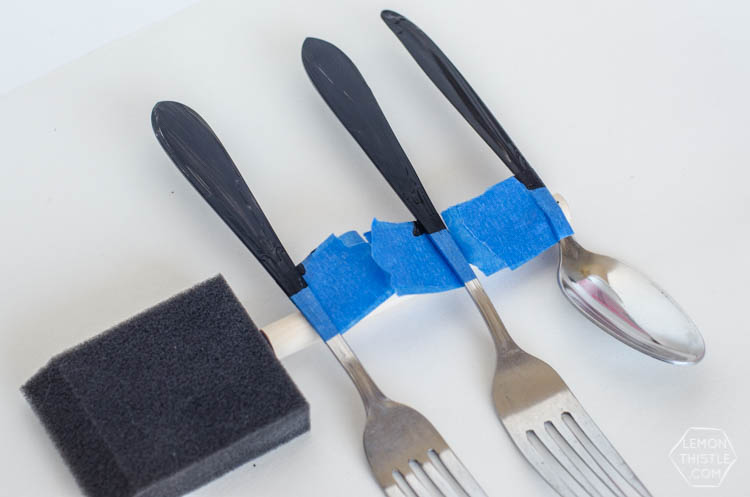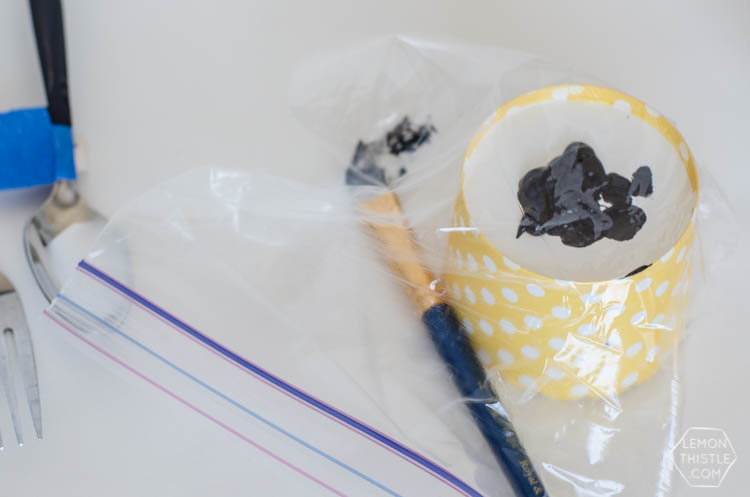 Now, it's time to paint. As with the plastic cutlery, it's best to drag your paint brush from the tape towards the rest of the painted surface, to avoid bleeding. It will take a couple coats, and again- you'll have to use your patience because trying to add a coat before the other is fully dried just makes a mess. Not that I would know from experience or anything… I used a foam paint brush (but a wooden spoon would work too) to prop the cutlery up so I could do front and back all at once. This was a huge timesaver! Oh, and I took a photo of how I save my paint between coats when I need to wait an hour or more for each coat to dry- I just seal it all up in a baggy. I'm not sure if this is standard practice, but it keeps my brush from getting hard and excess paint from being wasted (and it saves my lazy butt from washing the brush between every coat).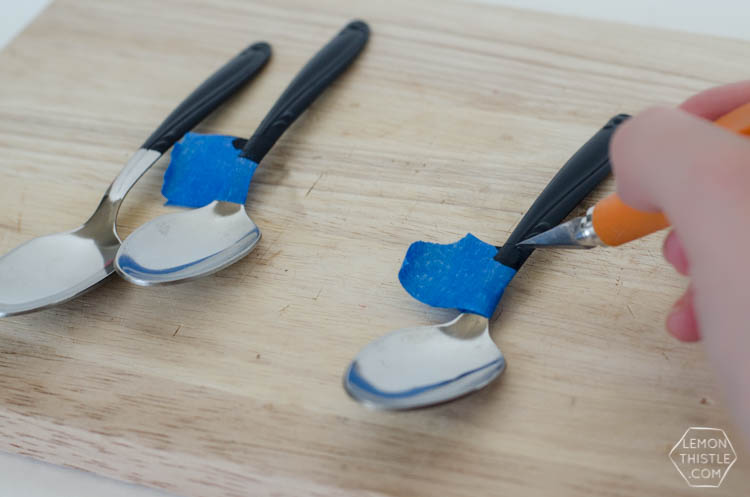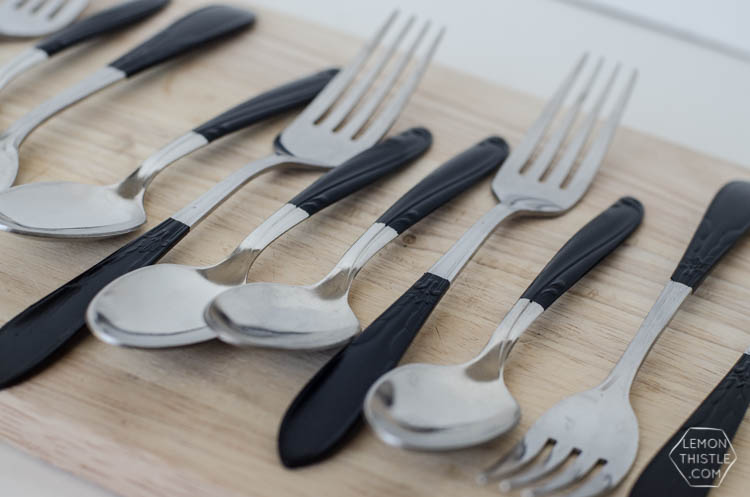 Now you're ready to take your tape off! Use your sharp craft knife to separate the tape from the painted area, this will let you pull back the tape without damaging the edges of the paint. Look at those clean lines!
Easy peasy, right? I'm so happy with them, Shane and I have put them into rotation for every day use. I have seen painted silverware done with spraypaint as well- I'm not sure how foodsafe (although I wouldn't eat off the painted ends of these either) that is, or how well it stands up under washing. But I'm very happy with this method! So, tell me- would you ever paint silverware? What colour would you choose? I love the satin finish black we chose- gloss would look lovely too though!