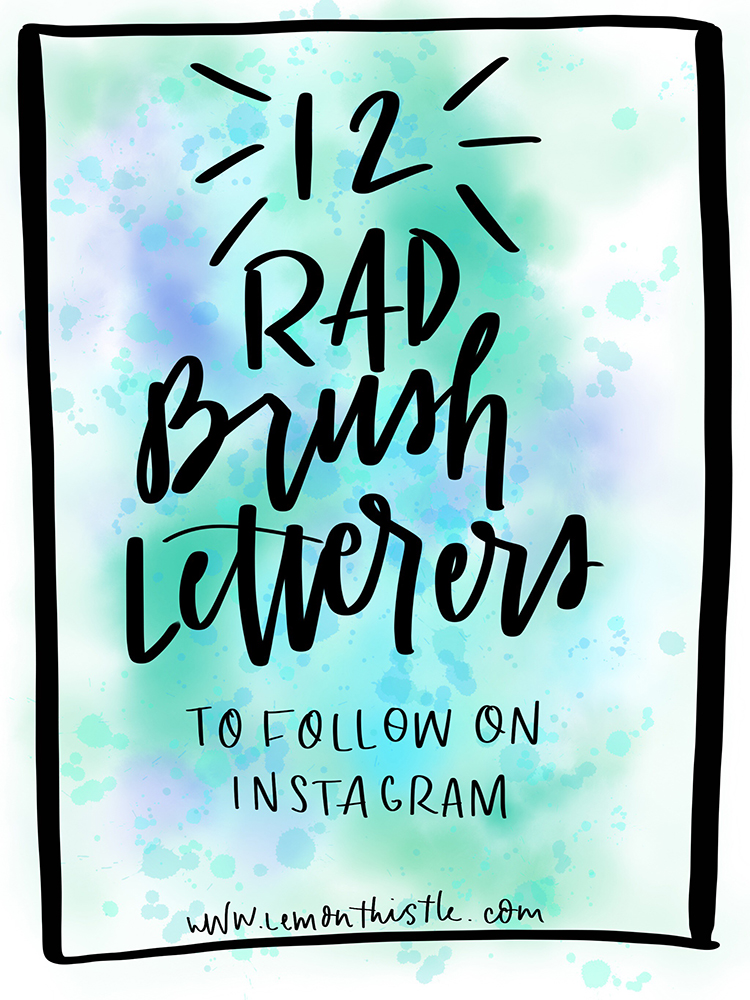 You might have noticed I share a lot of DIYs featuring hand lettering. And that's because I really love it. I love it as a hobby and I love to follow along with others who are rad at it. I thought it would be fun to share 12 of my fave Instagram accounts so you can follow along too! And if after all this, you're addicted too- you should probably know that I have a brushlettering online course so you can learn with me :)
Okay, you guys. I have SO many letterers that I follow online. And there are so many more out there I'm sure, but here's some of my top picks (both local to me and around the world). If you have any you think are totally rad that I should follow, tag me (@colleenpastoor) in their pics! I love to find new feeds. Specifically… I'd love to follow some more 'messy' (is that what it's called) modern brush letterers. Y'know, less loops- more ink spots. I love lettering like this or this– but they don't post a lot of it on Insta. 
Ha! Recognize that? If you're not already following me on Instagram, I would love to be friends over there! I share my DIY, lettering, and snippets of real life (kids and home).
Hello Tosha is one of my absolute faves. She's also one of the first letterers I ever followed and fell in love with- she also taught the only ever lettering workshop (mini! At a conference I attended) that I've been to in person. She primarily uses the Tombow Dual Brush Pen and often shares videos on Instagram. She has incredible composition and tasteful flourishing (my worst qualities!). Did I mention she's witty?
If you love to smile, Rad and Happy is your girl. Her Instagrams get me every time- she's pretty much the queen of handlettered puns. She actually does mostly hand lettering with some brush lettering (she's so talented at both). She uses Crayola markers a lot, likes Sharpie Brush markers and Tombows. She also uses Procreate (Ipad Pro) often- I JUST got my hands on one of these!
@persialou
If you're here, I'm going to go ahead and assume you love DIY as well as lettering… because I'm primarily a DIY blog ;)
My friend Alexis from Persia Lou is a DIYer with mad brush lettering skills- I love to follow along and see how she incorporates her lettering into holidays, parties, home decor, and gifts. It's creativity x1000.
Ready for someone local (BC)? Feist and Flourish has such a beautiful feed of more traditional brush lettering and has recently started the most stunning hashtag challenge to showcase lettering with florals. AAAAAH-mazing, you guys.
Dawn Nicole is another seriously wonderful human being. Her style is a bit more curly and artistic than mine with tons of sweet doodles. Her feed is full of encouragement, bright colors, humour about coffee and education on art and lettering. Her usual pen of choice seems to be the Tombow Fude. Did I mention she's a lefty?
@lindsay_letters
Lindsay Letters is the letterer I'm sure you've admired signs from on Pinterest. I'm pretty sure she has an amazing sign in half of the beautiful homes I see on Pinterest. They're usually scripture related and always stunning.
Wish Joy Letters totally inspires me with her use of colour. I usually stick to my black and maybe blue and grey but her? Every day is something new. It makes me want to get colourful, but we'll see if that happens ;) She shares lots of process videos too which I can't get enough of.
Blush Type is another more traditionally beautiful brush letterer and my favourite thing about her feed is the floral illustrations and wreaths she incorporates. She shares plenty of wedding signs on wood if that's your thang.
Brittany Luiz is incredibly talented at lettering and she's super nice to boot. She works with Tombow so you can expect to be lusting after every pen that they make watching her insta-videos!
Have you met Hannah? I met Hannah from Pommel Co. a few years ago in a social media class (online) and she has the loveliest soul and the loveliest letters. Her specialty are these stunning silhouette pieces. Aren't they incredible? She has such a unique style that mixes lettering types, brush with sans serif and other hand lettering and often does Procreate (iPad Pro) videos of her process.
You might recognize the name if you've been following Lemon Thistle for a while. She has two hand lettered printables here… these NYE napkin rings, and these Saint Pat's napkins. #score!
Last but certainly not least, my friend Deonna somewhat recently started lettering and is totally killing it! She's a lefty and often shares videos- I love her fun style!
That's my 12! Be sure to tag me on other lettering accounts you think are rad :)