*This post contains sponsored links- as always, I'd never write about a product I didn't 100% love (full disclosure)*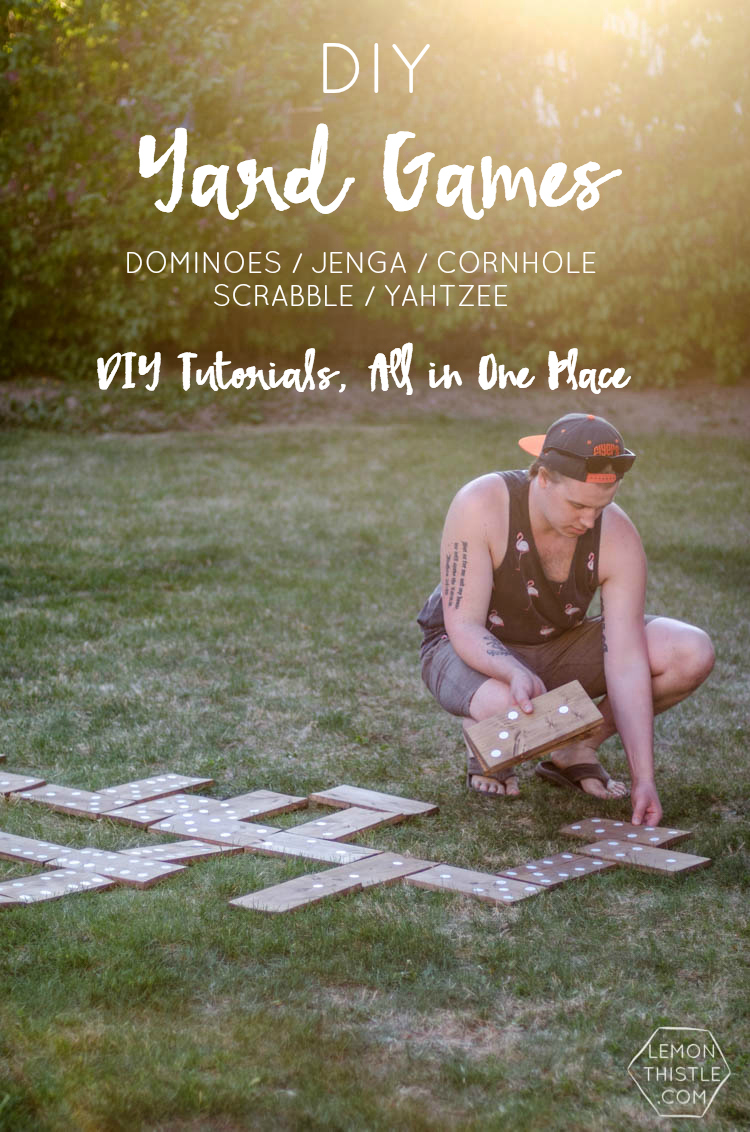 Guys! I have had a whirlwind of a week, but I'm home safe and sound from SNAP! and can't wait to implement some of the things I've learned. There's going to be some good stuff coming your way! Would you be interested in a re-cap of what I learned from my first blogging conference? Let me know in the comments or by email!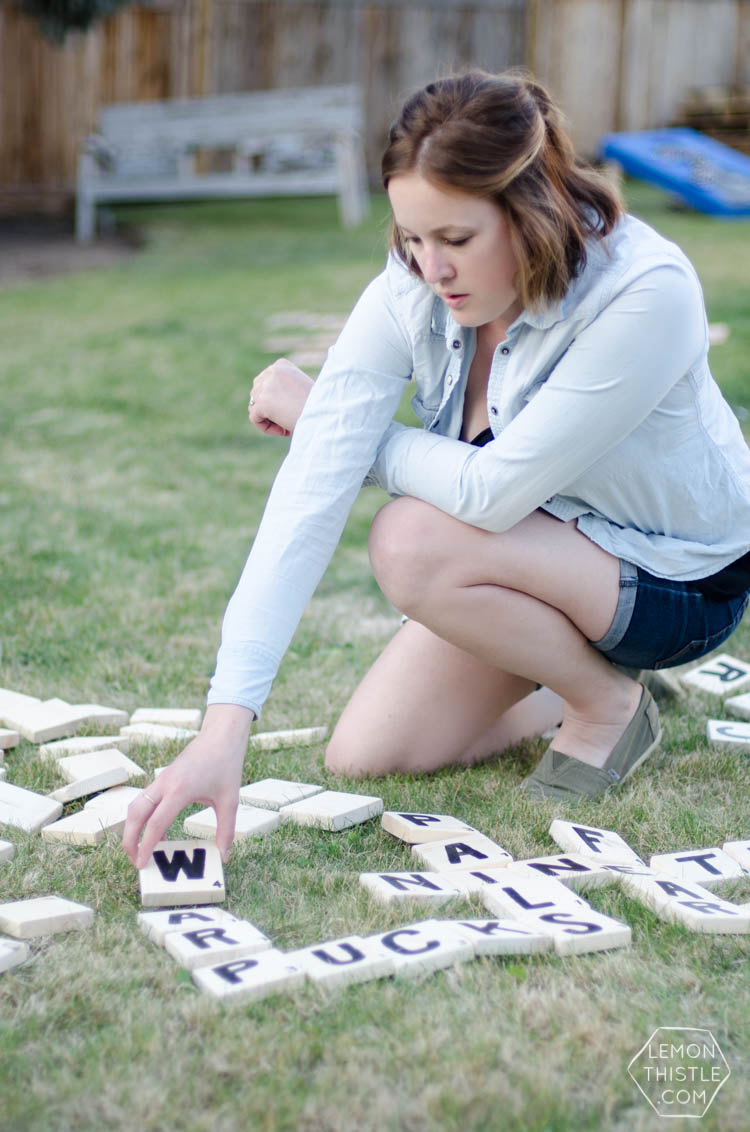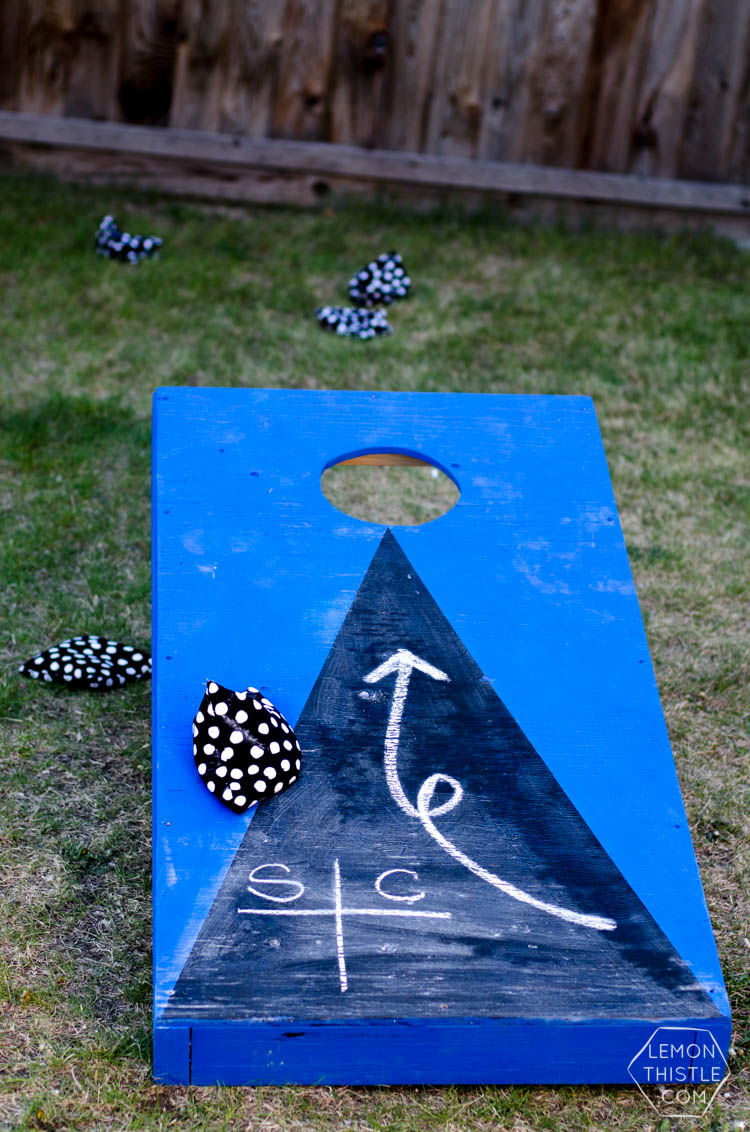 So remember last Monday when I introduced you to the first half of my new DIY Yard Games? They're amazing, and today I'm sharing the last two… Cornhole and Speed Scrabble! You can find Jenga, Yahtzee and Dominoes right here.
Speed Scrabble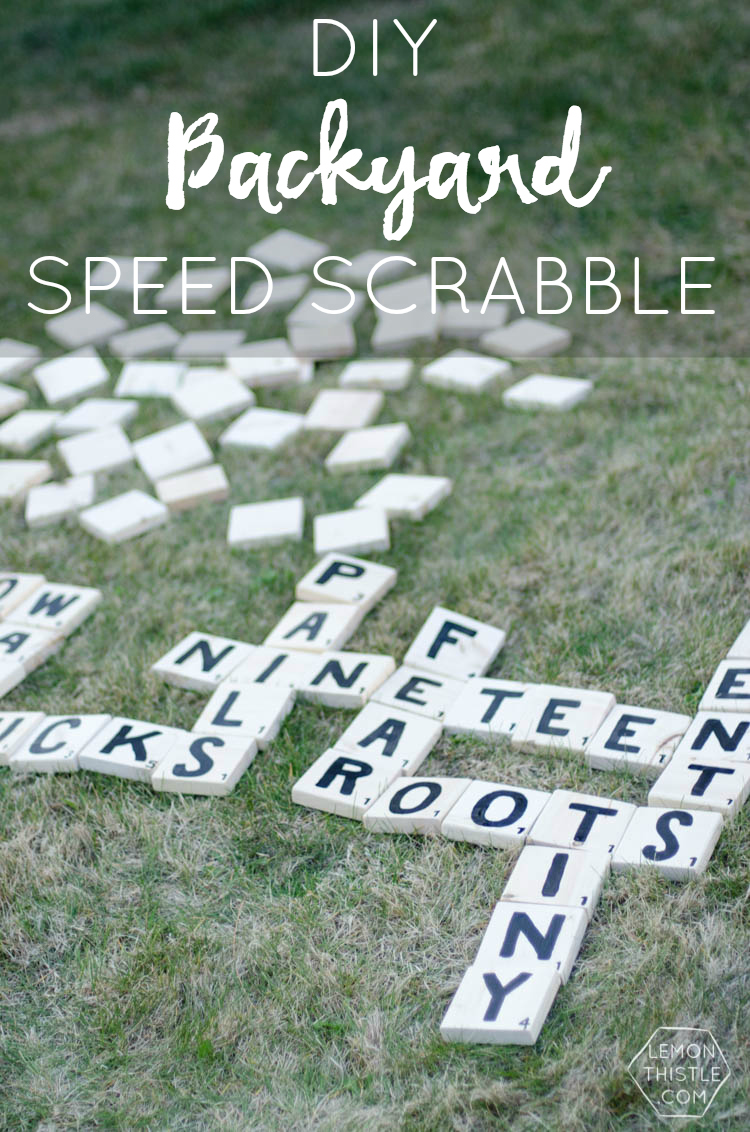 Have you ever played Speed Scrabble? It's like normal Scrabble but fast. Not a great definition? Okay, okay. It's the kind of game that is lively and keeps you on your toes… but it's still scrabble so it's mentally stimulating. I love it… but I love anything that's speedy. Speed Scrabble is a lot like Scoring Anagrams or Banana Grams. It has no board so is great for the lawn. I made standard Scrabble tiles (there's 100!). You turn all the tiles upside down and everyone draws at once. You start playing your own board as soon as you have enough letters to play. When someone uses up all their tiles they yell 'GO' and everyone has to draw one more. You can rearrange your board as needed and the last one to yell 'GO' when there is no more tiles left wins! Fun, right? I know! Here's what you'll need to make your own:
34 Feet of 1×4 Boards
Chop Saw or Miter Saw (preferably, if not- a skill saw or hand saw should work fine)
Measuring Tape and Pencil to Mark
100 or 120 Grit Sandpaper (and lots of it) and Sanding Block
Damp Cloth
Black Indoor Outdoor Paint, Small Flat Paint Brush and Smaller Round Paint Brush
Clear Spray Sealant
In Home Depot these boards are right by the 2x4s in the lumber section. Start by marking and cutting your 1×4 into 3.75″ pieces (photo example is the same as Jenga). That will give you square tiles. Traditional Scrabble's tiles aren't exactly square, but I really like the way this works out. You'll be cutting 100 pieces. When your pieces have all been cut, start sanding until they are smooth on all sides. Wipe clean with a damp cloth. If you wanted to stain your pieces, this would be the time.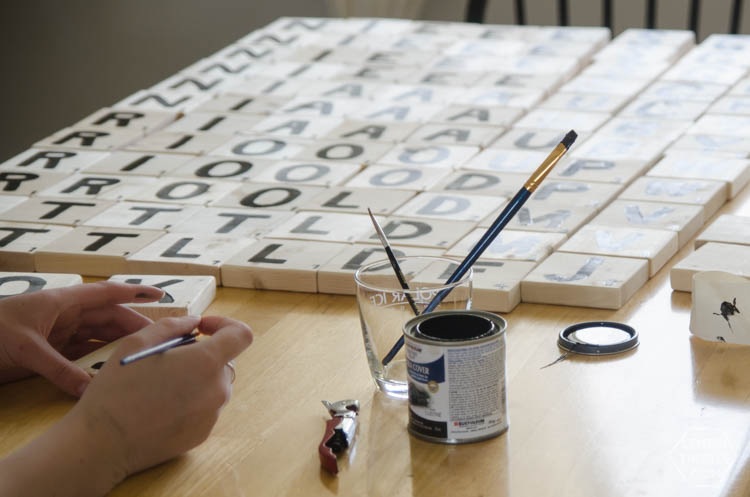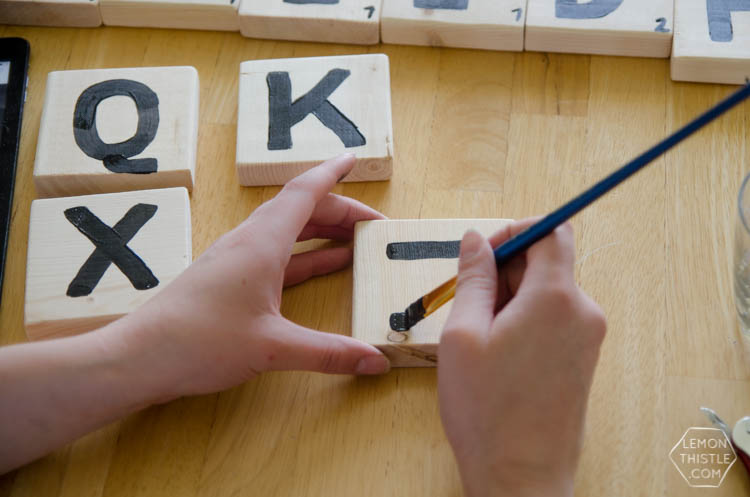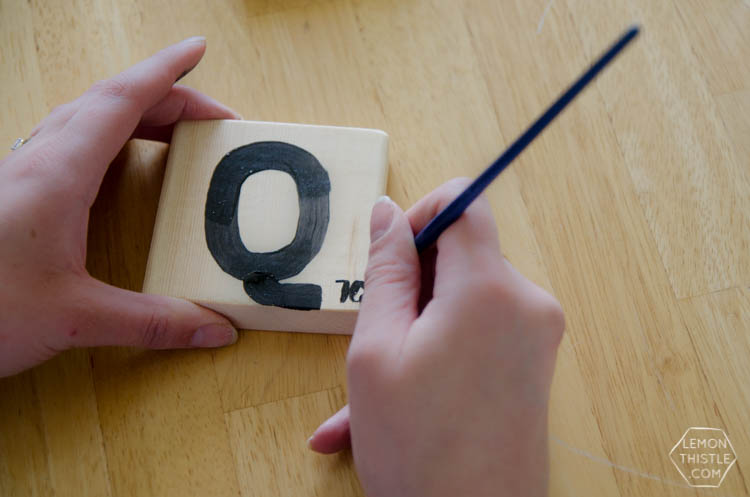 Now your blocks are ready for painting! I used this diagram to mimic the letters and the text below to keep track of which letters I had completed. I used the flat (square looking) paint brush to paint the letters. It gave a consistent width with clean lines without much effort. I used Rust-Oleum Ultra Cover in Black Gloss for this and it is great because I only had to do one coat. To paint the smaller numbers I used a small round brush (it comes to a tip at the end for greater control).
When the paint is completely dry, you can cover both sides in a clear spray sealer (like Rust-Oleum Painter's Touch Clear Satin to seal them).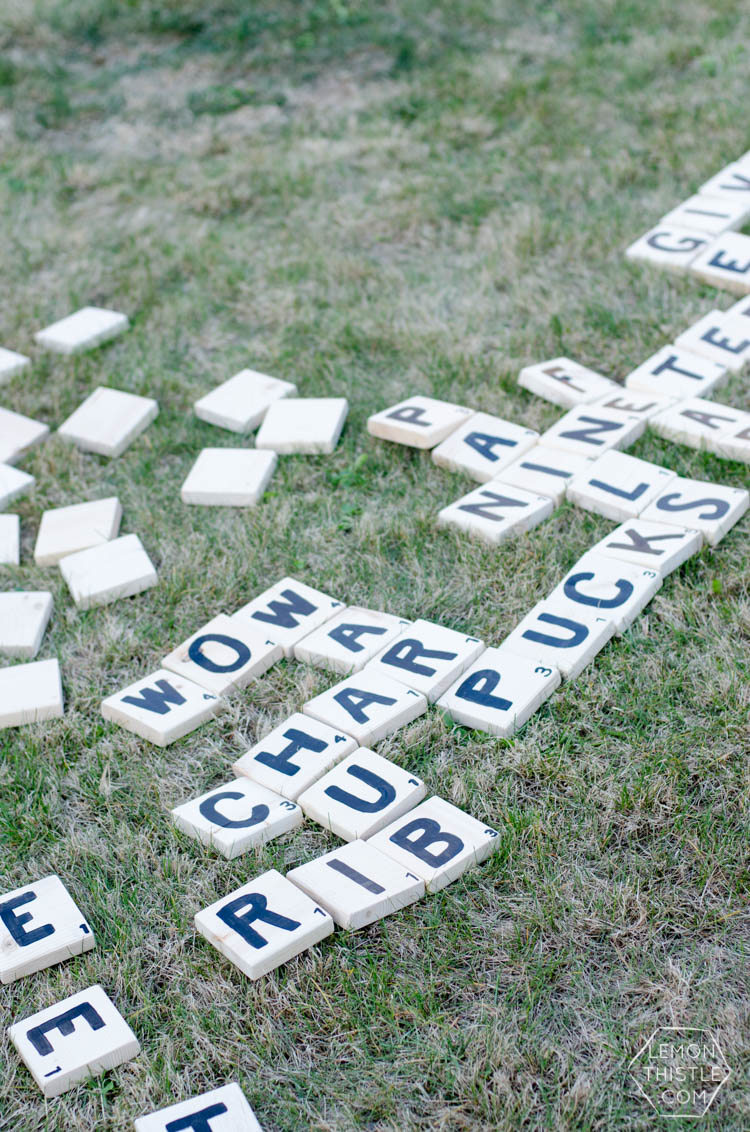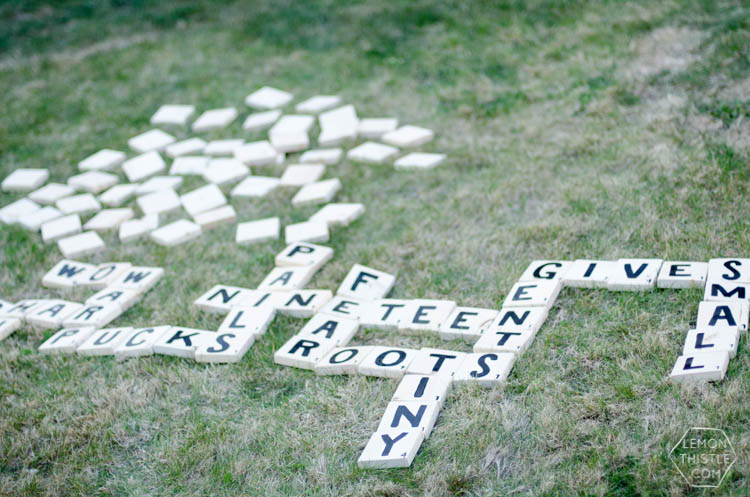 Cornhole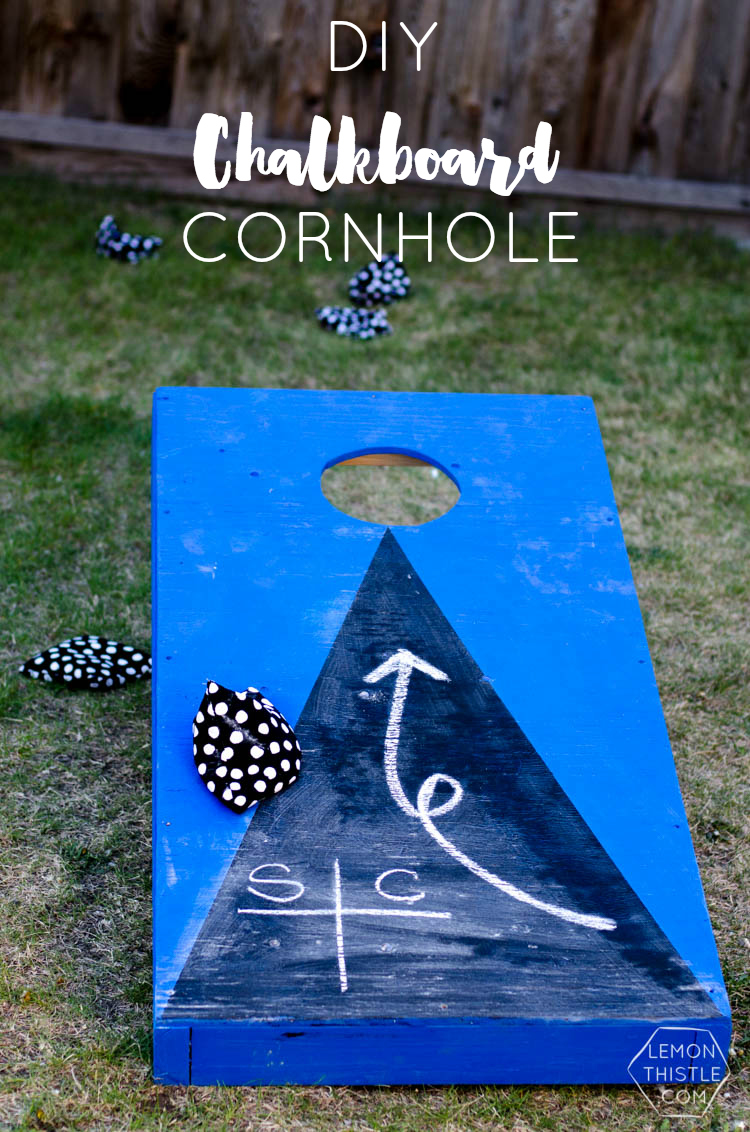 I feel like there are a thousand tutorials for Cornhole out there. Yet… my husband and most of my family at our barbecue had never heard of it! By the end of the day, a couple of them were asking if they could take it home (haha, not happening!). We added a chalkboard triangle to ours to make score keeping easy (since we're such beginners!).
Game Boards:
1 Sheet of 1/2″ Plywood (You'll need 2 pieces of 2×4 Feet)
24 Feet of 2×4 Boards
Chop Saw or Miter Saw (preferably, if not just use the skill saw)
Skill Saw
Measuring Tape and Pencil to Mark
Jigsaw
Drill with large drill bit
1 or 2″ Screws and Coordinating Drill Bit
60 grit plus 100 or 120 Grit Sandpaper (and lots of it) and Sanding Block
Damp Cloth
High Gloss Outdoor Paint (I chose a Cobalt)
Chalkboard Paint (I regularly use and love Rust-Oleum's)
Large Paint Brush
Painters Tape
Chalk
Corn Bags:
Cotton Fabric (7″ Squares x 12)
Fabric Scissors
Sewing Machine
Funnel or piece of paper
Popcorn or Feed Corn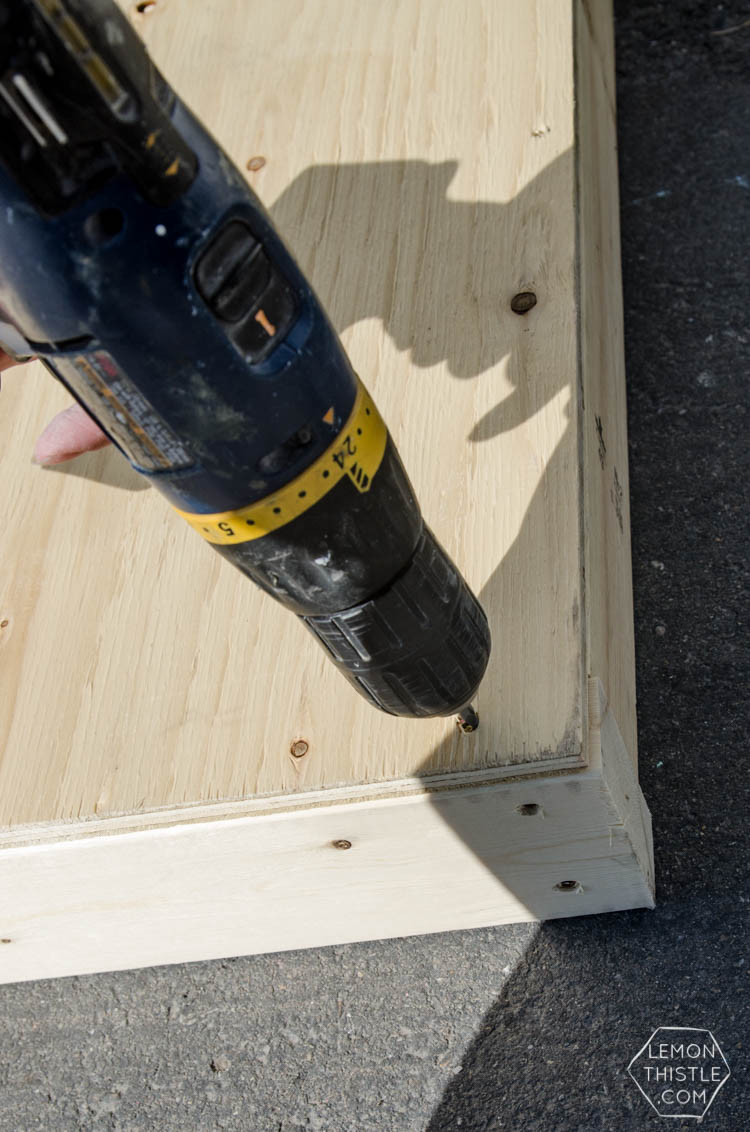 Start by cutting your plywood down to 2 Feet by 4 Feet rectangles. You will need two of these. We used a skill saw for this, but a table saw would work as well. Cut your 2x4s into four pieces each 21″, 48″ and 11.5″. Screw the plywood on to the frame, using 48″ 2x4s for the sides and the 21″s for the ends.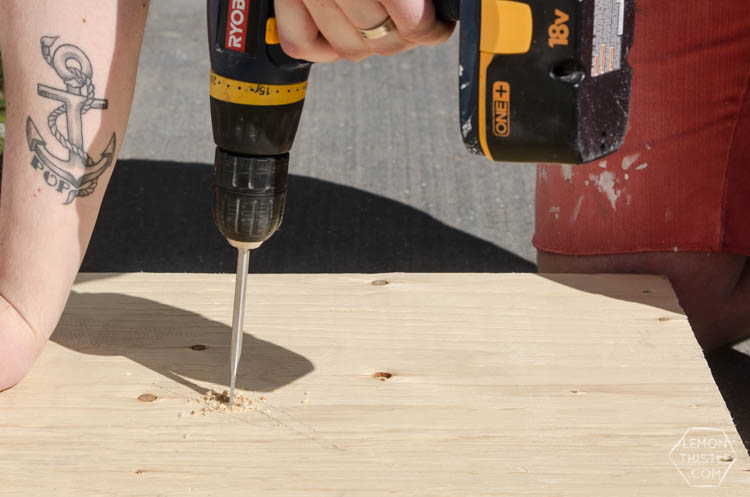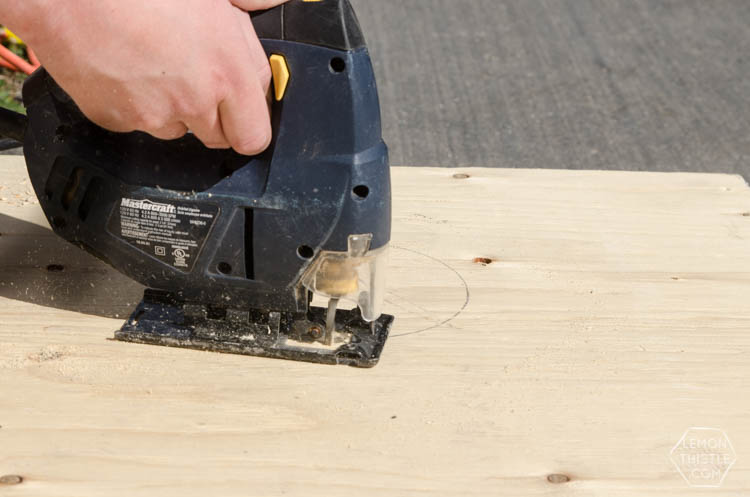 Mark a dot on the plywood, 9″ from the top and 12″ from either side. Draw a 6″ diameter circle around this dot. Use your drill with a large bit to drill close to the inside edge of that circle. Use your jigsaw in that hole to cut around the circle.
Give your whole game board a light sanding, using the 6 grit for the plywood and the lighter grit for the frame. When it's sanded, use a damp cloth to wipe clean of sawdust. Paint with your high gloss paint, you will need two coats. When dry, tape from the bottom centre of the circle cut out to the bottom corners of the game board to make your triangles. Paint with chalk board paint (again, this took me two coats for an even coverage).
To make the assembly simple, we just screwed the legs on to the back inside of the frame. If you'd like to make a regulation Cornhole set, I'd recommend following these instructions to attach the legs. Cure your chalkboard paint before drawing on it by rubbing a piece of chalk to cover the paint and wiping clean.
To make the Corn Bags:
I followed Beth from Homestories A to Z's tutorial on this. Essentially, you sew 7″ square pieces of fabric right sides together, leaving a space to turn right side. Fill with 1 lb (approx. half a cup) corn and stitch shut. You can head over there for more detailed instructions!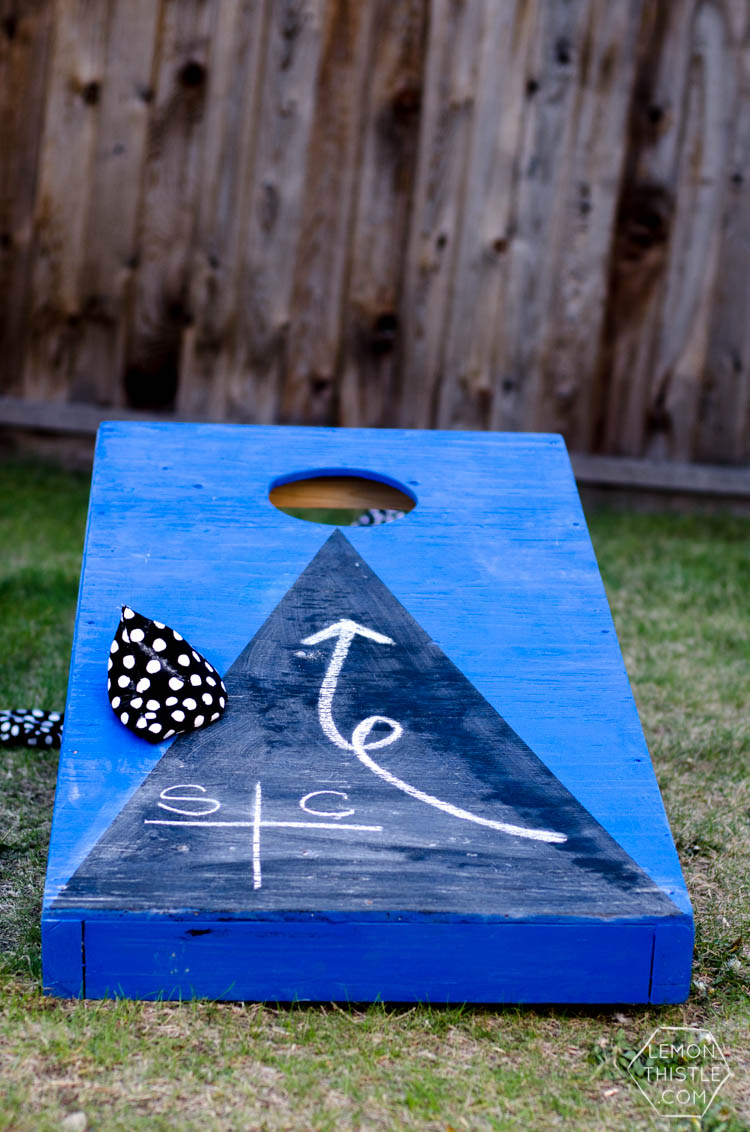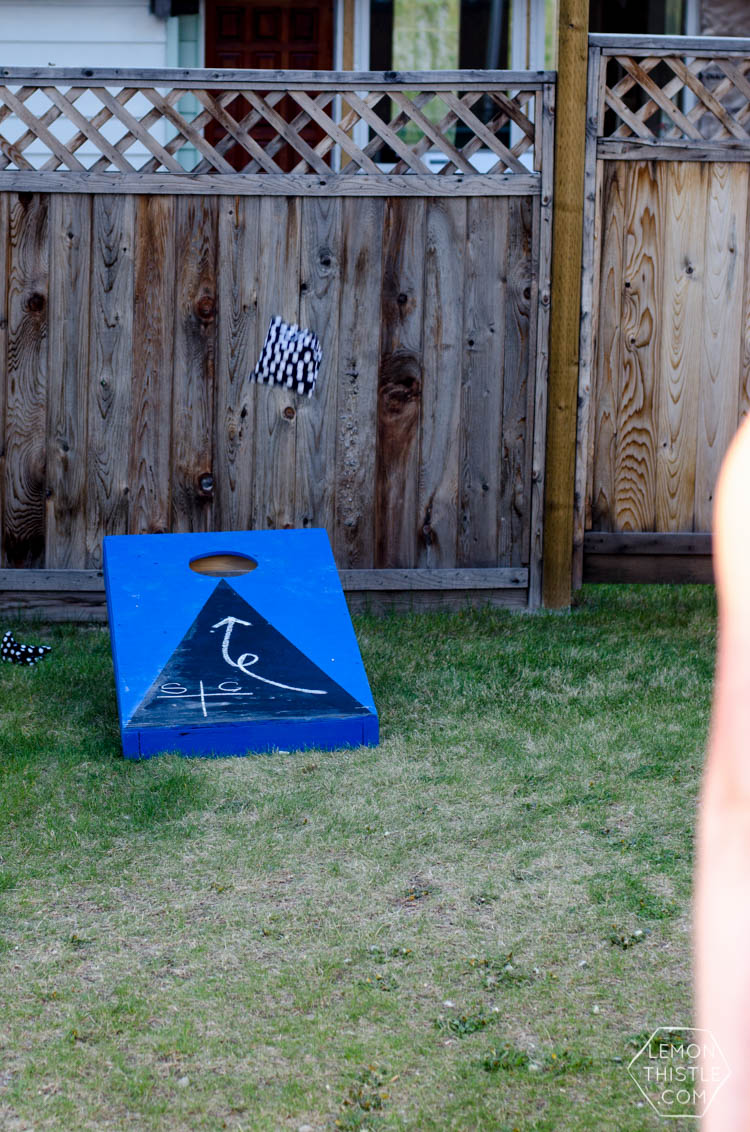 We played the game by tossing the beanbags into the holes and counting points that way. I know that the regulation rules are a bit different (find them here), but hey! We're beginners and it was a blast. The kids had a ton of fun walking up the ramp and dropping the bags in the hole too. If it keeps them occupied for any amount of time, we consider it a win!
So- what was your favourite yard game out of these? I think that Cornhole and Jenga were the most popular at the barbecue, but my personal fave is the Speed Scrabble… because I'm a nerd like that ;) I'd love to hear if you take one of these projects on!