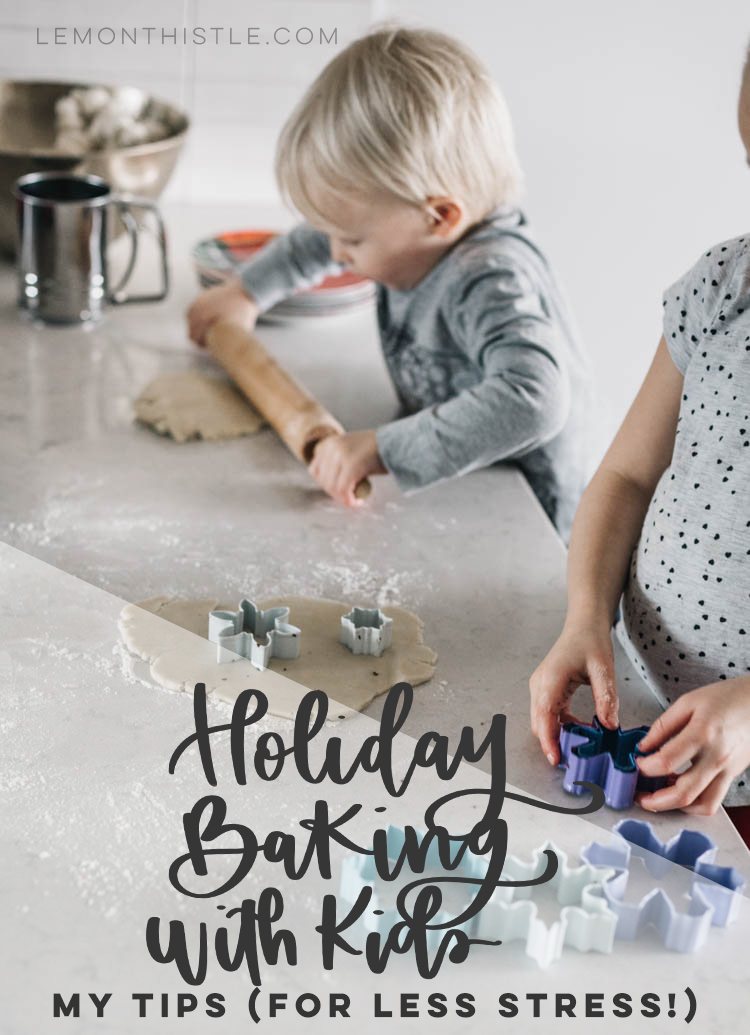 Can I be really honest with you guys? Baking isn't my favourite. I'm not bad at it. In fact my mom taught me well. Every year we would do holiday baking together for hours. And baking for every birthday and little holiday throughout the year. We didn't just do basic shortbread either. Sugar cookies with cutouts for candy stained glass windows, gingerbread houses from scratch, Nanaimo bars in three different flavours… and it's something I love to reminisce on the holidays. But I didn't get that patient, methodical gene from my mom. Nope- I'm impatient. And call it 'good enough' on almost everything. Baking doesn't appreciate that. Cooking? Well, that's my jam.
BUT I can bake. I just don't very often. Because I know what good baking takes and really, kids get in the way of that exact measuring and perfect cutouts. We bake banana bread and oven pancakes throughout the year… and boxed cake mixes. That's about it. But when holidays roll around, I really want to make it happen both to have the cookies and for my kids to get that same memory that I have and love. I'm sure you know- it's hard to prioritize something you don't love to do. This year, I almost didn't make it happen. But the Modern Handmade Home girls and I partnered again with Kitchen Stuff Plus, this time to share some of our holiday baking and gifts. I am so glad that we did. It gave me a reason to make it happen again this year even if it feels like my most busy holiday yet. We snapped a few photos, then we enjoyed it. And then Shane snapped a few of us which are photos I'm going to so love having in our photo book of us baking and eating the goods.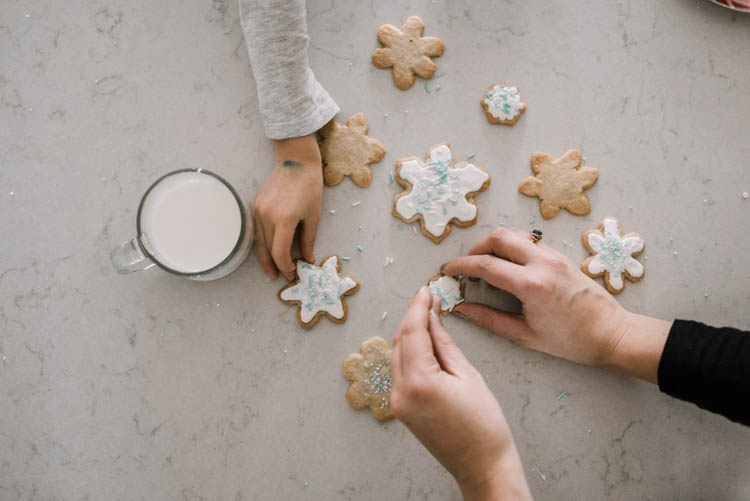 So instead of sharing a cute cookie recipe- I thought I'd share some tips on holiday baking with kids if you're NOT a regular baker. Or if the thought of baking with your kids doesn't sound peaceful and wonderful but stressful and messy. I shared a similar post about doing art with toddlers a while back. Baking is like art to me- I love what it teaches kids and I want it to be in our life but if we could just skip the clean up and the kids messing up the paints and the cookies and the whatever, that'd be great… right?! Ha! I'm kidding, that's part of the fun. But I have to remind myself of that.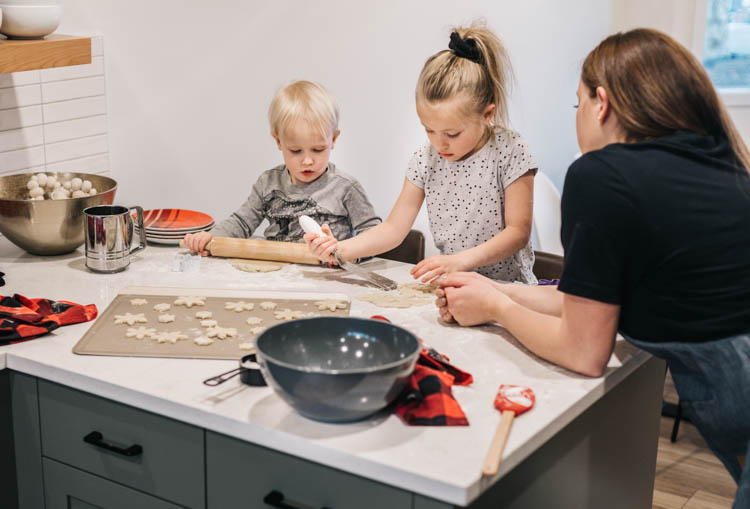 I picked up some baking supplies from Kitchen Stuff Plus to make this years baking a little more fun (I've never had a flour sifter but always wanted one! Windsor thought it was the best tool ever) and I'll link to alllll of the pieces at the bottom of this post. Or you can find all my KSP Holiday picks here! Alright- On to the tips!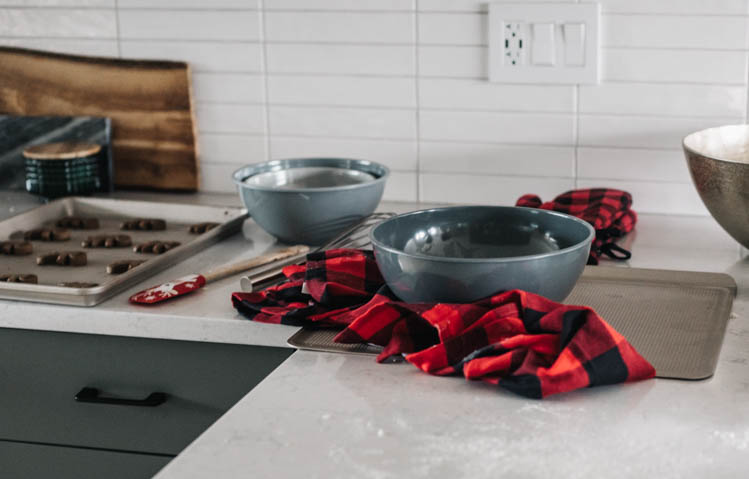 1. Clear More Space Than You Think You'll Need
Having this new kitchen was HUGE for making this less stressful but also just making sure I had enough space cleared is always something that helps make baking more enjoyable for me. There's so many moving parts in baking- especially with kids helping and it's nice to be able to set things to the side without having to move the morning's cereal boxes out of the way. Also- having a place in mind for the hot pans of cookies is a good idea. In this house that means on the counter beneath the windows but in our last kitchen (much smaller), we designated the stove and counter by the stove for that (and did our baking on the island)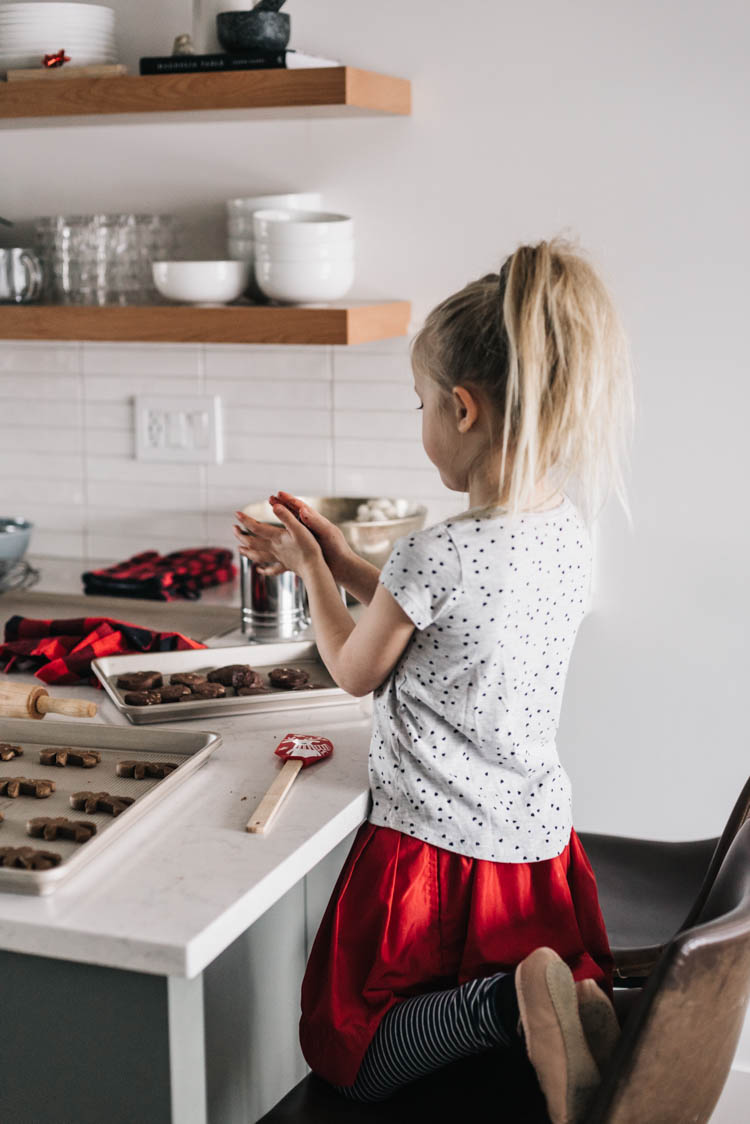 2. Expect Mess
This is a mindset shift. I'm not sure why I expected to be able to keep the mess to a minimum, but when I started baking with my own I did! I used to work with kids and ran a program for kids aged 6 to learn how to cook. But I have to remember they were SIX. Not 5 and 2. And 2 year olds especially just can't be expected to keep it tidy.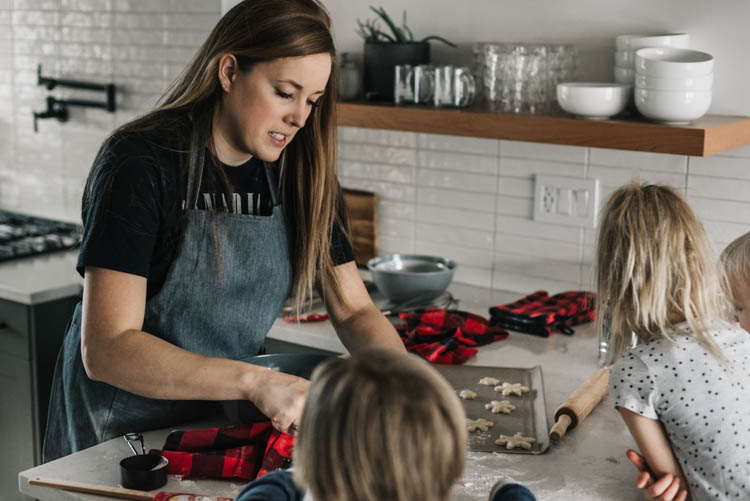 I also prepared for it by wearing an apron (this is a new one and I'm in love!) because Shane and I were headed out on date night after this and I didn't want to change. We also had to clean the counters and the floors after baking the cookies and then again the next day after decorating them. And that would have made me so frustrated before, but now I plan for it.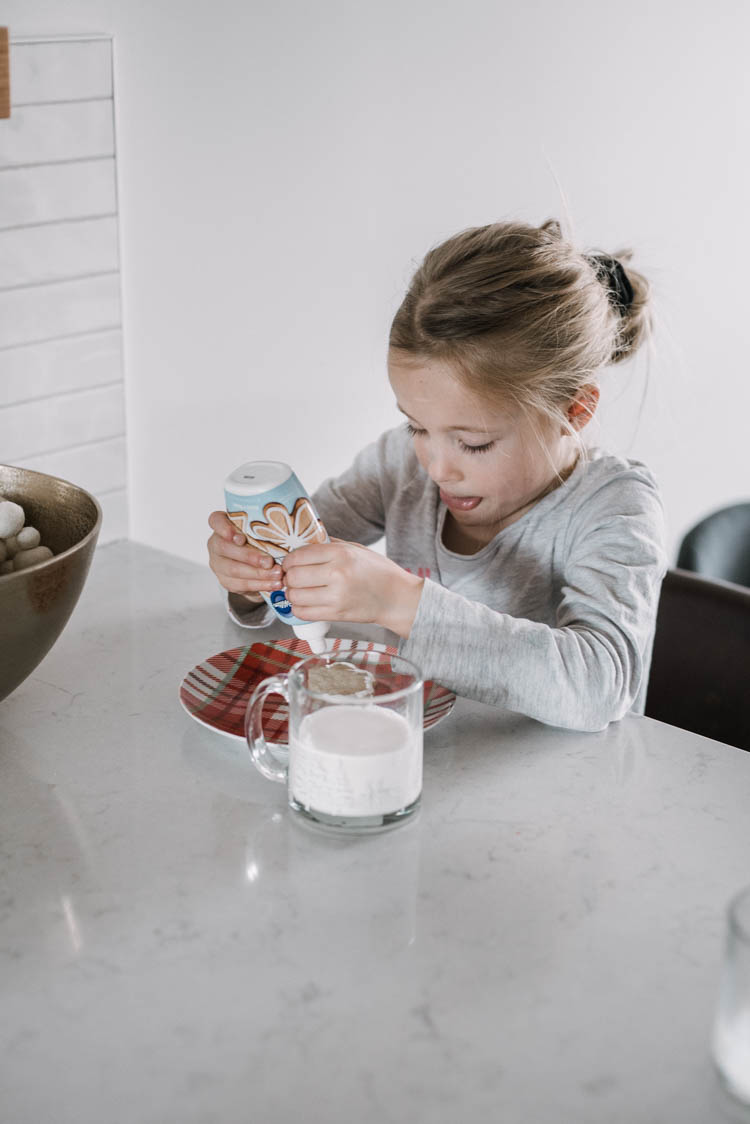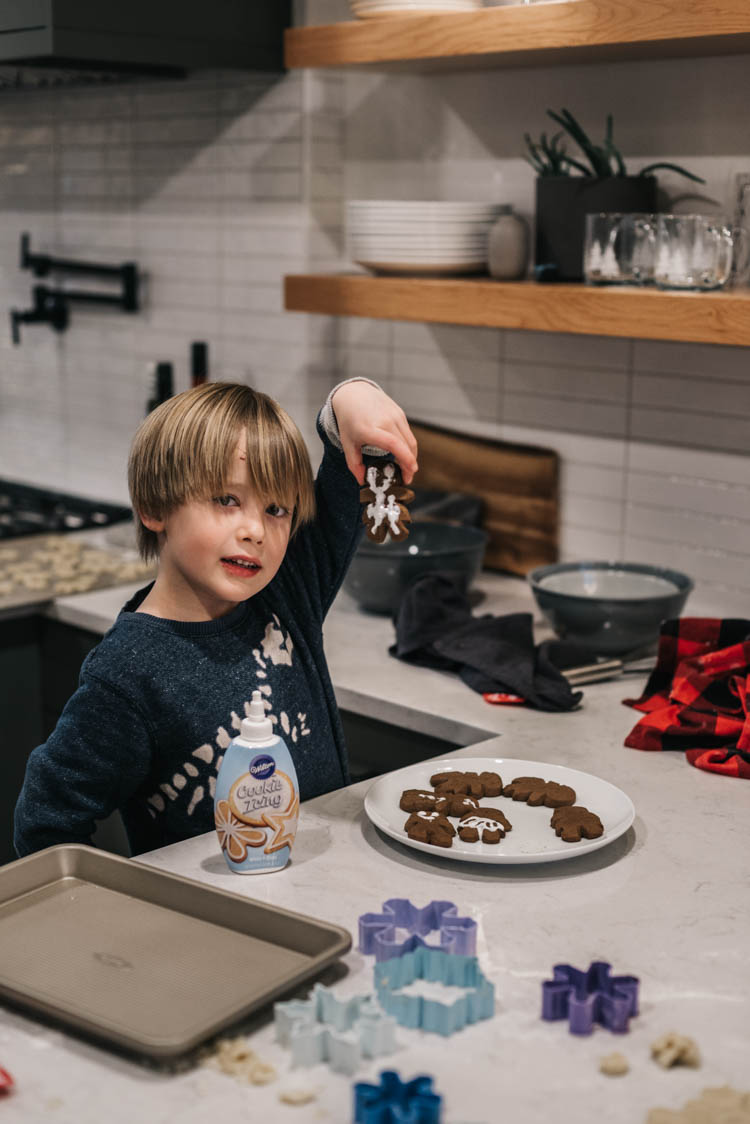 3. Take Short Cuts
This ones up to you. I take short cuts and I'm okay with it because it means I can do these fun things with my kids and NOT have all the stress. So please, if baking really stresses you out- take all the shortcuts. Honestly, it's okay. You can buy sugar cookie dough pre-made. You can buy icing pre-made in squeezy tubes (like I used). You can buy cookies already cut out and just have your kids put them on the tray and then decorate them (with pre-made icing, of course) once baked.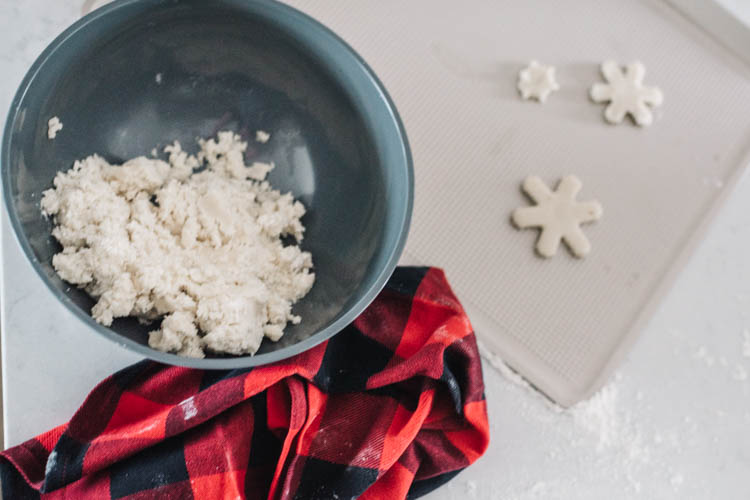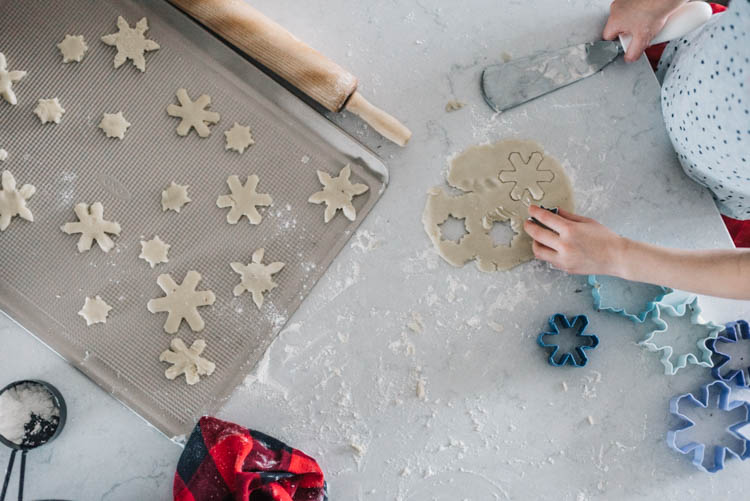 4. Prepare!
This just seems silly to say but the most stressful moments for me in baking are when my kids are doing something and I'm not prepared for it. Or when I say, 'Okay! Time to Bake' and they climb up and start pouring things and I don't have the recipe out or the next ingredient or they are ready to put cookies on a pan and I have to wash the pan from last nights dinner. I mean… these things would never happen to me BUT let's just pretend they could happen to you ;)
So I prepare not only by clearing the surfaces but getting everything out and pulling a stool up for them to help. Have little kids? You could take it one step further and have everything pre-measured for them to dump in. Or- you could have the cookie dough made so all you have to do is roll it out and cut it out. Or have the icing made before decorating starts.
PS. speaking of rolling out the dough… my kids like to do it themselves and I've only ever had a really large rolling pin or those tiny kids ones that do nothing. I ordered this smaller one from Kitchen Stuff Plus and it's the perfect size for them while still being useful!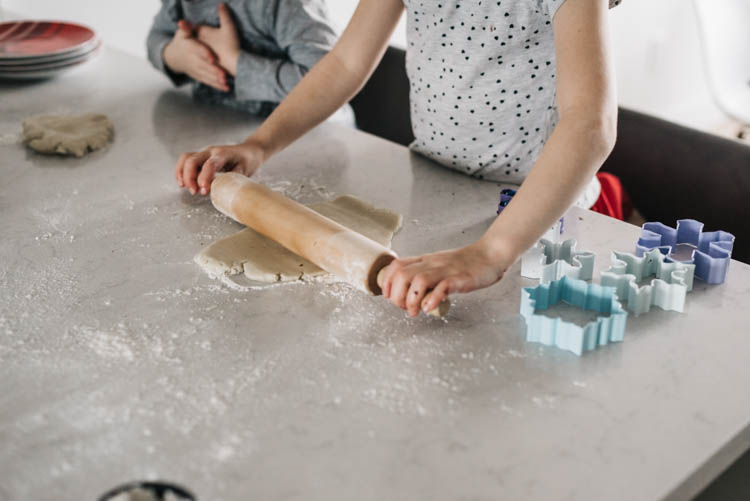 5. More kids? Separate Jobs or Take Turns
Every kid wants the fun job. And every kid wants the whisk or the spatula or whatever that day's hot ticket item is. Especially when they're under 5- they want it and they want it now. I like to tell my kids ahead of time what they'll get to do. As I'm setting up, I'll say we're going to take turns dumping the ingredients in. Or one kid can mix the dry ingredients, one can mix the liquids and one can mix it all together. Or we can each scoop out six cookies. Sometimes I even send them to do something else if it's their sibling is doing a job that takes a while.
I skipped one of the fights over the spatula this year and ordered them all their own festive spatulas. They were such a hit with them (they each picked their own animal). It also helped having room around the peninsula for them to all be standing there while I was helping… I'm so in love with this kitchen!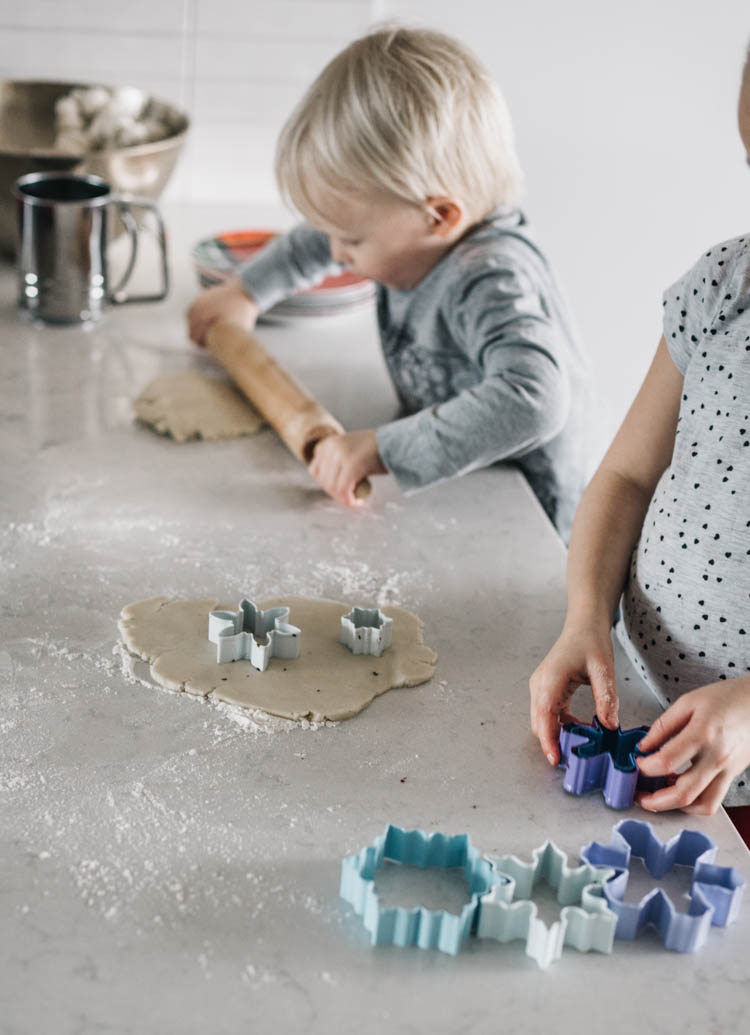 Speaking of giving them their own things… why not let them each choose two cookie cutters to use so they're not arguing over who was next to use the purple snowflake? And when it's time to decorating, give them each their own plate and pack of sprinkles. These are little things that I didn't do this year but last year when the twins were younger it really helped the arguing.

6. Break it up
I have a tendency to want to get it all done at once. Start to finish; keep the kids in the kitchen for hours and get frustrated when they get bored or stop helping or start having a sprinkle fight because they can't possibly focus anymore. This year I broke it up. Then their attention span doesn't run out and neither does my patience. So why not make the dough in the morning, roll and bake the cookies in the evening and then the next morning decorate? It feels like three fun activities instead of one long drawn out process.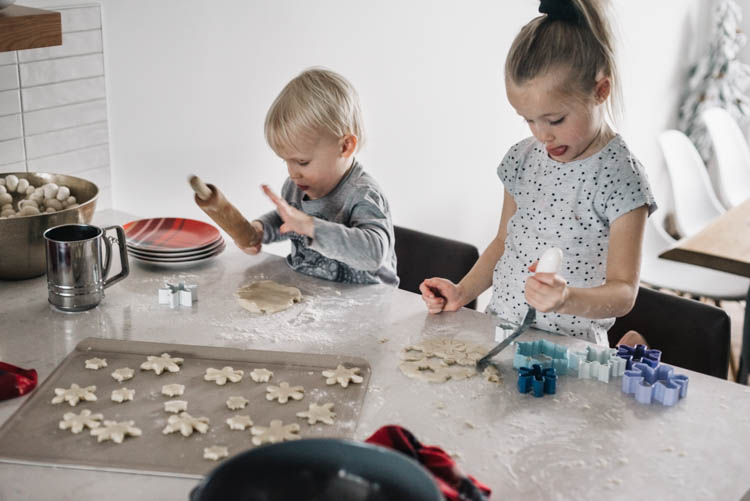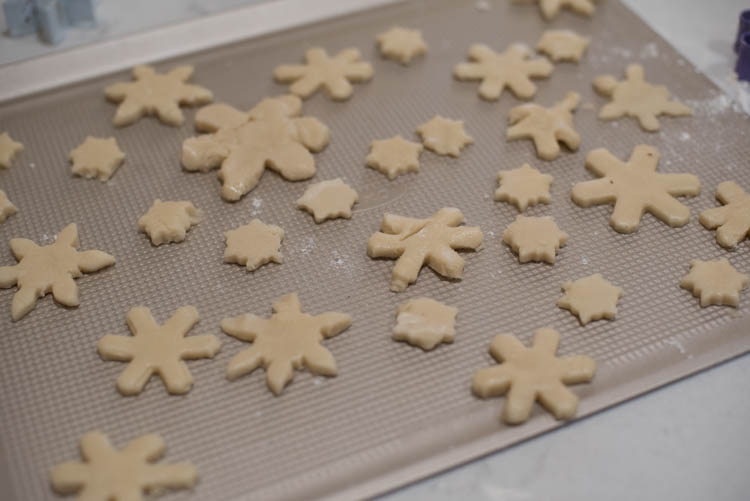 7. Let go of Perfection
Remember how I said we made all the fancy cookies when I was a kid? That takes being pretty exact and precise and I learned how important those qualities were. I don't know how my mom did it. Because baking with toddlers… you just can't be that exact and precise. And the cutouts just won't be that perfect. And that's okay. I didn't add enough flour to my cookies this time around so they flattened out AND our cutouts and scooping them on to the tray smushed them a bit. But who cares? They taste just as good!
If you want pretty, perfect cookies to give to neighbours or donate to a bake sale- maybe make those when the toddlers are asleep ;)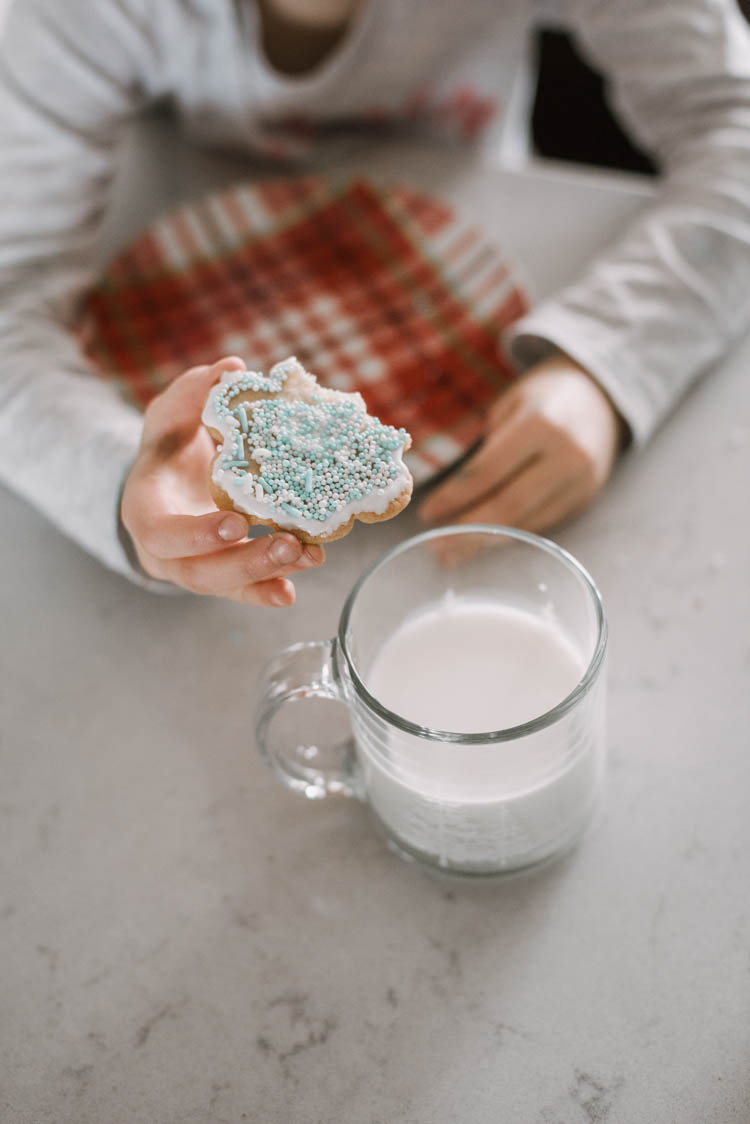 8. Eat the cookies first
This goes against everything I was taught. We always made and decorated all the cookies and then enjoyed the broken ones after it was all done. But little kids have such a hard time waiting. This year, I let them decorate one and eat it up before we decorated any of the others. I also let them eat one as soon as they cooled out of the oven (the day before decorating). And then they were happy to decorate cookies for everyone else. I can't believe how much of a difference this made compared to previous years when I had them wait 'til the end (and heard them ask 1000x for a cookie).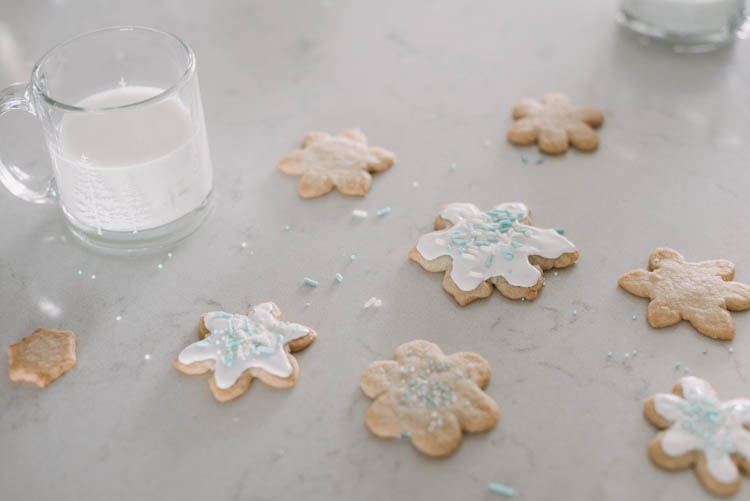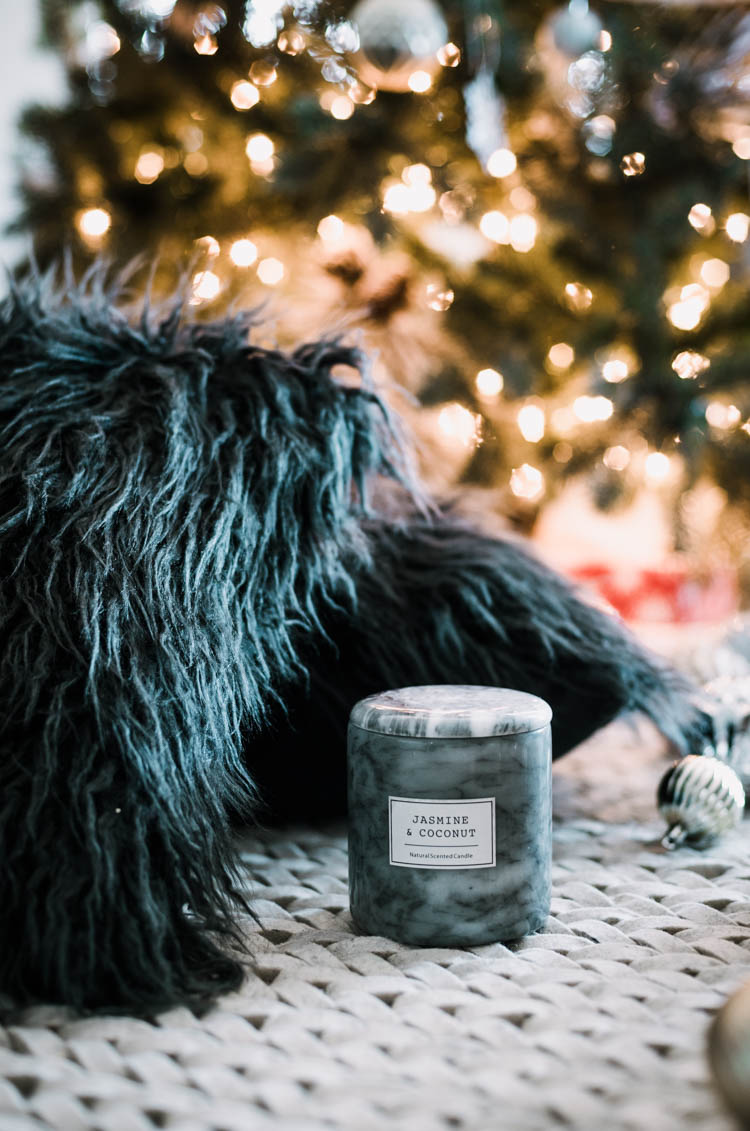 9. Reward yourself when it's done
This usually means cookies with coffee for me. My favourite combination. But for you it could mean a bath or glass of wine or whatever. This year when I was ordering my baking supplies I also snuck a couple things in as a gift to myself. I ordered these cozy Mongolian fur pillows and a pretty marble candle. So I guess I rewarded myself a little extra this year ;)
Alright… those are my tips! I hope that you found this helpful if you're about to take on holiday baking with littles! It can be so much fun but definitely comes with stress too. These helped so much this year and I actually totally enjoyed it.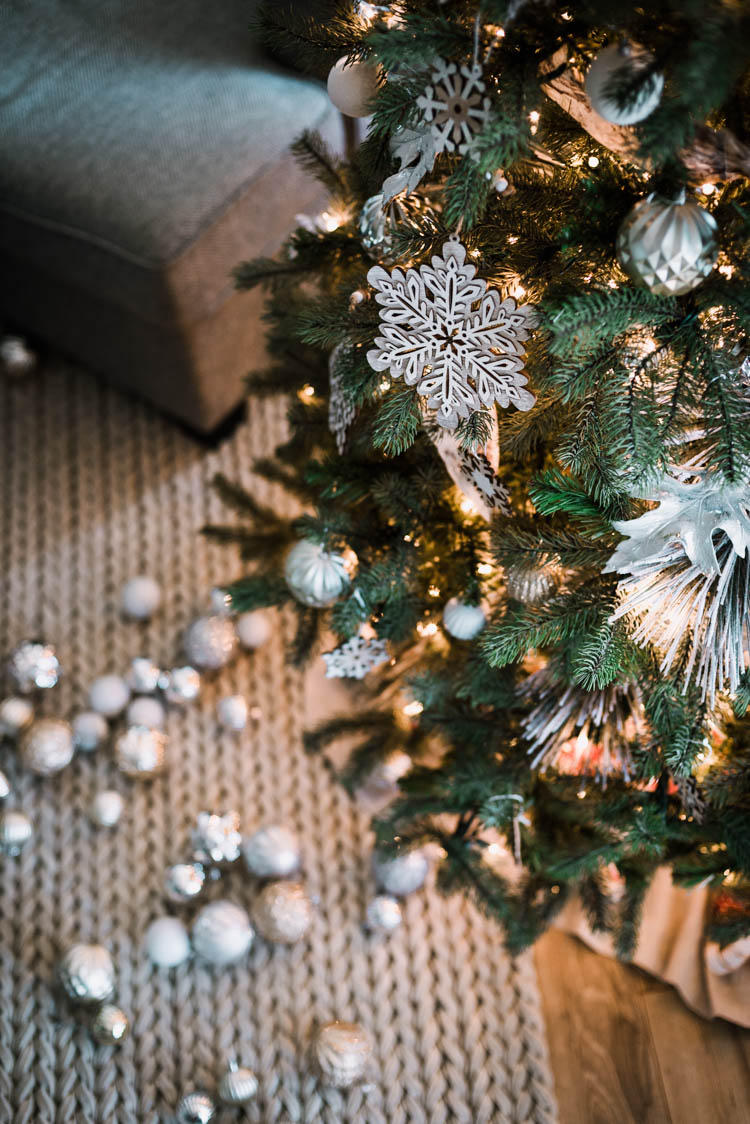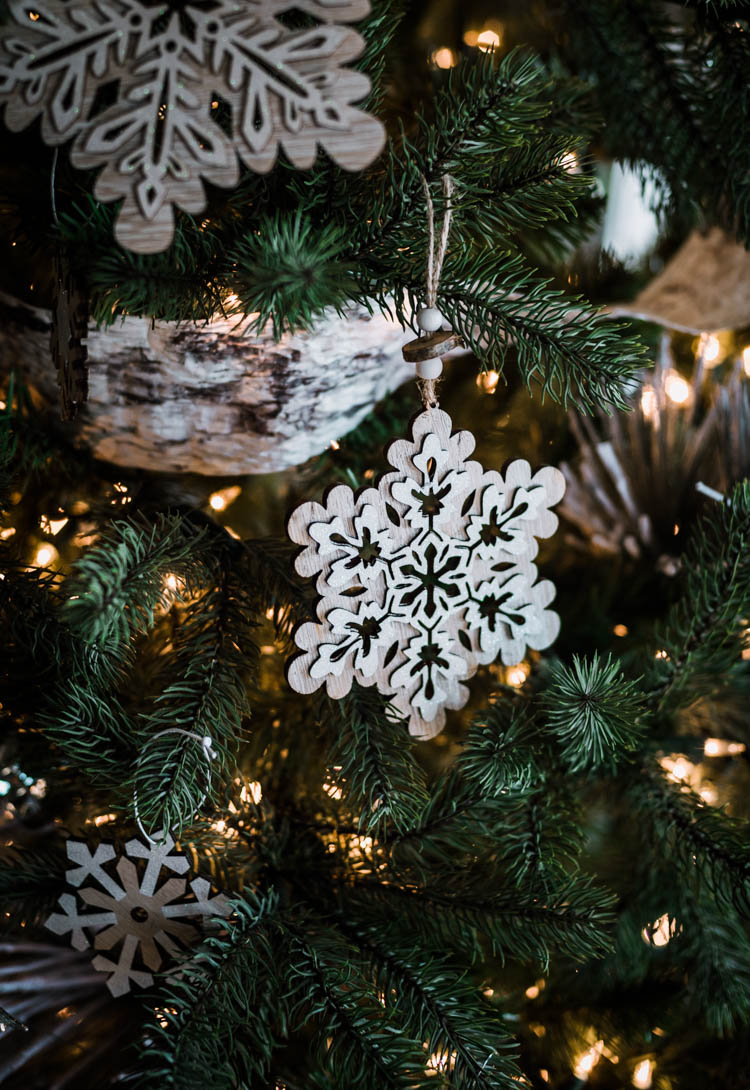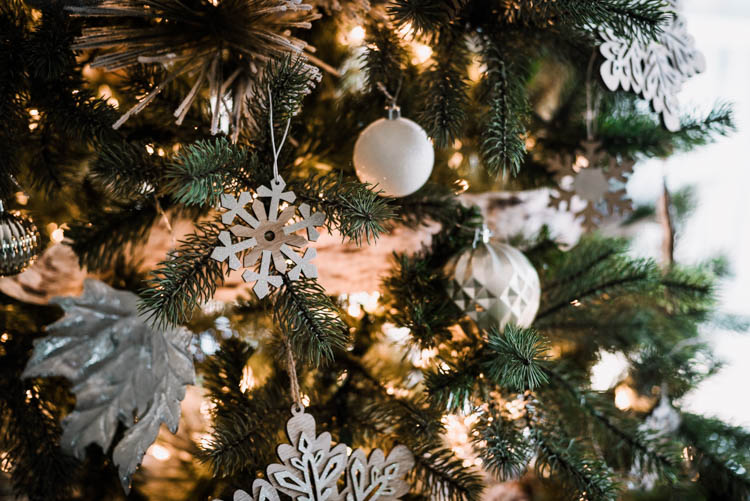 PS. I wanted to share because they're so beautiful! I also snagged some Christmas ornaments for my tree! My favourite are these snowflakes– they work so perfectly with the birch ribbon we use! I wish I'd ordered more now after seeing them in real life. They're so darn perfect!
SOURCES: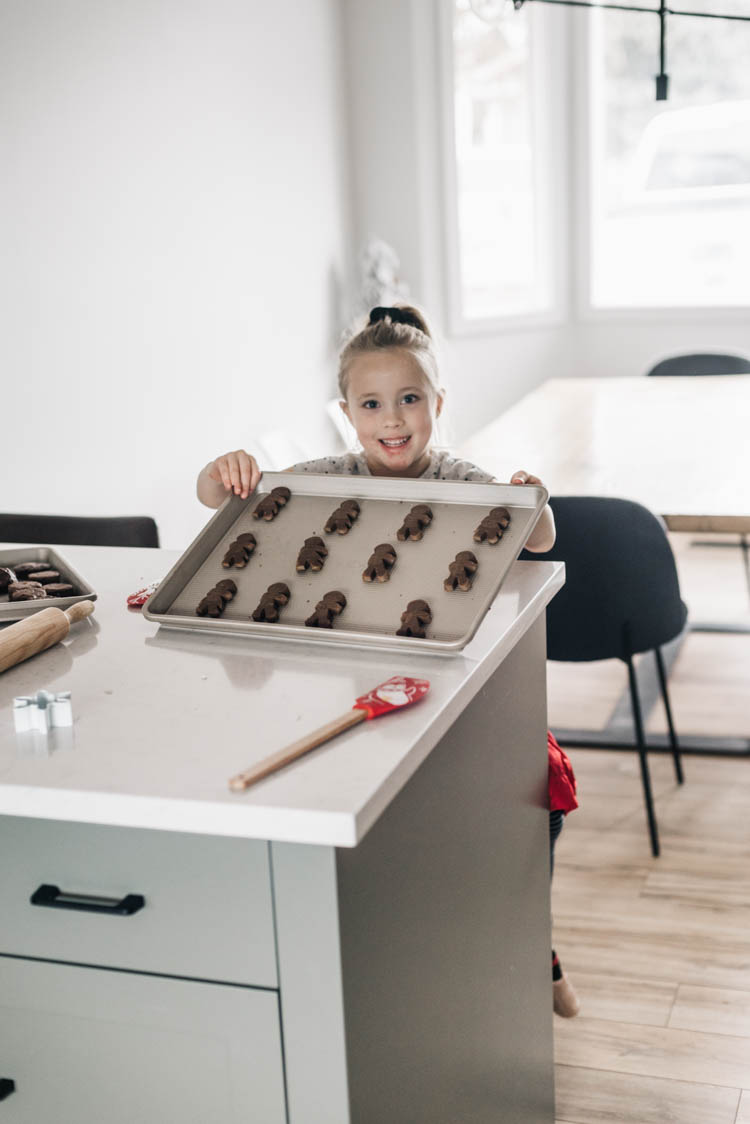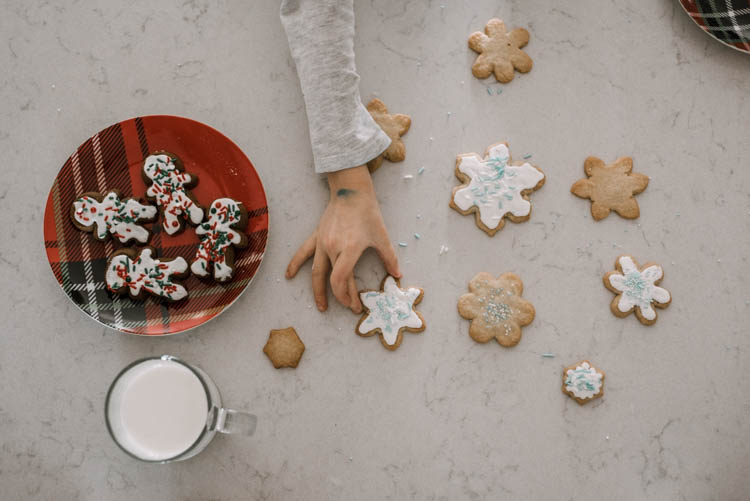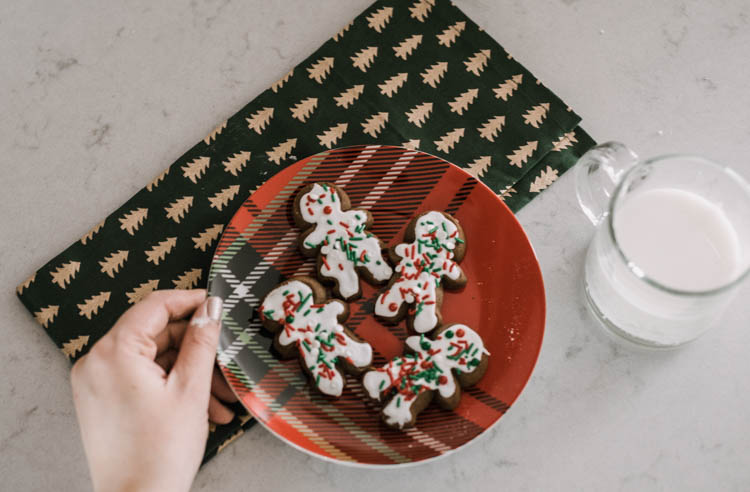 Thank you again to Kitchen Stuff Plus for partnering on this post and making my holiday baking happen. You can see all the ladies from the Modern Handmade Home Series posts in this collaboration linked below!
Buffalo Plaid Cake in a Jar – Harlow & Thistle 
Holiday Baking + Gifting – The Learner Observer
Holiday Homebody Gift Basket- Love Create Celebrate