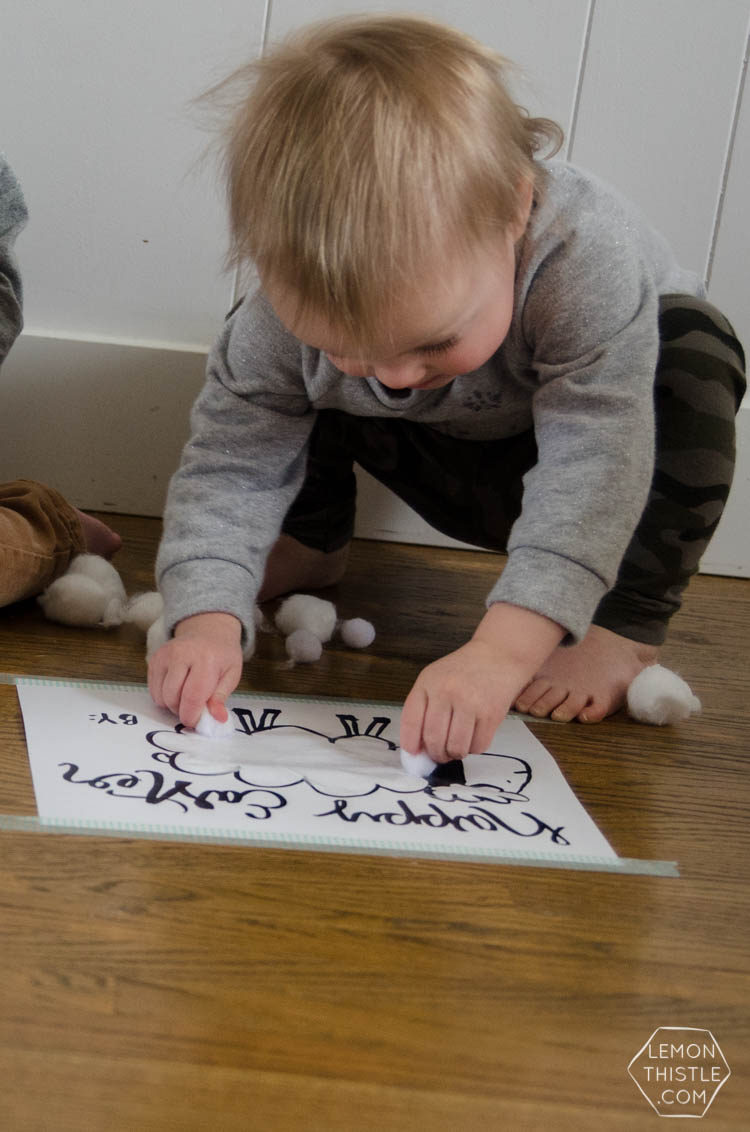 I'm excited to be sharing another Easter project that I created last year with you all! This printable Easter lamb is the perfect colouring or activity sheet (he's darned cute, if you ask me!) to keep little ones busy creating so you can grab a coffee break. It also makes a dynamite last minute Easter card for grandparents (but you would never leave an Easter card to the last minute, I'm sure!). When I created this printable last year, I also wrote my top tips for crafting (stress-free) with toddlers. My kids were 18 months then (so tiny!), and now that they're at two and a half… these tips hold true.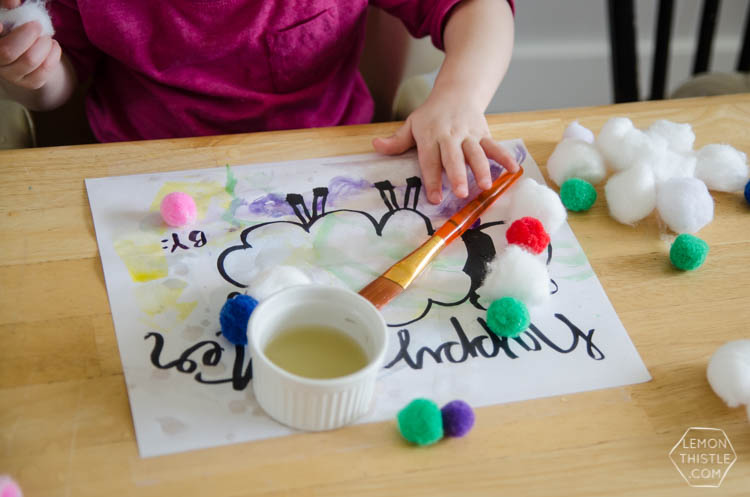 I really love crafting with my toddlers… and for anyone who says that their kids don't like crafts- or that crafts are too much work… here's the thing: I don't care how busy your kids are. If you give them enough freedom to decorate/ glue/ paint something the way they want to- they'll participate. And if you choose simple craft activities (skip the Pinterest crafts that have a supply list a mile long), they will be next to no work for you to pull together in a pinch.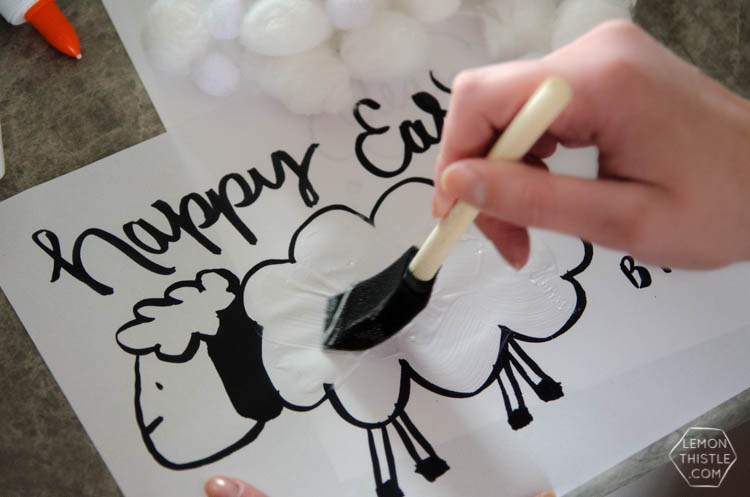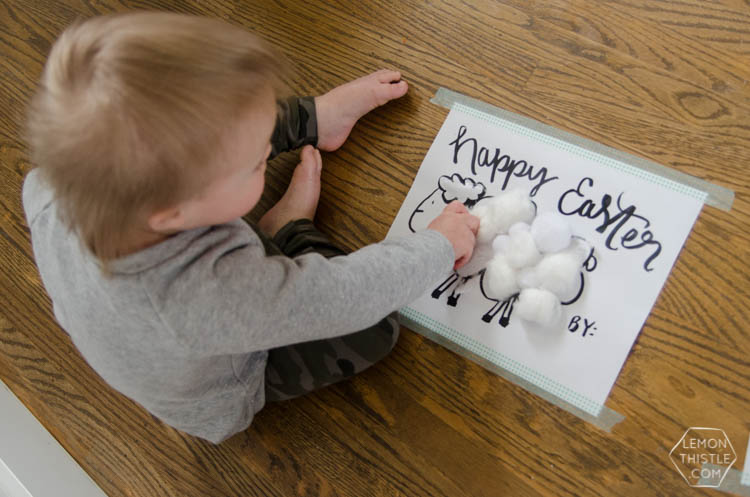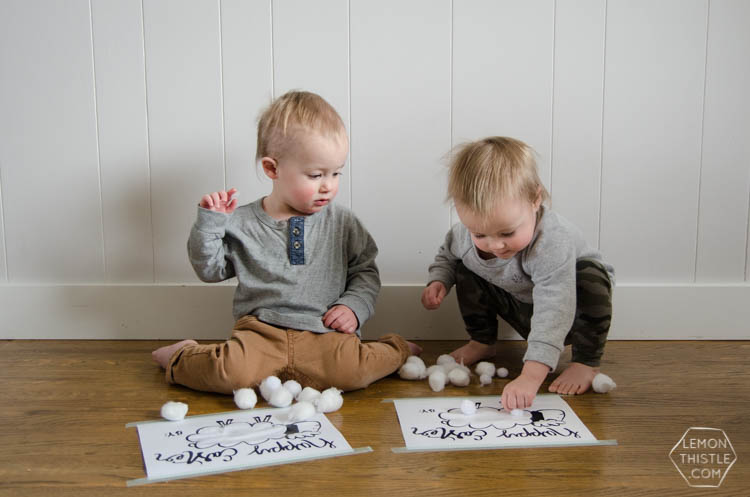 I just printed off a couple of these sheets for my kiddos this year, but when I used them last year (twice, because I could get away with it), I used them for not only my 18 month old twins, but all the in-town cousins. That makes for 6 kids under the age of 5 (and in the last year… two more were added to the bunch!). After three hours of noisy play, I brought out these activity sheets and we had even the busiest boy (a 2 and a half year old) sitting at the table. When we did this activity with older kids, they wanted to get creative, requesting different colours of pom poms, stickers that were in the craft box, and paint. When I did the activity with just my two- they were entertained gluing cotton balls on the lamb.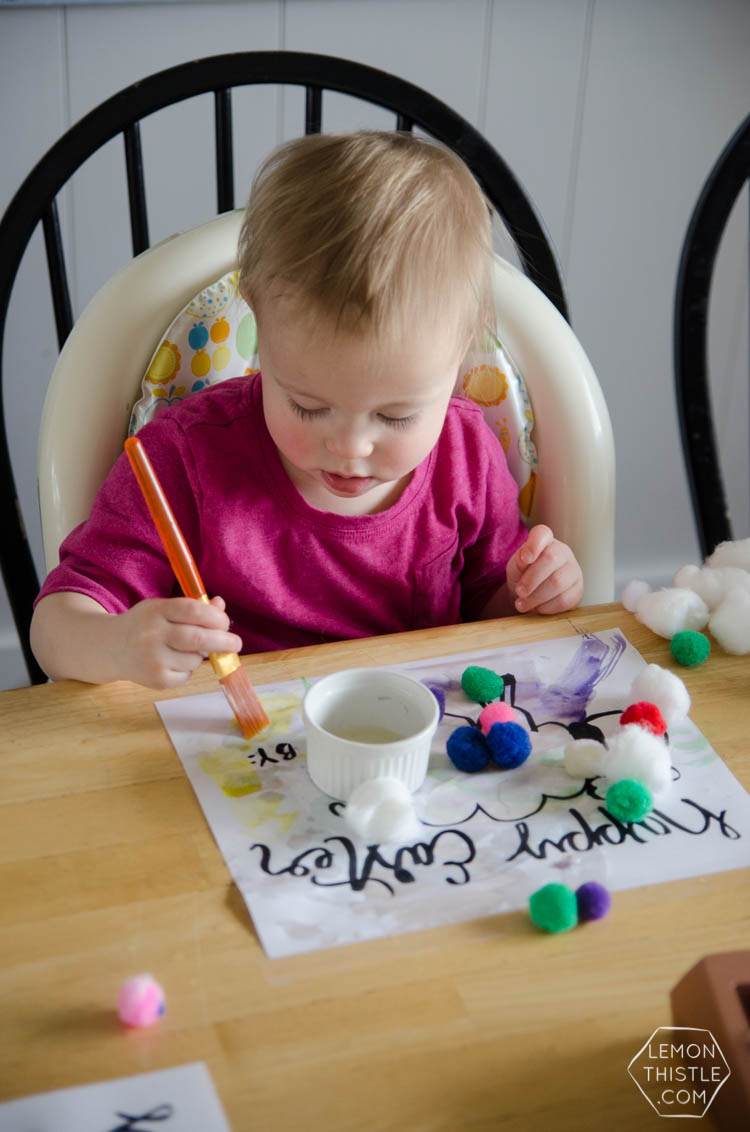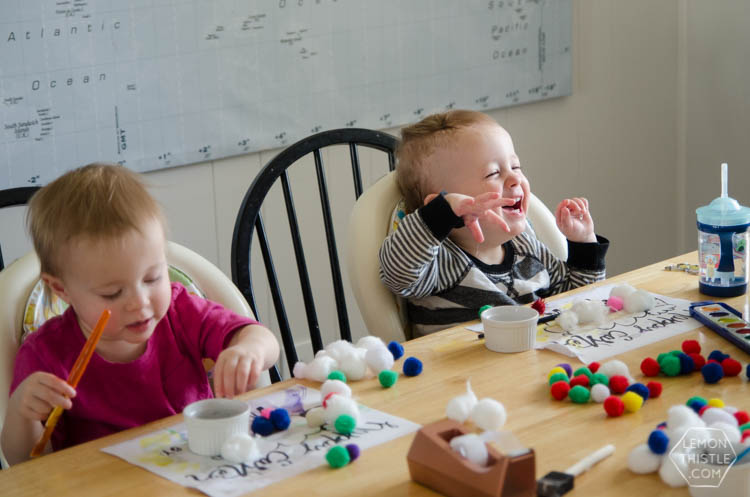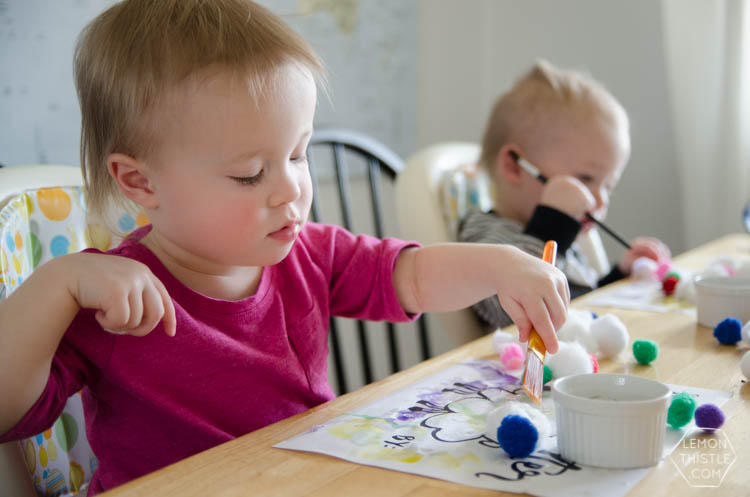 I usually expect 20 minutes out of a successful craft (just enough time to finish a coffee!). But how!? Before I tell you all my secrets (*cough* common sense)… let's get to the craft, shall we? I've created a hand drawn free printable 'Happy Easter' Lamb for you to download and print up for your kiddos to bring to life. I've added a place for your artist to sign their name. If you are planning on using watercolour paint- print it on thicker card stock (from experience!), but if you're just going to color or glue- regular old printer paper works great.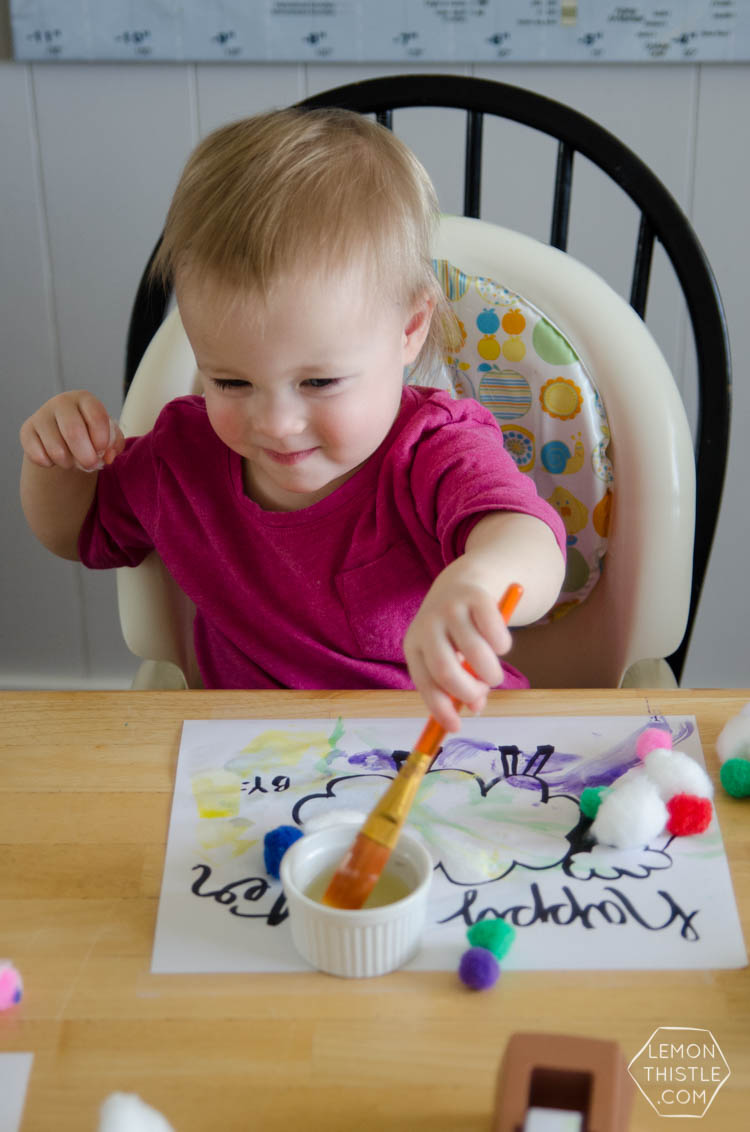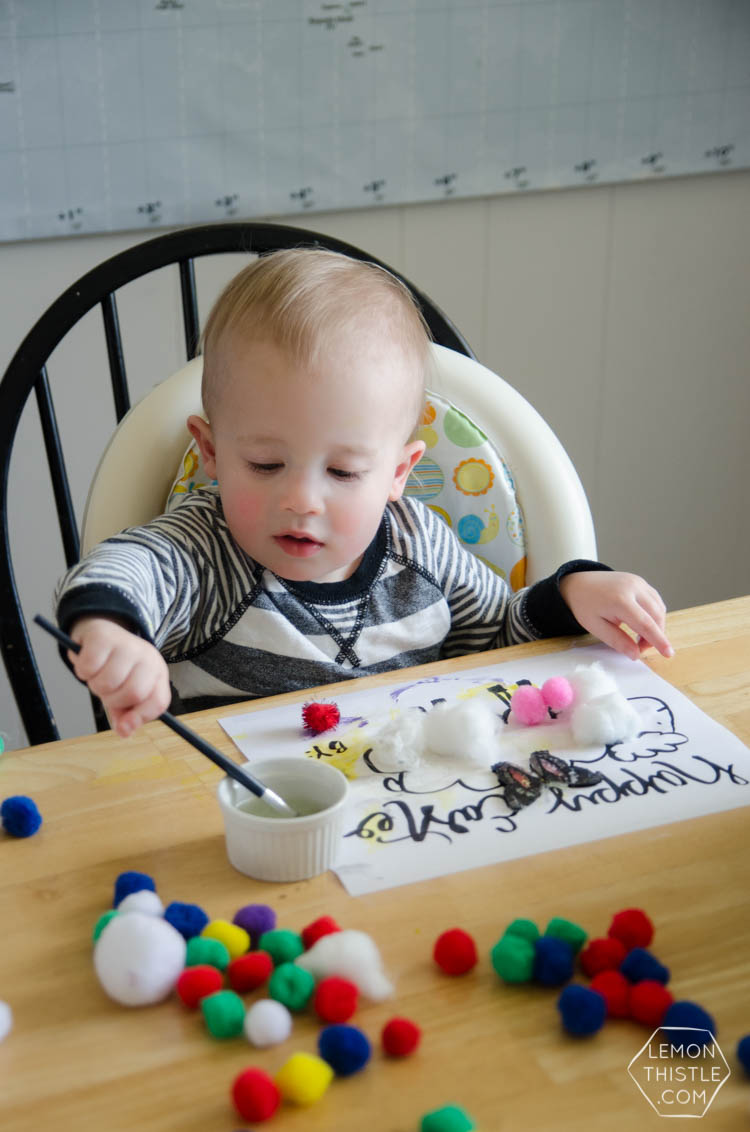 I always find that taping down my kids' paper is the best way to go. Washi tape makes for a cute border once I pull it up off the table too. If you are choosing to glue the cotton balls on, use school glue and paint in the lamb's body. Let it get a bit tacky before setting it up for your kids to glue. My kids love gluing- they like most sticky things, really. I had to show them that they could press the cotton balls onto the glue and they would stick, then they were good to go!
A couple tips about keeping art projects with kids (especially two toddlers!) manageable? From the crazy craft lady (my niece demands paint every time she walks in our doors), there's some tricks to keep you from going mad while paint's hitting the walls.
Always tape down their artwork. I don't care if they're four and insist that they like it better not taped- there's no option. They'll forget about the tape the minute you hand them glue or paint.
If they still have booster seats or high chairs- strap them in. It's nice to know that you can wipe the paint off before they end up on your sofa!
Limit the supplies they see. Don't make the mistake (which I've totally done too many times!) of bringing the craft bin out to find what you need- or they'll want to use it all and you'll be cleaning glitter off the floor and feather bits stuck in glue off your table (not to mention the paint on the walls). Bring out a couple things and have them get creative with that.
Dress them for mess. Seriously, though- if you're planning on going out in the afternoon, strip them down! Save their Sunday best for after they're cleaned up so they can get as messy as they need (without you cringing about their nice white shirt). You might have noticed that my son is painting his head… and LOVING it. Kids will be kids, after all. If it's a super messy craft- like finger painting- plan for a bath afterwards.
Encourage them- compliment something specific like the colors they chose, how well they listened to instructions, the way they grouped all the stickers together- just make them feel good about their craft, and they'll love to create.
Step back (I strongly recommend making a cup of coffee- but hey, that's my jam). Let them get creative without you directing them! Kids have crazy awesome imaginations, why limit it? They have rules to follow all day, if you give them the supplies- you'll be amazed by what they create. If it doesn't work out and it ends up in the garbage because they spent their 20 minutes tearing the sheet to shreds- so be it!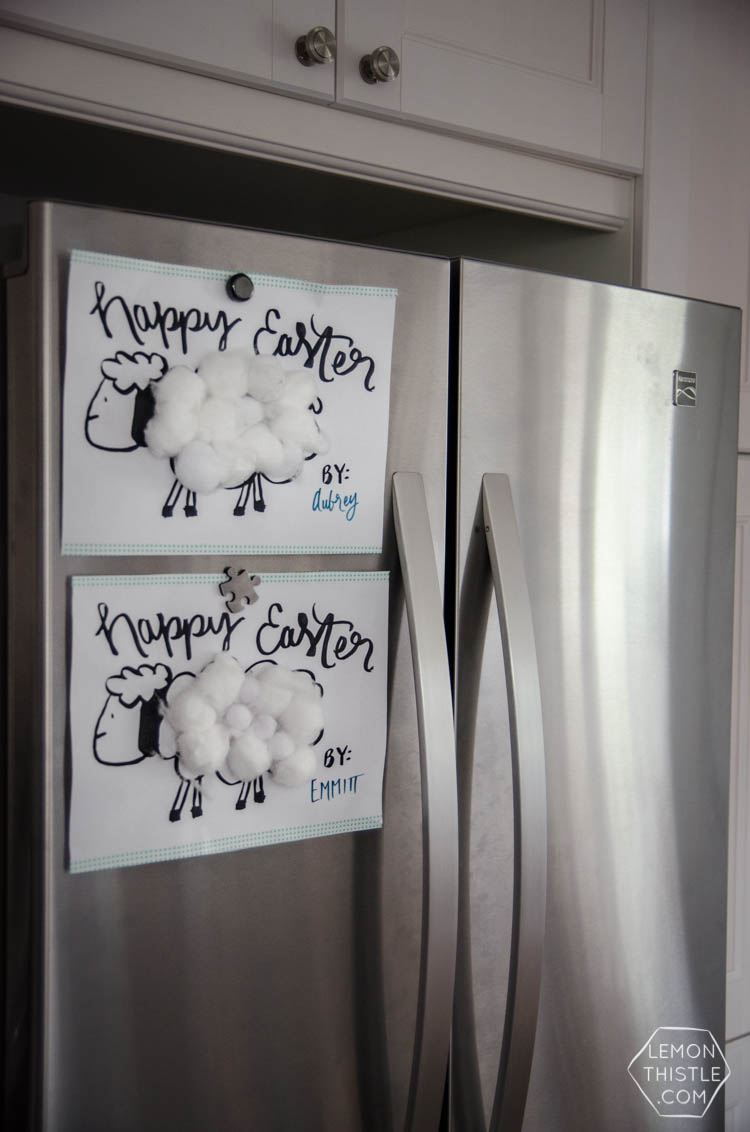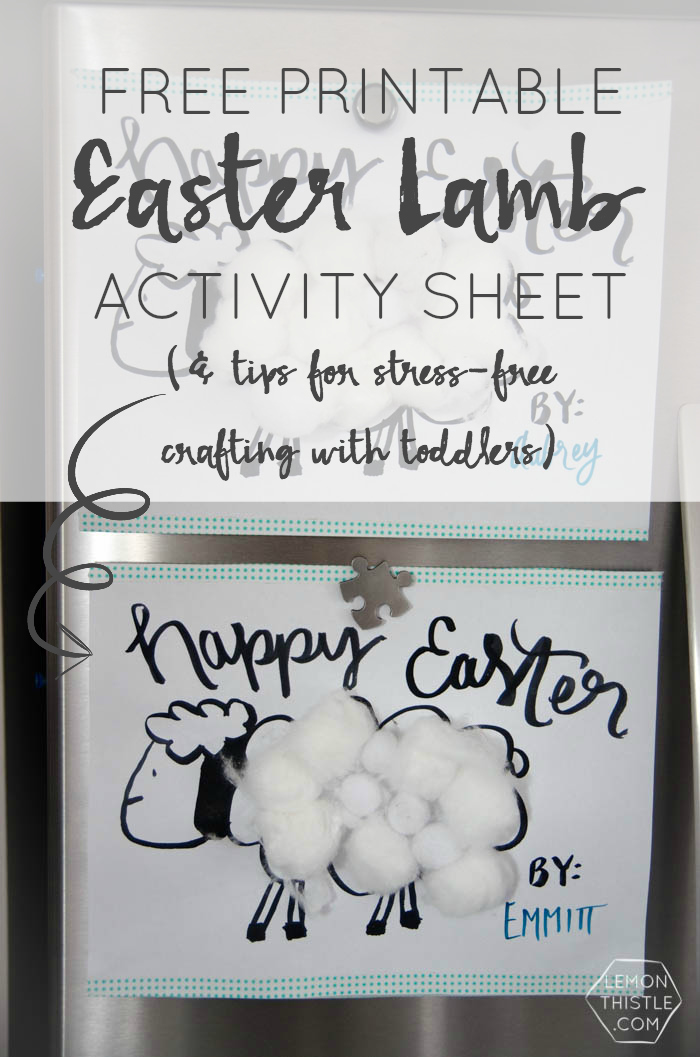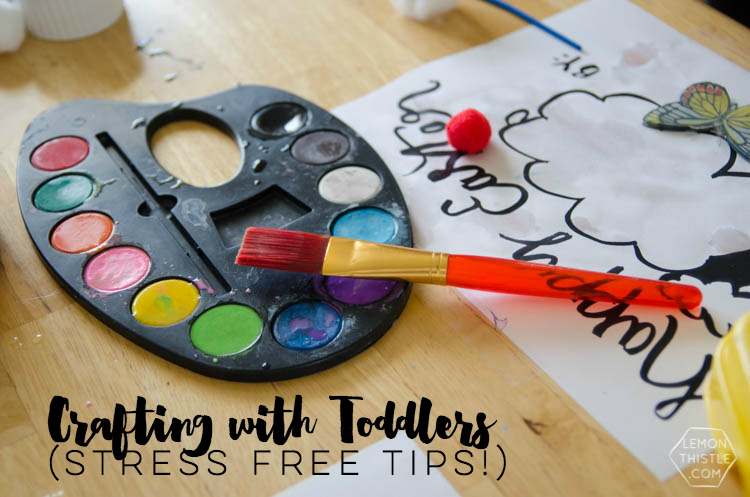 I hope this printable- and these tips will help make crafting with your kiddos a bit easier! I'd love for you to share a photo of the art your little ones create with this printable! Also… what are your tips for crafting with toddlers? Share in the comments!