Two free printable Christmas Cards for you (or your kids!) to colour and gift to your friends and family this holiday season!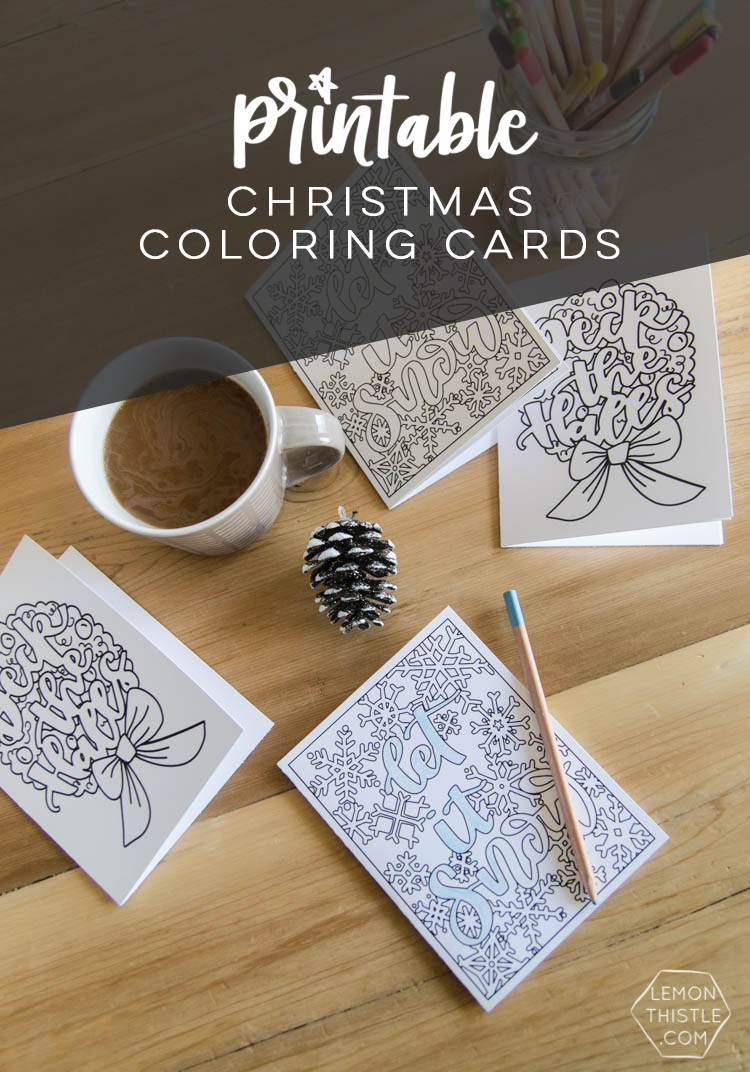 I had told myself I was done posts for 2018. I had told myself I was taking a break… but since moving all three kids into one room, I've been sitting in my kids' room during naptimes (until they fall asleep) and found myself designing these colouring sheets that were Christmas themed. Then I found myself making them into Christmas cards for my kids to colour and send to some friends. And now? I thought I better share them with you so you can print them out too. I'm really good at relaxing, you guys.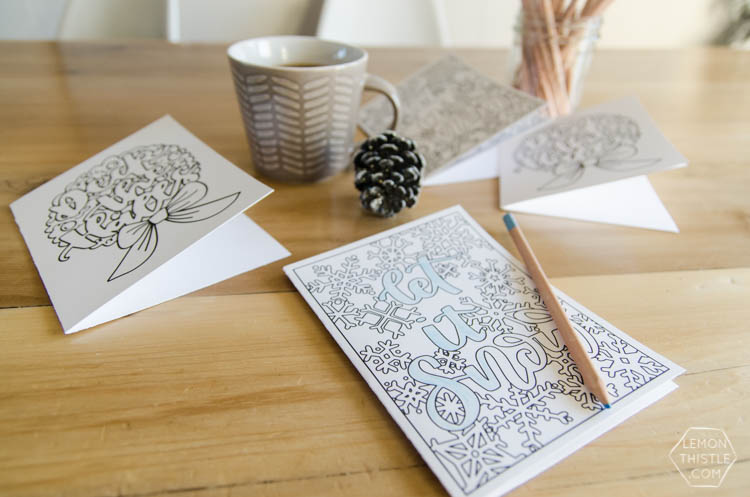 So I'm not going to say much about these guys… because I should get back to all that 'relaxing' BUT I will tell you that they were super fun to make. And super fun to colour. My son insisted on mailing his to his cousin instead of dropping it off (in town). And my daughter made one for a teacher. And I can't help but colour them too because colouring is so darn relaxing. It's the perfect advent activity or send the card as-is with a pack of pencil crayons and sweet note inside as a last minute Christmas gift for a little one. Or me… I'd take that.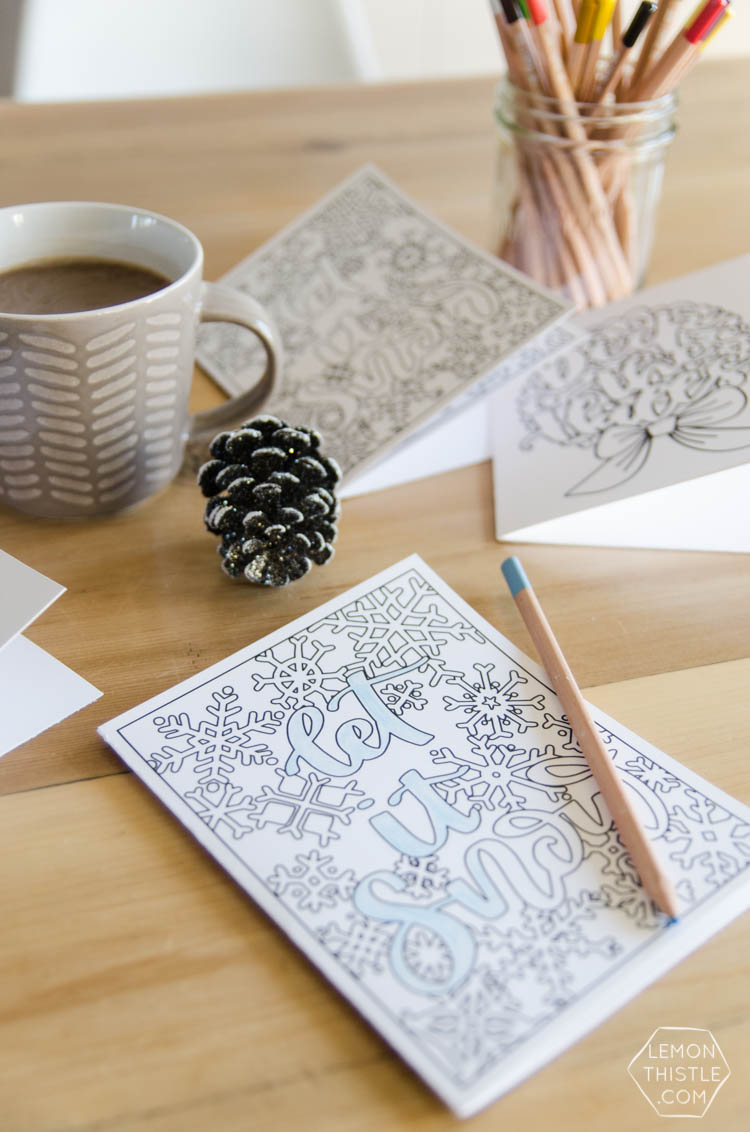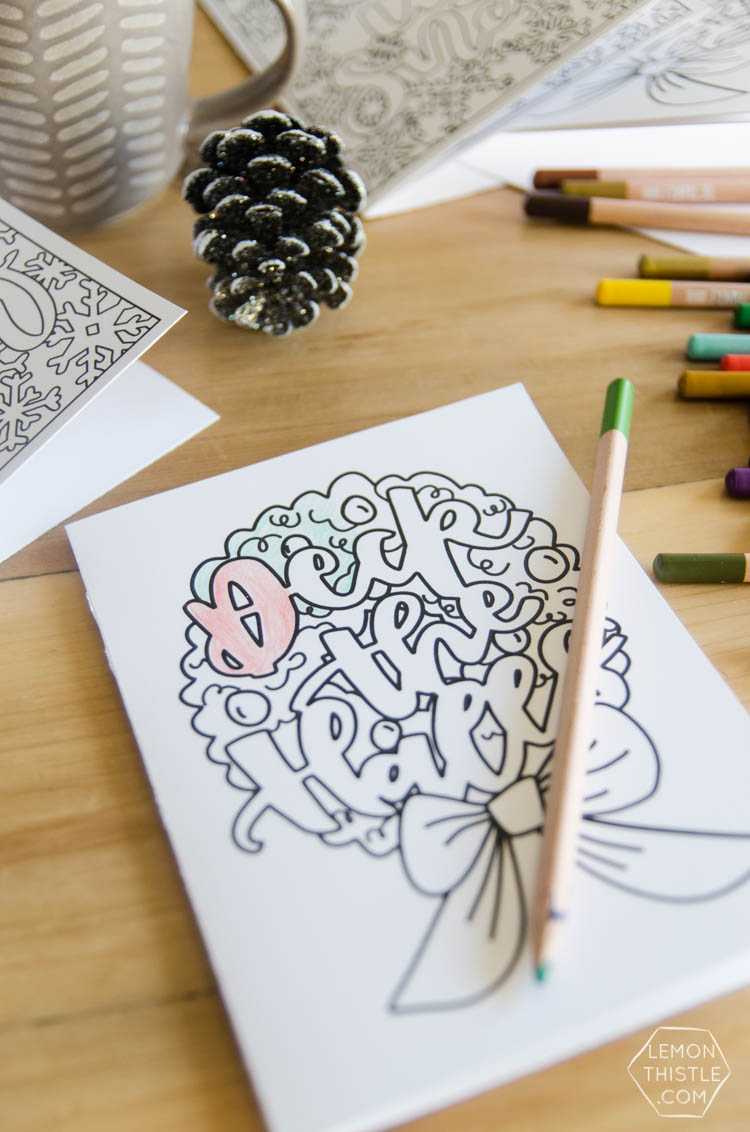 These printable Christmas cards to colour come in PDF format- just print them off on cardstock, trim them down to size and get coloring! I thought I loved the 'Let it Snow' card the best but the 'Deck the Halls' card is so bright and festive when it's all coloured, I am thinking it's a tie for me now.
You can grab the printable Christmas colouring cards file RIGHT HERE.
As always, all Lemon Thistle freebies are for personal use only. And for gifting, of course ;)
Okay… and if you've been on Lemon Thistle for a while, you'll know this isn't the first colouring page I've shared. You can check out the others below. AND you might remember I told you I was going to do a tutorial so you can make your own. And I recorded that video but just haven't edited yet. I have it on my list of posts for the new year! Pinky swear.
Check out all my printable colouring sheets RIGHT HERE.
And if you do print out and colour any of my cards or sheets… you know I want to see your art! Tag me on social @colleenpastoor