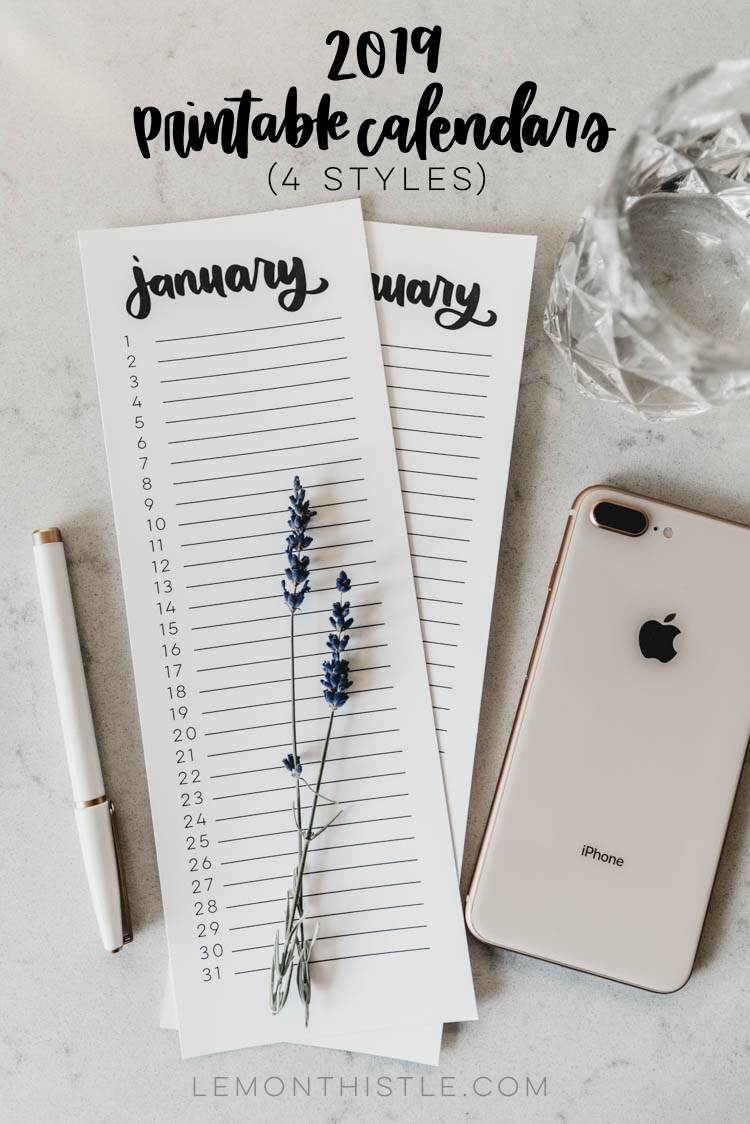 This year is giving me a run for my money, you guys. And some things (like these calendars!) are falling through the cracks. We're knee deep in a main floor renovation, our oldest (twins) started Kindergarten and I've still got a baby and a toddler at home during the days. I love this crazy life, but it sure is full right now. I say this because it's somehow OCTOBER and you guys have been so sweetly asking for the 2019 calendars since August. The crazy part is that they've been done for a month and I just couldn't get my butt in gear to photograph them and get them posted for you here. But they're here and done and ready for you to download.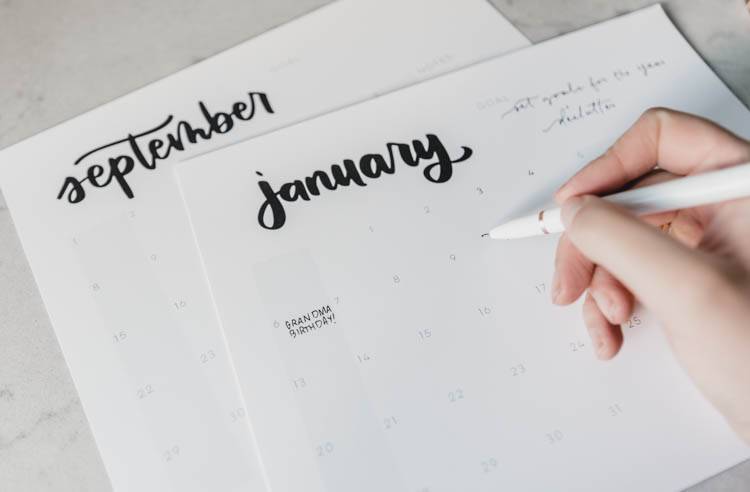 I say this every year, but this is one of my very. favourite. posts. to write all year long! I know how many of you have been waiting patiently for these calendars and it always feels great to publish a post knowing it's going to be well received. If you're new to Lemon Thistle, every year I create a hand lettered calendar… well, actually *four* hand lettered calendars this year and offer them as free printables for my email subscribers. And today is the day they officially launch.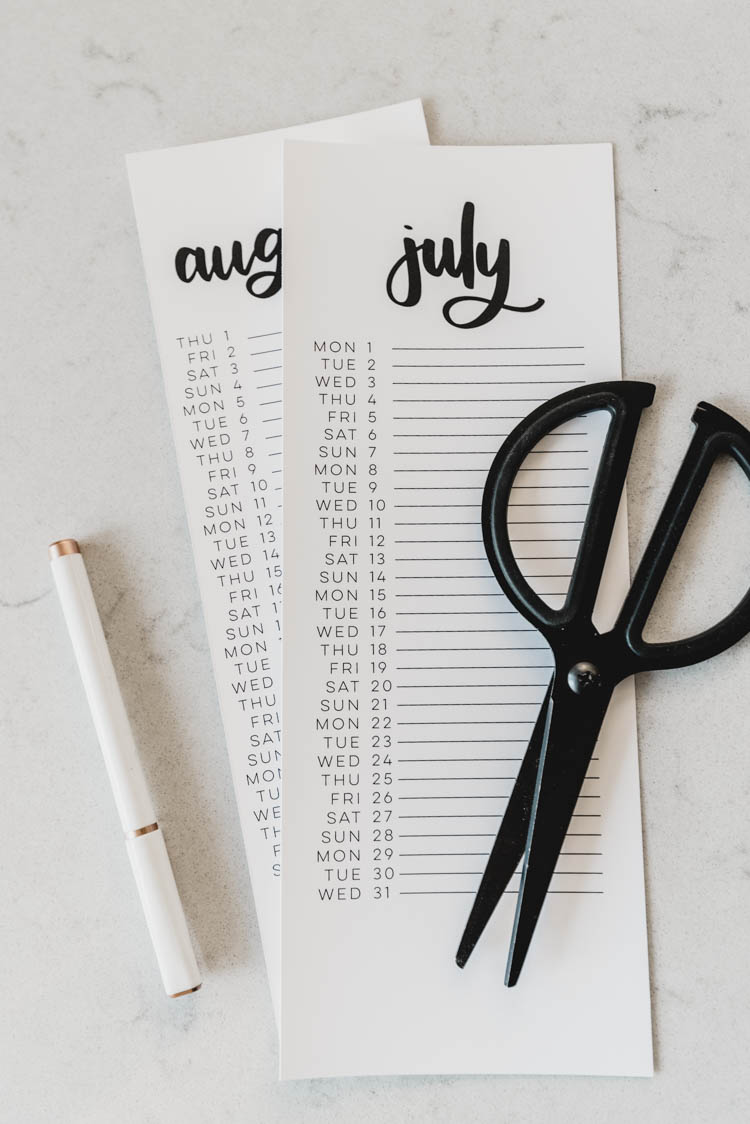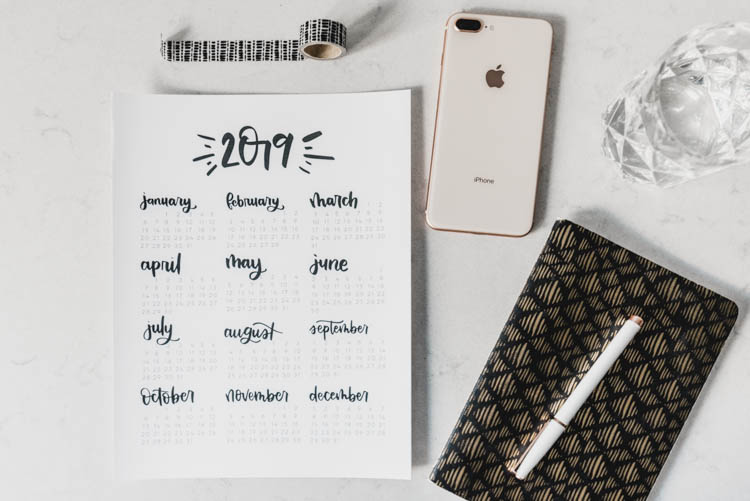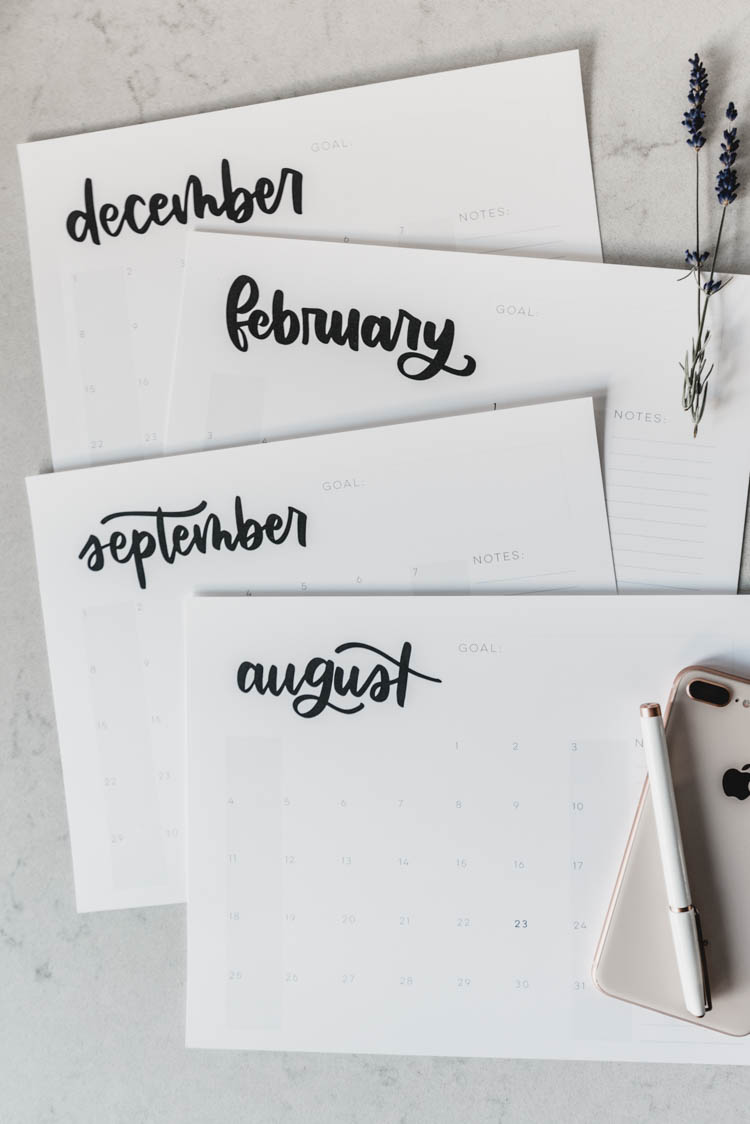 These printable calendars have been my most requested project every. single. year. and that makes me crazy happy- because I love to make them for you! I'm such a planner, I love to have calendars upon calendars to keep track of everything in my life. Like… you probably need every one of these three versions: one for meal planning, one for birthdays, and one for general life. Oh! And one for budgeting so go ahead and make duplicates. Just me? I know you calendar addicts are out there!
For the past few years, I've created a full page monthly grid calendar for your planning, a list style calendar, and a perpetual list style calendar (awesome for birthdays!) to fit whatever type of planning you're working on. I shared how I use my list calendar to budget back in 2014 (time flies!). This year I added a one page year at a glance calendar for 2019 for you and I love how handy this is to have on my office wall! You might have spied it in this Instagram post.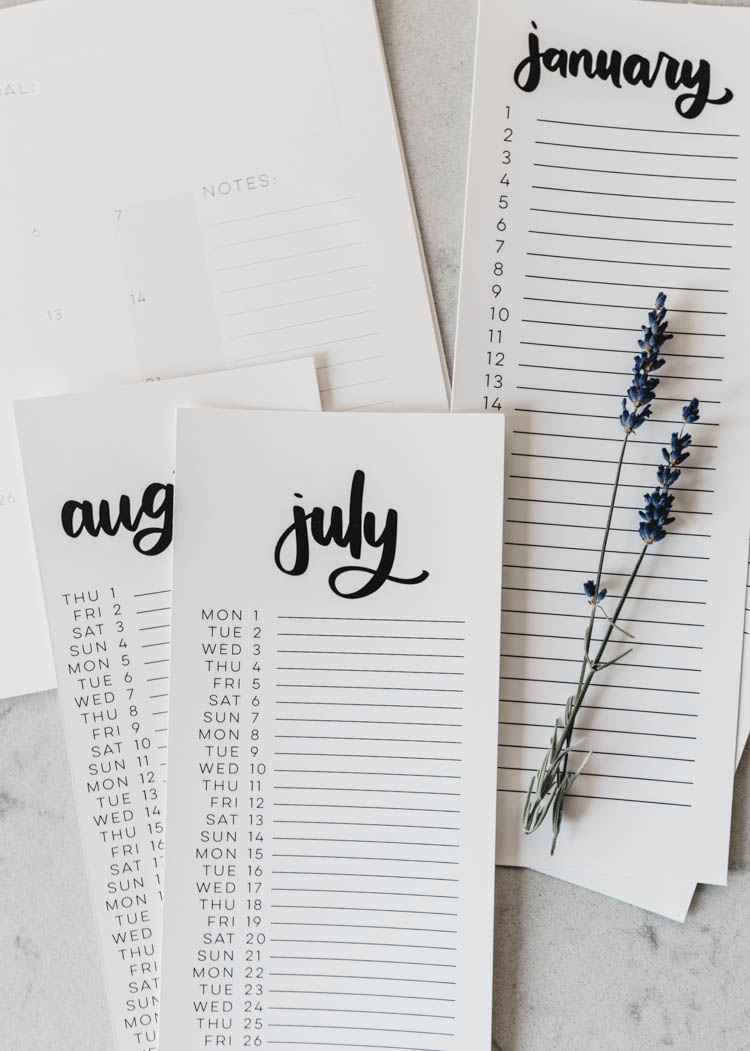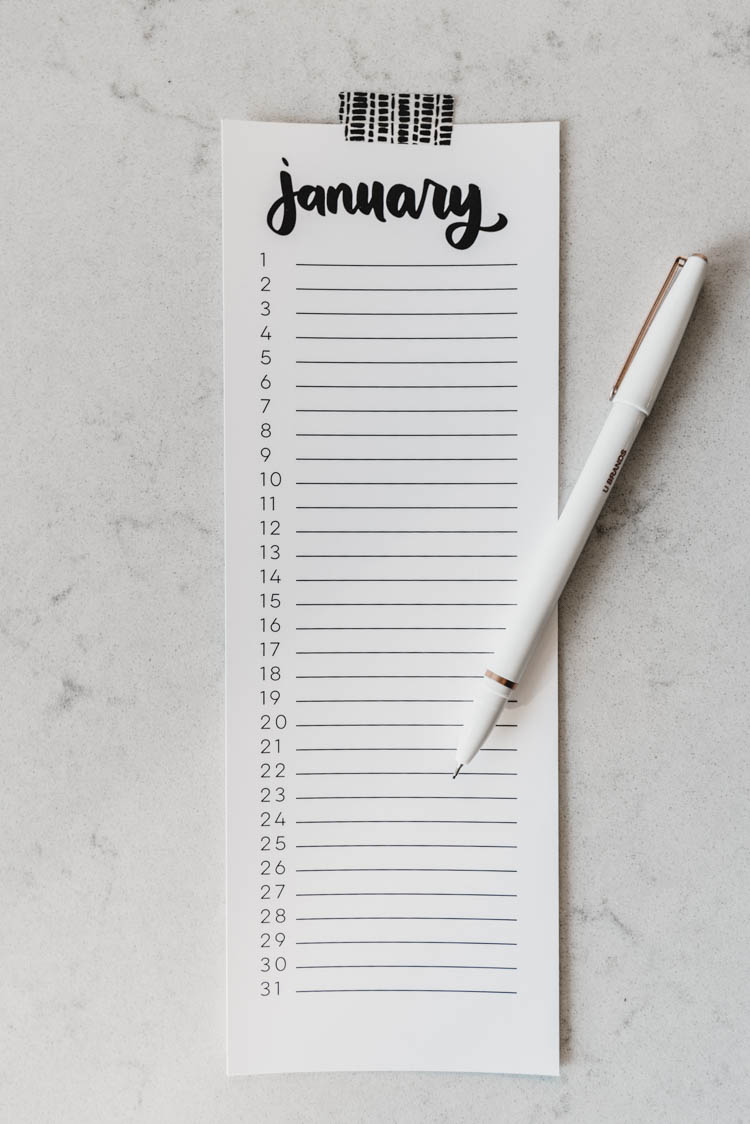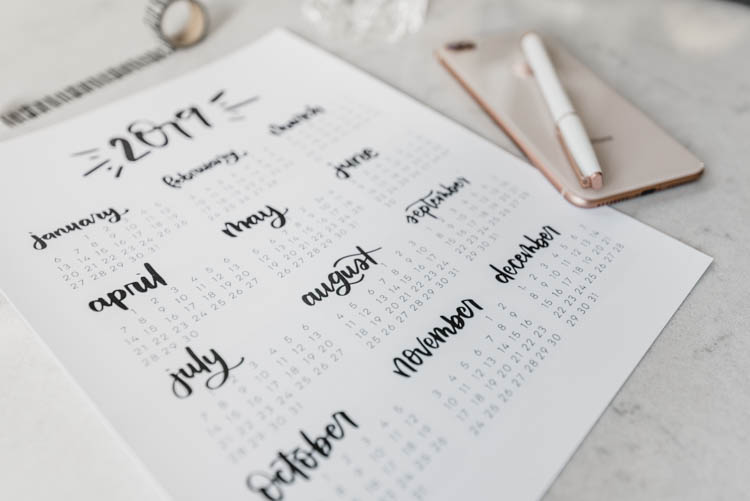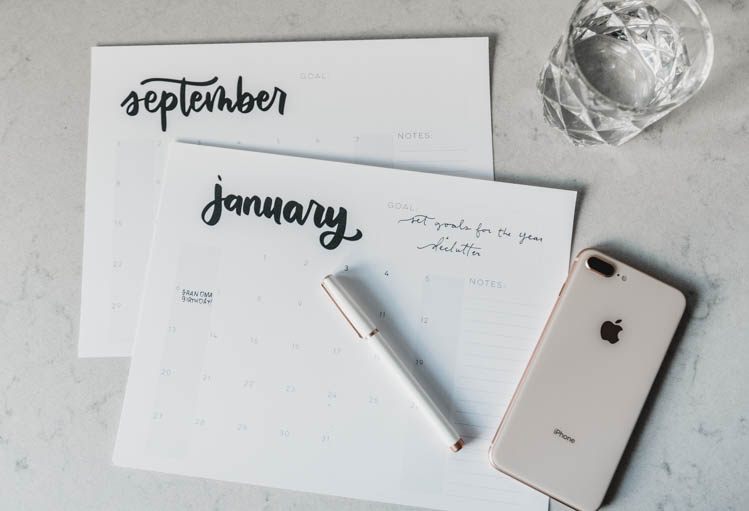 Just like last year, these calendars will be available for free to my e-mail subscribers (only until January 1st) or if you'd rather not subscribe and just buy the files, you can do that in my shop… so get your planning on now! All new subscribers will automatically be sent access- no matter the form you sign up with.
UPDATE: 2022 CALENDARS ARE AVAILABLE! That means that the 2021 calendars have been moved to my shop. You can find them RIGHT HERE. Or you can get the 2022 calendars to your inbox by entering your email HERE!
What's your email list for, Colleen? Great question, friend. You can expect to hear from me once a week (when I'm on my A-Game) with exciting updates, a little chatter, exclusive monthly freebies (heck yes!) and special discounts- oh, and links to new posts. I know that you guard your email with your life- I promise I won't send you any spam or ever share your email. Just Lemon Thistle goodness.
Alright, my friends! I'm going to leave it at that. I hope you enjoy the calendars and get your your planning done!
You can also get the DIY instructions to build a stand for the list calendars right here (which makes the perfect Christmas gift!). And if you need to whip your budget into shape, you can get all the details on how I use the list calendar for easier budgeting right over here. And once you've got your hands on your calendars I'd love to see them in action!
And while I've got your attention, if you like free printables- did you know I have a bunch of them? You can check them all out here.