Beautiful matte metallic pumpkins? Heck yes! Plus I'm sharing my hand lettered 'Hello Pumpkin' Cut file for free!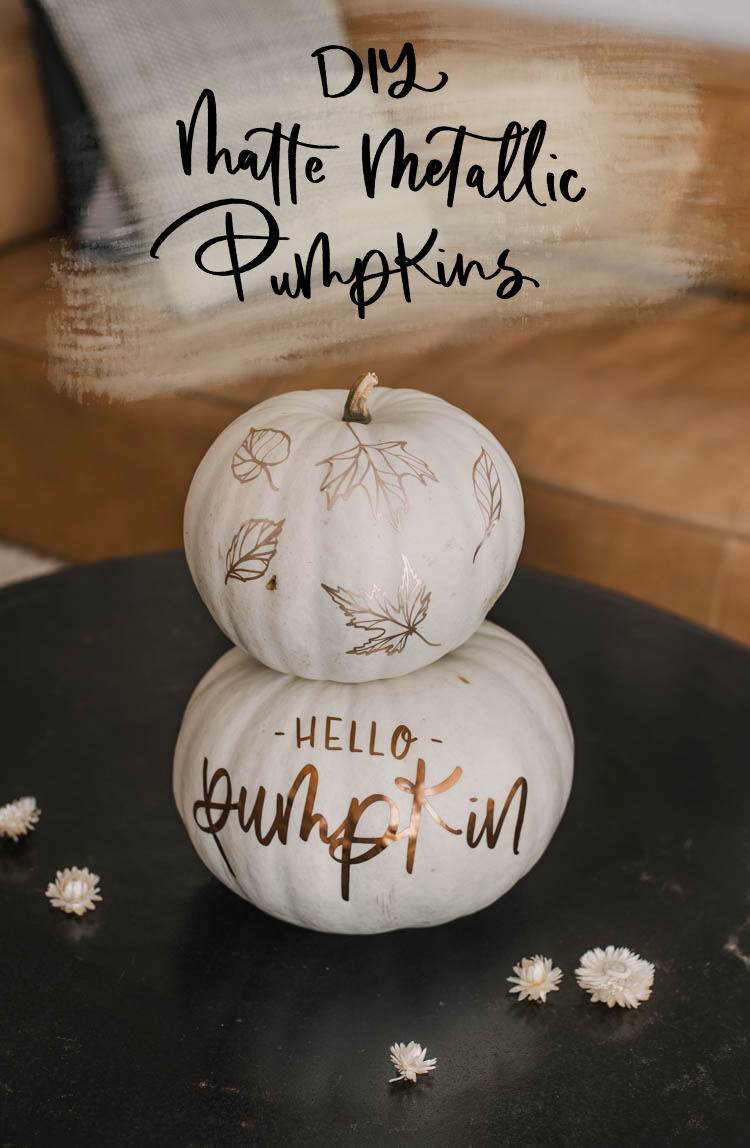 In the middle of major renovations a craft is such a rewarding way to spend a few minutes because then… it's DONE. It doesn't take weeks of work to get to a point that it looks unfinished still. Nope… it takes just one afternoon. If that. And then you have something pretty to show for it! So today I'm excited to share these pretty matte metallic vinyl pumpkins with you guys!
I'm joining forces with some incredible crafty bloggers for this one. Down at the bottom of this post, you'll find 13 rad pumpkin projects using vinyl. So if Cricut or Silhouette craft is your thang, you'll love these fun projects! I'm going to show you how I made these pumpkins, but also- you know I'm sharing a freebie! I hand lettered that 'hello pumpkin' file and am sharing that as a free download below. And then because I couldn't stop at just one, I made a second pumpkin with matte adhesive foil using my SVG line art leaves. I'm putting them on everything right now. Did you spy the little tea towel from my home tour last week?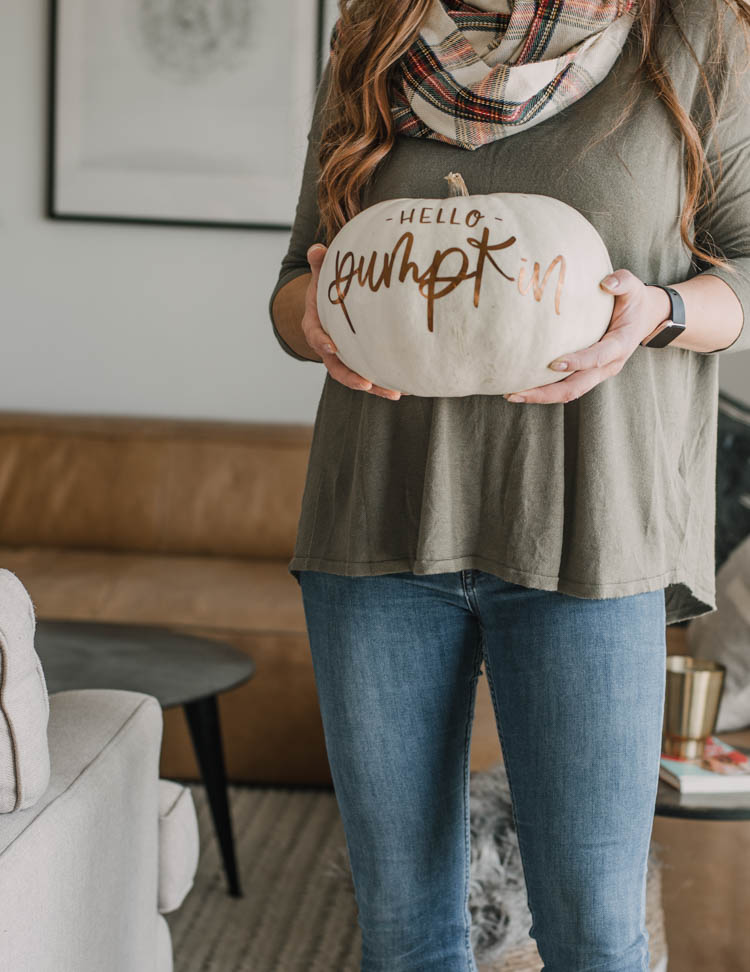 Before the tutorial… YES, I used real pumpkins. If I would have used fake pumpkins, I could have saved them for next year too. I might do that next year. But I was at Home Depot, not Michaels and they have real pumpkins at Home Depot ;) They also have insulation… which is the reason I went there in the first place.
If you too want to use real pumpkins… Make sure you wash them suuuuper well. With vinegar. So that your vinyl sticks and they last longer!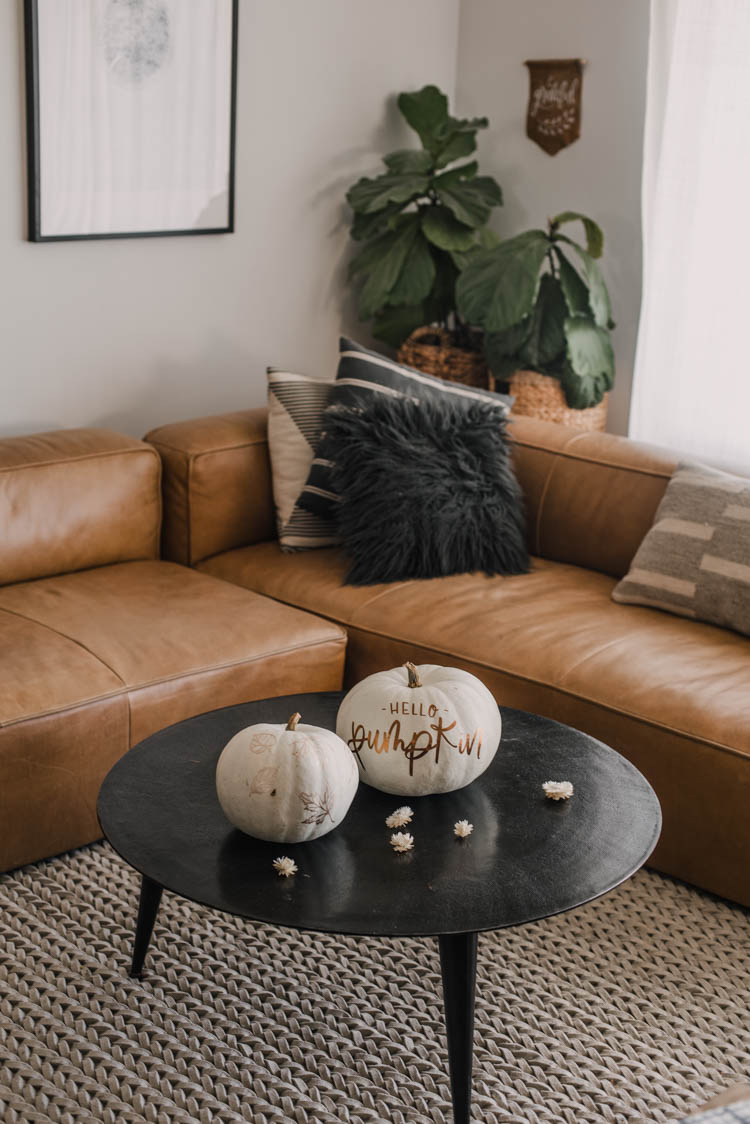 Alright- let's get to the tutorial (and freebie!), shall we?!
The first thing you'll need to do is decide on your design and get it loaded into your cutting software. If you'd like to use my 'hello pumpkin' hand lettered design, you can grab it for free at the link below. Polite reminder that it's for personal use only :)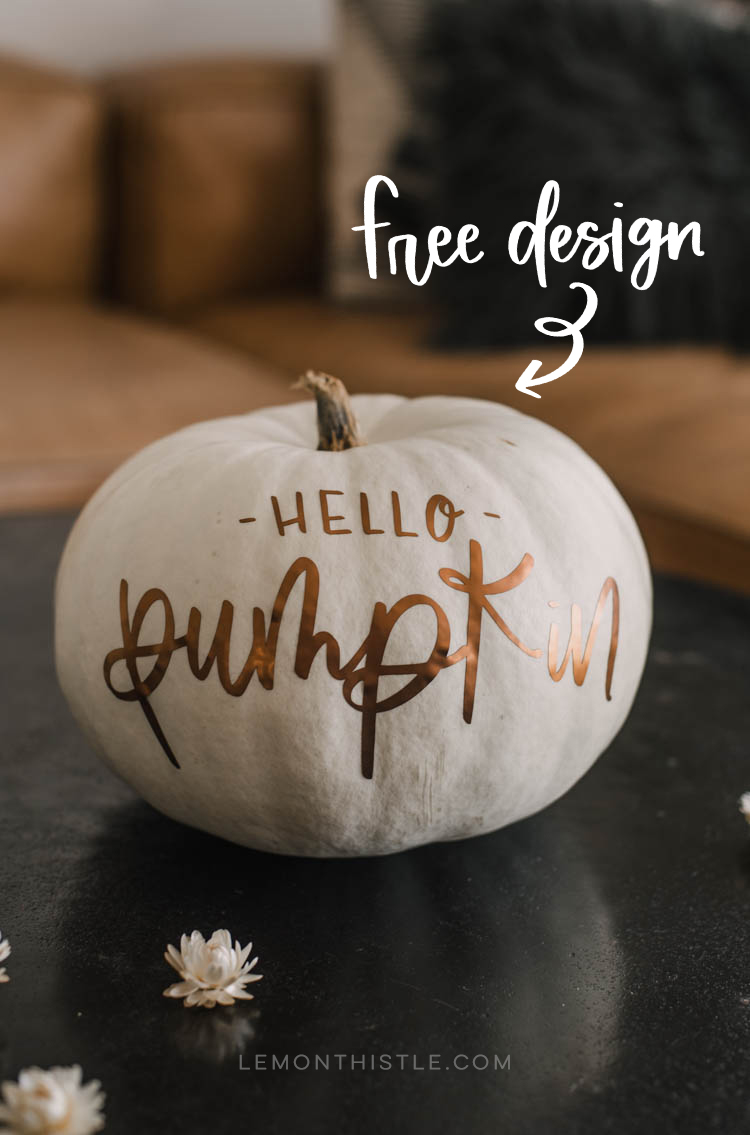 If you're loving the leaves (me too!) you can grab one of the maple leaves as a freebie right here or the whole pack of them in SVG format in my shop right here.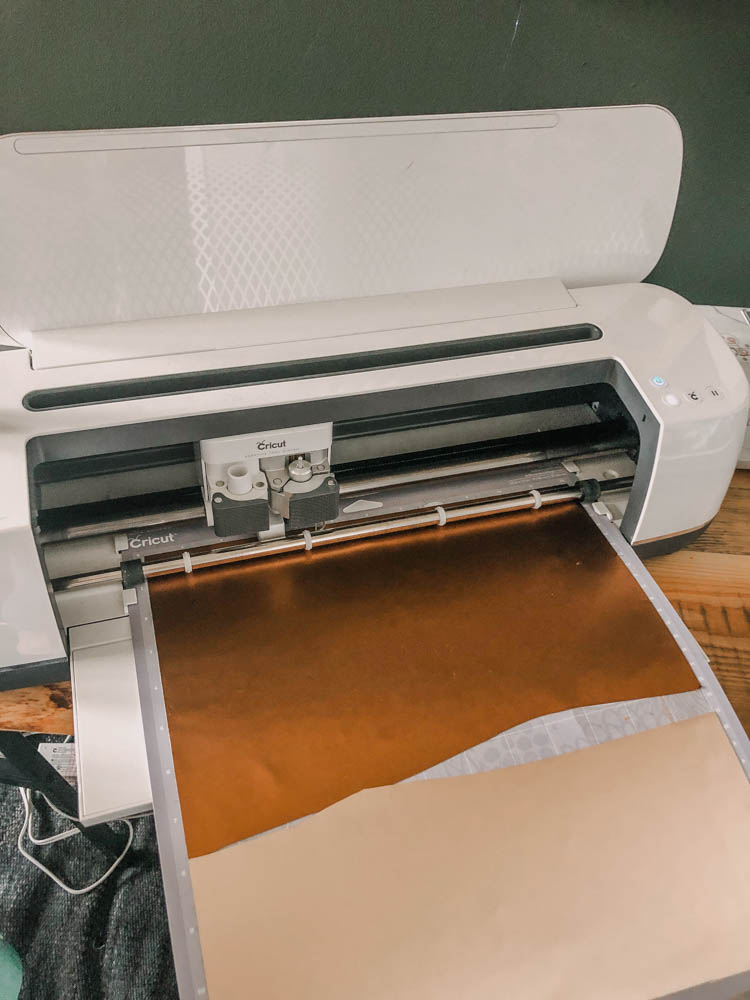 Alright, once you have your file… time to get cutting! If you're new to cutting your own uploaded images on Cricut, I've made a whole video showing how to do that right here! If you're a Silhouette user with that learning curve, my girl Alexis has you covered with this video right here.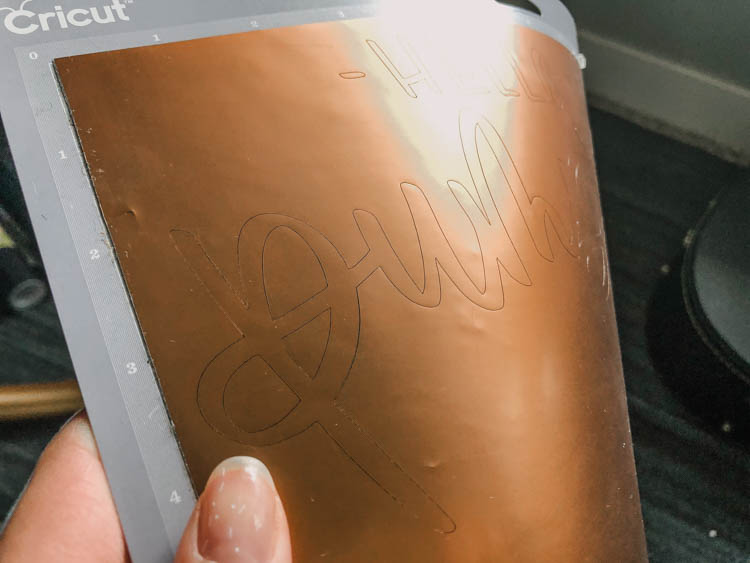 For these pumpkins I used the Cricut Matte Adhesive Foil. I've used this stuff for a few projects before and I'll be honest, it's kind of a pain to work with. But I keep using it because I LOVE the way it looks when all is said and done so darn much. You can see a fall sign I made with this stuff last year… and then this cute plant pot. I cut two different colours (the bronze and the rose gold) at once. Since it's the same cut settings, you can easily do this and just drag the designs around on the matte preview to where you want them to cut.
When you're weeding your design, my biggest piece of advice is to go really slow with this material. It tears but also it scratches. It also sometimes doesn't cut all the way through. I use a paper weeding tool (it's super sharp) to poke where the cut didn't quite make it and that helped me out. You could probably add a bit more pressure to the auto cut settings if your blade is getting a bit dull (like mine!)… but #hindsight.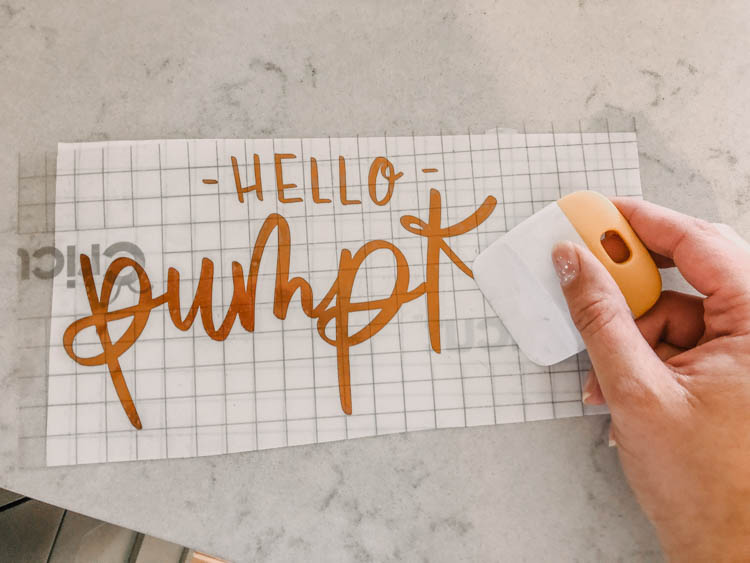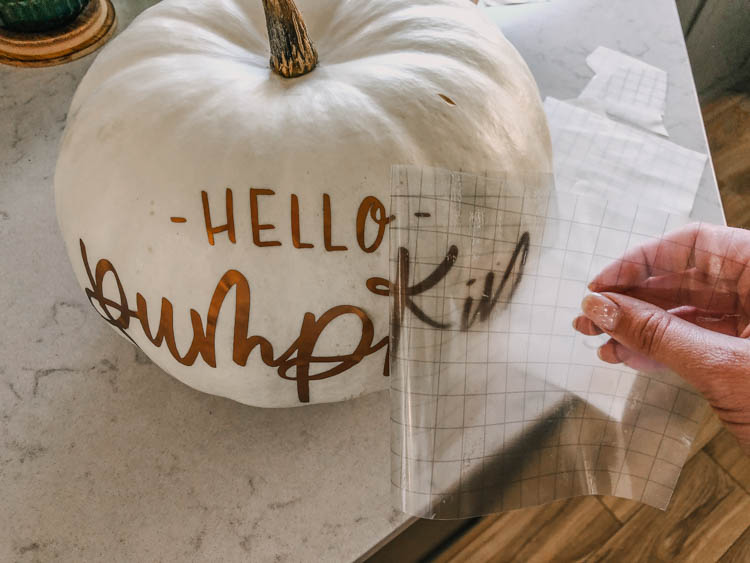 Once it's weeded, use transfer tape as per usual (the Cricut standard stuff works well with this material!) and transfer it on to your pumpkin! I find to get a design straight on a curved surface, it's really important to start at the middle. I like to lay half of the design down first and peel back that transfer tape before laying the other half down and peeling back the rest of the transfer tape. If you try to do it all at once willy nilly, you'll end up with a curved and crooked design. Not that I have ever failed like that. Nope. Not once.
Once you've removed your transfer tape, take time to really smooth it down into the creases of the pumpkin. Then stand back and admire your work! Sprinkle with strawflowers for even more autumnal vibes.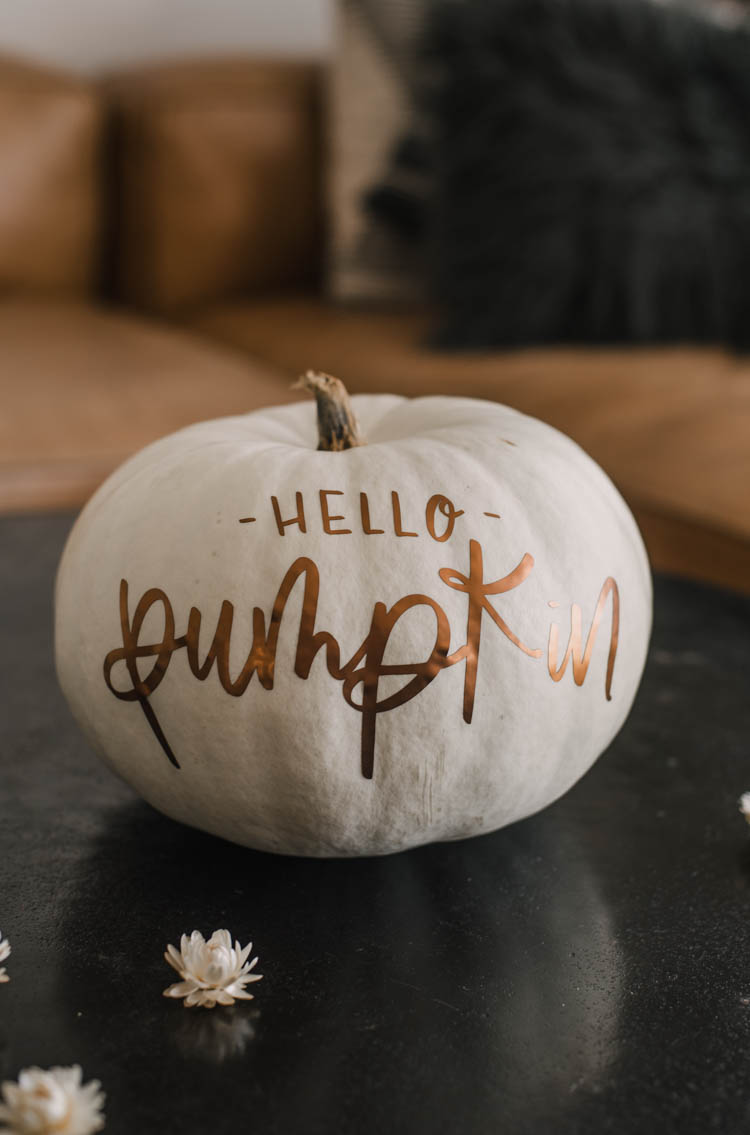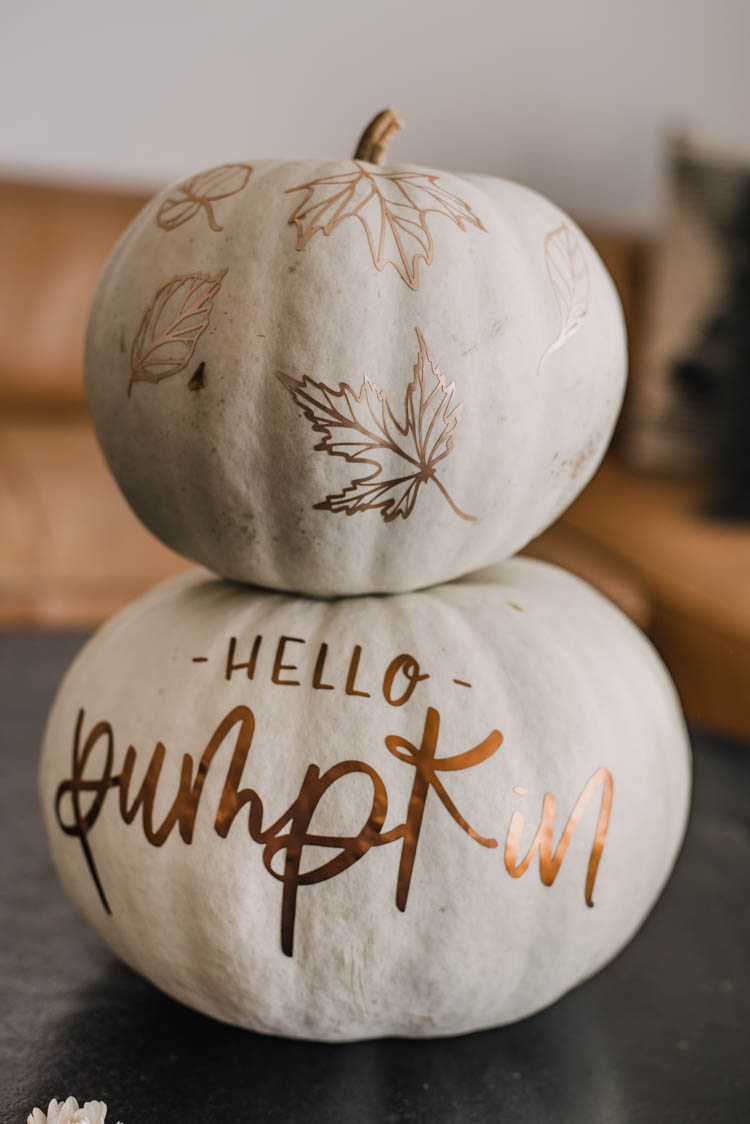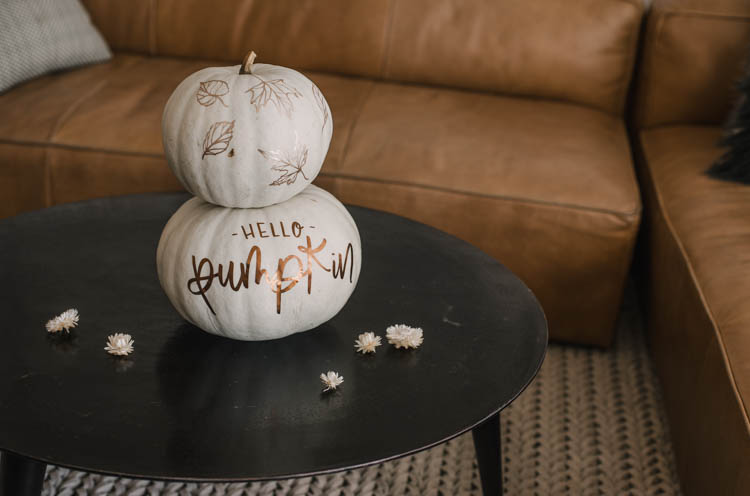 Now… hop around and check out all the pumpkins because some of these ladies are so freaking creative. And all of them are very colourful, it has me feeling so basic- ha! Just the way I like it :)