I hope your summer is going well! We're really enjoying ours, but there's this thing that happens every single summer (even when I am positive it won't). Weddings. And not just weddings, but wedding showers, engagement showers, and everything in between. I love to celebrate my friends BUT I'm also a bit selfish and think it gets old going to Bed Bath and Beyond every weekend to buy cutting boards and measuring cups. I know, I'm the worst wedding guest ever, right? I love to give gifts that are meaningful and special and with living on a budget- it's easy to blow it on gifts alone. Today I'm bringing you a roundup of handmade gift ideas to help fill couples' walls (not with that Karate Kid poster he's been hanging on to) and all of them come in under $60. Some of them way under. Oh, and for my Canadian friends- they're all made in Canada! Any of these would also make an awesome housewarming/ birthday/ anniversary/ any day kind of gift because they're not really wedding-y.
I know I don't talk about it a lot, but if you've been reading Lemon Thistle for a LONG time, you'll probably know that I'm a huge lover of Etsy (I did a fun baby registry post when my twins were due if you're interested!). I've been ordering from makers on Etsy since 2009 and it's still my favourite way to Christmas shop. When Etsy reached out and asked if I wanted to participate in their Craft Party I was super bummed that it turned out to be the same weekend we were building our deck. So I said no, and instead they offered a giveaway for you all! You know I couldn't say no to giving you the opportunity to snag some handmade goods yourself. So read on to see my awesome wall decor gift picks then enter the giveaway!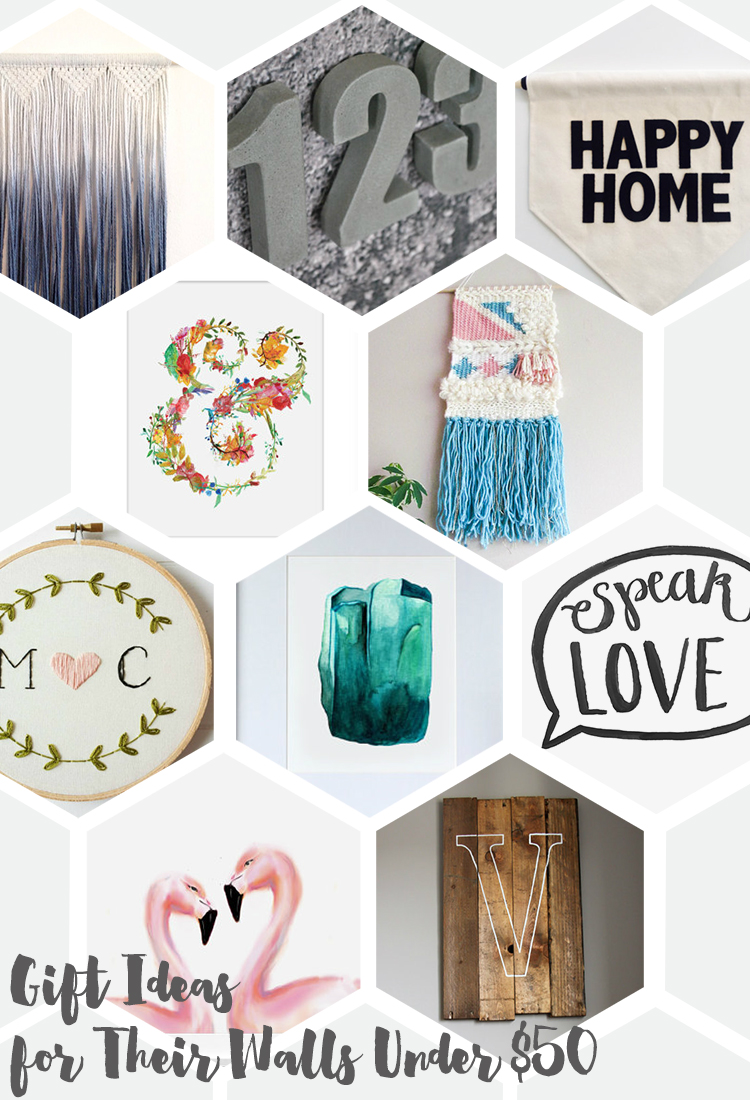 Left to Right; Top to Bottom:
ONE: Yesterday I wrote a post for my friend at Bespoke Decor and I confessed my love for macrame. I wasn't kidding, it's a bit of an obsession right now and I don't have a single bit of it in my home! I couldn't let one of my friends make the same mistake, could you? this dip dyed (another obsession) macrame wall hanging is just perfect!
TWO: So this one isn't so much to decorate the walls inside their house but out… how awesome are these concrete house numbers! Have you seen the selection at most stores? Pretty standard. But these? Totally unique and awesome.
THREE: What's not to love about this felt and canvas Happy Home wall banner? I mean it has felt, canvas and it says happy home! But seriously, I've got a few wall banners in my home (like these felt ones, this plywood one, and this one for the holidays… and one I'm posting Monday!) and they're the best thing. They're add so much fun compared to framed art, and what a wonderful proclamation over a new couple's home.
FOUR: I think we're learning about all of my obsessions in this post… so let's have another, shall we? Ampersands. Since we found out we were preggers with our twins, I've fallen for them hard. One of the best gifts we received for them was a custom watercolour ampersand from a close friend. BUT they're really not specific to twins, they're so sweet for couples as well. This floral watercolour ampersand is so crazy beautiful and since it's a digital file, you could print it up whatever size you want and save some dough on shipping.
FIVE: I'm sure you've caught wind of the fabulous trend that is weaving. I'm smitten with it but I'm not ready to DIY it myself (quite yet), especially for a wedding gift! This cotton candy coloured one is so sweet, I love all the textures. Did I mention it has some gold threads in there?
SIX: Another fabulous trend that I'm not ready to try DIY (because, hello! It would take some patience!) is embroidery hoop art. I kind of cheated and made a mirror out of one which I love, but I think a sweet custom embroidery hoop would make the most darling gift for a couple. I actually just bought an adorable piece of hoop art from a Kamloops local for a friend (and I'm having a hard time not keeping it for myself). You should probably check out her fabulous Etsy shop, Scientific Culture.
SEVEN: One fabulous Canadian blogger I've mentioned before is Tan from Squirrelly Minds and not only is she an amazing blogger, she's an amazing artist. Her Etsy shop is devoted to gorgeous watercolour gemstones. How great of a gift would two of these babies make in the couples' birth stones? Uhhhm, super great. She also does a custom family tree gemstone print if your friends have kiddos!
EIGHT: Recognize this one? Okay, okay, I included one from my own Etsy shop but this 'Speak Love' hand lettered watercolour piece would really make an awesome wedding gift all framed up! I had a hard time deciding between this one and my 'So Much Love in This Home' one' both would really be great! And did I mention that all my e-mail friends get a discount? If you haven't already subscribed, you can do it here #shamelessplug.
NINE: This one's a bit lovey… so it's perfect for a wedding. And it's flamingos, so really, it checks all the boxes. This flamingo watercolour print is so sweet but if your friends are obsesses with another type of animal (say elephants?) the artist totally has lovey prints of them too.
TEN: Monogrammed stuff is all the rage for weddings, and while it's adorable, that swirly monogram isn't for everyone… especially not their walls. But this rustic letter made of reclaimed wood? I'm pretty sure even the manliest of men can get on board with this.
Aaaand now for the giveaway! ** The Giveaway is now closed and the winner is Lori B. Thank you to everyone who entered!**
a Rafflecopter giveaway

I'd love to hear which of these awesome gifts is your favourite in the comments!