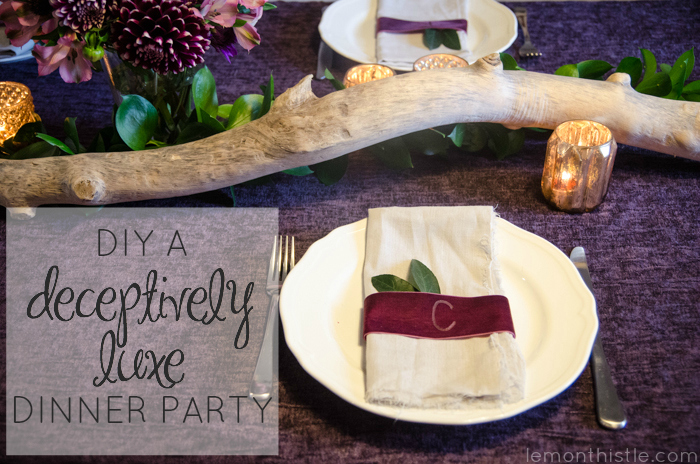 So I'm 25 now. Woohoo! A couple weeks ago, I had my 25th birthday and invited some of my closest girlfriends over to celebrate. I thought it was a great excuse to get fancy and cook a delicious meal (before games, of course). I was picturing something something girly and luxe, but my budget was picturing something pretty basic. I'm so happy with how it turned out! So this post is not only about my birthday party (Woo!) but how to save money on dinner party decorations. Today I'm talking party decorations, but I'm going to follow this up with posts on the flower crowns & leaf garland, as well as the cake (it's a hack!) and the bunting and monogrammed napkin 'rings'.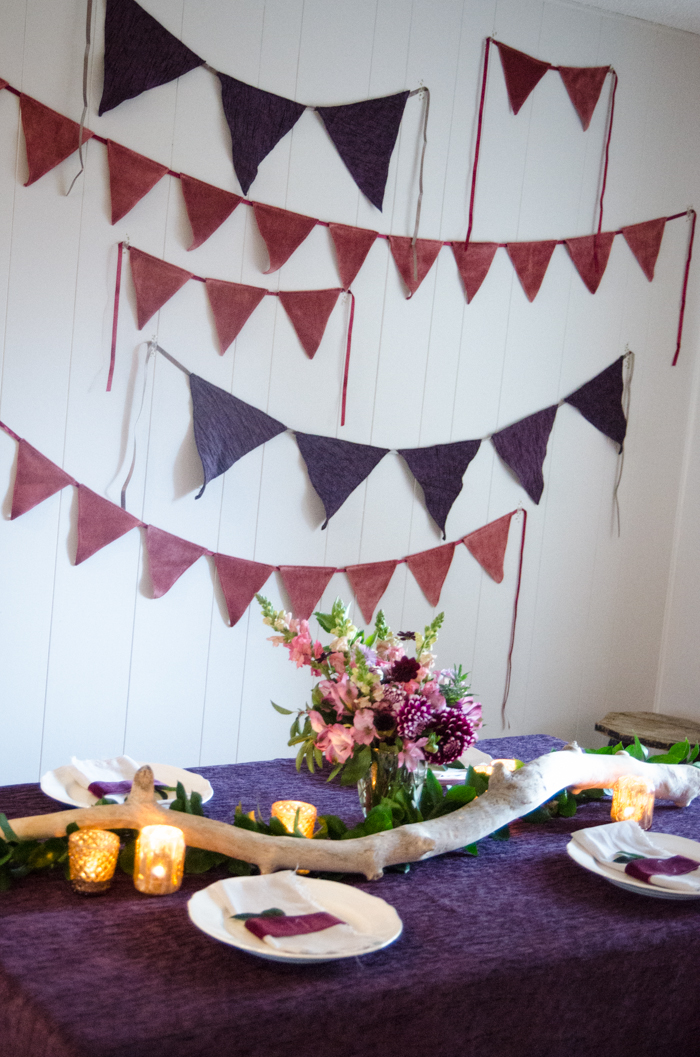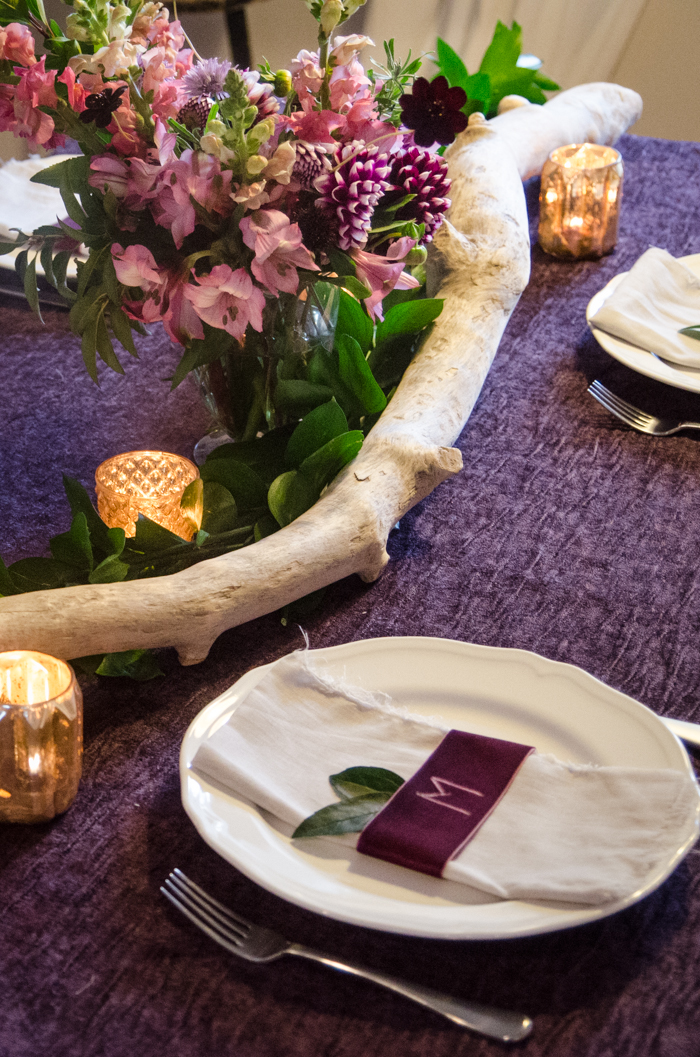 The first thing I did is hit the fabric store for some inspiration. I knew I wanted a table cloth- but not a plain-jane one (we hate our kitchen table right now, we plan to paint it, but for now we cover it up as much as possible). I found this purple in the discount section for $3 a meter. Done. I also picked up the pink for $2 a meter. I only had to get .4 of a meter for the pink and 2.5 for the purple (that did the table cloth and the purple bunting). I used the napkins I made for my pancake party ($1 for four), and picked up the velvet ribbon for wrapping them at the fabric store for $2.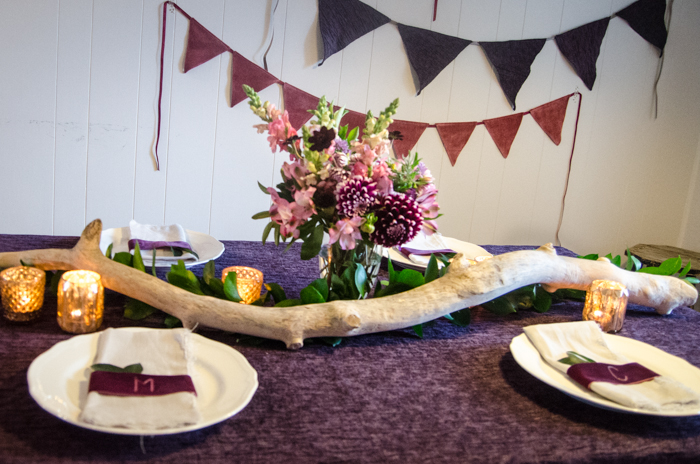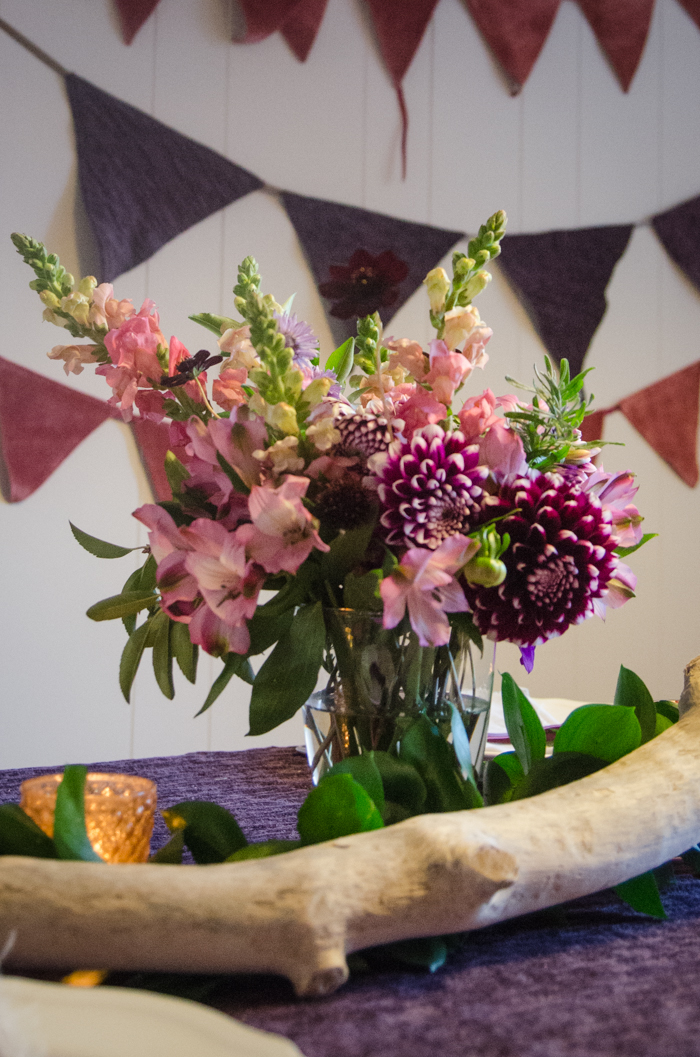 So I like flowers, no two ways about it. But unless you get them from your garden (like for my Friendsgiving), they can be really expensive! Since it's the end of the season here, there wasn't much left in my Dad's garden to pick from. I filled out the bouquet with grocery store flowers- a bunch of pink snapdragons and a bunch of pink alstroemeria (2 bunches for $10). The leaf garland for the table was surprisingly affordable too! I'll be talking that and flower crowns next week.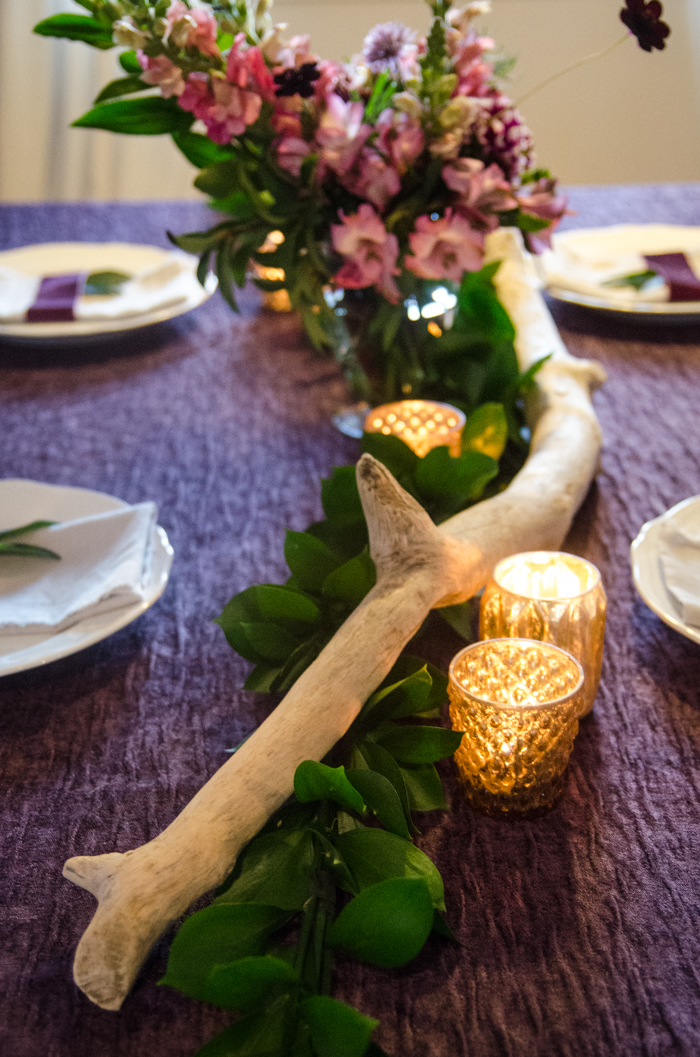 The driftwood branch down the table I've been holding onto for a while. I picked it up on a driftwood hunt a few years back (the same beach where I got these) and it's made the move(s) with us, so now I can say it was worth it. The tea light holders I bought as vessels for this carnation arrangement at Target after Christmas. They were on sale for $1.50 a piece. So don't count seasonal (Christmas) decor out when you're looking to decorate for a party! When they're matched with all the purple and pink, they don't seem too Christmas-y to me.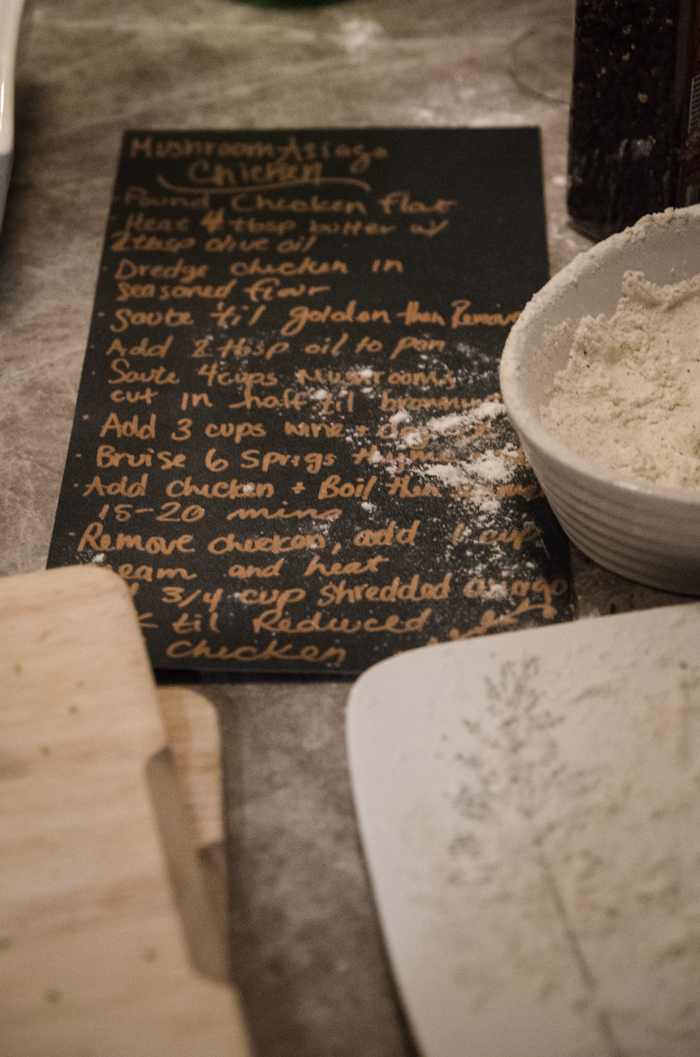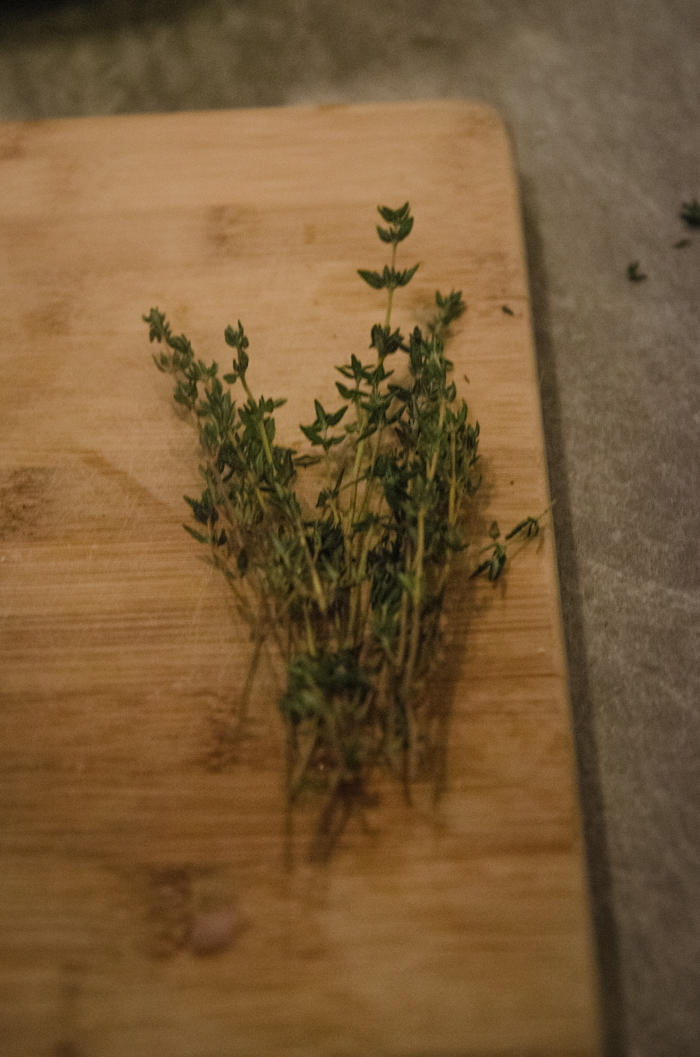 Our night consisted of making flower crowns, making dinner, then eating cake and playing games. It took so much stress off of me as the host (it was my birthday after all) by having us cook and make the flower crowns all together. Plus, it provided an activity to entertain us while some of my friends who didn't know each other as well got to know each other before we switched to games. Have you ever cooked with friends? I love it. It's such a good excuse to make something way fancier than you normally would. Then, by the time you get to eat everything tastes so much more delicious because you've been talking about it all night. In university I had a group of friends who would have cook nights and I miss those nights so much!
I wrote out the recipes I'd selected so we wouldn't be pulling up websites on our phones all night (how I usually cook). I also tried to have all the things we would be using out of the cupboards to save on the hunting. If you're curious, we made my go-to spinach dip, this amazing chicken, garlic rice, and my mother-in-law's recipe of broccoli salad.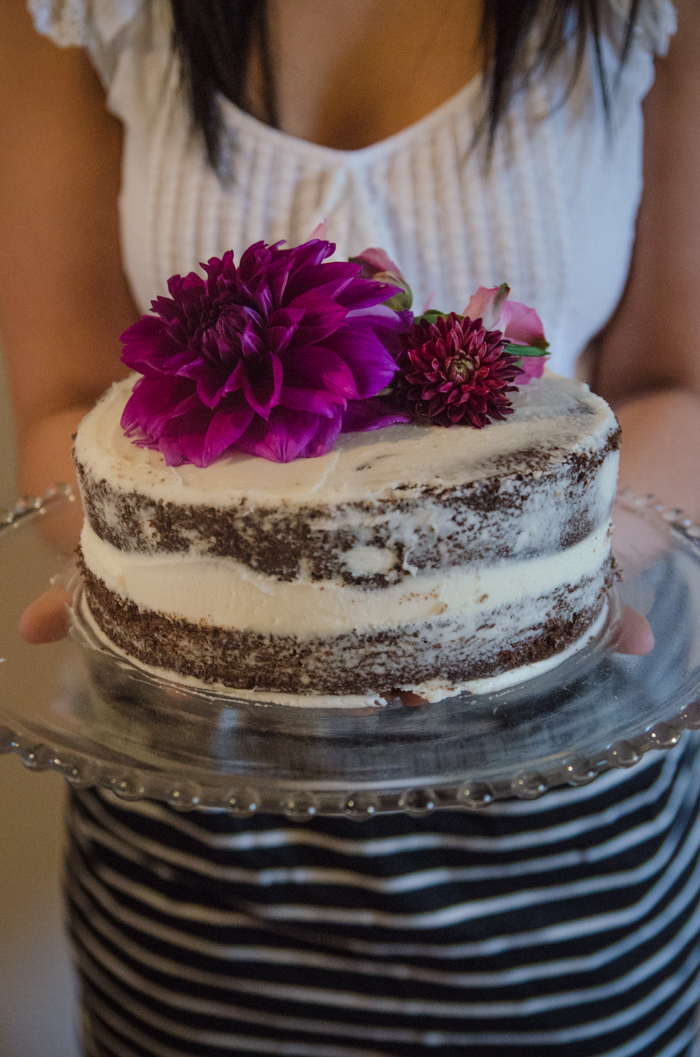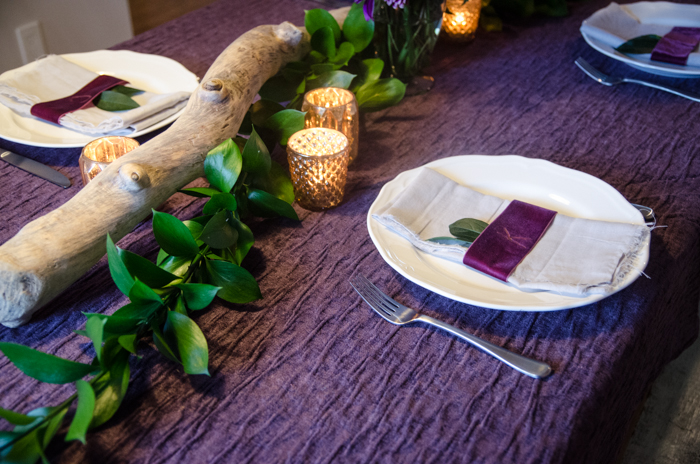 I had so much fun, guys. I'm thinking I'd like to make dinner parties a regular thing at our house. After Friendsgiving and then this… whether it's a potluck or we all cook together, I'm enjoying the excuse to get together with friends and eat something other than pizza. Does this mean we're growing up? Maybe, and this is one reason I'm totally good with it. What are some of your secrets to hosting affordable parties? I'd love to learn some new tricks!