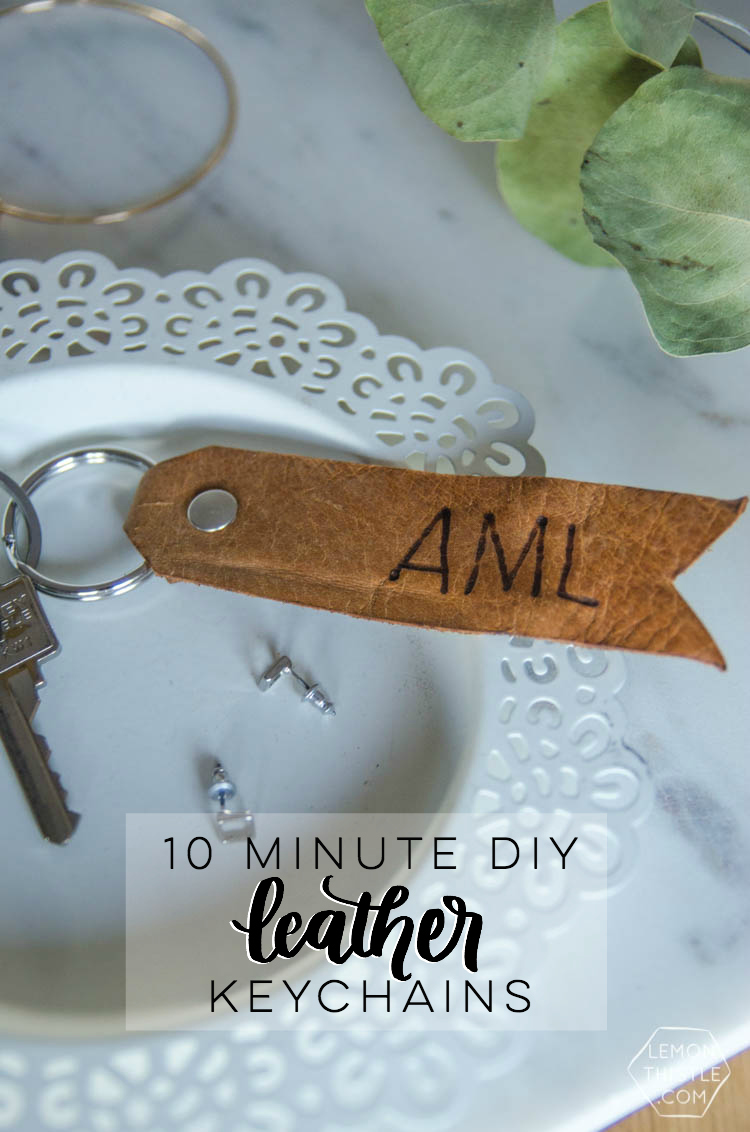 I mentioned a couple weeks ago (when I made my leather pennant) that I had a bunch of leather that would be making it's way into projects. Well, friends… here's one of those projects! These simple key fobs are exactly what I was picturing when I set out to make them. I'm so pleased with how they turned out and honestly, how darn easy they are! The simple design with the classic burned monogram or lettering is the perfect balance of trendy and traditional and are just as good to gift to your dad or your sister (I made one for both!). I'm considering making one of these for everyone on my list because they're just so cool. And easy. And that's a win, am I right? Plus, who doesn't love something customized for them? No one. No one doesn't love that.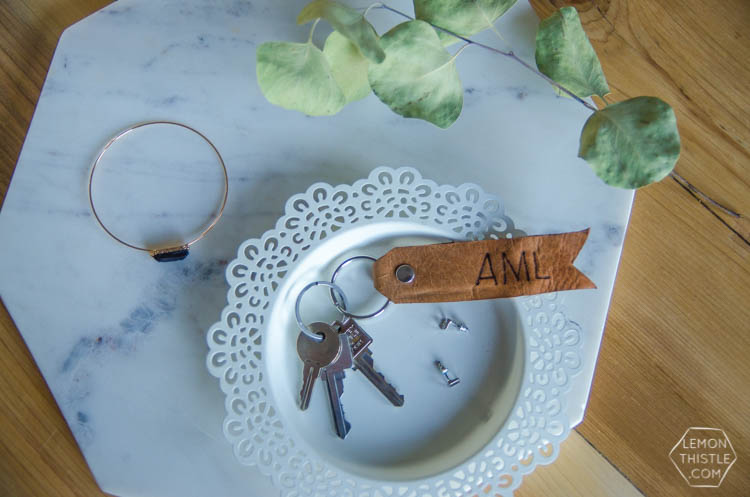 Ready for the how-to?
To make your own burned leather key fobs, you'll need:
Leather, lighter works better for the burning legibility
Fabric scissors and/or rotary cutter with cutting mat
Keyrings
Rivets, fastener tool (with awl), and hammer
Wood Burner with pointed tip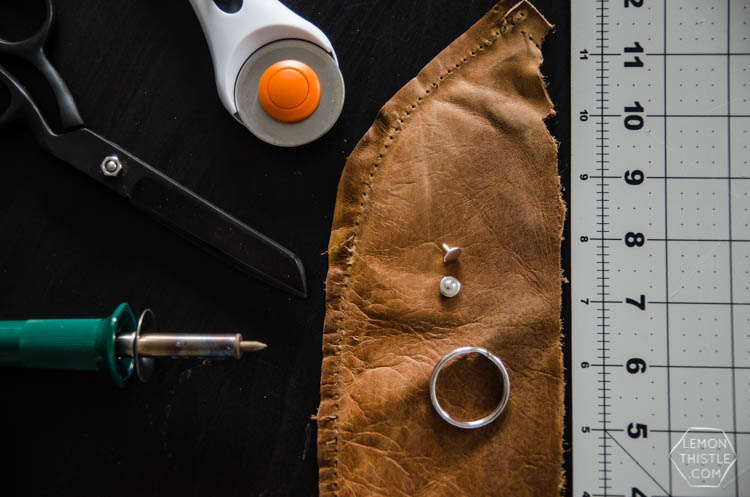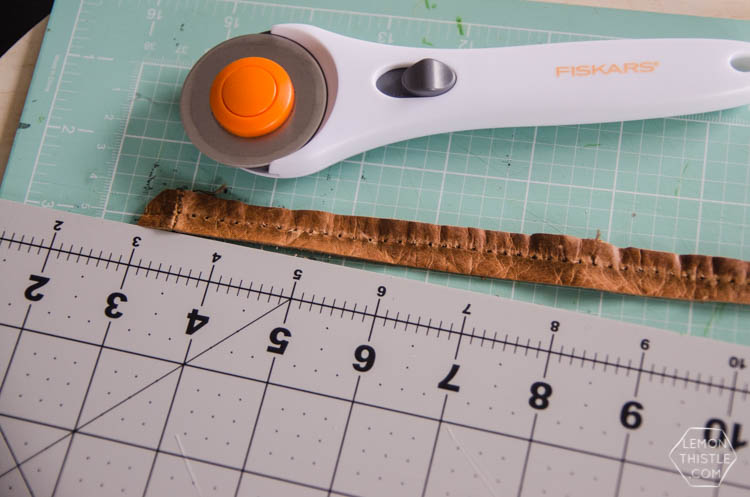 Before you begin, plug in your woodburner to start heating up. Start by cutting your leather into strips. You can do this 1″ to 1 1/2″. I was using salvaged leather (from a couch!) so had some odd sized pieces I needed to square up. I did this using a rotary cutter and straight edge. If you are doing a few of these, a rotary cutter is by far the way to go! Scissors and leather (even awesome fabric scissors) can be a total pain and it's hard to make it totally straight. I JUST bought a rotary cutter, you guys. I've coveted one for so long and they're not even that expensive. It's a dream to cut with.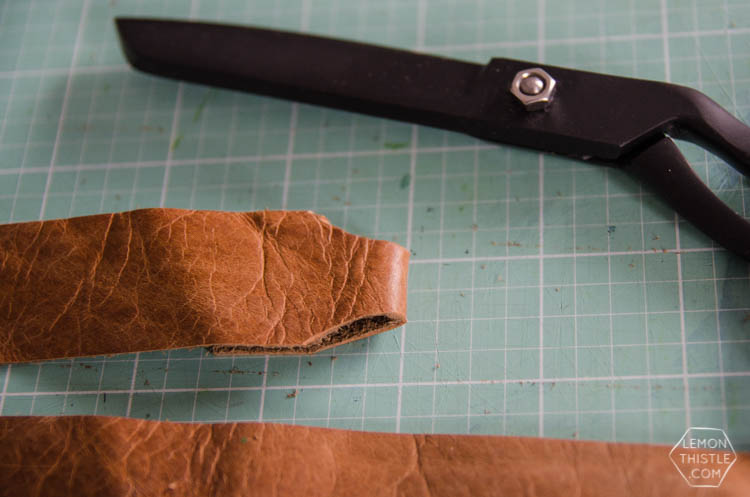 When the pieces are cut to size, fold one end over and snip the corners off. This allows it to slide easier around the key ring. I totally took this tip from some gorgeous straps Virginia made for our roommates last year at SNAP. She's amazing if you haven't checked her out (Fynes Designs).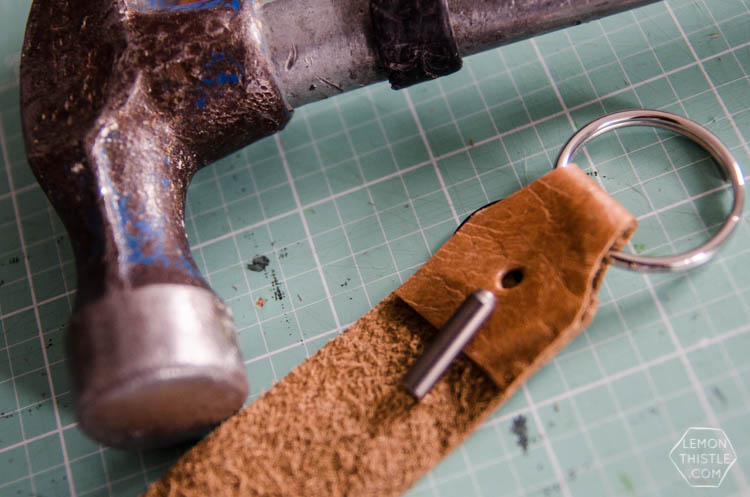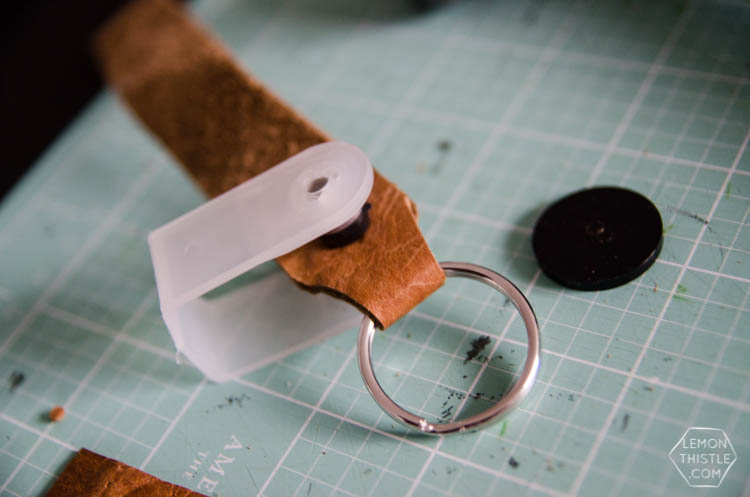 Time to bring out the special tools. Don't let this intimidate you. This kit cost about $9 and came with an awl and the rivet fastener tool. It's really easy to use too: punch the leather with the awl and hammer, then stick the rivet in the tool and hammer it shut in the hole.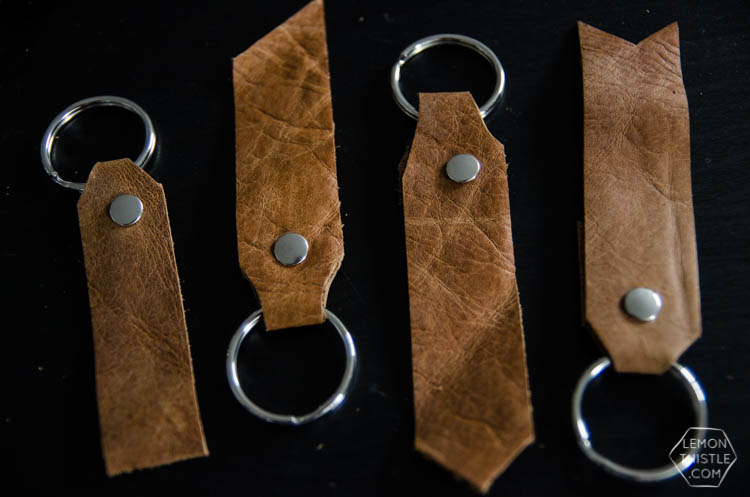 At this point it's time to design it! You can trim the end straight, on an angle, or even to a banner style finish. I tried to do one to a point and really didn't love it so I ended up trimming it straight.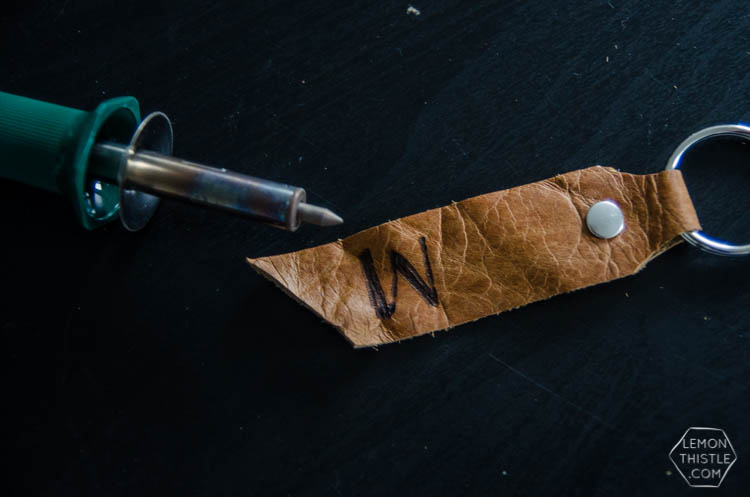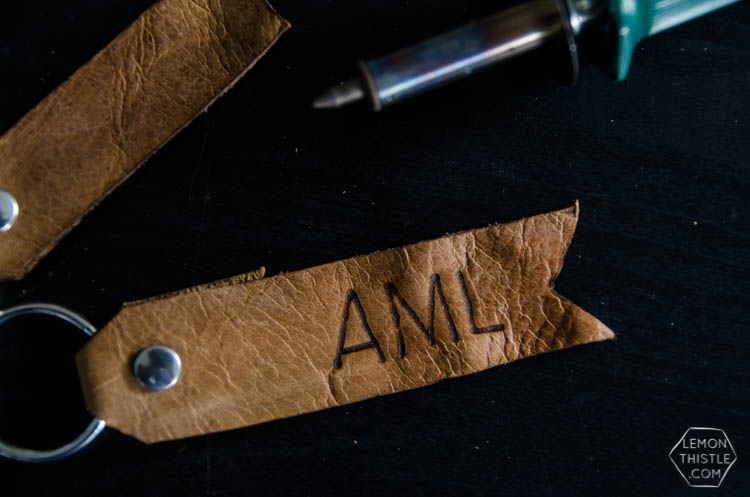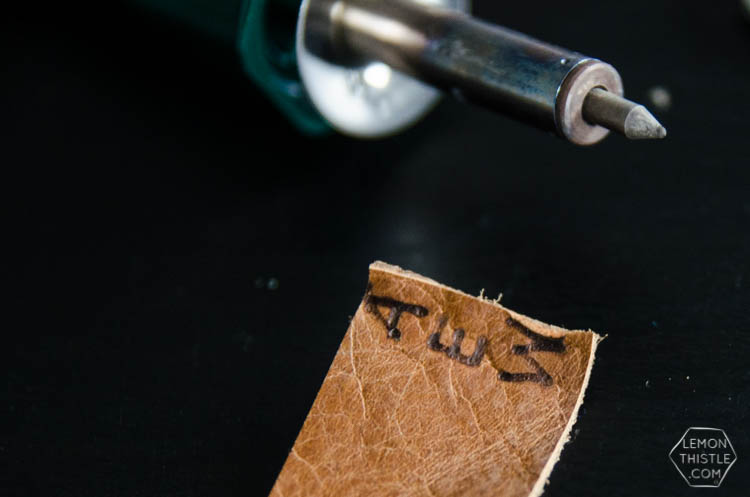 Woodburning! I know, it's called a WOOD burner. But it works on leather, the internet told me so ;) I'd tested it out at a girls conference earlier this fall with a different tip and the pointed tip (shown here) is definitely the way to go with leather. It makes such clean lines in comparison. Just take care not to go too close to the edge or it goes a bit wonky. See what I mean up there? That one was for Shane, so he gets it like that wonky or not ;)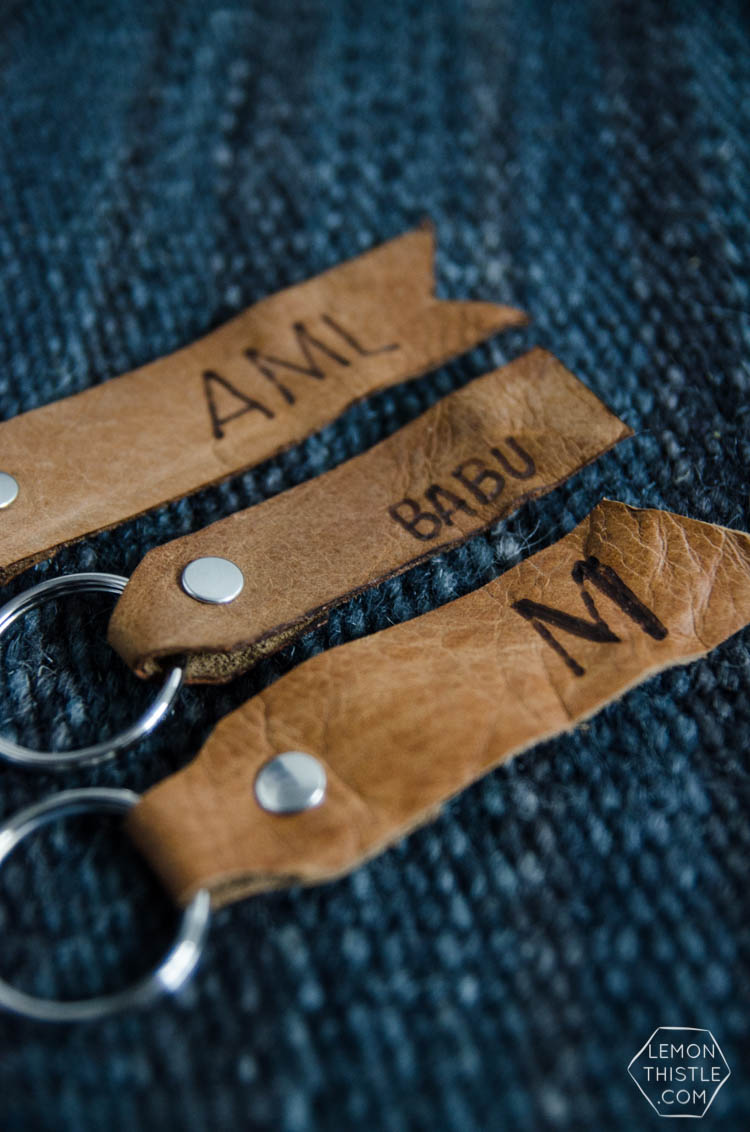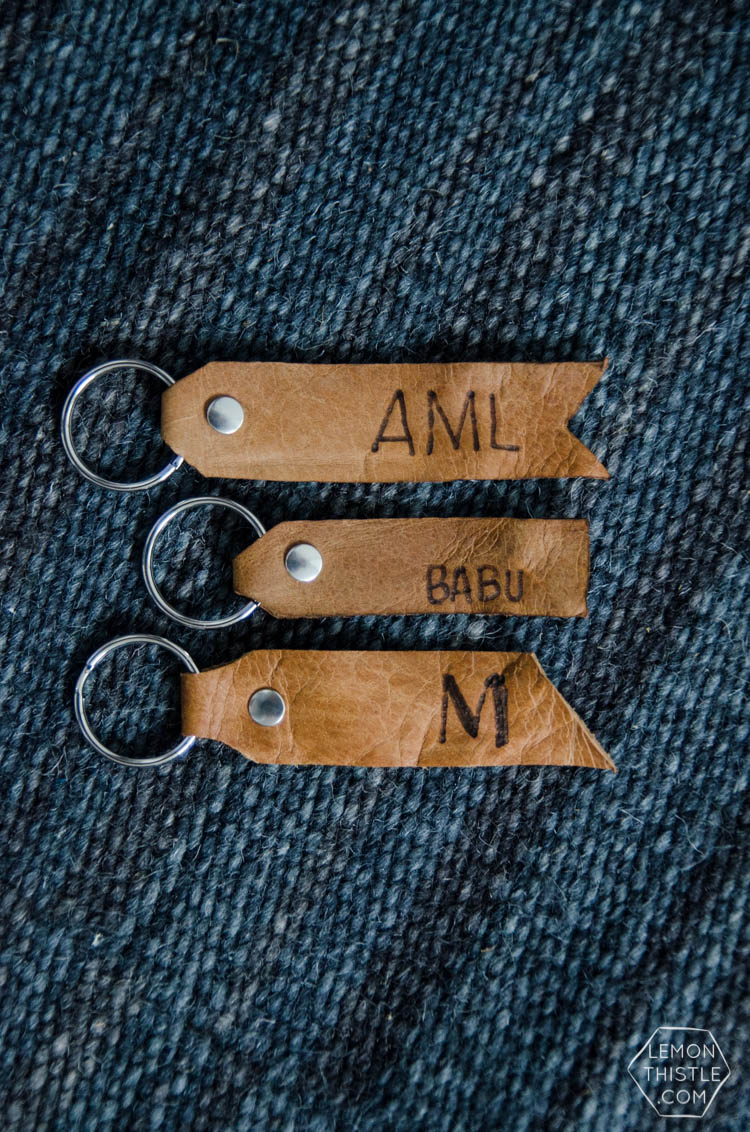 I also used the woodburner to finish the edges on two of the four key fobs. Can you tell the difference? The 'finished' edge ones look more traditional, where the raw edges remind me more of the trendy style that's been around for a while. It didn't feel worth the time to burn the edges on all of them when I liked the raw edges just as much.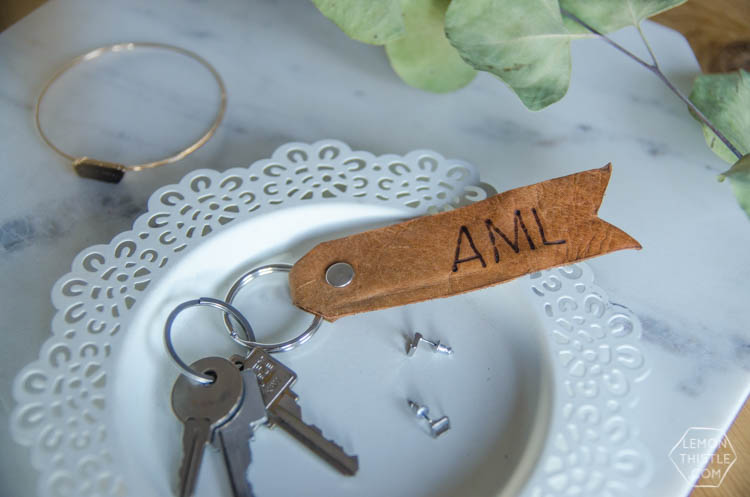 So… that's it! They really are so simple and I made all four of these in about 15 minutes (all four!). If you're scrappy enough to salvage leather from a couch, these won't cost you a fortune to make either. The tool is about ten bucks, the pack of key rings about 6 (for 20) and the pack of rivets (24) were about 10 as well. Say you make all 20? With free leather? That's 20 for 26 bucks. Smoking deal, friends. Give 'em to all your friends ;)
LIKE IT? PIN IT!