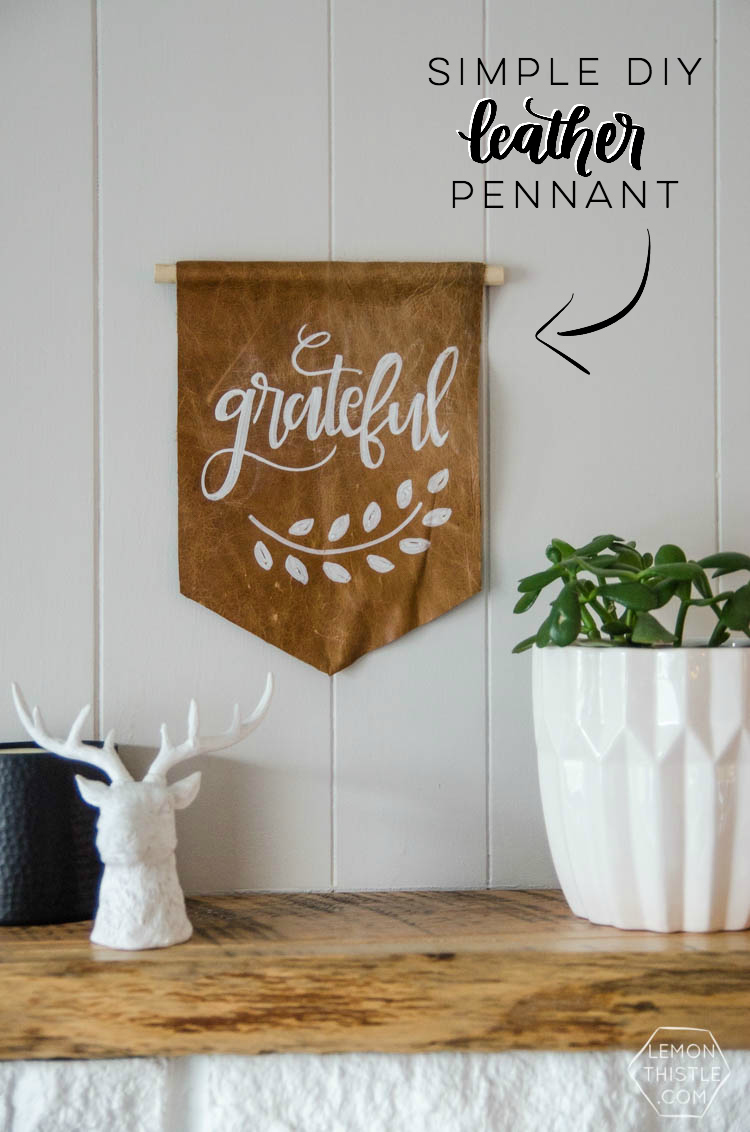 I've had this project on my mind for a while now and I'm so glad I finally took a nap time and made it happen. And it only took that- one nap time! This simple DIY leather pennant is such a rad wall hanging, I love how the weathered leather plays off the crisp white lettering. Since we're in the fall mood, I chose to letter it with 'grateful' but honestly- I feel like that's such a great reminder any time of year.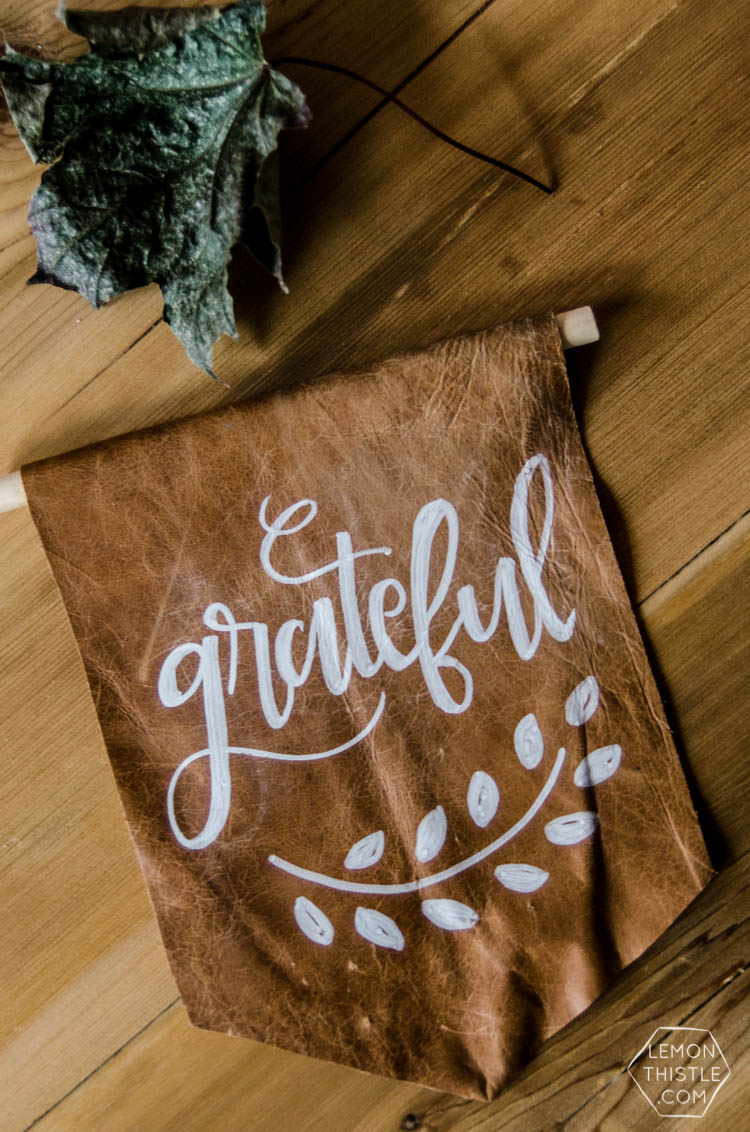 Gee, Colleen! Where did you get that lovely leather? Well… I remember reading how Mandi from Vintage Revivals skinned a couch fuurever ago and I've always thought that was pretty BA. Then I was browsing Craigslist for a dresser for Windsor's bedroom last fall and I saw it. A free beautifully worn genuine leather couch. It was a gorgeous beast and the leather was so beautiful. It was so big, it didn't fit in our retro front door, you guys. So I skinned it under our deck. So expect to see lots of leather projects coming, I have a stash! And since this little couch skinning, I've skinned a chair and another couch to make some leather bookmarks for a conference last month. So it's officially something I'm skilled at.
Alright, now that we've got that fun story out of the way. Ready to learn the four simple steps to make your own?
Here's what you'll need to make a Grateful DIY Leather Pennant:
Leather
Fabric Scissors
Paint Marker (THESE are the bomb)
Dowel (cut to size)
Hot glue gun
Make mistakes? Goof Off is your best friend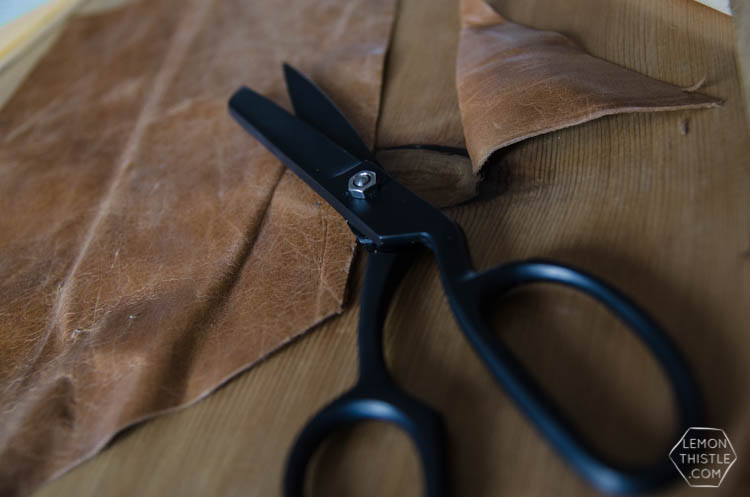 Start by cutting your leather to size. I used a notepad to make sure my lines were straight and my corners square. I really need to invest in one of these clear plastic squares. And a rotary cutter. They're on my wishlist (mom, if you're reading this… Christmas list material- ha!). Cut it a little bit taller than you want it as it needs to wrap the dowel. Next, cut your dowel to size. I used a hand saw and sanded it with 120 grit sandpaper.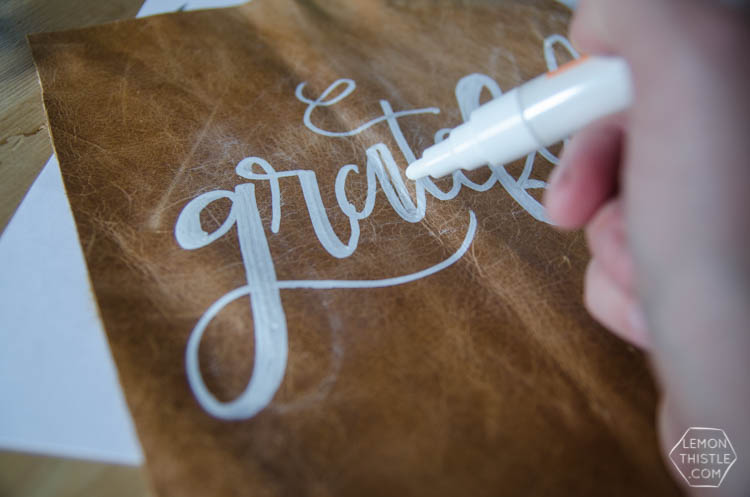 Now it's time for the fun part- letter your design! My total favourite paint markers are Montana Markers (the 2mm fine tip) I ordered them from Amazon but have since spotted that Michaels has started carrying them. I took this shot because I wanted to note that although the look of this lettering is 'brush lettering' it's totally faux. When you're not lettering with a paint brush or brush marker- you need to fake it! Just letter more spacious than you normally would and thicken your downstrokes (as shown!). I am such an impatient crafter, you guys. I freehanded- so I don't have a stencil for you this time. I just really wanted to get a project done start to finish before nap time was over!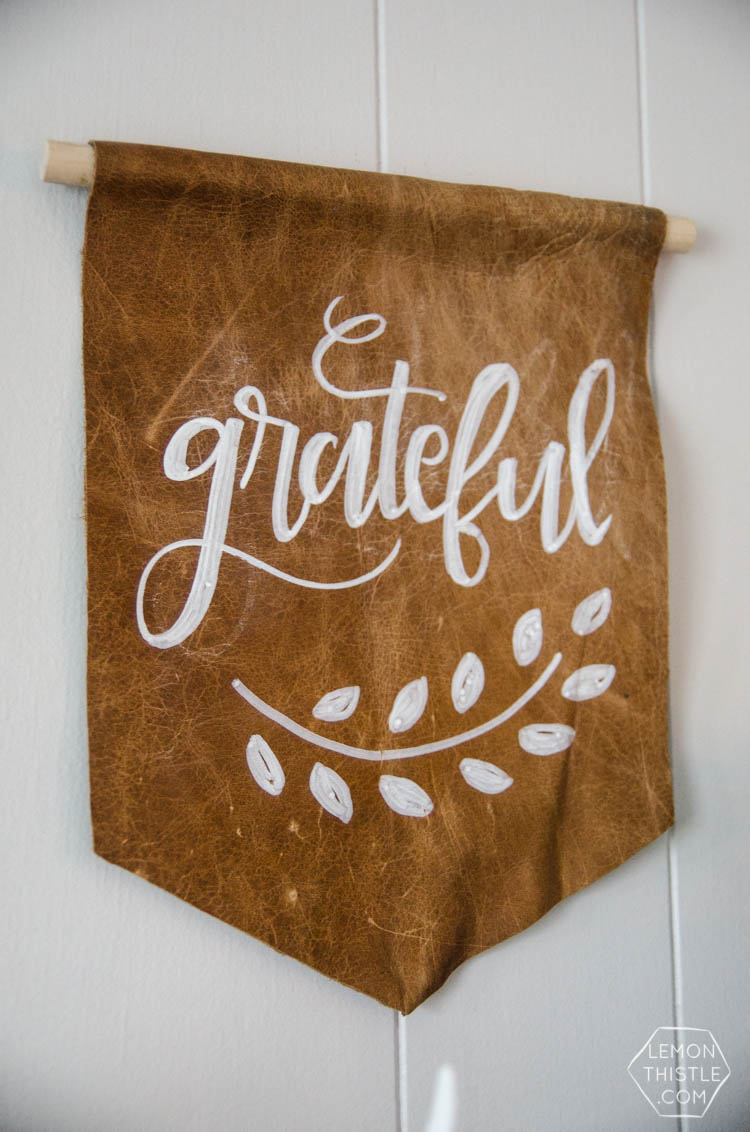 But because I'm perfectly normal… of course I messed up. I happened to know what would take paint off leather without damaging the leather #motherhoodwisdom. Goof Off! You guys, this stuff is the best if you have leather around (and kids who like to draw on things- or you mess up drawing on leather yourself). I lettered it too far to the right and used paper towel and Goof Off to wipe/scrub it clean and start over. NO damage to the leather. You can kind of see that it's 'whiter' where the lettering was- If it bothered me, I could have used a q-tip with Goof off to get the paint out of the leather wrinkles. You can't tell if you don't put your face (or camera) right up in it's business.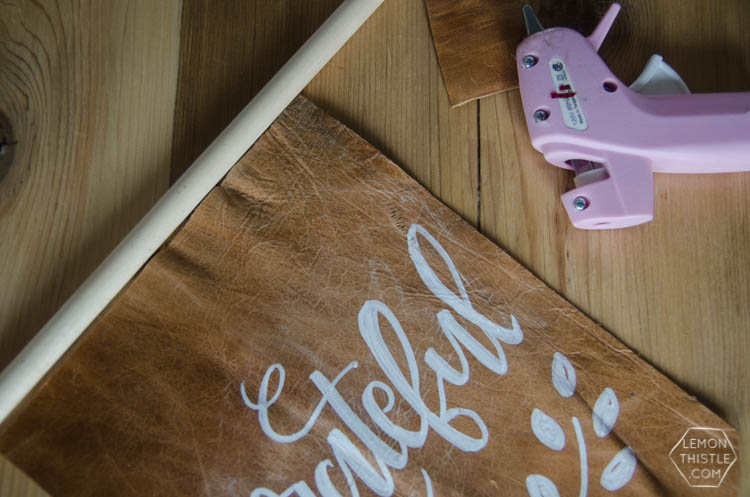 When your design is lettered and dried… heat up your hot glue gun and use it to wrap your leather around your dowel. To hang, the leather edge on the back of the dowel sits really nicely on a nail. I actually added a sawtooth hanger and then took it off because it hung better without it. I had also planned to hang it with a chunky wool but loved how simple it was without any ribbon or wool. You could tie it to hang it if you rather.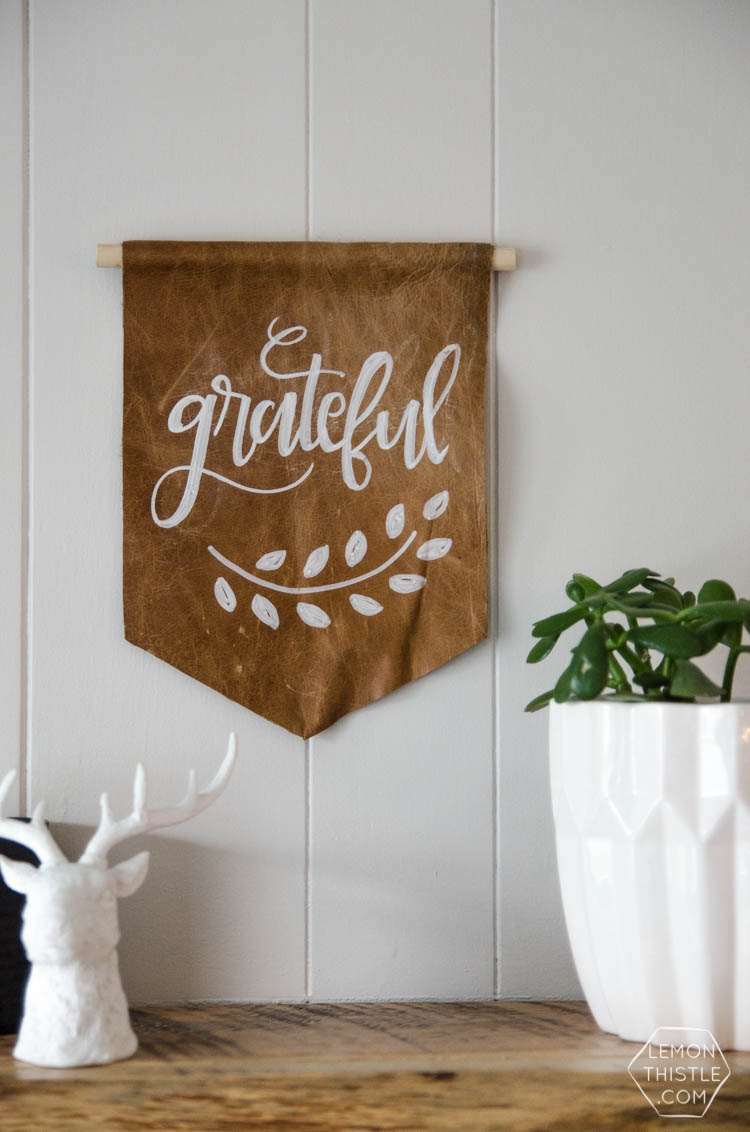 Ta-da! I don't actually know where I want to put this up. I think I'm going to try and work it in to a gallery wall (I have one in my hallway and in my bedroom), but I really love it in our main space. For now, I took photos of it up over my mantle- but it's really too tiny to stay there.
I really love it SO much! I kind of want to make a much bigger one with a quote for our living room- but that's a lot of leather to sacrifice for one project. I also want to make pillows out of some leather. It's a hot commodity! I may need to track down another couch… ;)
LIKE IT? PIN IT!