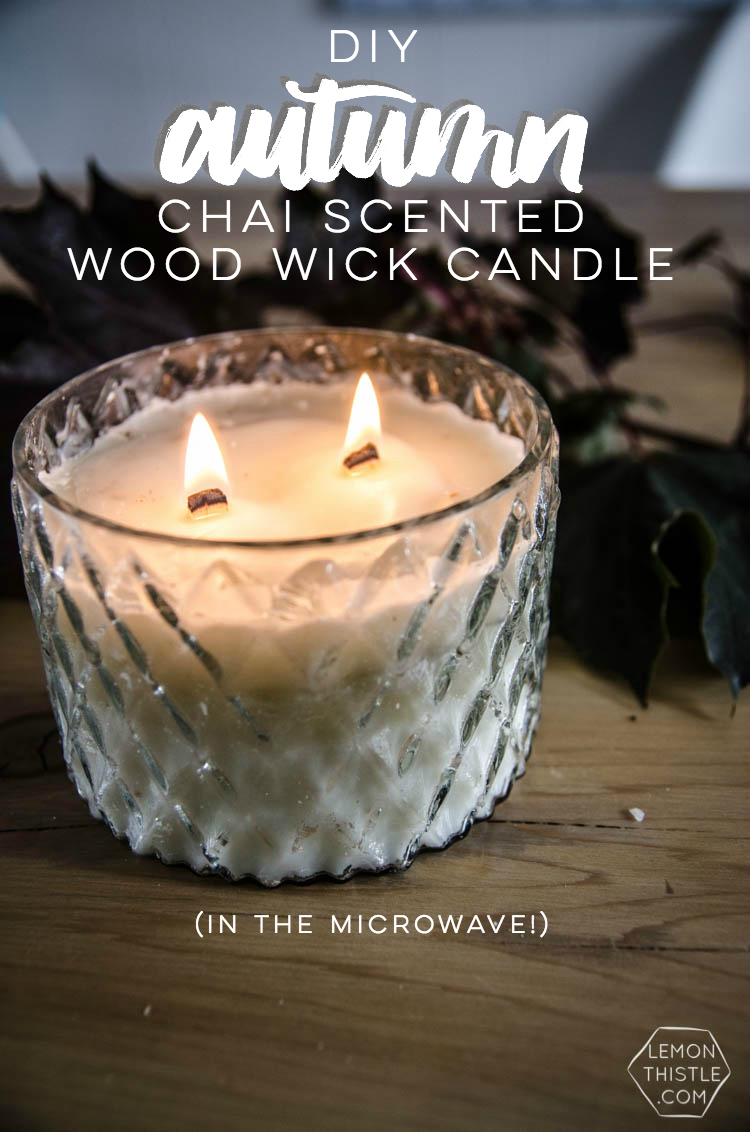 Today I'm excited to be sharing a cheaters Chai Scented Wood Wick Candle with you all. Not because it's the BEST project I've ever done (it's not), and not because it's the most difficult project I've ever done (also, it's not), and not because it's the most beautifully photographed and styled project I've ever shared (also… not!). I'm excited for a few reasons, but not the least is that I'm excited to be done with this project. It wasn't a hard project (in fact, I took every short cut I could think of), I just have this scaredy pants attitude towards candle making. It intimidates me for some reason! I'm sure you have something that you just look at as HARD, even if it's not. And you'll immediately dismiss a project (even if it would otherwise be right up your alley) because it involves THAT thing. Maybe yours is sewing, maybe it's spraypaint, or power tools. What is it about candles that just seems TOO hard? I really don't know. But my friends pushed me to make this, you guys. And I'm glad they did- it's been burning all. week. long. And it smells SO good.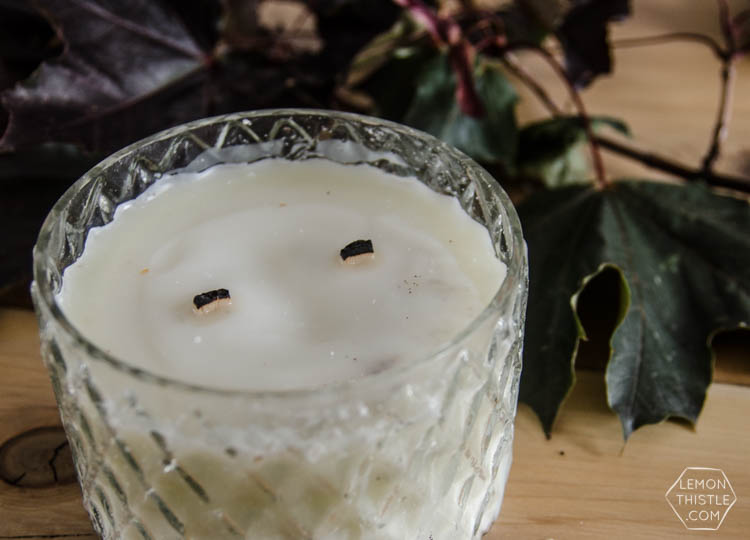 Another thing that intimidates me? But I love it, but it's SO hard. Is video! Editing especially, this took me way longer than I'll ever admit and it's not even as good as I'd pictured in my mind, you guys. Do you know of any video editing workshops for dummies? Online or otherwise? I'm in need! But the lovely DIY Mommy put together a Fall DIY and Decor Challenge on You Tube and you know how I feel about a good challenge- I love 'em! So I had to challenge myself to make a video. I hope you enjoy! You can find more tips and steps below as well.

To make your own chai scented wood wick candle, you'll need:
Glass container for your candle (mason jar would work)
Wax (I re-used melted candle wax)
Microwave safe bowl and metal spoon (grab some from the dollar store that you can toss after)
Balsa wood (craft wood, can be found at Michaels) and craft knife with cutting board
Olive oil and shallow dish
Chai tea bag and cinnamon
Microwave
Grab your wax and pop it in a microwaveable bowl. I'd choose a bowl and spoon that you don't mind throwing out afterwards although I'm sure there's ways you could clean them (hello dollar store!). I stirred the wax every couple minutes, it took four or five minutes for the wax to melt.
While your wax is in the microwave, cut your craft balsa wood into wicks using a craft knife. I cut them longer than I needed and trimmed them down at the end. I'd recommend this. When they're cut to size, soak them in olive oil in a shallow dish.
When your wax is all melted, open up your Chai tea bag (I used Tazo and love the scent it gives!) and dump it into the wax, giving it a good stir. Pour about an inch of wax into the bottom of your glass container. Let that start to set so you can stick your wood wicks in standing up. I put tape across the top of my glass container to hold them in place while the wax set. Continue pouring melted wax in to fill your candle holder. Let set and your're golden! It took me about four bowls of melted wax to fill this candle holder.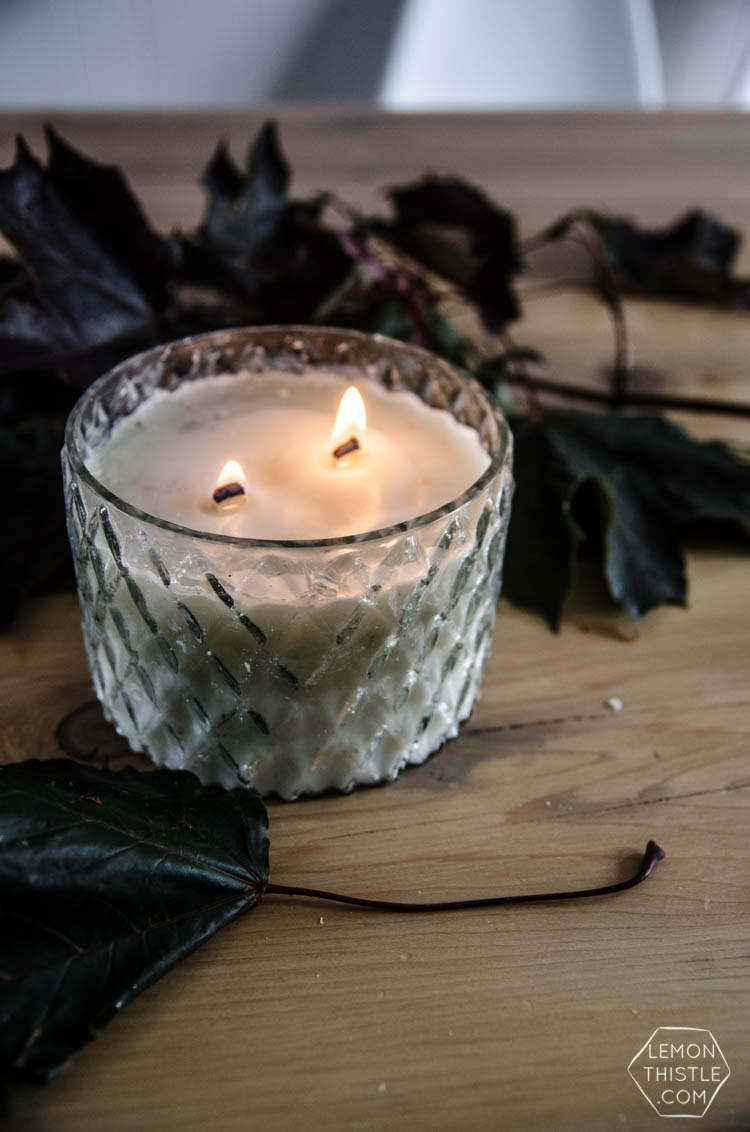 Make it Better:
Okay, this was my first time making a candle, so there's somethings I learned that could help you make it a bit better than me. I'd choose a bowl with a spout or cover the edges of your container for a cleaner pour. I had to scrape wax off the edges because I made a bit of a mess. I would also have loved some colour in my candle wax. It is pretty white, but I like the flecks the tea bag gives. I would add cinnamon in if I made it again. And I might even try brewing the tea in a tiny bit of water for some colour (but I haven't researched how that would mix in).
What do you think? Would you tackle candle making? Is it even slightly intimidating to you too or am I crazy? There are some wonderful videos in this Fall DIY and Decor challenge- hop over to YouTube and check them all out here!