Autumn tablescapes are my very favourite to design and decorate. This one is all about autumn greens with little pumpkins, fall foliage and glowing tealights. It's the perfect cozy fall tablescape for a dinner party (or thanksgiving)!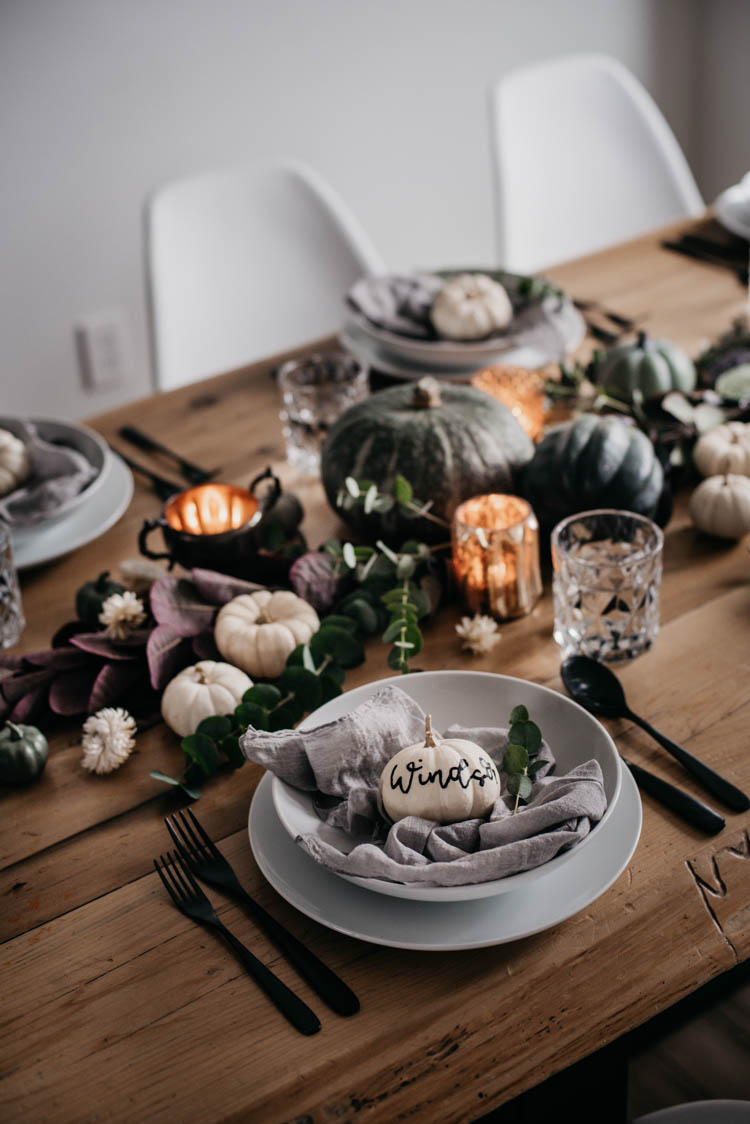 I don't know about where you live but fall is in the air and the weather is turning to cooler nights (and days!) and the chipmunks are running around my backyard stocking up for winter (like, he just ran by my window). Last week I took some time to put together a fall tablescape and I'm beyond in love with how it turned out. The moody colours, the neutrals and greens, the glowing candles… and of course, the hand lettered pumpkins. I half want to dine like this every night and half know that I'd get sick of having stuff in the way for our macaroni and cheese with cut veggie spread. #fancy
Today I'm excited to share all the details on this fall tablescape here on the blog. I shared this baby over on YouTube last weekend for my friend Christina from The DIY Mommy's Fall DIY + Decor Challenge. I will embed that video below too so you can check it out if you like! If you are a fan of video, I'd so love if you subscribed to my channel over there too!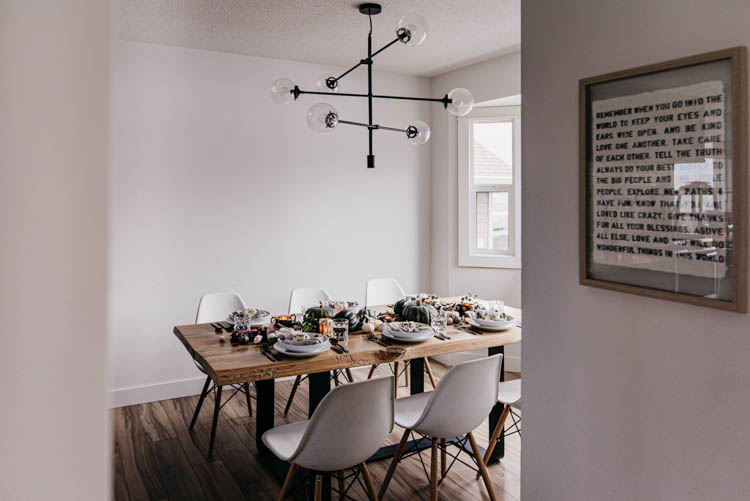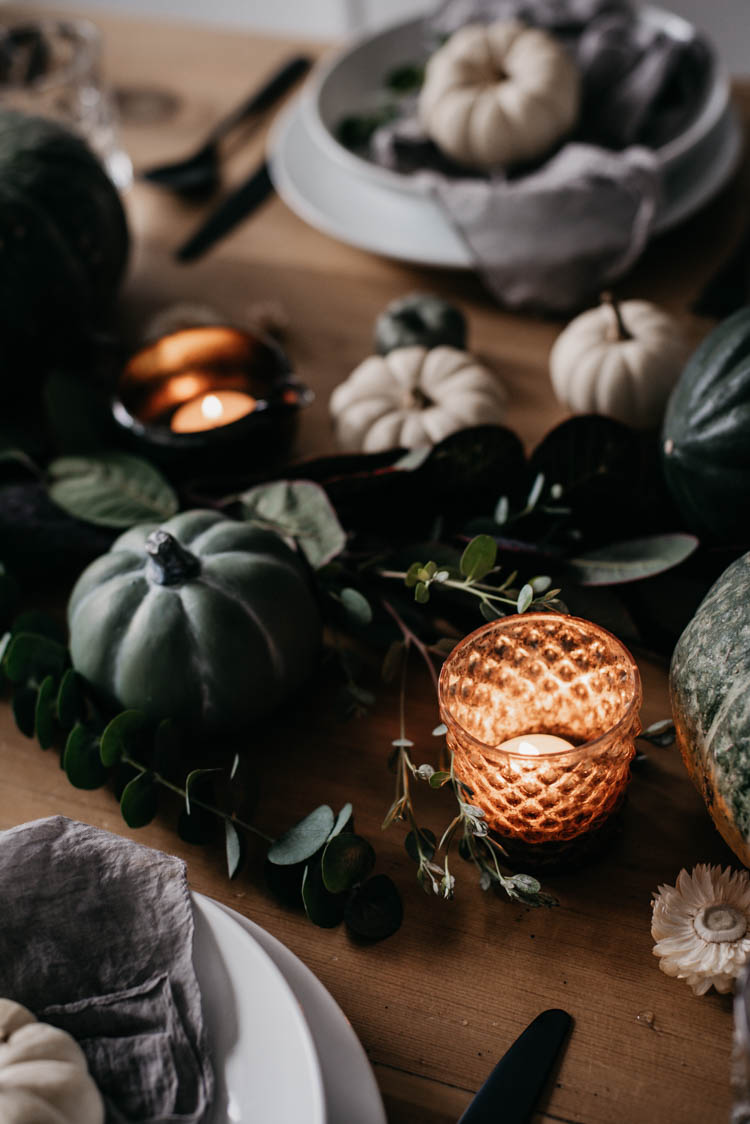 The first thing I like to do when I'm putting together a tablescape is to clean my table (ha! but really!) and to gather together everything I might want to use in that tablescape. For this one, I'd painted these little tiny pumpkins with greens and I knew I wanted to work the whole table around that. I gathered together my pumpkins and squash, some strawflowers, a mix of tealight holders and my dishware and of course, foliage. Does this combination of decor seem familiar? Almost every fall tablescape I've put together use these same things just with different arrangements or colours or elements. I'm not even the slightest bit ashamed of how much I love fall tables and this mix of decor is the perfect way to start.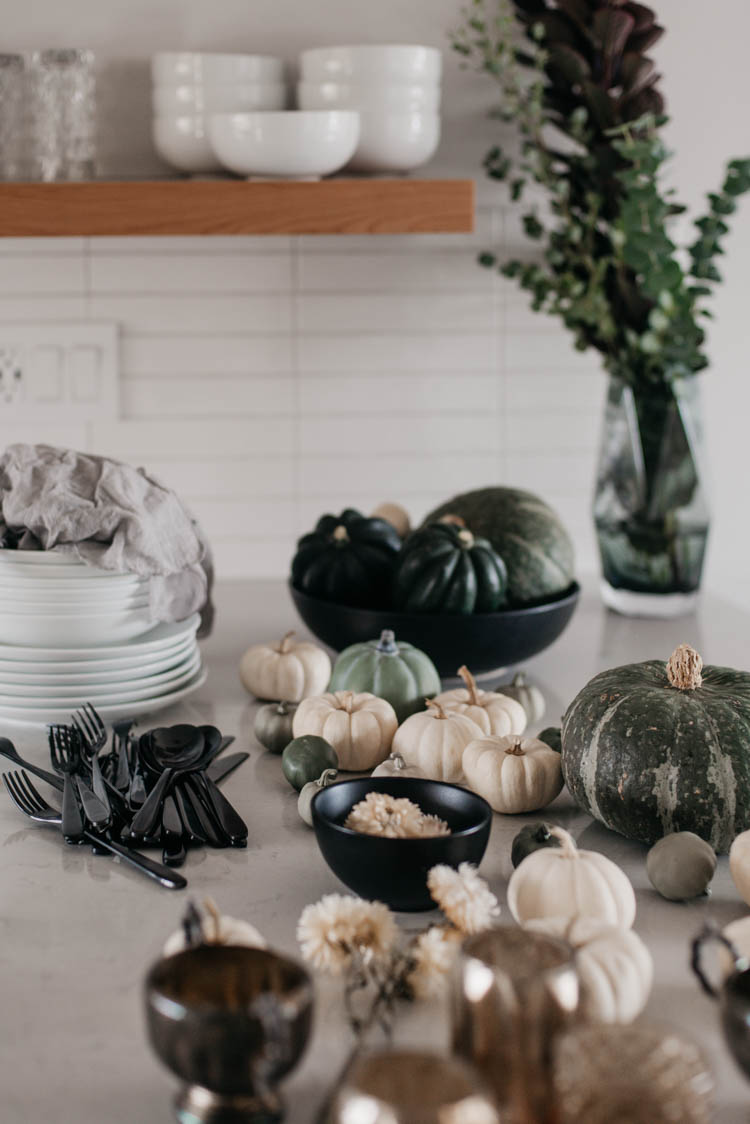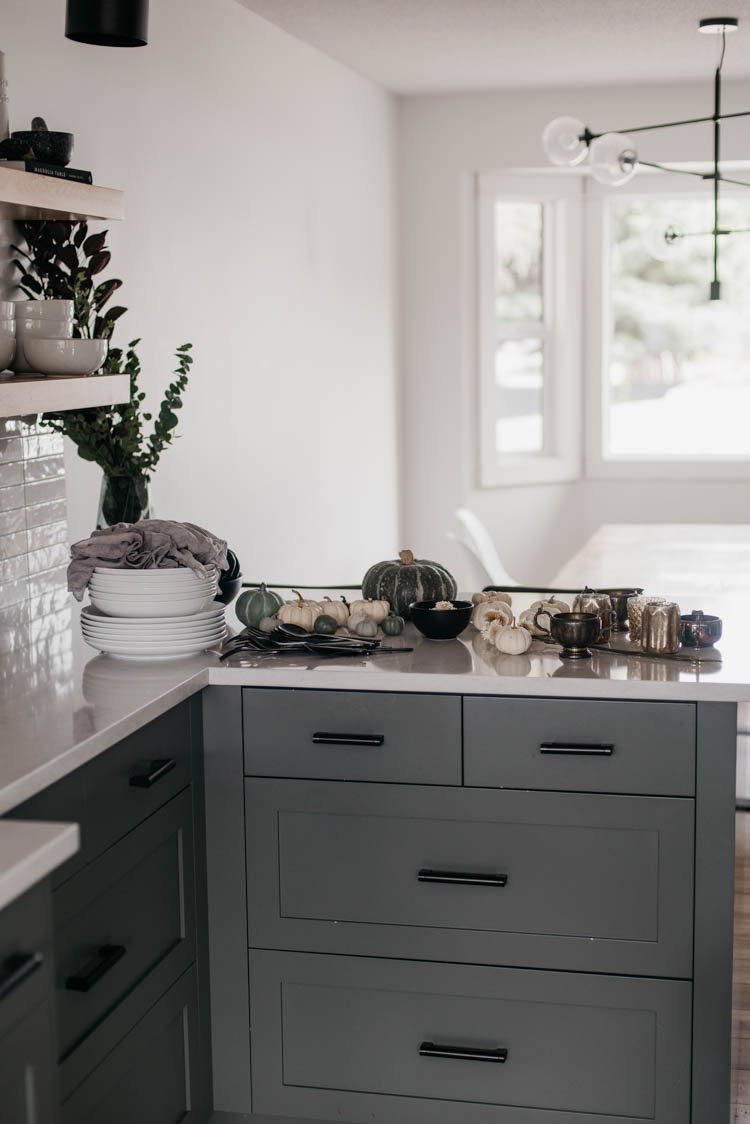 Once you have it all together, I always start with the largest pieces first. For this tablescape… that's the long foliage branches. I usually head out foraging but this year, I hit up my favourite florist and snagged these two branches. Once I'd laid those down, I layered in some eucalyptus I had in an arrangement in my house, then I added in the 2 big squash. After this… all the pieces were quite small. I added more squash and pumpkins, and the tealights next. These tealights holders are years old, I snagged them at Target (back when Canada had target!) for under 20 cents a piece. I've used these things more times than I can count. Like here. And here. Oh, and here. The other tealight holders are vintage cream and sugars that I have. I love how they've aged and reflect the tealight flames.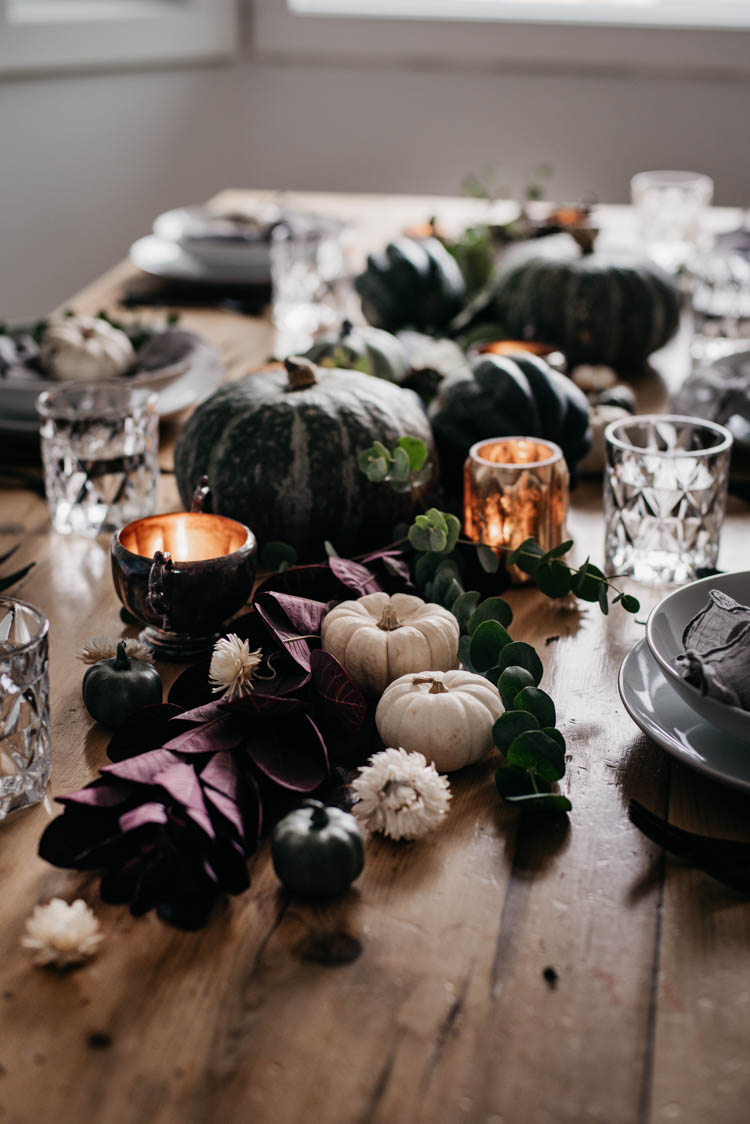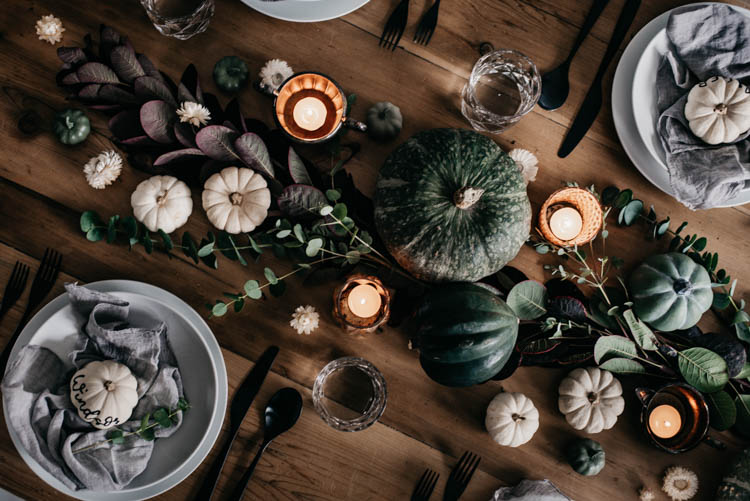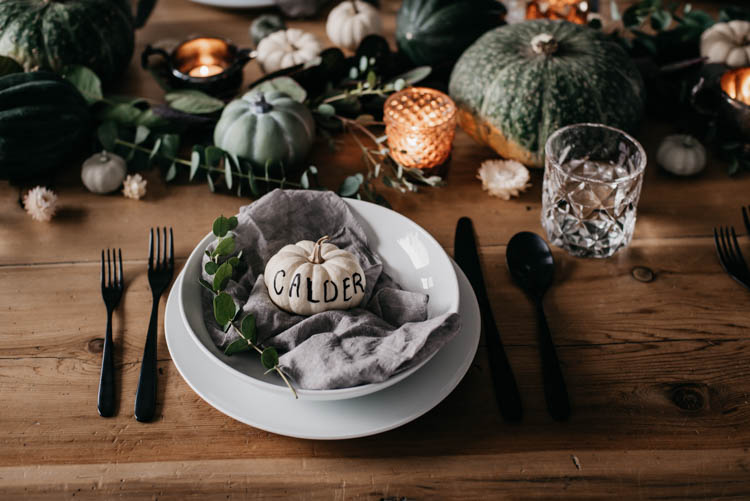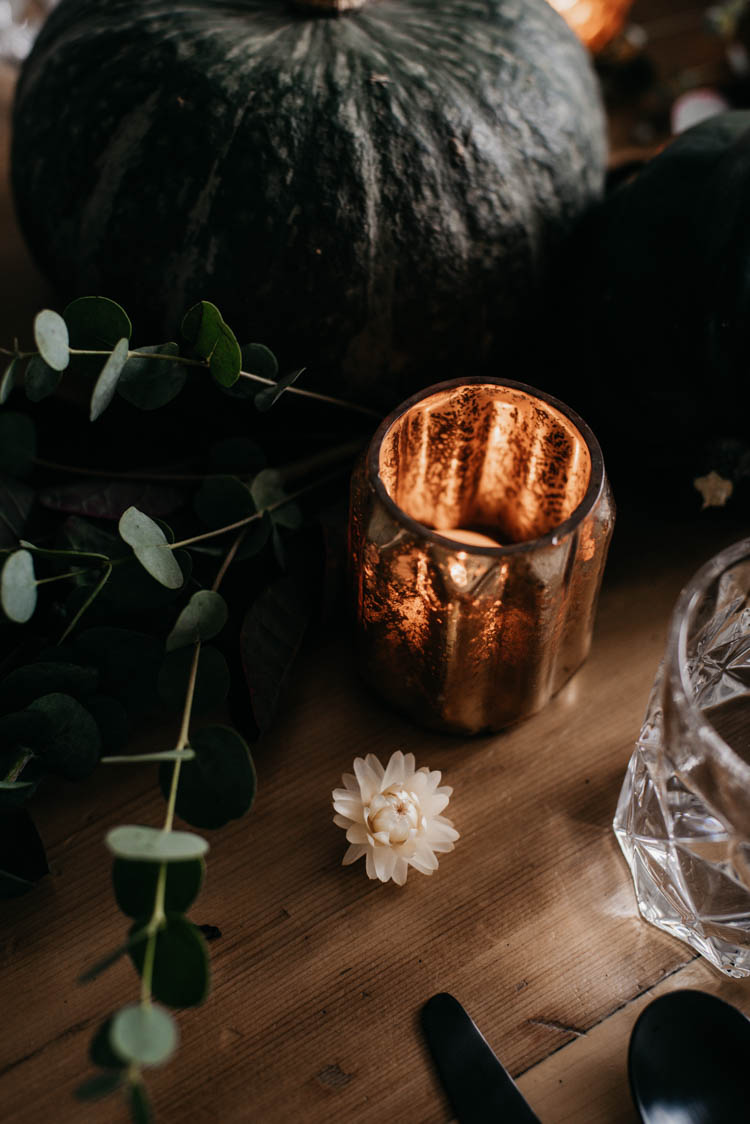 Then I set the table. I always do this before I'm done the tablescape decor because it's so frustrating to have to change your decor to fit all the glassware you want on the table. I like to add that in so I can decorate around it without crowding guests off the table. As pretty as that might be ;) I added my plain white dishes, black flatware (it's IKEA, guys!) and some wrinkled grey napkins. I love the texture and casual feel just throwing napkins in a bowl has. It's much more inviting than fancily folded napkins. I popped a mini boo pumpkin into each of the bowls and then got busy hand lettering them. I love, love hand lettered pumpkins. I wrote a whole post full of tips but I'll admit I felt a bit rusty this year getting started on these little ones! I tested out a few different lettering styles on the pumpkins and think my favourite is the all caps.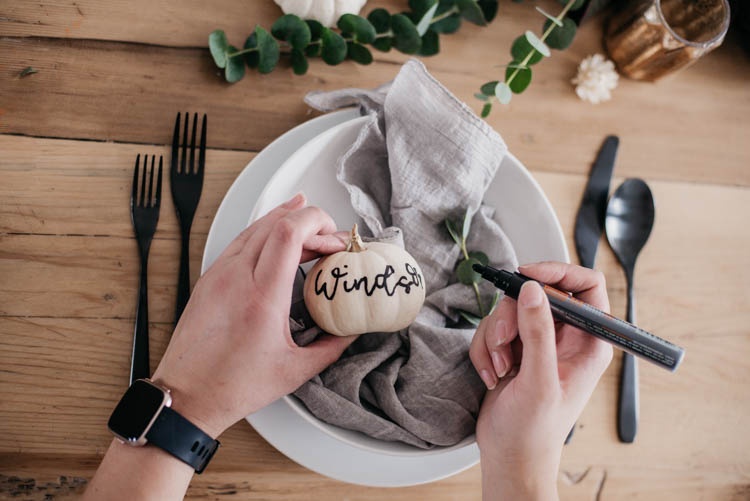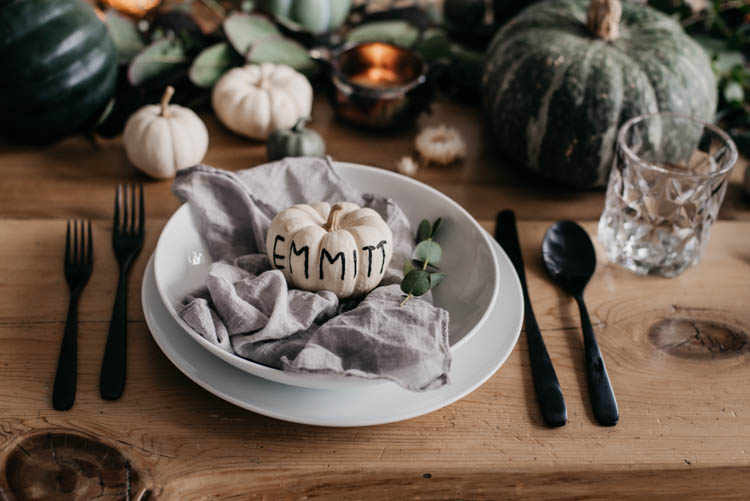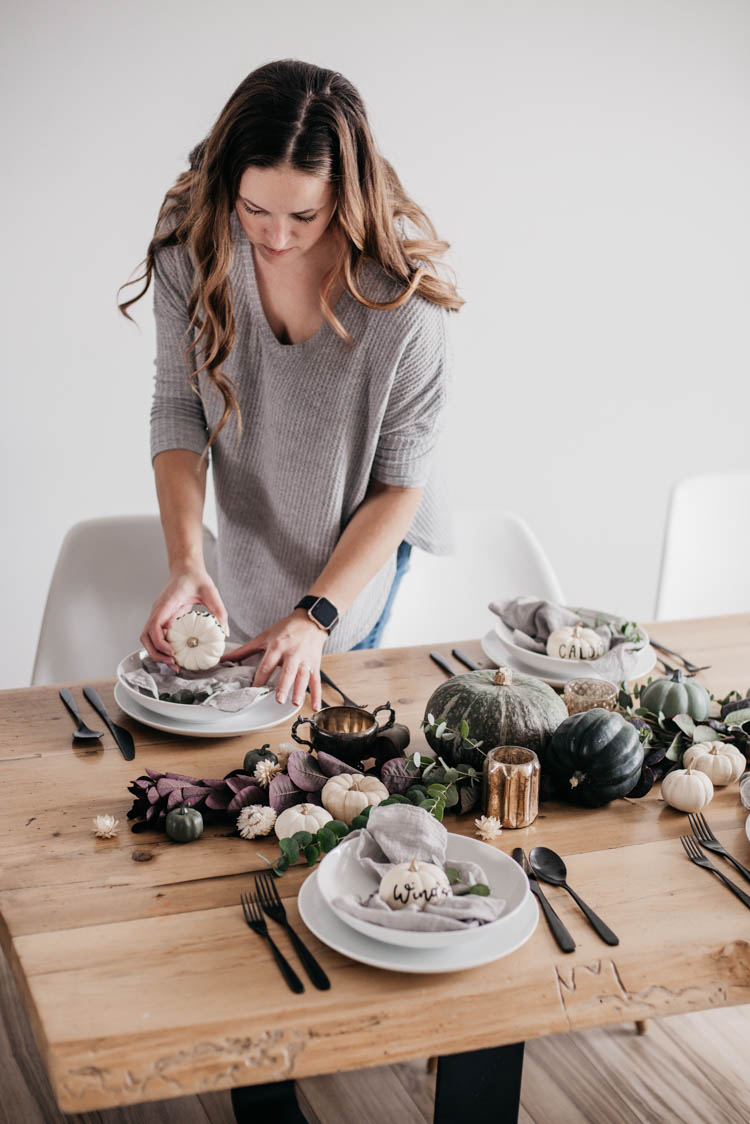 The last little things I added to the table were tiny painted faux pumpkins and strawflower. I had the strawflowers in my fall arrangement from my fave florist and saved the flowers after the stems went soft in the water. I love the texture they add and that I can use them year after year! I also used the spray eucalyptus to add a sprig to each place setting and larger sprigs for dimension into the table runner. I used the pumpkins and candle holders to direct the branches where I needed.
Before guests arrive, just light the candles and you're good to go!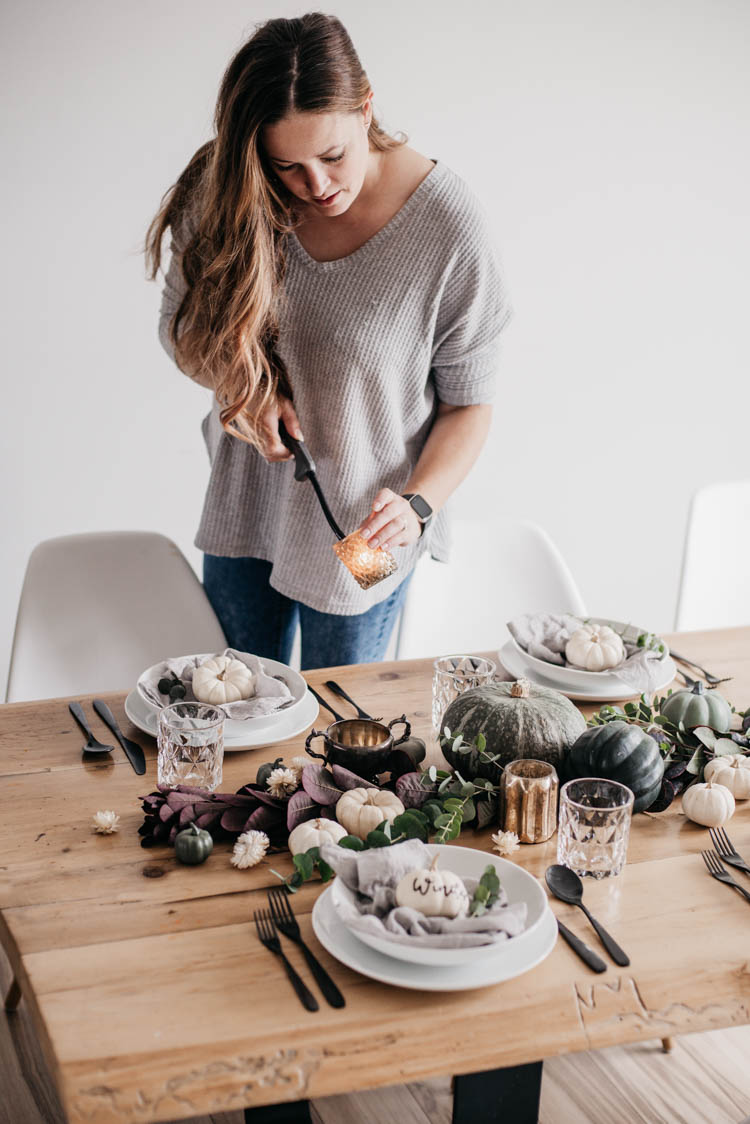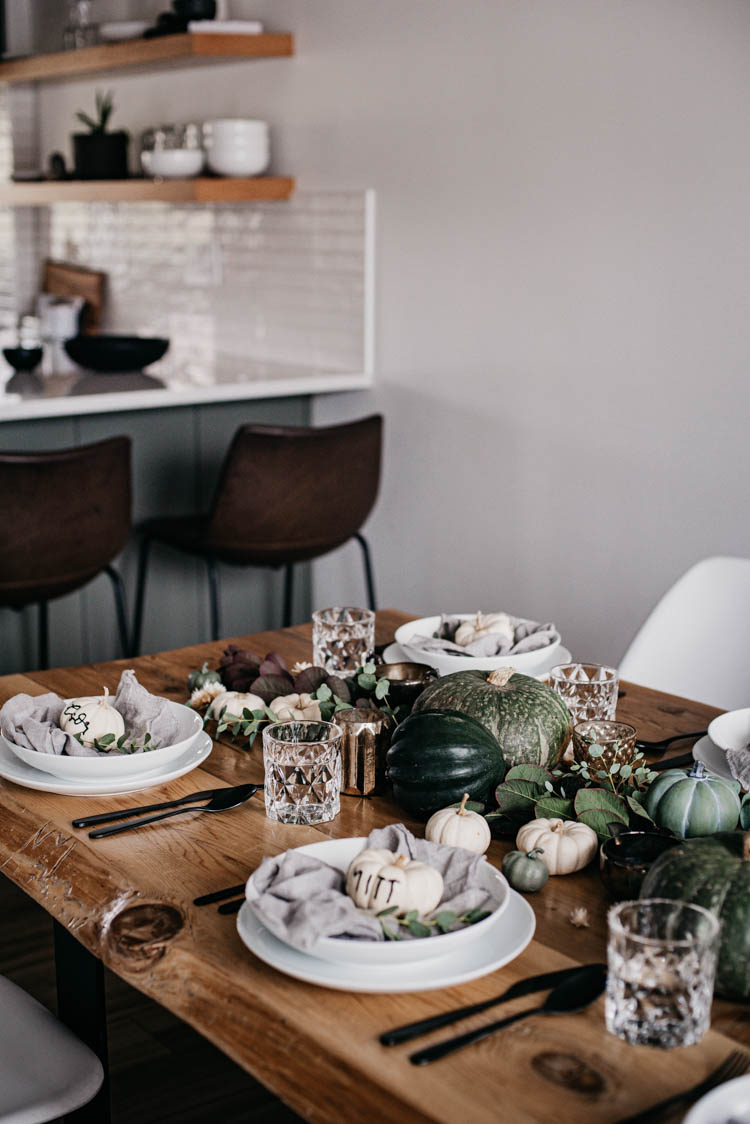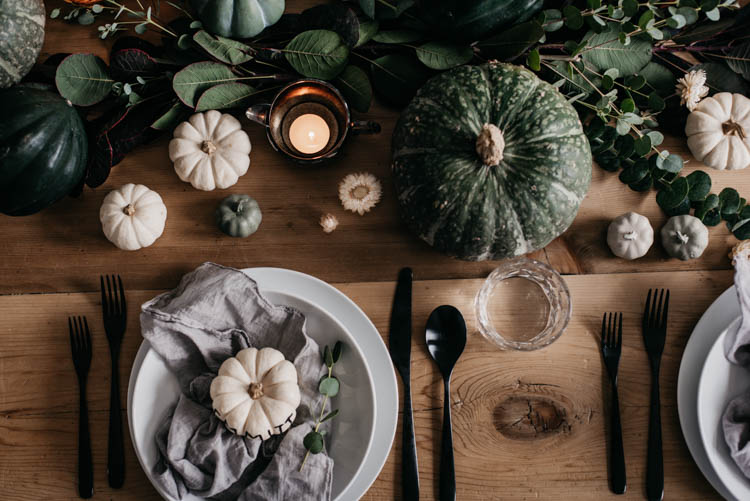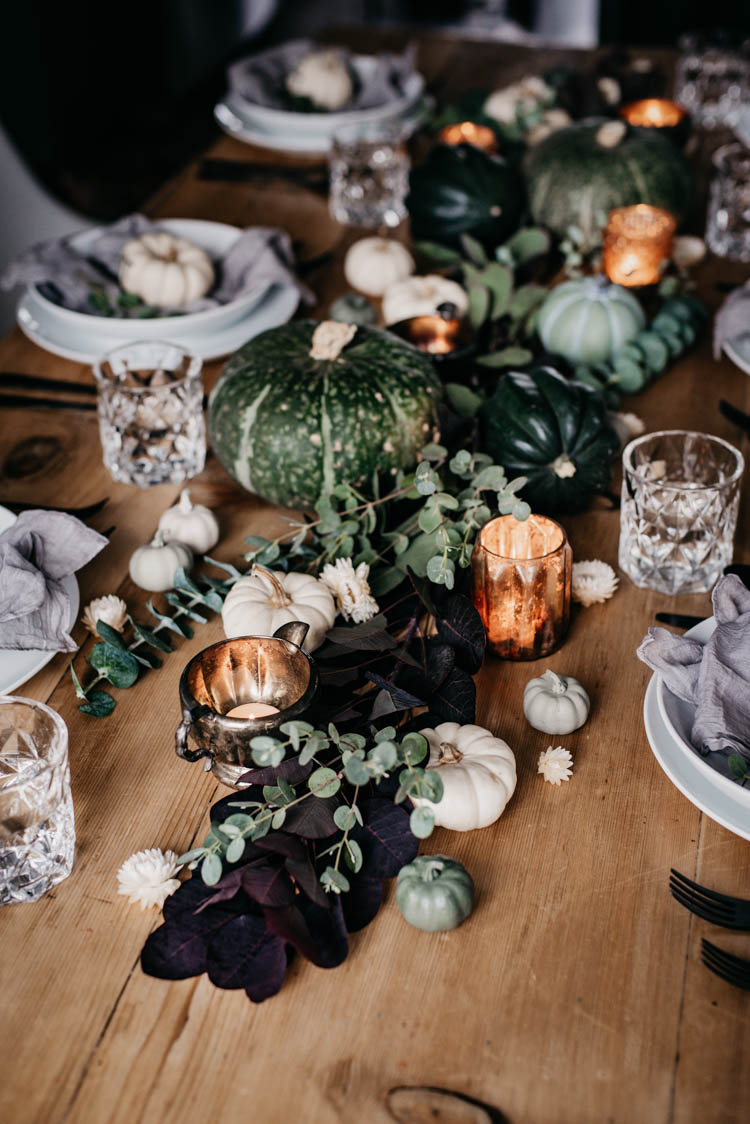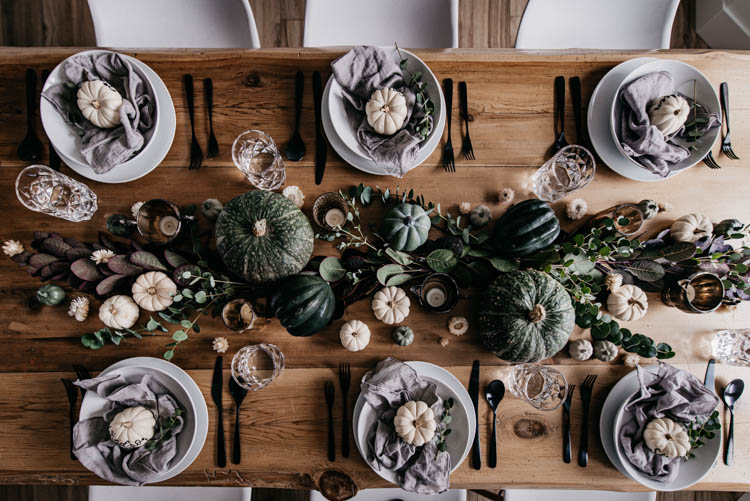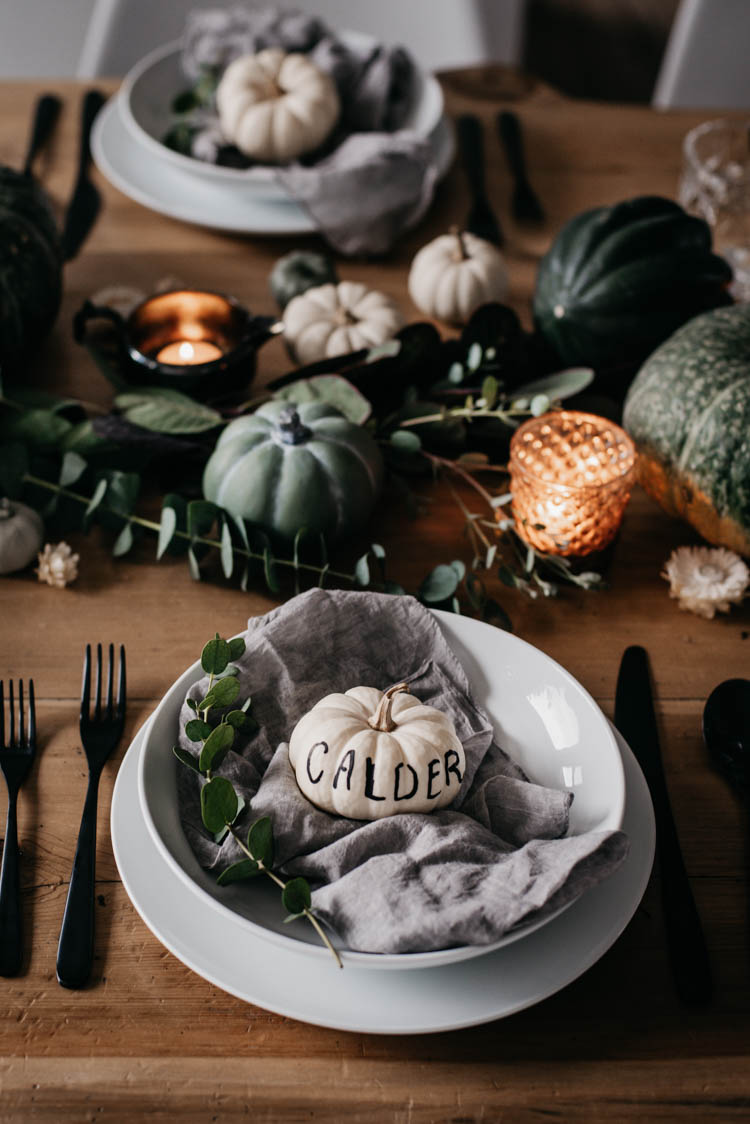 Alright, I'm going to leave it at that… but maybe a few more photos because I COULDNT STOP TAKING THEM. Do you decorate your tables for dinner parties? I'd love to hear your favourite combinations! Do you have a go-to combination for the season like I do?