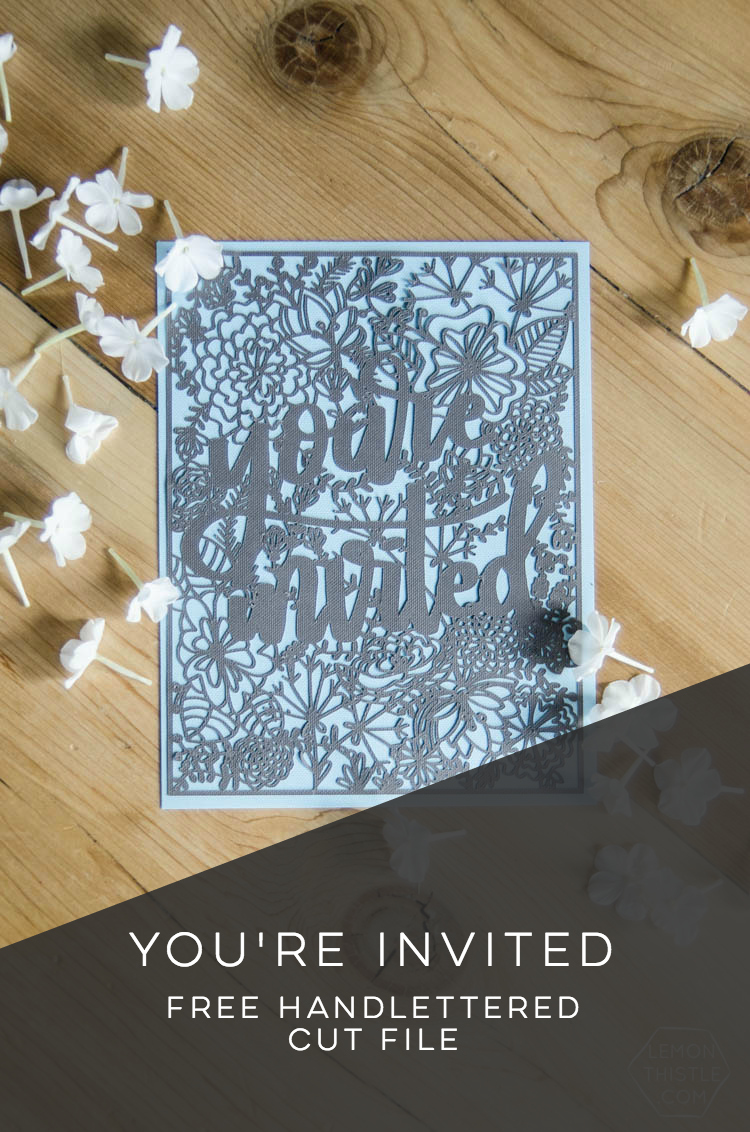 Today I'm excited to be teaming up with some other fab Canadian bloggers who LOVE their Cricut machines… to give one away to you! We are all sharing some rad DIY projects using the Cricut as well. You can scroll all the way to the bottom of this post to get to the giveaway and read on for the DIY!
You know I love to use my Cricut to cut hand lettering (you can see aaaall the projects I've done like that here), but I wanted to get a bit more creative today. Since we're celebrating with a Cricut giveaway, I wanted to show something really, really darn cool that the Cricut can do. So I tested it out with an extra detailed design. This was my FIRST time using it to cut anything this intricate and it took me a couple redesigns to get it quite right, but now that it is? I am excited to share it with you! I made this 'You're Invited' invitation by lettering and illustrating on my new iPad Pro and turned it into a PNG file for you to cut out. Just upload it into design space, size it how you like and hit CUT!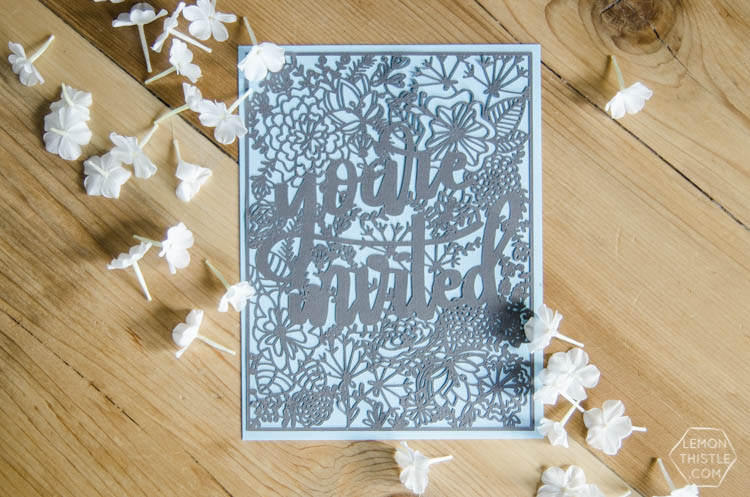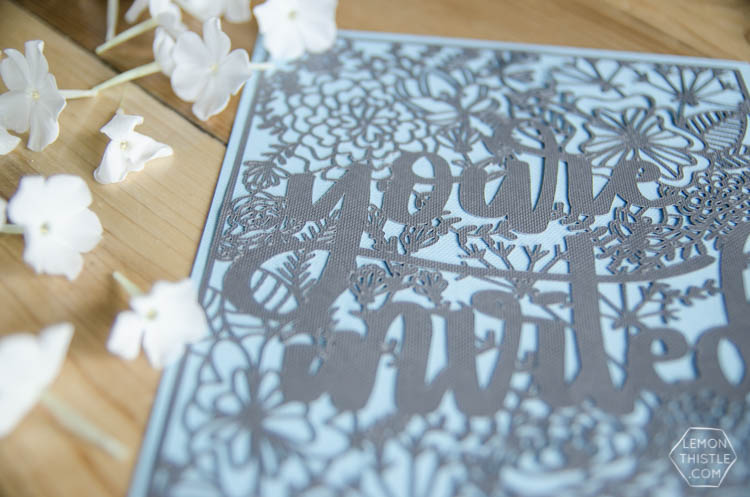 First step? GET THAT CUT FILE!
A couple tips on cutting an intricate design like this floral invitation? Use a blue mat (this is the Light Grip Mat) so you have an easier time peeling that thin design off the mat once it's done. Set your machine to 'Custom' material and select 'Card Stock (Intricate Cuts)… yep, there's a setting just for that! It goes over the design twice lightly to make sure it doesn't tear the paper #score. You'll also have best luck if you use a new blade and mat. I had both so popped them in for this one.
Oh! And I used the Cricut brand cardstock from the Antiquity pack if you like the colours :)
I have a Cricut Explore Air which is of course amazing BUT the giveaway is for the upgraded model- Cricut Explore Air 2 which apparently cuts SO much faster. It's totally on my wishlist, if you were wondering. Did I mention it's prettier?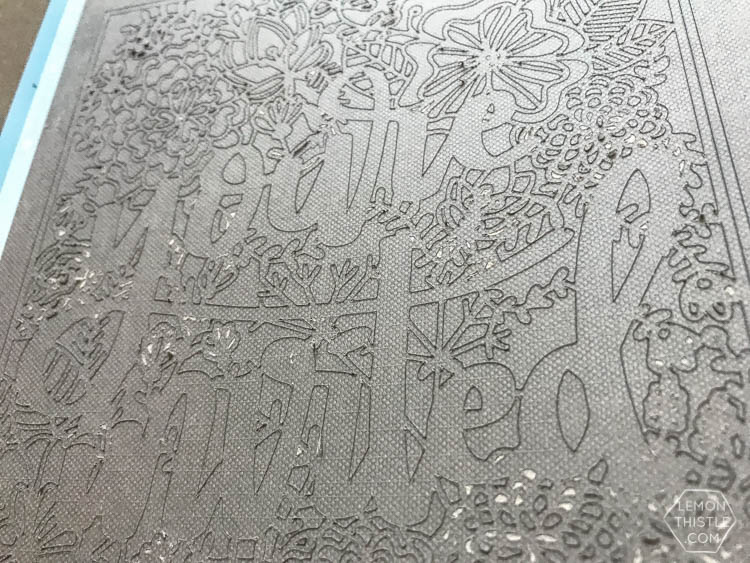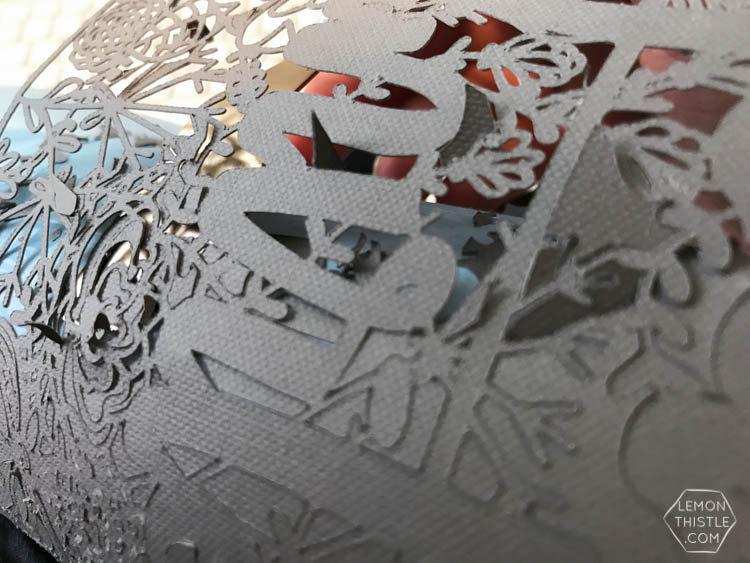 Make sure you leave LOTS of time for your Cricut to work on this baby. It's a lot of itty bitty cuts in this floral invitation so it does take a while. And then leave time for weeding it. I was SUPER careful weeding it because I'm not usually a paper crafter. I am usually a 'get it done' type of crafter and paper is too fragile for my style of DIY. Buuut when you want an invitation, paper is the way to go ;) I used both my spatula and weeder (both in the basic tools set and in the bundle you would win in the giveaway). The key to getting it off the mat with no tears (I think) is to bend the mat, not the paper and use the spatula upside down to separate the paper from the mat (the gold is the spatula in that picture up there). When it's off, use the weeder to poke out all those cut pieces! Once I figured out this system, it went much quicker!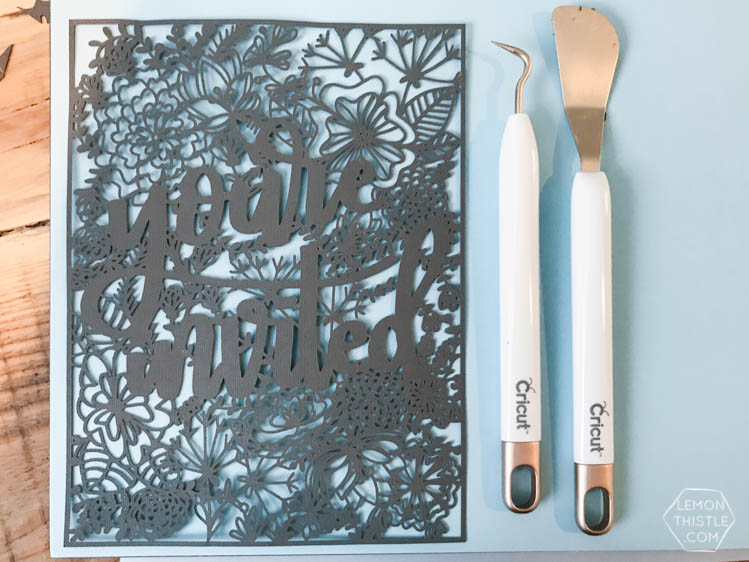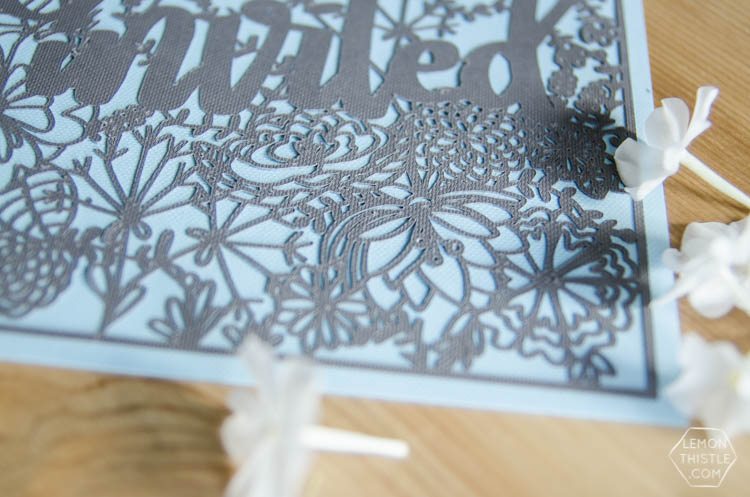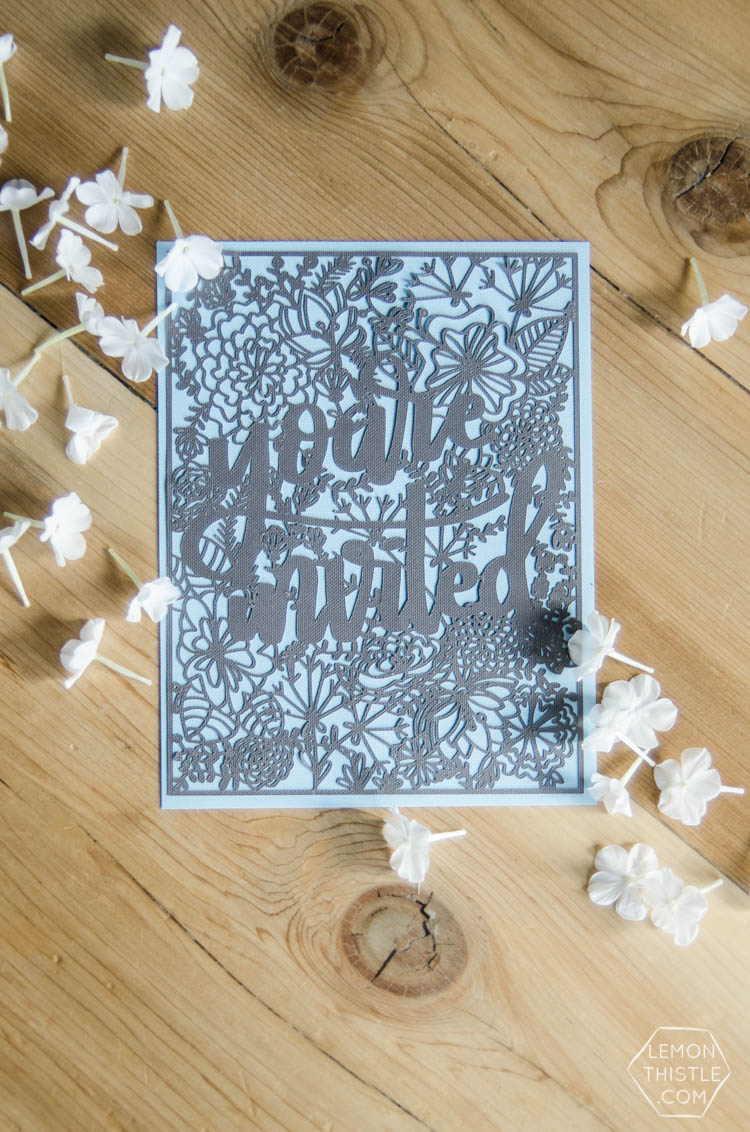 When it's all done being weeded, I used a spray adhesive (like this) to affix the floral invitation to a light blue piece of cardstock (again, from the antiquity pack) for contrast and stability. You can print or write all your information on the back! That's really it! Now… for the blog hop and giveaway!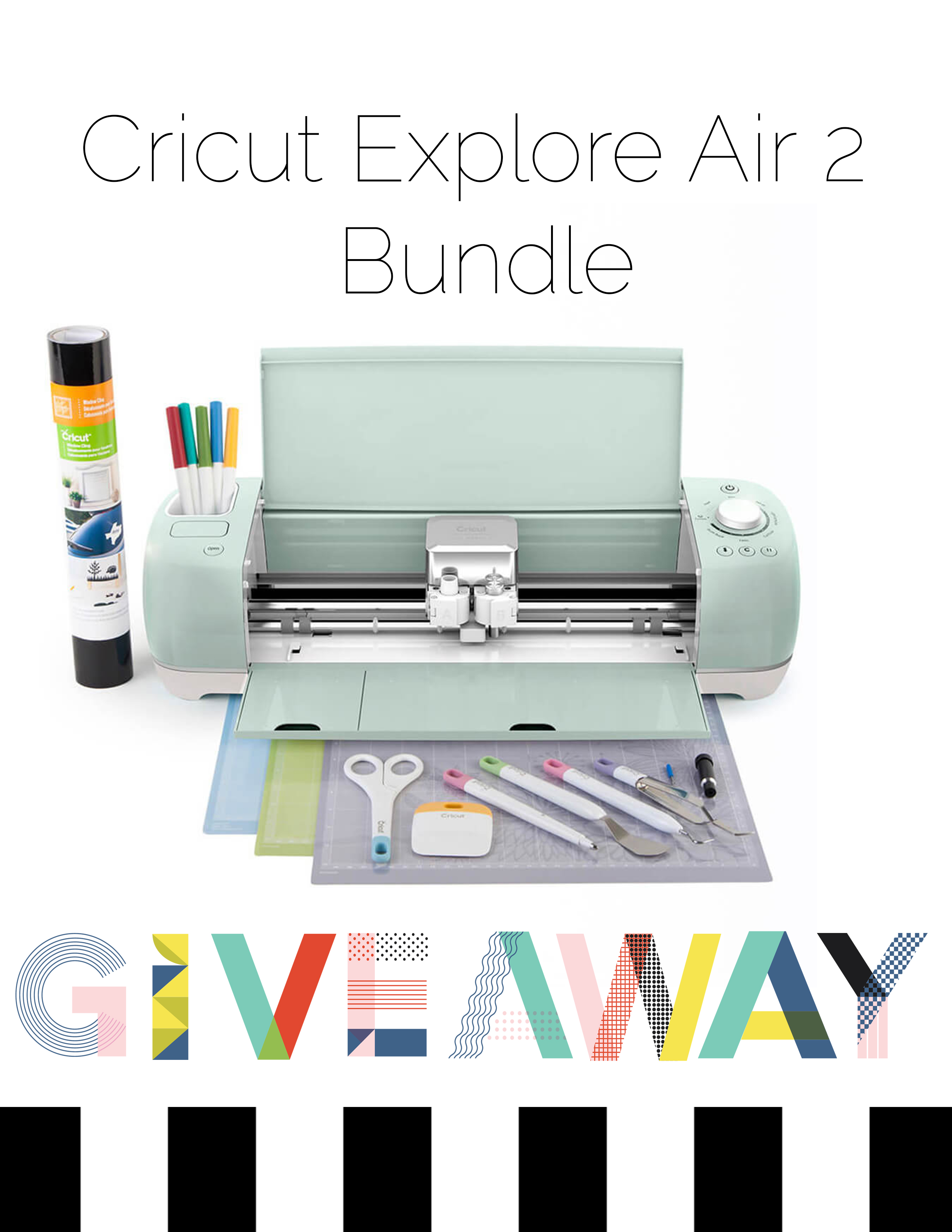 The prize package includes: CRICUT EXPLORE AIR 2 MINT // CRICUT DEEP CUT BLADE WITH HOUSING //CRICUT COLOR CANDY SHOP PEN SET //CRICUT TOOLS BASIC SET // CRICUT CUTTING MAT 12X12 // VARIETY 3PK CRICUT WINDOW CLING 12X48 BLACK
a Rafflecopter giveaway

Don't forget to visit my co-hosts! They each have a rad Cricut made project AND You can gain more entries by commenting on each blog post ;)
PMQ for two // Hello Creative Family // Lemon Thistle // BrooklynBerry Designs // Woman In Real Life // The Learner Observer // Love Create Celebrate
LIKE IT? PIN IT!