Valentine's day gift ideas can be so cheesy… but is that what makes them great? Here's 6 valentine's day gift ideas for him and her, plus a cheesy valentines saying to go along with each!
With only a few days left until Valentine's Day this year, so I thought I'd throw a couple gift ideas your way. S and I aren't exchanging gifts this year with us moving, but if we were- these are gifts I'd love to give or receive. Honestly… all of these items are totally rad, modern and perfect to gift to your valentine even if they're not into the valentines cheese.
And since Valentines just isn't Valentines without a cheesy note… I ran with it. For each cheesy Valentine note, I've given two not-so-cheesy gift ideas- one for him, one for her. Or one for me, one for you. I definitely recommend writing a little note with the cheesy valentines saying to match your gift. Just like in elementary school except these gifts are very much adult approved ;)
I've chosen all products from Etsy- one of my favourite places to shop for gifts since they're often so unique!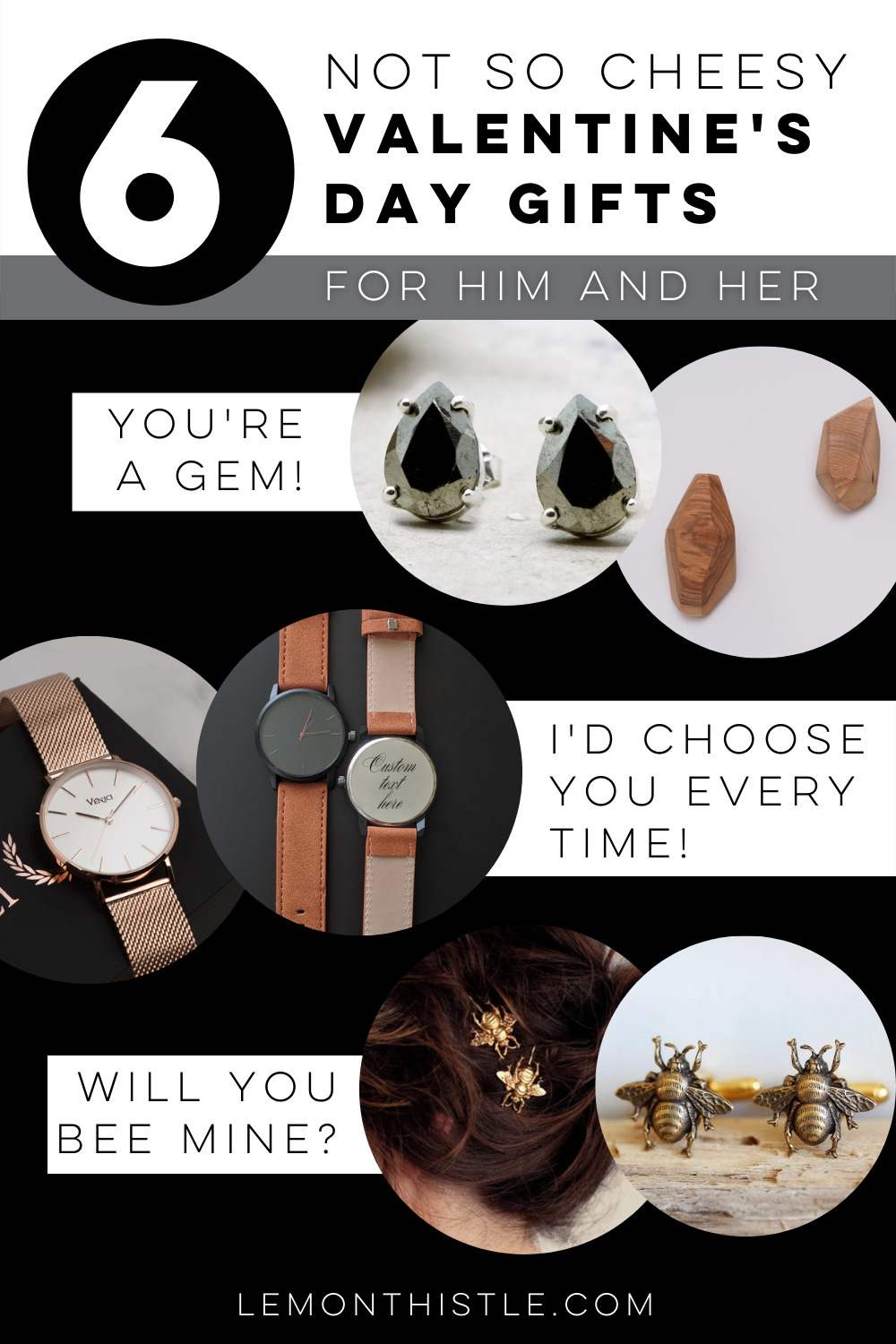 (links have been updated to currently available products, affiliate links used where possible- see my policies here)
Valentine, Will you bee mine?
Hers: Bumble Bee Bobby Pins / His: Brass Bee Cufflinks
Valentine, I'd choose you every time.
Hers: Women's Watch / His: Mens Watch
Valentine, You're a gem.
Hers: Simple Teardrop Pyrite Earrings / His: Wooden Gem Hooks
My sister gifted me that gorgeous watch for Christmas and I'm still loving it! What about you… are you gifting this Valentines day? Or are you just buying for yourself? Either way, these valentine gift ideas are a fun place to start your shopping ;)