This post contains affiliate links. Party supplies provided by Oriental Trading. Find all my policies here.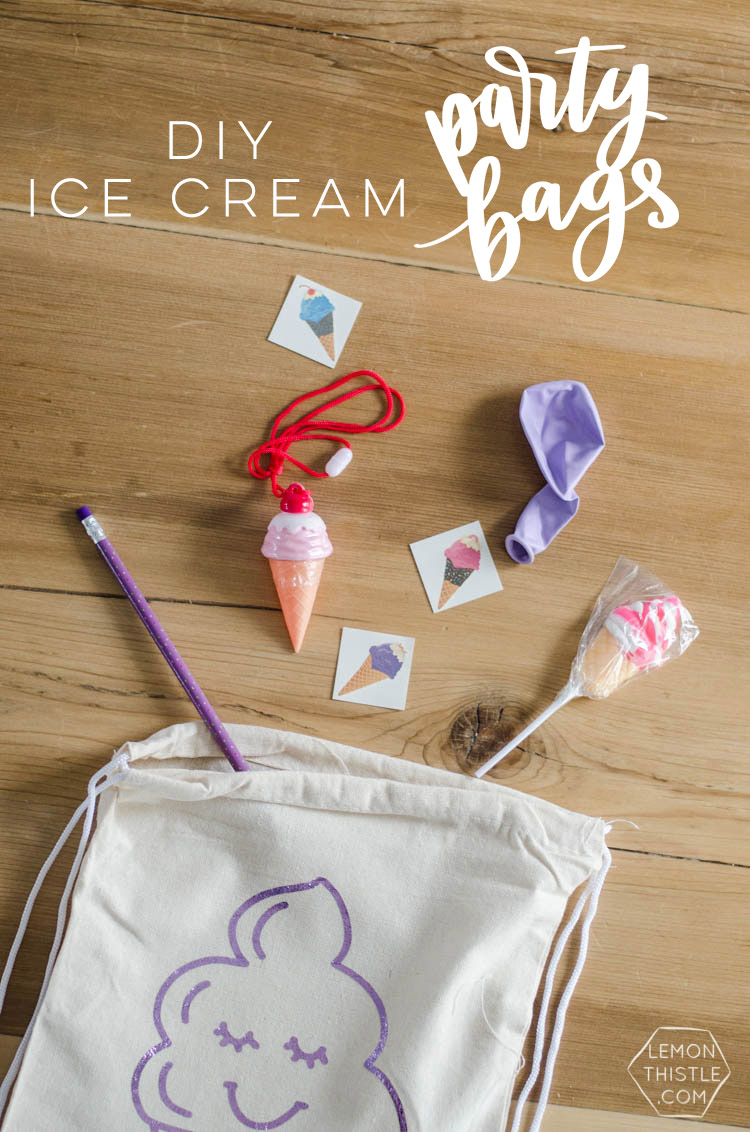 Did you guys catch my kids 4th birthday party? I shared the whole modern ice cream party last week… it was SO fun! You have to see the giant ice cream cone backdrop we did. Today I'm sharing the DIY party bags activity we did. I didn't actually know what to call them. I've always called them goodie bags, but all my american friends use the word loot bags… so I just went with party bags. That's a thing, right?
These bags were so much fun to make for the kids, plus it gave us an activity to do at the party- which was a total hit with my kids. Double plus- there's no plastic bags to throw away! These bags can be used for lunches, park trips, or sleepovers. My kids use them for everything- hiding stuffed animals, their mismatch socks collection (seriously), and whatever else they dream up. They're so proud that they made them.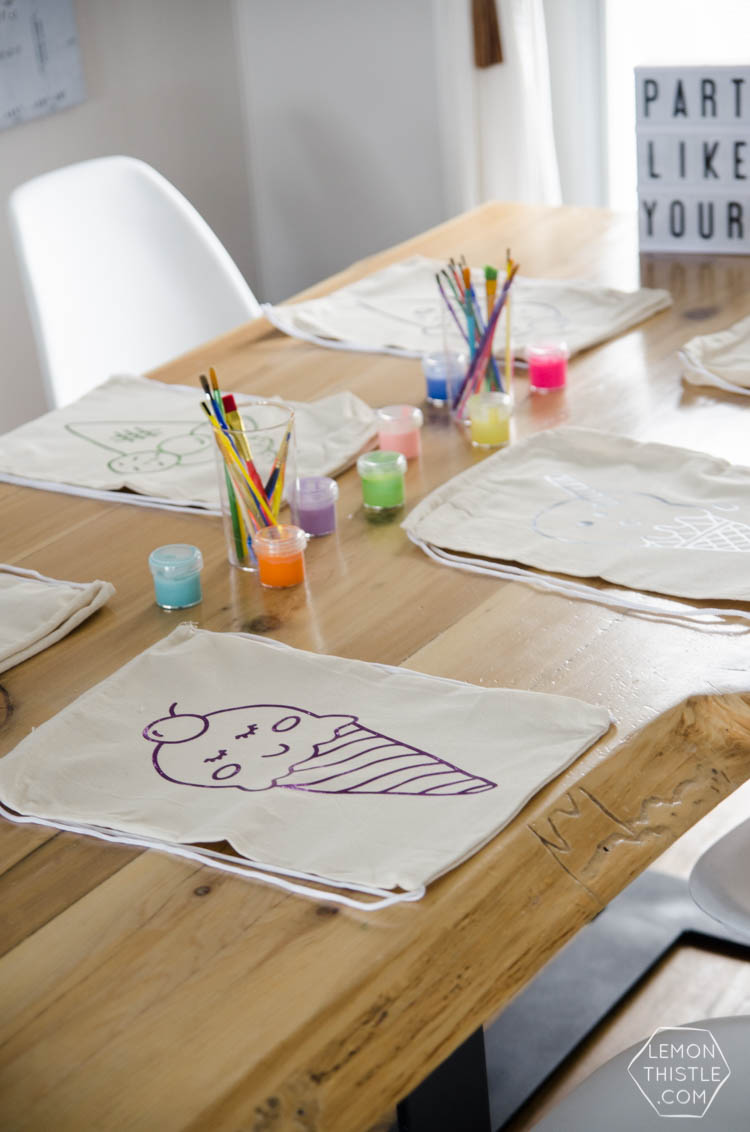 They took a bit more prep than regular ol' loot bags BUT I really feel like they are so worth it! I got the drawstring bags themselves from Oriental Trading. They are so much more affordable there than buying them individually locally. The ice cream cone characters I illustrated and made into iron on transfers. I'll be sharing the how-to tutorial for that here and if you would like my designs, I've made them into .jpgs for you to use. You can grab them below. A reminder that all freebies on Lemon Thistle are for personal use only.
I used my Cricut to cut out the designs on heat transfer vinyl. If you are going to do that instead of printable iron on material, you'll want to follow these instructions. Since these are .jpg files instead of .png or .svg the upload to Design Space is a little bit different. Just make sure to click the white areas that you'd like to 'erase' when you're uploading them to only have the outline.
Once they're in Design Space, you'll want to measure your bags and size your designs accordingly. Cut them out of whatever kind of iron on vinyl that you like- I used a variety of colours and metallics. If I had my way, I would have done them all in black (I'm so boring) but my kids requested colours and you just can't say know to the birthday kids.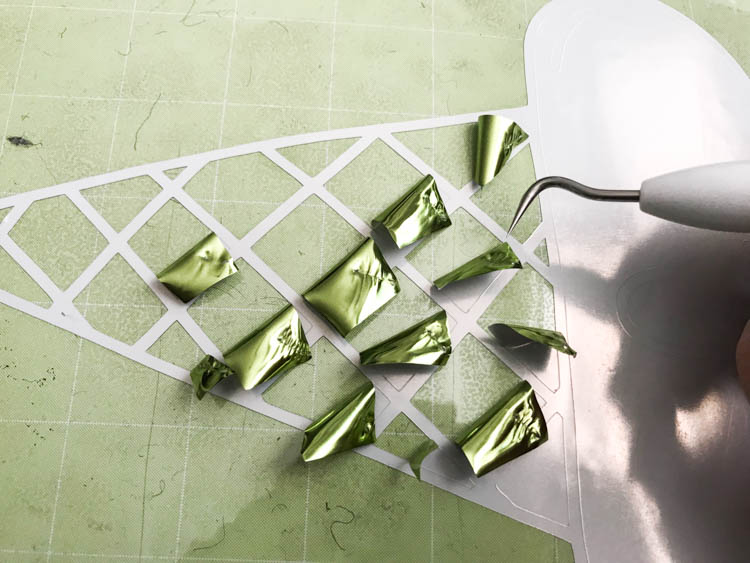 When you are working with iron on vinyl, remember to put the shiny side of the vinyl down on the mat! I found for the smaller pieces, it was fastest to lift the corners up with my weeding tool of a whole bunch of them, then grab them up with my fingers. I made 16 of these bags… so I was all about efficiency.
Speaking of efficiency… I totally didn't get my Cricut EasyPress in time for these bags! I think it showed up the week after their party. If I make 16 heat transfer projects all in one day again… I would for sure use that! But if you don't have one… that's a-okay, an iron totally works. I just find metallic iron on vinyl to be pretty stubborn when I use my iron. But it's a dream with the EasyPress. But it is totally doable. I've done tons of projects with an iron.
That's really IT to making the bags. Hurray for iron on vinyl, amiright?! IF you have never used the stuff and this is nonsense to you… I have a whole post where I used one of these bags to make a dance bag for my daughter using the exact same technique. I go over the whole process in way more detail with lots of photos along the way. You can check that out RIGHT HERE.
Then it's time for the fun stuff… the goodies inside and the painting! Let's talk about the painting first, shall we?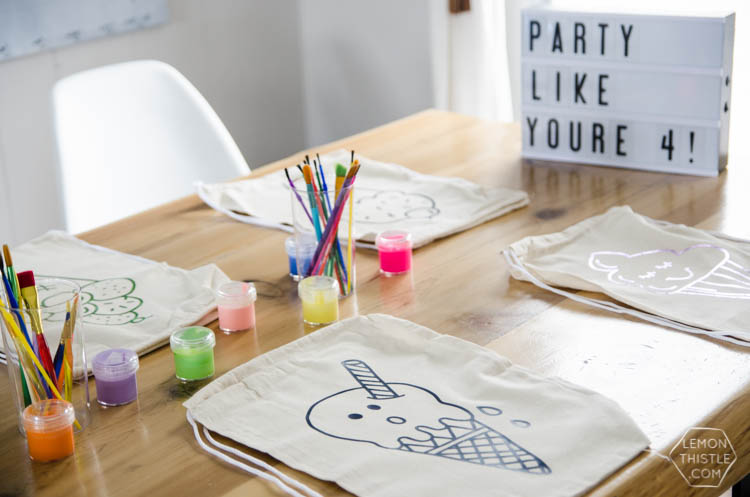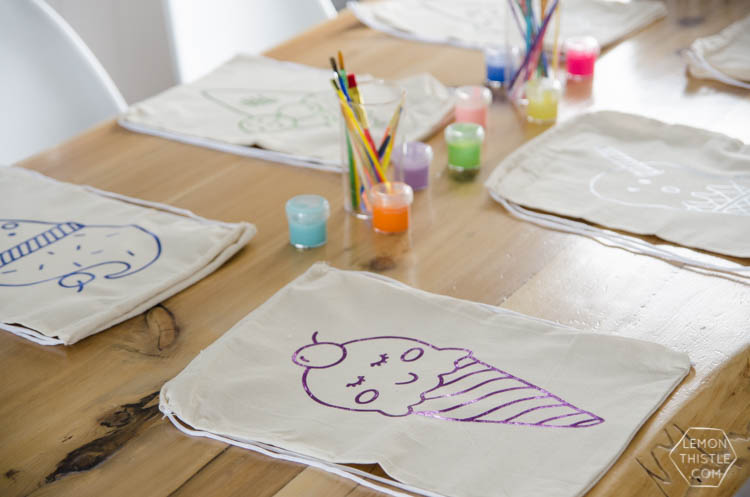 I set up the table with a bag at each spot (we did two rounds of kids at the table since there were so many kids and not that many seats). I mixed up some bright and colourful fabric paints using regular acrylic craft paint and a fabric medium. The fabric medium thins the paint down quite a bit. I did this in these little resealable plastic containers. They're found in the art section of the dollar store and not only look super cute set up like this but made preparing the fabric paint early possible.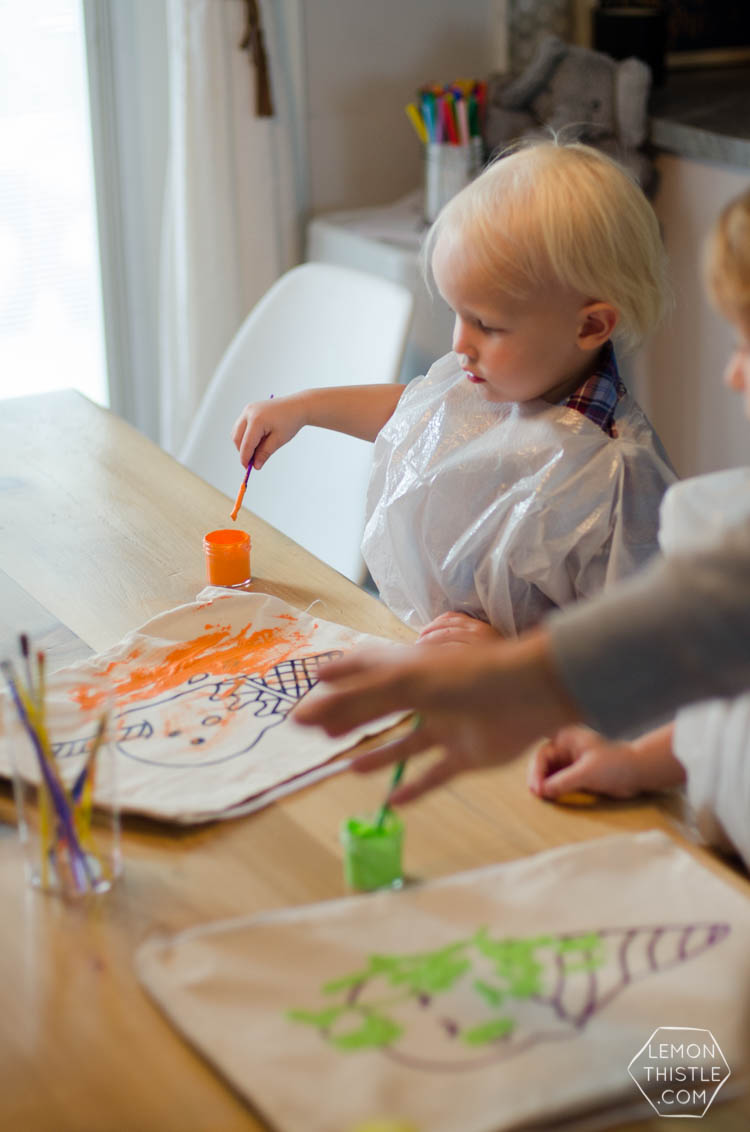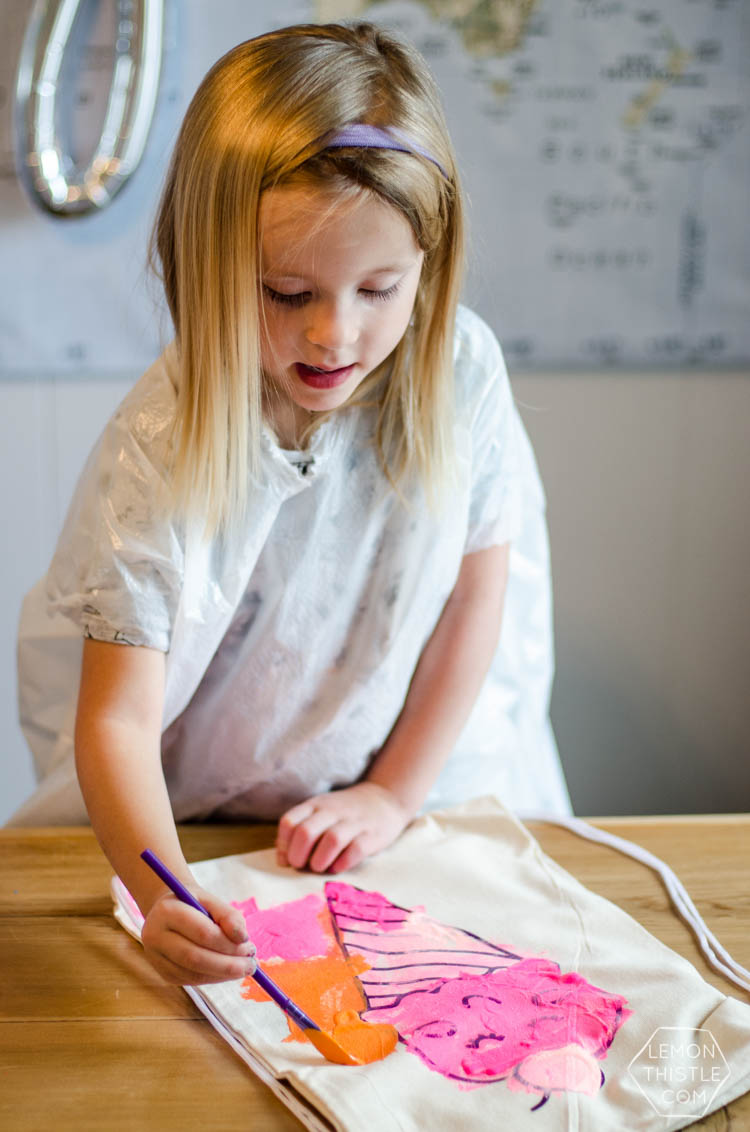 We are really classy, so we gave all the kids garbage bag aprons to keep their clothes from getting painted on. We did tell parents ahead of time to dress them in clothes they don't mind getting paint on just in case. If you were a bit more classy than us, you could have real deal art aprons for the kiddos.
Then we let them at it! They had so much fun. Not many of them kept the paint inside the lines… but they're all really young. And they don't care. They think they're the best things ever. I would love to try this with more watery paints and see if I could get a watercolour effect. And a black transfer. Wouldn't that be fun? I might make one for myself like that ;)
Okay… now for the goodies!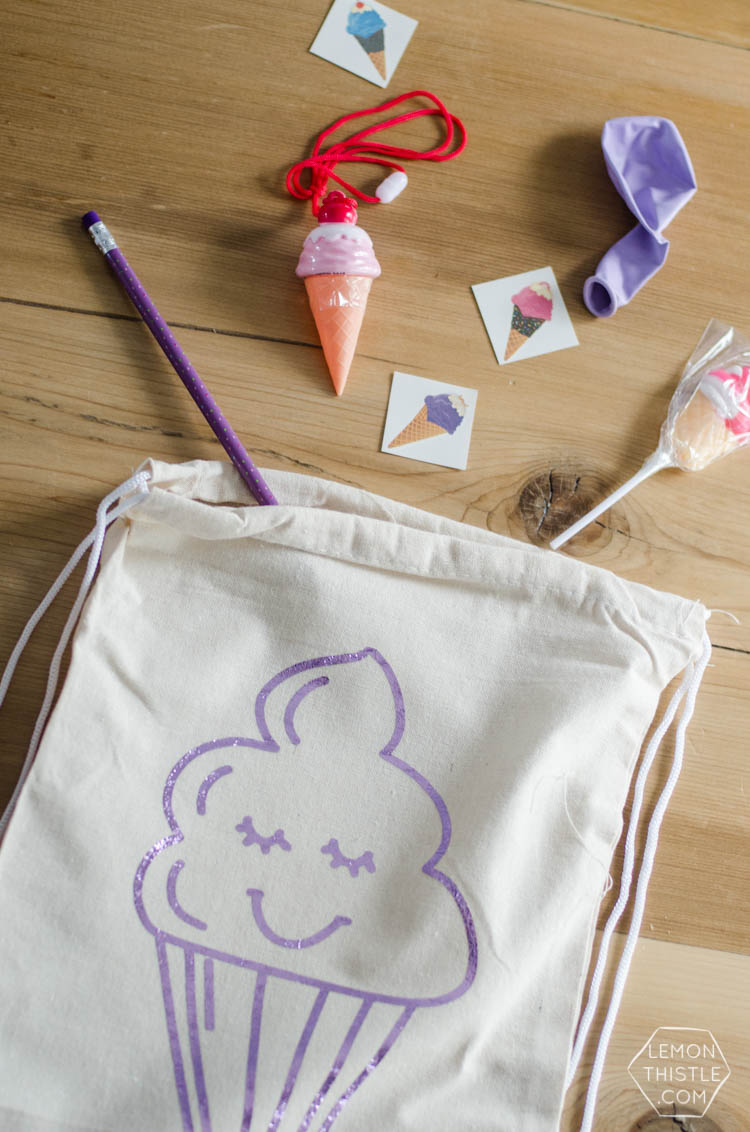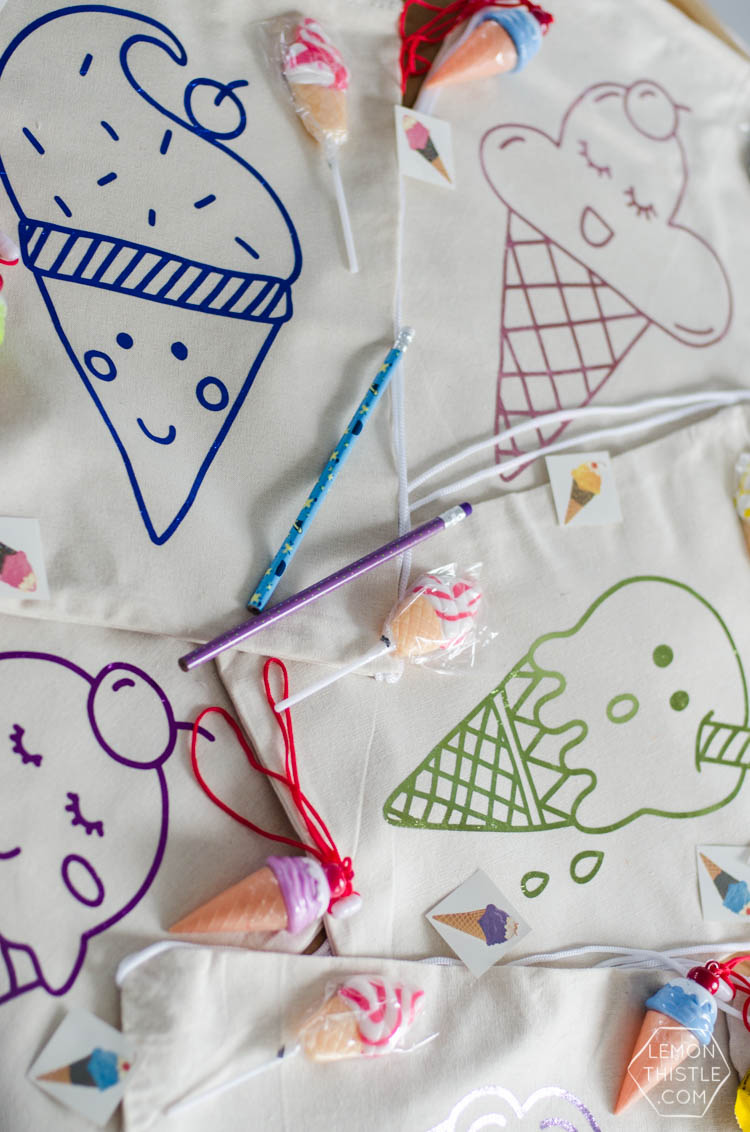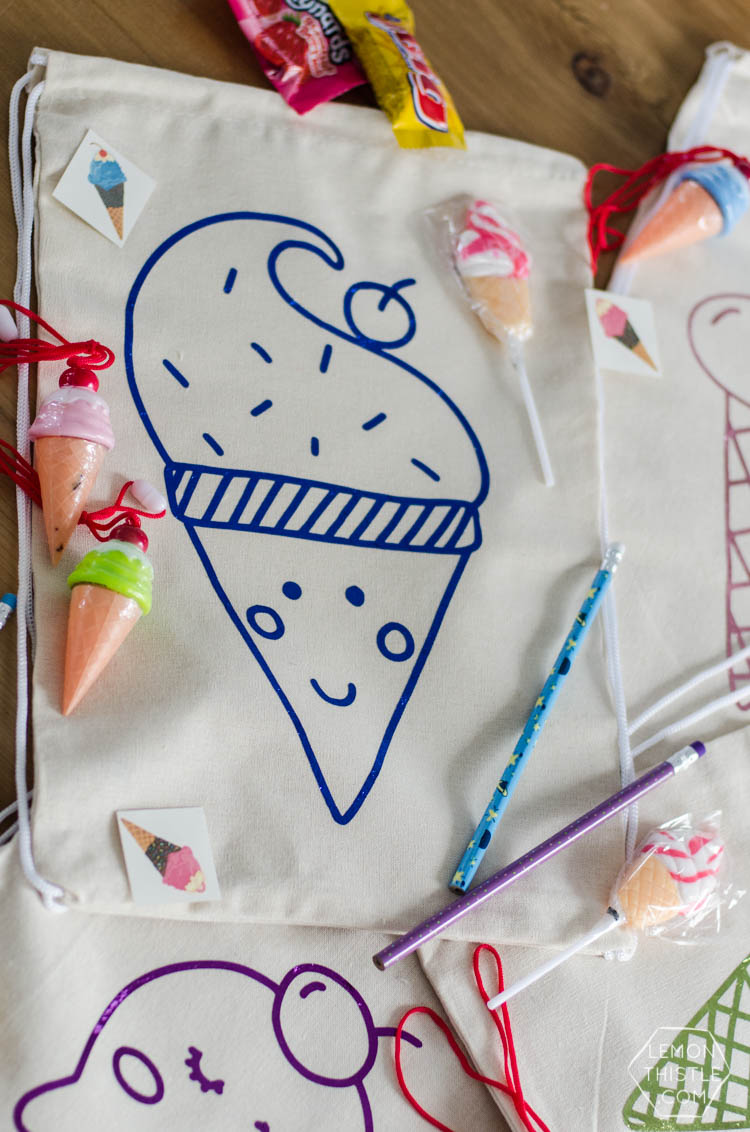 It's so hard to find little things for goodie bags that aren't just candy, isn't it? I picked up some pencils and added a few balloons (always a hit!) but then I looked on Oriental Trading for the rest. They have such fun themed items! I got those ice cream shaped suckers, the ice cream cone bubbles, and the ice cream tattoos all from them. The tattoo packs are big enough that we could bring some to school for all their friends as well. I feel like ordering from Oriental Trading is kind of cheating when it comes to themed parties. But in the best way… it probably seems like I spent hours in stores hunting down ice cream themed things but NOPE ;) They actually have a whole line of Ice Cream Party supplies!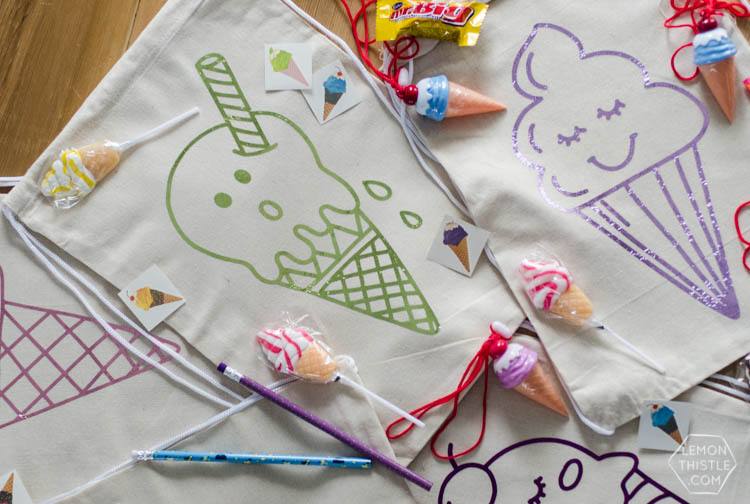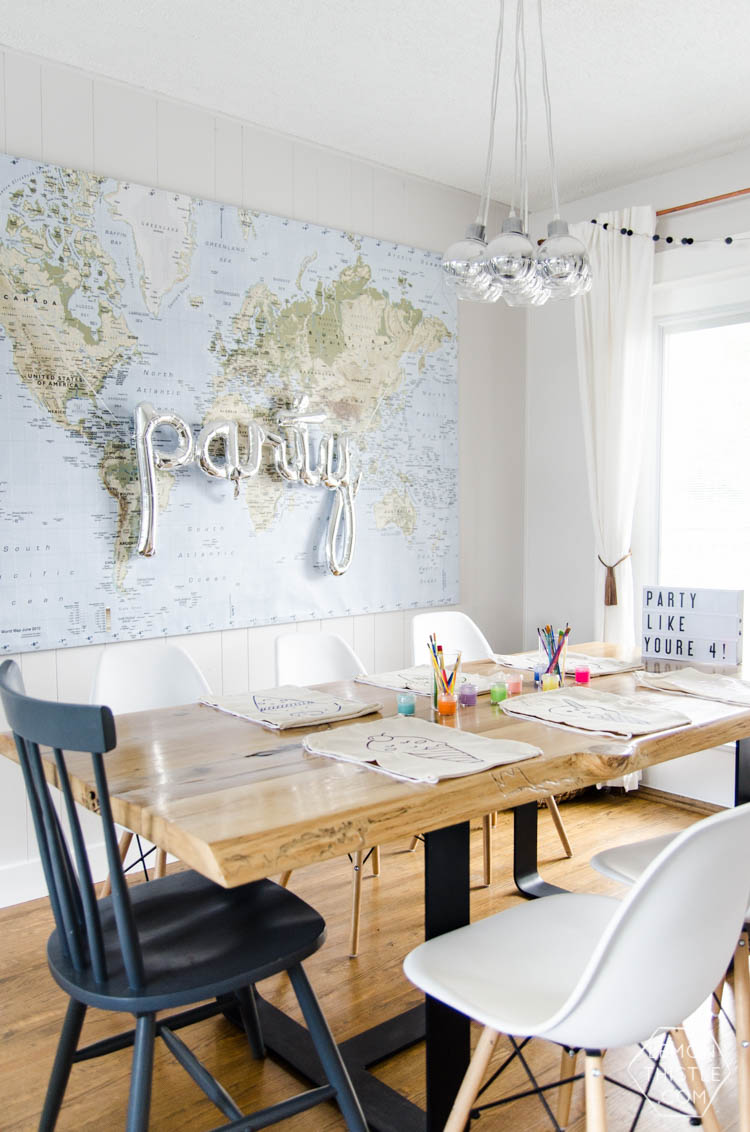 Alright! I hope you enjoyed that activity idea. You could totally do it with ANY themed party. Just change the designs on the bags! Or don't put any designs on the bags… just let them get creative! if you haven't already… make sure to hop over and check out the full party!