Giant DIY Halloween Garland with tissue honeycomb balls and party foil using- black white and copper for a moody but oh so fun party garland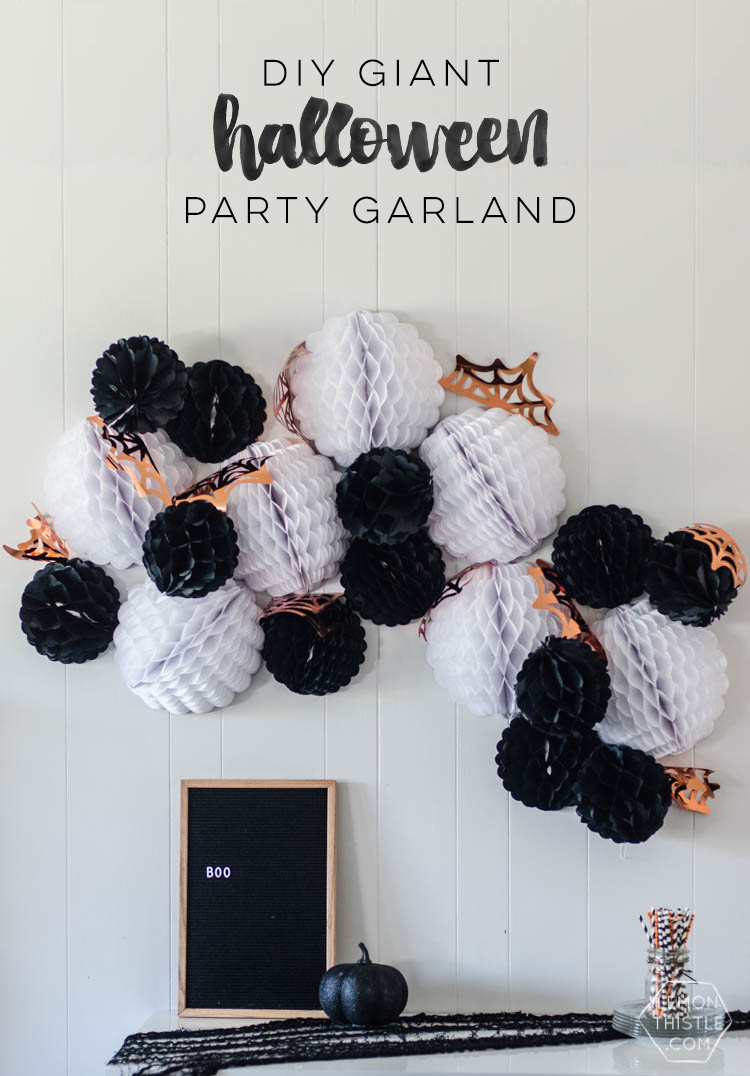 Today I am excited to be teaming up with some amazing bloggers to share DIY projects for Halloween… and the best part for you? There's a smoking giveaway to go along with it! We all used our Cricut Makers and some party supplies from Oriental Trading and want to give you the chance to win just that… a Cricut Maker (seriously!) and $75 towards Oriental Trading for whatever party goods you like! Scroll down to the bottom of this post to get all the details and enter.
For my project, I put together this giant halloween garland. I'm such a sucker for giant garlands and even more for these honeycomb tissue balls. Like… I should probably start a tag/category on my blog for them because I have so many posts using them now. I love how big of an impact this has over a party table and especially love that it is really easy to put together year after year (it all packs flat!).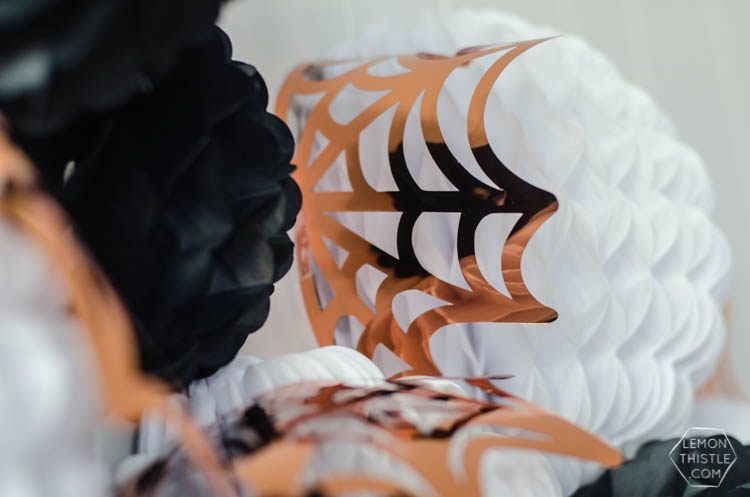 Want to see the how-to?
This DIY is pretty simple you guys. Beyond assembling and taping up the party balls… you need to cut out the spider webs for this halloween garland. You can use any spider webs you like here, but I illustrated some I'd be happy to share with you! You can grab them below:
To upload your own design to Cricut Design Space, just open a new project/canvas and hit 'upload', select your file, save it as a cut only file and size it how you like! I duplicated the design and used the contour tool to hide some of the webs to fit as many webs as possible on each piece of foil. Then I even re-arranged them on the mats to fit a few more in.
I cut these spider webs out of Cricut's Party Foil in this coppery colour (it's just called orange, but is totally more copper to me- which is right up my alley). There's also a sparkly version instead of the solid foil. I used only one roll of it. This is my first time using it and I love how it looks but the one thing I don't love is getting this stuff off the mat! You know when you're peeling something… like backing off of double sided tape, and it slips and jabs under your fingernail? THIS. My fingers hurt. I switched to bending the mat and using a scraper to pop them up instead of my finger nail. Maybe just start with the scraper and you'll be a happy camper.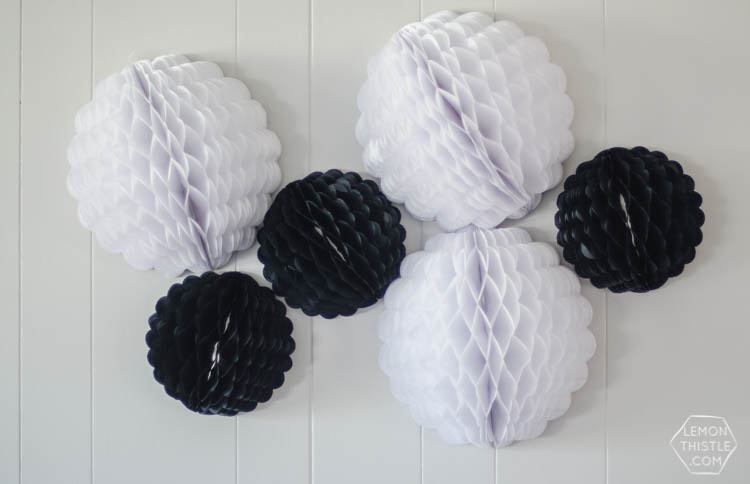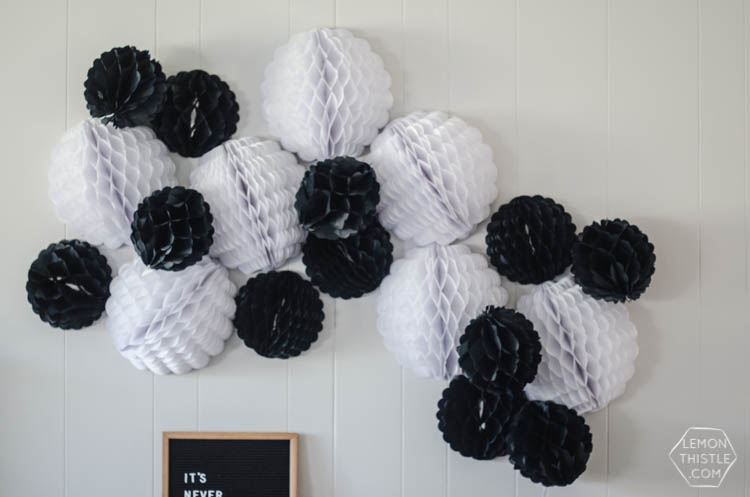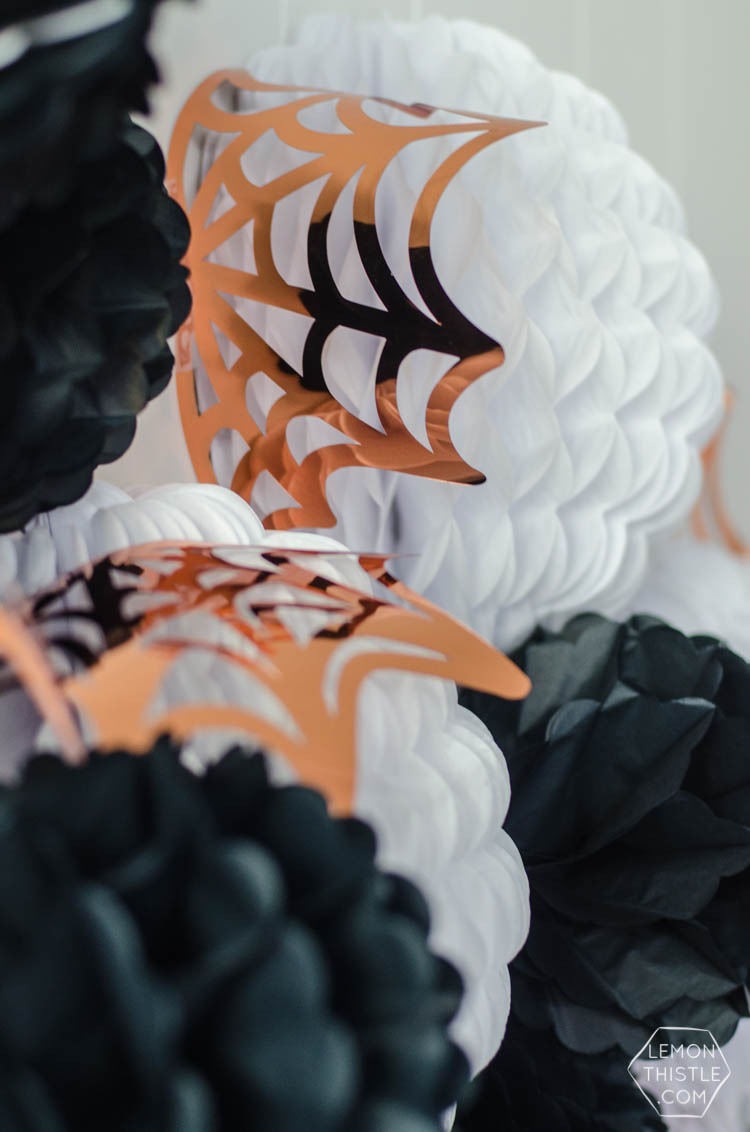 Once the spider webs are all cut… start assembling! I used tape to attach the party balls directly to the wall (half opened), then added some fully assembled black honeycombs to fill it out and give it some dimension. So I guess it's not technically a halloween 'garland' but more of a faux garland… or backdrop. I used the 12″ White Honeycomb Balls and the 8″ Black Honeycomb Balls for this (the same ones I used for this morse code party garland).
LAST, I added in the spider webs. I just used scotch tape to attach it all and it worked perfectly. Plus- it pulled off without any damage to the party balls, spider webs, or walls. I found that the party foil had a curl to it from the roll it came on, so I used that to it's advantage and curled them around the party balls.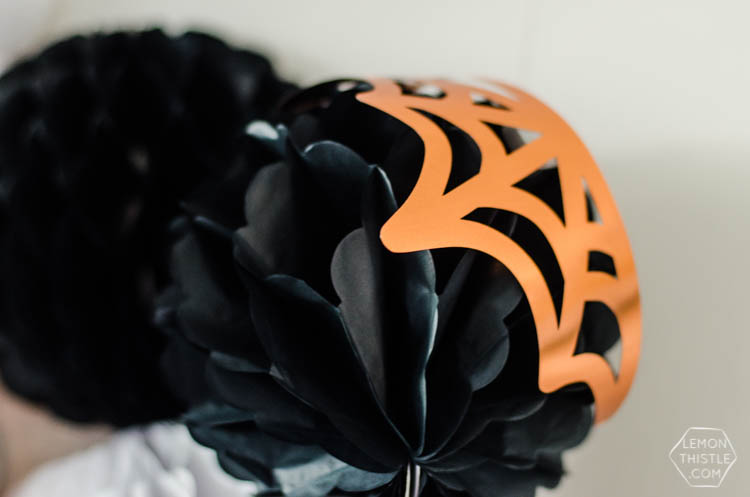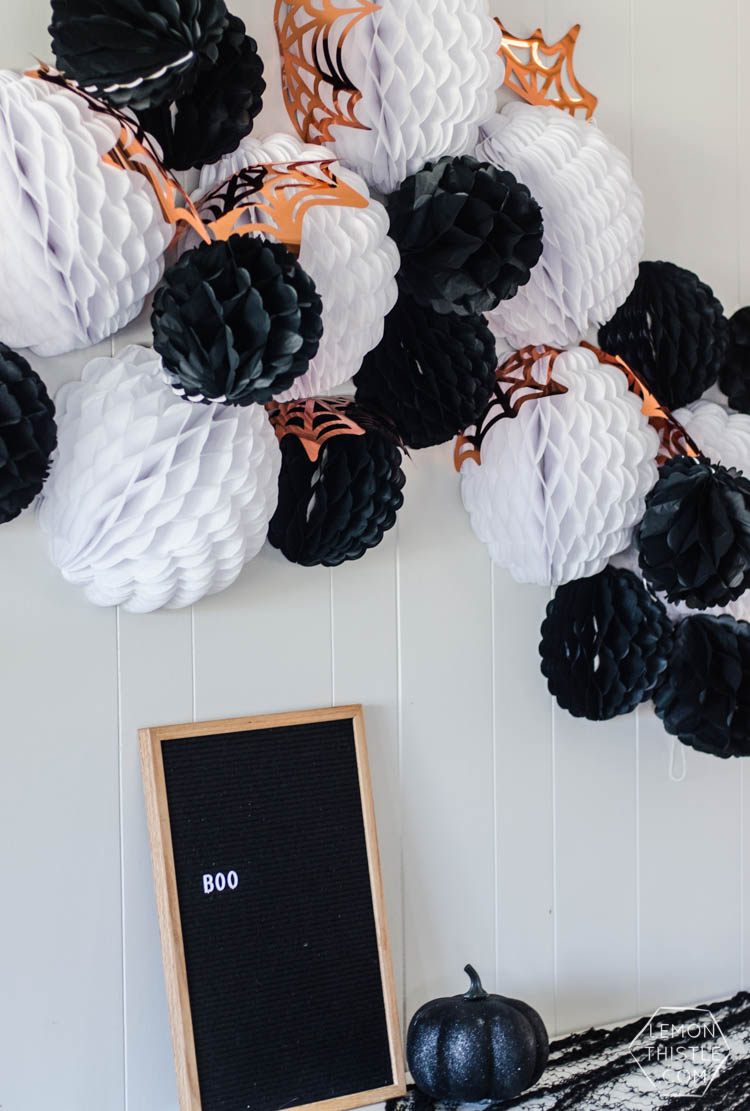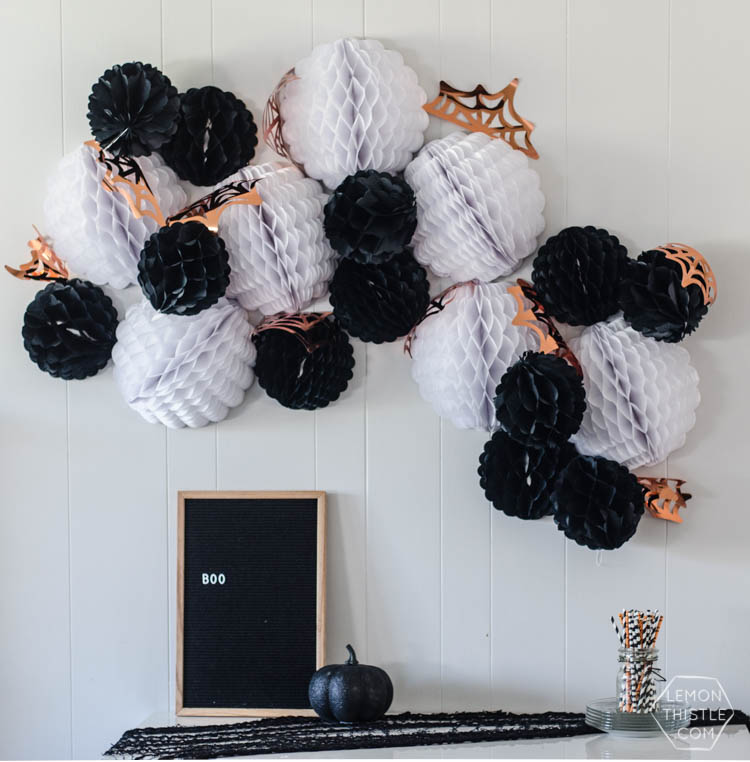 I really love how the coppery colour reflects the black tissue to make for such a moody (but still fun!) halloween garland. The colours are really perfect together.
Alright… now the part you're all really here for ;) The giveaway!
a Rafflecopter giveaway

Make sure to hop around and check out all the other amazing projects too!