This is a sponsored post in partnership with Cricut- but as always, all opinions are mine!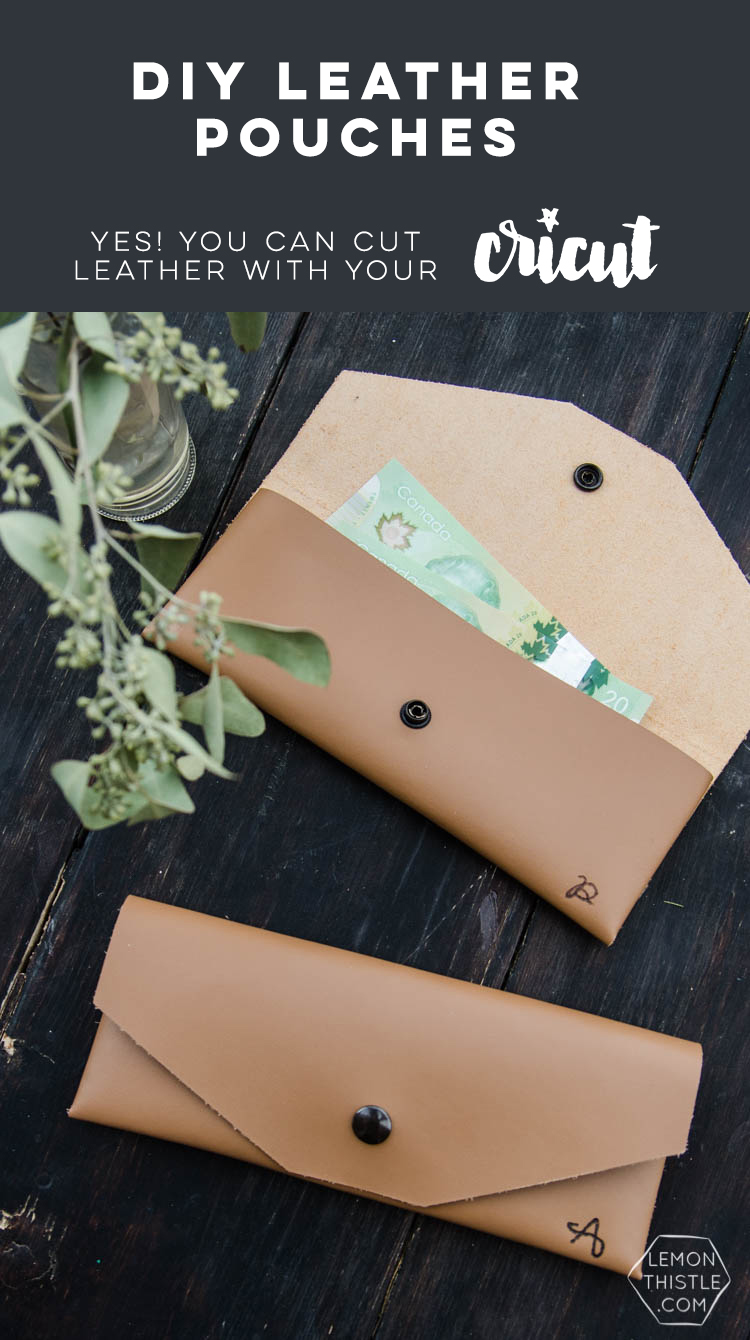 So I fiiiinally did it. I fiiinally cut leather with my Cricut machines. So today I want to share this rad DIY leather pouch (my new budgeting friend) with you as well as my opinion/review… should you splurge on the Cricut Maker or stick with the Cricut Explore Air. Let's start with the comparison of machines, shall we?
I've had the Cricut Explore Air for a few years and use it a LOT for DIY. I love to be able to transfer my lettering designs to pretty much anything and it gets a workout doing just that. It's bluetooth, so I can store it in my craft cabinets and use it without lugging it out to plug it in (win!), it cuts vinyl, cardstock, iron on and some 100 materials that I probably never tested. I have had NO issues with it. When they came out with the Deep Cut Blade, I ordered it right away and used it to cut chipboard and failed miserably trying to cut wood veneer (but the DIYer in me just had to try). Because the wood experiment didn't go well for me… I didn't really bother cutting any other strange materials. Like leather. I just felt like leather was too valuable to waste if it were to go wrong. Until this post- when I thought I really should test it out and give you a solid answer before telling you which machine is worth your money.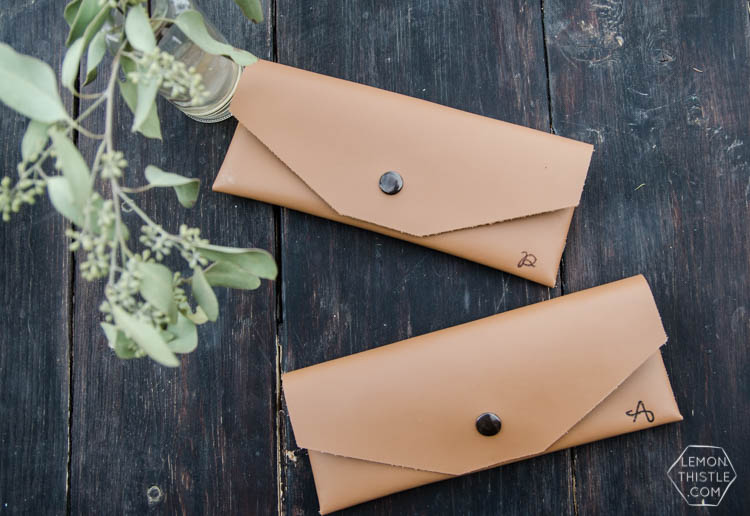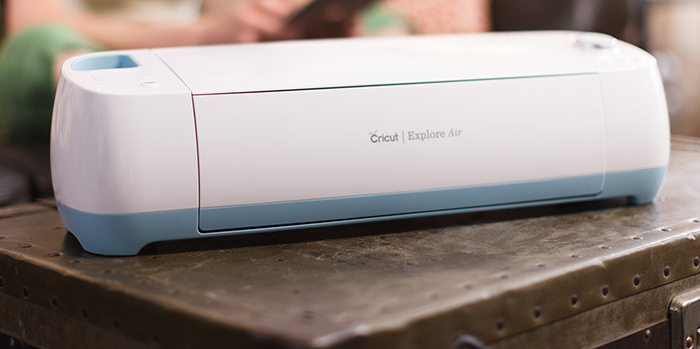 Since getting the Cricut Explore Air, Cricut also released the Cricut Explore Air 2 which essentially cuts faster and more accurately… and it's prettier. I didn't feel like that was worth replacing mine for the cost. Then came the Maker.

This summer, I got to travel to the Cricut Maker Launch and it is a complete rework of the Cricut Machine. It's a seriously heavy duty machine. The biggest differences? It cuts with SO MUCH MORE FORCE for tough materials. It can work with two tools at once. No more reloading a mat and hoping that it exactly lines up for scoring then cutting (or drawing then cutting). It ditched the dial so you can select ANY material in Cricut Design Space and not kick yourself for forgetting to turn that dial and wasting material (my most common Cricut using mistake).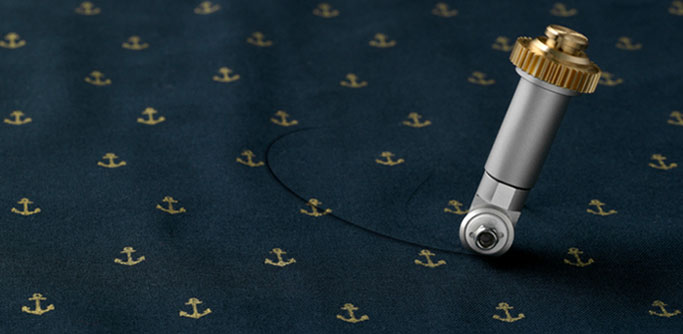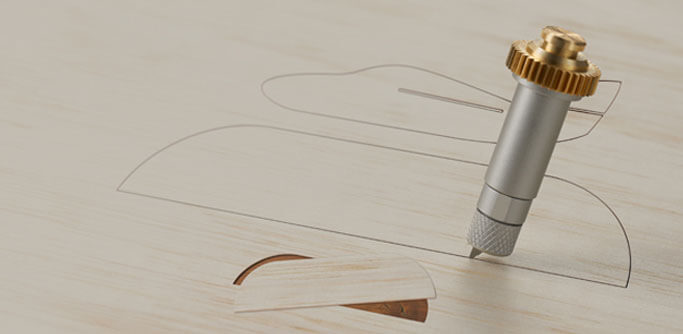 AND the biggest change? It has MORE tools. Like, not just your little blades and a deep cut blade. But ROTARY BLADE. Which is life changing if you work with fabric. I'm not much of a seamstress BUT I the part of sewing I like the least is lining up the patterns and pinning and cutting and trying to get that all perfect. You cut make any design you load in out of fabric OR you can use one of their 100s of patterns that are made for sewing. Which is kind of amazing. They're also releasing a Knife Blade (Xacto knife type) this month that will be able to cut much thicker materials (like WOOD! And heavy duty leather).
Which machine cut the leather?
SO let's talk about cutting the leather before I give you my final- what I'd buy. I chose to use the Cricut brand genuine leather (in Camel) since it was a registered material in their system. That means there was no guess work/user error. I cut the leather with the Cricut Maker first. And it cut smooth as butter. NO issues at all, following all their rules (I'll share those specifics down below so you can rock it the first time). Then I switched to my Cricut Explore Air and honestly, I expected a disaster. I was so pleasantly surprised to see that it cut *almost* as perfectly. It does have less pressure so there was one corner of the cut that didn't cut all the way through (I just tugged on it and it released- photo below) and the cuts weren't quite as clean- they looked a tiny bit more frayed. But honestly? If I didn't stare at them… I would never know which was which. So the Cricut Explore Air can totally cut leather, you guys.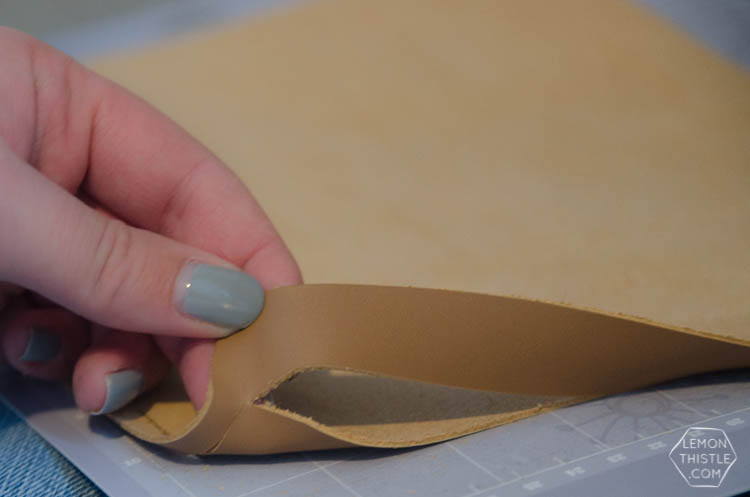 Knowing that… here's what I think. If you are a seamstress, quilter, or love to use fabric in your crafting OR want to cut thick materials like wood (hello DIY!). You're going to want the Cricut Maker… for sure. If you *think* you would use those features… or be sad you don't have it and DON'T currently have a machine… I would totally get the Cricut Maker still. If you currently have a Cricut Explore Air… I would stick with it UNLESS you're really excited about the idea of cutting fabric (including felt!) or wood. Because the difference between the two when it comes to cutting paper or vinyl isn't enough that I'd upgrade. That's just my personal opinion, though you guys!
I rounded up a few more resources if you're still going back and forth. My friend Lindi from Love Create Celebrate made this little video of her using the Cricut Maker to cut fabric for the first time– if you're wondering what that looks like. And if you are a sewer or even like the idea and want to know more about how the Cricut Maker works with fabric, my friend Crystal from Hello Creative Family wrote an EXTENSIVE post about all the features that will make your sewing life easier (washable marker, mats, pattern use, and so much more). And if you just want to check out the machines on the Cricut site and see how they line up in their infographic, you can check that out here.

DIY Branded Leather Pouches
Alright… now the fun part! Let's talk about these little DIY leather pouches. I made them specifically to have place to keep receipts in my purse without destroying my wallet. But they'd make a great little clutch or money folder for budgeting. The toughest part of this whole project was putting those snaps in… and I've done snaps before. They always get me though!
The first thing you'll need to do is load up your mat with the leather. I used the Cricut brand Genuine Leather in the camel colour since it was my first time using leather and the Cricut machines, I wanted to try something that was almost guaranteed to work. There's some tricks to using the leather compared to a thinner material. Here's my checklist for next time:
Place the leather smooth side (face) down on a STRONG GRIP mat
Ensure the left edge of the leather is inside the lines- you don't want it to bump the black bumper as it feeds through the machine
Use a brayer or something similar to REALLY press it down well and keep it in place
Use an x-acto knife or rotary cutter to cut the right edge of the leather down- it should only be 11″ wide
Move the star wheels on your machine (the 4 little white wheels) over to the right side- you cut the material smaller so that these wheels can run there without bumping the material
Load in your Deep Cut blade
Then load the mat up! If any of the bumpers/wheels hit the leather itself, it will bubble and you'll have issues cutting so readjust before you actually make your cut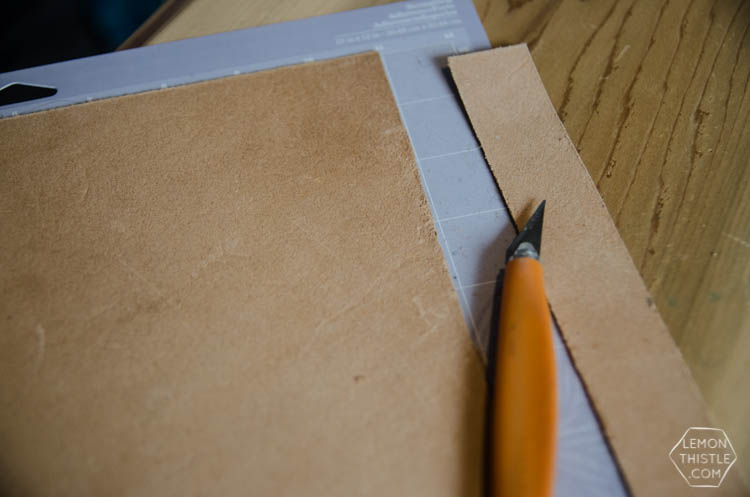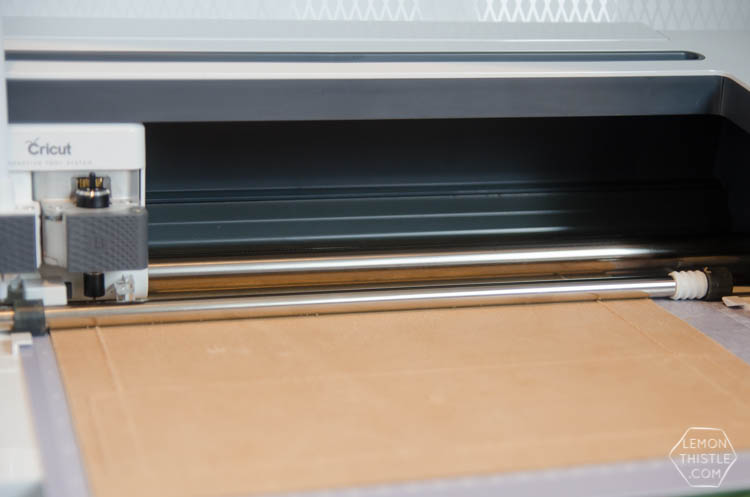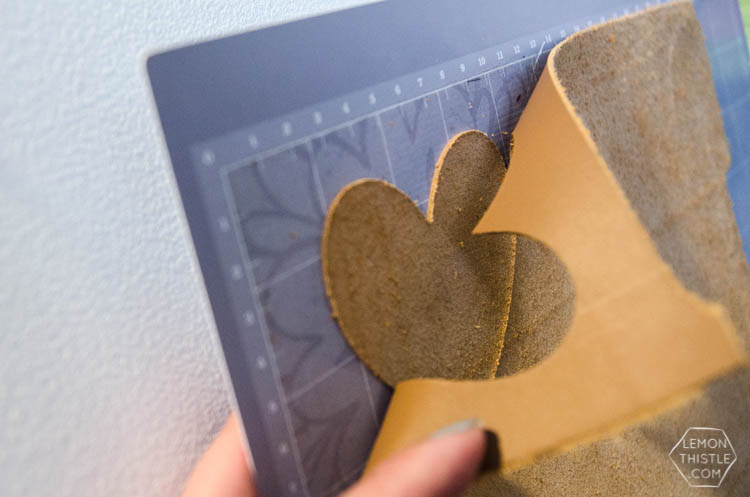 I would also recommend testing a smaller cut before running a whole piece through like this- it's a shame to waste a whole piece of leather if it's not working right! I tested a little heart I'm going to make into a keychain.
Then comes loading in the pattern to Design Space! I actually used a pre-made project for this one- you can grab it RIGHT HERE. It's part of the Cricut Access subscription or you can pay a one off for it, I'm pretty sure. The nice thing about preloaded projects like this one is that you just have to hit 'make it' and it loads straight to the materials settings- no sizing it! Select your machine, your material (the new Design Space update has settings all preloaded for pretty much every material with NO adjusting #lazycraftersrejoice). If you are using the Cricut Explore– make sure to turn your dial to 'Custom' to get all these options.
This project also uses the scoring tool which can be loaded into the 'A' tool slot.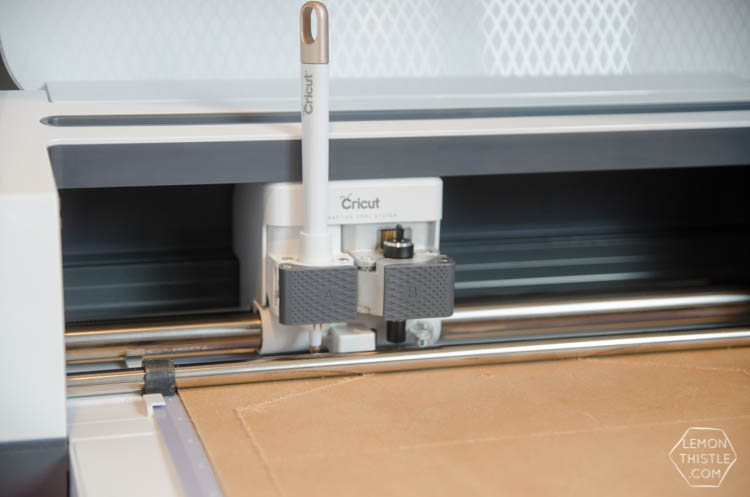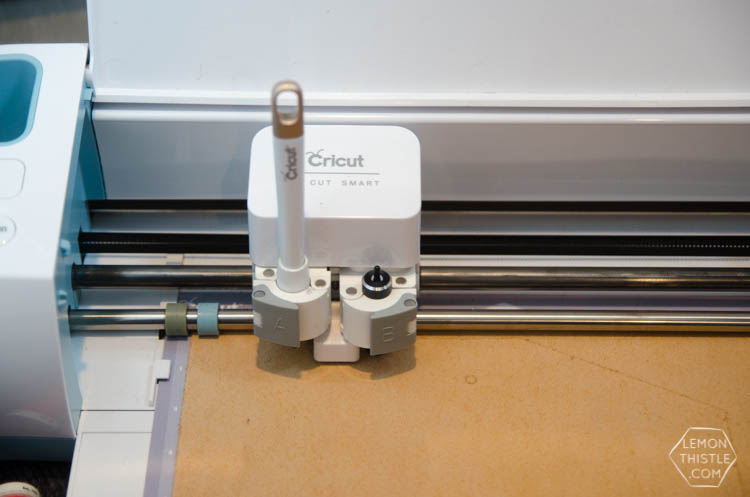 Then hit 'go!'. Once it's cut out, start heating up your wood burner and grab your fabric adhesive and snaps/tools and get assembling. The wood burner needs to be pretty darn hot so let it get heated while you're working on the other parts.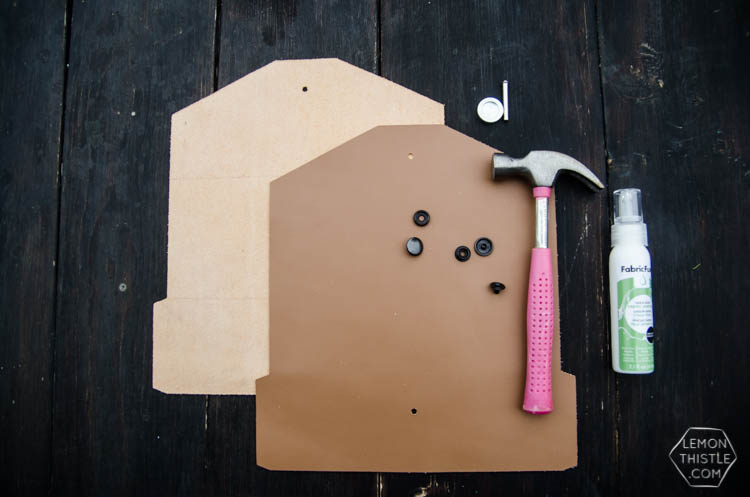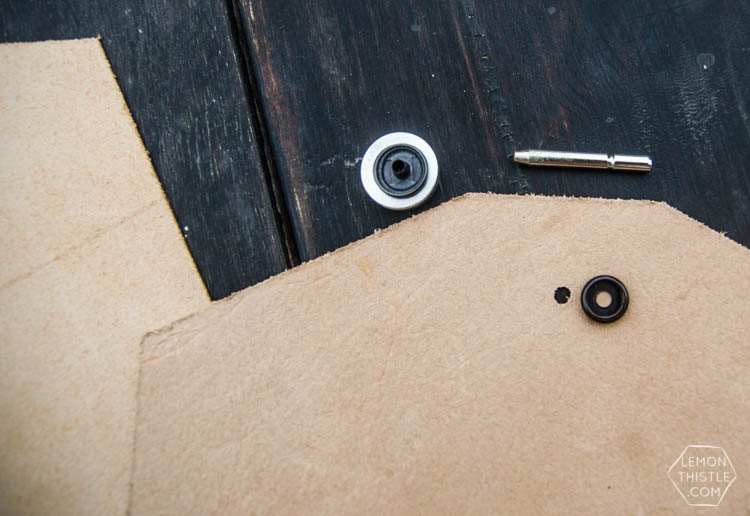 I used 'heavy duty' snaps and while I love that they won't pull out of the material, they are pretty stiff. I have a feeling that they will loosen up a bit over time which would be nice. Follow the instructions on your snap kit (I just picked one up from my local fabric store) and glue the flaps in last to make sure they line up with the snaps secured. I placed something heavy on each side of the clutch to hold the glue tight while I did the woodburning. I've had no problems with the glue coming off this way. I always use this glue right here for fabric and leathers.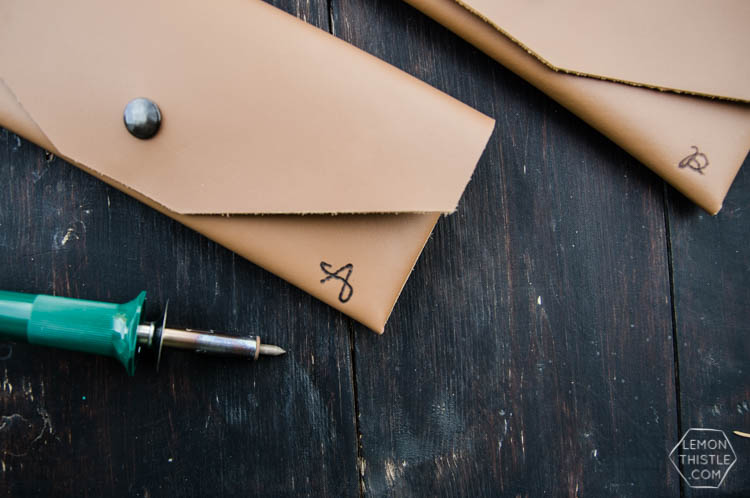 The key to woodburning leather is to go slow and use a consistent heat. I talk more about it in this post if you're interested. Also- it stinks. So make sure you're in a well vented area if that bugs you! I just added a small monogram to the corner, but if you were to make a few for budgeting purposes, you could totally brand in what each is for. Or decorate the back beautifully!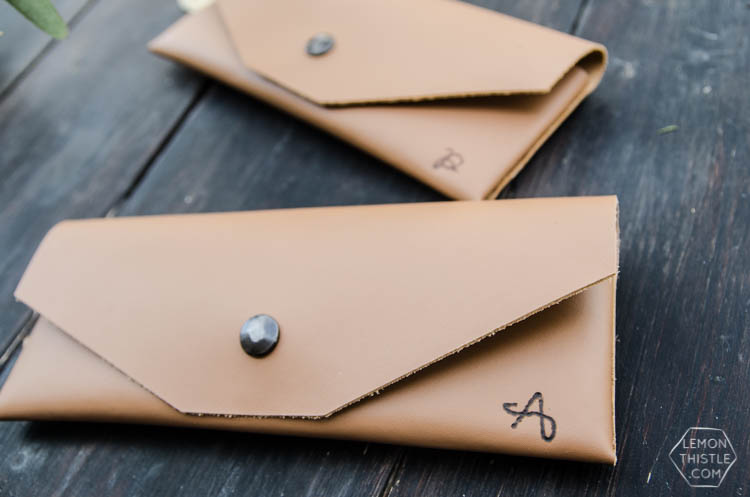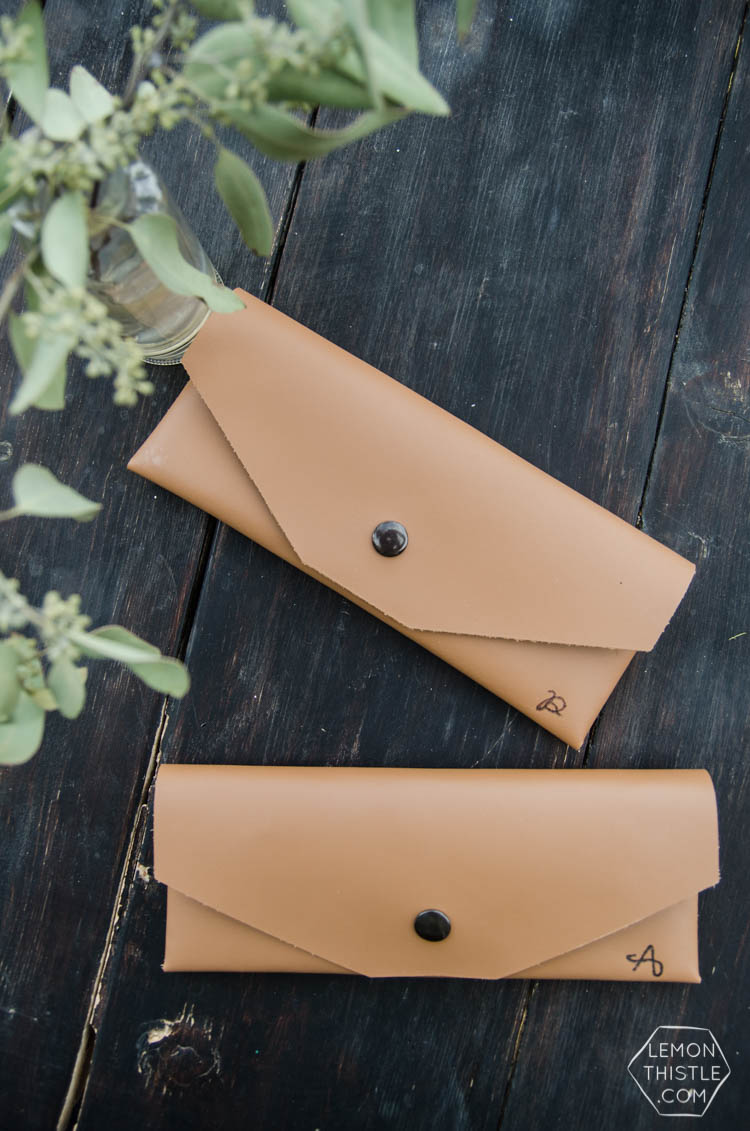 Well… that's the project… and one of the longest posts EVER. So I'm going to go ahead and leave it at that! If you do have any questions about cutting leather or about the differences between the Cricut Maker and the Cricut Explore Air– pop them in the comments and I'll do my best to answer! As always, if you create a project you've seen on Lemon Thistle, I would LOVE to see it! Tag me on social media @colleenpastoor or shoot me an email [email protected]!
This is a sponsored conversation written by me on behalf of Cricut. The opinions and text are all mine.