Sharing 6 free hand-lettered photo overlays along with a tutorial on how to use them for your photos and home decor.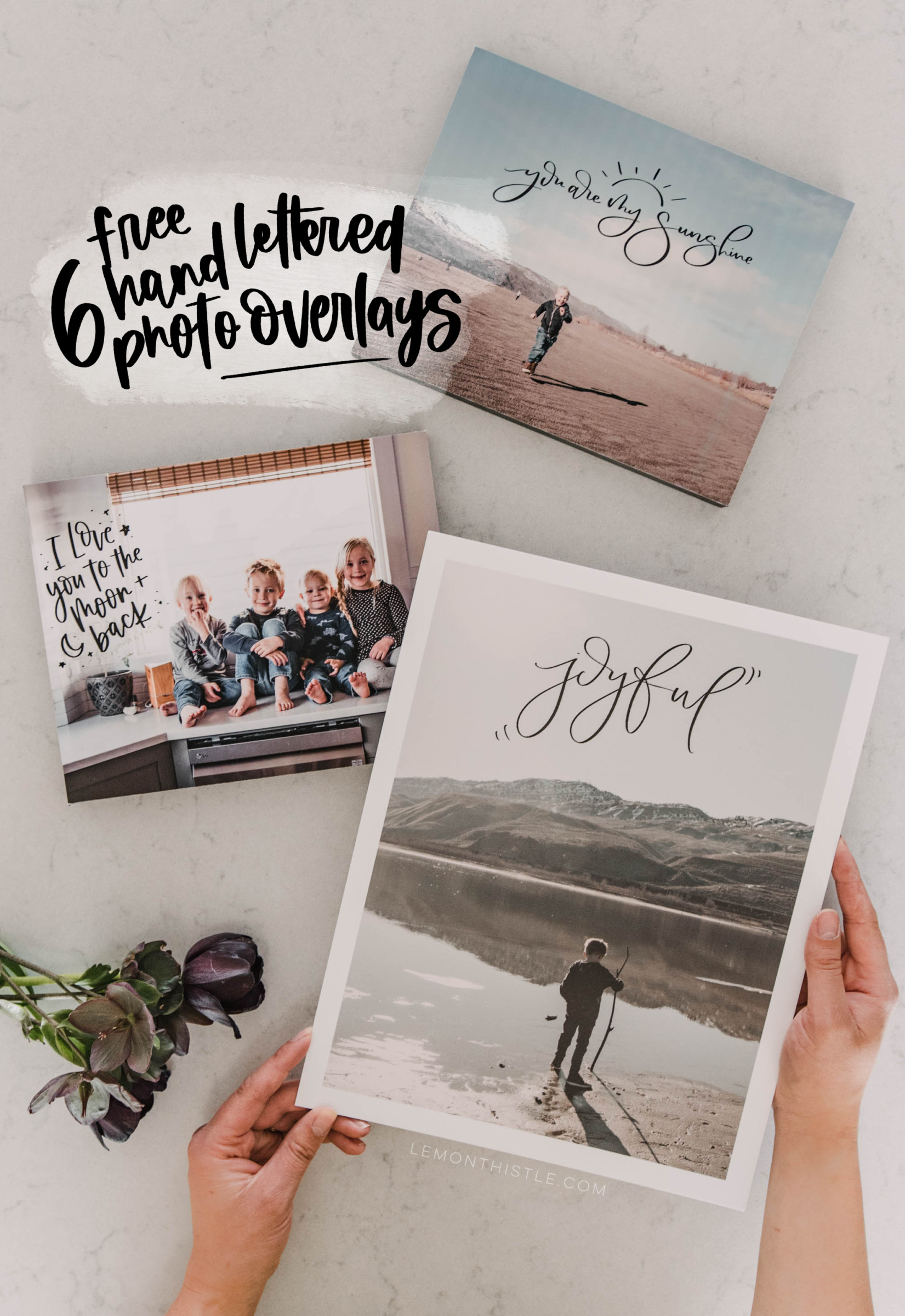 Hand lettering is one of my joys and it makes for such beautiful home decor. If you've followed along with me for any amount of time… you'll know I put it on everything. So today? We're putting it on photos!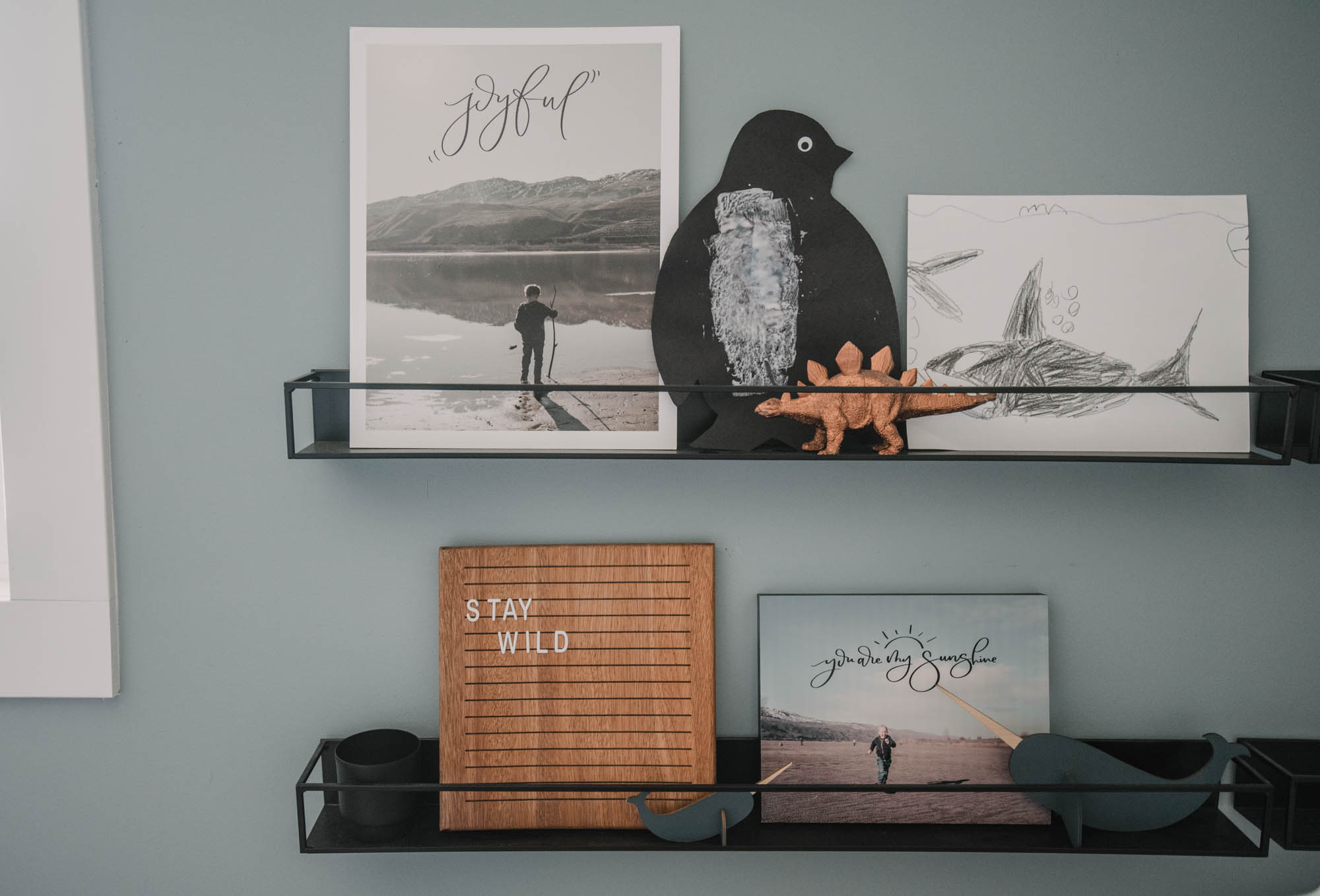 I've done this a few times before- in photo books, holiday cards, and baby announcements. But today I'm not just going to tell you how to do it but give you 6 free hand-lettered photo overlays for you to put on your own photos! I really love how these turned out and think these lettering pieces will fit so well with almost any style of photo- wedding to baby to family to snapshots with friends. I used them to make a couple of prints for the boys' bedroom with photos from our beach adventures and one for my mother-in-law with the phrase she loves to say to her grandkids.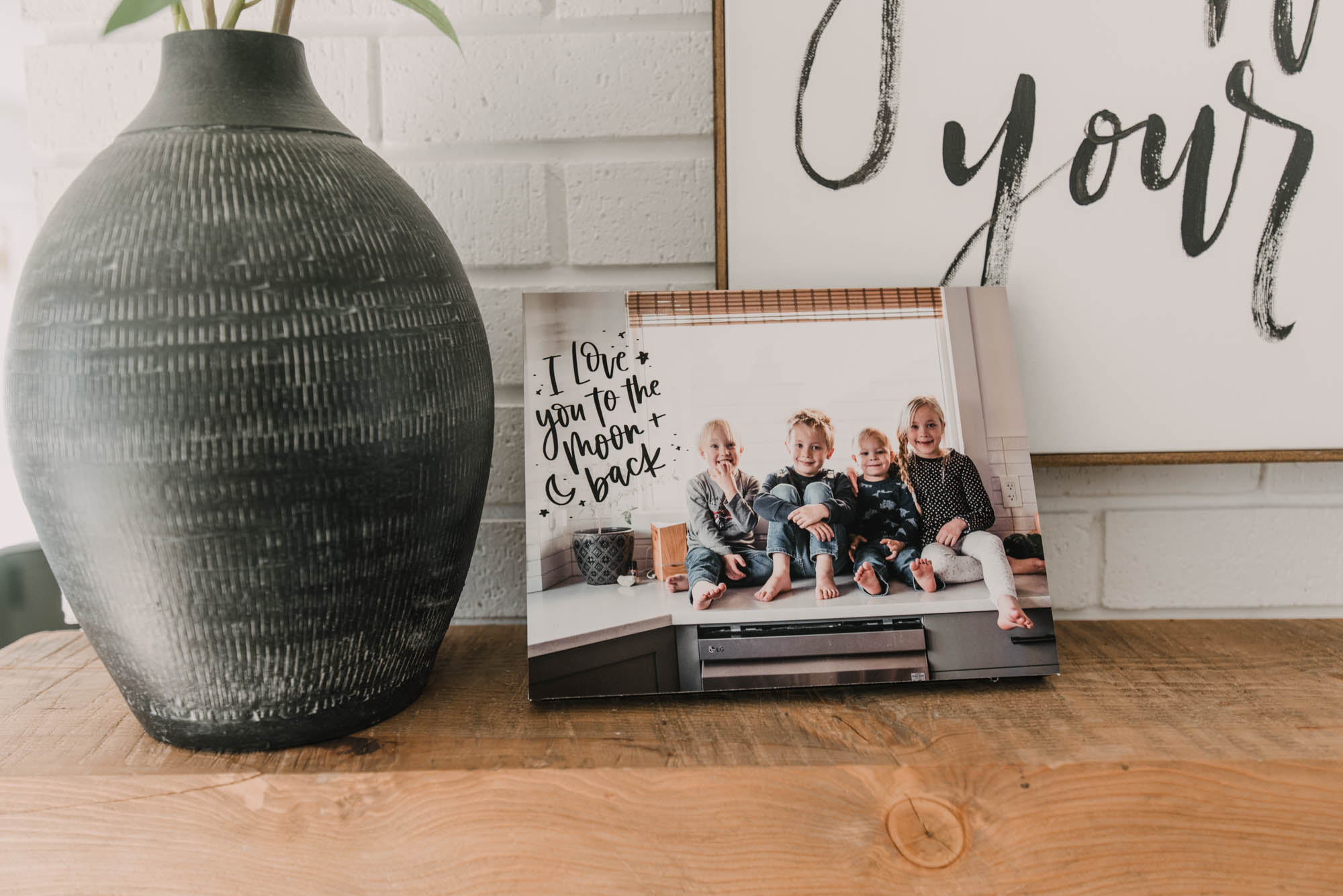 Here are the 6 phrases:
You are my sunshine
Best day ever
If you want to change the world, go home and love your family
I love you to the moon and back
Joyful
XOXO
For this project, I'm excited to partner with Walmart Photo! I've used their same day products in this post- you guys… it's so convenient!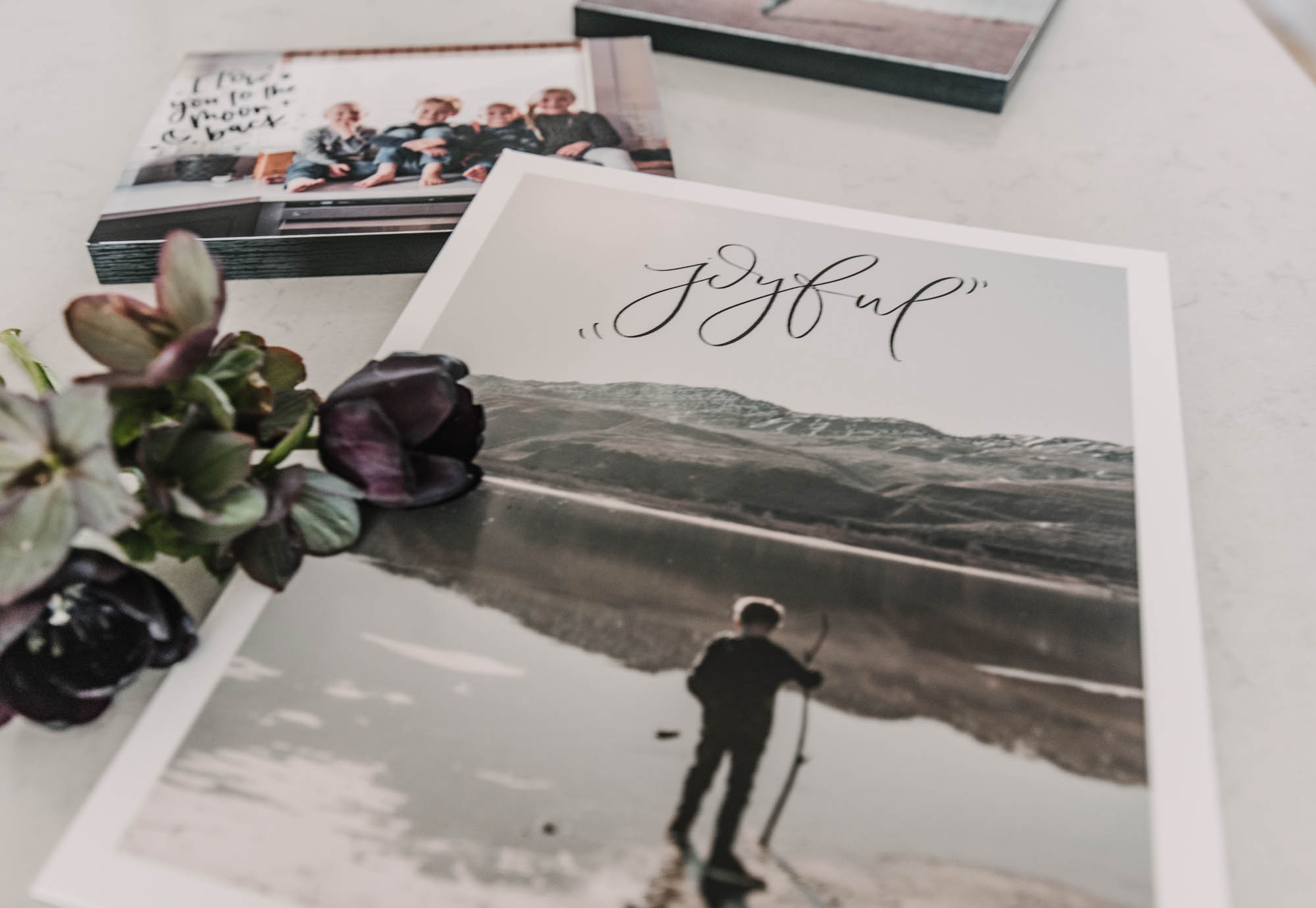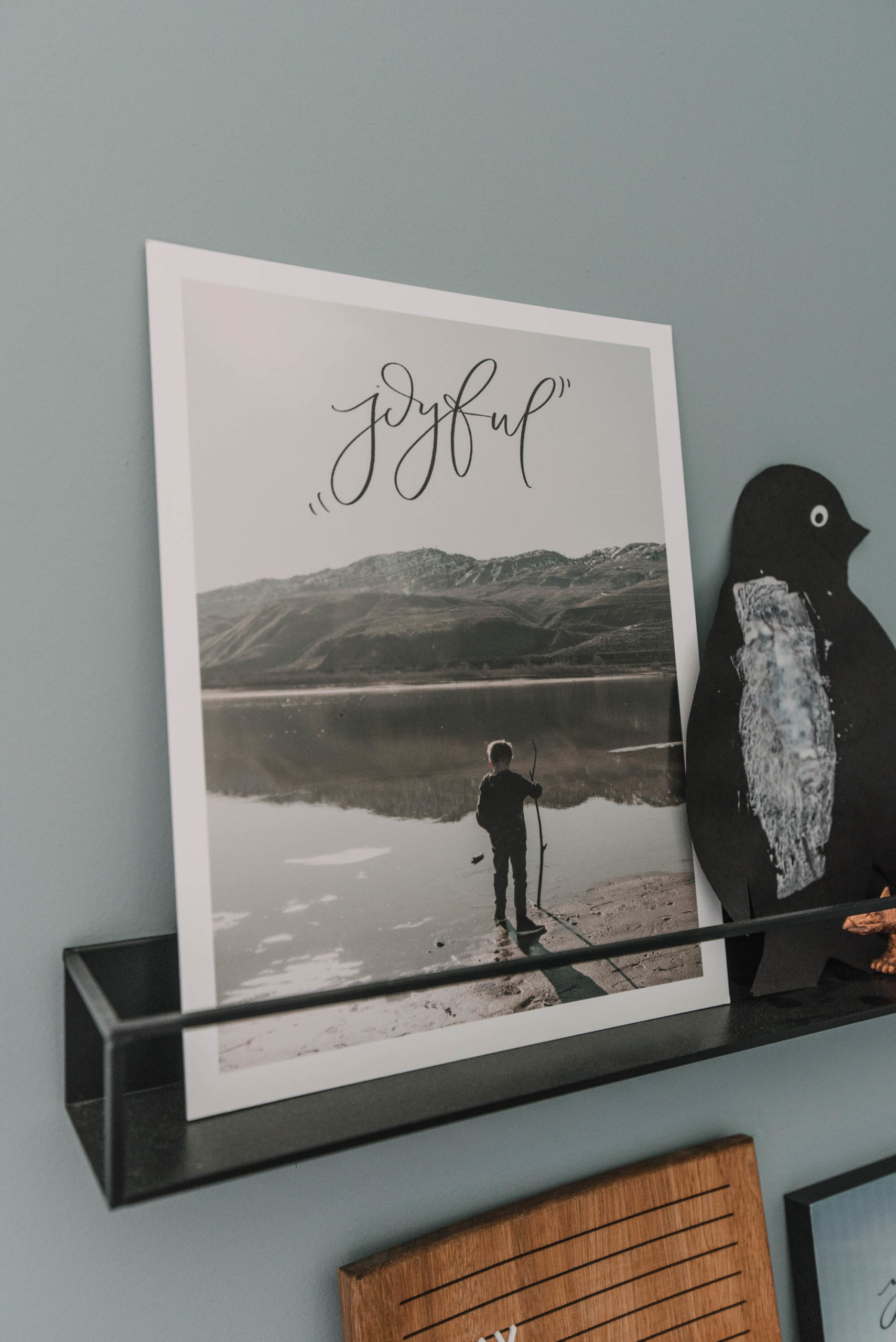 I used two different printing methods for this, just trying to figure out which works best for open shelving prints. I used the mounted photos for the two 8×10 photos and a 'board print' for the 11×14. I really love the board print for the open shelving- it's thin, so can lean against the wall even on a narrow shelf, but is a board so stands up perfectly on the shelf without curling like photos generally do.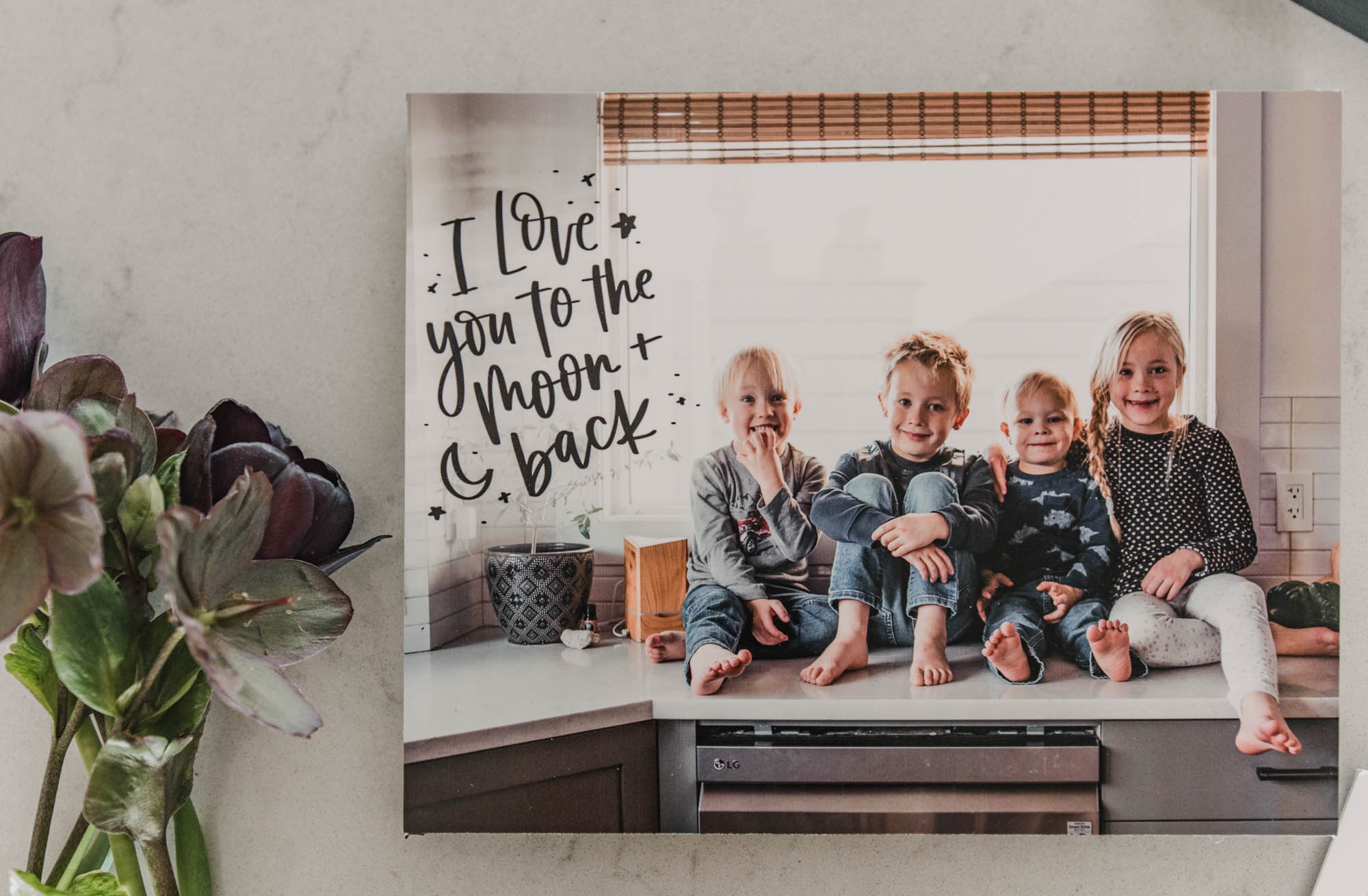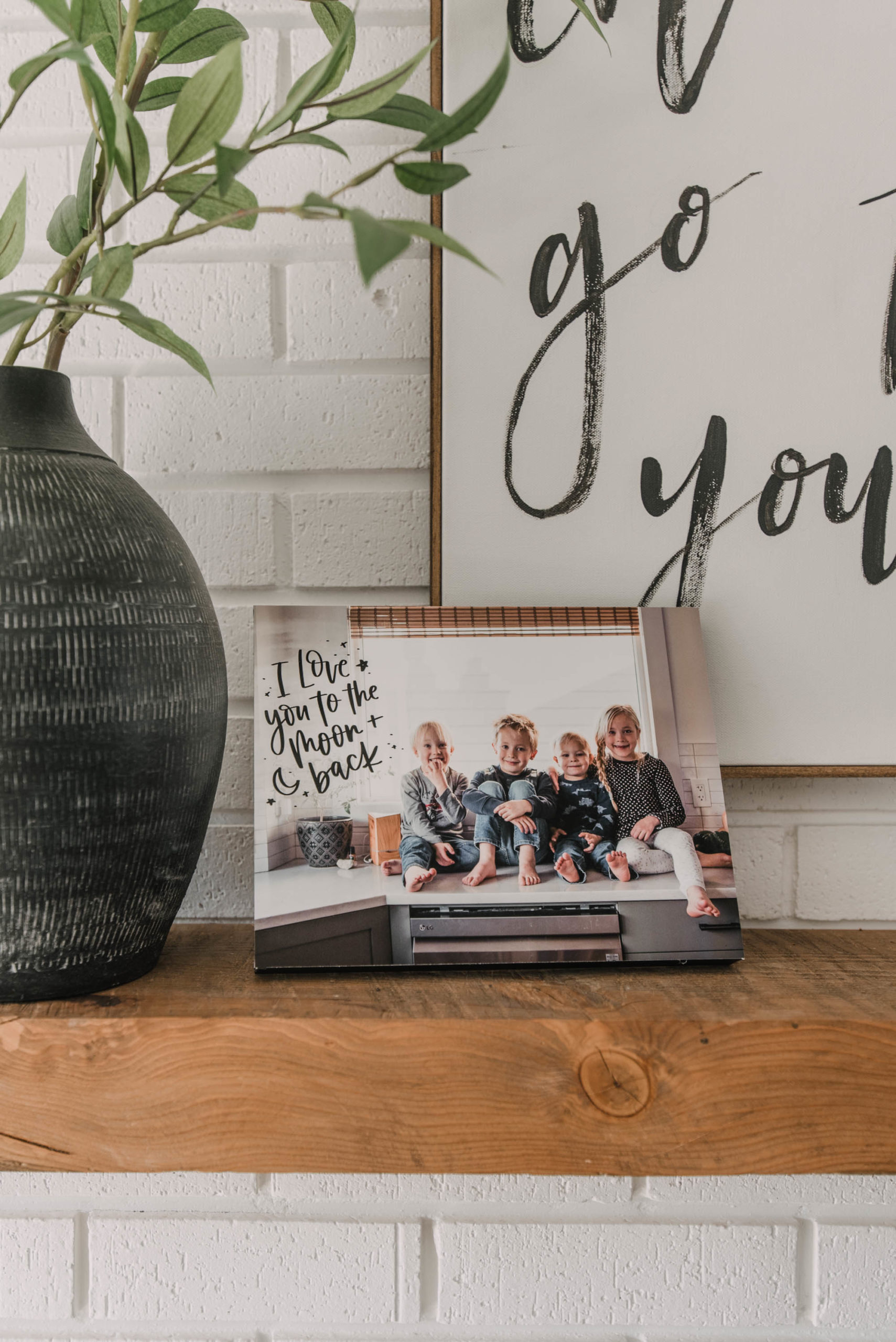 The mounted photos tend to stand upright instead of leaning just since they're thicker BUT they are perfect for hanging or standing up on a tabletop (they come with a little stand). I love that you could just bring it home and put it on the wall without any frame or prep.
Alright, let's chat a little bit about the hand-lettered photo overlays and how to use them! These are .PNG files which means that they have a transparent background so you can just drop them on top of a photo. They come in a .ZIP folder which just means that you only have to download one item and you'll have them all. Double click that 'zipped' folder to open it up and then see the items inside! Each hand-lettered phrase is its own file.
CLICK HERE TO DOWNLOAD THE FREE HANDLETTERED PHOTO OVERLAYS
*As always, free downloads are for personal use only.
Okay… but how do we put them on the photos? To keep it easy, I'm going to share this tutorial with a free online software- Canva. It's totally free to use for this and it's online so you don't need to download any software to your computer.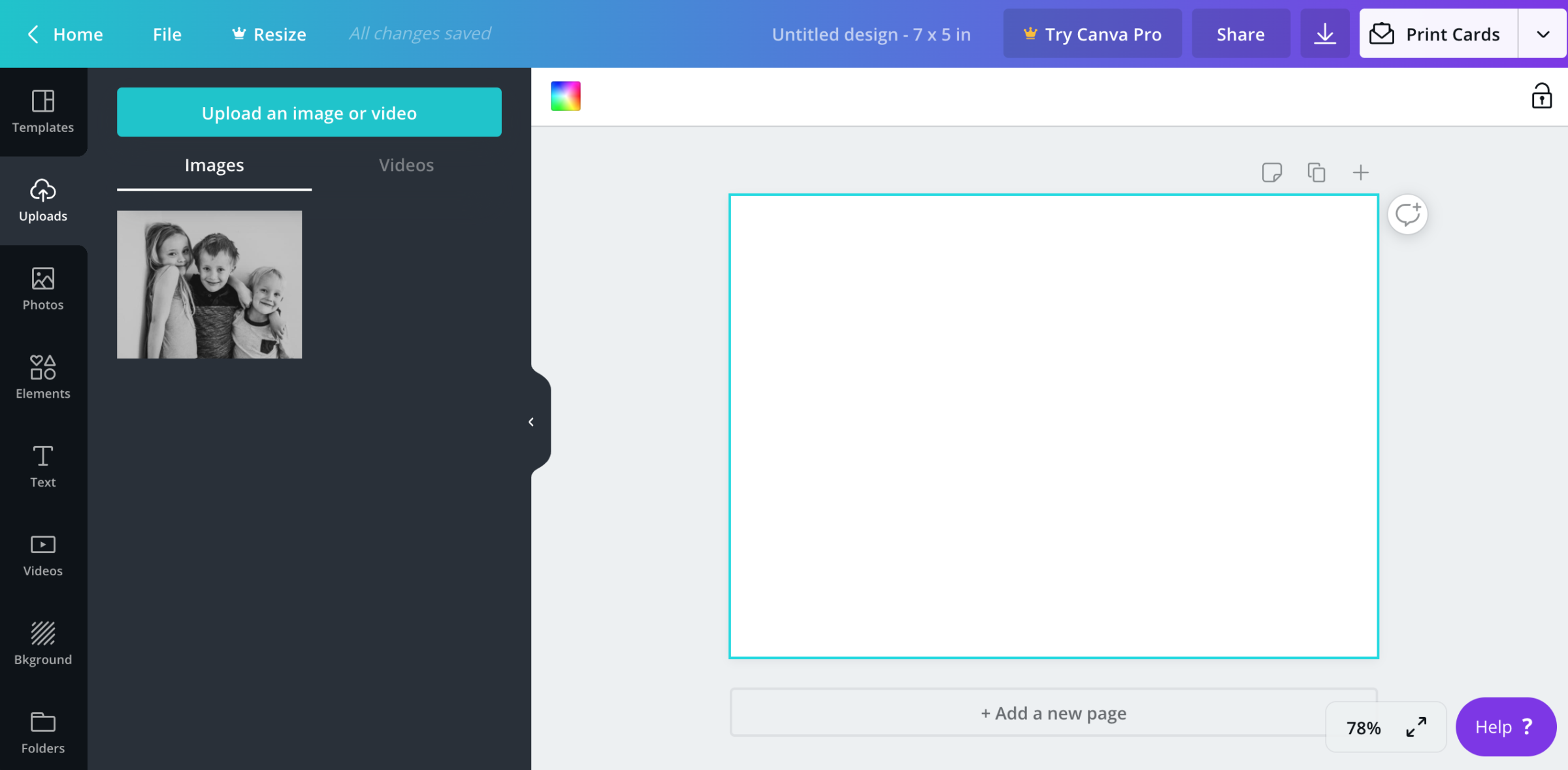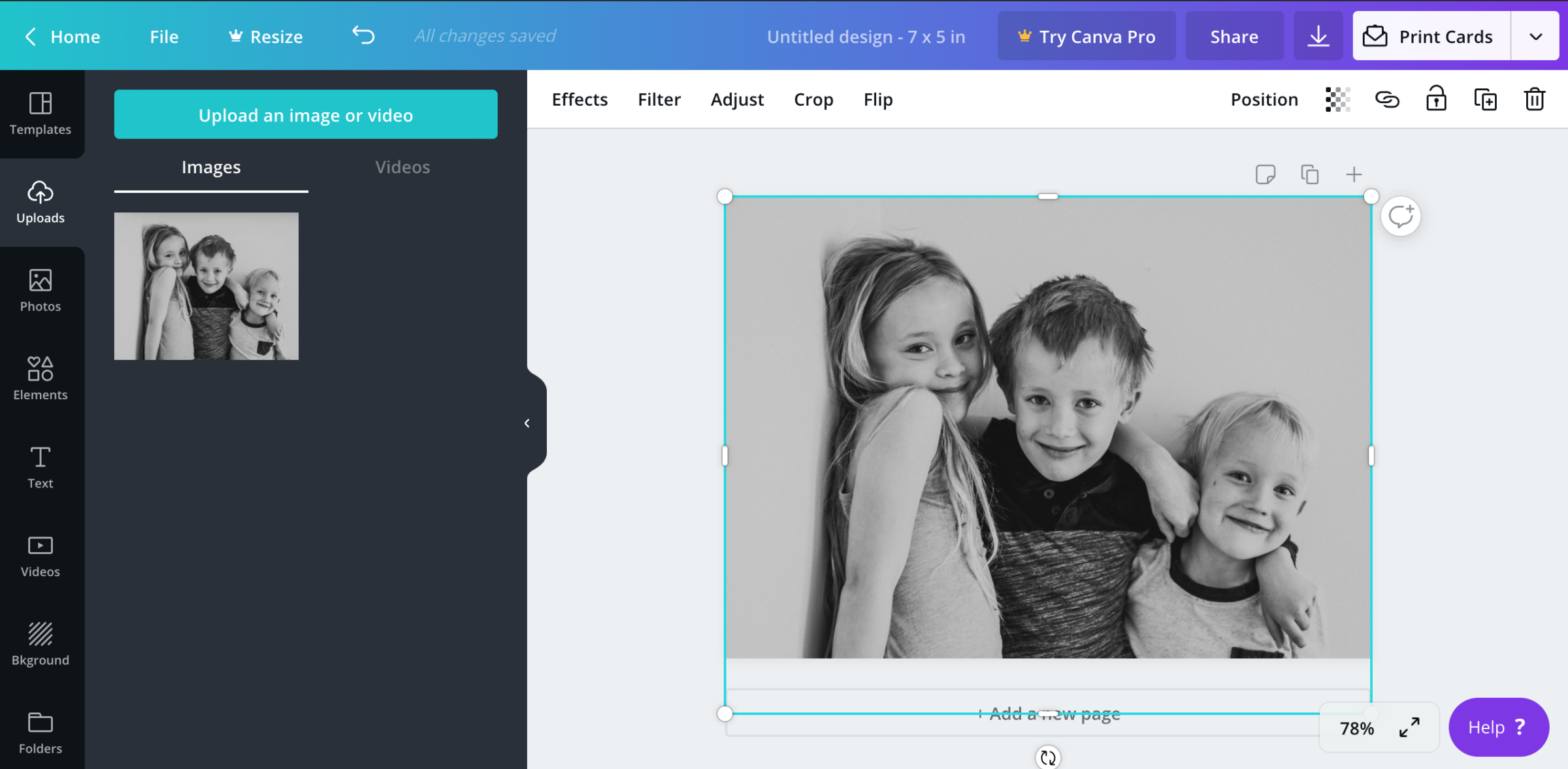 Start by starting a new design with your desired dimensions (8×11, 11×14 etc.). Then, go to the upload tab (right hand column) and drag and drop your photo in, then drop it onto your design from the upload sidebar. Now you can resize it.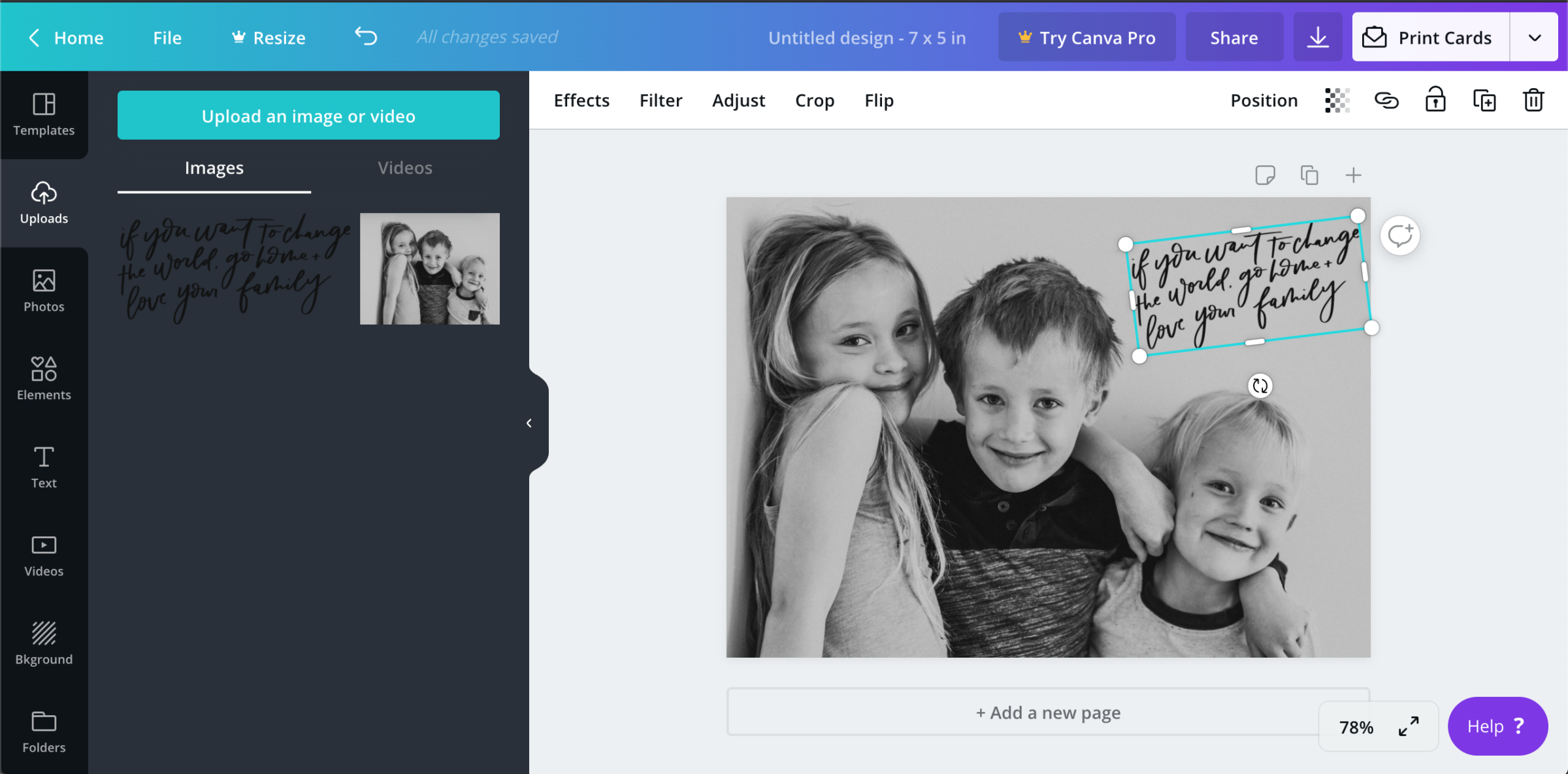 Next, upload the hand-lettered overlay. Click it (don't drag and drop) once it's uploaded to insert it on top of your image. You can drag it around, resize it, rotate it- get it perfect. Then, you can click the download button at the top and choose your filetype. I recommend either .PNG or .JPG.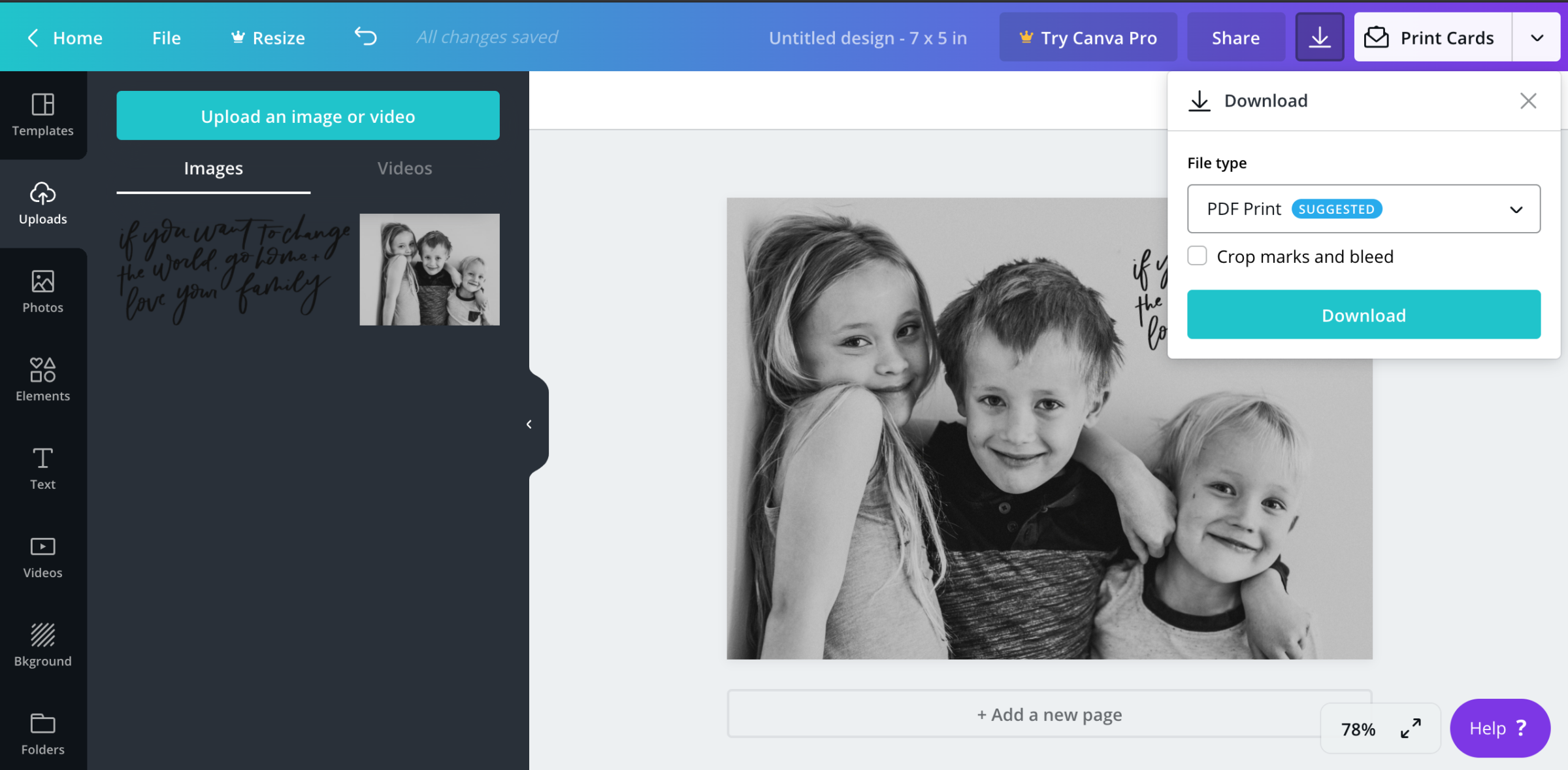 The limitation on Canva is that you can't easily change the color on the overlay. If you are using Photoshop and want to do that, you can do it with a 'color overlay' under 'blending options'.
Pretty easy- right? Just drag and drop!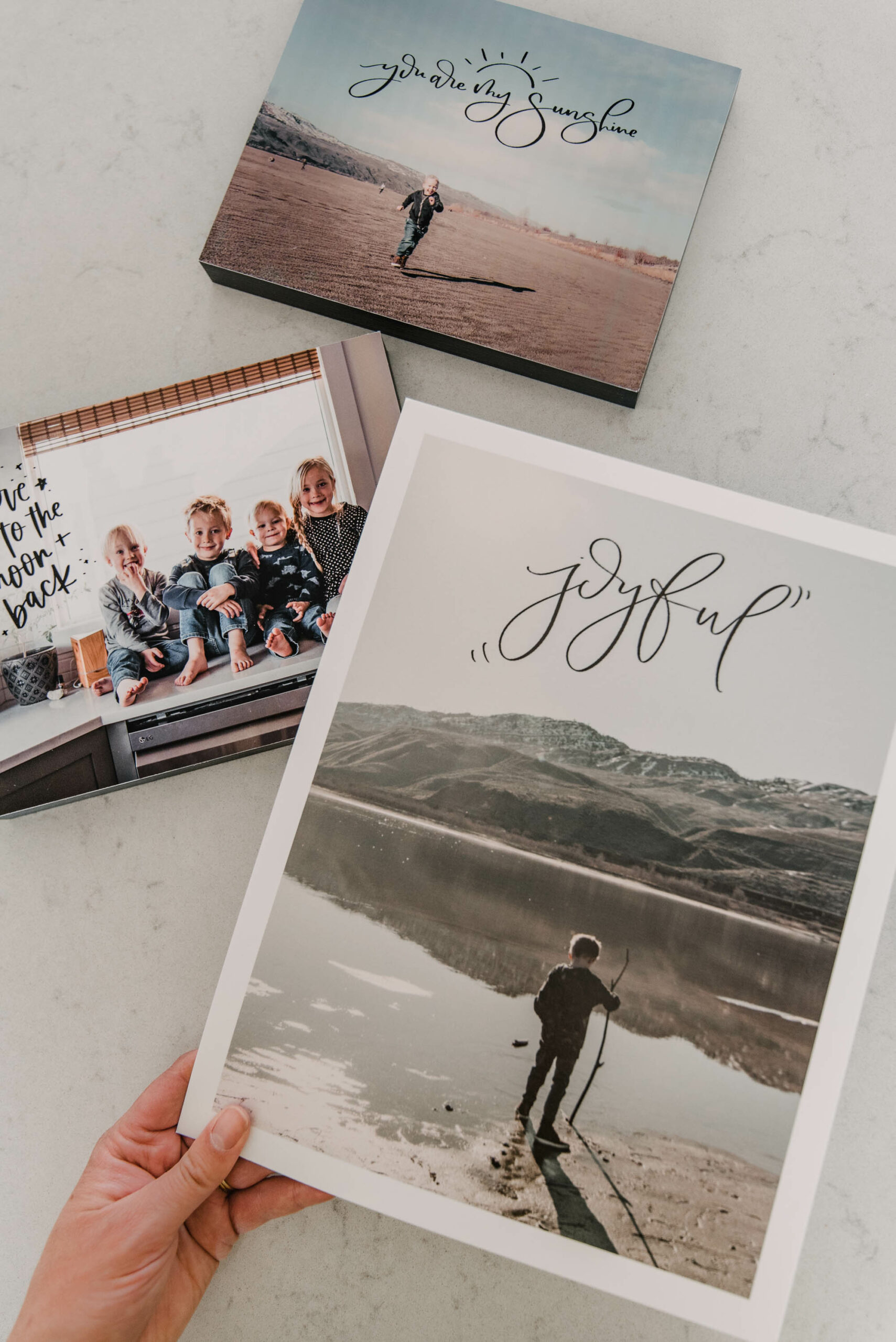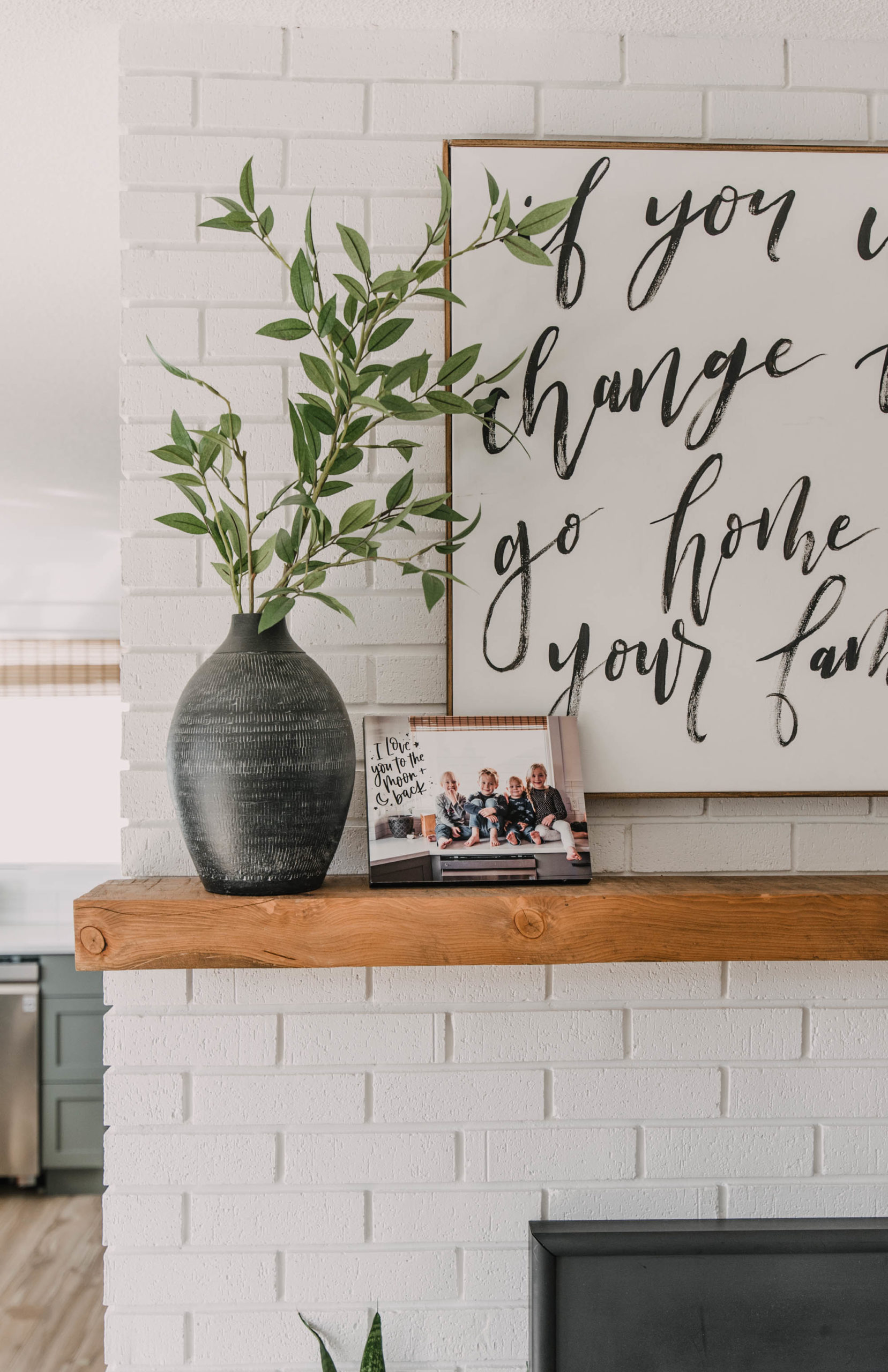 I hope that you find this helpful and that you love the 6 free hand-lettered photo overlays! I had so much fun making them and we are loving having these images in our home. I might get a couple more of those board photos printed the next time I go to Walmart for groceries- I love how they look on open shelving and we have a few shelves! 
I had so much fun with this series of photo tutorials in partnership with Walmart Photo. If you missed the first two- make sure to hop back and check them out! I shared my whole process of editing phone photos ON your phone with free software and then 3 fun photo DIYs including framing a canvas which I know so many of you have asked about! As always, if you use any of these overlays, I'd so love if you shared the results with me! Just tag me @colleenpastoor on social so I can see!