These 3 photo DIYs are easy to recreate in an afternoon and will instantly upgrade your photos into art- ready to hang in your home!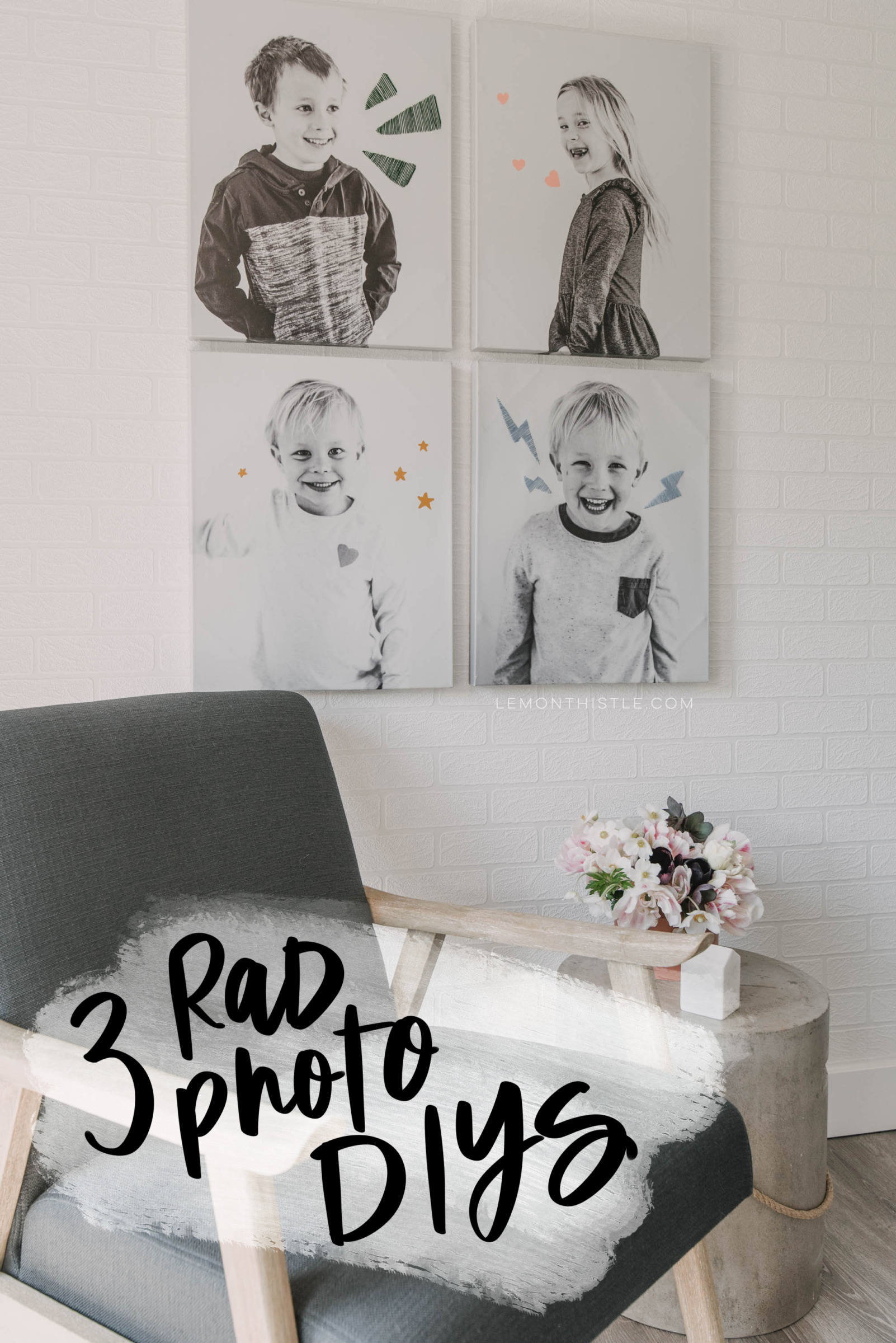 Having photos displayed in our home is a value I have, handed down from my dad. He took more photos than most parents I knew and displaying them in our home was always important to us. Now that I have kids of my own, I want them to value photographs as well.
Today I'm excited to partner with Walmart Photo to share 3 different ways I'm displaying images that I've had printed with their same day print services. And because I love DIY- I'm adding a little something to each of them.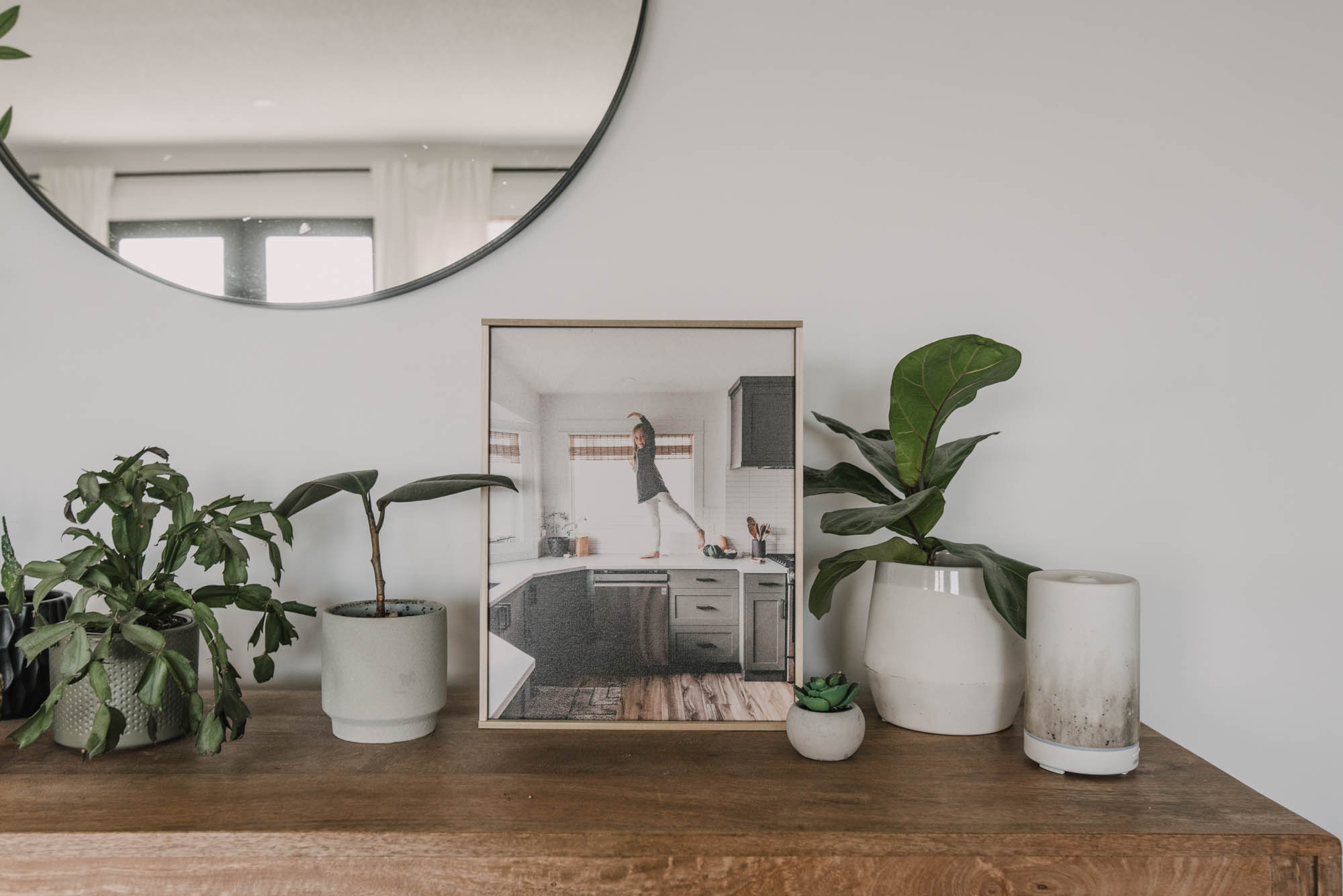 1. Easy Canvas Frame
I love the texture of printed canvas on photos. This photo was actually taken on my phone and every once in a while, you snap a photo and instantly know it's one you're going to hold on to forever. This is one of those.
I've framed canvases like this a few times now, but never made a tutorial for it! It's so easy, you will be able to pull it off in no time at all and for a canvas this size, for under $10. You can even do it without any tools at all.
This canvas is from the Walmart Photo same day options- it's an 11×14.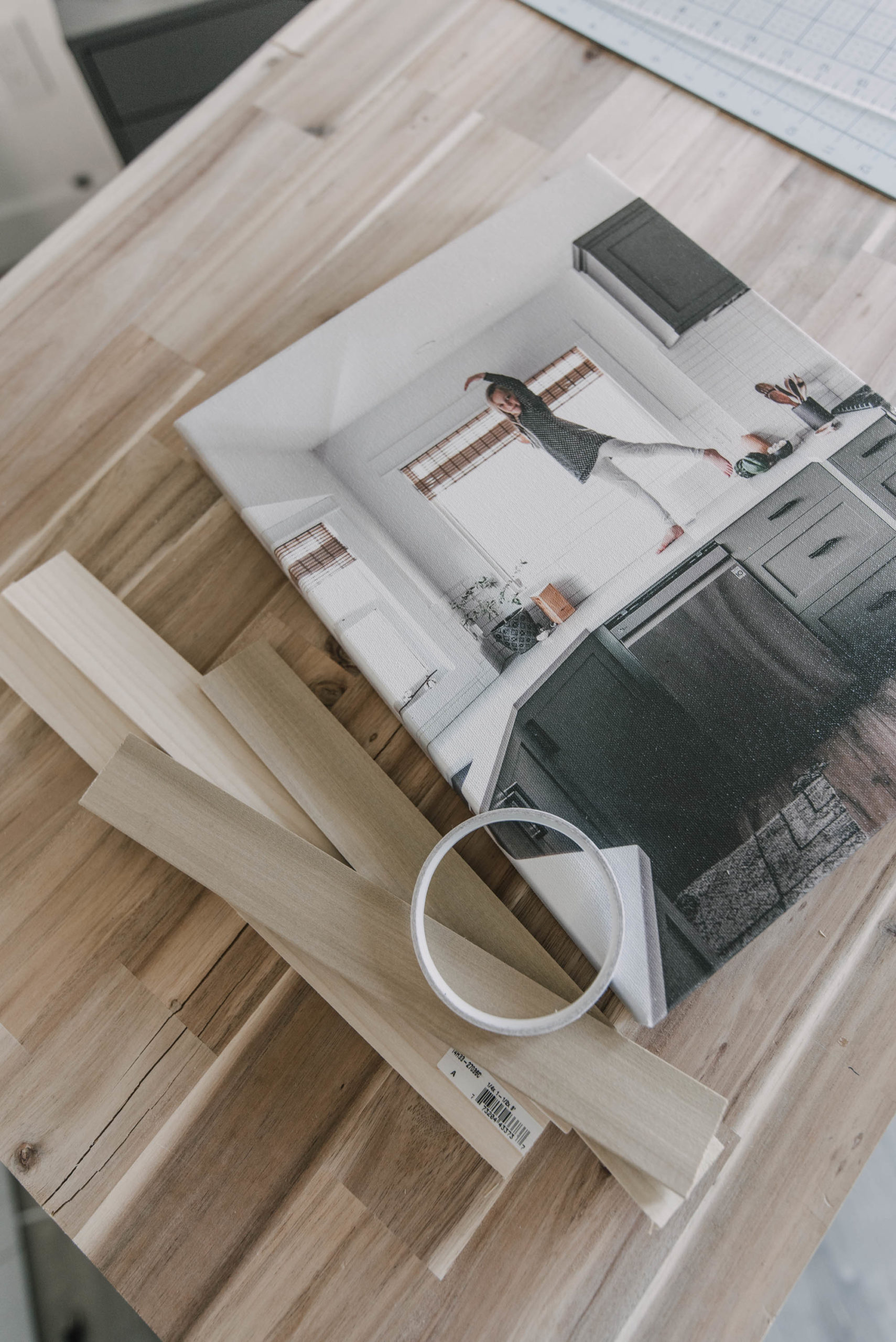 This is craft wood from the hardware store. It's typically found in the trim section and comes in 3 or 4' pieces. You can use the hardware store's saw to cut to length if you don't have tools at home.
I don't typically bother with miter cuts on this- just simple farmhouse style trim for this frame. You'll want to cut the two edge frame pieces to the same length as your canvas. The top and bottom pieces will need to be a bit bigger- measure the depth of your wood and add that 2x. So for example, mine was 1/4" so I added 1/2" to my top and bottom pieces.
You can attach your frame any number of ways. Hot glue, super glue, double sided tape, brad nails, normal nails… Whatever you have on hand should work- believe me, I've tried them all!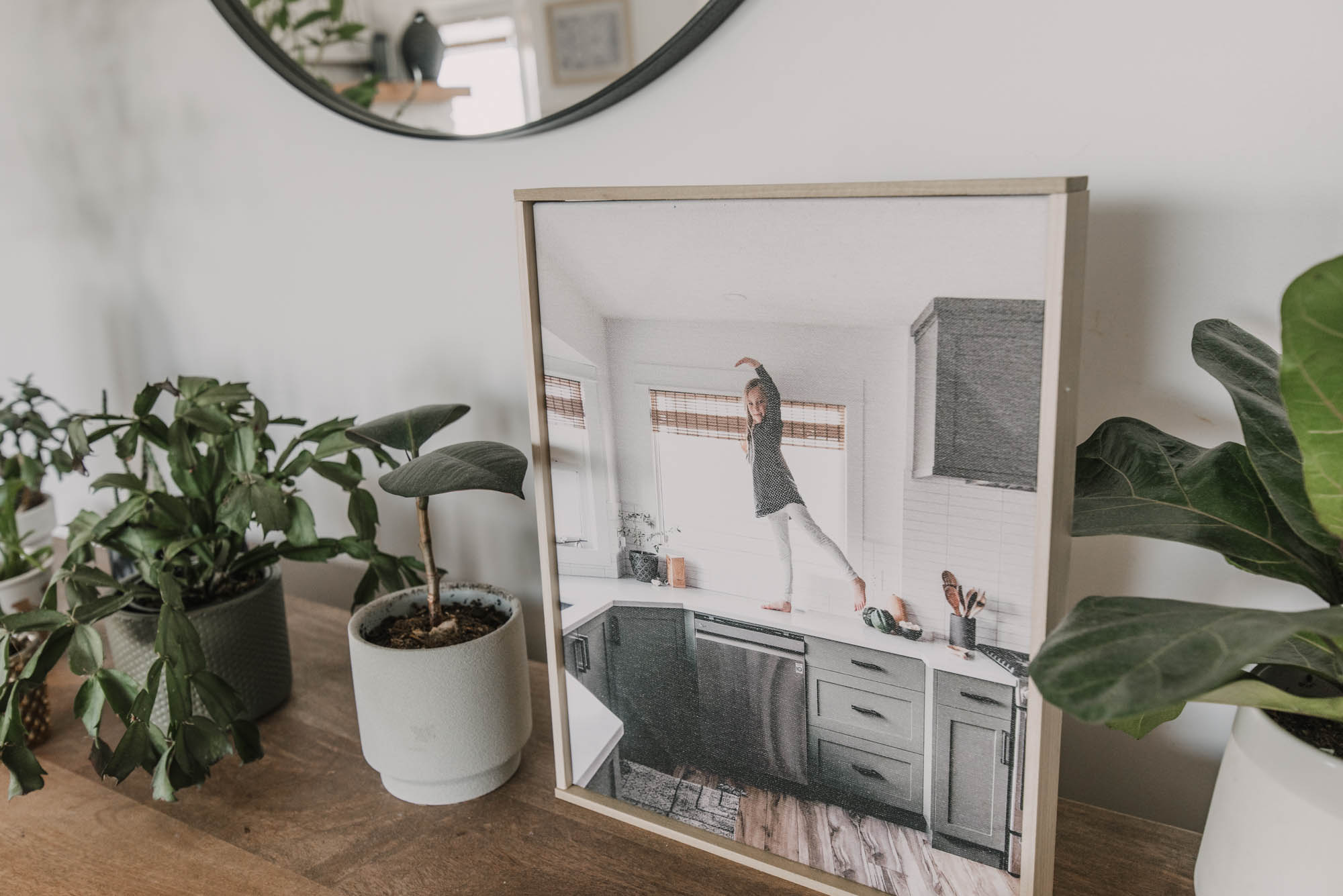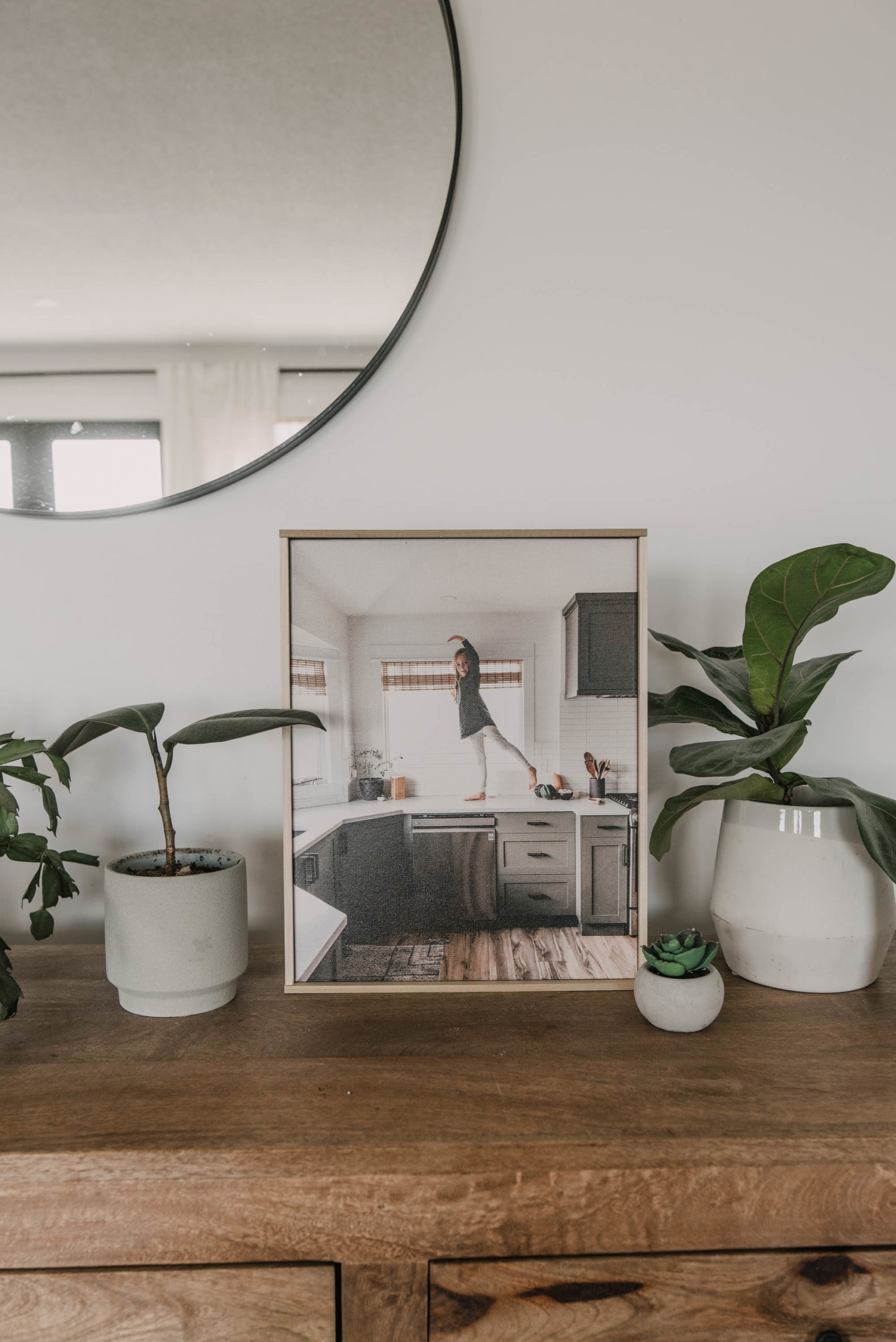 You can stain it if you like (I prefer the natural wood on this one) and then you're ready to go!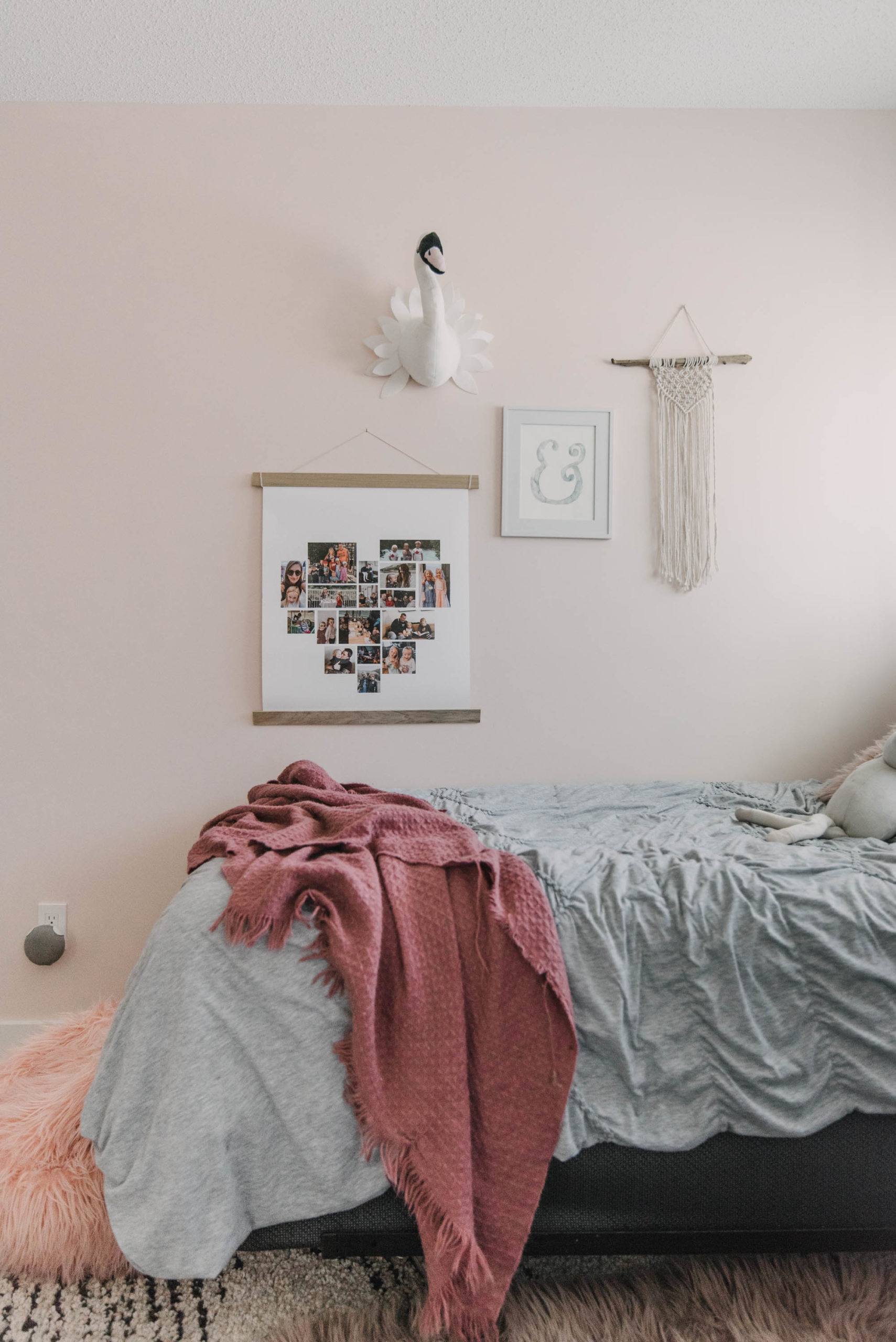 2. Simple Poster Hanger
Okay, so we love that craft wood, right? So easy to work with and you know that means I'm going to use it again. This one is even easier. I designed this poster in my own design software, but you could also use one of Walmart Photo's templates- they have so many great ones. I wanted to include photos of all the people Aubrey has been missing during this time at home. Most of them are snapshots from my phone and are some of her favourite people, places, and memories. I edited all these photos using the same process I shared in my 'how I edit phone photos' post.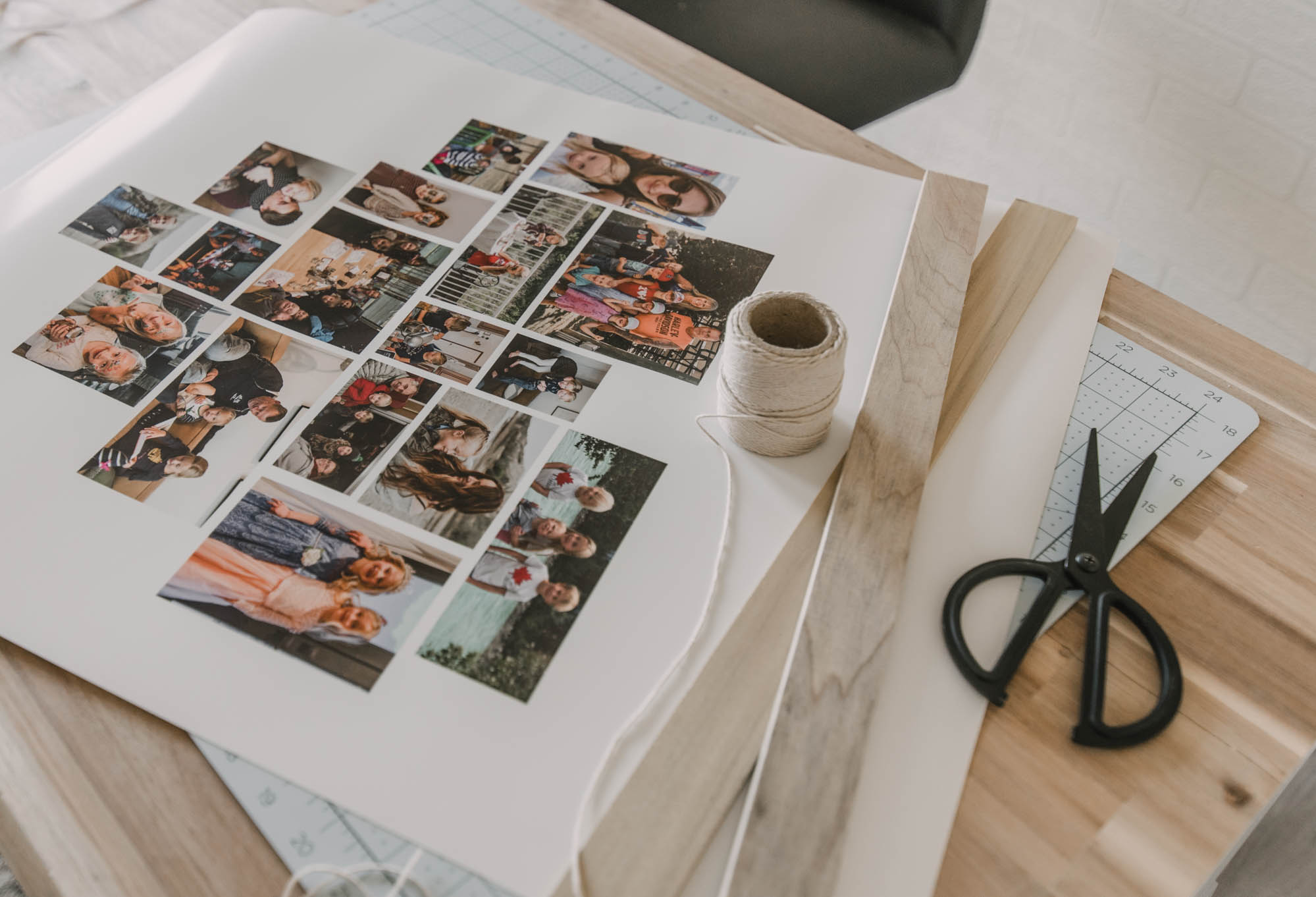 I got this one printed in the largest poster size Walmart Photo offers in their same day printing services. It turned out so, so well! 
Using that craft wood again, cut two pieces an inch or so longer than your poster is wide. You can do this at the hardware store or at home if you have the tools. You'll also want to pick a string to hang it with. I just used basic string for this one but you could use anything you have on hand that you love the look of. Just tie it outside of your poster and you're golden.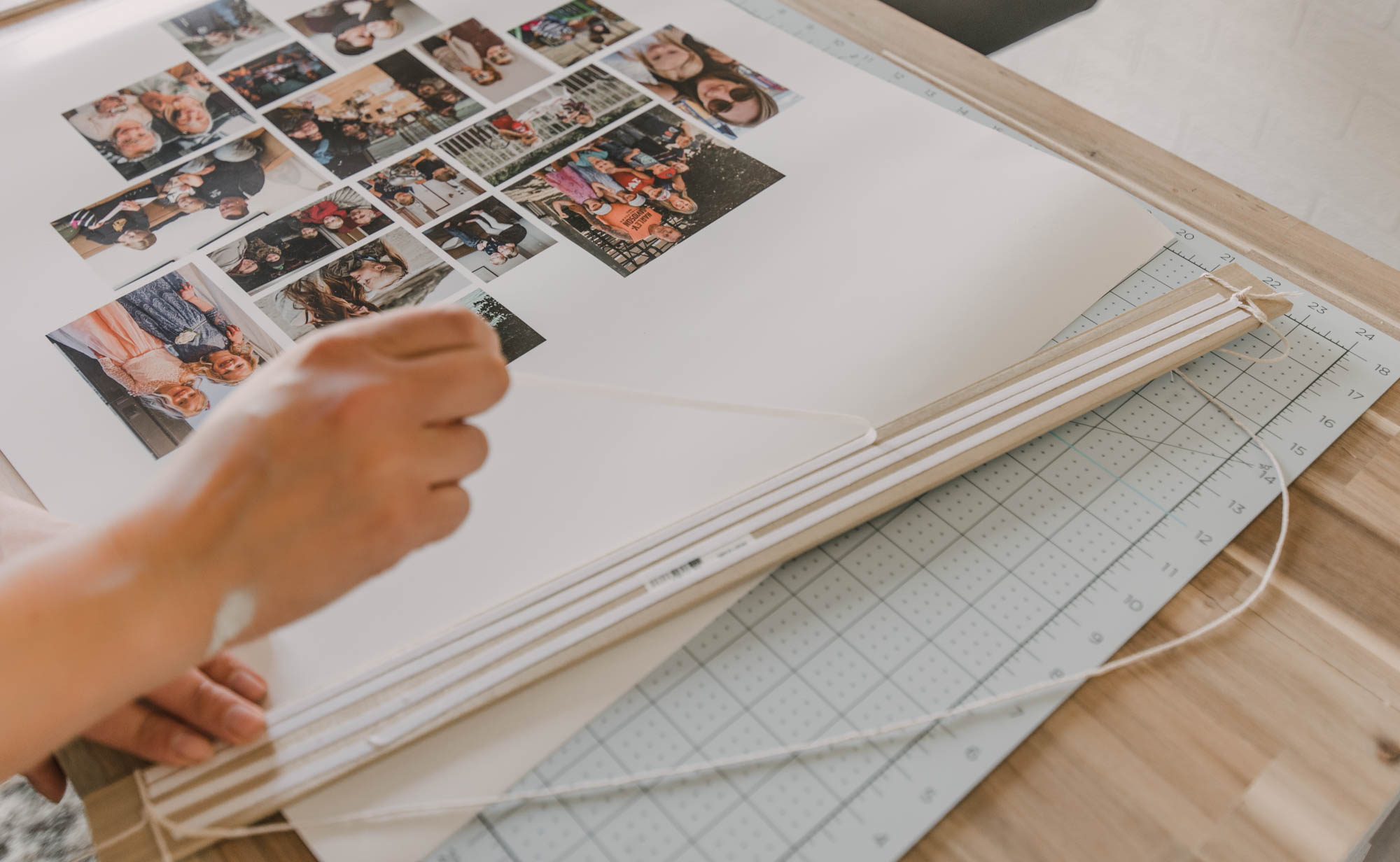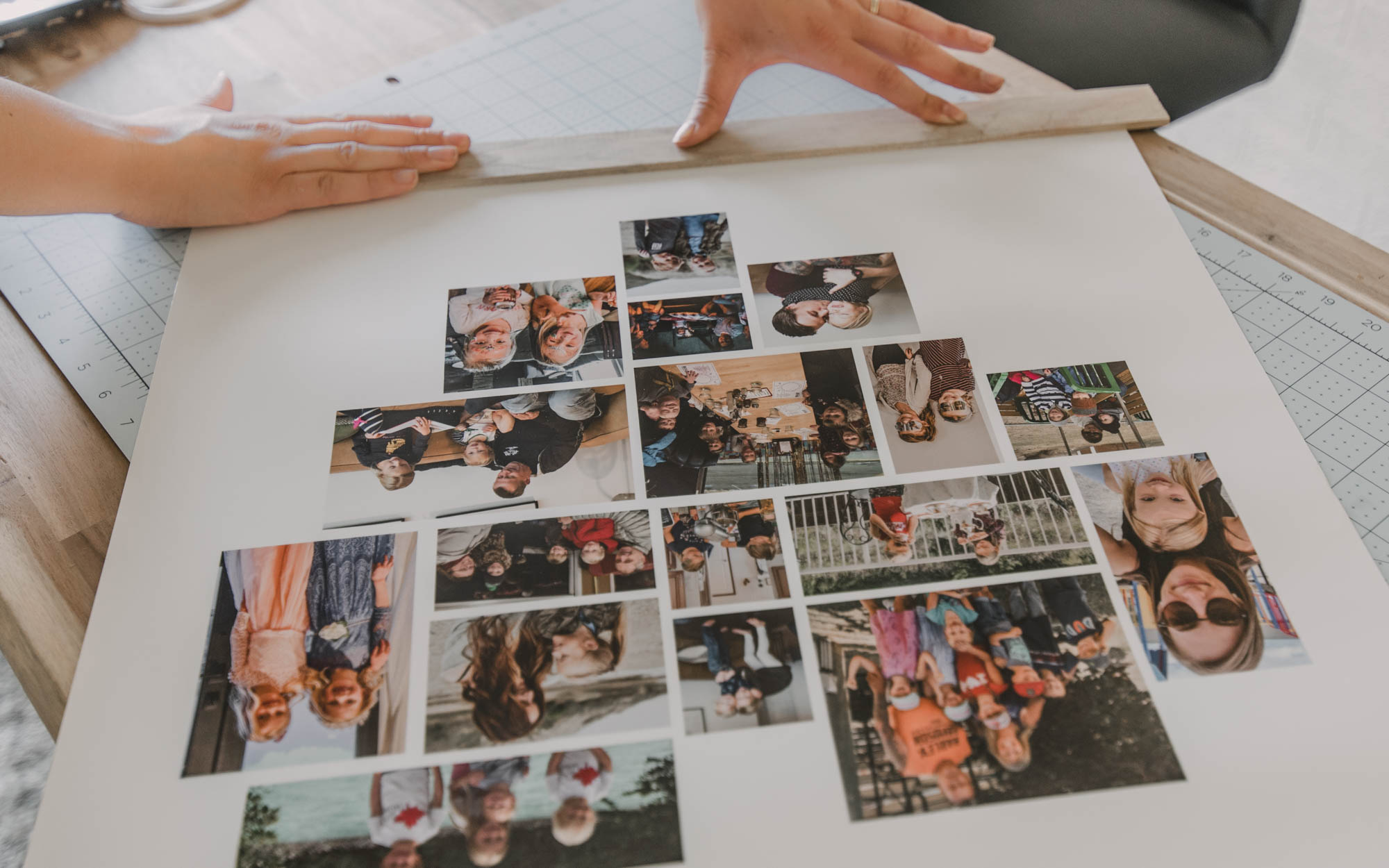 Next up, attach your poster to the 'frame'. I just used one piece of wood at the top and at the bottom of the frame and used double sided tape (my crafty BFF) to attach the wood to the poster. This makes it easy enough to remove should you want to change your poster out down the road. And considering how easy it is to print them with Walmart Photo same day printing… I feel like we probably will!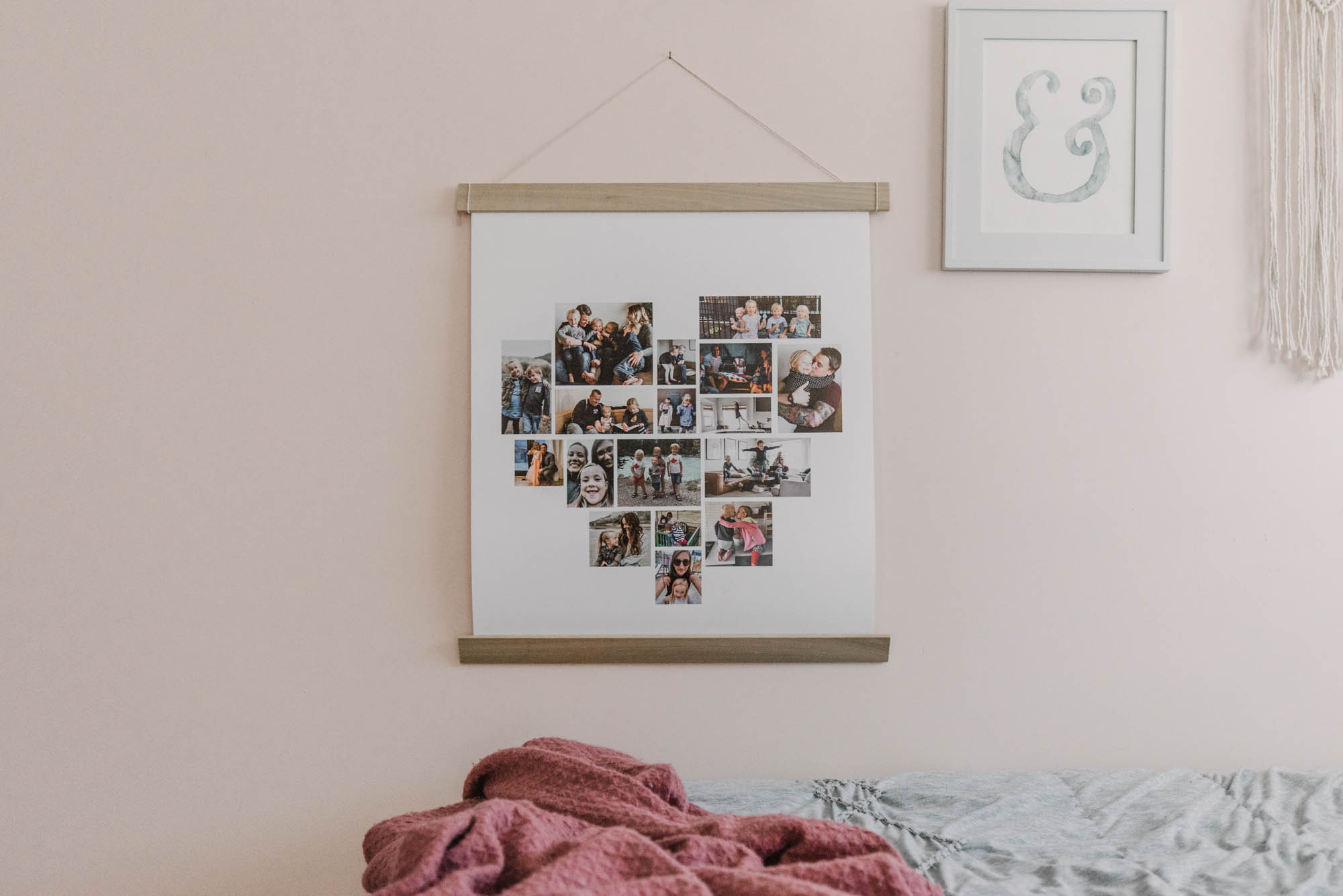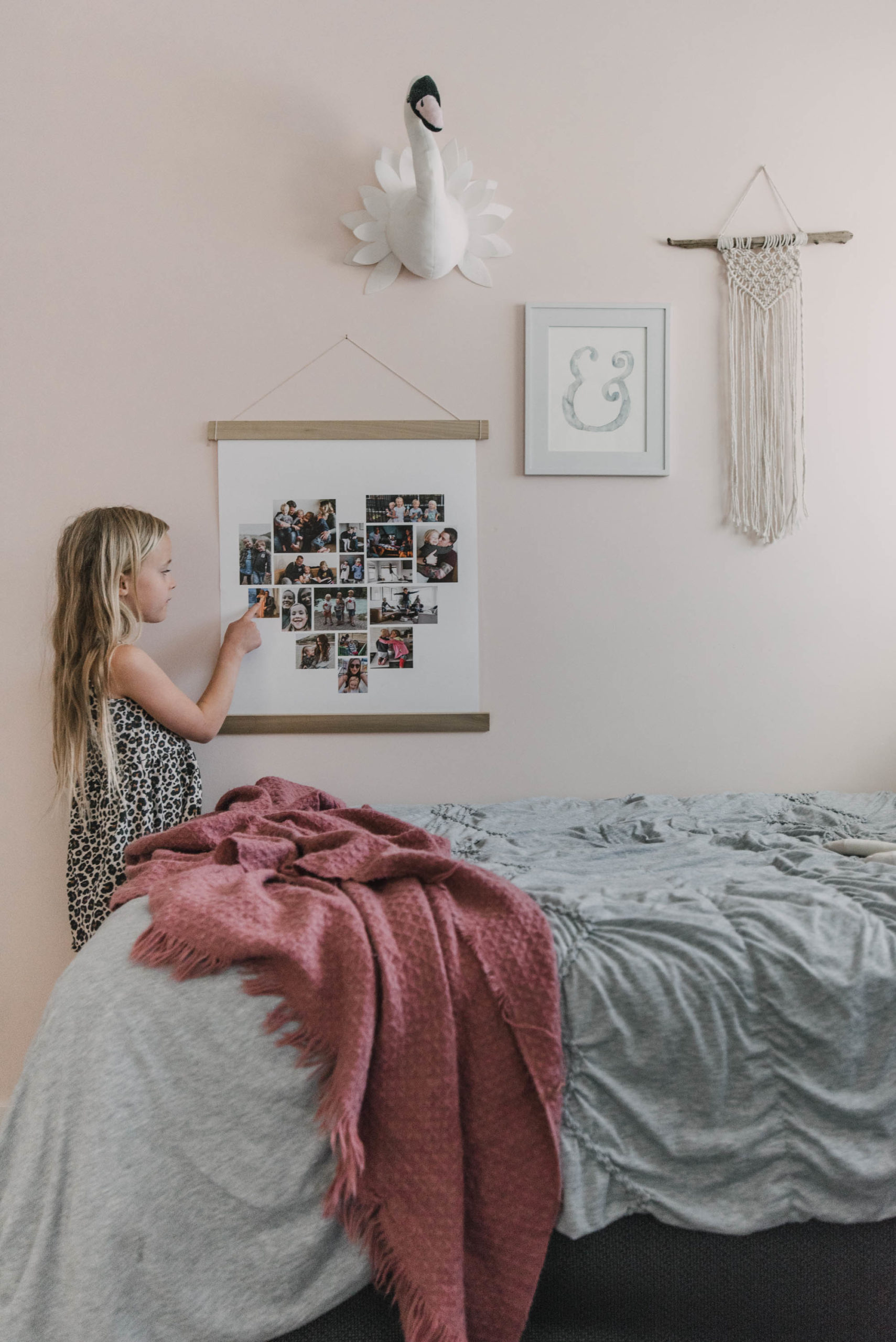 It's important to do the bottom piece of the wood frame because this weighs down your poster a bit to keep it from curling up. If you really wanted your poster to lay flat on the wall you could use a piece of double sided tape or adhesive to keep the bottom to the wall. I added this to the growing gallery wall above Aubrey's bed- and it's her new favorite thing to show us… over and over.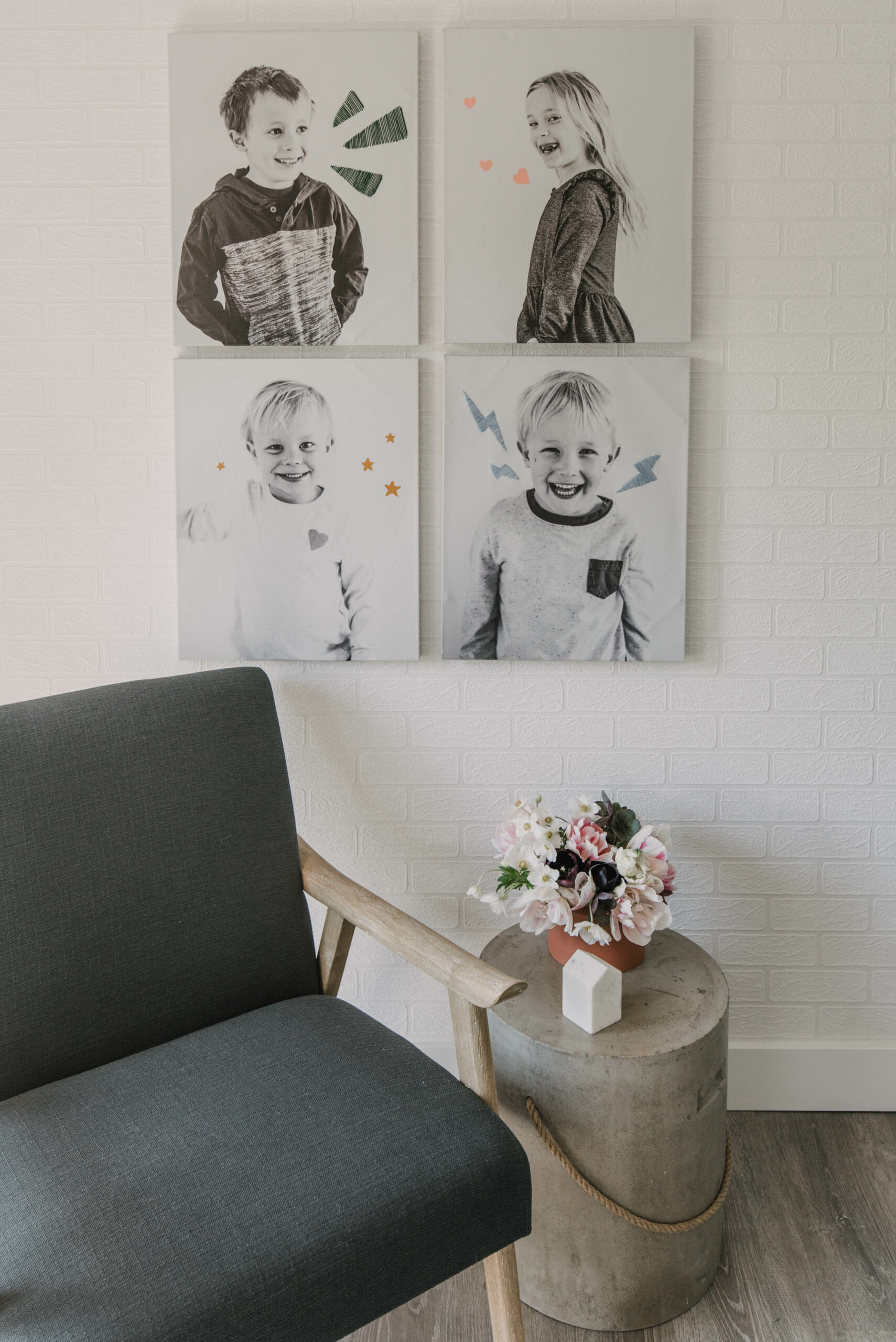 3. Add Color to Black and White Canvas
Okay, I saved my favorite one for last. I've spotted blown up black and white photos of kids in homes quite a few times. They're so lovely, but we want to use these in our playroom and that felt a bit sophisticated for the playful feel we want down there. We're currently moved out of our house due to our flood but when we move back in- these are the first things going up on the wall. I wanted to add some color and personality to the black and white photos to make them even more fun for the kids.
These photos are ones I just took in our entry way. I took down our hanging plants and had the kids stand on the bench against the white wall one night after dinner. I edited them all with the same black and white filter and had them printed on the largest size of the Walmart Photo canvases with same day printing – 11×14. You can get larger sizes too, there's just a wait time, so if you're an impatient crafter like I am- this is the perfect size! 
As for adding color… I did this two different ways: Painted and embroidered. The painted one is the easiest- so let's chat that first!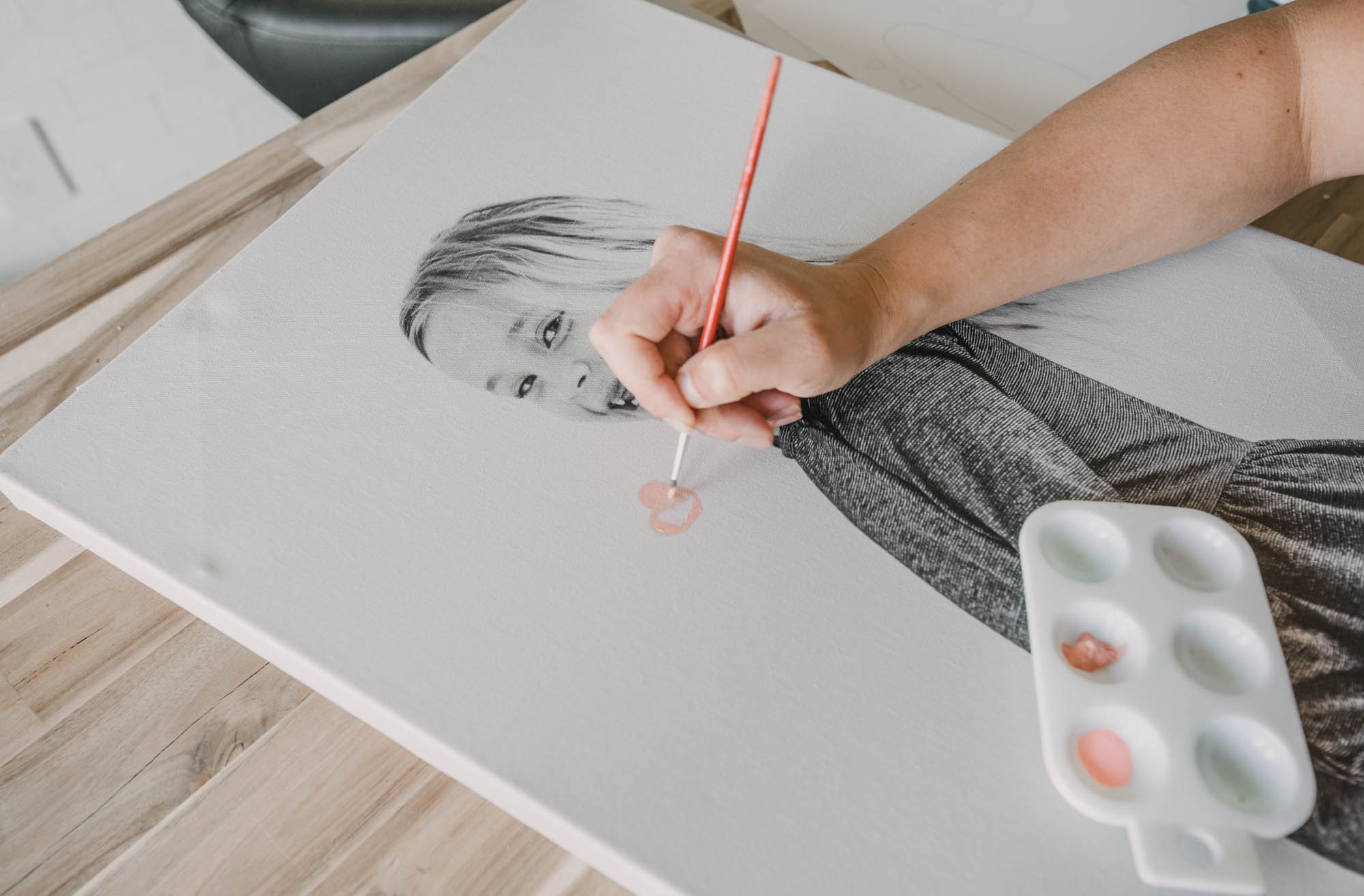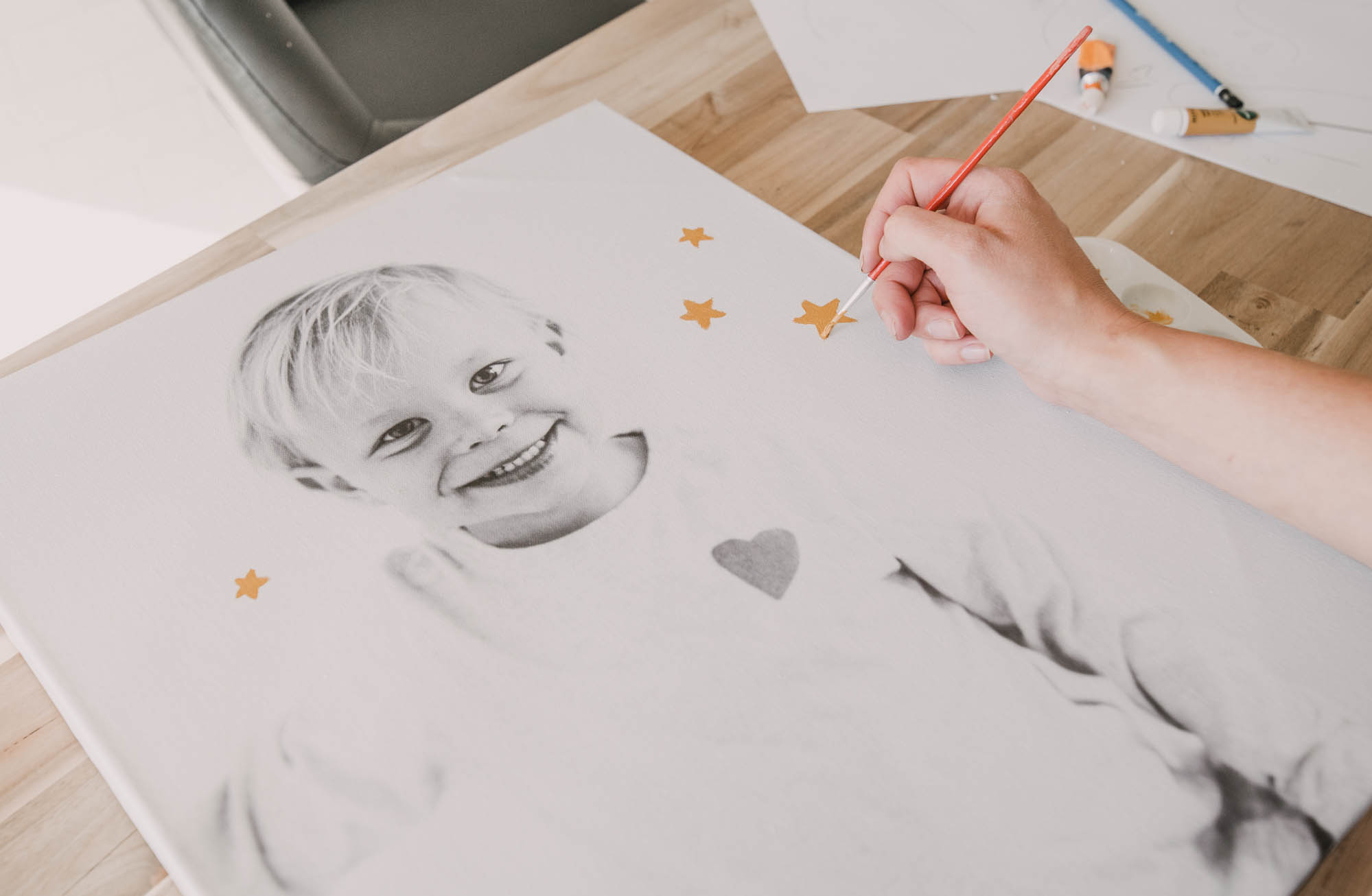 I just picked a color of paint the kids loved (they helped me choose their colors) and shapes for each, then I got painting. You could totally sketch out your shapes first, but I didn't bother with that for painting the stars and hearts. I used thick acrylic paint so didn't need to do two coats, but if you were using thinner craft paint, you might need to.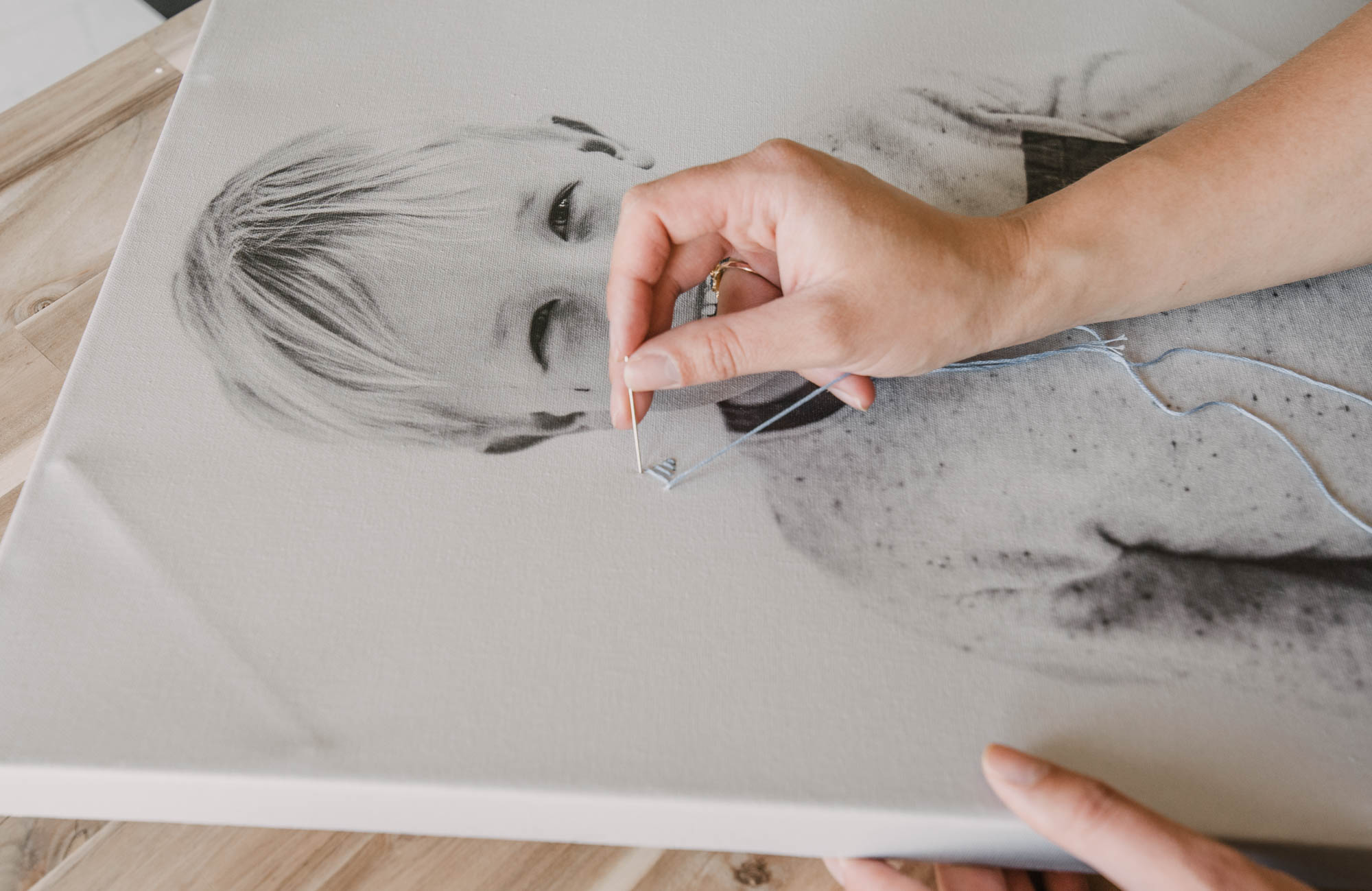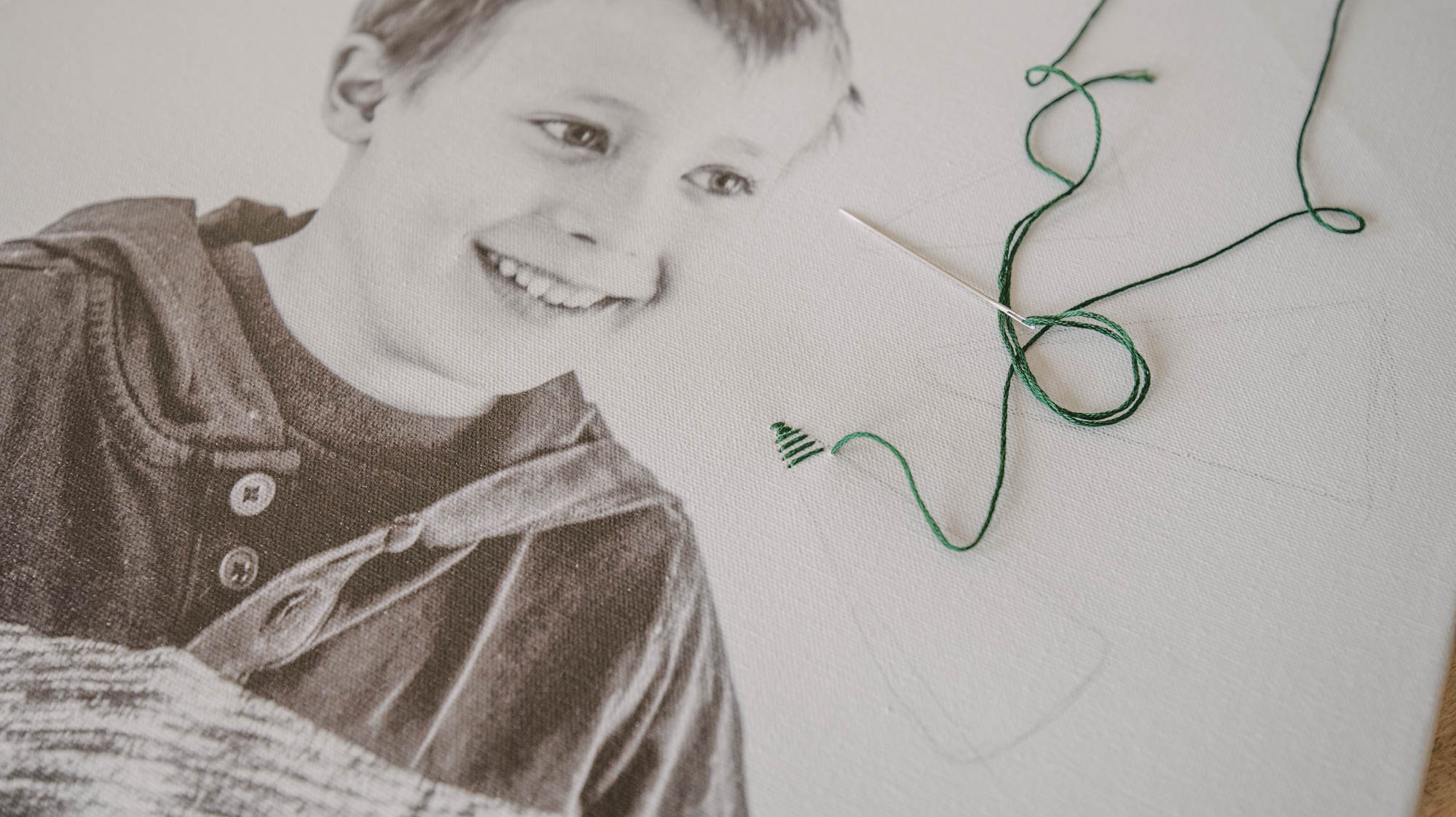 For the embroidery, I had picked up a couple colors of embroidery thread when I was in Walmart picking up my prints and groceries. I wanted the colors to really pop but not be SO bright. I did sketch my designs on these first. I started out free handing the embroidery and my lightning bolt looked… not like a lightning bolt. I sketched the shapes in pencil, then got to embroidering! I've embroidered photos before. I love that the canvas holds its shape and doesn't buckle unlike fabric (I've never had luck with fabric!). Just tie a big knot in the end and start on one end of your shape, stitching your way up. I found poking two holes from the front before threading the stitch worked best for me. Then, when it was flipped over I could see where my needle should go through. I totally love the texture these ones have!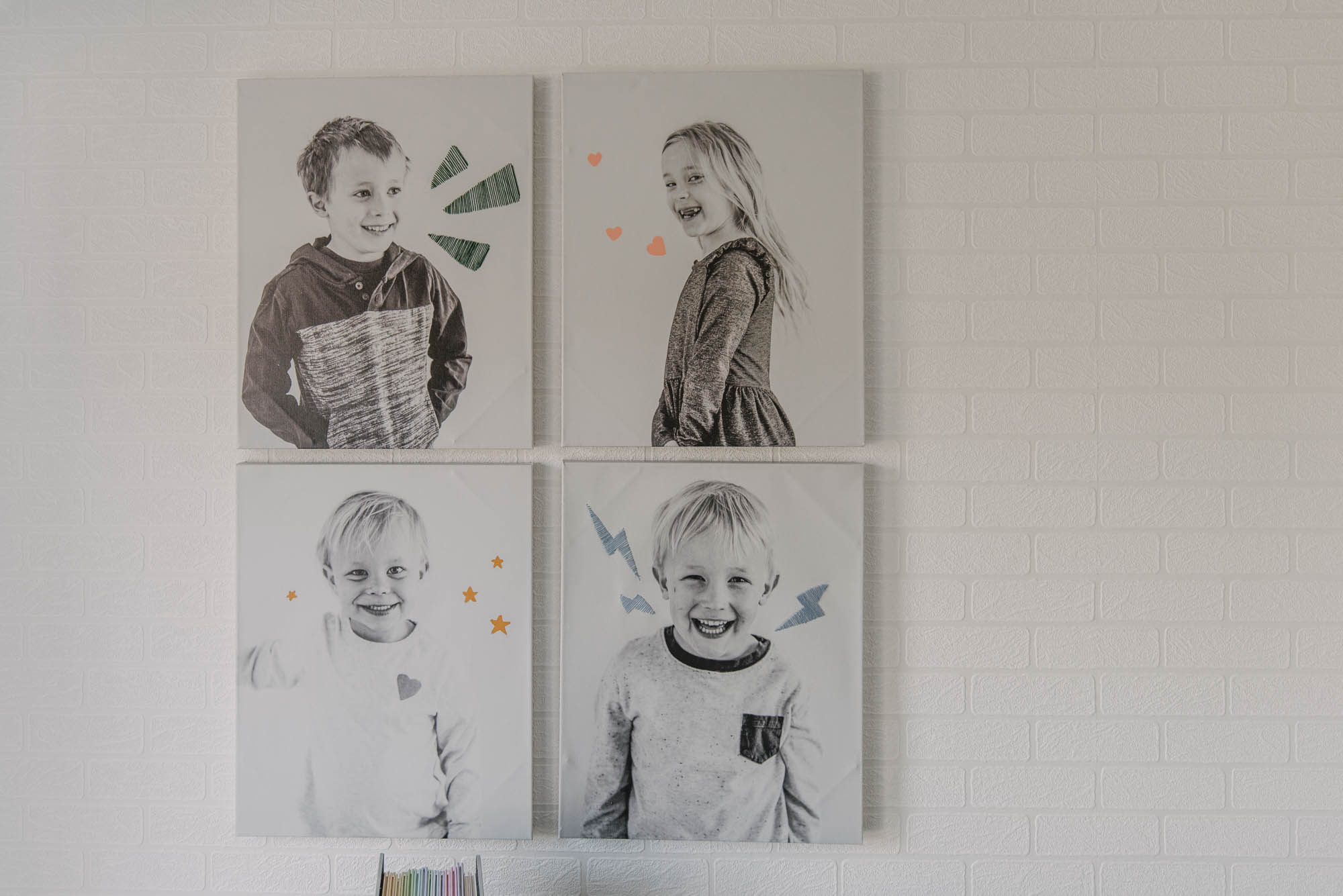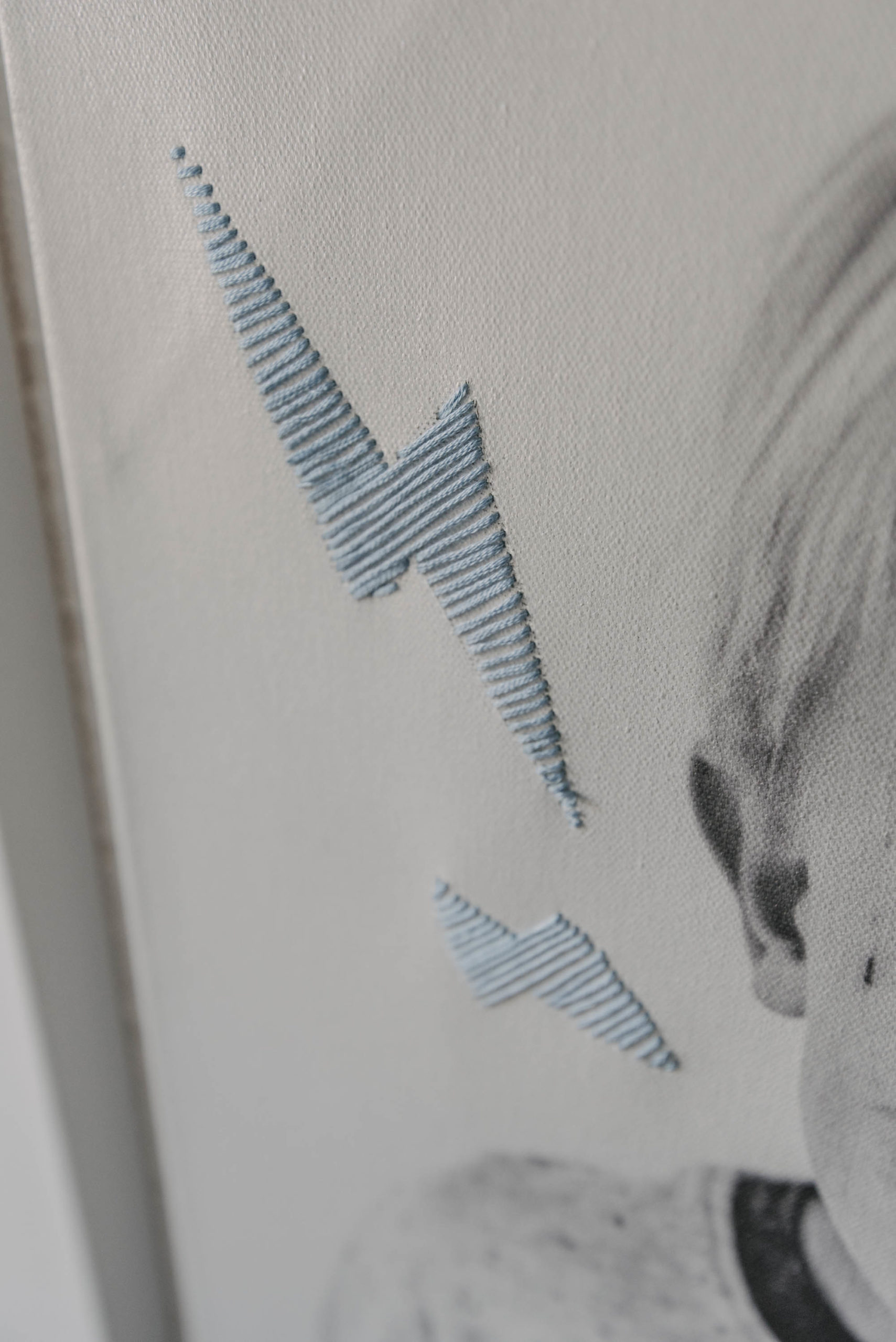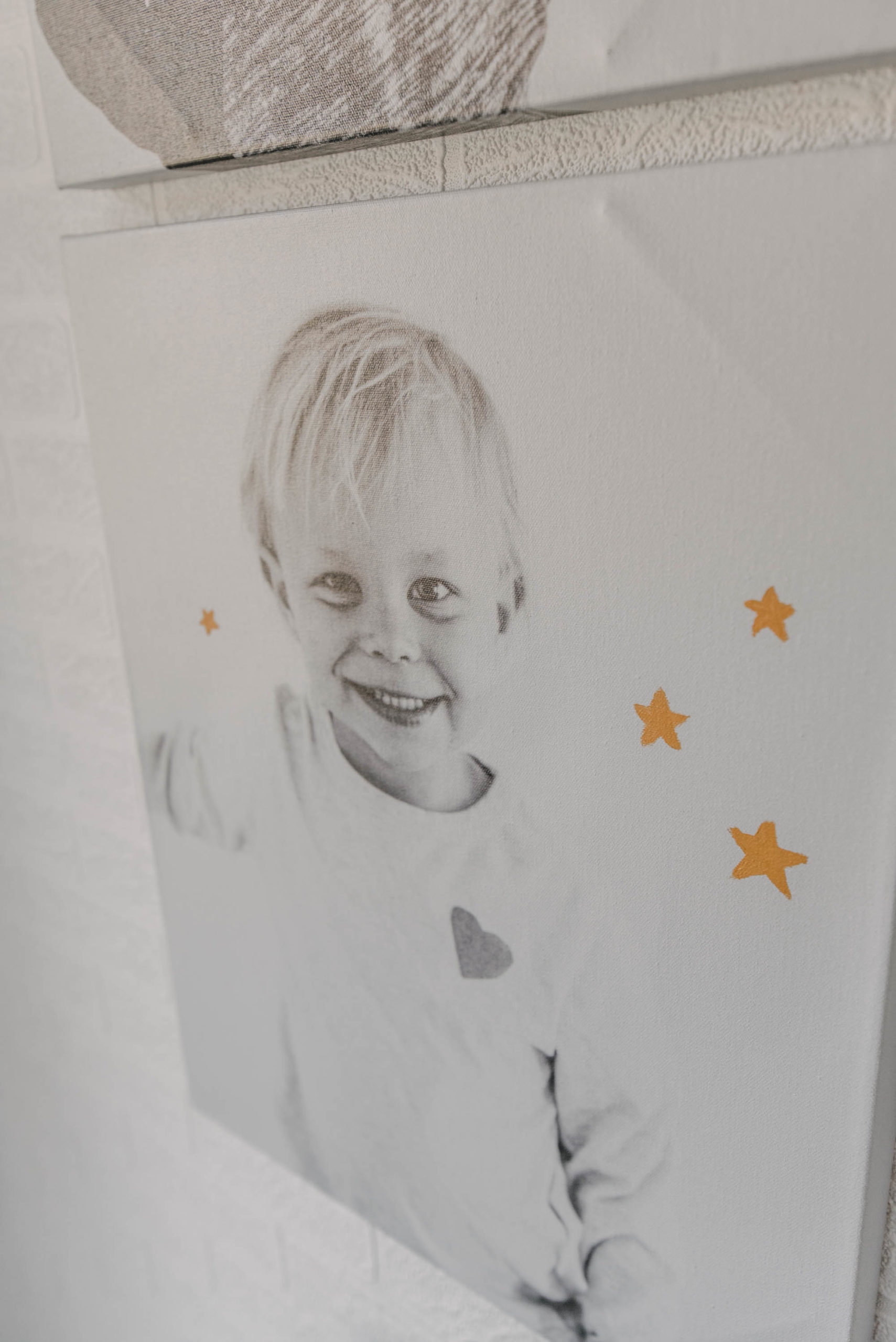 That's it! Aren't they so fun? And I love that these DIYs allow us to add more photos into our home decor without sacrificing style. If you're loving these photo DIYs, I have another one coming right up for you! I'll be talking about how to add overlays to your photos before printing… including some free ones I've made for you! Keep your eye out for that!
If you try any of these DIYs- you know I'd love to see! Tag me on social @colleenpastoor and show them off!