Sharing both my and my dad's at home coffee bar tours today! We have the same machines, but have different styles of decor– I hope you'll get some great at home coffee bar ideas.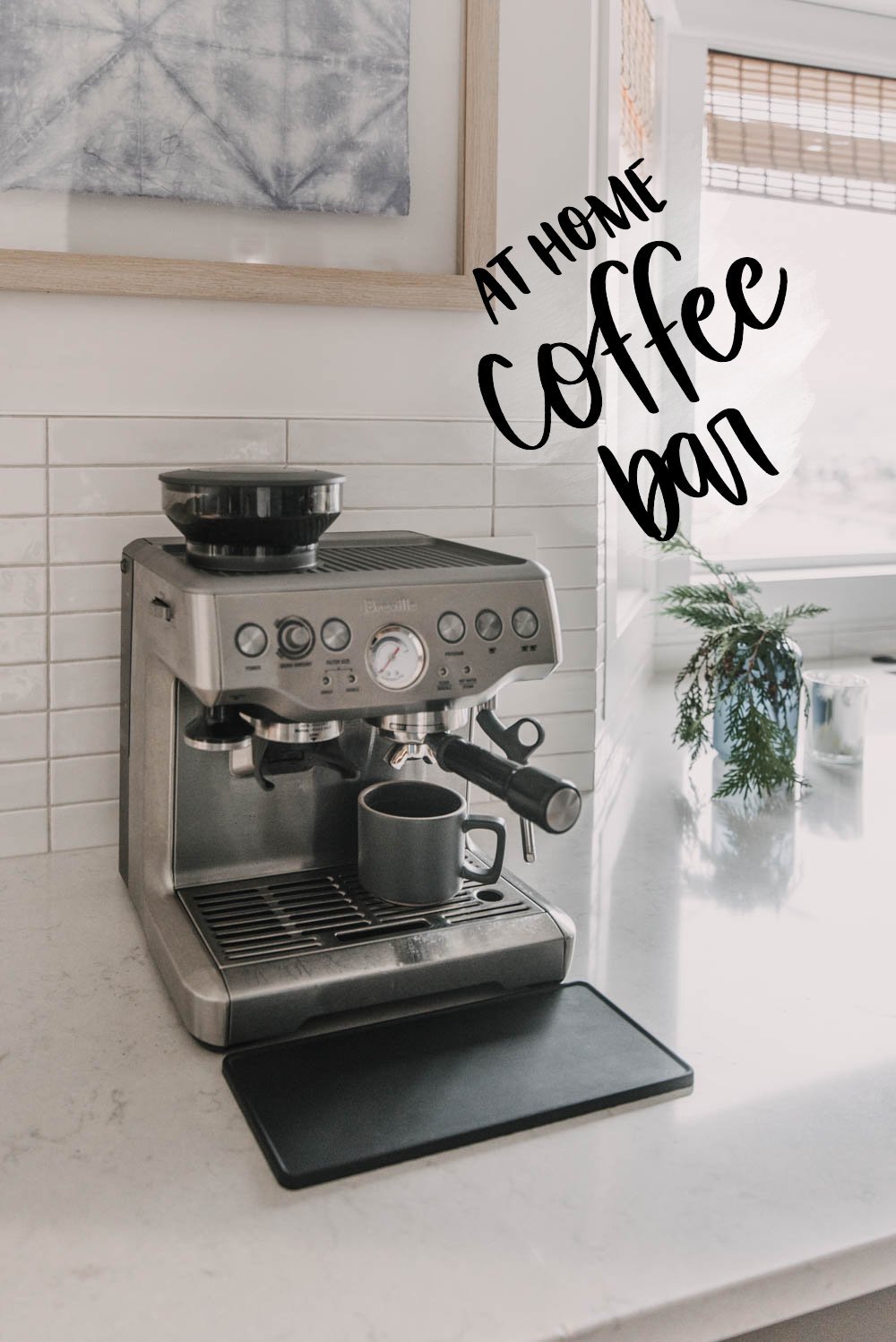 If you've been following me for any amount of time, you've probably seen me talk about my coffee maker before. I love it. I use it several times a day, my toddler makes me coffee, it lives on my counter in every home tour, we designed our kitchen with it in mind. So today I'm excited to share our full home coffee bar tour for the first time plus I'm sharing my dad's home coffee bar tour with you guys so you can see two similar setups in two different styles of homes!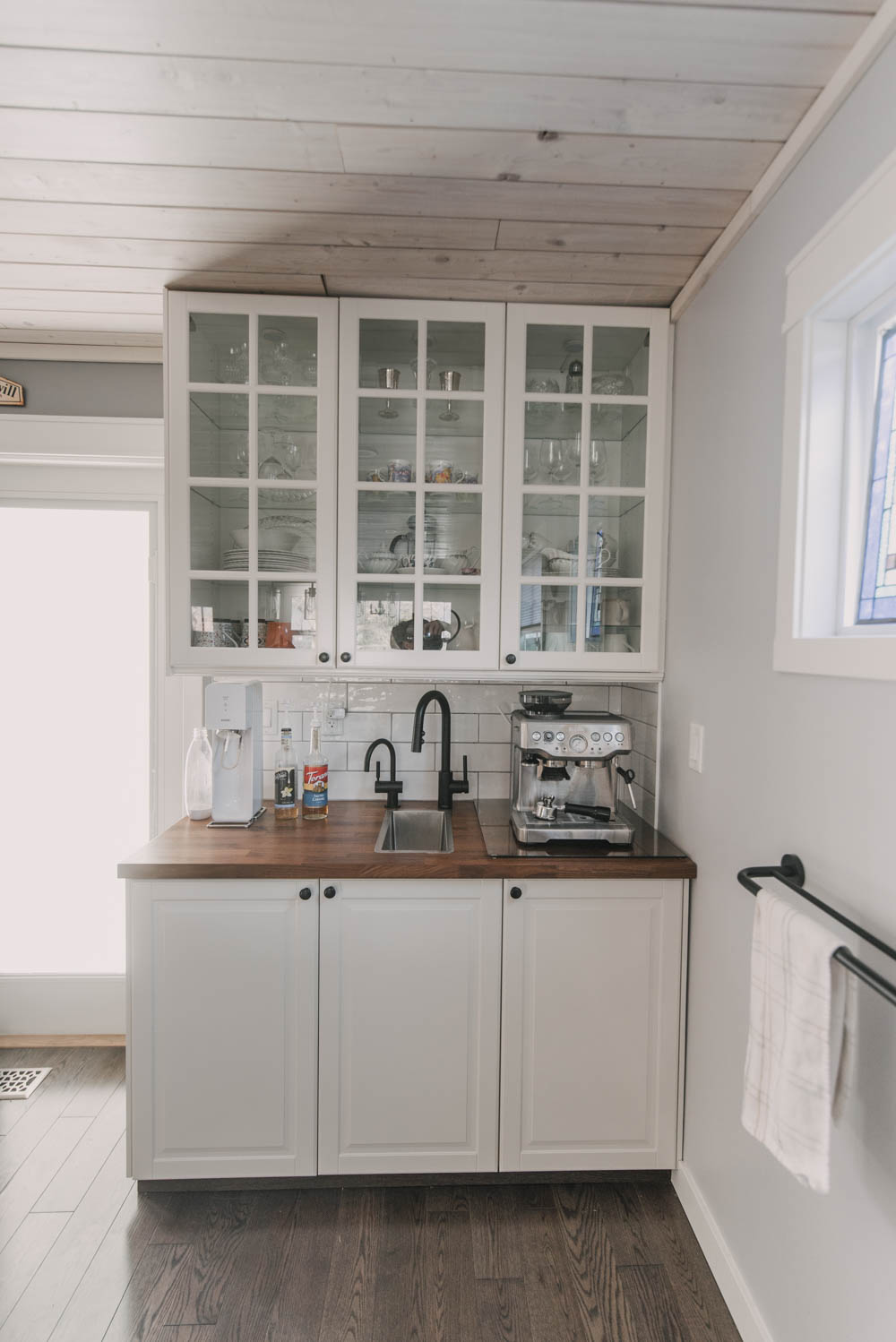 I'm sharing what we took into consideration when we were designing them, what we've found works really well for us and some products we love that help us make the most of the spaces!
Instead of sharing them one at a time like in the video, I thought I'd write the post in order of the 'pieces' of the home coffee bar so we can talk about what we each chose the same and differently.
First off, I want to be totally transparent and let you know that I received the coffee machine and the hot water tap in a partnership over two years ago. I'd specifically requested these models after shopping for them myself and would replace them in a heartbeat, but I'll talk more about that further down!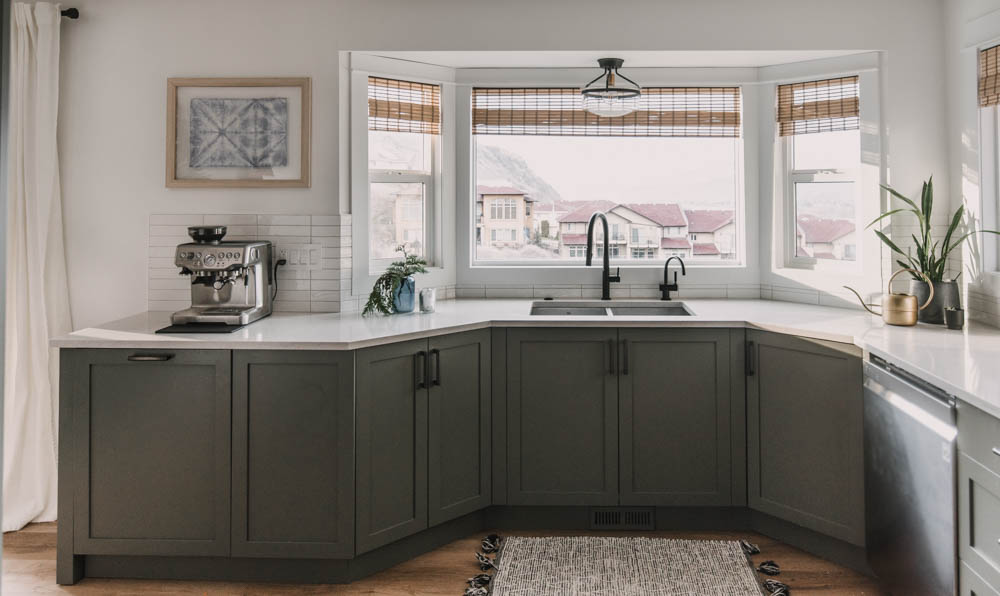 Okay, so my home coffee bar isn't actually a separate bar like my dad's, but a station in my kitchen. We'd originally planned to have a coffee bar on the pantry wall when we made over our kitchen a couple years ago but once we'd ripped out the cabinets, we found they were hiding a few different depths of walls and a cinderblock chimney. We thought it was best to scrap that idea and built a full height pantry to hide that, opting to dedicate a section of our kitchen counters to the coffee machine instead. If you'd like to read about the kitchen more, you can see that post here.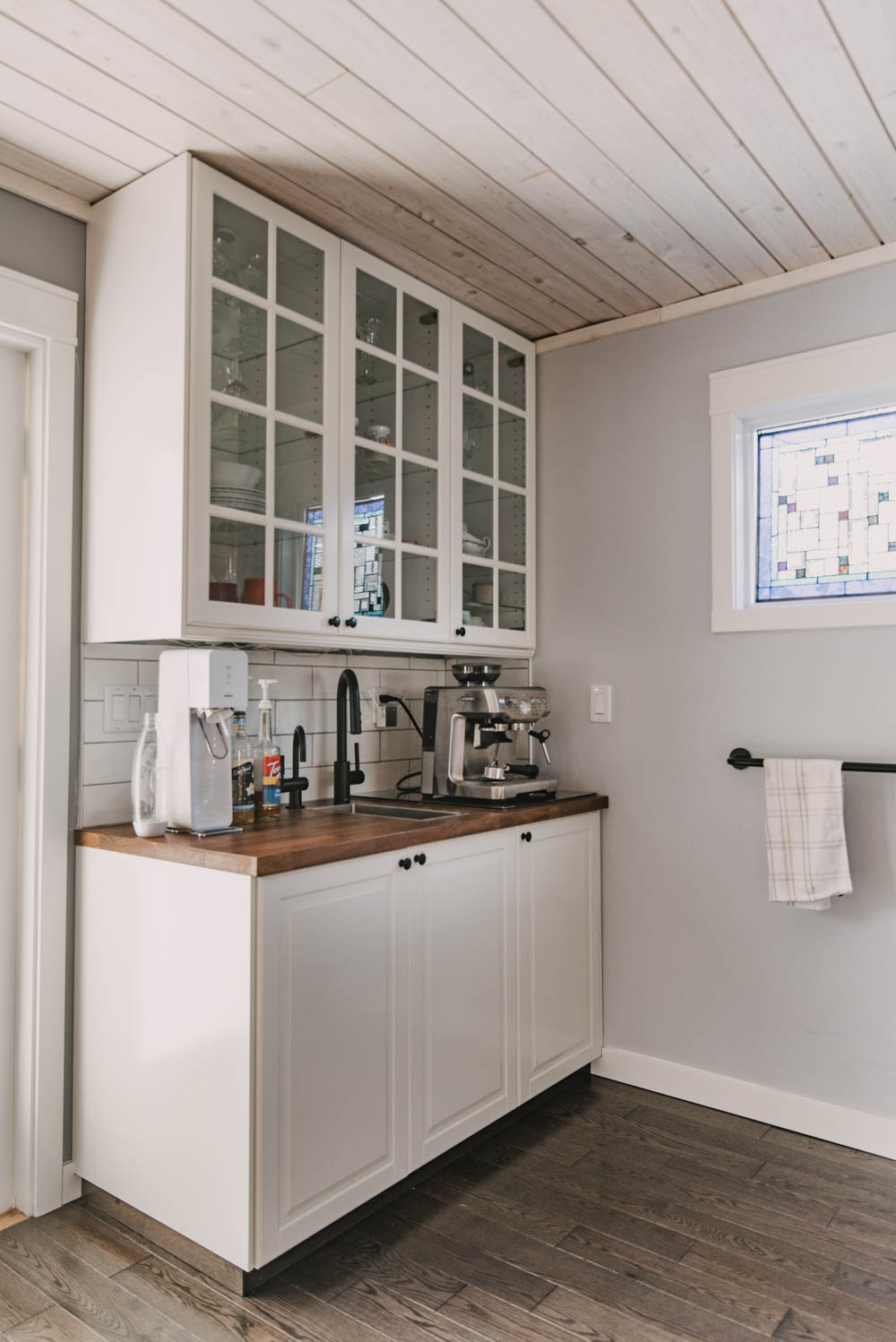 My dad on the other hand, has this home coffee bar in a corner of his dining room. One of these days I'd love to write a full before/after post of their renovation- they stripped their whole house down to the studs and reconfigured the entire inside last year. Including a coffee station was definitely a priority when designing the layout.
Our Espresso Machine Review
So the most obvious part of this coffee station is of course the espresso machine. My dad and I both have the same espresso machine. So does my sister-in-law and Shane and I were so excited to join that club a couple years ago- ha! We've been lucky enough to test it out so many times over the years and knew it was exactly what we wanted and we knew the quality was there.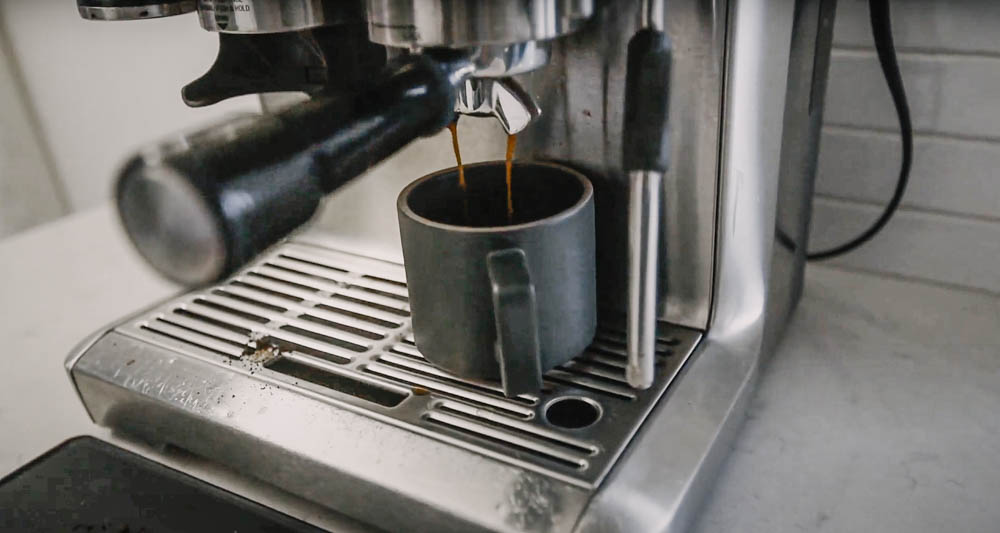 My dad bought this exact machine first over ten years ago. If you watch, it will go on a great deal at places like London Drugs or Best Buy. This past year, he's upgraded to the newest version of the same machine and passed the older one along to my sister. She uses it daily still. The one caveat I want to add here is that he maintained his machine well. He had it serviced pretty regularly and that definitely contributed to it's lasting.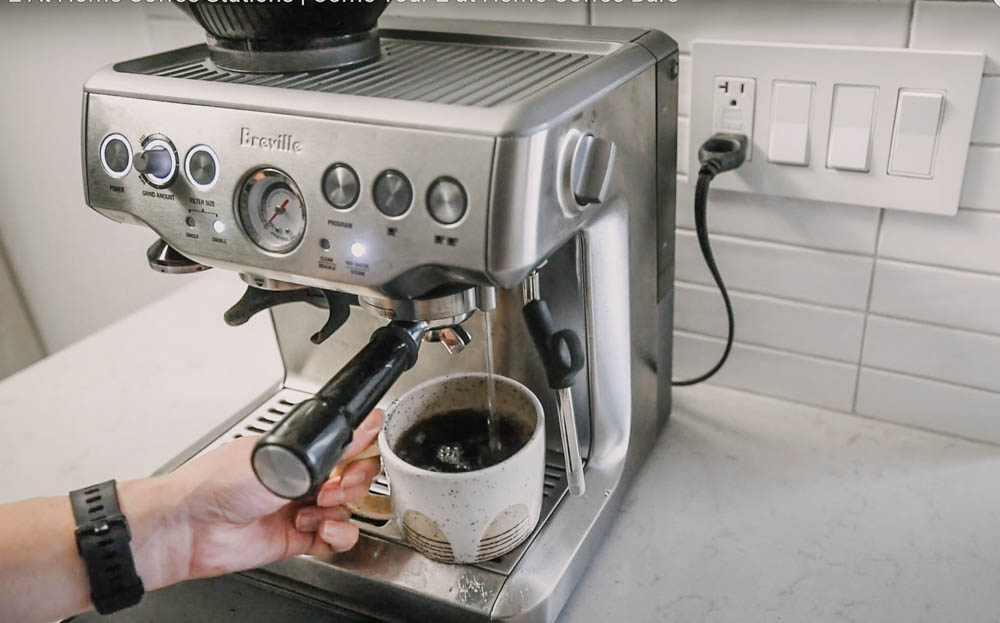 The exact machine we have is the Breville Barista Express. It has a hopper so can grind the beans, pull espresso shots, dispense hot water and steam milk. It isn't plumbed in which means you have to fill up the tank, but also means you can pack it up when you go to an AirBnB in the mountains for a week ;) Before this machine, we'd had the most basic espresso machine Breville made back in 2009 and it really struggled to steam milk- but the Breville Barista Express has no problem steaming.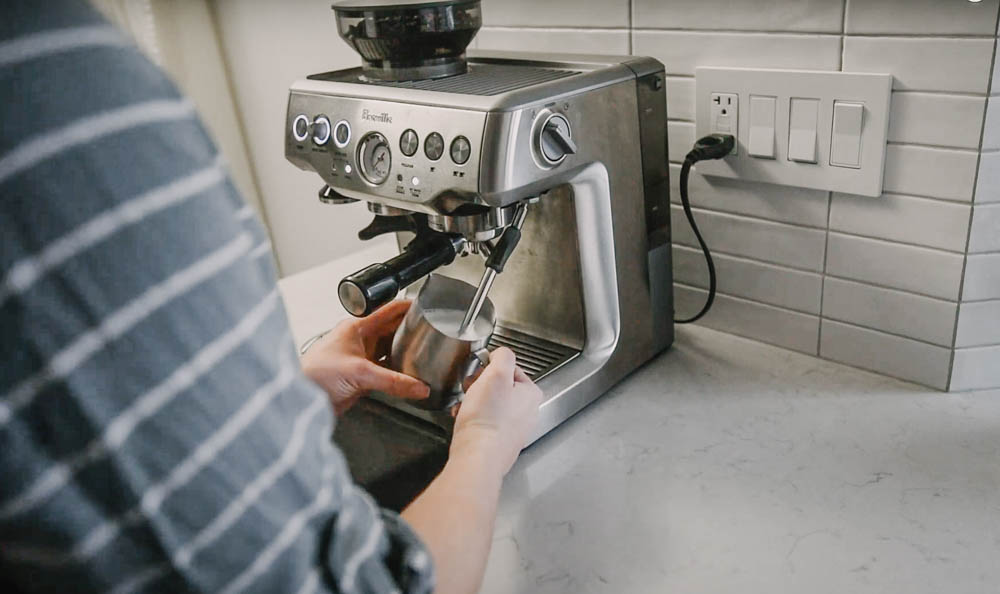 The machine has the ability to set different grind courseness, amount of grinds dispensed automatically and even the length of the shots so while my dad and I have the same machine, we have ours set up differently. We have a much shorter double shot than he does, for example.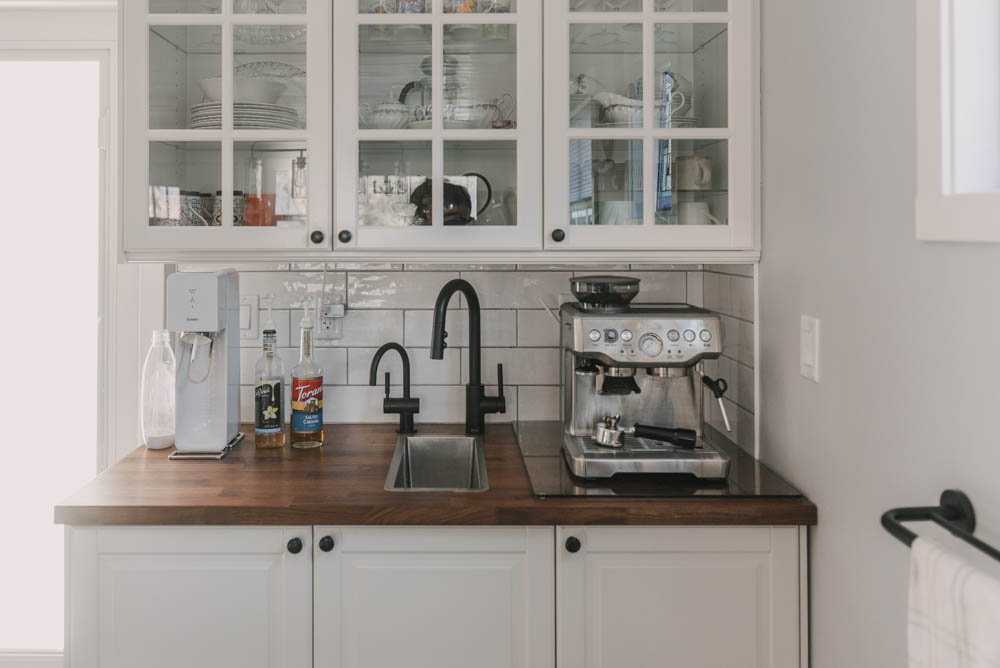 Hot Water Dispenser
After my dad got his machine years ago, he eventually added a hot water dispenser to his sink. I'm not going to lie… it seemed unnecessary to me at first. But after living with him for 4 months while we renovated our first home, we fell in love with it. It can be used for hot chocolate and tea too, of course but we drink americanos daily. This saved us from either boiling the kettle or from filling the tank on the espresso machine more often and using that dispenser.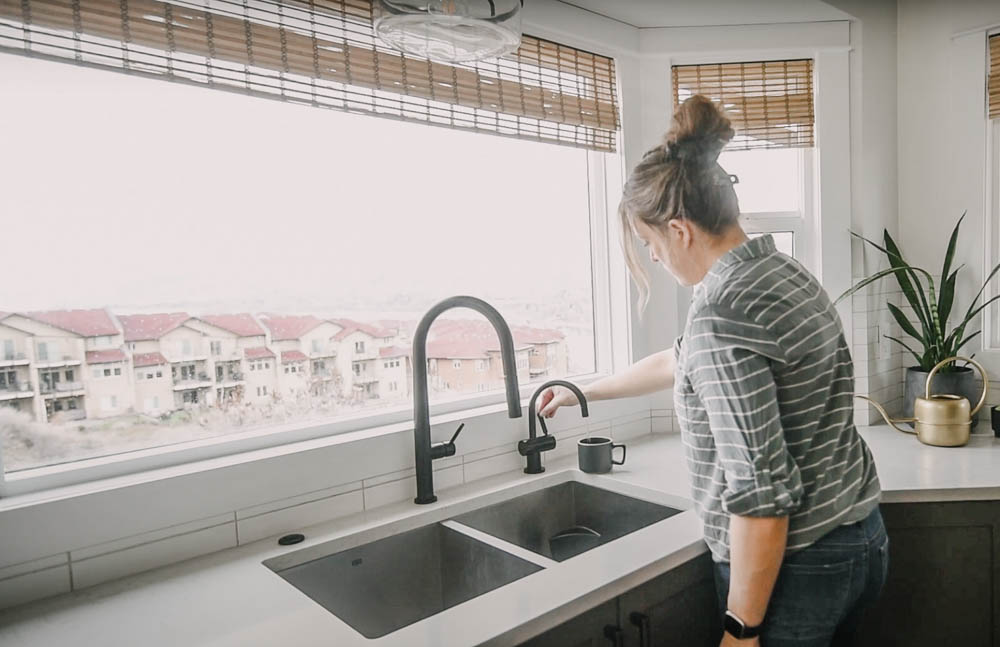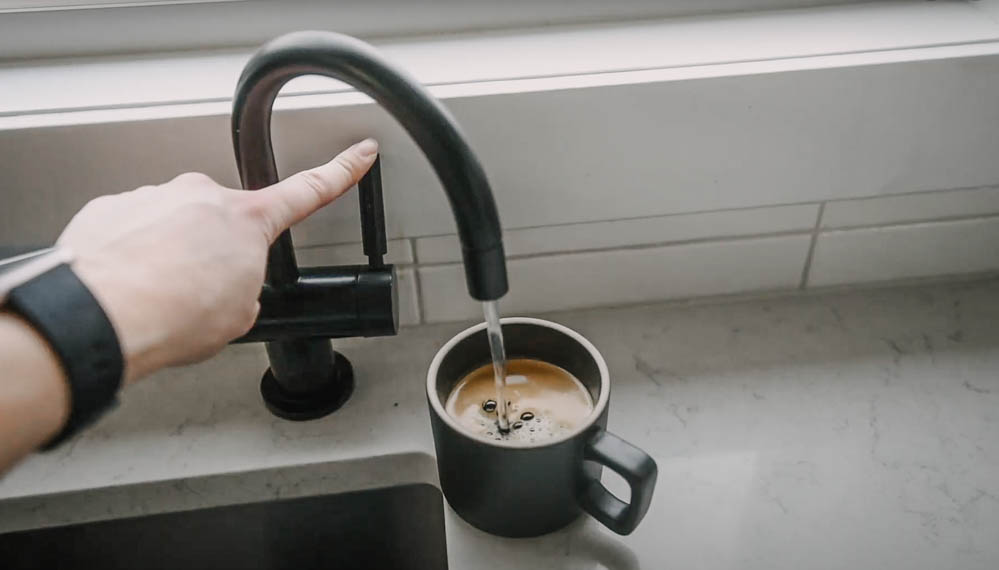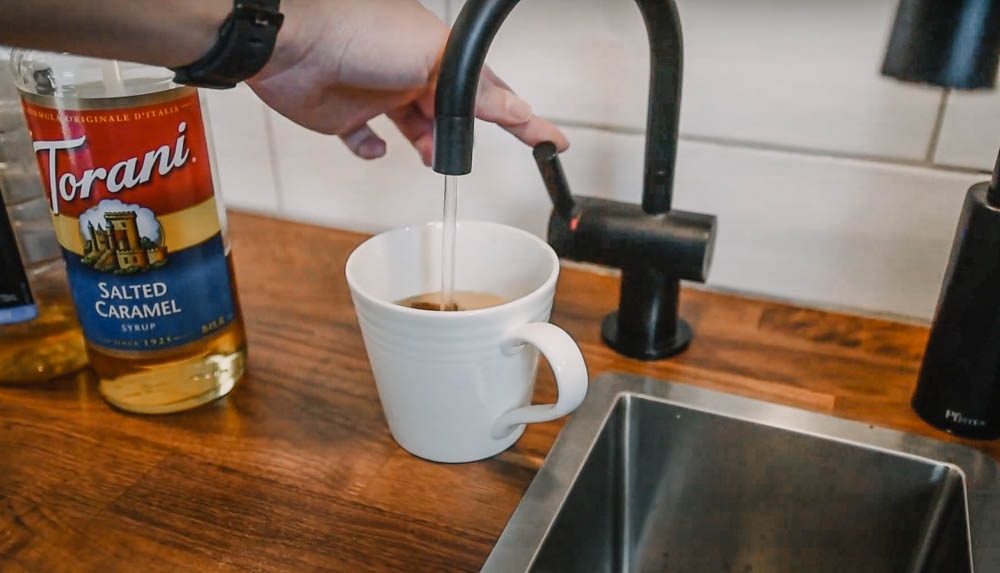 While we loved the function of the hot water dispenser, we'd never seen one that we loved aesthetically. When we were designing our kitchen, I went on the hunt and was excited to find the modern Insinkerator H3300. It comes in matte black and the modern shape totally mimicked the faucet we'd found. When my dad designed his kitchen a year after us, he chose the same one. It's really fantastic.
How do they work? You need a cold line and a plug in, there is a toaster size warmer that goes under the sink, plugged in to supply the hot water on demand. You can adjust the temperature under there too. It does need to be pressed down then pushed back/forward to be turned on so I think it's really safe, you have to be intending to turn it on.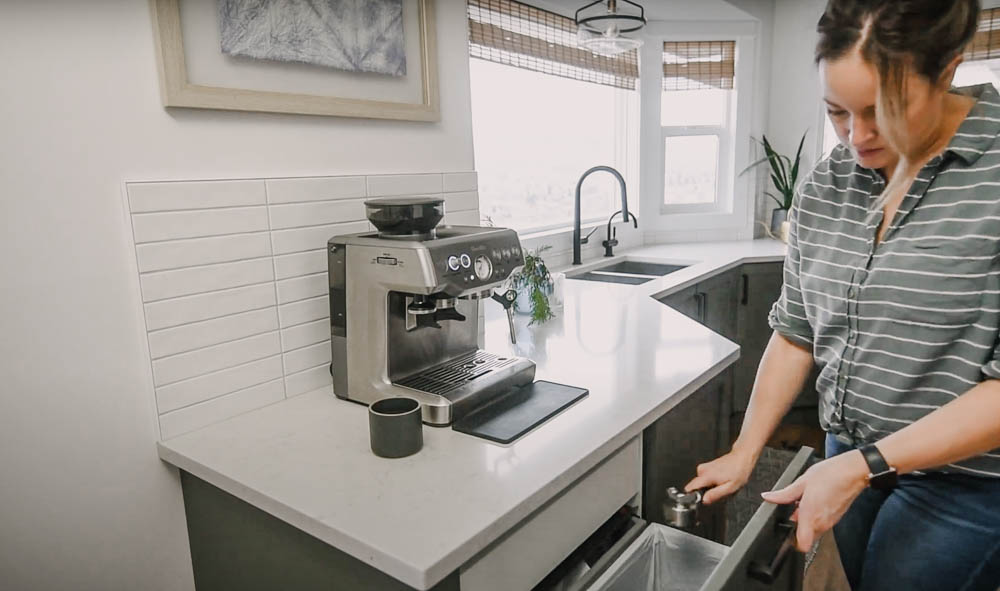 Grounds Disposal
One of the things to keep in mind when you're designing a home coffee bar area is where you're going to dispose the grounds. There's lots of different options from putting them down the sink to straight in the trash to having a bucket specifically for grounds to be composted (they're called a Knock Box, like this one!).
We chose to put a garbage and recycling pull out right below the coffee maker. This makes emptying the grounds from the basket really simple. The garbage pullout actually has a separate small bucket for compost as well, I just haven't ventured into that yet. Maybe this summer!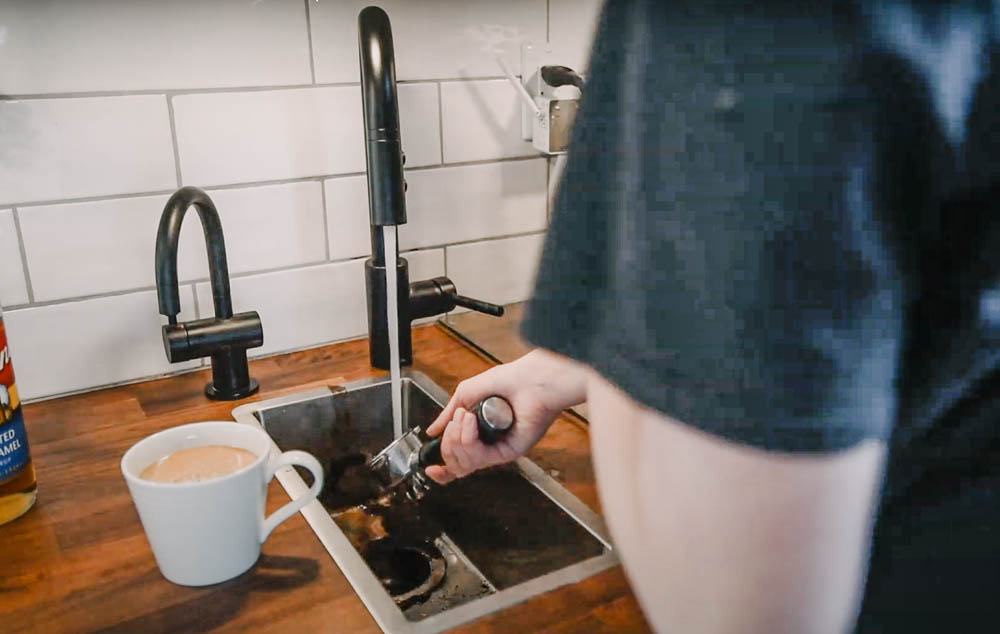 My dad added this adorable sink to his coffee bar. He empties his basket in the sink and rinses it down while rinsing the portafiller. This tiny sink is actually from IKEA– isn't she cute?
Filling the Espresso Machine Water Tank
Speaking of the tiny sink… seems like a great place to fill the espresso machine tank, right? He actually has the sink and faucet close enough in this home coffee bar that he doesn't have to take the tank off of the espresso machine to fill it up. That's handy ;)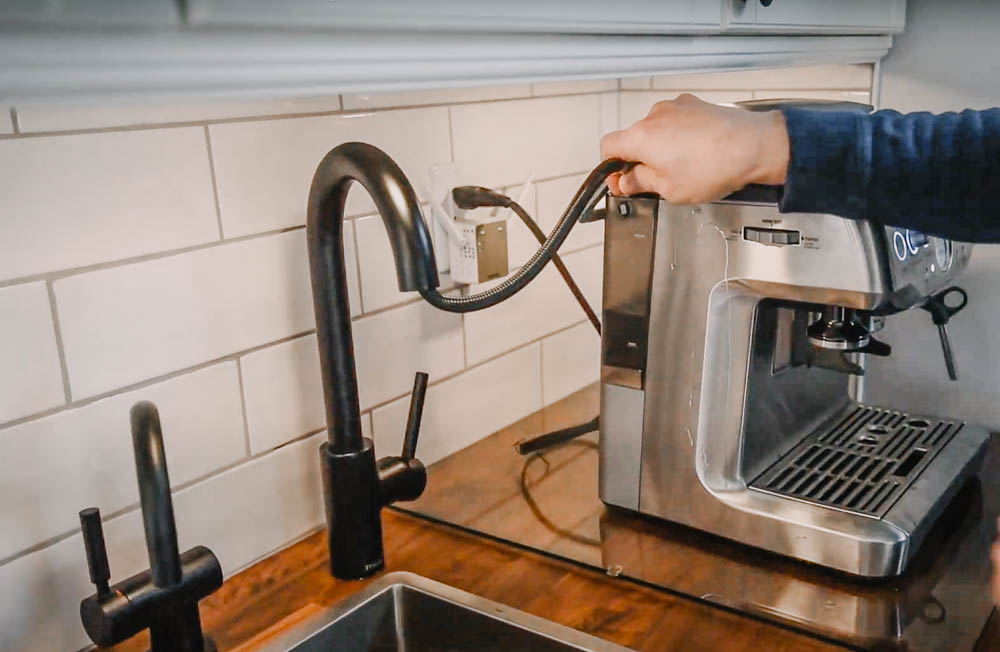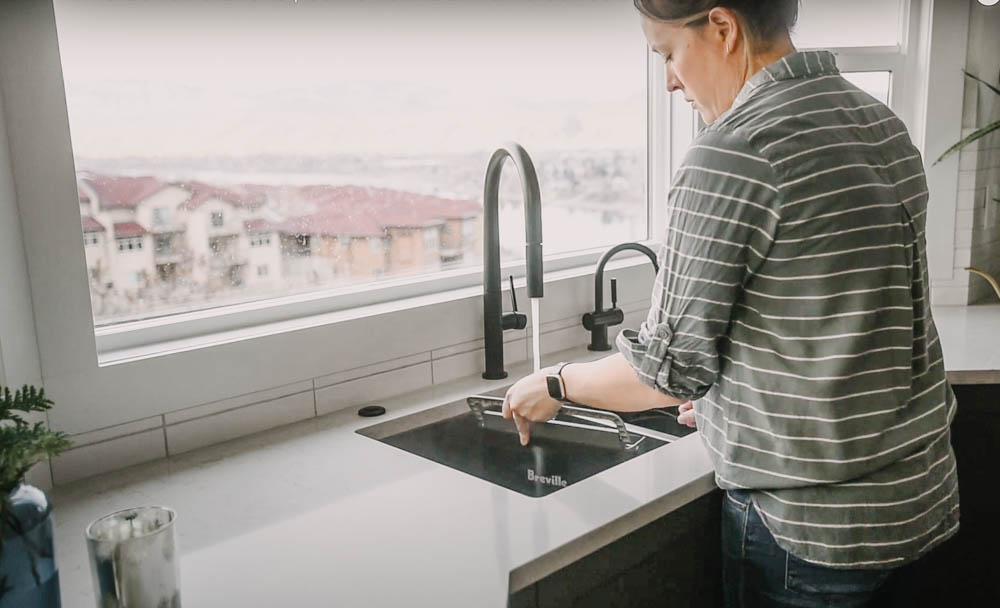 We just take ours off and a take it over to the sink to fill. When we were designing the kitchen layout, we considered where we could put the coffee station that was close to the sink without blocking the windows. This was the best location for that.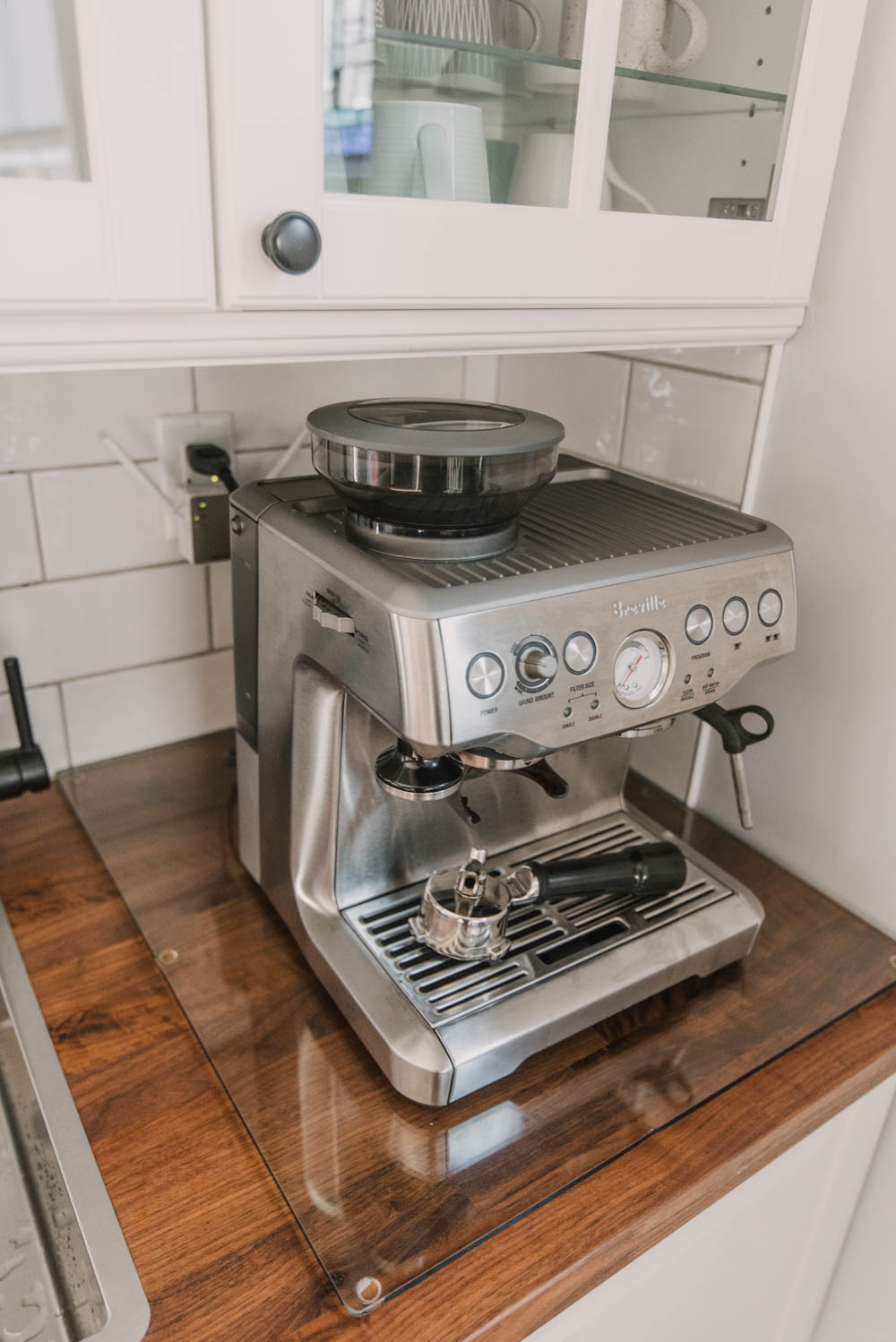 Espresso Machine Accessories We Love
Alright, this section is a short one but I wanted to point out two things. My dad has put a piece of glass underneath his to make clean up easy on the butcher block countertop. He used to use a glass cutting board at his last house, but I'm pretty sure he had this piece cut for this purpose here so it's clear instead of pebbled like a cutting board.
If you leave the tray without emptying it when it says to empty it… it can overflow. From a lazy coffee drinker who doesn't like to do that sort of thing before her first cup of the day. This will catch the drips.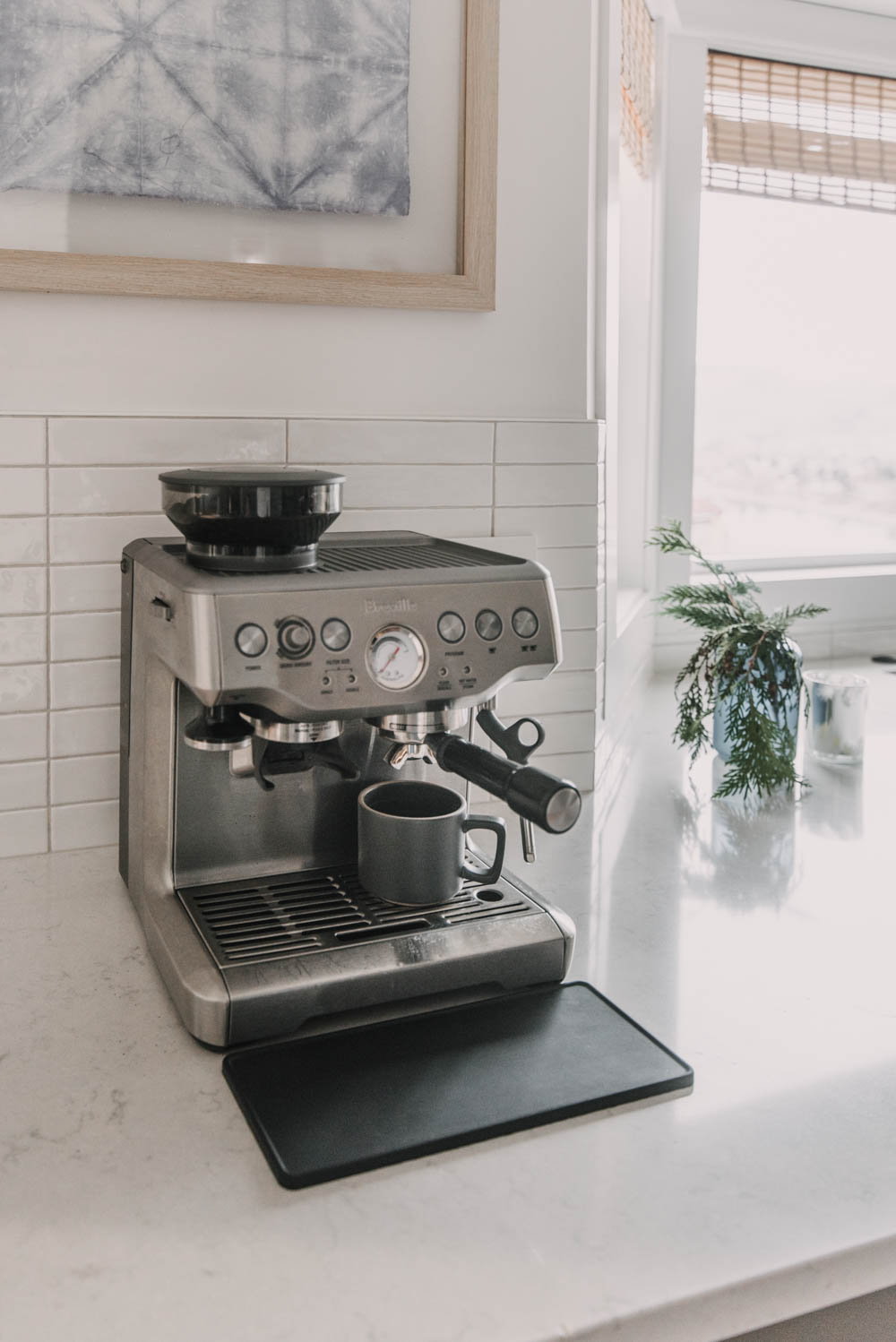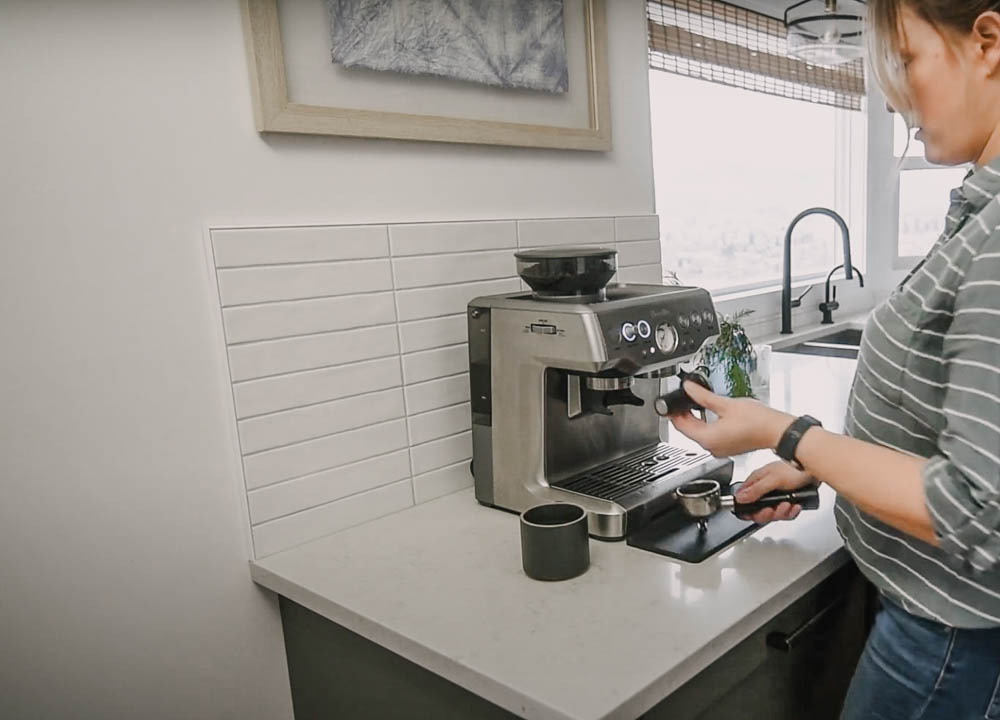 I purchased a black rubber tamping mat and love this thing. I love it. I tried to get a tamping stand but found the ones I ordered never held this portafiller quite right so sent them back. This is perfect because the portafiller won't slip on the smooth counter if you put it down to tamp. It also catches most of the grounds from tamping. The grounds on the black mat aren't as noticeable as on the white counter and clean up is simple, I just rinse it off in the sink. It's great since we have kids helping make our coffees awesome and the mat helps them keep the portafiller in place while they tamp. I also love that it's the perfect size for this espresso machine. It looks like it was made for it, honestly.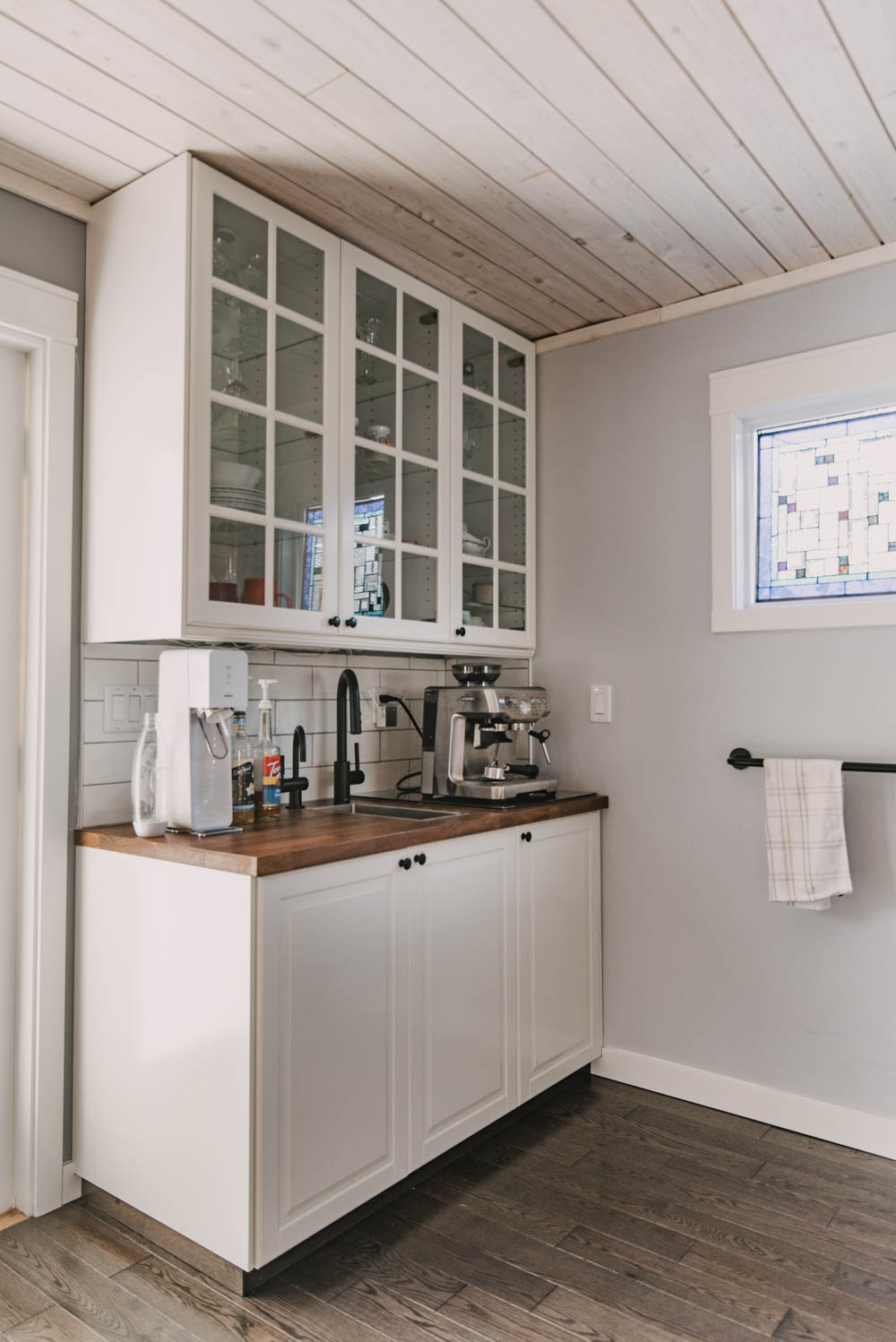 Coffee Bar Storage
Alright, so my dad clearly has whole cabinets dedicated to this use. His mugs are above the coffee bar and the coffee supplies are in pull out shelves below.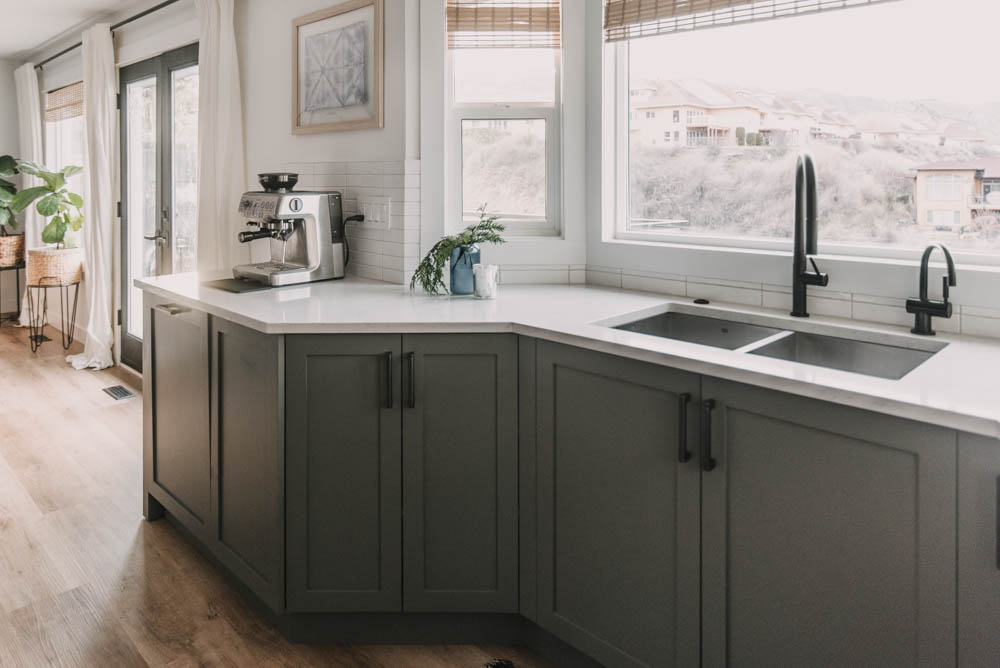 I've already mentioned that the cabinet right below our coffee machine is a garbage pull out. Our coffee supplies are all stored in the cabinet between the sink and the coffee machine. I like having everything off the counter so I've just made sure one shelf is tall enough to store latte syrups and extra bags of espresso. Our mugs are in our big wall of cabinetry. I considered doing a metal mug rack like this one, but ultimately decided I prefer less visual clutter and DIYed this art. The extra step of opening a cupboard for my mug really doesn't bother me.
What Espresso Beans Do You Use?
Both my dad and I tend to use the Costco Kirkland brand espresso. It's roasted by Starbucks (it says so on the bag) but is a fraction of the price and it's delicious. Like… really good. When Starbucks does their holiday blend, Shane and I will usually grab a bag but that's the only time we switch it up. My dad loves Cherry Hill Coffee which is local to the Okanagan. It's really yummy too. He will order a bag (it ships super quick if you're in BC!) anytime we have a family gathering.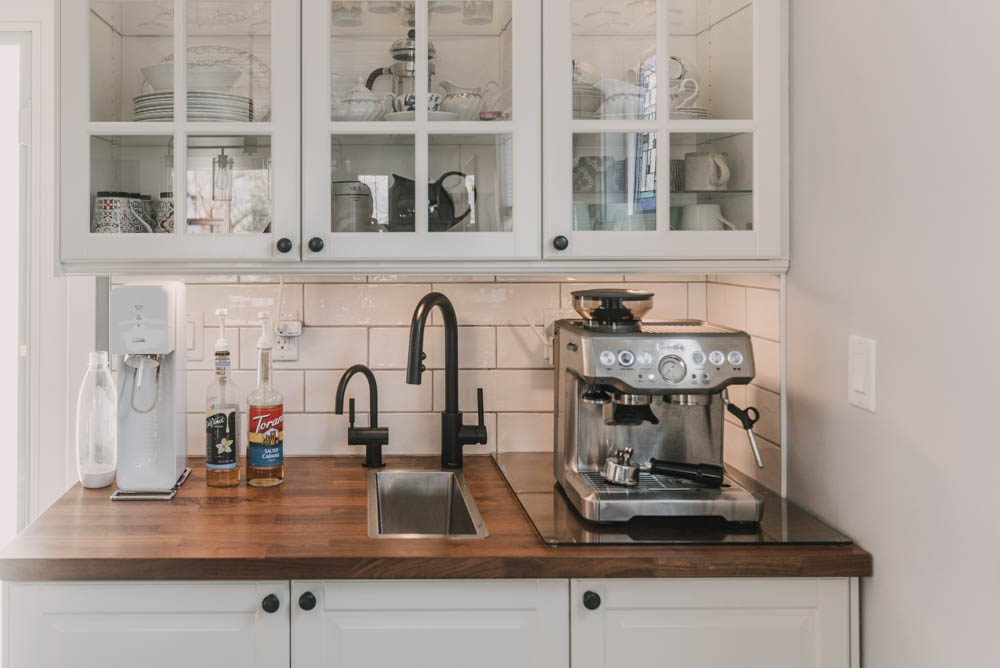 Is an Espresso Machine Worth It?
Honestly, for us it is. For my dad it is. Both my dad and I work from home so having good coffee without leaving is a treat. I used to run through the starbucks drive thru quite often on my way home from school drop off and now I never do. My dad used to be a regular at a coffee shop he could walk to. He bought at least one coffee out each work day. If this is your reality- it's probably worth it. If we were to move and say the coffee maker got sold with the house, we'd buy a new one immediately. Speaking for my dad, he did replace his machine after ~9 years so he found it worth it enough to do it a second time.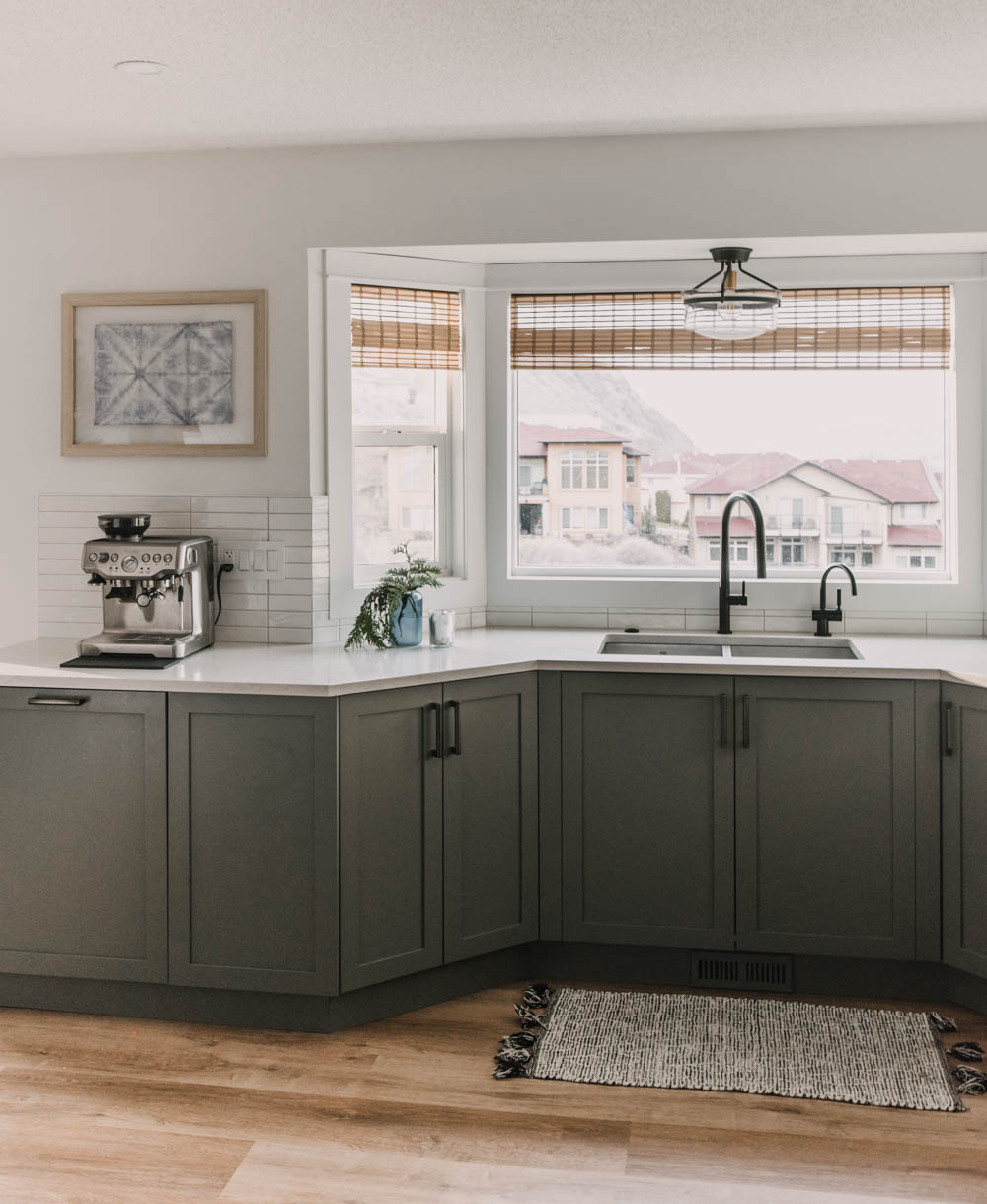 The hot water tap is worth while for us as well although we'd probably hold off on that one and install it with a kitchen renovation. Speaking for my dad, when they remodelled this house, they installed one- which means it's the second house they've put one in so I think it's worthwhile for them too.
---
Alright! I hope that you found that useful and have taken away some considerations if you're planning a coffee bar in your home. If you have any questions, pop them in the comments below and I'll do my best to answer them!
LIKE IT? PIN IT!