Happy after-Easter! I had a wonderful weekend (we took the Sunday off renovations) relaxing with my family and remembering what Christ has done for us. We took the twins to the park and S got to push them on the swings- even though it was super windy, they had a blast. Then we headed over to my inlaws for an egg hunt (mine watched, of course) and shared a family dinner. Look how much they LOVE the swings!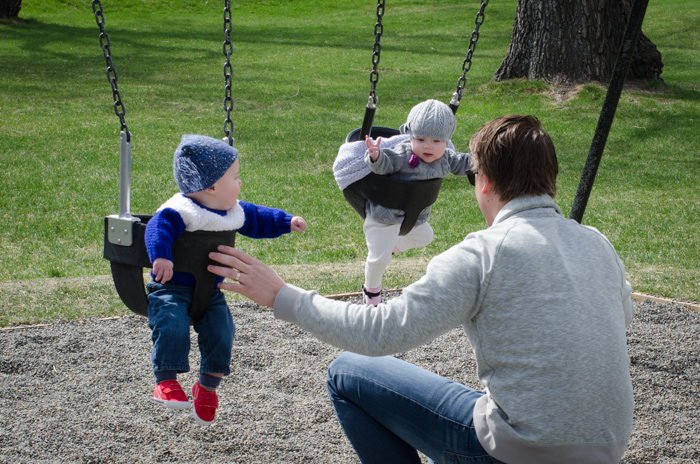 On the topic of Easter- I completely love the way The Lovely Root addressed Easter and what it means for her (and me!). Check it out if you like, she has a way with words. Anyways, today I thought I would share 11 delicious recipes to use up those Easter Eggs (I know I'm a bit tired of egg salad). I've got classic recipes and some things that are a little bit different. But not so out there that you question that I'm serious (I'm looking at you, chocolate chip cookies).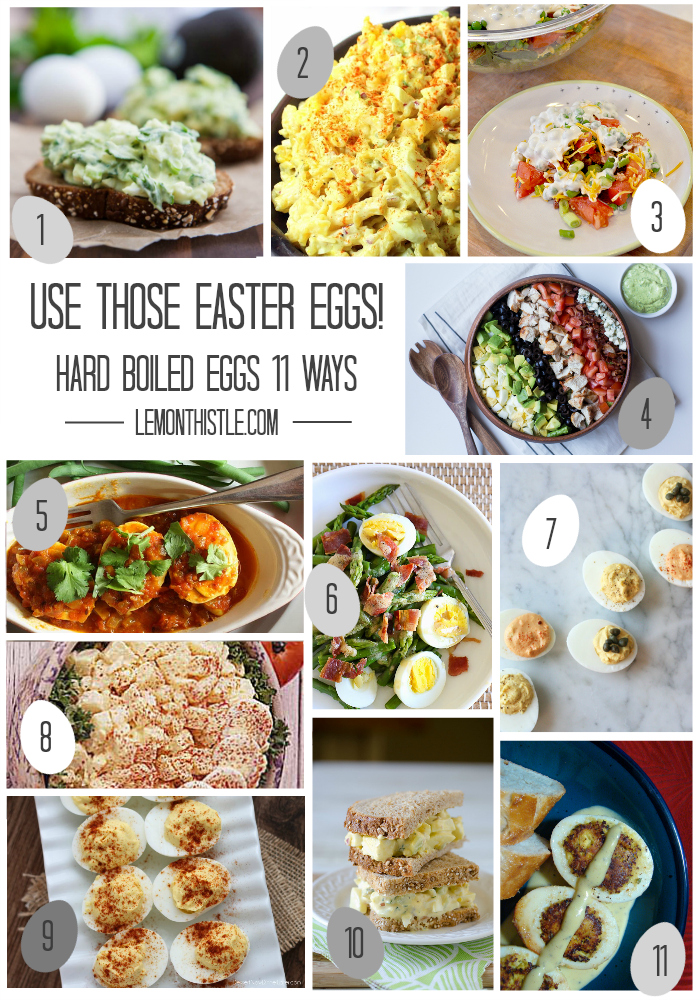 1. A bit of a twist on the classic- Avocado Egg Salad Sandwiches from Eclectic Recipes looks fresh and delicious- even after all the egg salad I've eaten, I'm adding this to the menu.
2. This Deviled Egg Pasta Salad is great to use up a bunch of eggs at once- and it makes a big enough batch it'd feed the neighbourhood. In fact, it's in 52 Ways to Cook's potluck series.
3. This is a favourite of mine- my sister-in-law makes a version of this I can't get enough of. One Good Thing calls it an 80's Delight, I call it summer layered salad.
4. The Domestic Man brings us this delicious and aesthetically perfect Cobb Salad with Green Goddess Dressing. Isn't this photo gorgeous? Even if I didn't like cobb salad (but I do!), I'd make it because it looks so darn pretty.
5. Curry. Love it or hate it (I love it), but I've never heard of it with eggs! This Anda Masala from Viet World Kitchen is definitely on my to-do list.
6. These are a few of my favourite things: Gina from Skinny Taste made me excited to eat eggs again with her Asparagus Egg and Bacon Salad with Dijon Vinaigrette. I know it's going to be good- I haven't met a recipe of hers I haven't liked.
7. Pure Wow gives you three ways to dress up the classic Deviled Egg- I'm a huge fan of capers so I'd try that one first. This is another photo that makes eggs look so very good.
8. Pure classic- Taste of Home has your Mama's Potato Salad (this recipe is pretty darn close to my Mom's) in case you're craving comfort food.
9. Another traditional recipe- Classic Deviled Eggs from Dessert Now Dinner Later is perfect if you're not up for trying any twists.
10. Just because I'm sick of it, doesn't mean I can bypass the old school Egg Salad Sandwich. This recipe from Seeded at the Table is as simple as it gets (without being bland, of course).
11. Last, but certainly not least is Eggs Jeanette from Iron Stef. This pan-fried cousin of the deviled egg looks so tasty, and this round up needed something else served warm!
There you have it! That's my list of mouthwatering, boiled eggy recipes that I'd love to try. What are your go-to recipes to use up boiled eggs?
XO -C