Guys! I'm so excited to introduce to you Lemon Thistle's newest delicious contributor! Megan creates crazy awesome recipes and serves them up in the cutest mason jars. How can you top that? She'll be sharing a recipe here for us once a month! Give her a super warm welcome for me, will ya? Also, on the topic of contributors, I'm on the look out for a couple new contributors (think DIY, Party and Home) to start in August or September. If you know of anyone who might be interested, pass it along! 
*****
Simple, decadent, and only 7 ingredients, this Raw Vegan Key Lime Pie In A Jar is the perfect sweet tooth fix without the guilt. 
Hi friends! My name is Megan and I'm the blogger behind straightfromthejar.com. SFTJ is dedicated to creating healthy and wholesome recipes using mason jars! Crazy, right? I doubt you'll think so after you try this fun recipe for Raw Vegan Key Lime Pie In A Jar!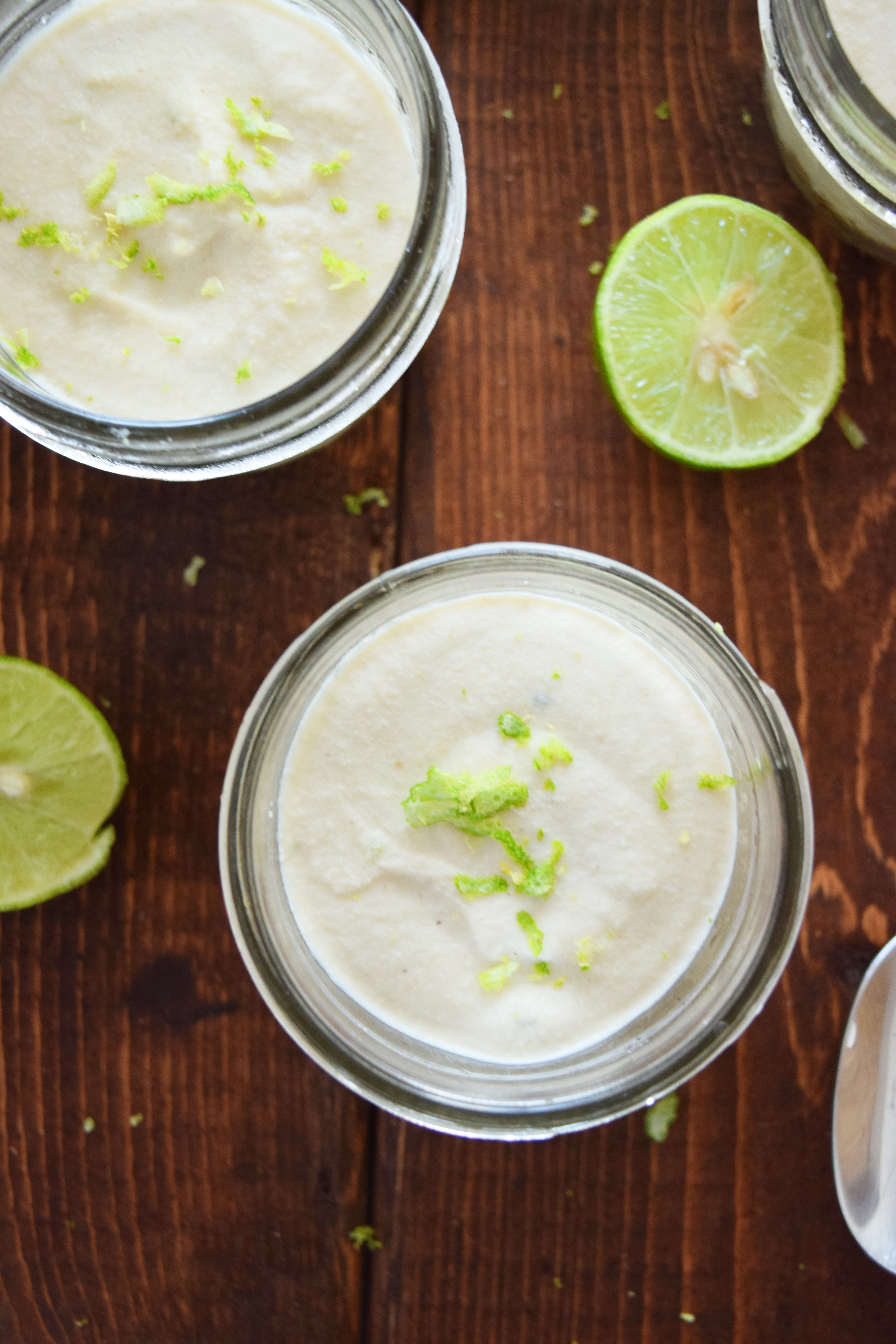 So, because I'm super excited to be contributing to Lemon Thistle, I had to save this recipe for this post. This one is an absolute favourite in my home, because it's simple, decadent, and so so delicious!
These little key lime pies are perfect for serving  at a dinner party or for keeping in your freezer when you need a quick sweet tooth fix. And how cute are they? Who doesn't want to eat pie out of a mason jar? I vote that it's so much better when you can feel like you're eating the whole thing rather than only having a slice, am I right?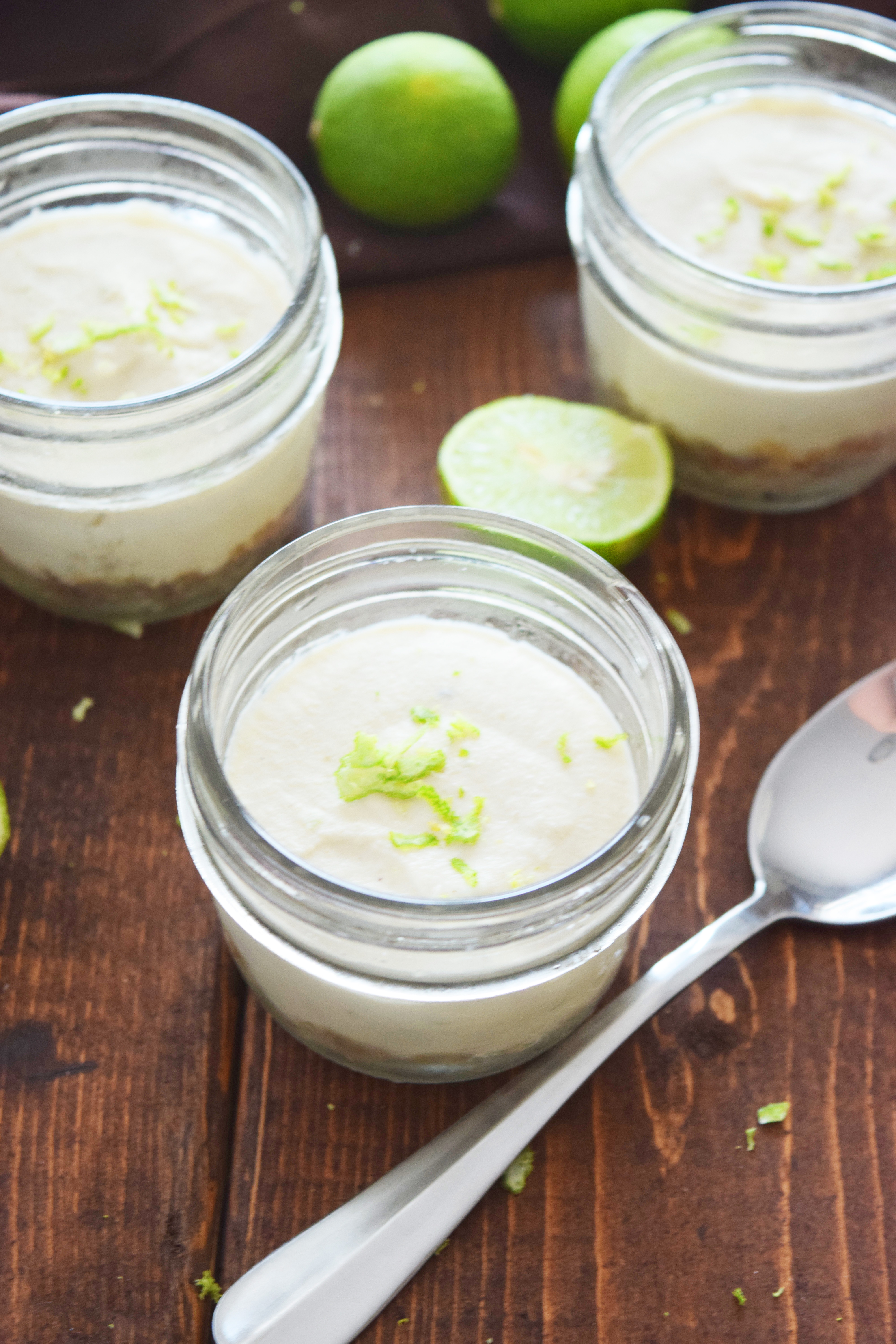 What I love most about this recipe is that it's put together using only 7 healthy ingredients, including almond meal, cashews, and coconut oil. Whaaaat? Stay with me. I promise it's good.
I created these pies with two layers of deliciousness in mind: a graham cracker texture-like crust and a creamy key lime layer. What's important to note is that in each spoon/forkful of pie you absolutely MUST have an equal ratio of crust and pie layer. It makes every bite heavenly.
Cashews are what make the key lime layer creamy. It's important to soak your cashews for at least a few hours if you have a high-speed blender, and overnight if not. It allows the cashews to soften and basically is easier on your blender. I have a Vitamix and I can probably get away with soaking them for an hour, but I like to do it for longer if I have the time just to be safe.
You can store these guys in the fridge or freezer. If you're making them to serve that evening, just keep them in the fridge, since the key lime layer won't get too solid. If you're planning on serving them later, they're great to keep in the freezer. Just make sure that you take them out a few hours in advance so they have time to thaw. This way, your guests won't be wondering why you're serving them a popsicle with a fork.
Please make sure to let me know if you decide to try my Raw Vegan Key Lime Pie In A Jar! You can find me on Facebook, Instagram and Pinterest or feel free to send me an e-mail at [email protected] ! I would love to hear from you. :-)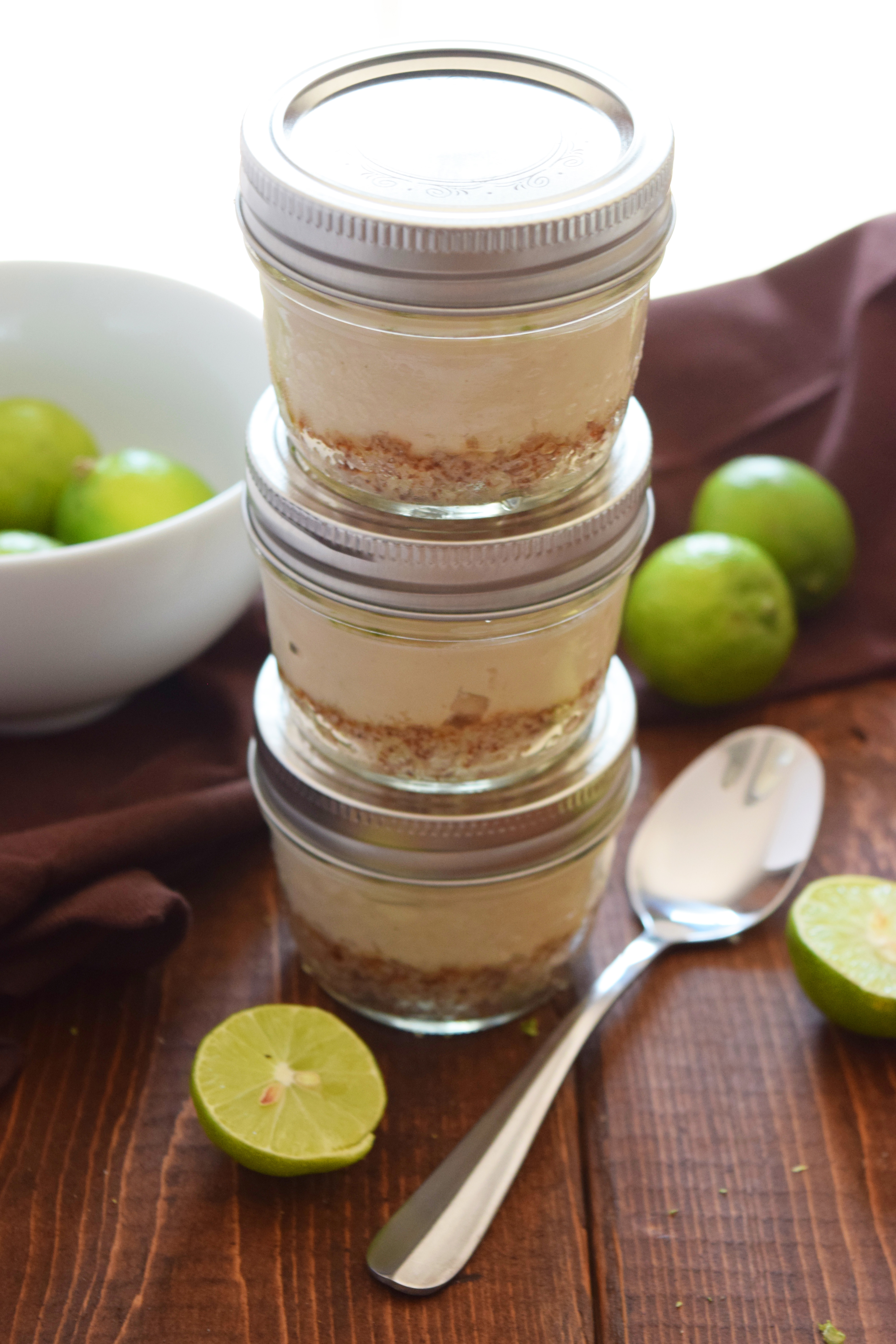 Raw Vegan Key Lime Pies
Servings: 6
Ingredients:
For the crust
1/2 cup of almond meal
2 tablespoons of coconut sugar
2 tablespoons of coconut oil – melted
For the key lime layer
1 cup of raw cashews – soaked (for a few hours or overnight)
1-2 tablespoons of maple syrup
juice from 3 key limes
1 teaspoon of key lime zest + 1 tablespoon for garnish
A few tablespoons of water as needed while blending
Instructions: 
1. In a small bowl, combine almond meal, coconut sugar and melted coconut oil.
2. Mix until well combined.
3. In each of your mini mason jars, spoon about a tablespoon of the crust mixture into the bottom. I used the bottom of a small cup to press the mixture into the bottom so it's well packed.
4. Place mason jars on a cookie sheet or individually in your freezer for about a half hour until crust has hardened.
5. Drain your cashews, and combine them along with the maple syrup, key lime juice, 1 teaspoon of zest in a high speed blender and blend until smooth. I added about 3 tablespoons of water as needed. The mixture should reach a consistency where it can pour.
6. Remove your mason jars from the freezer and divide key lime mixture amongst the 6 jars.
7. If you're serving them shortly after, place them in your fridge to allow the mixture to harden slightly. If you're planning on serving them later, store them in your freezer and make sure to let them thaw before serving.