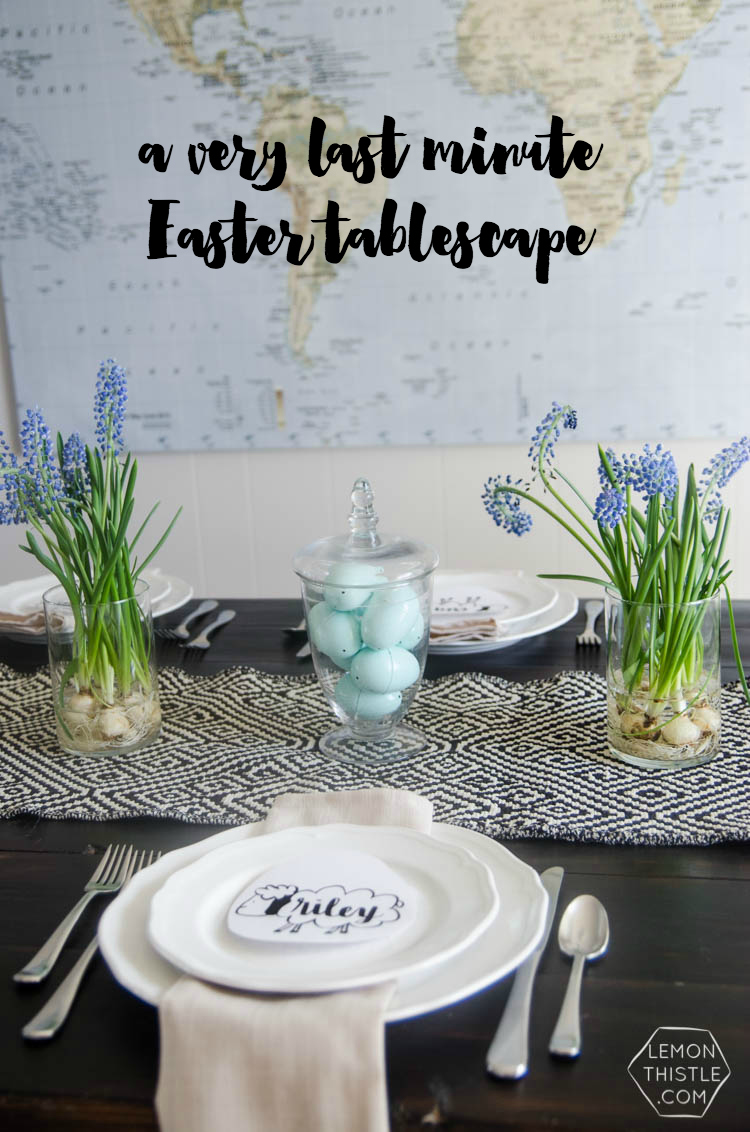 If you follow me on Instagram, you might know that on Monday, we invited some friends over for a potluck Easter dinner. It's one of my favourite things to do for holidays- a perfect excuse to get together. But after a weekend working on projects, and no housework being touched, monday rolled around and I not only had a ham and potatoes to cook- but a kitchen that couldn't be used and a house that you could hardly walk in. I wish I was exaggerating- but really… it was wicked. I also hadn't planned any decoration (and you know- I must do something!) and had 3 kids at home to keep alive ;) So I thought I would share with you my super last minute Easter tablescape!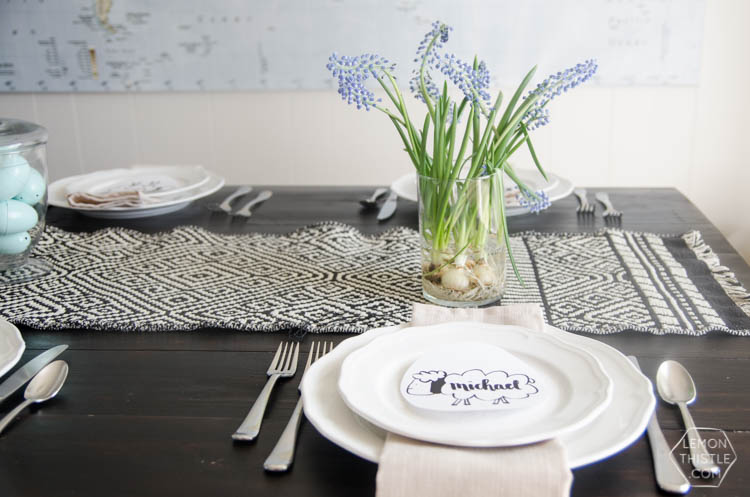 So when I tell you that you can pull this tablescape off in a hot minute- I mean it. Those forced bulbs? They're a cheat. Those place cards? They're a printable. Ready to get your act together so you're not running as last minute as me? Here's what you'll need to pull it off!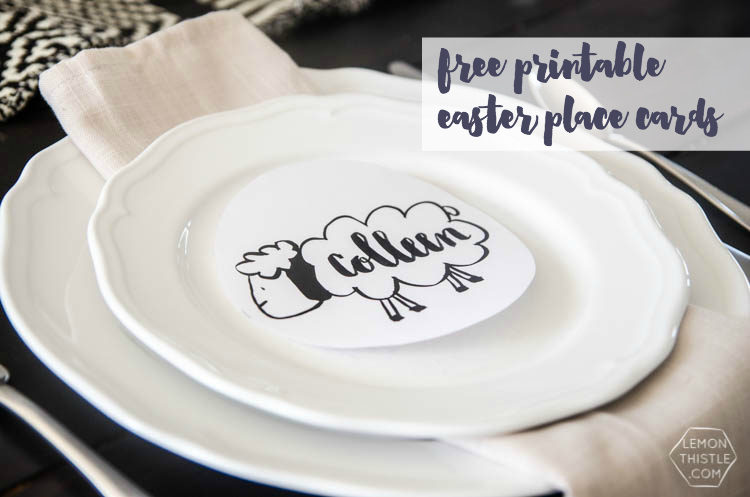 I always have cloth napkins on hand- they dress up any meal. I also had this table runner on hand from when my beloved Target Canada closed out (*sniff*). Any table covering and nice napkin is a good place to start. Add some place cards and a centrepiece and you're really set. These place cards are a free printable for you all. You can grab these sweet little lambs (they print two to a page) RIGHT HERE. I would recommend printing them on card stock so they don't curl up like mine did… But you'll have time to plan for that, I'm sure! Once you print them off, just letter in your guests' names. I'm a huge fan of a good brush pen (like this Tombow dual brush pen
)- it makes any lettering look lovely.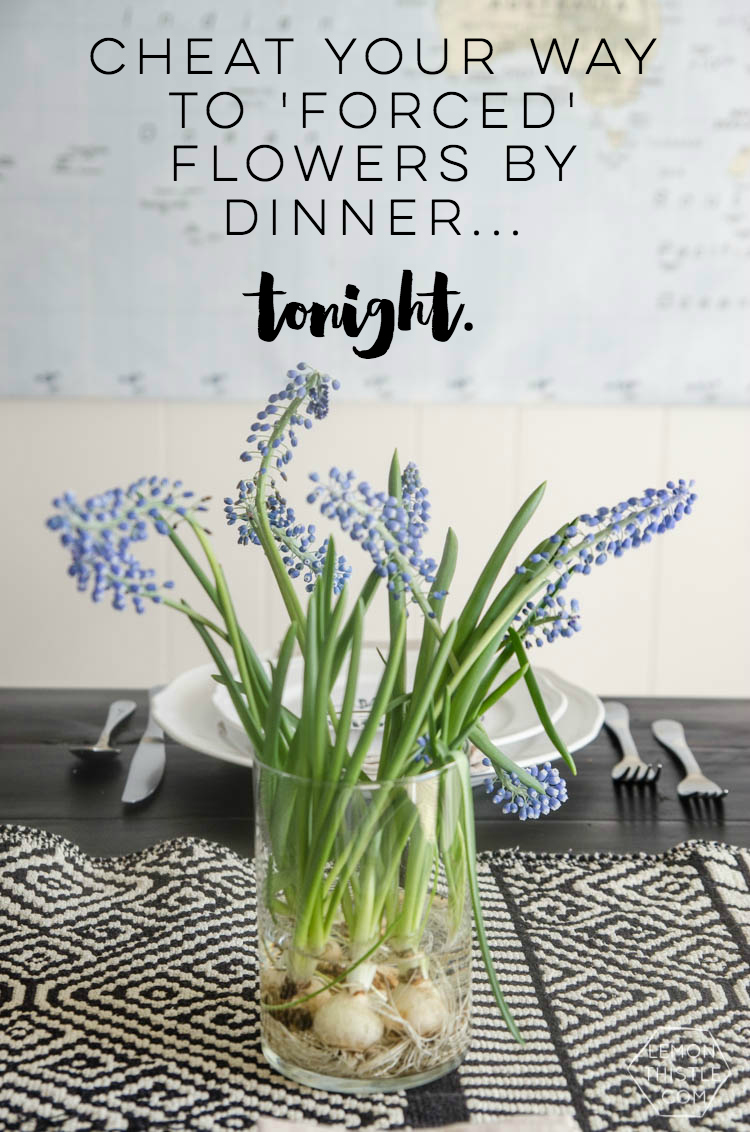 As for a centrepiece? Well this is where it gets good. As I was scrolling through Pinterest (as any good procrastinator does), I saw this post from Sand and Sisal that told me I could CHEAT forced tulip bulbs. Yep, cheat. You know I love a good cheat. Just head over to your grocery store (because if you're like me- you probably forgot to buy potatoes too), and buy a couple potted spring plants. I had my heart set on tulips after reading her post, but of course there were none. Google told me that I could 'force' any plants that are grown from the bulb- so hyacinth it was. Then dump them out and carefully rinse the dirt off of them. Place them in a vase with some water and you are set. Then you can plant them in your garden when you're all said and done. The best thing about this centrepiece is that for all these flowers- it cost $8. Cheaper than a grocery bouquet!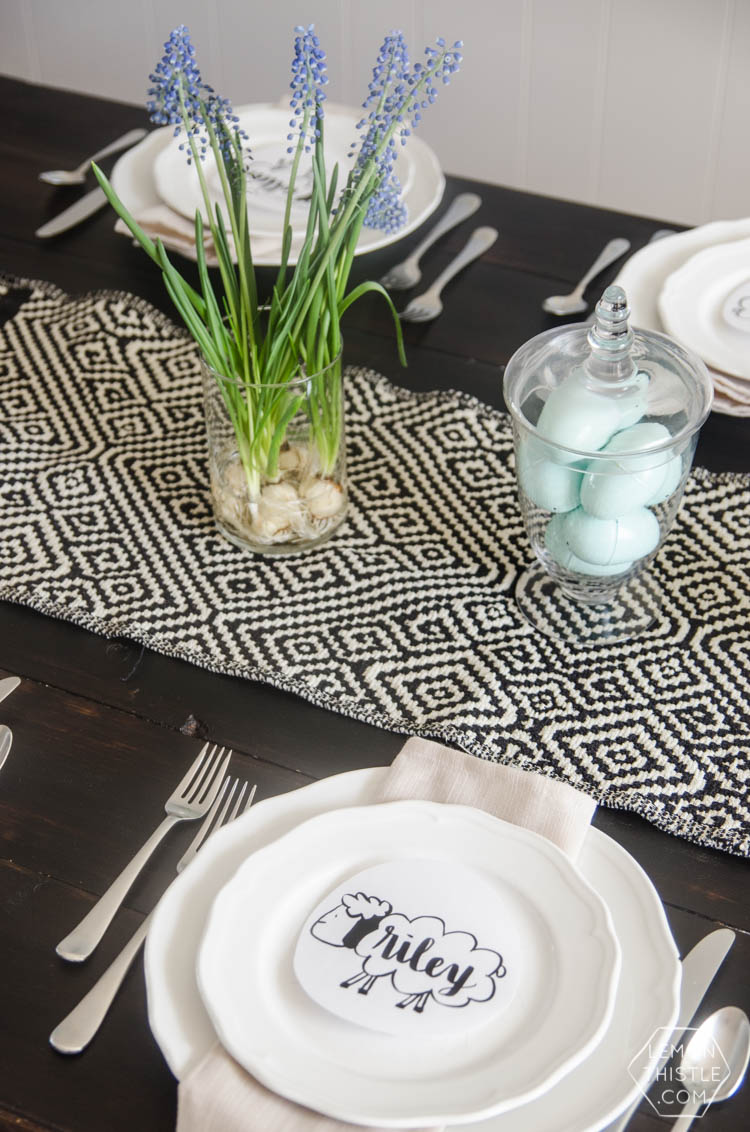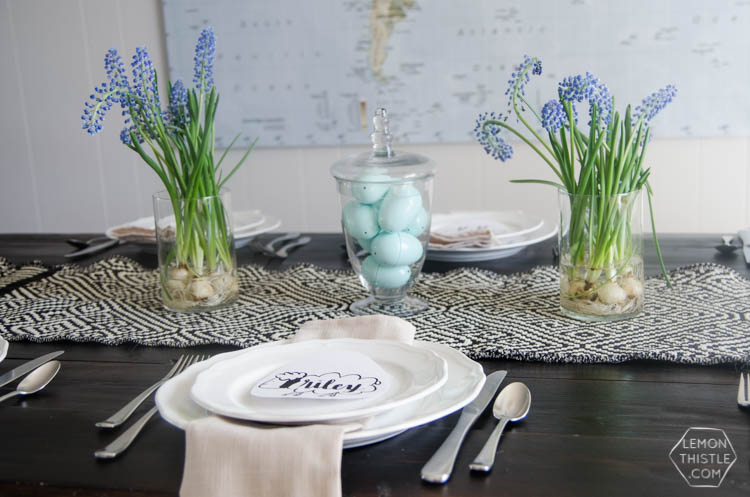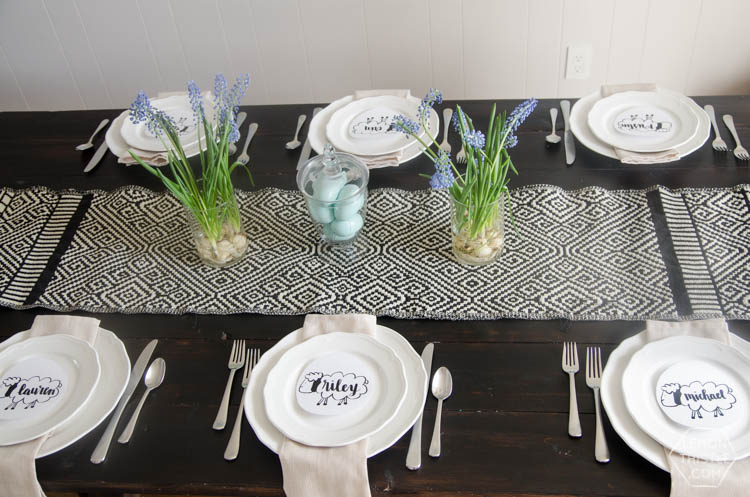 And do you recognize those eggs in the centre? Yep, those are my Easter Egg Conversation Starters that I posted Monday! You can hop over and grab all the free printable conversation starters to put in plastic Easter eggs like fortune cookies.
So really, you can pull together an Easter Tablescape in a hurry if you have a grocery store nearby and a printer. All this is to say… invite people over and don't stress about how much work it will be. The most work is in the clean up, but if you have awesome friends, they even help with that ;) And enjoy your Easter! It's such a special time of the year, I hope you're able to celebrate with those who are close to you.