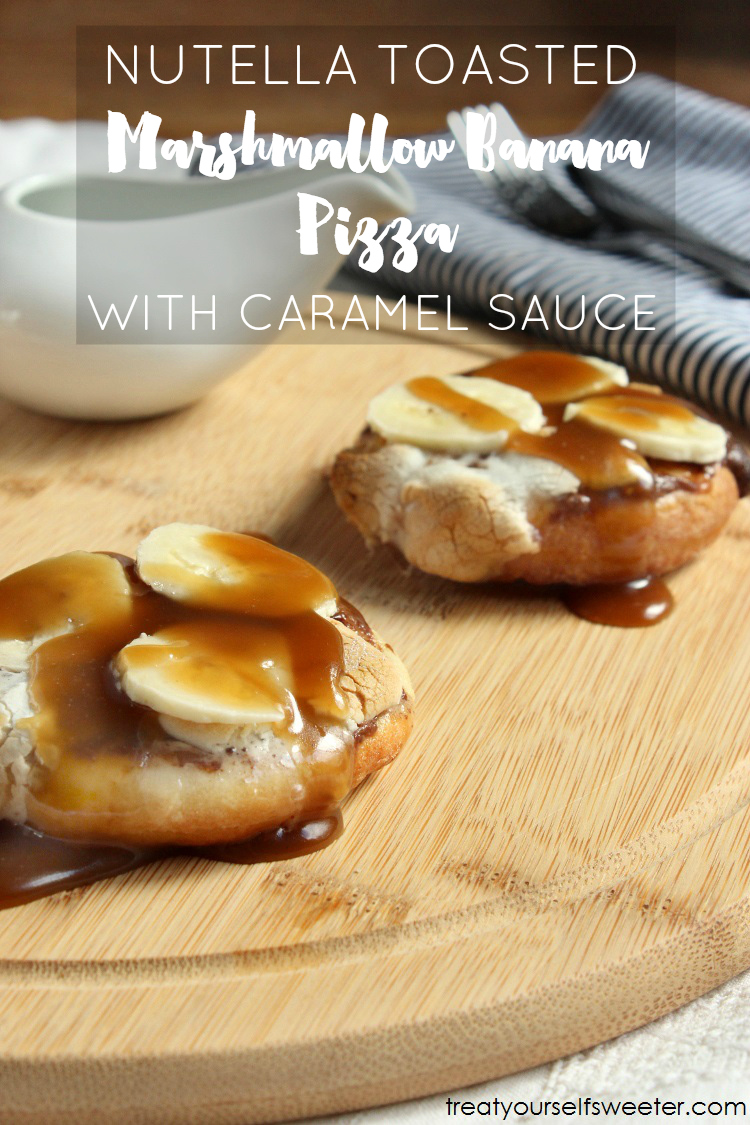 Nutella Toasted Marshmallow Banana Pizza with Caramel Sauce; sweet, sticky toasted marshmallows with melted Nutella, fresh banana and a caramel sauce to make perfection.
Whoa, where is the year going?! It is like you blink after Christmas and every time you open your eyes.. Easter… Mother's Day… mid year school reports!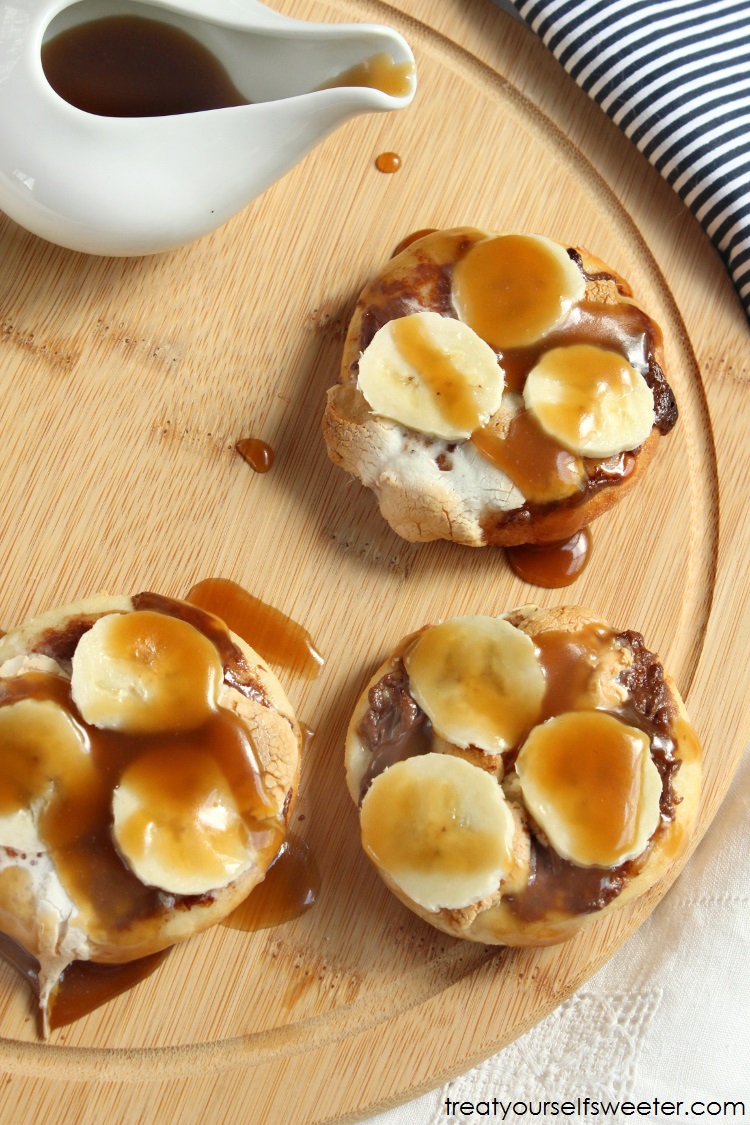 This also marks for me, one of the busiest times of the year. If I could say one thing to parents with kids at school, report writing takes SO much time. And hey, I am not complaining- I know it is part of my job, I just wish there was a way that it didn't take up so much of my weekend time. It is lucky it is a gloomy, grey, cold and windy day outside… makes it just that little bit easier!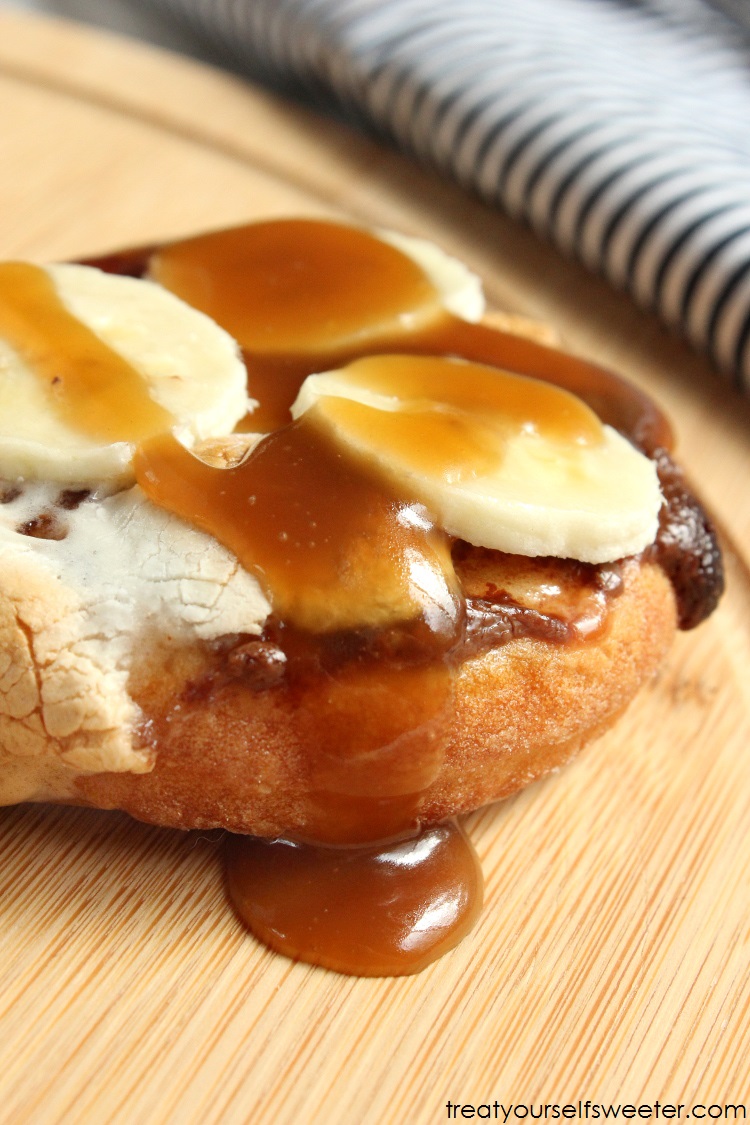 I am excellent at procrastinating and getting distracted. You should see my 'to do' list. Reports are somewhere down the end, and yeah- these Nutella Toasted Marshmallow Pizza with Banana and Caramel Sauce were also on my to do list and they ranked higher than reports, go figure ;) At least they are quick to make!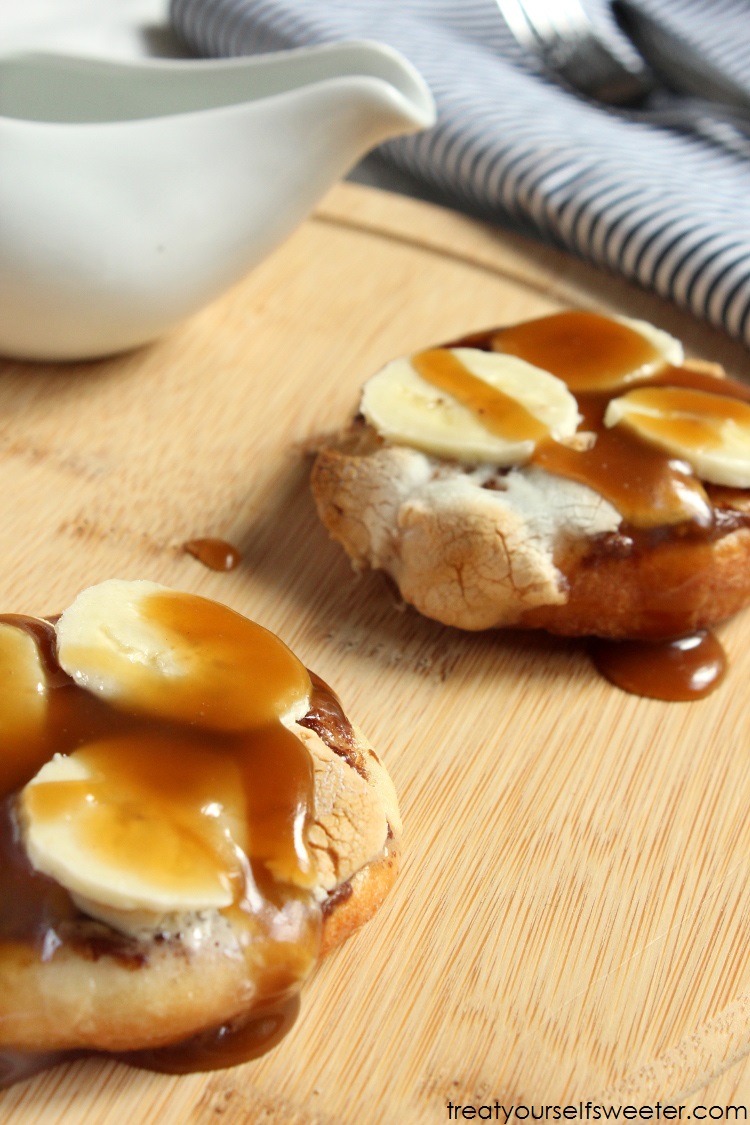 Over on my blog there is a Nutella Strawberry Pizza with White Chocolate Sauce coming…. Make sure you pop over to Treat Yourself Sweeter and sign up for free recipe updates. While you are there…. like the Treat Yourself Sweeter Facebook page – SO many amazing recipes!
What is one job at work that you put off doing?
Anyone else out there a teacher?? I'd love to know how long your reports take you!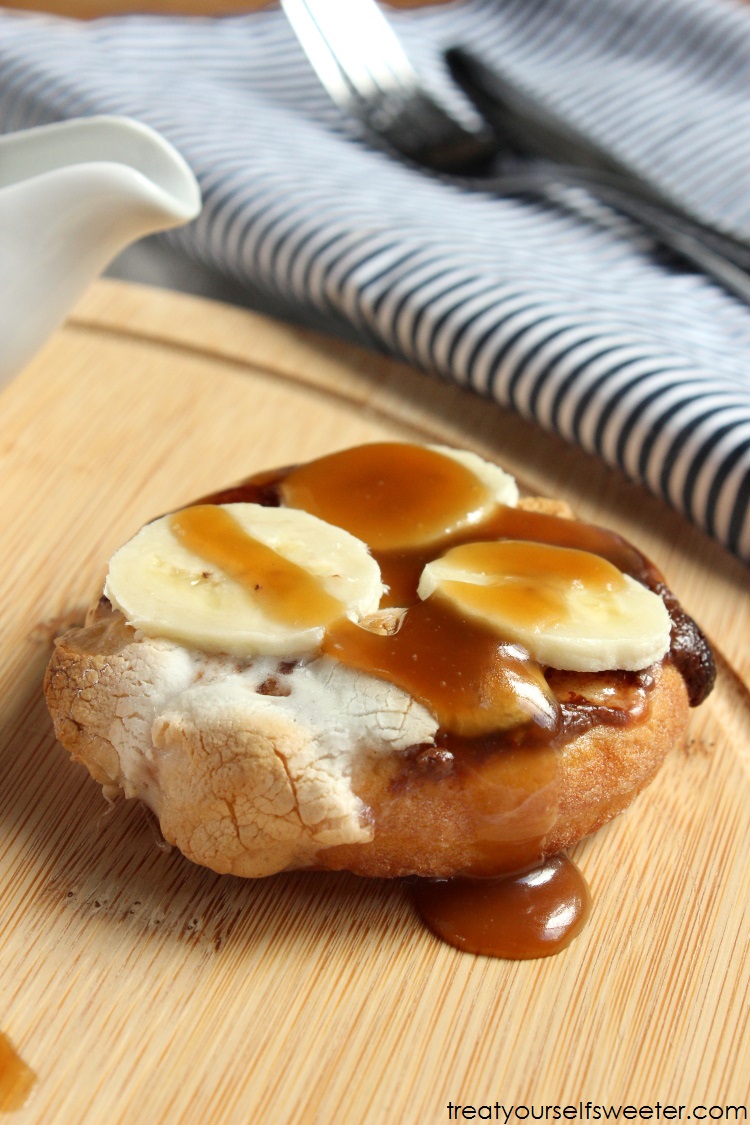 Nutella Toasted Marshmallow Pizza with Banana and Caramel Sauce
Ingredients
BASE
1 cup thick Greek yoghurt
1 cup sifted self raising flour + extra for kneading
Pinch of salt
1 teaspoon brown sugar
CARAMEL SAUCE
50 grams butter
1/2 cup brown sugar, firmly packed
1/2 cup cream
TOPPINGS
2-3 tablespoons of Nutella (depends how thick you want it)
1 Banana – sliced
3/4 cup Marshmallows – all torn up
Method
Preheat the oven to 220 degrees Celsius.
Place all of the base ingredients in a bowl and mix to form a dough, you may need more flour depending on your yoghurt.
Tip the dough onto a floured surface and gently knead until it come together. Roll it out until it is 1/4 -1/2 cm thick. You can leave it at one large base of cut into smaller bases (I used a large drinking cup).
Place the base in the oven for 6mins and then take it out and turn the oven to 240 degrees.
Meanwhile, place the butter and brown sugar in a heavy based pot over a low heat. Stir until the butter is melted and the sugar is dissolved. Stir until it thickens slightly and begins to bubble, add the cream (careful, it may spit), remove from the heat and stir until it is a smooth sauce.
Place the Nutella on the base, followed by the broken up marshmallows.
Place the bases back in the oven for 4 mins, or until the marshmallows melt. Be careful, this will happen quickly and you don't want them to burn.
Take them out and place sliced banana on top, followed by a drizzle of the caramel sauce.
*Please note, the cup/spoon sizes above are based on Australian sizes- yours may slightly differ but for this recipe, it should not make much difference, just check the difference first. Australian cup- 250ml, tablespoon- 25ml.