I have used affiliate links where possible in this post. You can check out all my policies here
As we're working our way through our kitchen remodel and planning for the rest of the house, one of the things we've fallen in love with is black hardware. It is such a modern detail and grounds all the white and light that we have going on. When we were sourcing fixtures for our bathroom remodel in the last house just last year, we had a hard time finding beautiful towel bars that weren't crazy expensive but were still beautiful. I thought I'd put together a post sourcing some of my faves. I've been so surprised with how much more selection there is this year! So I've rounded up more than I'd planned. I was going to put it all in one post but there was really TOO MANY. I've got modern black hardware and fixtures for your exterior, interior, kitchen and bath. Today, I'm talking all about the EXTERIOR. Ready!? Let's do this!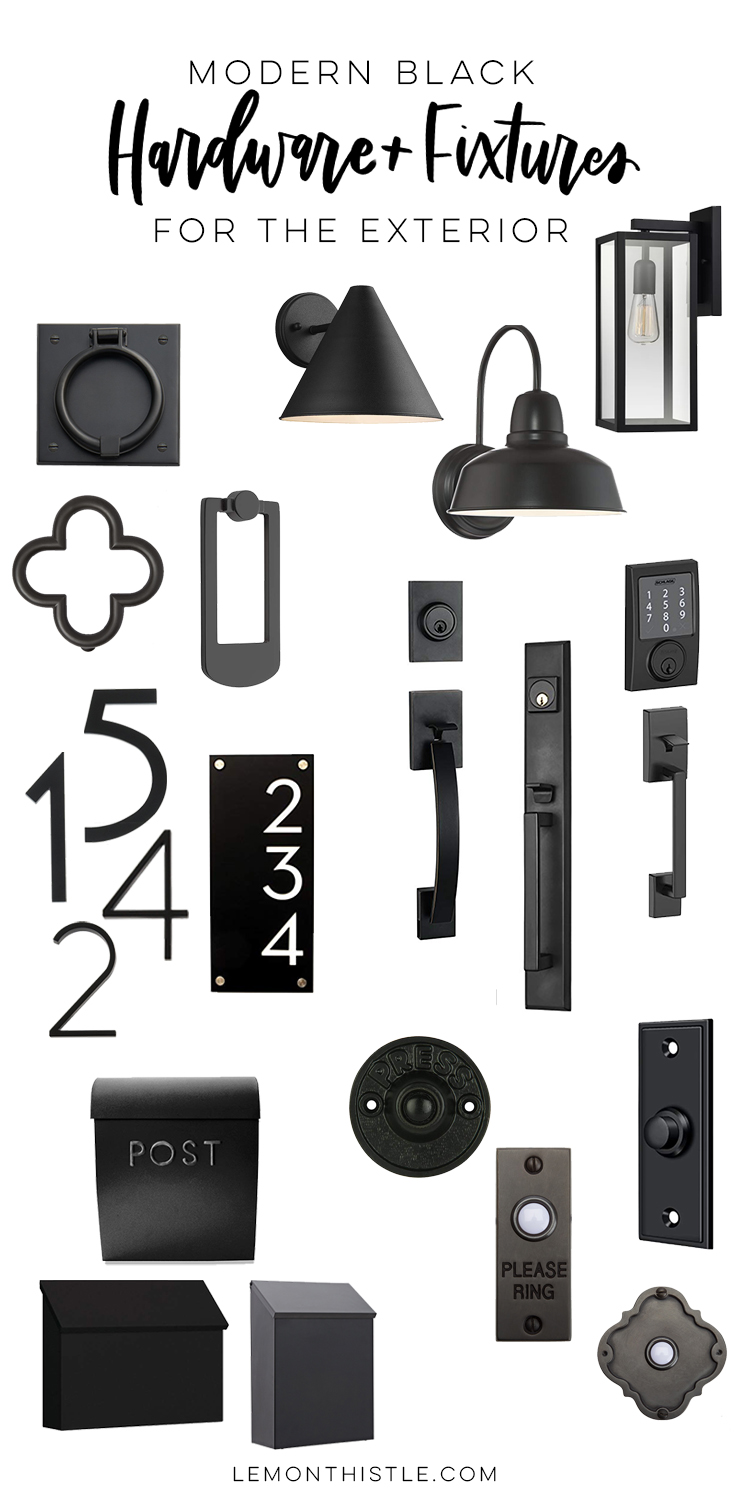 Let's start with the exterior! We have big plans for our exterior and are definitely planning to carry the black hardware and fixtures through out there. When we took on our last exterior remodel (which I still need to share with you!) I didn't think about these little things until we were needing them and just bought at our local hardware store. The fixtures and hardware I chose were nice- but planning ahead, I'm excited to be more intentional about these choices. I have included mostly matte black but also a few rubbed oil bronze- they are pretty close most of the time! Here's some of my favourites so far!
Door Knockers
Square with ring | Rejuvination: This one is my favourite yet! Although the price reflects how awesome it is. They have one on clearance that is monograms and the price can't be beat… so I might go for that instead.
Quatrefoil | Rejuvination: This one is classy (probably too classy for me, to be honest) but I just love the shape!
Elongated Classic | Amazon: This almost rectangular one looks totally classic but the elongated look gives it a modern edge.
Exterior Lights
Simple Cone | Amazon: I love how this one is totally different to what you would traditionally see on an exterior. The shape is so unique!
Rectangular Lantern | Wayfair: These are the ones that I have saved to my favourites for this exterior renovation… when we get there next year! I love how simple and modern they are.
Modern Barn Light | Amazon: For you modern farmhouse lovers… this gooseneck barn light is a beauty. There's also a deep green colour of this one that has me smitten. But for now… I'm committed to going black.
House Numbers
Large Modern Numbers | Amazon: These ones are floating! That means that they're set out from the siding and that just looks so rad. I found some similar on other sites- but the price was much better here… so all the house numbers are here!
Thinline Floating Numbers | Amazon: I love how thin and modern these guys look! Plus the floating numbers just look so great- especially with lights on them.
Acrylic Cut Out Numbers | Amazon: I love the idea of having one statement like this plaque. It would stand out against a light house so much more than individual numbers.
Entry Sets
Classic 2 Piece | Amazon: This one is classic with the curved handle and separate deadbolt, but the matte black and sleek style give it a modern twist.
Classic Tall Plate | Amazon: Isn't that tall plate amazing?! I love how classy it looks and perfectly modern at the same time.
Modern Keyless Entry | Amazon: I love the idea of a keyless entry set but hadn't seen one so modern with a black finish. It took a bit of searching but this is the prettiest one I've seen yet! Add it to the wishlist ;)
Mail Boxes
Post Marked | Amazon: This one is my total fave! I want to order it now… but I don't need it until next year- ha! There's nothing wrong with storing a mailbox for a year… right?!
Simple Horizontal | Amazon: This one is a modern take on the classic mailbox we all know (and have all probably had). This is the style we used at our last house but in a bronze pebbled finish.
Simple Vertical | Rejuvination: This one is a euro style twist on the classic… I really don't think you can go wrong with it! But it is a bit more cash than the other two.
Door Bells
Round Press | Amazon: This one reminds me of those vintage look bottle openers that have been so popular! I love the round shape and think it would look so attractive from the curbside. Also- that price just can't be beat.
Please Ring | Rejuvination: Earlier this year, Ashley from Bigger Than The Three of Us shared this doorbell on her Instagram stories. I have loved it since! I'm probably sold on this baby too. And will store it for the year.
Quatrefoil |Rejuvination: This one is on for such a steal right now, you guys! Plus… the shape is so interesting!
Modern Classic | Amazon: This one is a total classic and very similar to the one we used at our last place (again- but in a bronze). Because of the shape, it's an easy switch if you're not changing siding and have painted around the last doorbell.
SO many good options, right?! It's going to be hard to choose, but it's also so nice to have a bit of options. Last time I felt pretty limited but now that I've been doing more online shopping… there's so many more options! And can you imagine if I put ALL the spaces in one post… it would have been so darn long. I'll work on getting the next one up for next week and link them all together once they're up :)