*This post is sponsored by Home Depot Canada to feature this faucet– you know I love them. If you'd like to read my full policies, you can find them right here.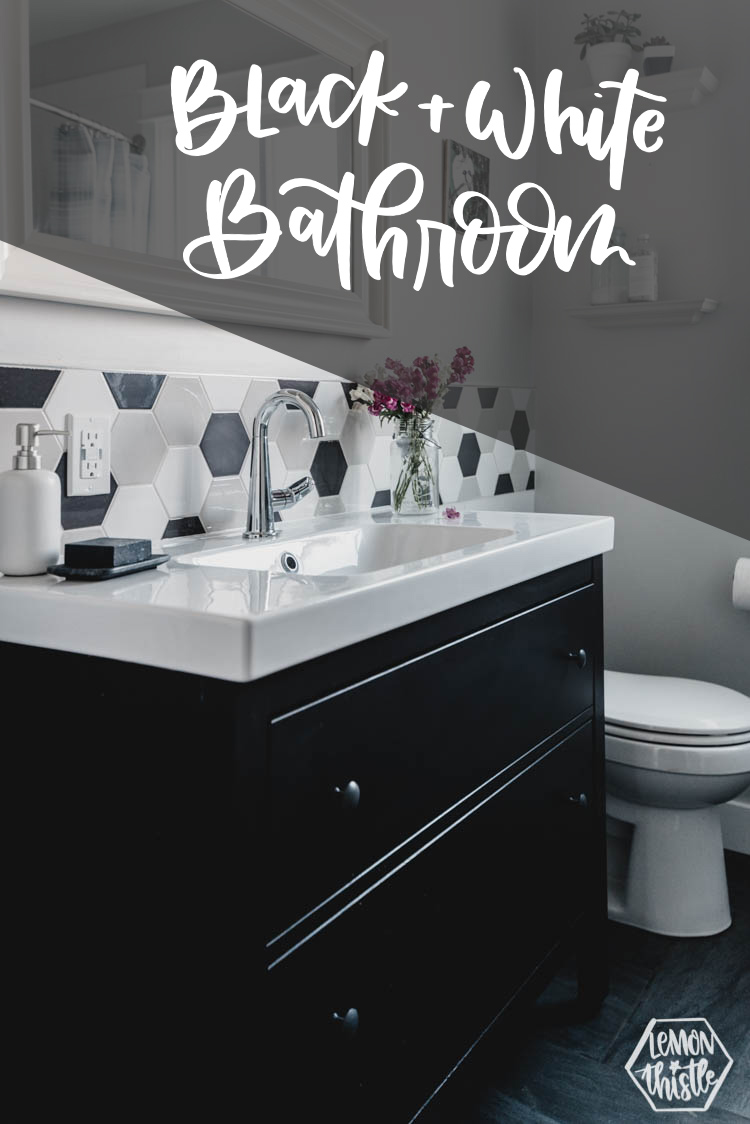 YOU RENOVATED YOUR BATHROOM ALREADY!?
Nope! But it is the exact same layout, funny… right?! I could have tricked you ;)
Today I'm excited to be sharing my Dad's bathroom remodel. I really wish that I could show you the 'Before' on this one but couldn't track down any photos. This is the house that we lived in when I was a teenager. This bathroom (and the entire house) was painted periwinkle and man, it's come such a long way since then! They recently moved and are in the process of decorating this house to rent out as an AirBnB, so I was excited to get to play and style this bathroom. I shared a sneak peek of it quite a while ago on my Instagram and had so many of you ask for a full tour. Well… it took me a really long time… but it's here!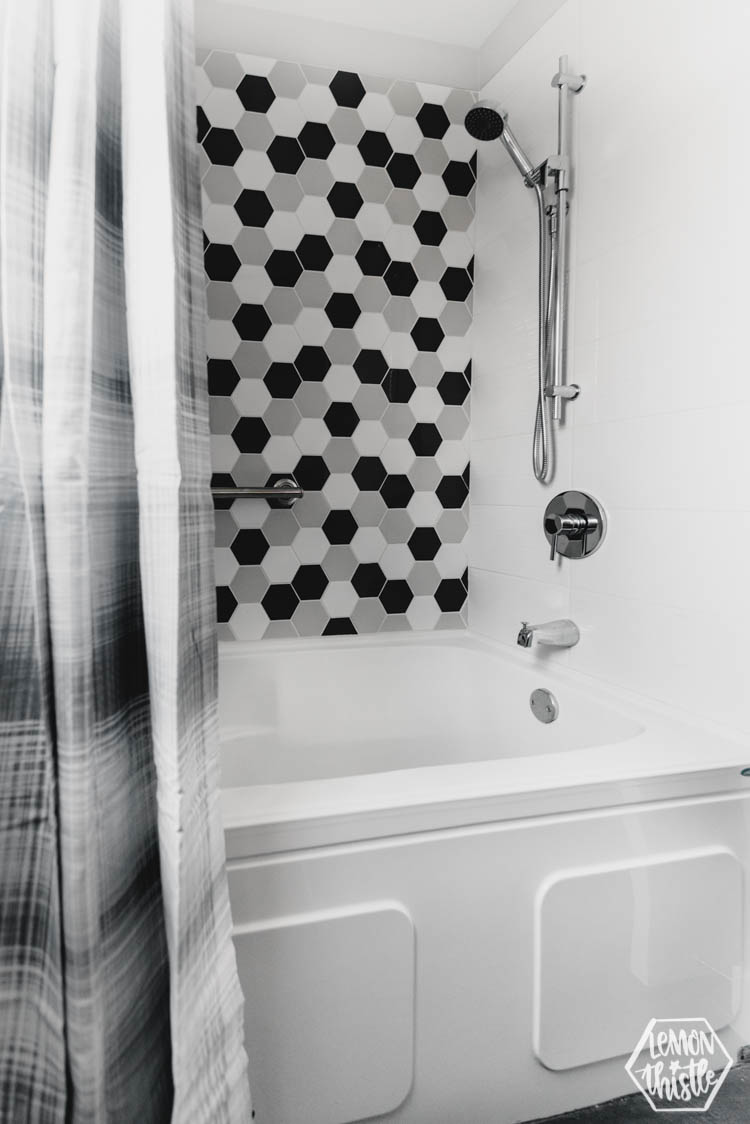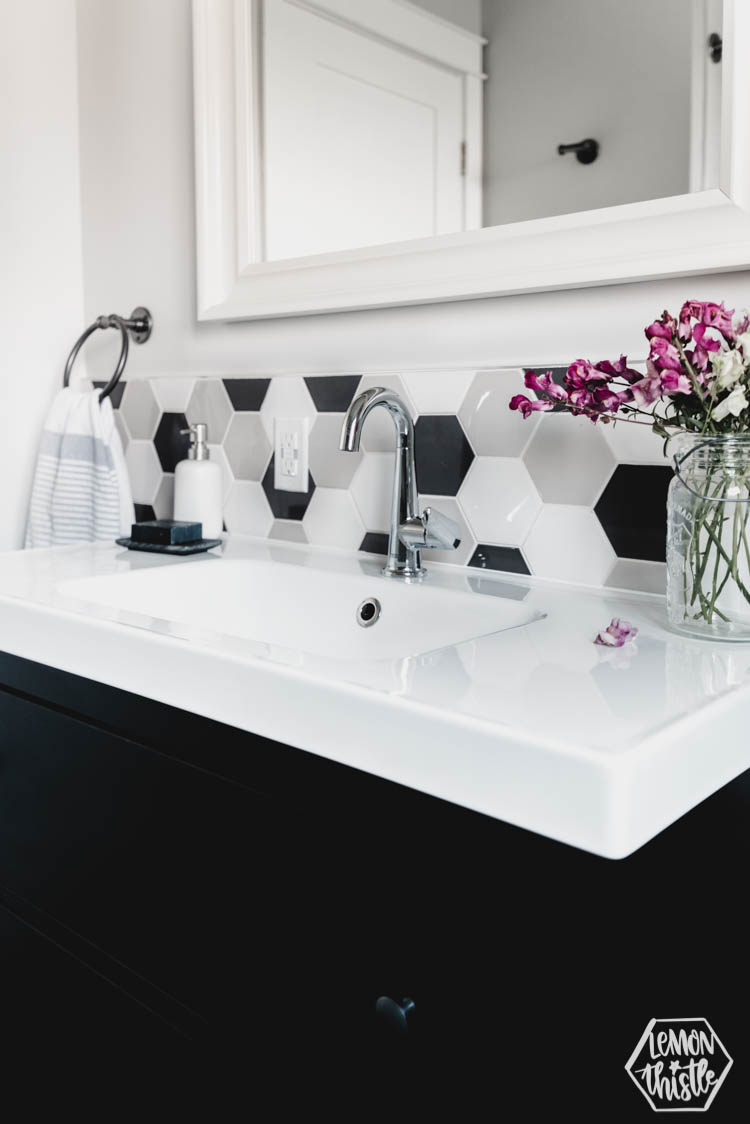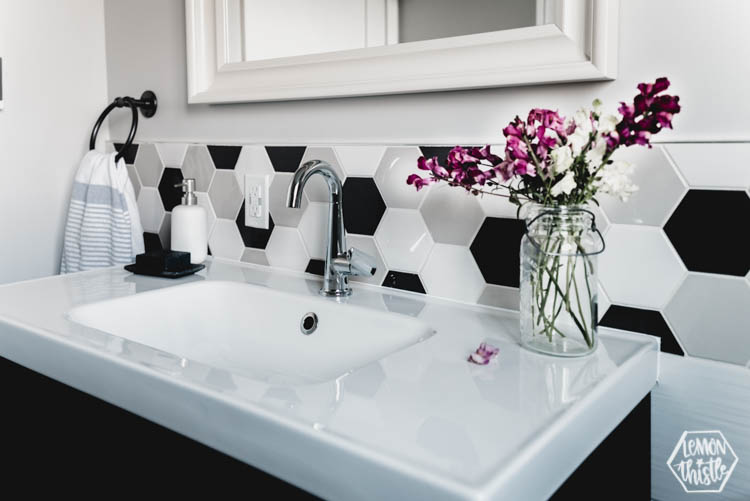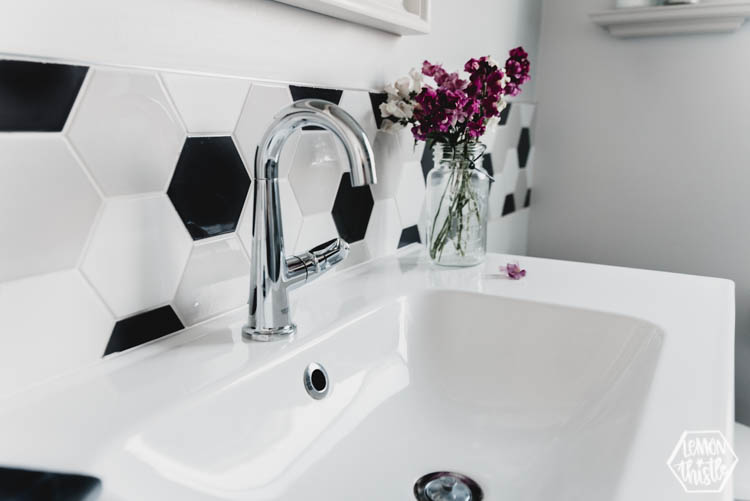 To give the bathroom a bit of a styling face lift, I partnered with Home Depot Canada and swapped out their faucet for this gorgeously sleek Veletto Grohe faucet. I'm in love with how clean and simple it is- it plays so well with the modern tile in the space. One of the things that I'm so impressed with is the Starlight Chrome Finish on this baby. I have photographed a lot of faucets and cleaning chrome can be a total pain but this finish cleans so well! The finish actually resists dirt and I'm over here wondering why someone didn't think of this sooner.
My dad has always had an eye for design and has no problem taking risks in remodels. This is the guy that did a terracotta plaster above a board and batten treatment when I was a teenager. I thought he was crazy… but it worked. He's also the guy that didn't bat an eye when I told him I wanted to paint my doors and trim in my bedroom black when we moved into this house. He did an *almost* black exterior on this house (it's totally amazing) and tore up old squash courts to refloor this house (leaving them natural… it's my favourite floor I've ever seen. You can spy it as the surface I photographed these calendars on but that doesn't do it justice). I remember when he told me that he was going to mix three different hexagon tiles plus a textured white tile in ONE shower surround… I thought he was crazy but didn't doubt that he'd pull it off. Did I mention that he tiled all these hexagons himself? He taught me to tile (along with most of the things I can DIY now) and always makes it look great. Just label me impressed.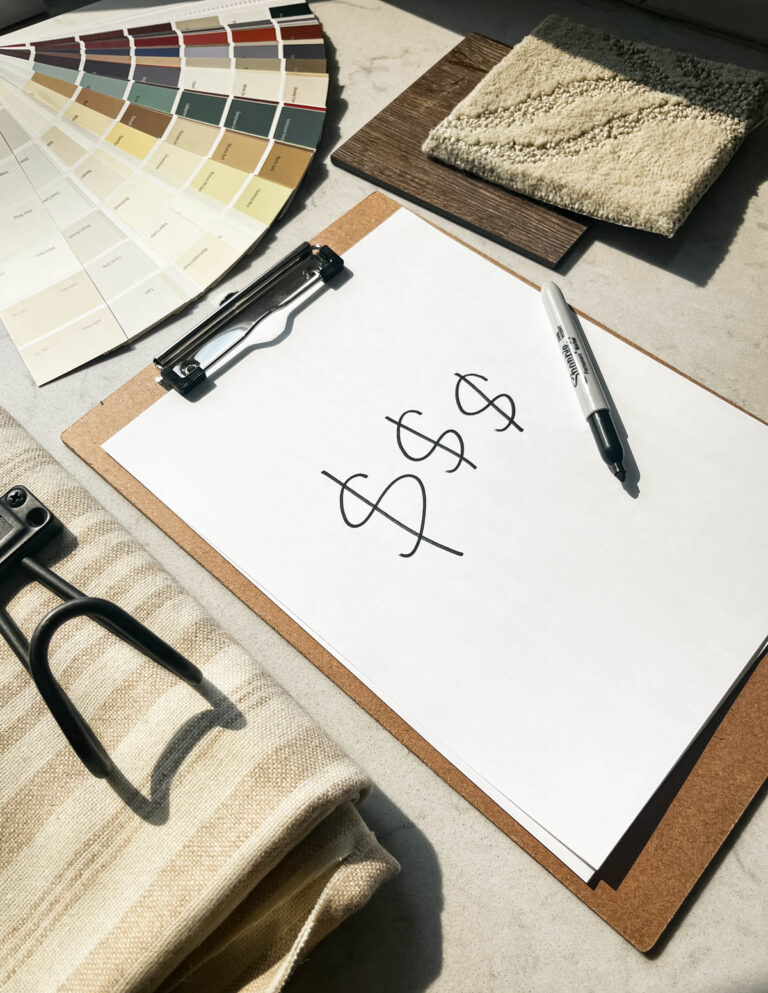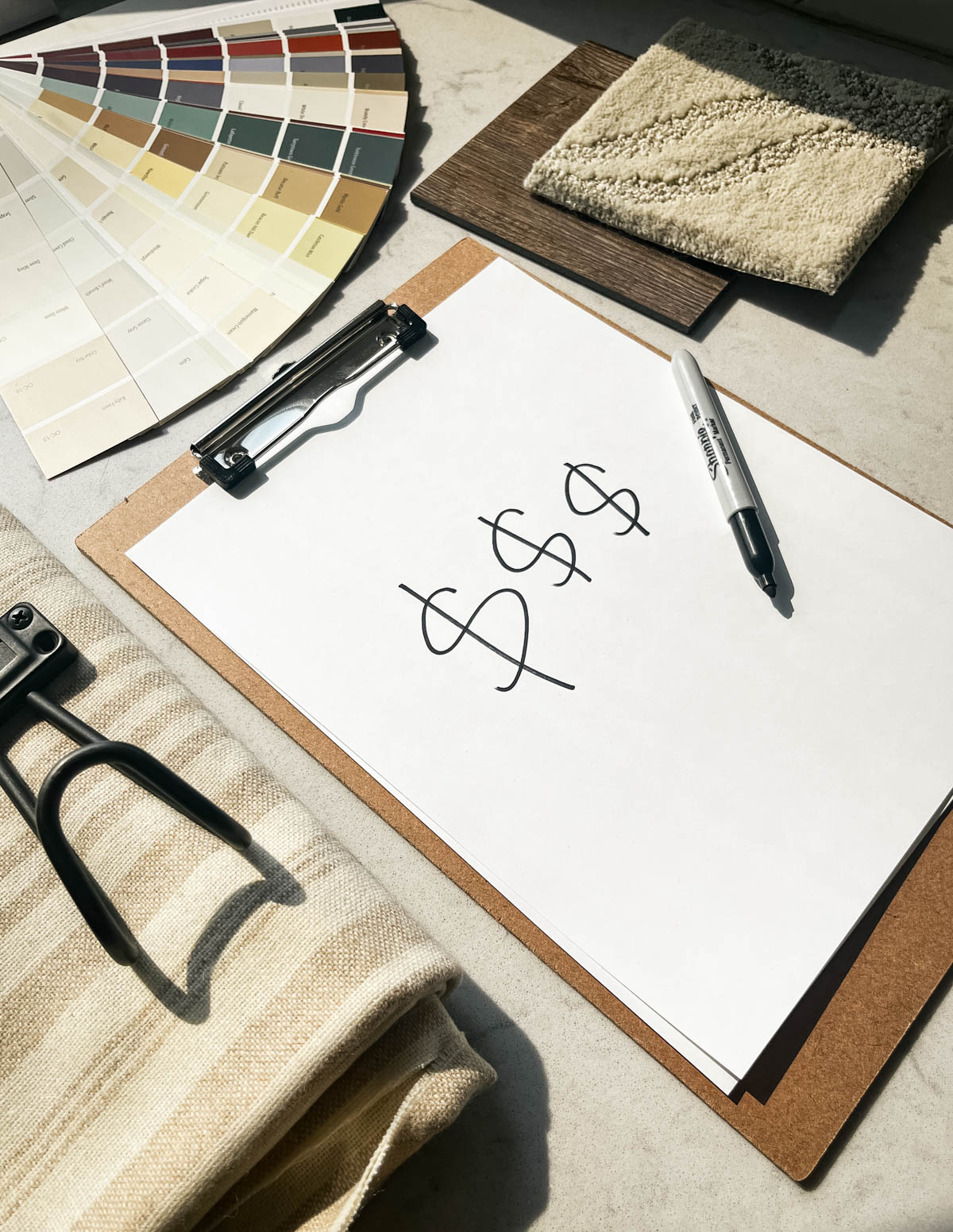 Make budgeting a part of your planning.
Check out all my tips for creating a DIY room makeover budget so you can focus on the DIY not on the dollars.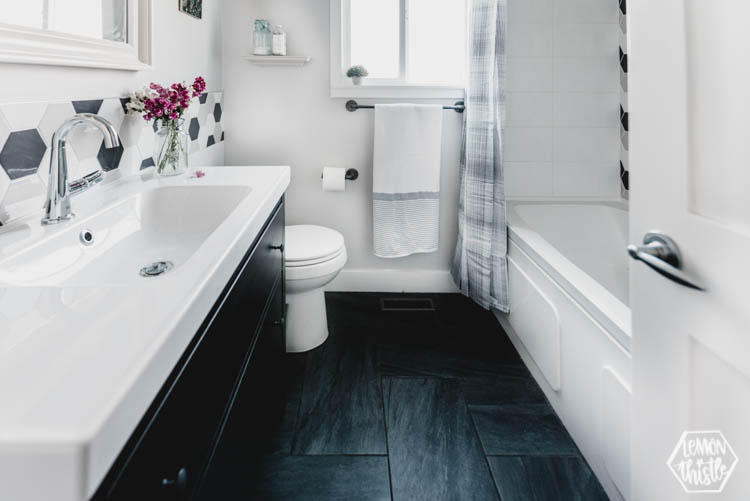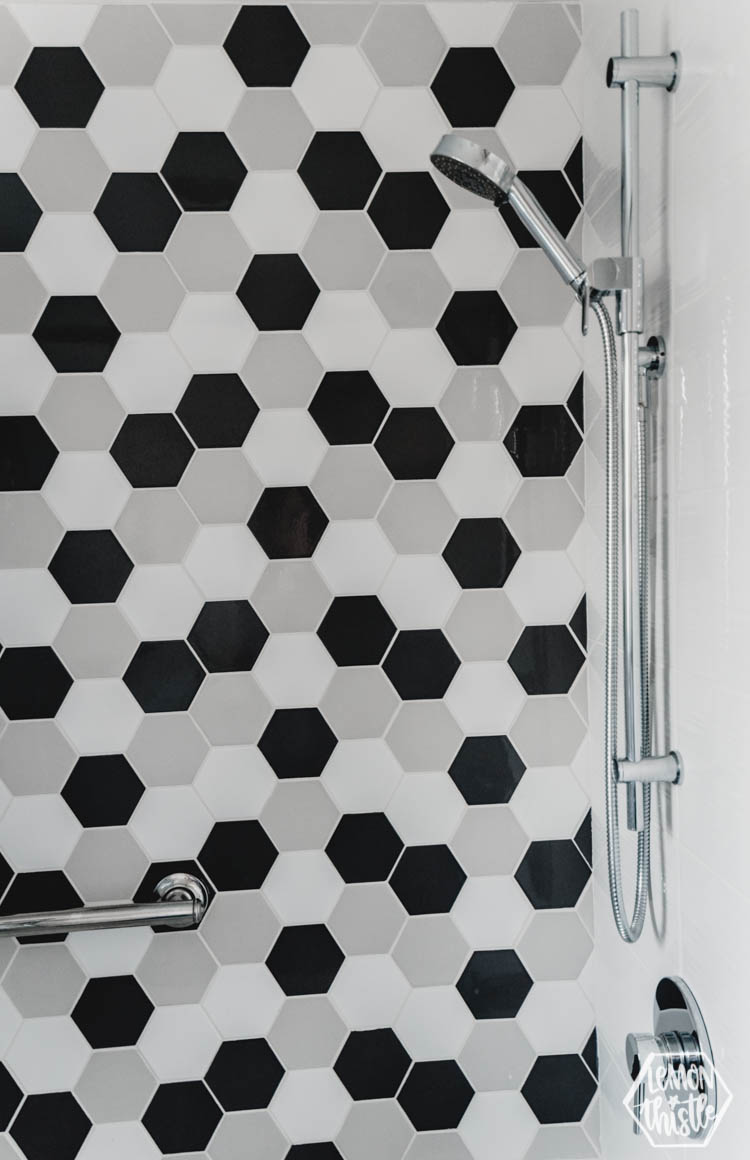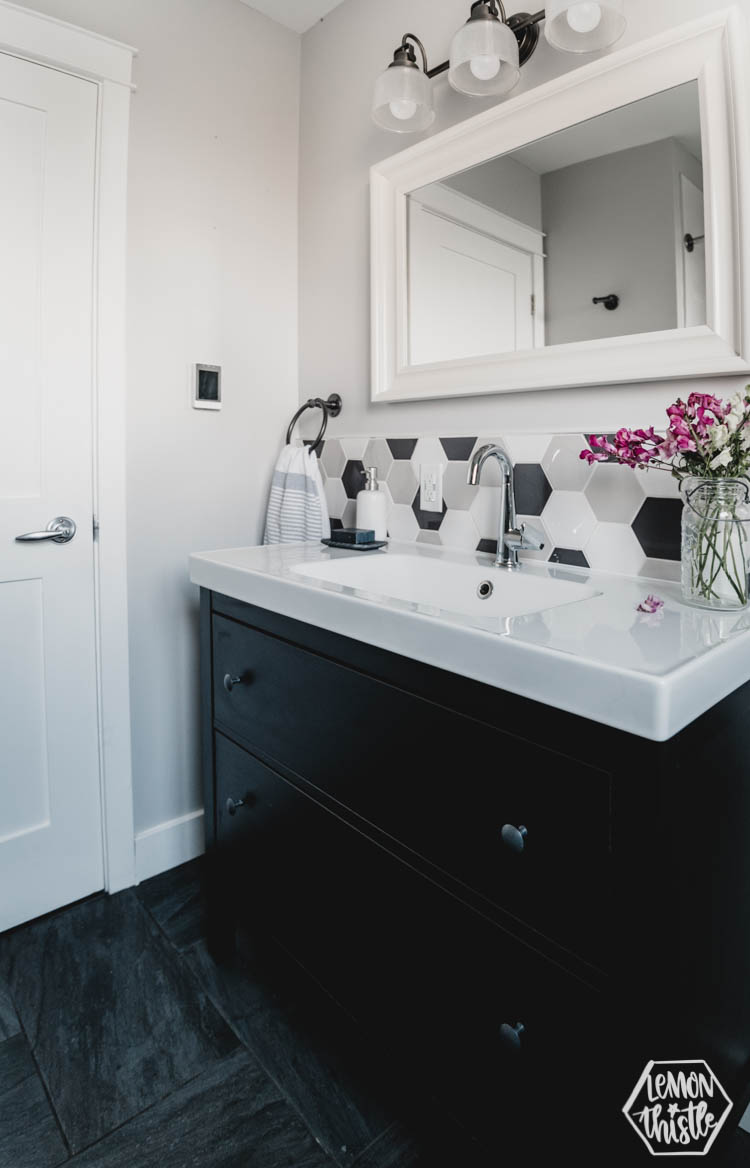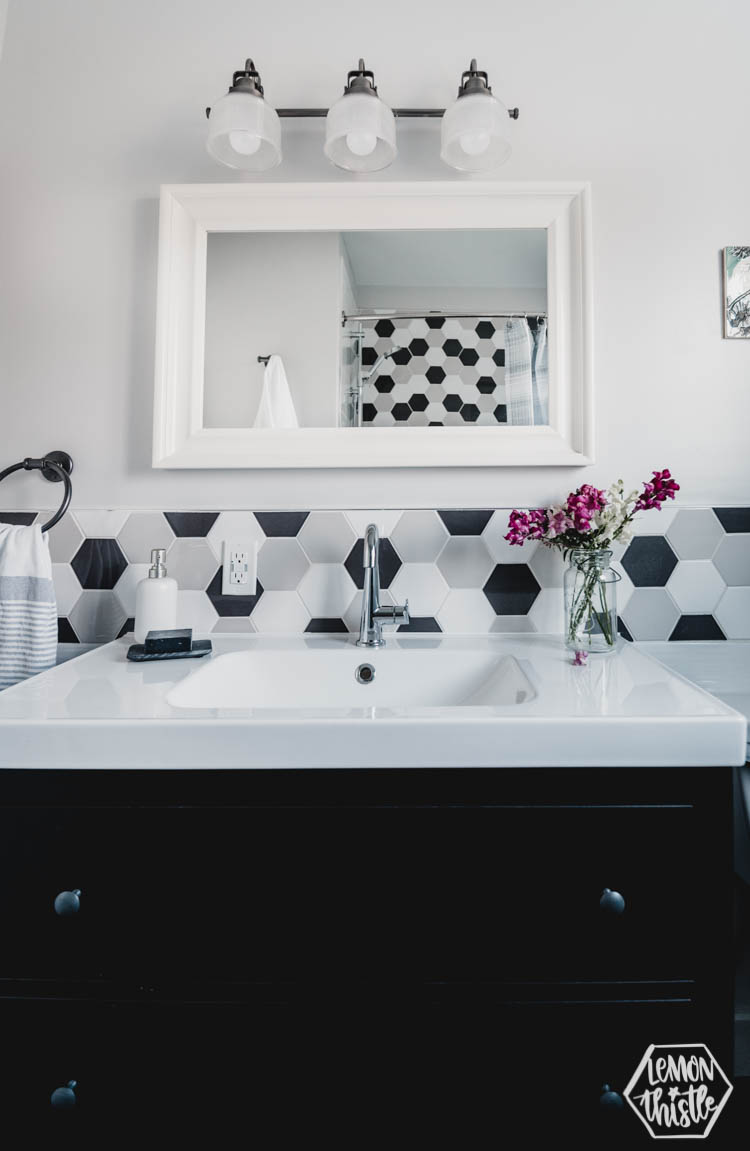 Even though there are a lot of different tiles in a small space, by keeping with the same monochromatic colour palette- the design feels refreshing and not too busy at all. They even painted their small open shelves the same colour as the wall- which I also spotted Stylizmo do here and am obsessed with it now. And limiting the hexagon pattern to the one back shower wall (instead of the whole enclosure) keeps the pattern from becoming overwhelming. It's such a modern fun accent and it's something I never would have thought to do myself.
Alright, I hope that you enjoyed this modern black and white bathroom! I have always loved this space and admired the boldness of the black and white tile. I will let you know upfront that since this isn't my bathroom… and since they did most of the remodel a few years ago, I don't have a lot of the sources for you. But if you have a specific question- I will do my best to track down the answer for ya! But as for that faucet? You can check out all the details on that right here.
And before I let you go… what do you think of seeing more of other peoples' houses on Lemon Thistle? Is this something you'd be in to? I'd love to hear what you think!