If you love the trend of open shelves in the kitchen but don't know how to make them look amazing while still being totally functional, this is for you! I'm talking through tips I use to style my open shelving (and my last kitchen open shelves) to be beautiful but also work really hard for our busy family of 6.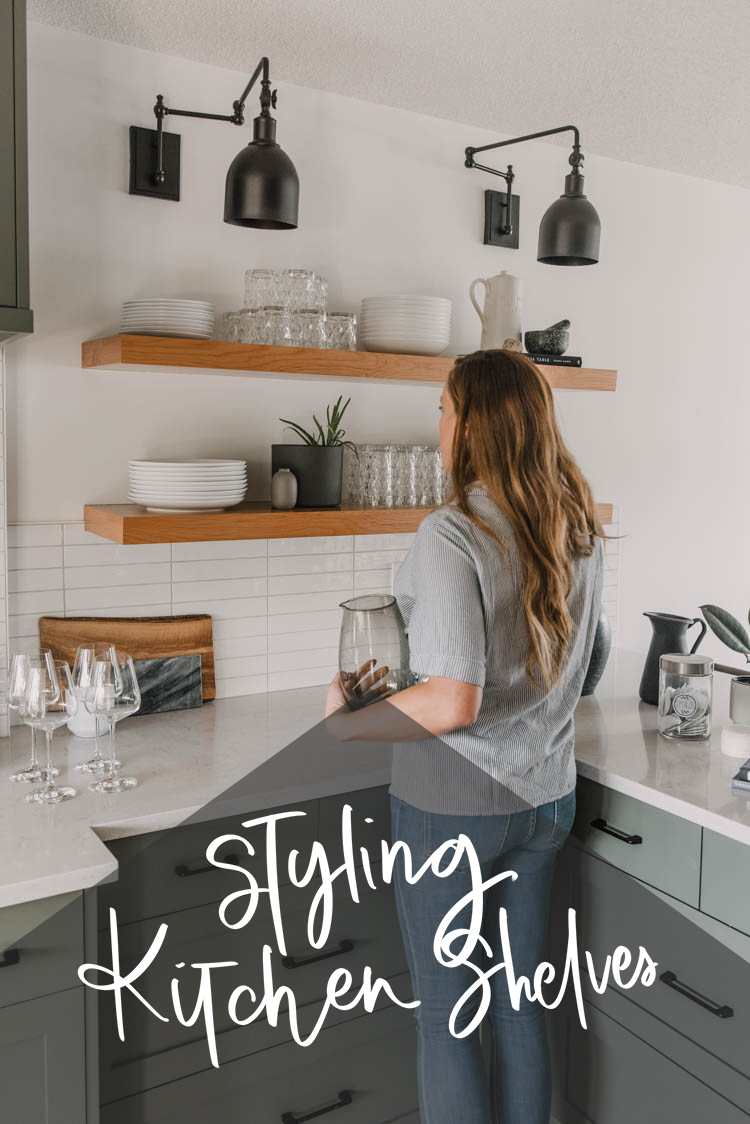 Almost every time I share my kitchen online, I get a comment or message that sounds something like, 'I love them! But mine would never look like that- I have too much stuff' or that they'd be 'so cluttered' or 'I can never make mine look good'. If that's what you're thinking… I get it! I hope you'll find these tips helpful because I really believe that your kitchen should work HARD for you but also be a place that you love. So these tips reflect that.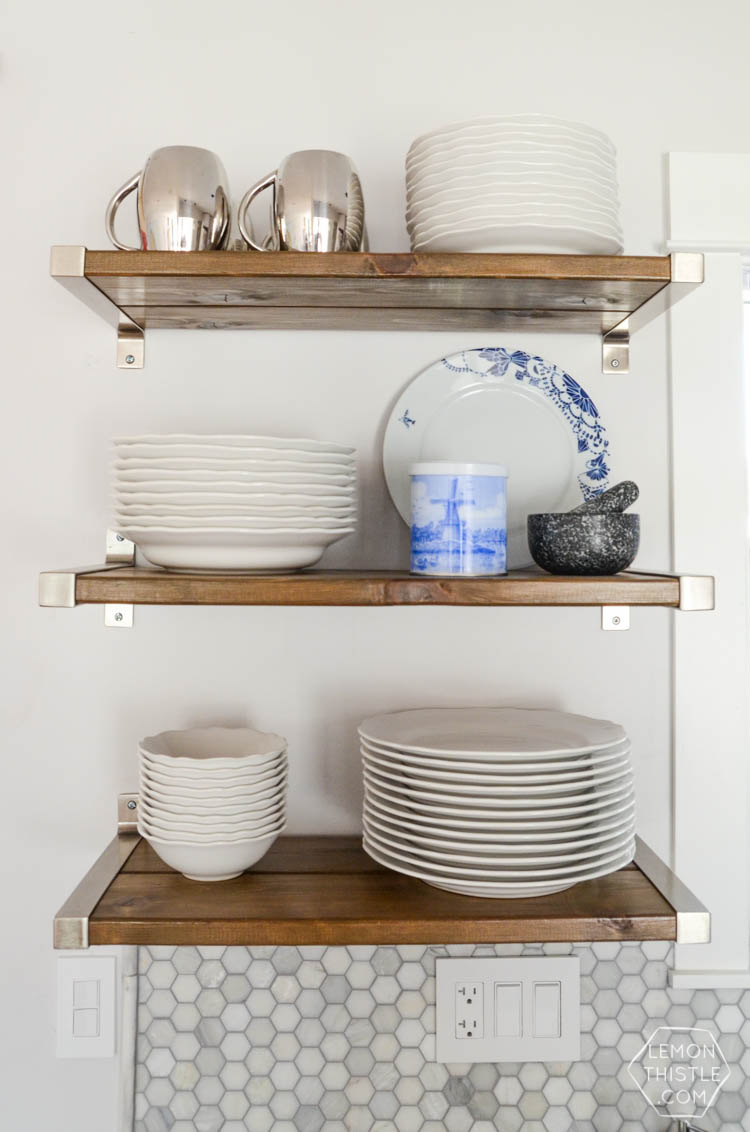 Styling your kitchen can be a fun way to personalize it to suit your taste but it can also be stressful or frustrating if it's not looking like you'd imagined. The first time I tried styling an open shelf it took me all freaking day. I'm only kind of kidding. It takes a bit of practice I think! Over the 6 years that we've had open shelving in our kitchen (both this current one and that white one that we moved from last year), I've totally fallen in love with them for function and for design and I've learned a few things about how I like to style them.
They totally open up a space compared to a bulky cabinet. They make your dishes look pretty instead of stashed away in a hidden space. They are also way easier to put away while holding a baby on your hip… because there's no cupboard doors. And your friends won't open up every cupboard to find a drinking glass. Nope- they know where that stuff is because it's RIGHT THERE on your kitchen open shelves. It would take a very special kitchen design to make me go back to all closed cupboards.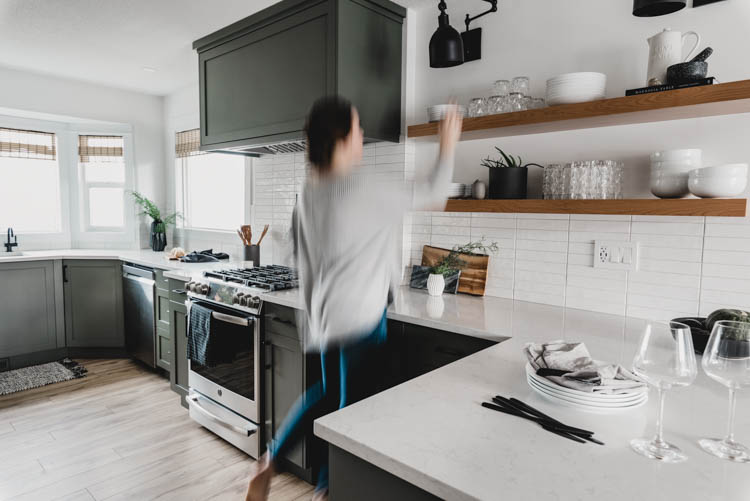 Okay… I've got this in video form! Are you following me over on YouTube yet? I'd so love if you did! If you'd rather this in photo/words, you know I've got that too ;) just scroll past the video!
Since I love open shelving, I follow a lot of designers or bloggers on IG that have them. I've read tips from them over the years and some of them I've loved and work for me and some of them really don't. We are a big family. We have 4 kids and are often hosting. There's very few days that we don't have at least someone over throughout the day. We use all these dishes regularly. One of the tips I saw was that just won't work for us is to only put 4 of each dish on your shelf to keep it from looking crowded. No way! I need all these dishes. Also… I don't want to use up precious cupboard space on dishes that could look amazing on my shelf. That defeats the purpose of function for me… at that point, the shelves would just be decor NOT storage.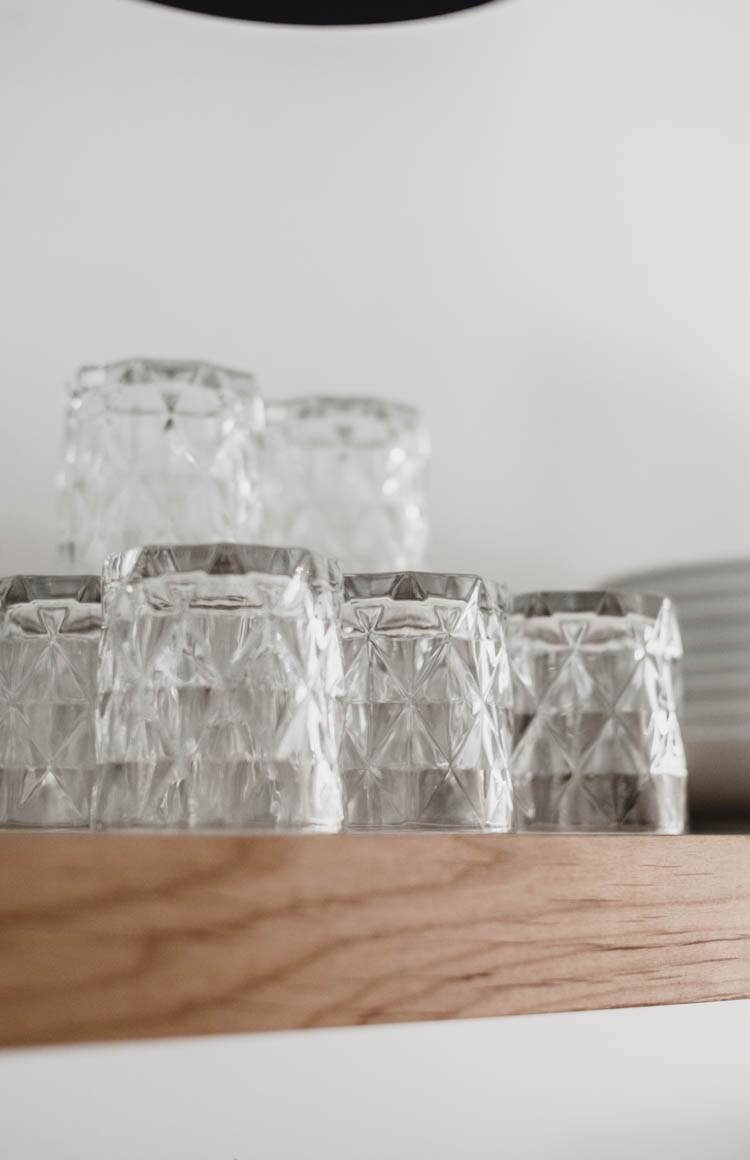 And stacking! I love the look of stacked dishes. I see designers doing this often- say bowls on top of plates. It adds height, it looks great BUT I can't grab a plate with a baby on my hip when there's a stack of bowls on top. It's a no for me. But stacking short glasses? Heck yes… because it doesn't change the function. So you can see I've done that to add some height to that section of the shelves. I guess what I'm trying to say is to take all these tips and only use the ones that work for your family. They won't all be a great fit for you and your home should be.
START WITH A BLANK SLATE
The first thing you should do is pull everything off your kitchen open shelves and start fresh. It's 100% easier to try something new if you're not moving things around, but starting from nothing. Pull everything off and clean your shelf. If you get halfway through and it's not working for you… pull everything all the way off again. One of my favourite home decor books is The Nesting Place by Myquillyn Smith and she recommends to do this with entire rooms. Like… take everything out and ONLY add back in pieces you decide you need or that you really miss or really love. Starting over isn't failing, it's figuring out what you really love.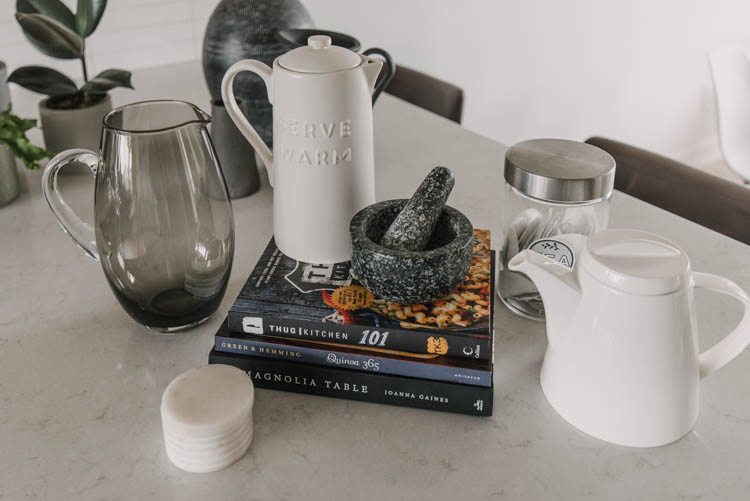 GATHER ALL YOUR OPTIONS
I like to gather everything that I'm considering putting on the shelves into one place. Stack the dishes you want on there, the cups, all the plants you might like, cookbooks, whatever. Get them all in one place so you can play and swap things out and really decide what you like BEST. I like to have lots of options and know that I won't use them all. This is better to me than having only the ones I think I'm going to use because then I try to cram all of those things I think I will use on the shelves even if it looks better with less.
DECOR ITEMS TO CONSIDER
Mmmkay so what (other than dishes!) would you put up there? Here's some things you can consider:
Pretty serving Dishes (like my coffee carafe!)
Kitchen Tools (like my mortar and pestle)
Plants (always)
Vases
Art
Interesting Containers
Cookbooks
Pitchers
Canisters
Something you collect (my kids collect rocks so theres one on this shelf and almost every other surface I decorate in our house)

CHOOSE A SIMPLE PALETTE
Okay, let's talk about matching dishes. I like 'em. I know not everyone has them. When we put up the open shelves in our last kitchen, they cost us about $30. But then we sprung for IKEA dishes that match for $50. Actually, we probably bought two sets but you get the idea. It was important to me. After 5 years of living in that house, we moved and when we finished our kitchen remodel in our new home, we partnered with Kitchen Stuff Plus to upgrade. You better believe I was looking at the stacking profiles of whatever dishes I chose because I knew how much I loved my shelves having aaall of my dishes. These dishes are the Ashford A La Carte collection.
Why do I like it so much? Because it's simple. It doesn't look like clutter. But there's other ways to get that.
Don't have matching dishes? All good! Try to keep your colour palette simple and clean. Have all warm neutrals? Great! Stick with that. Pull out any dishware that really stands out because that will add an element of clutter.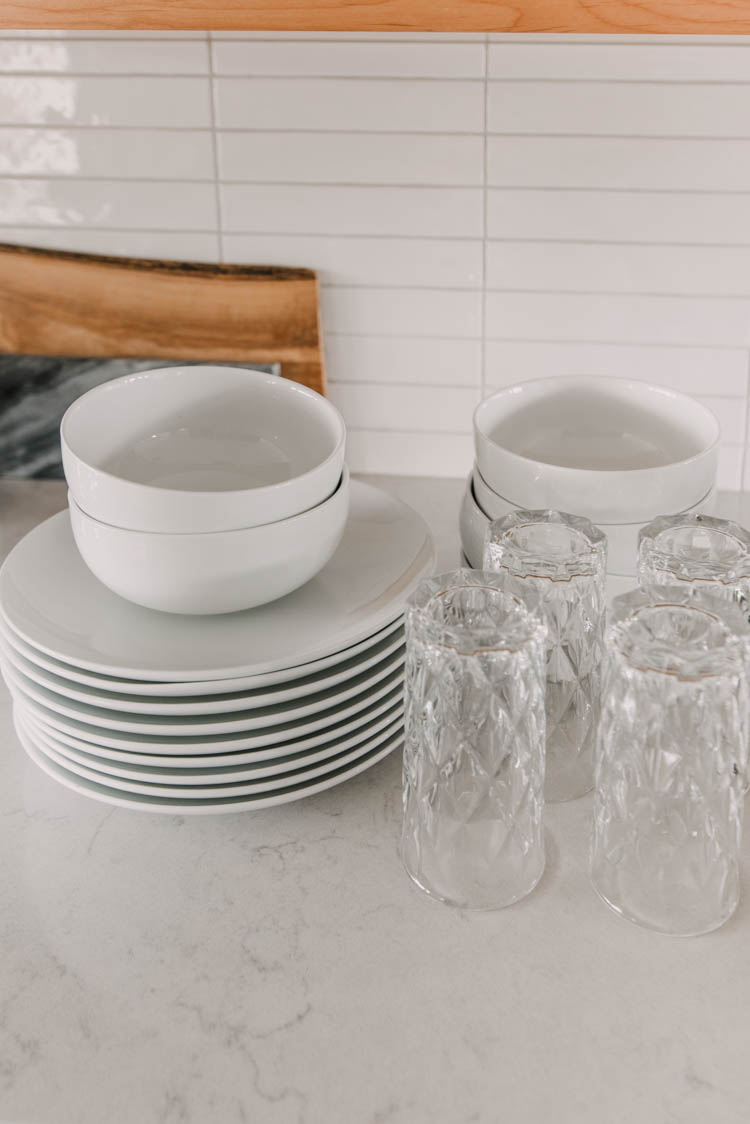 FUNCTION FIRST
My open shelving is meant for dishes storage. Plain and simple, this is my priority. What is your function for your shelves? Make that your priority. If it's decor- cool. But if it's storage (I'm guessing it is!) then prioritize that by putting those things you want to store on the shelves first.
For me, that's my dishware and my drinking glasses.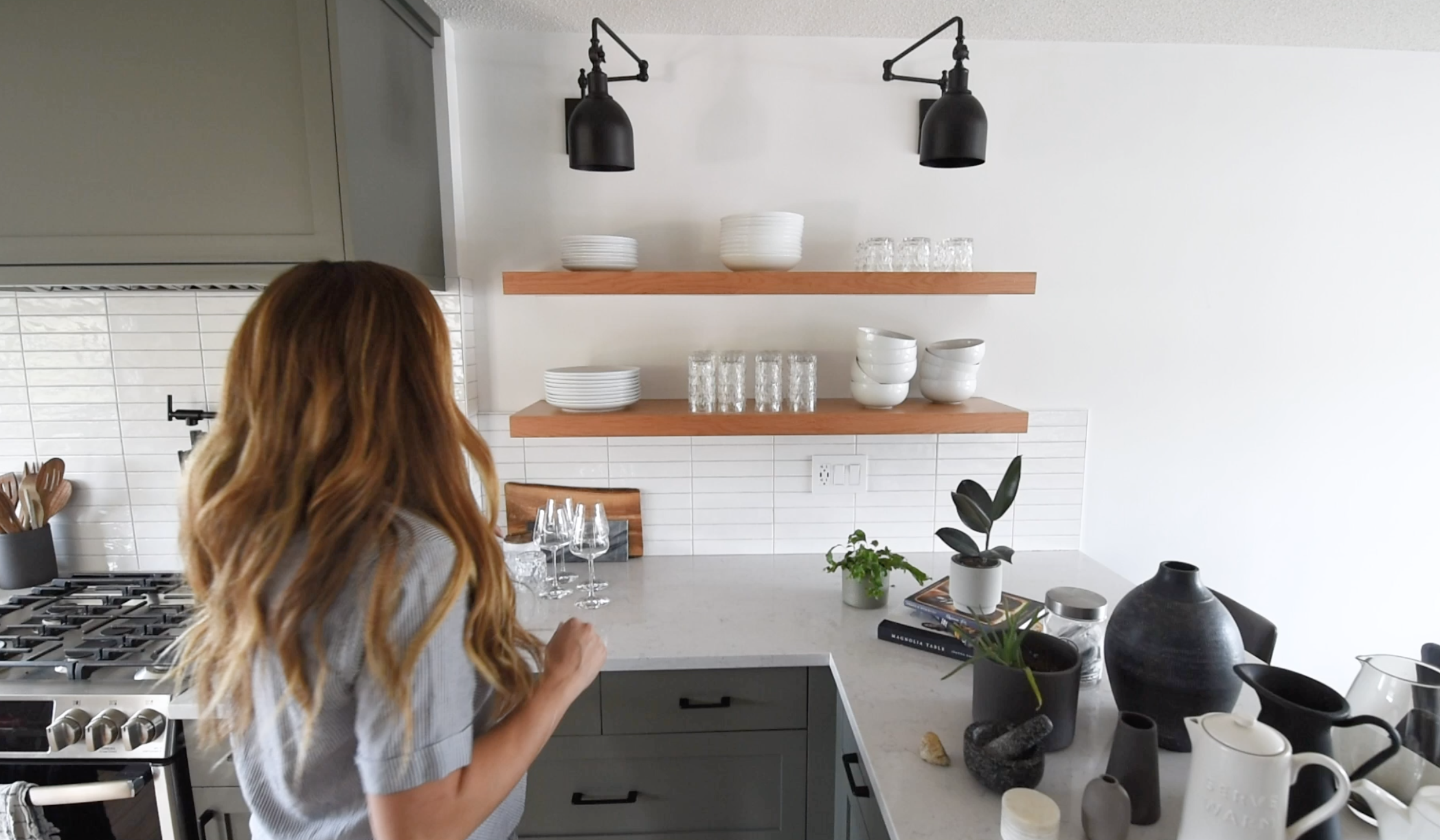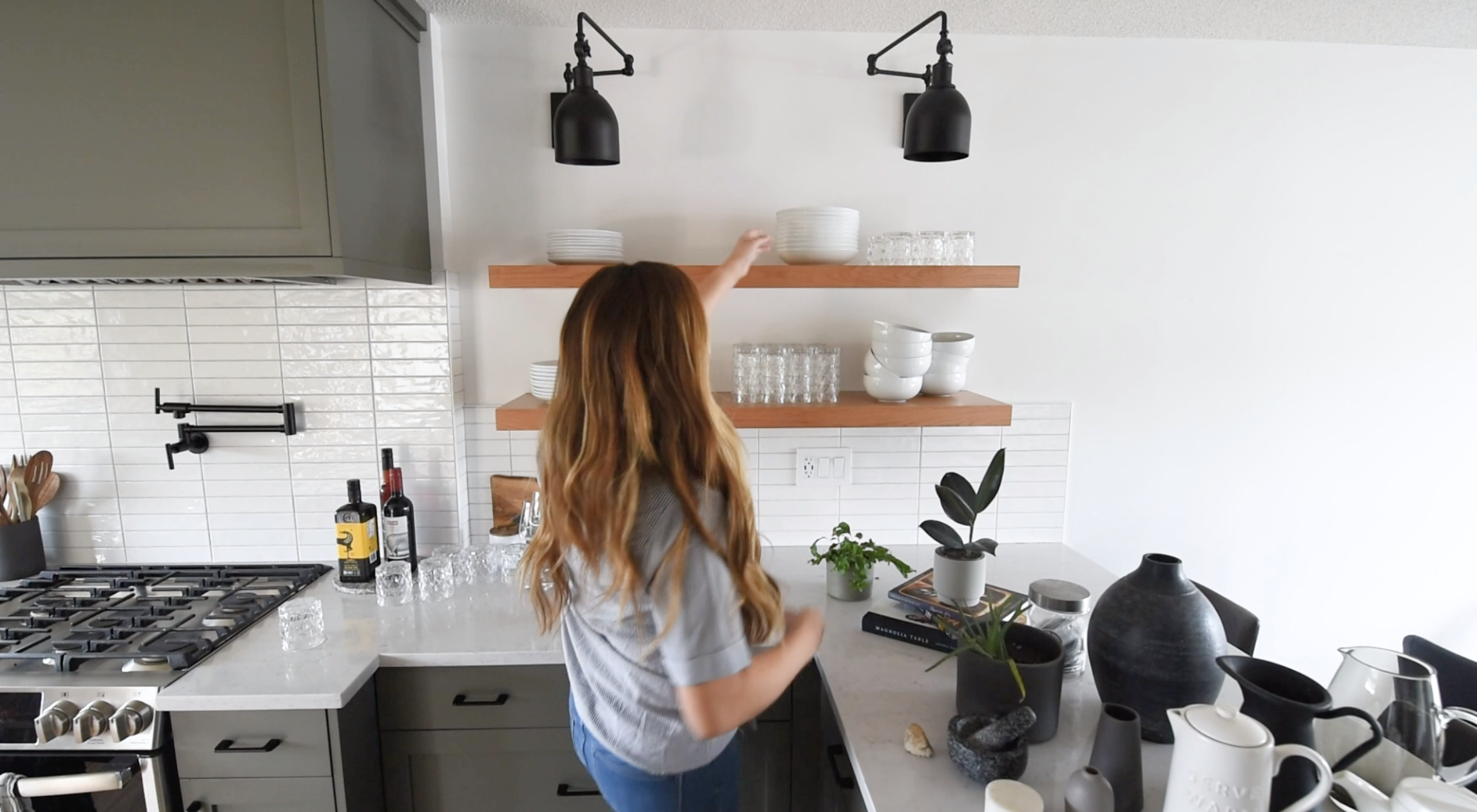 WORK IN SECTIONS
I like to work in sections. I don't know where I learned this. I think when I was trying to style my dresser in my last bedroom I looked up one million and one articles because it just looked cluttered. Once I figured out the sections trick, styling has become so much easier for me! I divide my kitchen open shelves (or dresser or whatever) into sections. I started with 3 sections but my functional items filled those- boring! So I decided to move to 4 sections to allow room for some decor. Could I have made the top shelf tighter? Yeah, for sure. but then it would look off balance to the four sections on the lower shelf.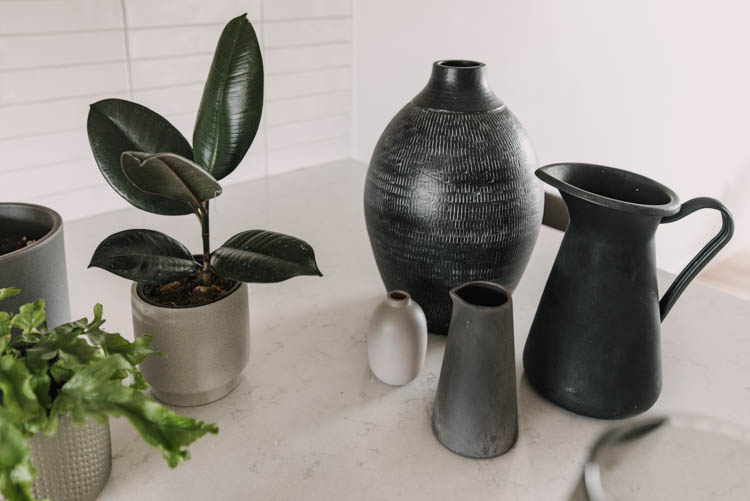 THOUGHTS ON DECOR
There are some 'rules' or 'guidelines' for decor that I like to follow. I really like to have kitchen stuff on my kitchen shelves. Decor is cool too but as long as it doesn't look like it shouldn't be there. What do I mean? Photos in the bathroom… we totally did this in our first apartment and someone once commented how awkward it is to look at our wedding photo while they pee. Now I think of that- ha!
What else? CANDLES! DIFFUSERS! Those things really can't be on shelves with other shelves above them. It will totally wreck your shelf. It's not functional. I'm too logical to let myself put these up there. But if you love candles but like them off your counter space when you're cooking… then maybe this is a good, functional way to do things.
Notice I have like, NO art on these shelves? I actually love the look of it. But it's not a strength of mine. I tried it once. If you want to see some amazing examples of that, you should definitely look at Emily Henderson's work because that woman can put art anywhere and make it look incredible.

BALANCE THE ELEMENTS
Some elements of design I like to pay attention to when I'm picking decor for my shelves are: colour, height, contrast, texture. These are things that designers mention for every room decorating guide ever, I think. But look at your pieces. If the shelves seem super one dimensional it's probably because you're missing some of these elements. I love to add plants to my shelves (I think you can put plants everywhere, though). I like to add stone elements for texture, and stack items on cookbooks for height. These are such great ways to balance the smoothness of dishware.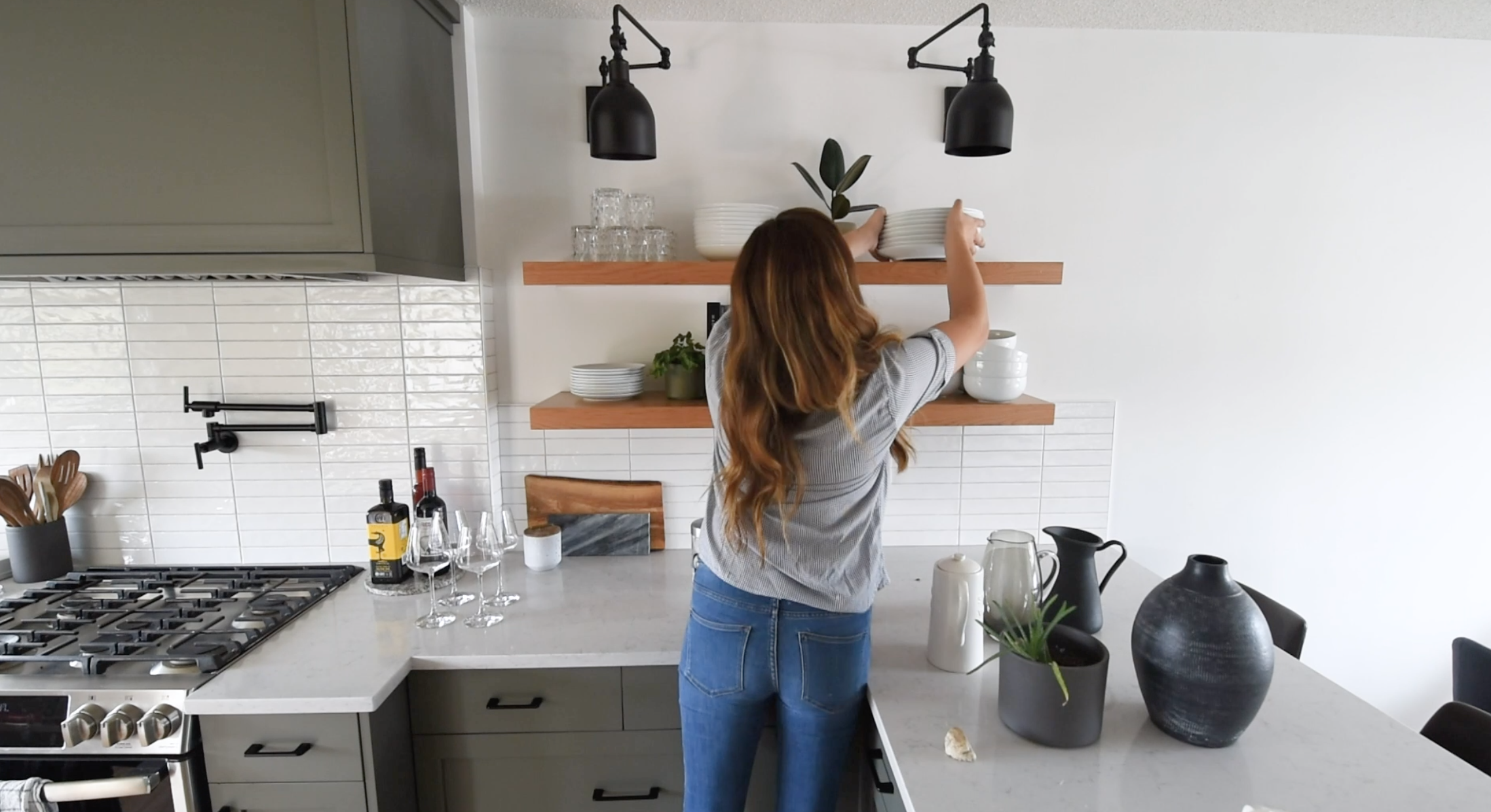 EDIT EDIT EDIT
Okay, somewhere along the way, you're going to put something up and realize it looks cluttered or too full or something. That's when you start pulling things off. Don't add more stuff to fix it. I think the biggest thing I've learned in my 6 years blogging and digging into design a little bit is that less is often more. I used to add more to make it look better but now take things away on the regular when I've noticed new things have come in and it's getting busy. Edit, edit, edit some more.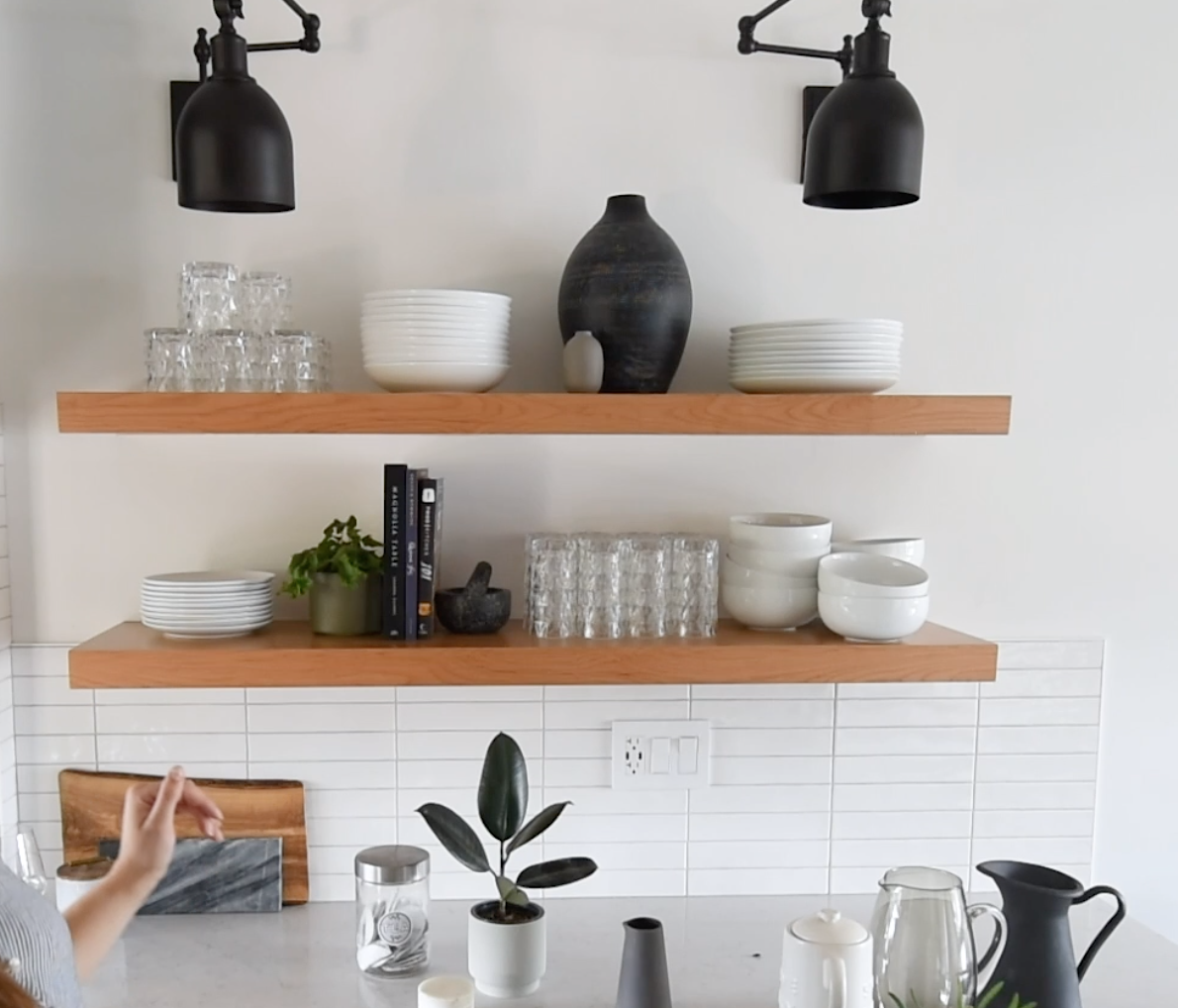 Okay, I'm going to leave it at that! I hope you found this some good food for thought or even a good guide to try testing out a new style on your open shelves. Do you have open shelves yourself? I'd love to hear what your fave tip is!