This post is sponsored by Presidents Choice. As always, I only work with brands I truly love. Find my full policies here.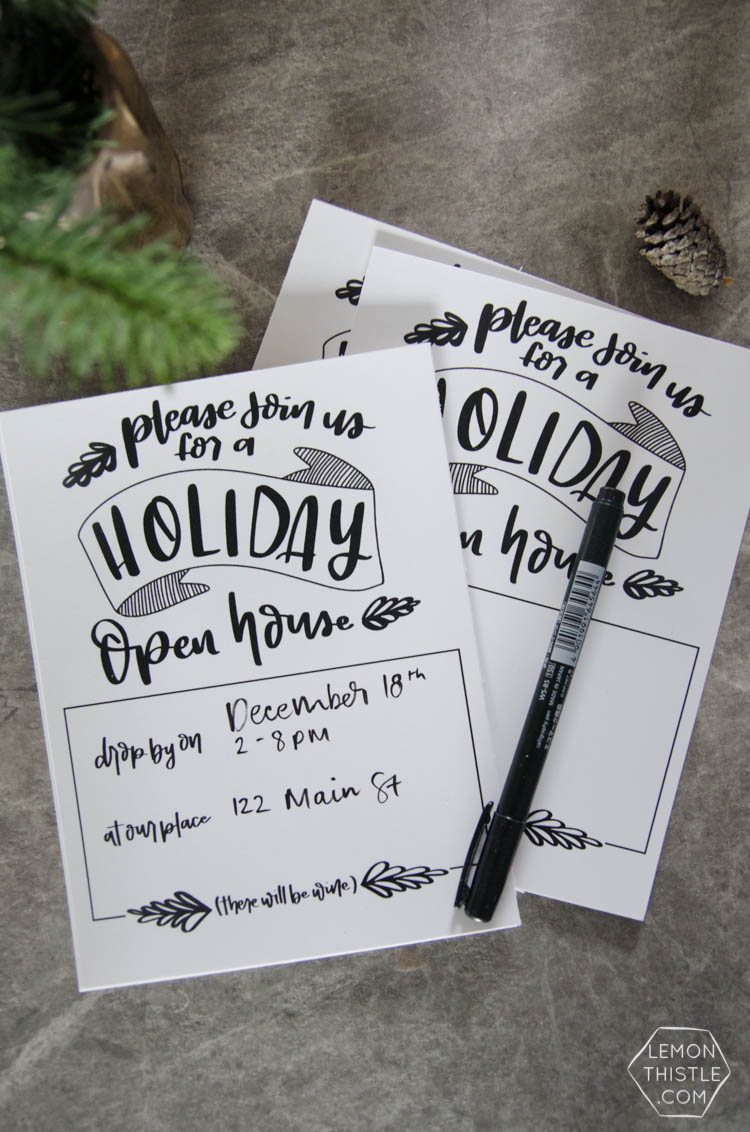 This is the very last week of our Modern Holiday Home series and I've got to say, I'm sad it's over! I've had so much fun with these weekly challenges and seeing what the other girls create- it's always amazing! And this week is really no different. This week we partnered with President's Choice and were challenged to incorporate some of their PC Insiders Collection products. I love a good party but our life is pretty crazy right now. I'm not throwing a big bash anytime soon. I thought it would be fun to put together a casual drop in holiday open house- no pressure to entertain or decorate all fancy. It's perfect for getting all those holiday visits (and new baby visits!) in without any of the stress.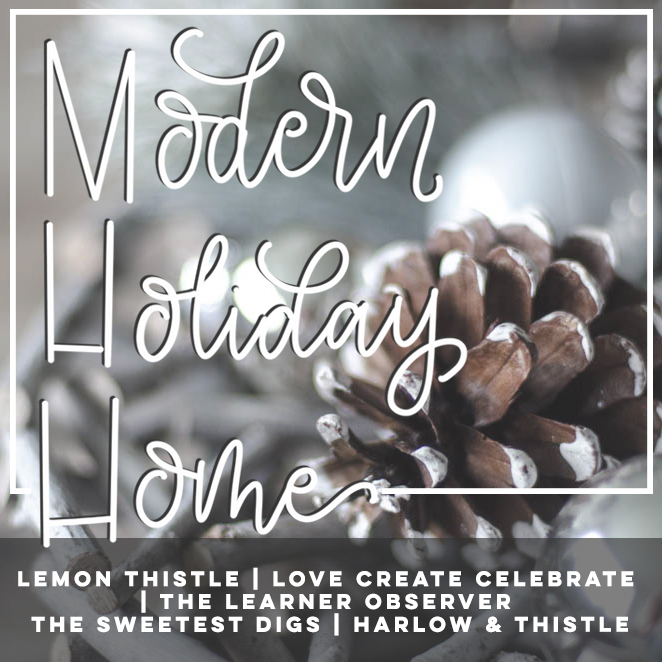 If you've missed the first four posts in this series… this month, I've joined forces with four other rad Canadian bloggers who love black, white, greenery and shine as much as I do for our Modern Holiday Home series. We've been bringing some fun holiday projects and ideas EVERY SINGLE WEEK for five weeks. You can find all of our decor posts linked at the bottom of this post- and I KNOW you will love them because I totally do!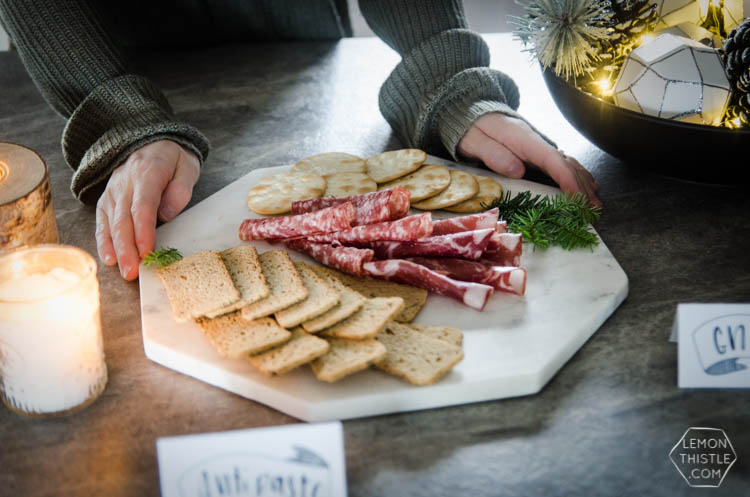 This came together in such a snap with products from PC Insider Collection and my printables. I handlettered these babies and you can grab them for yourself and have your holiday open house together in an afternoon. I even gathered almost all my decorations while I was at the store picking up the food… they're just so darn pretty I couldn't resist! Ready to see what went into this?
THE FOOD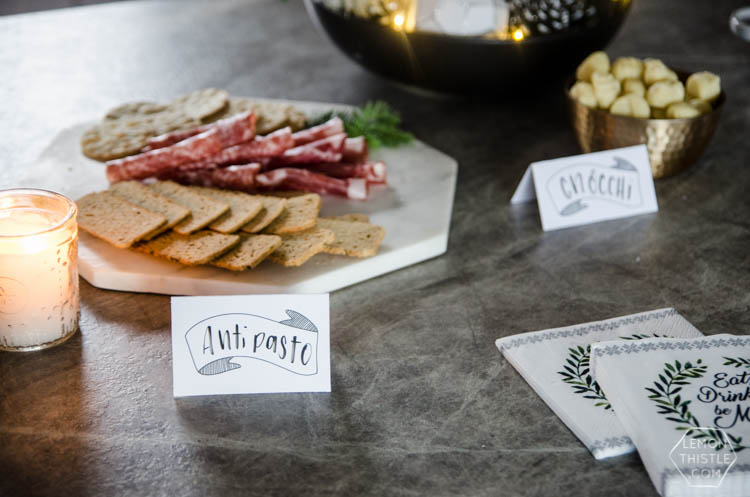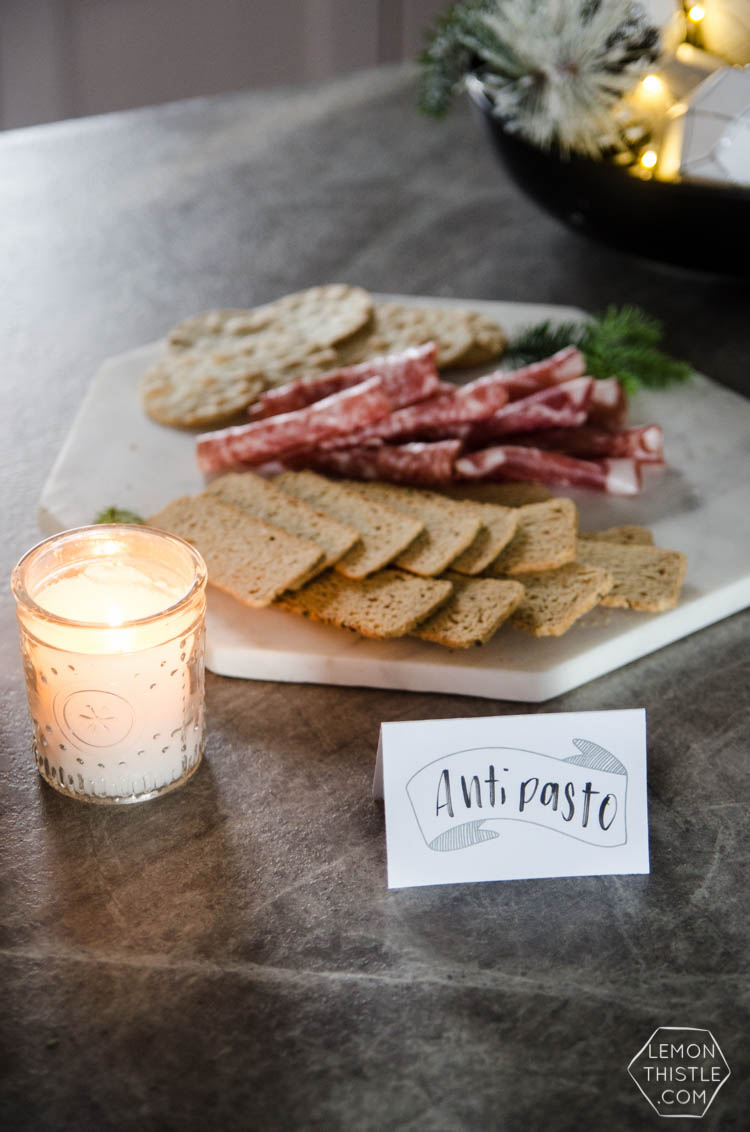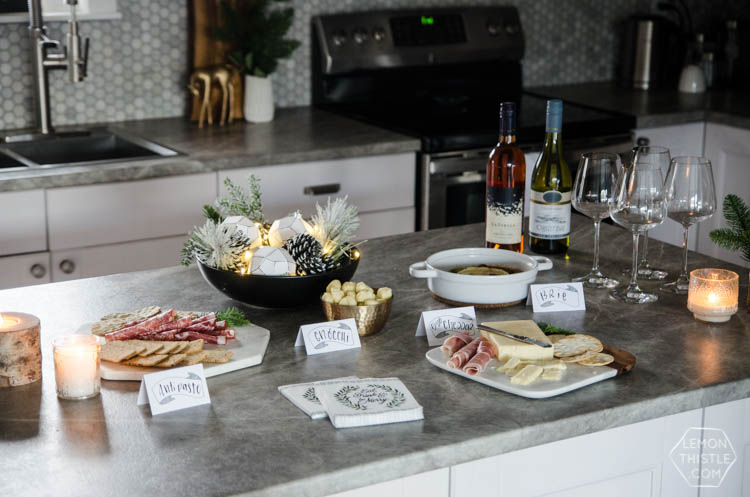 I have been craving antipasto my whole pregnancy, so it was the perfect time to grab a pack of the PC Splendido Atipasto Misto. If we were having lots of guests stopping by, I'd grab a couple packs and refresh the platters after each wave of guests. Refreshing the platters this way is awesome for a couple reasons (events student coming out to play here)… number one it doesn't look like there's a TON of food, so people don't gorge. Think of passed appies at an event… they seem fancier and you never eat as much. PLUS if you're the last guest to arrive- a picked over platter that's been out for hours is never fun. I snapped up some various crackers to go with the meats.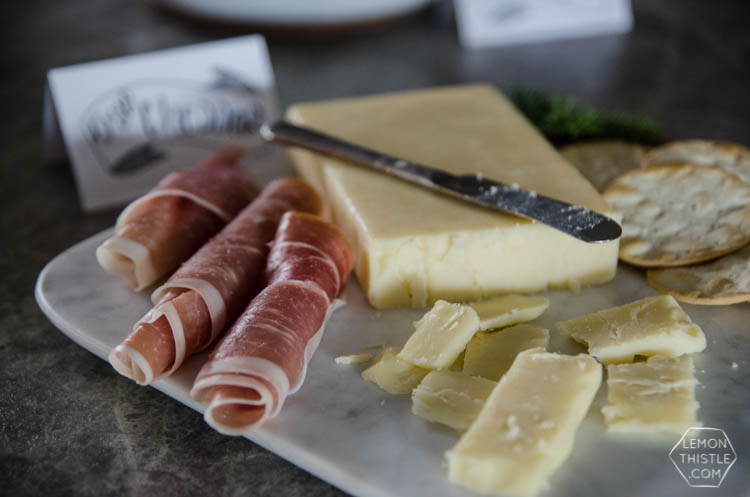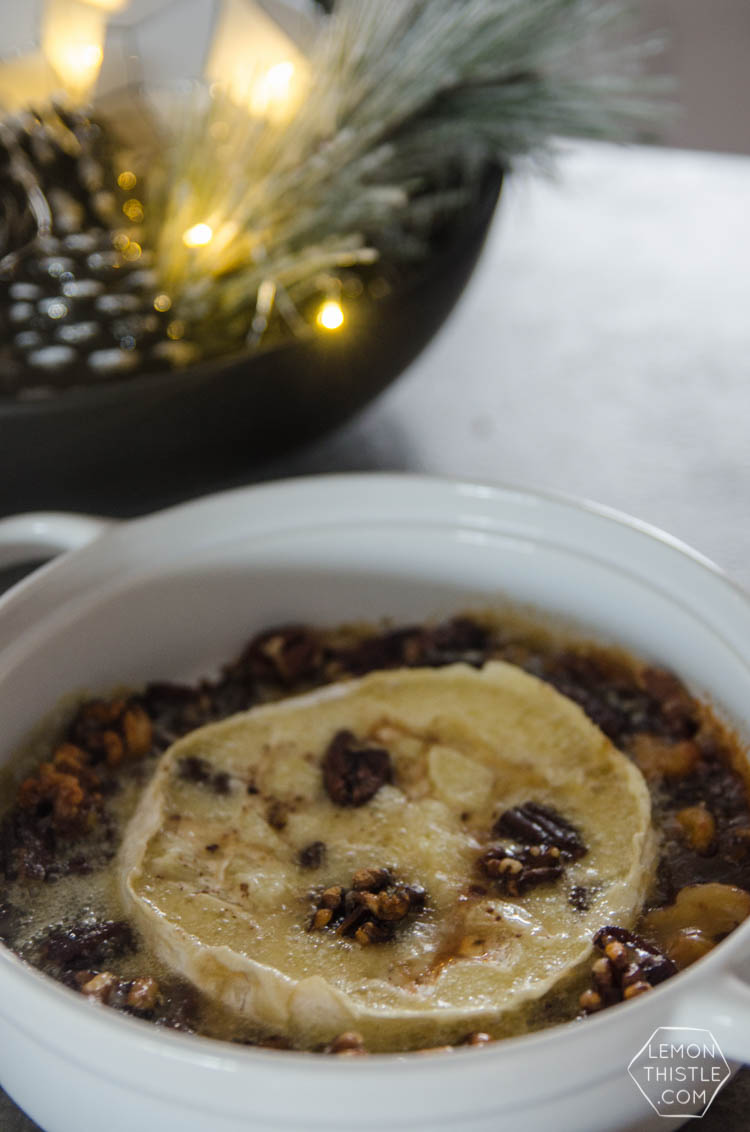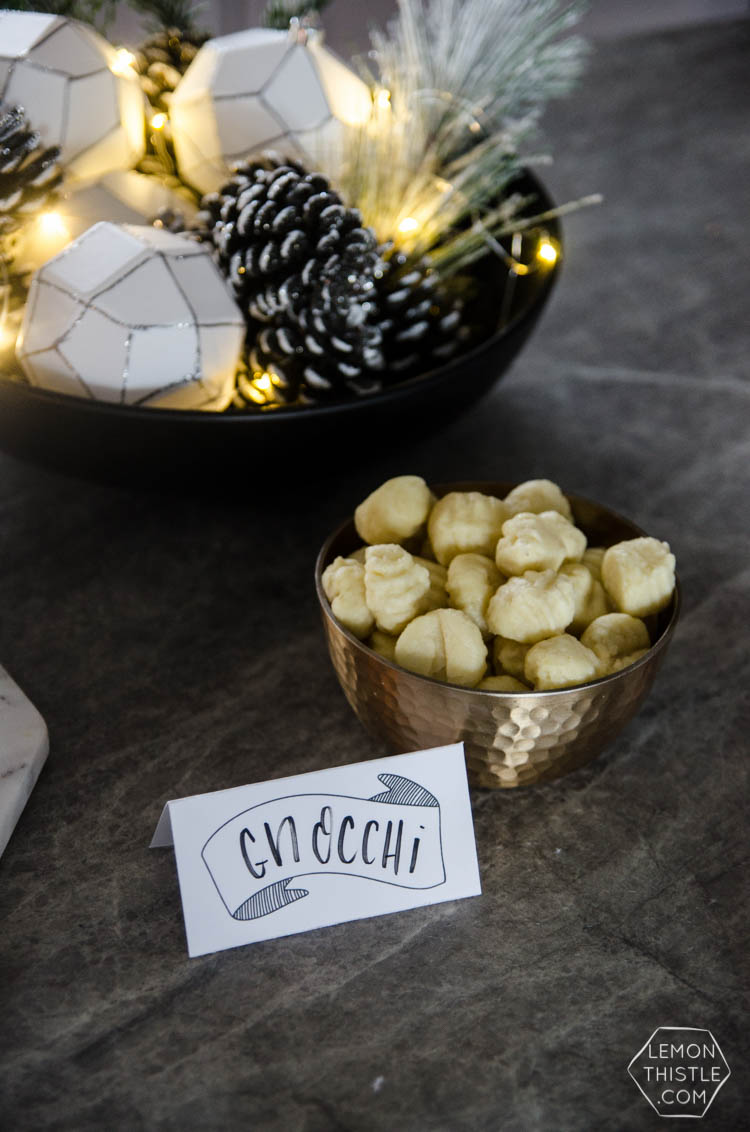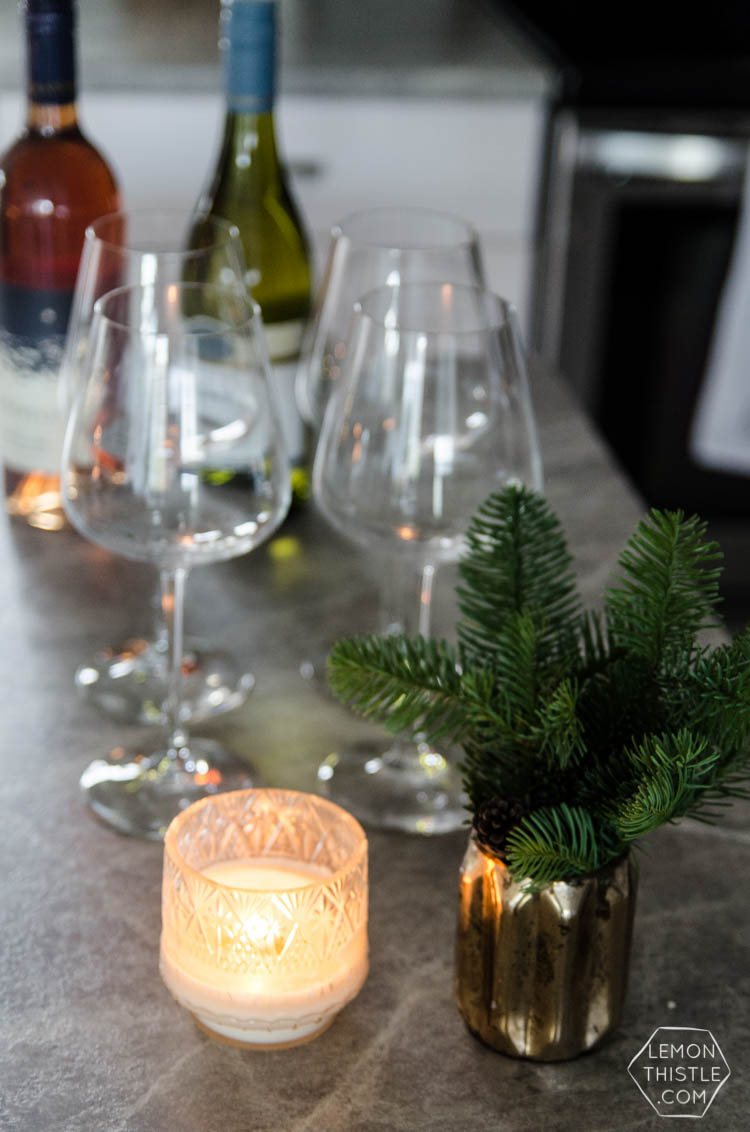 I also snapped up the PC Aged 5 Years Canadian Cheddar Cheese to finish off the antipasto platters. Other than that… of course, I had wine (the invite even says so) and I baked up some PC Double Creamed Brie with brown sugar and nuts. Lastly- it's totally not conventional for party food but I'm a gnocchi addict so couldn't help frying up some of PC's just to give them a try… I can't wait to make a meal out of them next time!
SERVING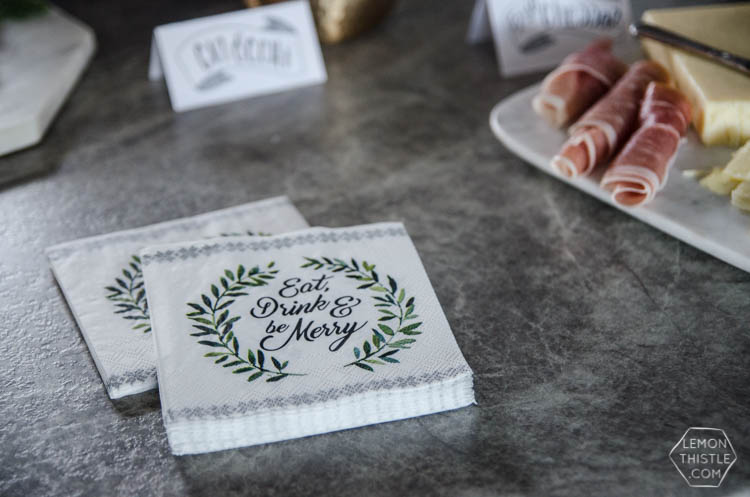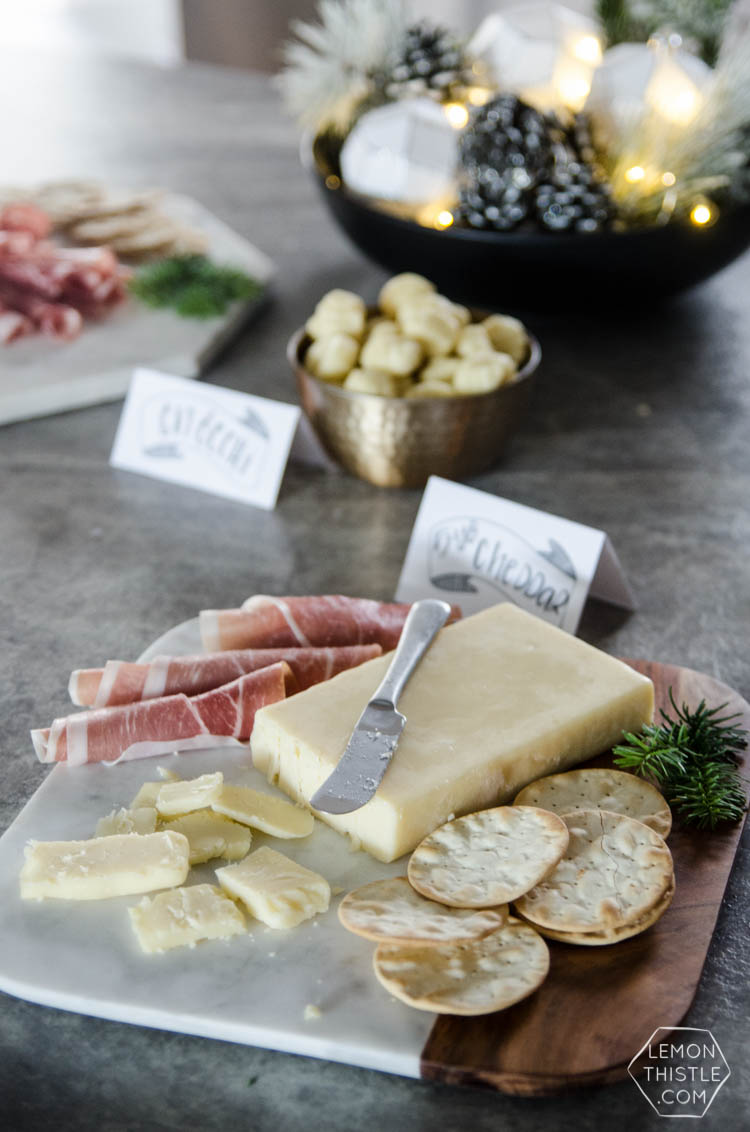 I'm a sucker for a beautiful serving dish. I have way too many to admit to. But I couldn't help pick up another one while I was at the store. That wood and marble guy is PC- isn't it stunning? I served up the antipasto on marble and the brie in a baker. That little gold dish is PC as well. Like I said… addict! I skipped the plates (and the dishes) and opted for cocktail napkins.
DECOR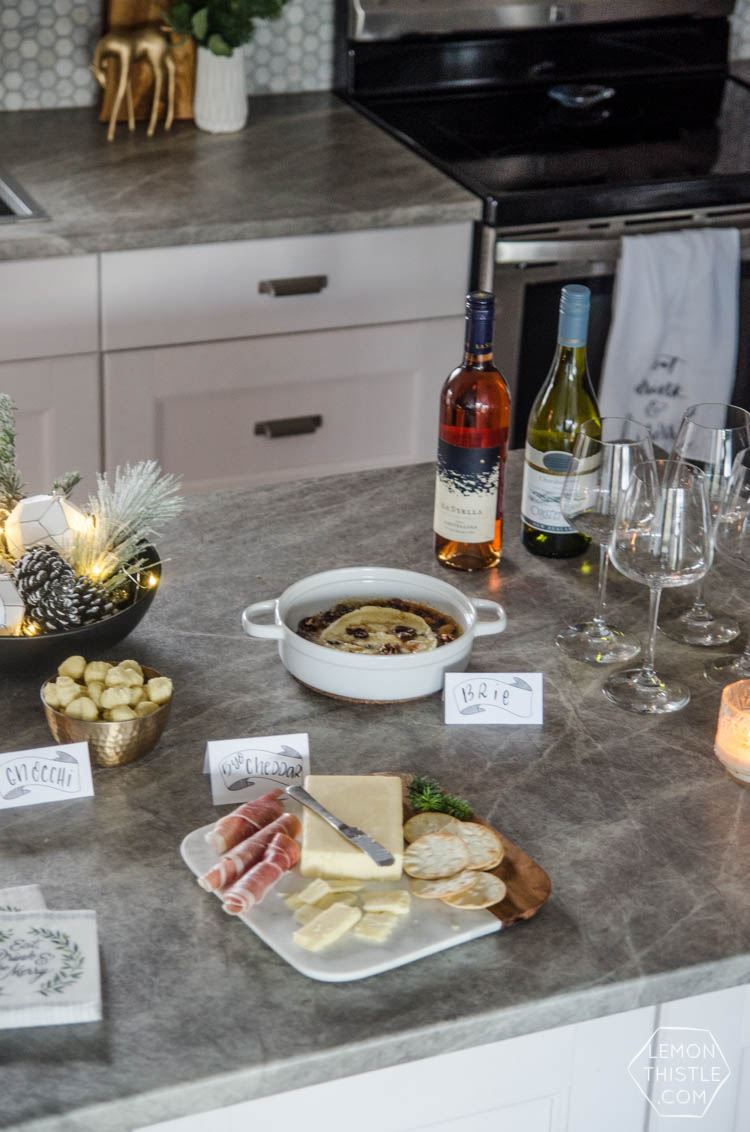 I know… it's not much. But isn't that the beauty of it? NO pressure. After all… it's Christmas, you probably have your home decorated for the season already! I added a few springs of greenery to the platters, lit some candles and used the PC ornaments I picked up in a bowl with some twinkle lights and faux flocked greens. Simple is the name of the game.
PRINTABLES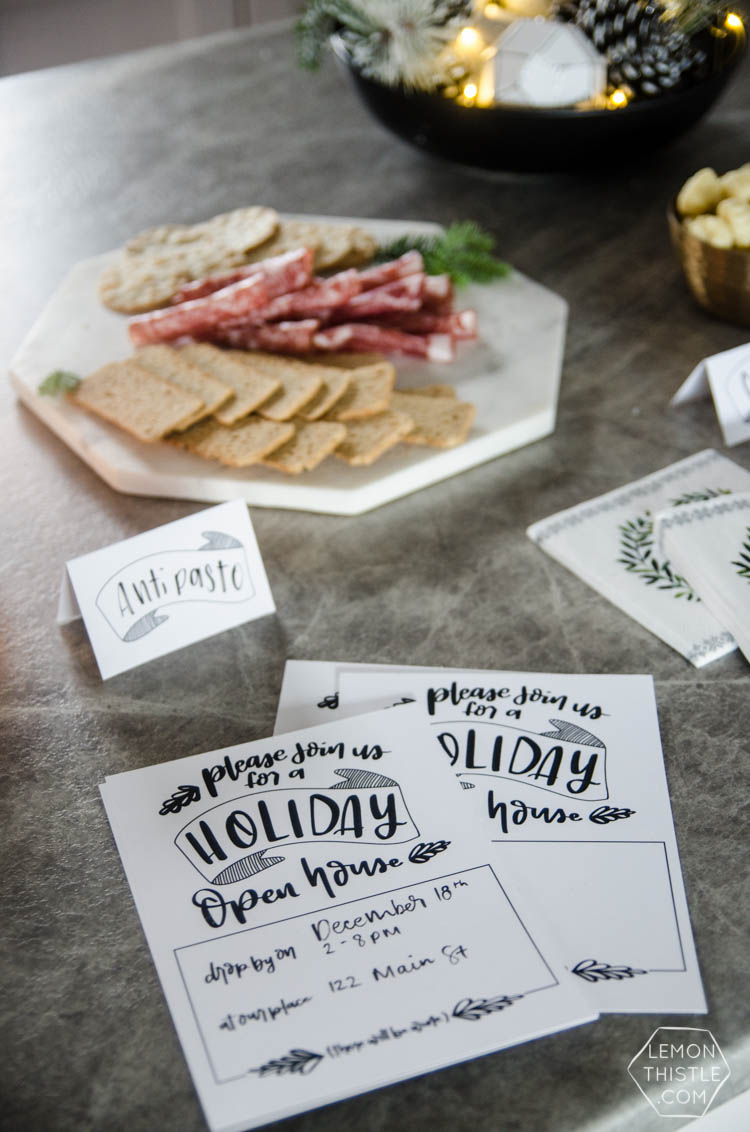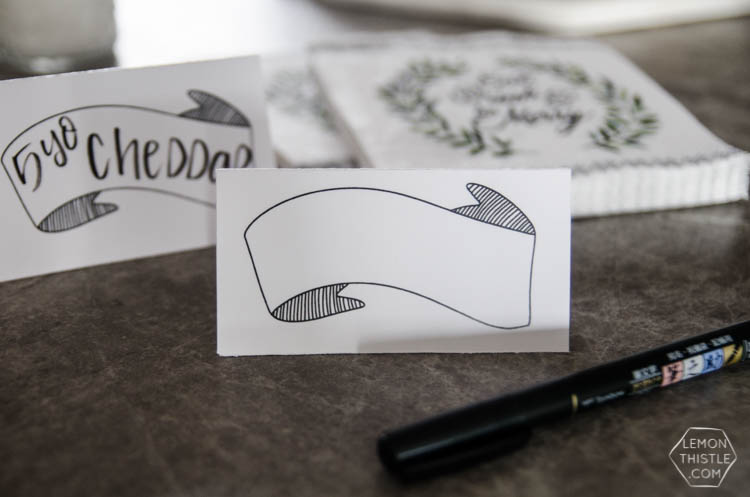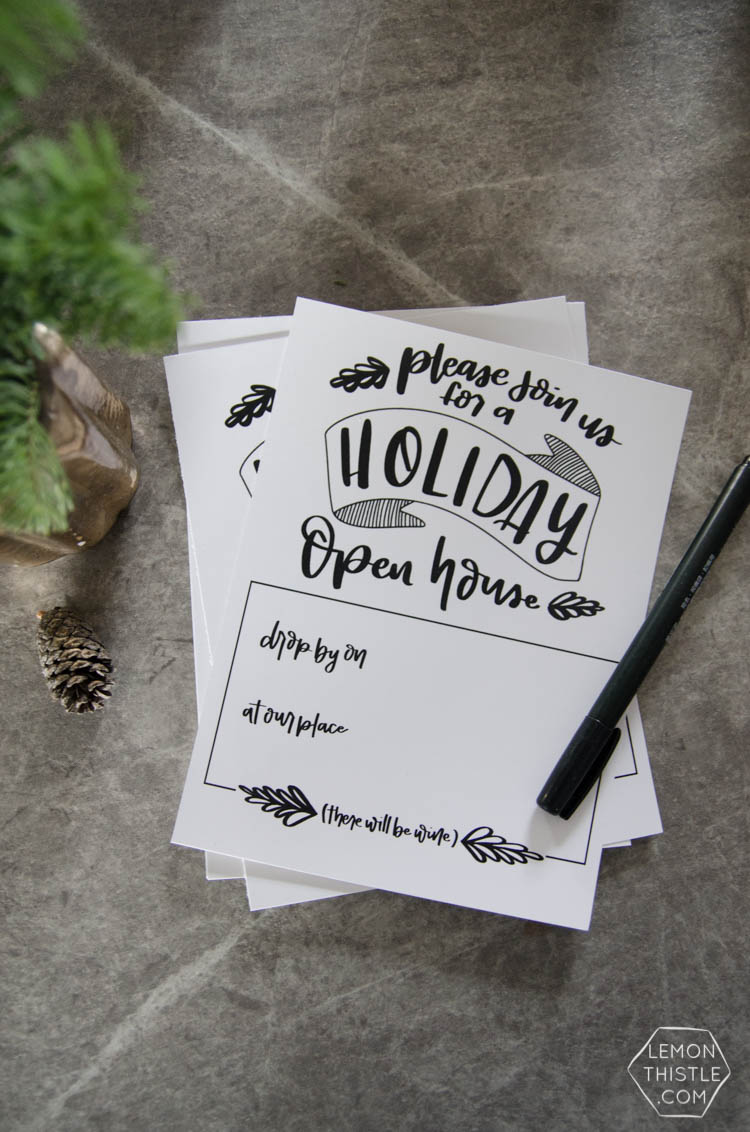 And now for the printables! I hand lettered these invitations to make it quick and easy to pop them in your neighbours mailboxes. Just add the date, time and place and you're set! I love how casual they look while still being beautiful. I decided to take that banner I illustrated and make it into little tent cards to mark what your party food is. I printed both of these off on cardstock and used a market to letter the details.
As always, all free printables on Lemon Thistle are for personal use only. This is a zip file with both PDF documents inside. Just double click the zip file to open it. If you were inviting a TON of people, you could totally add a text box over the PDF for the party details to save some hand cramps.
Alright… that's it for me today! I hope that you've enjoyed this simple party idea. I love to entertain but it really doesn't need to mean a bunch of stress! Between these printables and the PC Insiders Collection, you can totally pull it together… even if hosting aint your thang (but I'm sure it is!).
Make sure to check out all the other projects from this challenge! As usual, these girls totally rocked the challenge- I love each of these ideas!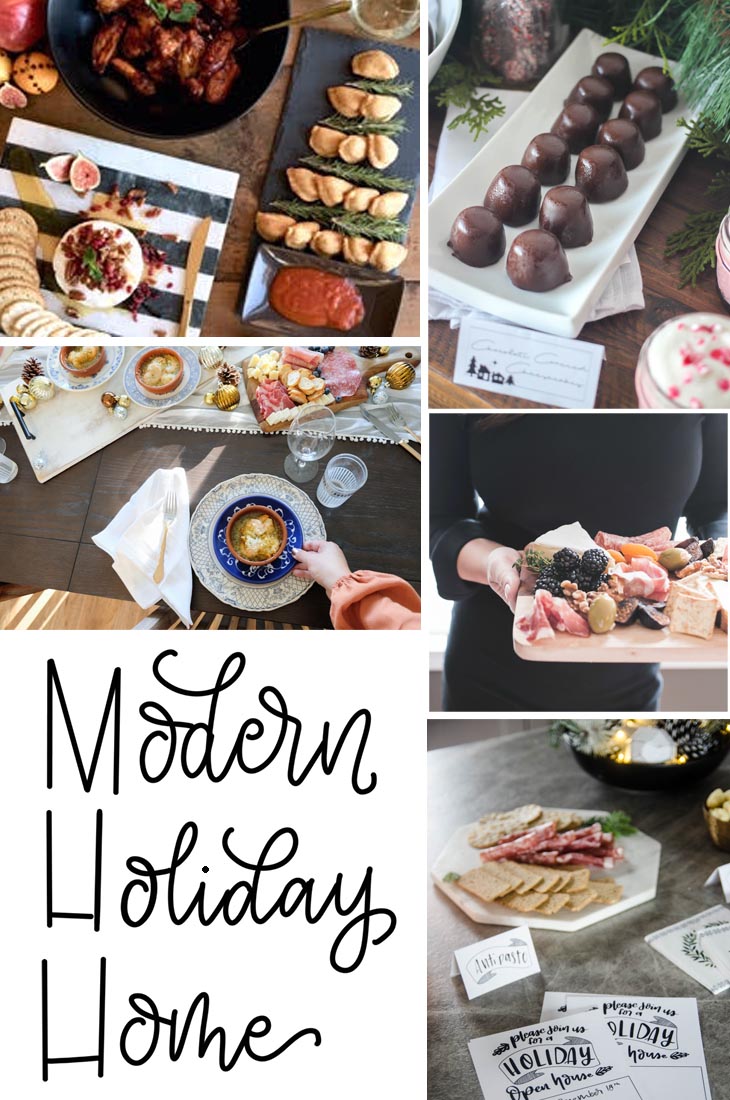 LEFT TO RIGHT, TOP TO BOTTOM:
Harlow and Thistle | Love Create Celebrate | The Learner Observer | The Sweetest Digs | Lemon Thistle