This DIY Summer Wreath is made from garden clippings and simple tools. It's the perfect fresh wreath for a party or event and even if you don't have these exact 'ingredients' you can use the tips to make your own!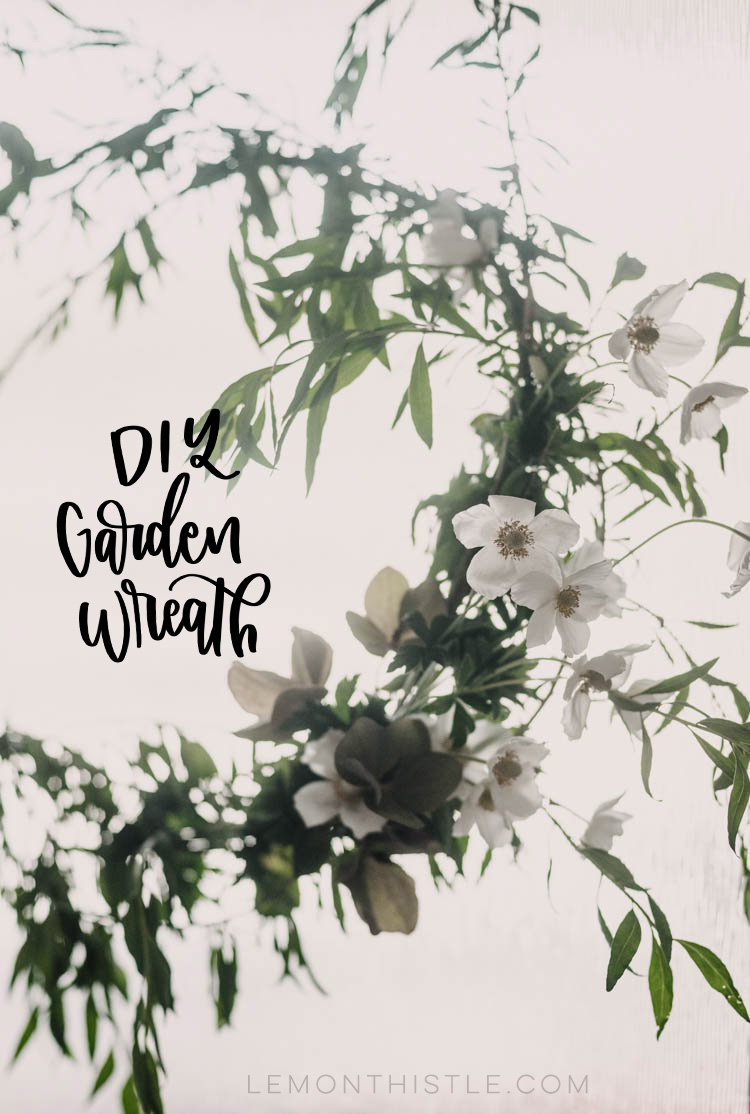 Isn't it crazy that we're already making things for 'summer'? This blogging world is wild, friends. Today I'm excited to be joining some amazing bloggers in a Summer Wreath Blog hop! We're all sharing some DIY wreath inspiration for you to kick the season off right! You can find all of them down at the bottom of the post, but first… here's mine!
I made my fresh garden wreath using all 'ingredients' I had in my garden. This is the perfect wreath to make for a summer party or shower because it's so darn pretty and seasonal but doesn't last all that long. Ahhh the tradeoff of fresh blooms! I am so in love with how wild and wonderful this wreath looks. I am considering making one every weekend until these blooms stop blooming… but that would be excessive… or would it?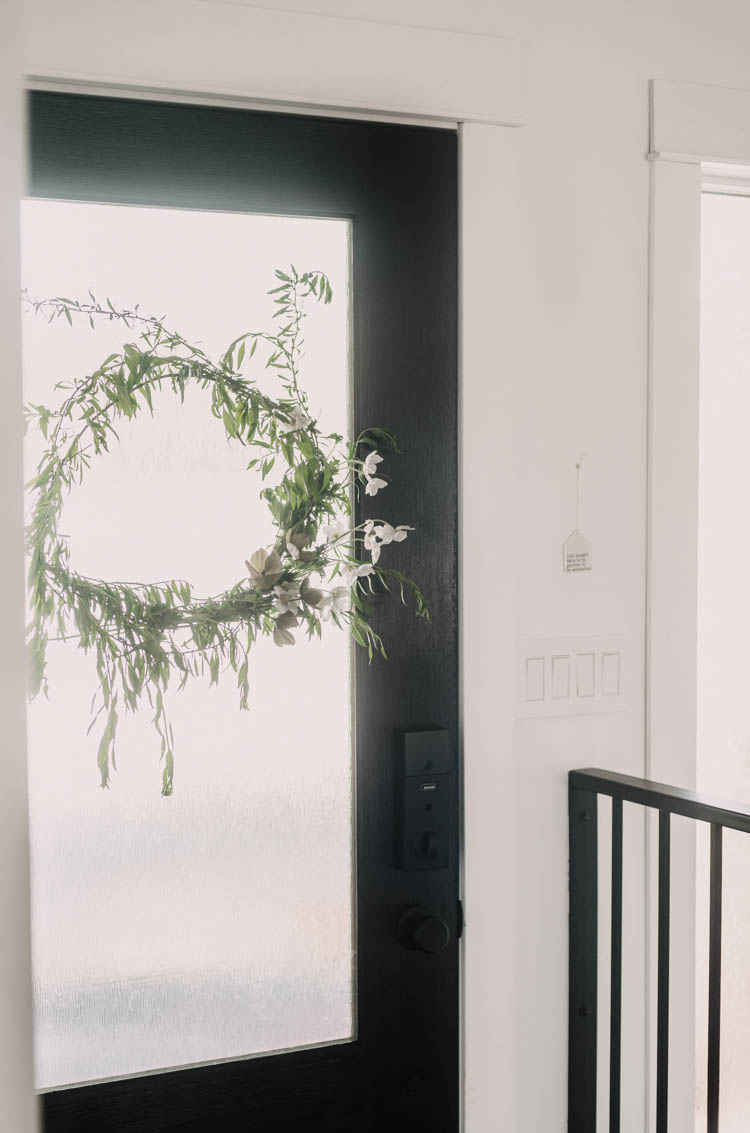 Beyond your clippers and your blooms, the only other thing you'll need for this is some floral wire. This is super affordable in the wreath section at Michaels and it really lasts forever. I've been working on the same spool of it for years. And I make a lot of wreaths!
I know that not everyone's garden has the same goods. SO I put together a few tips for you to make your wn fresh garden wreath using what you have. Ready? Let's go!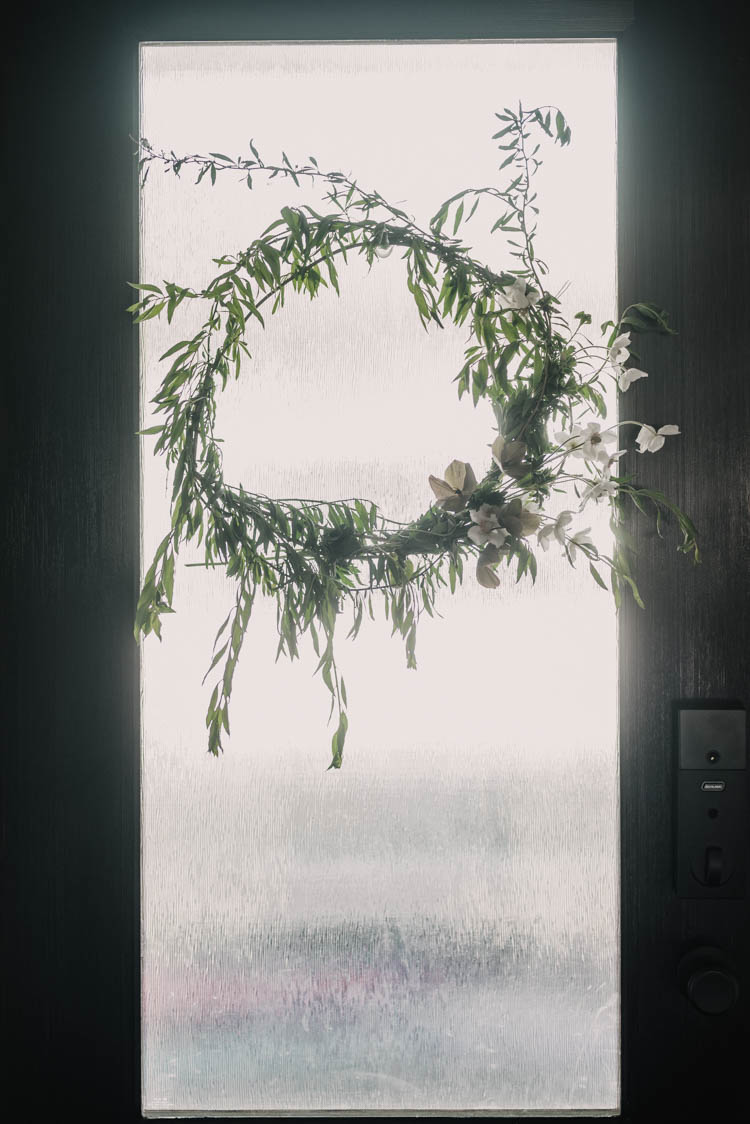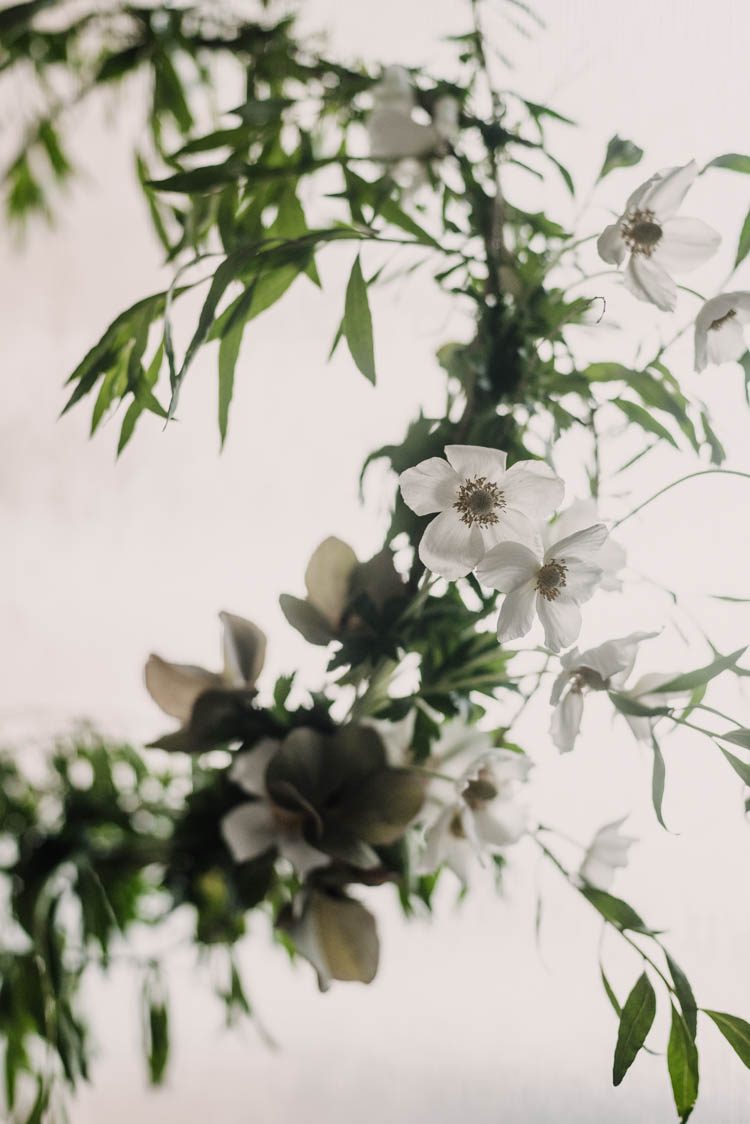 Alright, the first thing you'll need to do is scope out your garden. Or head to your parents garden. Or drive to a remote location and get foraging ;) Bring your garden shears with you! I actually kept a pair of these in my van glovebox for the past year. I got clippings often for wreaths and vases in my house- I'd head out for a drive before or after school drop off and come home with some fresh decor. For this wreath, though, I just walked into my back yard.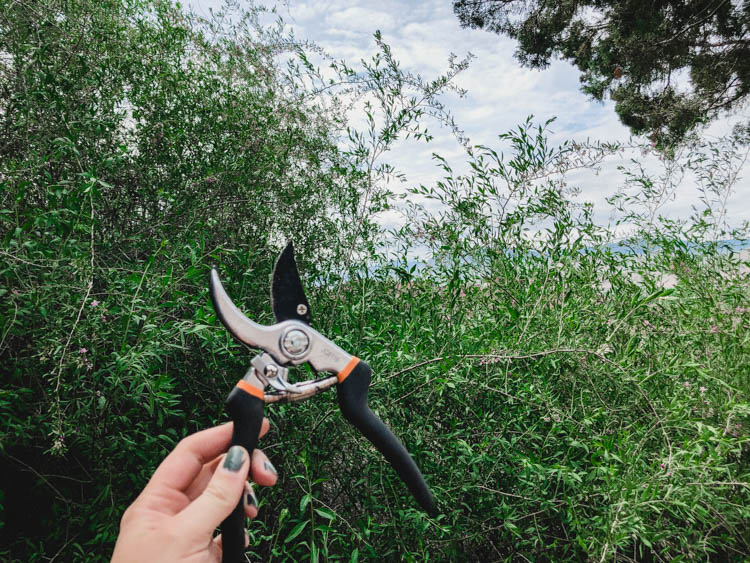 Vines for a wreath base
The first thing that you'll want to look for is something with firmer branches that can be the base of your wreath. This needs to be 'stick like' enough to wire together to make a wreath. If you choose thinner vines, that's okay but you'll need more of it! I have no idea what this stuff is but it is rampant in the valley behind our house. Juuuust look at all that. There is no shortage of it.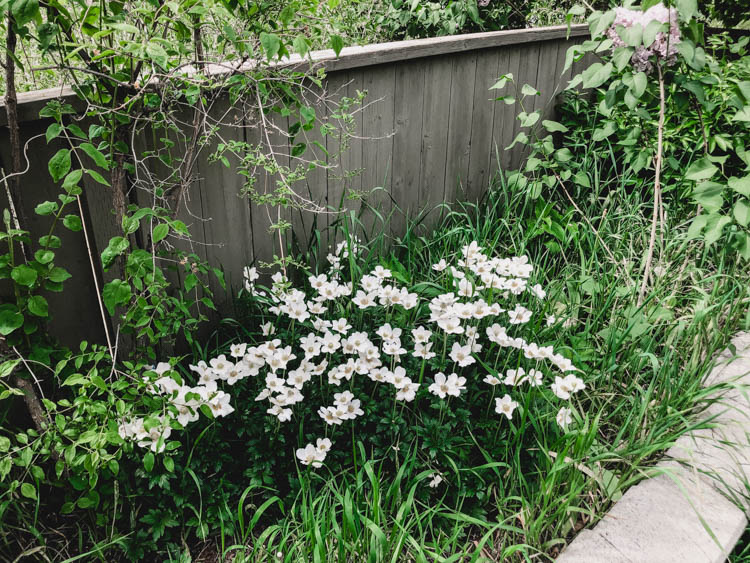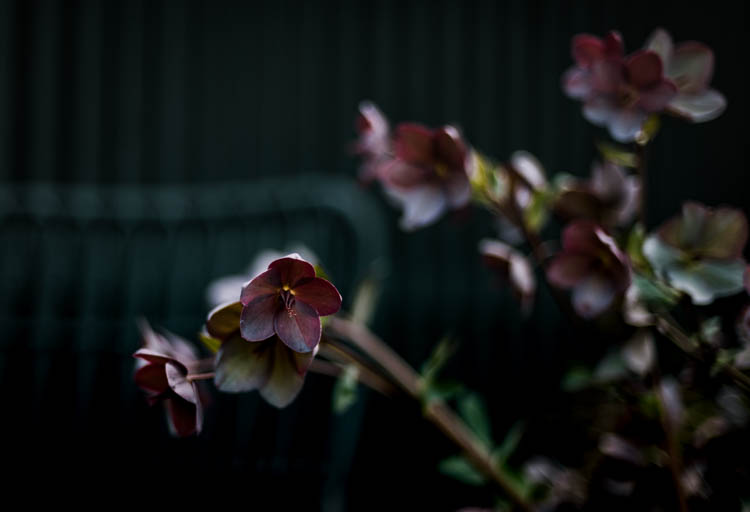 Garden Flowers for a Summer Wreath
Well, well, well. Look at my overgrown garden. But not anymore! This past weekend, one of the things we did (other than making this wreath, of course) is to seriously clean out this garden! I pulled THREE BAGS of weeds. And finally planted that hellebore I had on my patio. So the flowers I chose for my wreath were anemones and hellebores. I love both of these flowers all the time and use them in my home decor as often as I can. They were conveniently in my backyard, too ;) You can choose pretty much any flower you like for this.
I found the hellebores looked nice longer than the anemones, so I'd suggest that 'firmer' flowers will hold up a bit longer than the more delicate ones.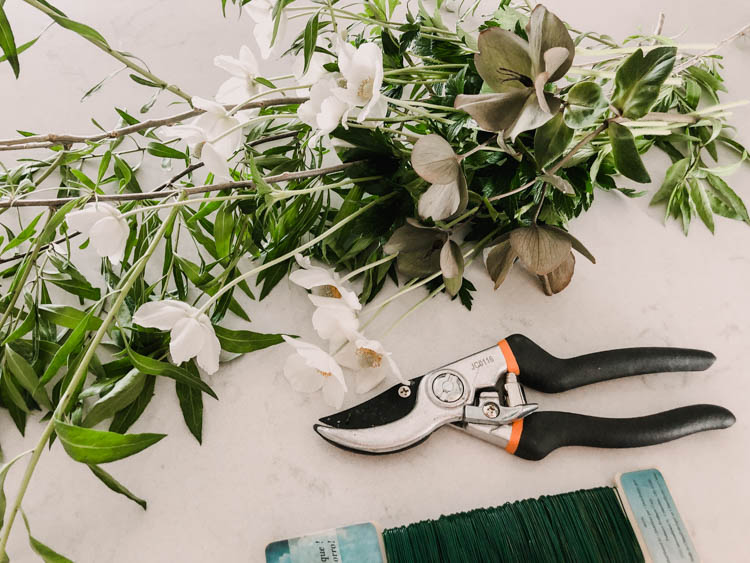 Once you've got your pieces, it's time to wire it all together! I like to bring everything inside and lay it out to really see what I have gathered and play with the materials to see what I can make. The first thing you'll have to make is the base of the wreath. That's all about those vines!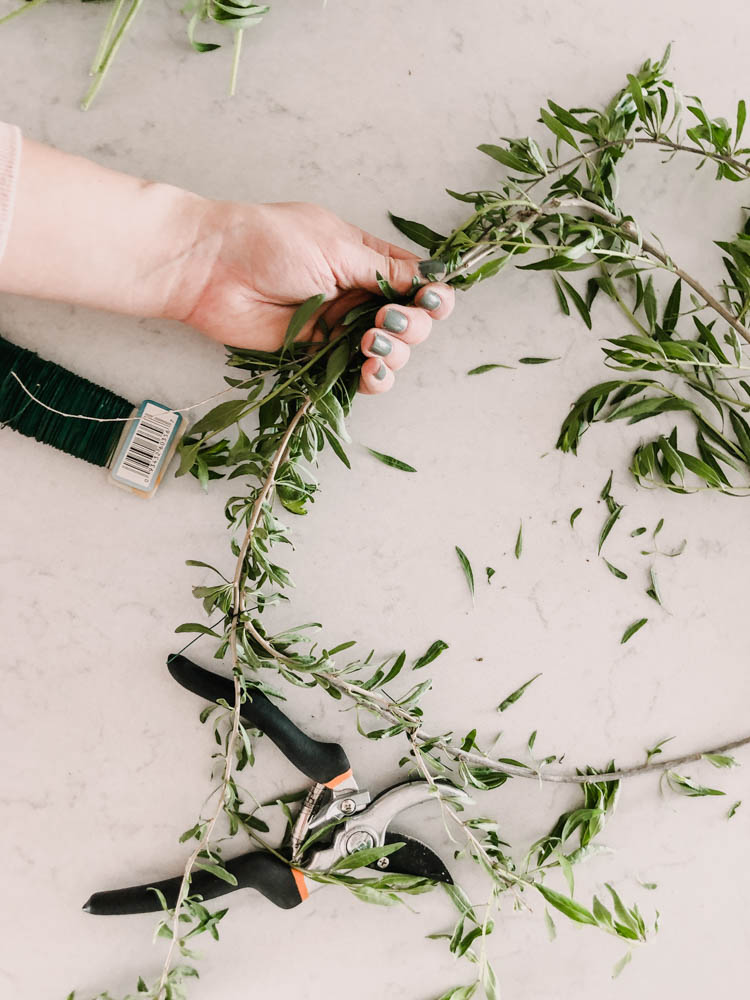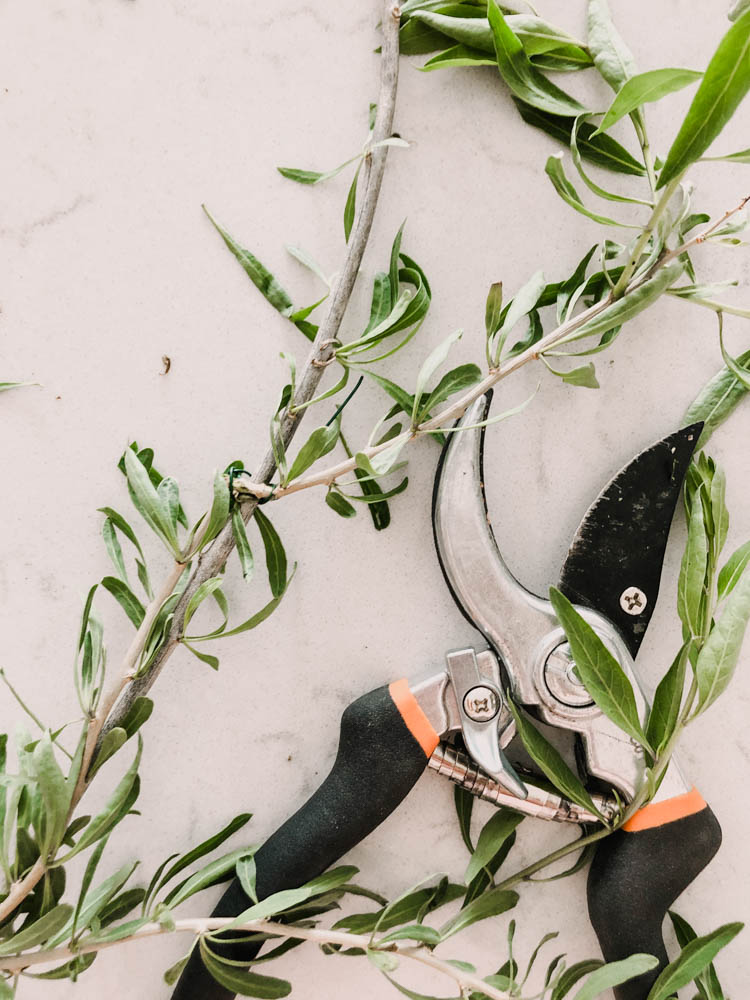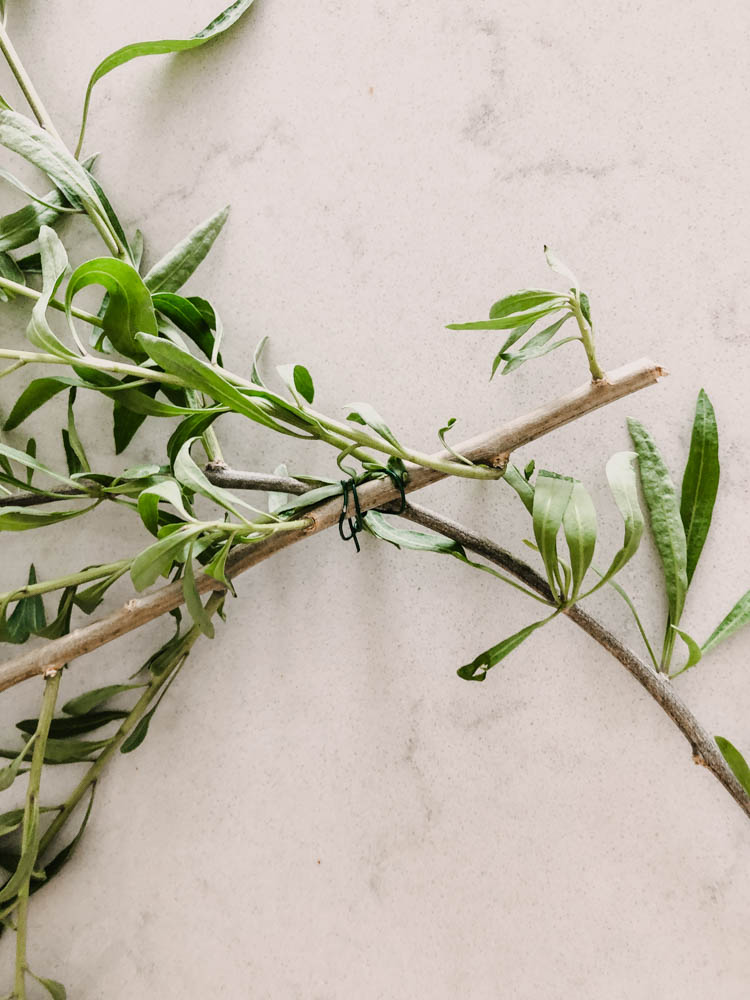 I first like to pick them up and play a little bit to decide how big of a wreath I want. Make sure to arrange the vines so that the leaves are all growing in the same direction. Then, when I have an idea of what direction I'm taking it in, I pinch two of the branches together and wire them.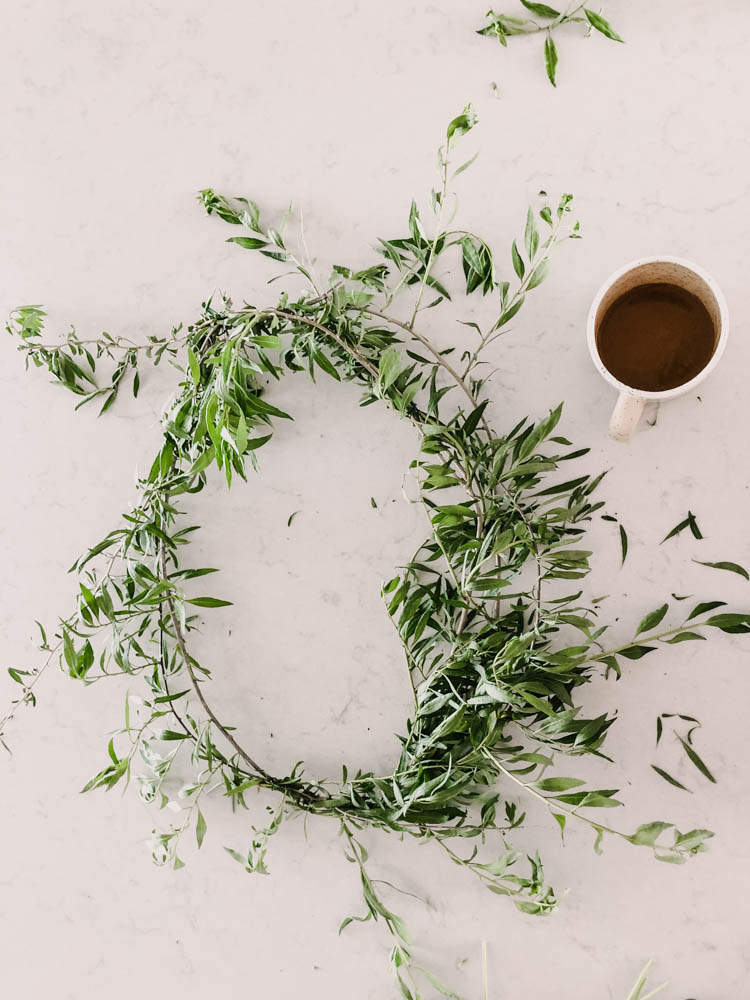 The trick I've found here is not just to wire them once, but move a couple inches dow and wire them again. I find that especially on the stiffer branches/vines like this, it keeps the ends of the branches from sticking out straight.
Keep adding in branches until you're happy with the wreath before moving to blooms.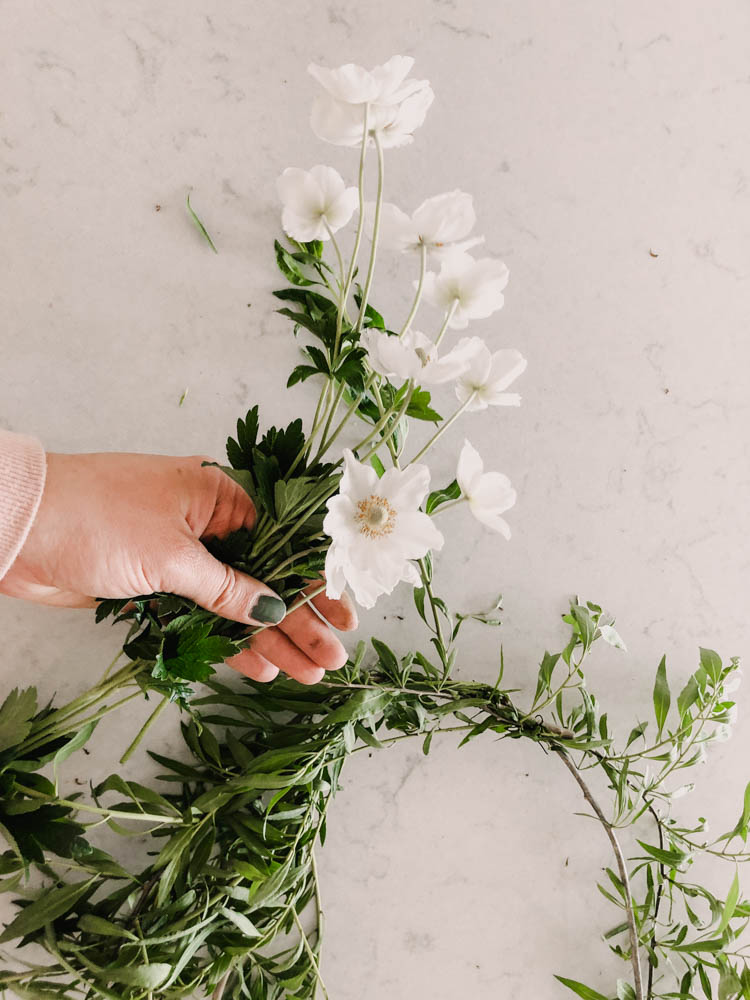 How to arrange flowers for on a wreath
Here's my biggest tip. And it's not mind blowing, I'm sure. Arrange the flowers IN YOUR HAND first. I find it helps to pick one up at a time and lay it in the hand that I'm arranging it in This lets you stagger the blooms so you get the biggest impact from your flowers. Then, pinch together the stems in one spot and wire the stems to the wreath form! Tuck a couple extras in (or a secondary flower) and enjoy! You will probably want to add a couple reinforcing wires, especially if your door is going to see a lot of open and closing.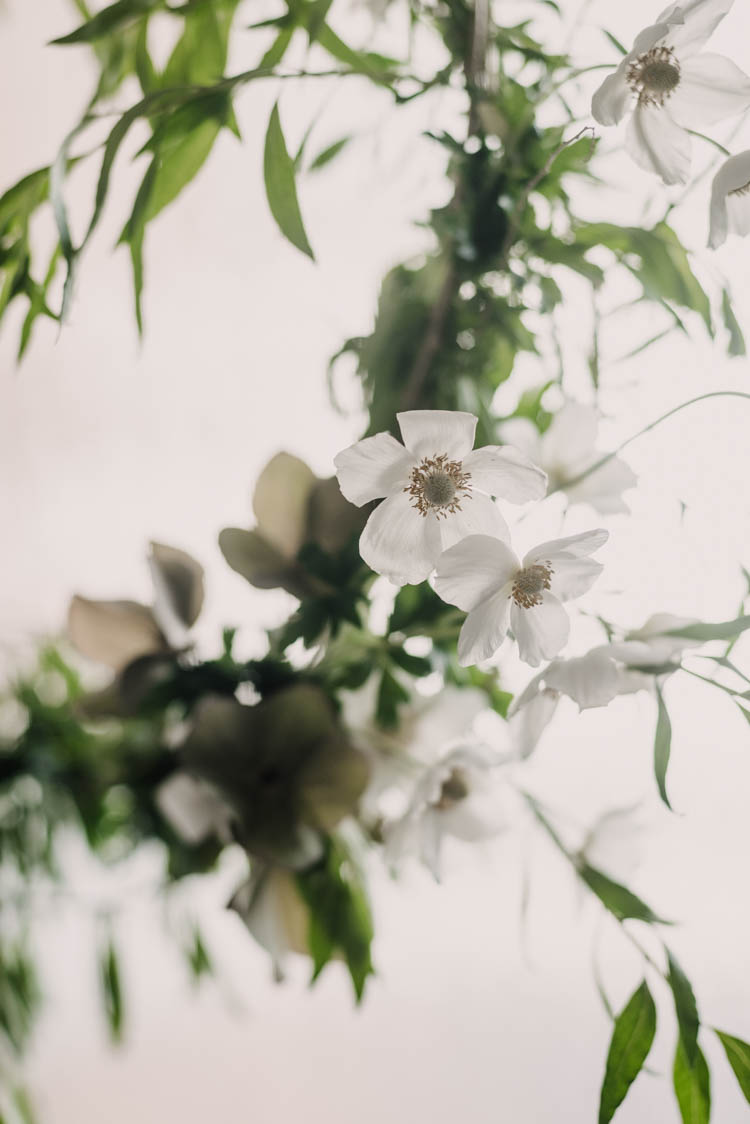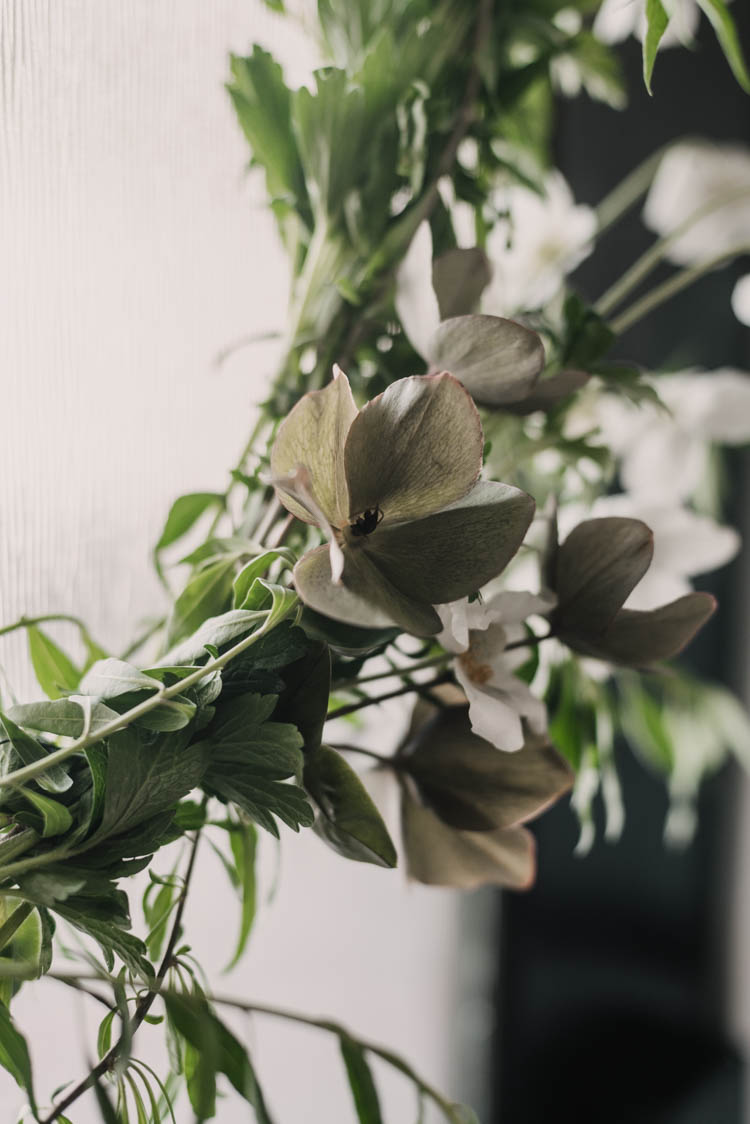 This was such a fun project to really work with what I have and make something beautiful without spending any money. I just want to make heaps of these so that we never have to go without. Is it going to happen? Probably not. But will it happen again (even if it's not ALL the time)? YES. Without a doubt. Hope you love it as much as I do!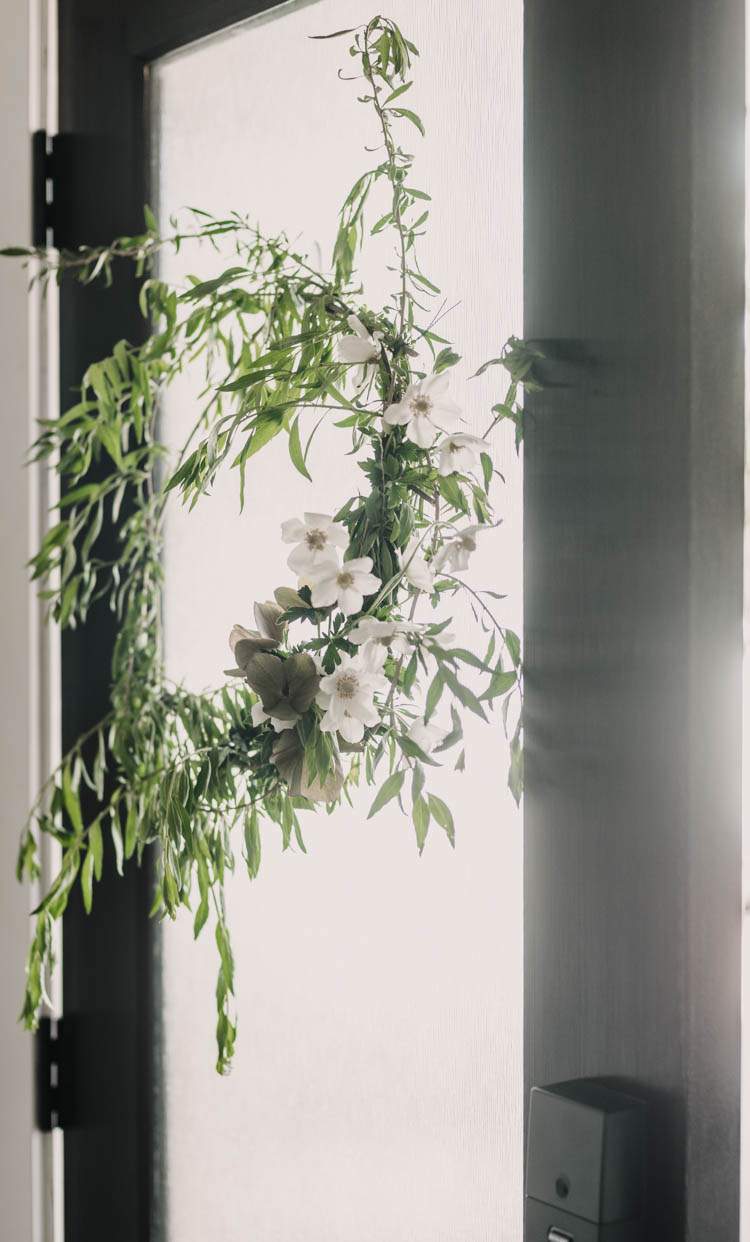 Today I'm joined by a fabulous group of blogging friends who are also sharing their Summer DIY Wreath Ideas as part of the Seasonal Simplicity Summer Series. Click on the links below their wreath design to see exactly how they made it…
The Happy Housie // Lolly Jane // Modern Glam // The Turquoise Home // Tatertots & Jello
Shabbyfufu // Craftberry Bush // A Pretty Life // Southern State of Mind // Setting for Four
Finding Silver Pennies // Inspiration for Moms // Life is a Party // Tauni Everett // The DIY Mommy
Town and Country Living // Paint Me Pink // Jenna Kate at Home
All Things With Purpose // Sand & Sisal
My 100 Year Old Home // The Handmade Home // Lemon Thistle // This is Our Bliss