I've been noticing a lot of DIY wood burning/etching and products around the web lately. These Christmas ornaments, these cutting boards, and these buttons. (Just to name a few!) I decided to jump on board the wood-burning train and try out Design Mom's etched spoons. These DIY woodburned spoons would make an awesome gift.
I'd bought these basic spoons and utensils a while back to try the dipped look, but never got around to it. They were the perfect test for my new wood burner! These DIY woodburned spoons were a fun first attempt at using my tool, although I only tried the basic tip. Next time I'd love to try the scroll tip or fine tip. And I will pass on the bamboo utensils and stick to plain old wood… they burned much easier and smoked less.
Putting together this post, I remembered The Daily Simple had a good intro to wood burning with tips that would have made my attempt at woodburned spoons much easier and I'm sure the results nicer… be sure to check it out if you've never tried wood burning.
My favourite is the woodburned spoon with all the little triangles. I might have to pick up some and make a set of triangle spoons for myself!
I paired this with a cute cookbook I found on sale for Black Friday and ta-da! White elephant gift for my new moms Christmas gathering next week. The limit was $10 so I'd be happy to receive this!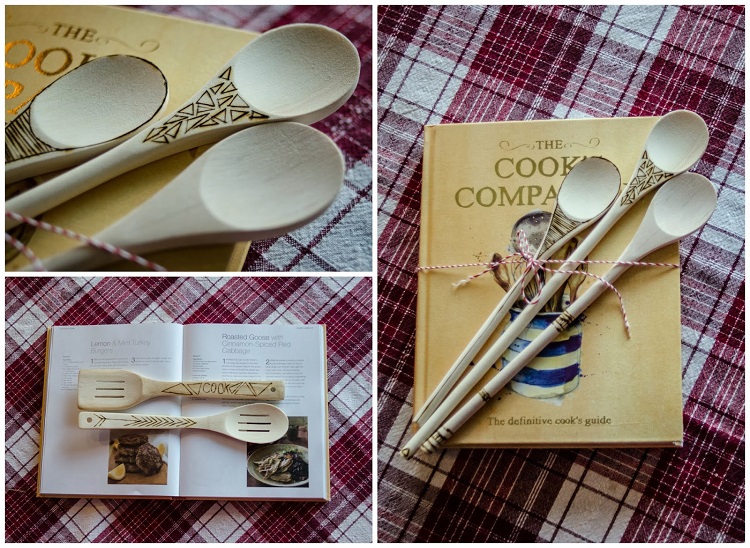 Next I'd like to make some ornaments or a banner for Christmas. Maybe for our small-group Christmas party we're hosting next week. Can you believe it's time for Christmas DIYs already? I know, I'm slow to get started- but it just happened so quick! I really can't believe how much faster time goes with babies around… I'm understanding my parents a little more now. Time flies!
Make This? I'd love to see it! Tag me @colleenpastoor on social.