Kid-friendly and free from refined sugars, your little ones will be begging for these in their lunch! You can even make it nut and gluten-free. Portable, and single-serve, back to school snacks have never been so easy!
Hi friends! Megan here from Straight From the Jar. I'm back this month just in time for back to school with a super kid-friendly and most importantly, healthy recipe for Banana Oat Walnut Loaf In A Jar!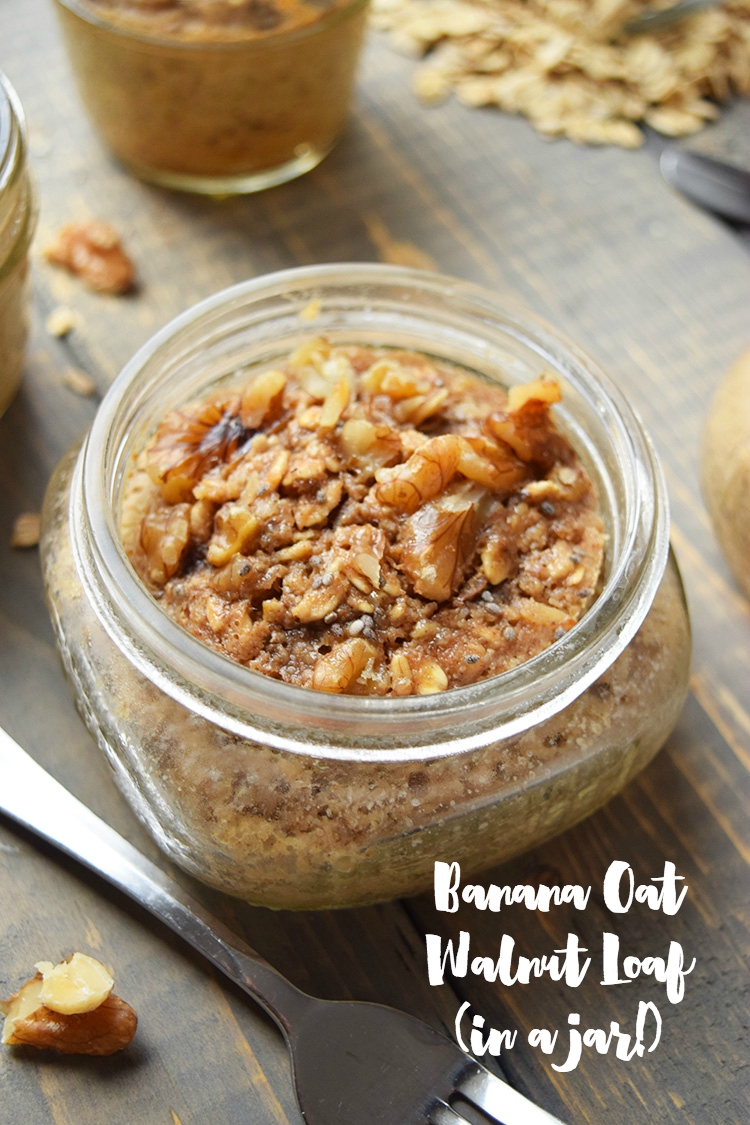 Even after 5 years of being out of school, those three words together for some reason still feel like they mean something. Is it weird if I want to say they make me cringe and excited at the same time? I used to absolutely LOVE going back to school shopping. New clothes, new shoes AND new school supplies? C'mon. It was seriously Christmas.
It stopped being fun for me in University when the meaning of back to school shopping changed from "new wardrobe" to "new 100 pound stack of textbooks" that basically cost me my soul every year.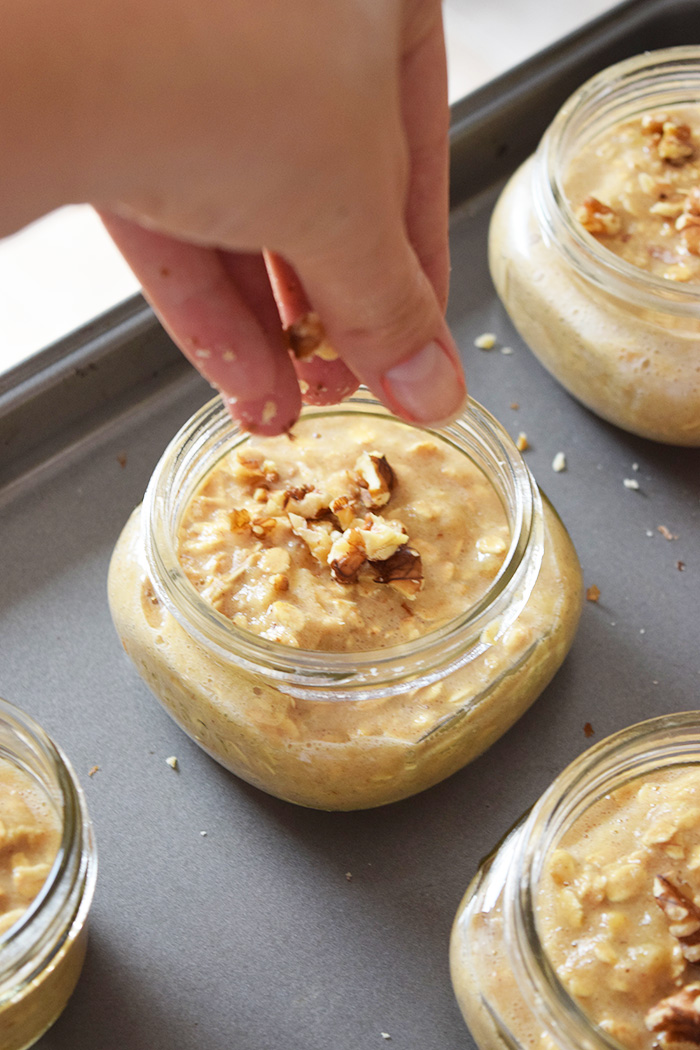 Anyone that has ever legitimately used their textbooks in College or University please raise your hand.
That's what I thought.
It's safe to say that I prefer to reminisce back to elementary school when recess and lunch break were the only two things that truly mattered. I can tell you that if I had this Banana Oat Walnut Loaf In A Jar waiting for me in my lunchbox everyday, lunch would have been pretty exciting.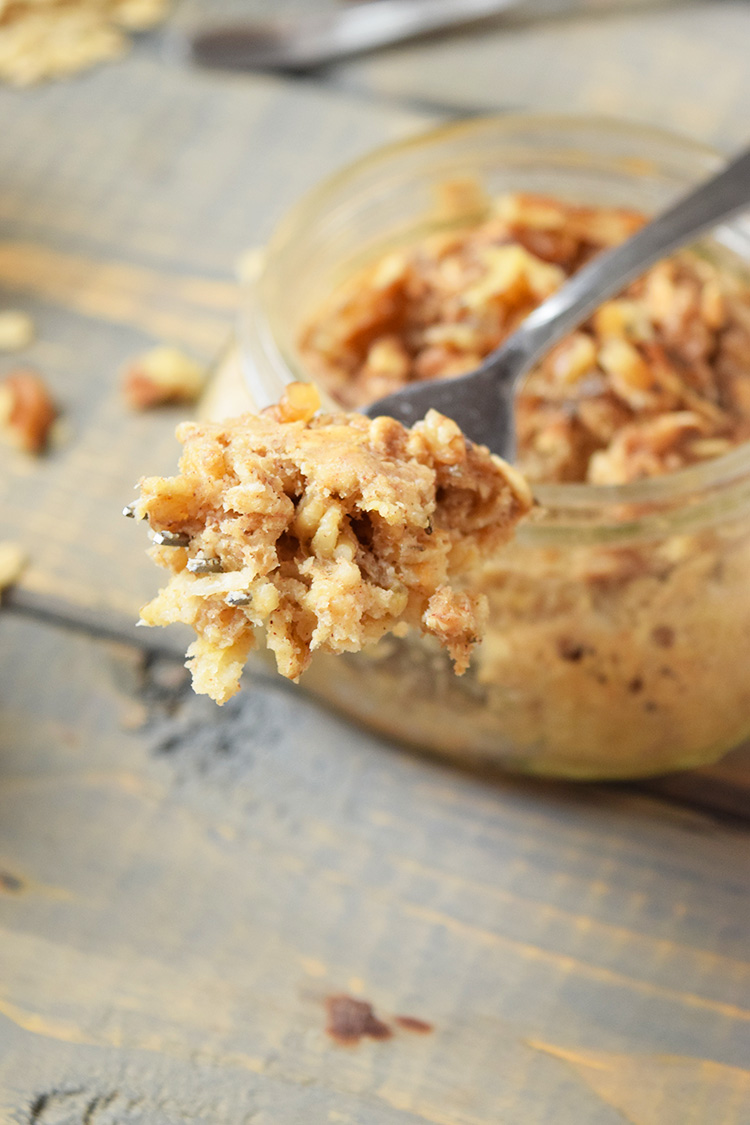 This delicious and nutritious snack is totally kid-friendly and can be made nut free by omitting the walnuts and gluten-free if using gluten-free oats. Sweetened with maple syrup and bananas, it's also free from any refined-sugar!
Although you can bake these in any way you like, what I love most about baking them in mason jars is the fact that they're an easy single serve and portable snack. They're absolutely perfect for throwing in your child's lunchbox, and they can eat it straight from the jar!
They will also be a top contender during lunchtime snack trading. Just sayin'.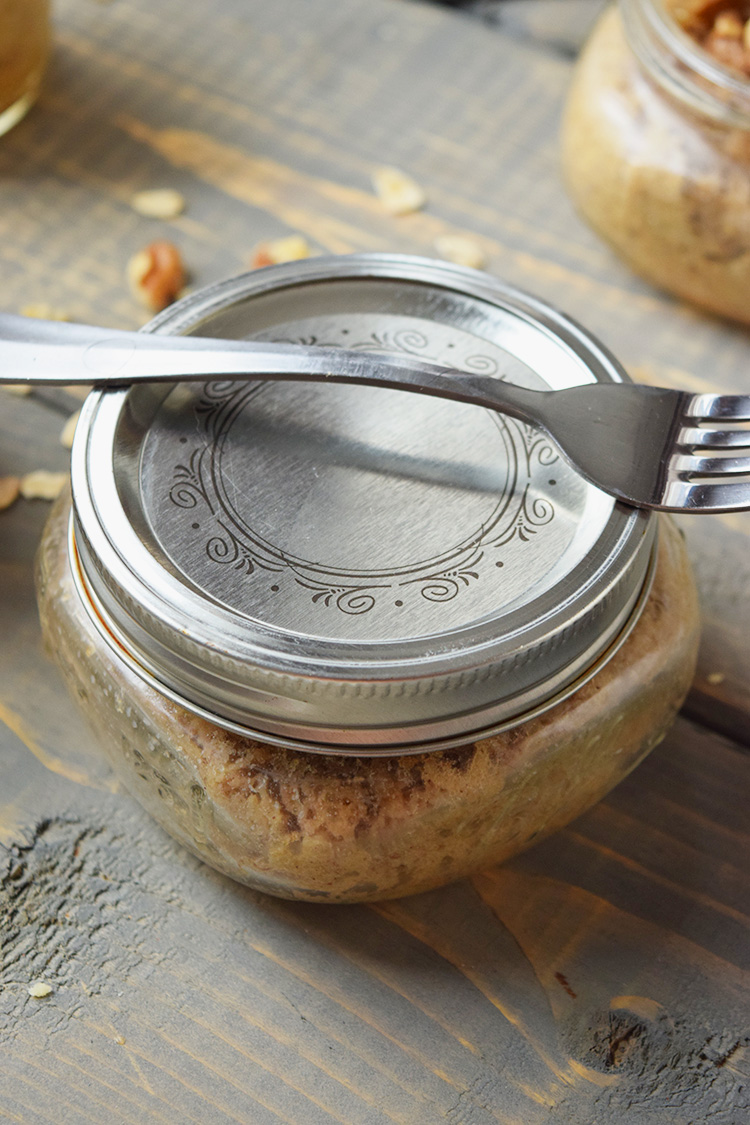 Please let me know if you decide to try this recipe of Banana Oat Walnut Loaf In A Jar! You can connect with me on Facebook, Instagram and Pinterest, or by e-mail at [email protected] :-)
Back to School Banana Oat Walnut Loaf In A Jar
Makes 4 8-oz mason jars or 8 4-oz mason jars
Ingredients
1 1/4 cup of rolled oats (gluten-free if desired)
1/2 cup of oat flour (gluten-free if desired)
1 tablespoon of chia seeds
1 teaspoon of baking powder
Pinch of salt
Optional – 2 tablespoons of crushed walnuts
2 small over ripe bananas
1/2 cup of almond milk
1/3 cup of maple syrup
1/4 cup of unsweetened apple sauce
1 egg
Instructions  
Preheat your oven to 350 degrees.
In a medium bowl, combine your oats, oat flour, chia seeds, baking powder and salt. Set aside
In a separate bowl, mash your bananas with the almond milk. A few banana chunks are okay!
Add in the maple syrup, apple sauce and egg. Mix well.
Pour the wet ingredients over the dry ingredients and combine until a batter is formed. It may seem a bit runny but it's okay.
Spray your mason jar with a non-stick cooking spray. I use coconut oil.
Divide your batter between the mason jars. Leave about half an inch from the rim to allow for the loaf to rise when baking. This is so you can put the lid on afterwards!
Place your mason jars on a baking sheet and insert the baking sheet in the middle rack of your preheated oven.
Bake for 25-30 minutes until toothpick comes out clean. The loafs may seem underdone in the middle, but they will firm up when cool. It allows for them to be extra moist!
Let the mason jars cool completely before placing a lid on them and storing in the fridge. Note that the mason jars will be extremely hot.
These will store in the fridge for up to a week! But they're best if consumed within 2 to 3 days.
Note: You can also bake these into muffins or bars! The baking time should be about the same, but just keep an eye on them at the end!