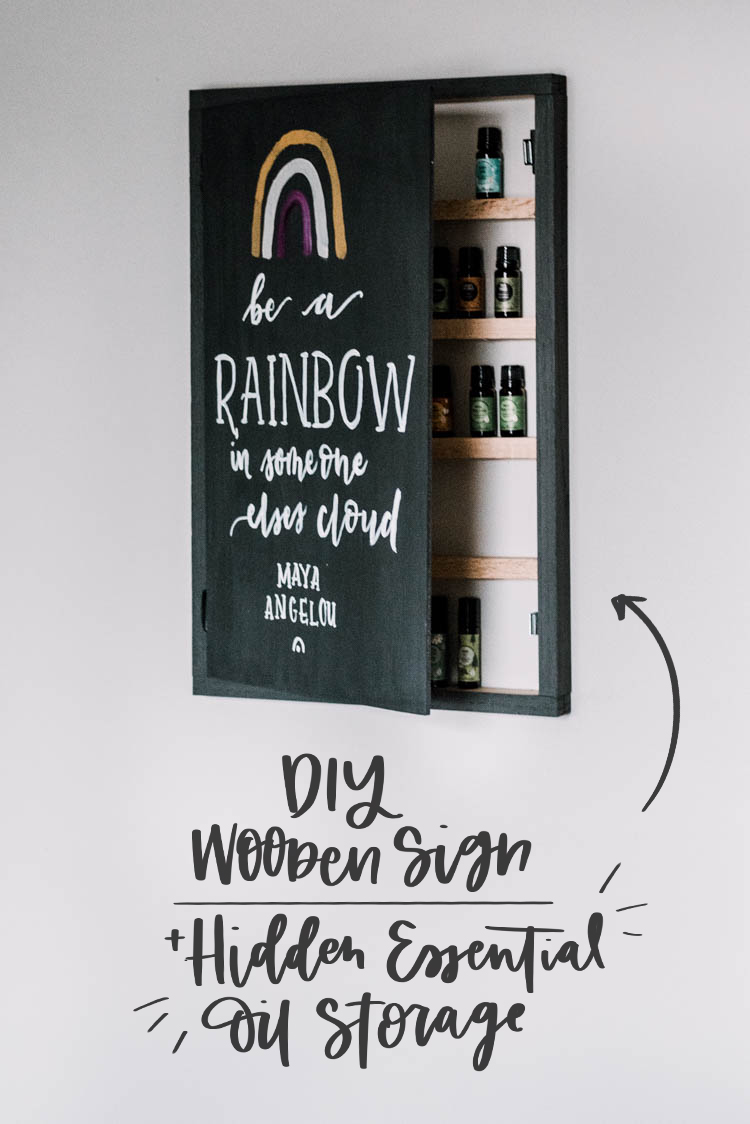 You GUYS. I'm super excited about this DIY. I'm not going to lie… it was a bit of a painful process to get here while we tested and trialed and errored. But we did all that and now you don't have to. So that's a win, right?!
Today I'm joining up again with the fabulous ladies from Modern Handmade Home and we are taking the challenge of creating some 'Hidden Storage' in partnership with Kreg Tool Co. and Build Something. We not only created DIY tutorials for our projects but also FREE PLANS. Which is totally new for me and I might have had to call in a favour to get it done. But it's done and amazing. I'm totally impressed with all the projects these ladies came up with (you can find them all at the bottom!). But in the meantime… let me share mine with you!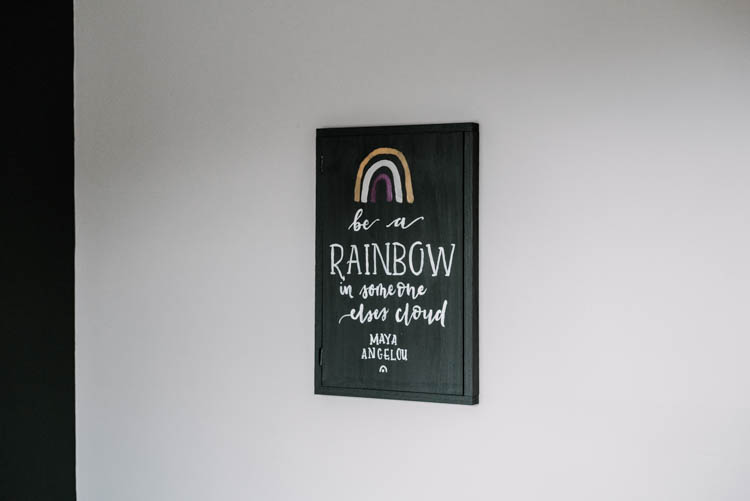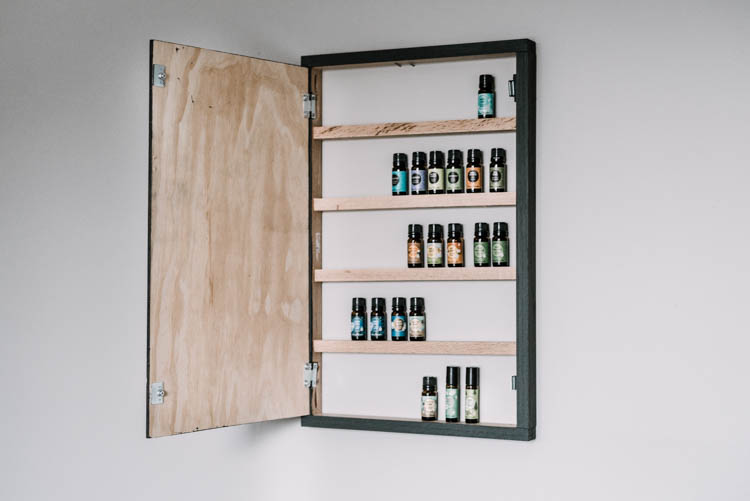 I've started getting in to essential oils. I know they're on a bit of a trend right now but I'm also just loving them. They helped my allergies SO much this year and take care of my toughest headaches, so I'm on board with that. But I'm also worried about my kiddos getting their hands on them. And am always looking for storage solutions that are also pretty. THIS SIGN. It does it all. I created this wooden sign to fit standard essential oils bottles but also to look like… well, a wooden sign! I love how it turned out and it stores all the oils I have and more. Guess who's putting in an order for more tonight now that I have room for them?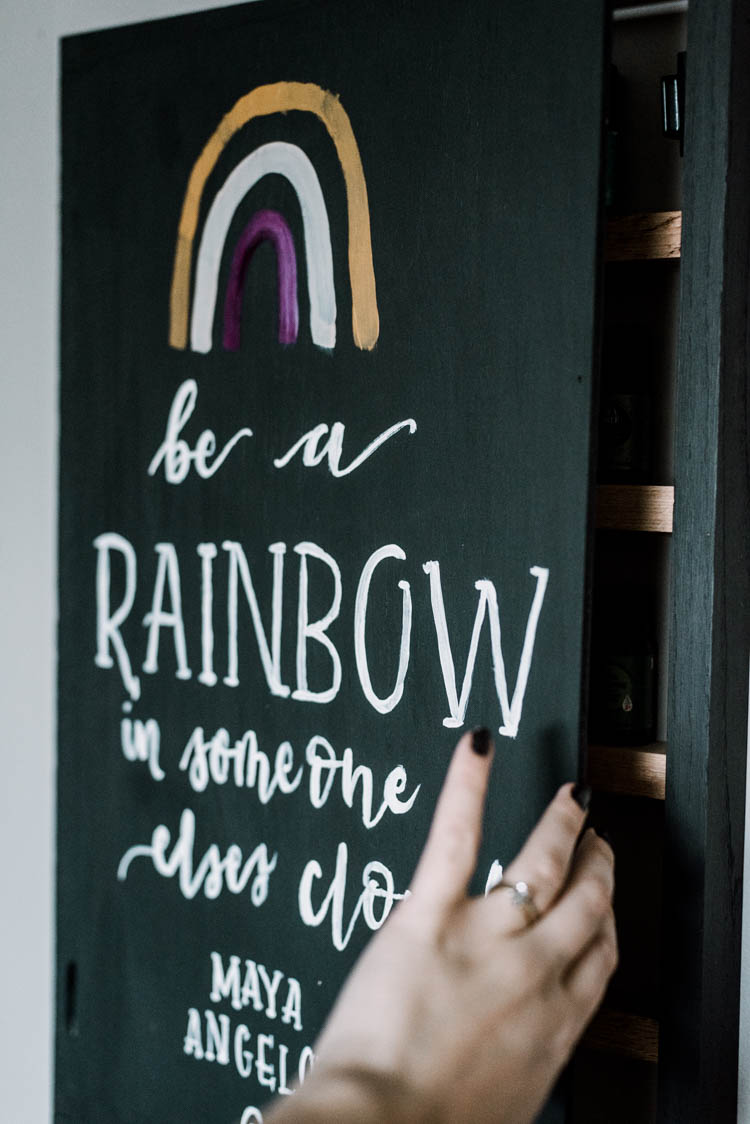 This sign has sturdy oak shelves and recessed hinges to keep the sign face flush PLUS a magnetic latch to keep it closed. It's a bit tough to open, so I'm thinking of adding a little black cloth pull where the latch is to make it easier for me to open. But the whole idea for me was to make it hard for my kids to get at and this definitely does the trick.
You can find the whole DIY tutorial with downloadable building plans (free!) over at Kreg's DIY community, Build Something. Hop over and check it out!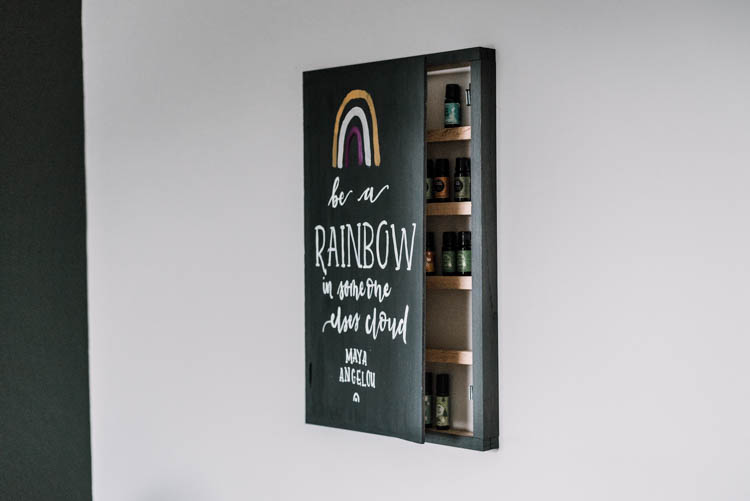 Oh! And since I don't talk about the sign painting in that tutorial- The sign was painted with Fusion Mineral Paint's Ash. It's such a lovely charcoal colour! I then used a bunch of craft paints that I had to paint the rainbow and quote. In hindsight, I wish I would have lettered the quote with a paint marker. But the handmade look is super cute too. We're planning on hanging this permanently in our main bathroom- there's a perfect spot over the toilet and the plans are to install black tile on the flooring so I love that the sign will bring some of that contrast up the walls.
Also… how can you not love this beautiful quote from Maya Angelou! When I was working in the not-for-profit world before kids, I had tons of her quotes pinned to my pinboard at work to remind me of the 'why' behind what I was doing. She's such a dose of grace and kindness into your day.
Make sure to hop around and check out the other ladies' projects! We'll be back next month with another rad Modern Handmade Home challenge that I KNOW you're going to love.