I feel like this past month has been a whirlwind, so I thought what better time to sit down and put together a little life update. I'm going to share a few fun updates and then I'll finish with my weekend because it was probably the most ridiculous thing ever. But first, can we ooh and ahh over how cute E and A are in their little Dutch hoodies? Some of Shane's family is Dutch and last year they brought over these little hoodies for them and I've been dying for them to fit.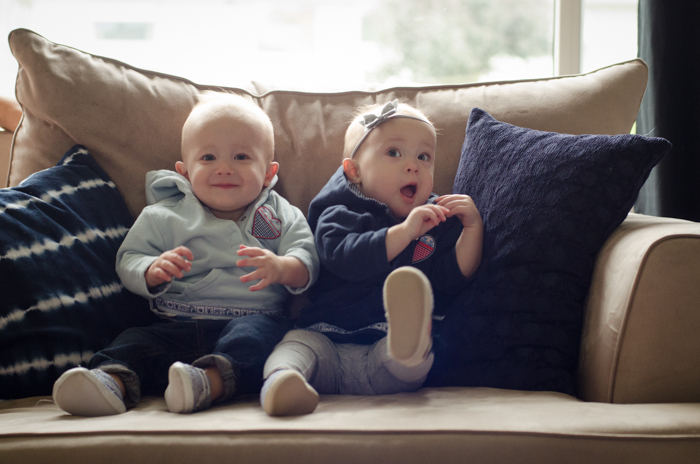 We have been working like crazy on our basement to try and get it ready for our Aunt to move in September 1st, so I'm counting down the hours. I think I'm too old for all nighters. But it's looking really good! It's so exciting to see a vision and a plan start coming to life. If you remember, the basement was completely unfinished, so it's been a lot of work to get where we are. The rest of the week is going to be spent painting, laying floors, and building cabinets. Needless to say, I've been letting things slide around here- so please accept my apology if I haven't replied to emails or comments. I promise, I'll get there… next week.
My kids are almost a year old- it's unbelievable to me. I just started planning their first birthday party (and realized we have so much family to invite, it's going to be a big party) but it's going to be so much fun! What really puts it in perspective? Remembering life before kids. The Little Umbrella just featured my maternity session with Troi Crombie, and looking back at those pictures I felt like that was years and years ago.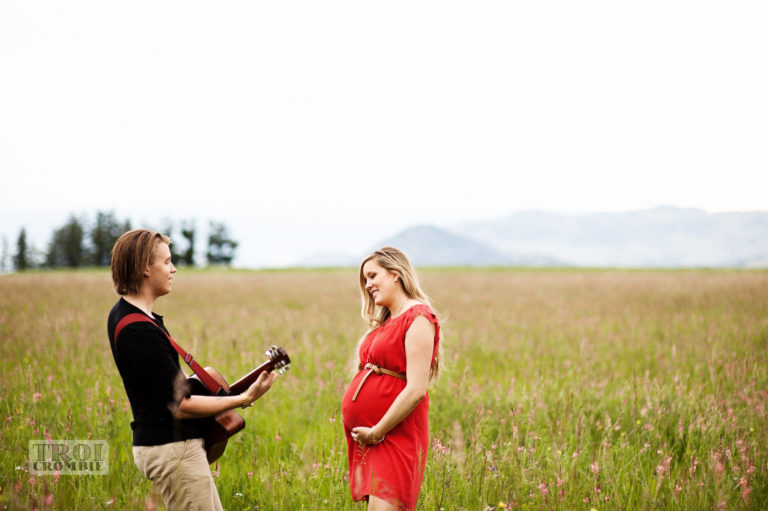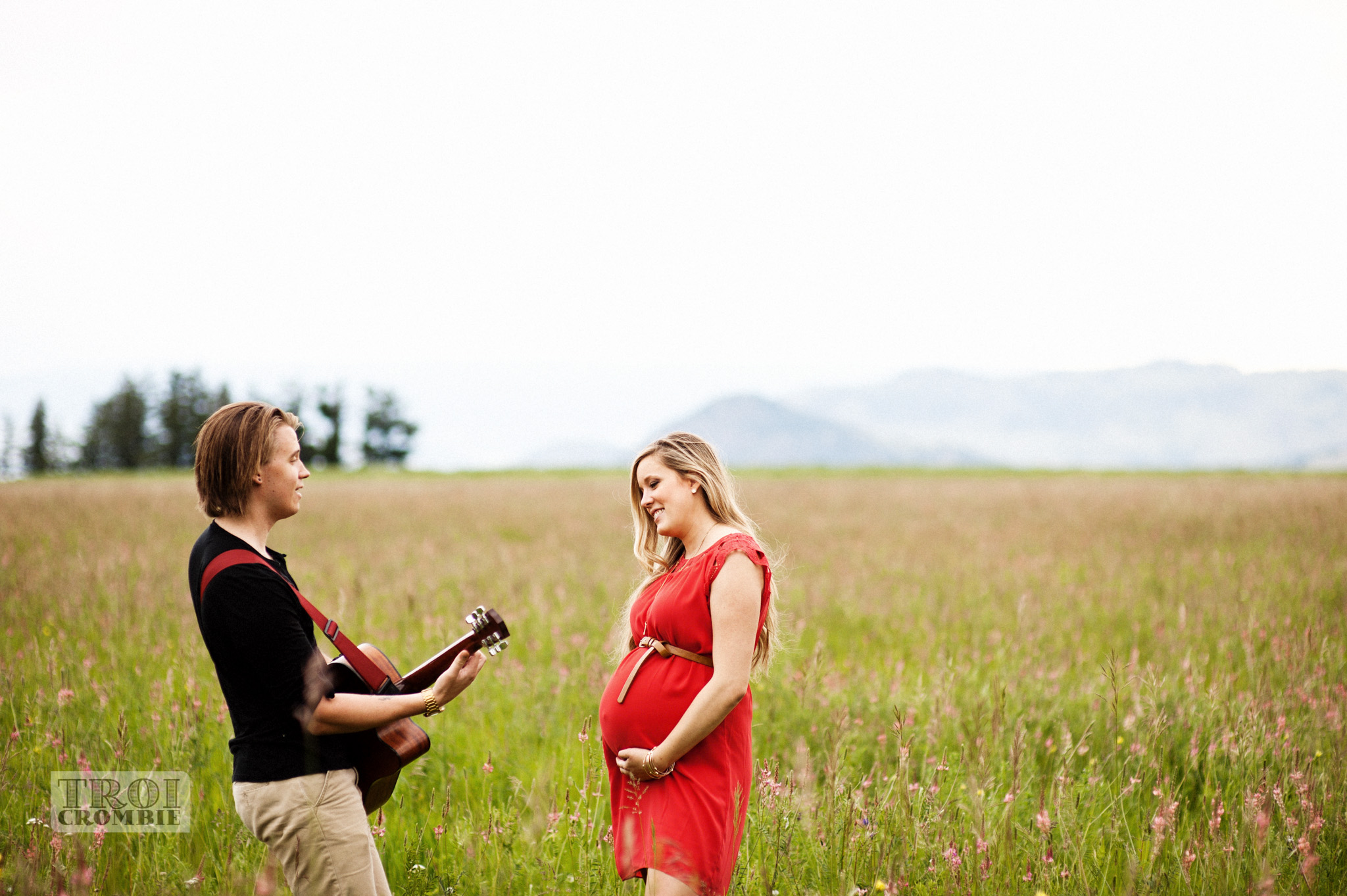 So ready for my story?
This past weekend, my sister and I traveled to Vancouver to run the Sea Wheeze (a half marathon) and my, what a weekend. We got an early night Friday, hoping to be rested for the race, but our morning started early (like 4am early) when my sister woke me up and told me she was so sick I needed to take her to the hospital (she's a-ok now though, guys. The prescription has her healed right up). Good start to the weekend, right? So we missed the run because of the hospital but were determined that our weekend would still be awesome.
So she took a nap and that afternoon we decided we'd like to hit the sea wall since we didn't get to run it. Feeling a bit better- we opted for bikes. We are SO bad at biking it turns out. Someone stopped my sister to teach her how to bike- then recommended we go over a street where it's less busy 'So you don't kill anyone'. Who does this even happen to? So we headed over a block and I wiped out hard. I was looking behind me to check she was still there and my wheel got caught in between the sidewalk and grass. I was so embarrassed, but I was bleeding everywhere so the sweetest girl insisted I come upstairs to her apartment to clean up. I am so sore from this still- my wrist and hand is sprained and my knee and shoulder is swollen and scraped up- but the worst is my muscles! Everything is out- I hit the chiropractor this morning and there were about 3x more cracks than usual.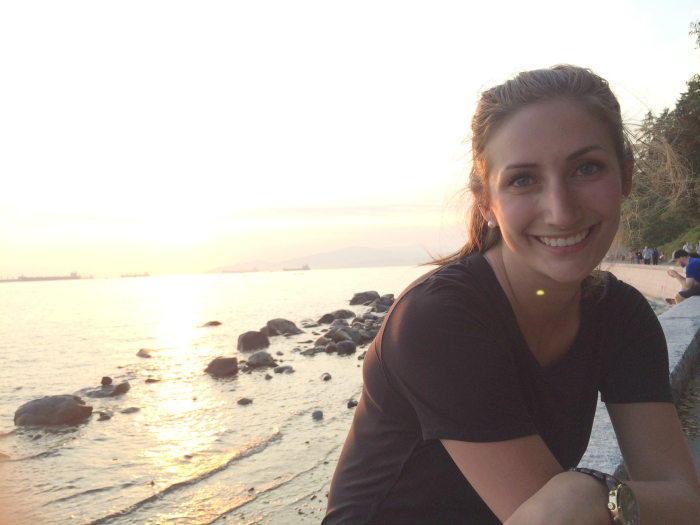 But we weren't going to let this keep us from having fun. So we rode our bikes to Granville Island to meet a friend for lunch and explored. That was so relaxing, so things were looking up. We decided to go to the festival portion of the run that night, but got lost walking there. After an hour and a bit of walking, we finally found it and enjoyed 20 minutes of it. Not only were we a bit tired of avoiding the 'what was your time' question, the lineups for food were big and we weren't digging a burger or burrito, so we decided to go get dinner and a big glass of wine instead. We finished the night on a good note, planning to meet a friend for crepes in the morning.
That morning we woke up to a phone call from the police that my sister's car had been broken into. Seriously!? Someone had smashed her back window but nothing was missing. We patched it up and headed to breakfast in another area of town, hoping to change our luck. We had an awesome breakfast where we watched a seal sun himself (SO cool) and then started to head home. Her oil light came on, and while normally we would have tried to make it home, we checked the levels to make sure. The car was completely out of oil! I'm so glad we checked or we would have been sitting on the highway crying, I'm sure. So we topped up and headed home.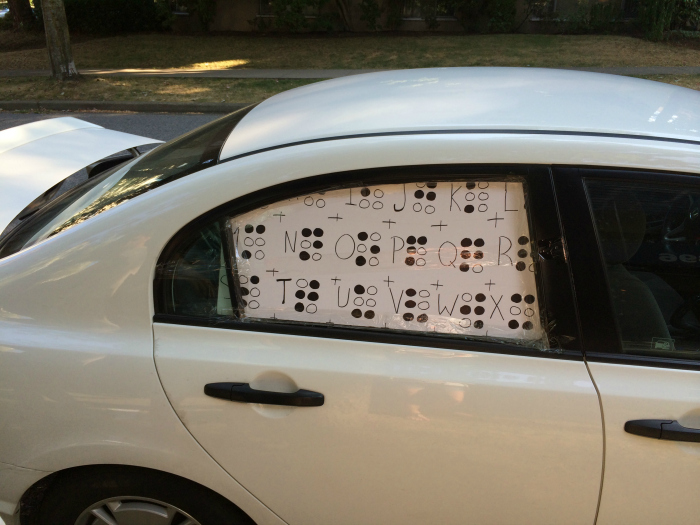 Isn't that weekend one for the books? I really don't like to complain on the blog- so please don't take it as that. I just find it unbelievable so I had to share- we are laughing about the bad luck, so you can too. We actually had a really nice time all considering. I don't get to see my sister too often, so we had a really good visit. I learned that we would be able to do the Amazing Race together- if this couldn't bring us down, right!? And I learned that Airbnb'ers are the friendliest people out there. That's how we stayed in Vancouver- and our hosts were so kind they patched the window up for us- with a braille poster board, no less. And the girl who invited me into her apartment to clean up? Also rents out her room on Airbnb. So we consider that a win.  We're pretty sure we want to try do the run next year. We kept saying that this was our 'dry run' and next year we would know exactly where to go so we wouldn't be wandering around Stanley Park lost.
Do you have any stories like this? That are just so unlucky that you have to laugh? I'd love to hear your stories!