So I know that 2014 is gone… and that January almost is too. But I wanted to sneak this post in before it's absurdly late. Last year I did a year in review post using my Instagram photos and I love looking back at it to remember the year. I use Instagram daily, so it's a great way to reflect on how our year was spent (psst… are you following me yet?)!
This year I wanted to do the same thing, but had such a hard time choosing so few photos. So I chose more photos and made them smaller… because I'm a good negotiator with myself. I know a lot of you are new to Lemon Thistle- so I'd love if you got to know me a little bit better!
Before I do that… it's time for another giveaway! I've never had this many giveaways going on at one time- but I'm so thankful for you guys and want you to know it! So here's to free stuff! Today's giveaway is from the Pretty Providence Contributor Team for a $100 Visa Gift Card (who couldn't use that?). If you missed it- I also have two $15 Target Gift Cards as a giveaway if you complete my 2014 Reader Survey, AND I'm giving away a Light Rust Studio print with my Office Update!
Now on to my year in review!
This year has been a crazy year… a year of so much good packed in to so little time. I'm amazed at what we've accomplished, and how time has flown. Our babies are toddlers- our fixer upper is a home. Anyways… let's get started! Each row kind of has a 'theme' if you will… The top one here is the beginning of our year- we started it off the way every married couple with kids wants to. Living with my Dad. We sold our apartment in the fall of 2013 and when the house we were negotiating on foreclosed- we moved right in with my Dad. It's near impossible to find a place over Christmas- especially when your list of needs is long. We wanted our own place more than ever, but looking back, it was such a fun time. Our kids got twice as many cuddles, and I only had to worry about dinner half of the time- that left lots of time for play and this blogging thing.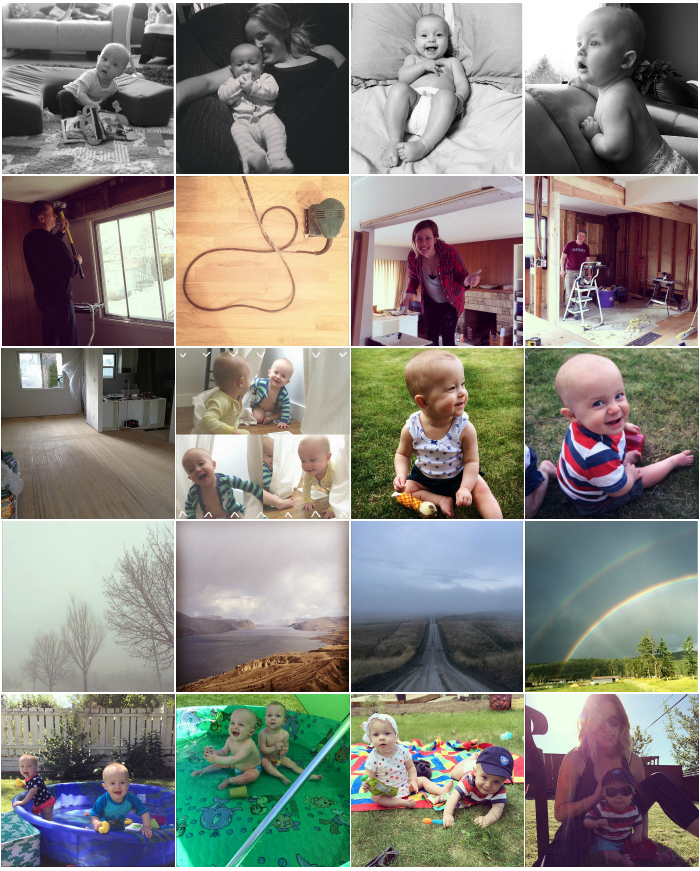 Then we found our place! We bought an old cathedral entry- old not in a charming way, but old in a 'nothing has been done since built' way. We got busy tearing the inside apart to make it liveable for our family. Helloooo Demolition. See the before photos here, kitchen *that room that's down to the studs* here, and the post on our crazy floors here. We also put in a basement suite! You can read about that here.
This year was full of 'unfinished living'. The kids spent a lot of time in the yard with myself or family while we renovated. Those curtains? They still aren't hemmed, but at least they're up- and they provide hours of entertainment, so I'm in no rush. Unfinished living has it's perks (curtains to play in!) but sometimes I had to get out. I took frequent 'sanity drives' this spring and summer- I'd grab a coffee and drive until the kids fell asleep. And it was my favourite hour or two of the week. My kids won't nap in the car now, so I've switched to walks (if only it wasn't so freaking cold!).
But living outside (because inside was in upheaval) meant lots of time splashing and exploring. I'm so thankful my kids love to play in the grass, water, and mud. They're such explorers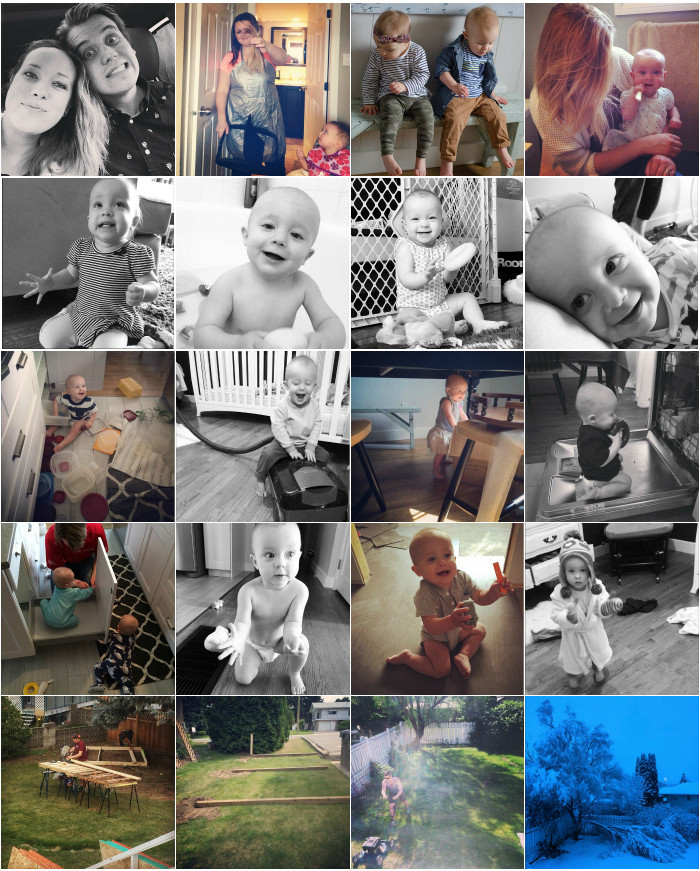 It was definitely a year of changes. Shane and I had to work harder than ever to find time for the two of us. Between babies, renovations, general home ownership, and new jobs… we only managed a few real date nights (and more netflix nights). But when we did, they were so enjoyed! I chopped off my hair in 2014. I know, random… but I have had long hair since high school so it was a BIG change for me! Learning to manage two running babies was probably the biggest change- I could never have imagined how busy they are! Oh… and teeth! that was a change too. A change that means a little less sleep, but it's worth it for this tooth brushing photo.
It was a year of giggles. Seriously, I don't think I can explain how cute their giggles are! It's contagious and I die inside (in a good way) every time I hear them.
Growing babies means lots of 'help'. They help sort the cupboards, vacuum, unpack boxes, unload the dishwasher, install hardware, collect crumbs, measure flooring, and pick out outfits. It's the best… even if that help means more work for us.
We definitely got home ownership when we asked for it. The yard work was a *mostly* welcome change from our apartment. On top of our interior renos, we Shane managed to stay on top of mowing the lawn and building us a shed for all of our tools! Our neighbours also put up a fence… we're thankful but also a little offended. We're still needing to stain it. And just last month… we lost half of our tree! That was the first branch that came down from snow- more has followed and it's all still sitting where it fell. Maybe this is why our neighbours built a fence!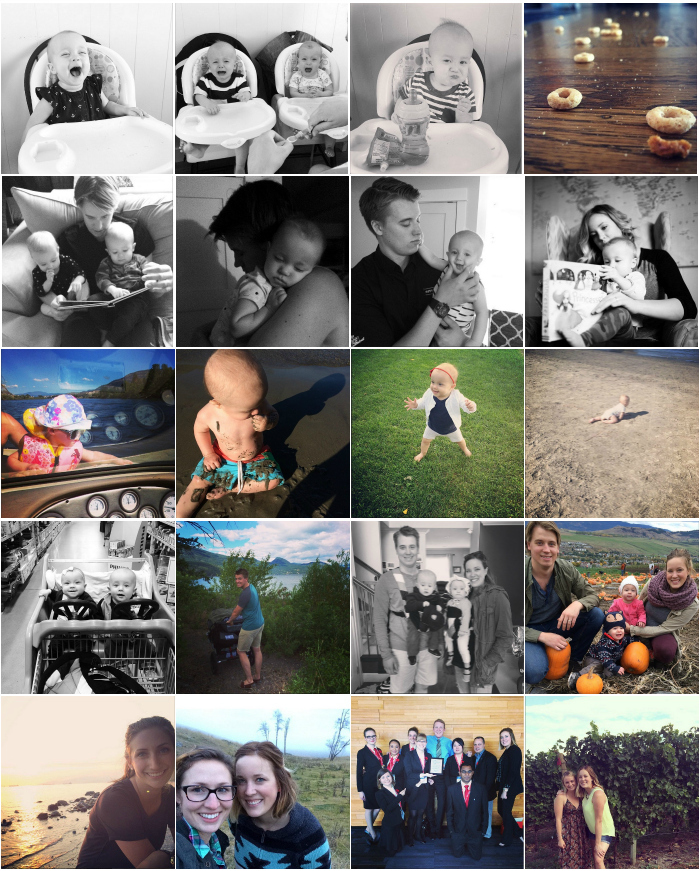 This year was full of mess. Other than renos… babies are SO MESSY! Our kids love to eat (the tears are because the food wasn't coming fast enough) and they love to make a mess of their food. I was one of those crazy people who thought my kids would be different… I'd teach them to keep their food on their plate, so help me. If you don't have kids, my only tip for you is to never make promises about how you'll parent. You will eat those words!
It was a year of cuddles- Shane and I gush about how cool it is to have them call for us and give us hugs and kisses. Up until this year, we got cuddles because they were babies, now they choose to and that's the best. thing. ever.
With everything going on, we didn't take any real vacations- just two nights camping (ahh, tents with babies!). We used vacation time for 'staycations' and enjoyed getting out in the sun, taking the kids boating, to the beach, and on day trips. We enjoyed walks, trips to Home Depot, and the pumpkin patch. We really hope to have a 'real vacation' next year (like somewhere more than 40 minutes away), but for this year, at this stage in our lives, this was perfect.
Even though we didn't get a real family vacation… I managed to get away! My husband's the best… just saying. My sister and I signed up to do the Sea Wheeze- that didn't quite work out, you can read the whole spectacle here. I got to visit friends, explore and enjoy photography. I also took on a new job teaching at the University and helped coach a research team (to a win!) for a case competition out of town. Lastly (but probably best yet) all the girls from Shane's family took off on a wine tour through the Okanagan and left the kids with the boys. It was such a nice break! I was spoiled guys, really.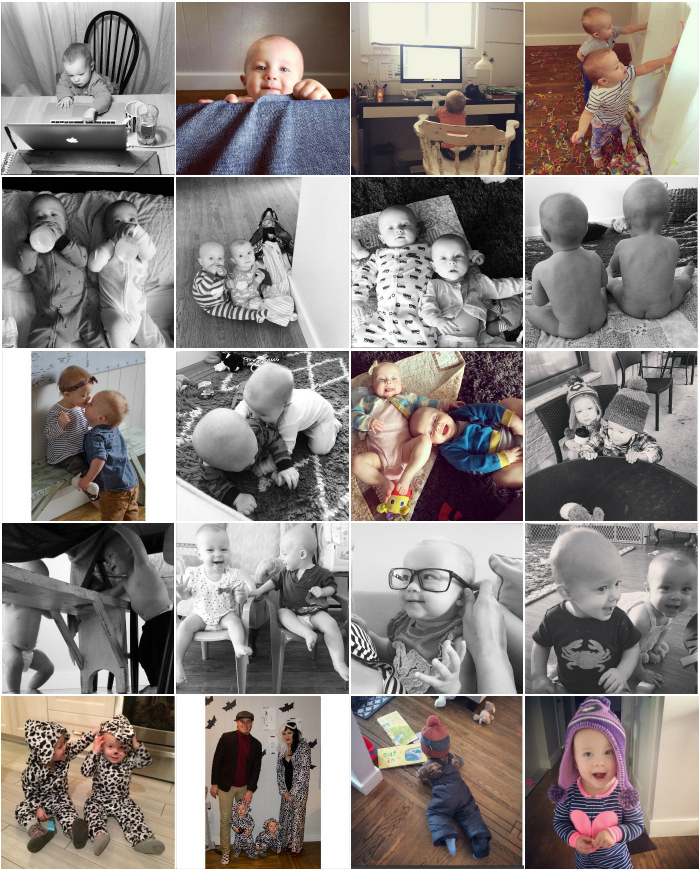 This was the year that blogging became part of our lives. I have fallen in love with blogging… thank you for the support! My kids love to help as well, whether they help on the computer, try to help set the table for parties, or help with confetti.
One of the coolest things… this is the year my babes became best friends. They just adore each other! Hugs, kisses, cuddles, and sharing have become an every day occurrence and it melts my heart. It has really been a year of fun and games- they have such personalities! One of the things they love to play is dress up… especially with their outdoor clothes. Snowpants are their total favourite. They liked their Halloween costumes too- they would bring them for me to put on until I finally boxed them up a couple weeks after Halloween.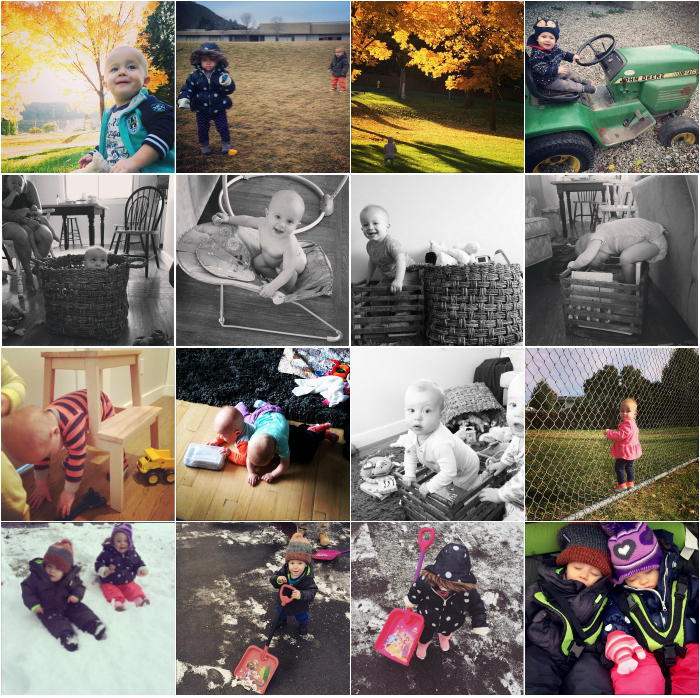 The fall was crazy busy with me teaching, us renovating, and wrangling these little ones. But we loved getting outside and enjoying the fresh air- nothing makes these kids happier. This year we also learned about 'getting stuck'. They love to climb in things, on top of things, and over things. This means lots of getting stuck. Like, a lot. We finished up the year with fun in the snow. Our littles LOVE to shovel snow… I can't wait until next year when they can really put those shovels to work!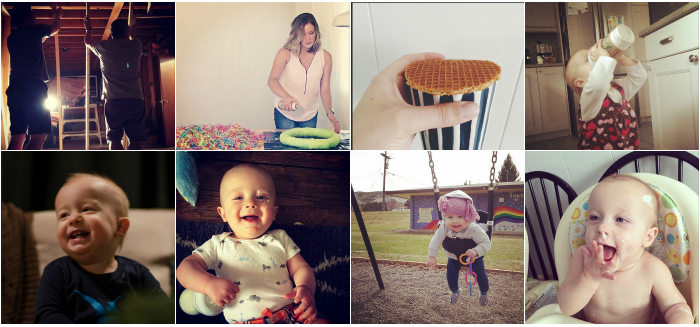 All in all… to wrap up this million picture post: it was a year of late nights, hard work, confetti, and lots of coffee. And then lots of smiles and laughs from Emmitt and Aubrey to make it all incredibly rewarding. Thank you for being a part of our year! Here's to an even better (is that possible?) 2015, friends.